Lifestyle
Peugeot launches new shark-nosed 308 hatchback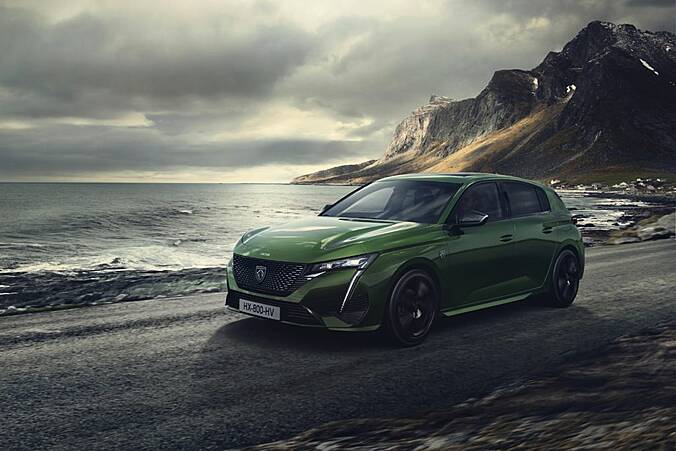 In styling terms, the new Peugeot 308 gets the new family 'face' with a vast, concave grille, narrow lights, and the slashing, 'fang'-style LED daytime running lights at the side.
Having been half-revealed last week, by spy photos which caught it with a half-removed tarpaulin, Peugeot has today shown off its new 308 hatchback, the car with which the French brand hopes to take the fight to the VW Golf and Toyota Corolla.
At first, you might be forgiven for thinking that this is just a major facelift of the existing 308 – certainly a casual glance seems to show the same overall silhouette. Clearly, Peugeot is taking a leaf from the VW Golf playbook and keep the car's overall styling fairly similar.
In detail, and mechanically, the new 308 really is new, though. In styling terms, it gets the new Peugeot 'face' already seen on the updated 3008 and 5008 SUVs, with a vast, concave grille, narrow lights, and the slashing, 'fang'-style LED daytime running lights at the side.
In the centre of the grille sits Peugeot's new lion-head badge (actually a re-working of its classic 1960s logo) which, thanks to being flat and not made of chrome, the radar unit for the active cruise control system can now sit snugly behind it. The new badge is replicated, Ferrari-style, in shields mounted to the front wheelarches.
Around the back, there are 208-style brake lights, and if anyone orders their new 308 in any colour other than the gorgeous 'Olivine Green' seen in these first photos, well, we may have to have words with them…
Power options
While the 308 does carry over the previous model's EMP2 platform, there have been some significant changes under the skin. For a start, the new 308 is some 110mm longer than the old one, has an extra 55mm in its wheelbase (which should improve rear seat space, a major pain in the outgoing version), and sits 20mm lower to the road. It's also more aerodynamically efficient than before.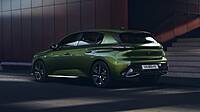 That aero efficiency will help the new plugin-hybrid versions, as the 308 gains part-electric power for the first time. There are two PHEV 308s – both using the same 1.6-litre turbo petrol engine, a 12.4kWh battery, and an 81kW electric motor – with a choice of 225hp and 180hp.
Both have emissions of around 25-26g/km, and an electric range, when fully charged, of 59-60km. Both also come with an optional 7.4kW charging system which trims their recharging time from a standard 3hrs and 50mins to 1hr and 55mins.
The 308 will get conventional engines too – a 1.2-litre turbo petrol with 110hp or 130hp, and a 1.5-litre diesel with 130hp, plus a choice of manual or eight-speed automatic gearboxes – but there's no fully-electric version.
Pugs with plugs
We might have expected the 308 to get an EV version, using the same 50kWh battery and 136hp electric motor as the e-208 and e-2008, but it seems that for this version, the 308 is cleaving closer to the larger 508 and 3008 in offering PHEV power, rather than fully-electric.
Peugeot aims to make those PHEVs more affordable, though. Although both plugin models will have higher sticker prices, the French brand says that it intends to try to equalise the total life running costs so that, in the long run, a pricier PHEV is just as easy on your pocket as a basic petrol or diesel 308. Peugeot will offer home-charging setups, as well as access to 220,000 public charging points across Europe.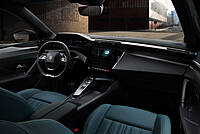 Inside, there's a more angular interior than before, with the now-expected tiny wheel and high-set instruments. All but the base-level 308 will get a 10-inch 3D digital instrument panel, while all versions get a 10-inch central touchscreen.
Software updates
That screen now comes with over-the-air software updates, and wireless connections for such as Apple CarPlay and Android Auto. There's a strip of physical shortcut buttons beneath the screen for functions such as demisting and the hazard lights, while between them and the main screen is a small lip of touch-sensitive buttons, which act as shortcuts for the big screen, and which can be customised by the driver.
The seats in the car also appear to be covered in a distinctive dusty-blue leather, which seems to reference both the classic Peugeot 504 of the 1970s, and the more recent e-Legende electric coupe concept car.
Safety was also high on Peugeot's agenda, with a new safety equipment pack (which won't actually be available until the back end of this year). The pack includes a new active cruise control system which can make suggestions as to the best time to change lanes when on the motorway, and which trims the cruising speed if you're coming up to a corner.
There are also some neat touches, small items which don't sound like much but which are genuine boosts to safety, such as a rear-view camera that cleans its own lens, and a Ford-style electrically-heated windscreen.
The new 308 will go on sale in Ireland in early 2022.