A long time ago, in a scary shaggy year, the Modelist-Constructor magazine # 1 for 1973 was published.
discovered the trawler's drawings , type MTKM. The vessel is intended for catching shrimps.
Link to the issue of the magazine.
Drawings were also attached as a guide for making a boat using paper-cardboard technology.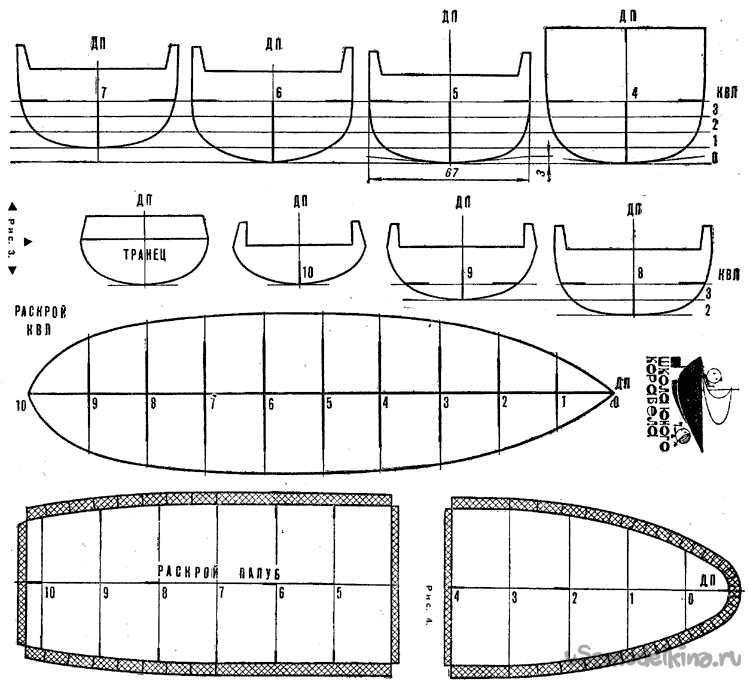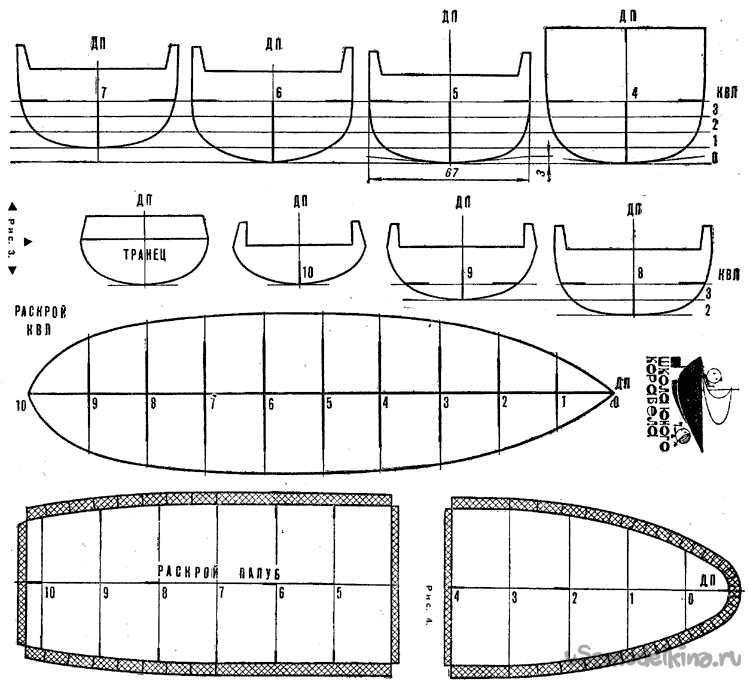 I decided to make a bench model. In order not to toil with the recalculation of the scale, I do it as it is on the drawings of the magazine.
Unfortunately, there is no detailed production report. There is only a ready-made dish on a shiny stick.
The body is made of a wooden block with a plywood of three dies in order to avoid warping. The tree took a thin layer from the slab, there the layers are thinner. The original dimensions are marked with a cleaver, and the line of the tank is carved with a fine hacksaw. Then finished with rasps and finally with sandpaper. In the process, I very carefully controlled the dimensions with templates, so I practically did not have to putty the finished case. Then liquid nitro lacquer was applied with a brush as a base. Then the Soviet automobile putty. So gray, if anyone else remembers, nitro-based. All of this is sanitized. Blown out with white NC enamel using a simple spray.
An article about such a device can be found at my branch At Samodelkina .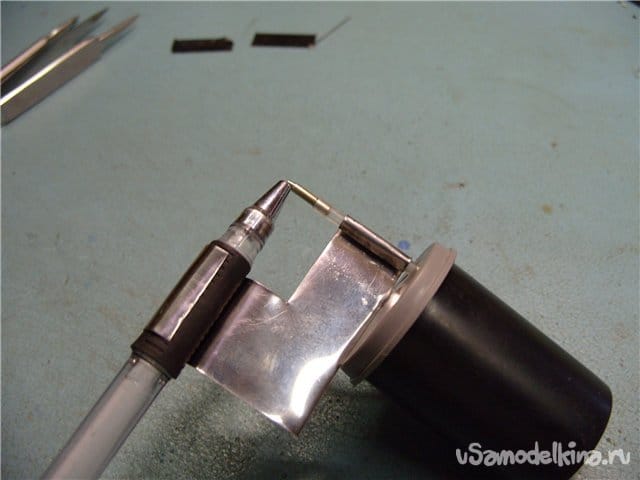 The bulwarks are made of thick Whatman paper, primed with nitro lacquer and blown out with white enamel. Anchor hawse made of black painted copper wire. The Hall anchor itself is based on the same technology.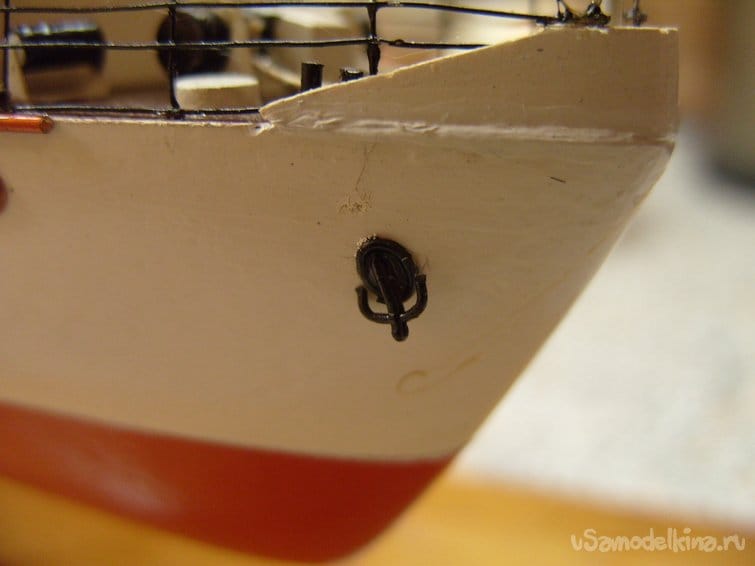 Plexiglass rudder stock. The screw is also painted with bronze paint.

The rails are soldered from wire, pre-tinned and stretched over the conductor. The portholes are wound from copper lacquered wire, cut. Glued to the body with "Sper-cement" glue, inside painted with blue nitro paint. Fender lacquered wire.

The body of the anchor winch is made of plexiglass. It has quite sharp edges and is toned with white enamel. Waxed anchor ropes. The hatch to the afterpeak is also made of plexiglass.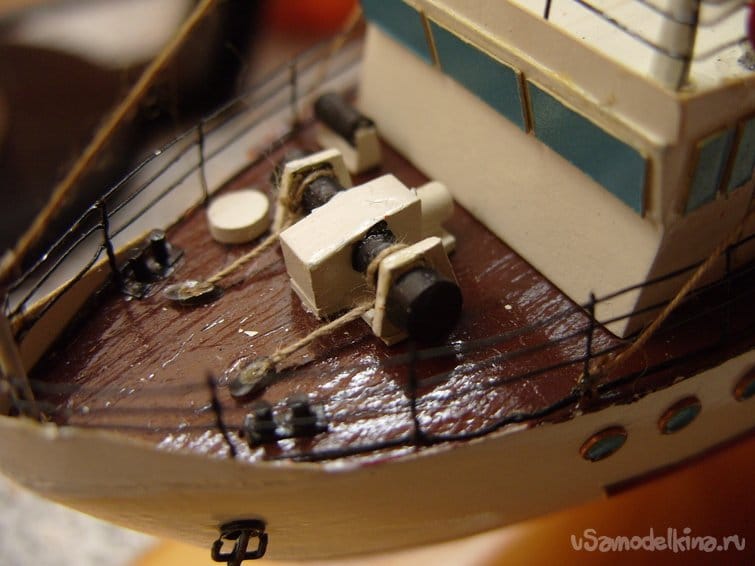 Plexiglass cabin, wire portholes, square painted plastic.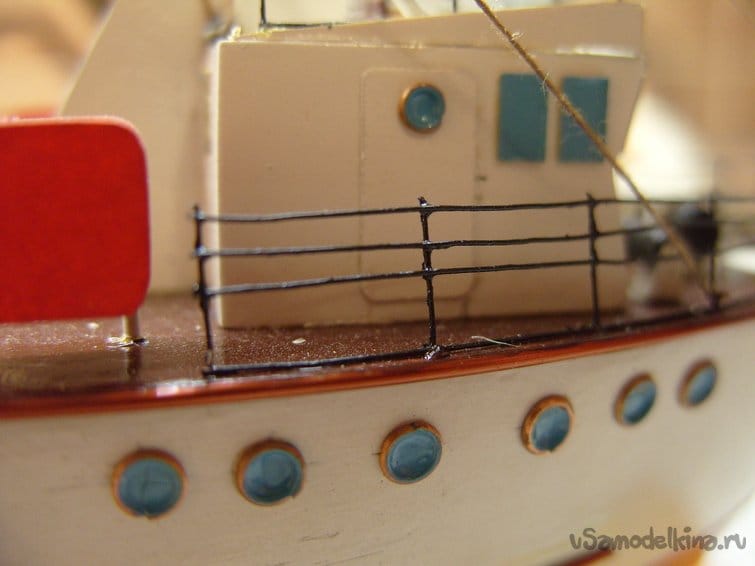 The antenna is soldered from thin wire, lifebuoys are wound from thick and painted. Searchlight, plexiglass. Red life rafts are also plexiglass.

Plexiglass winch body, thick wire drums, plastic hatches.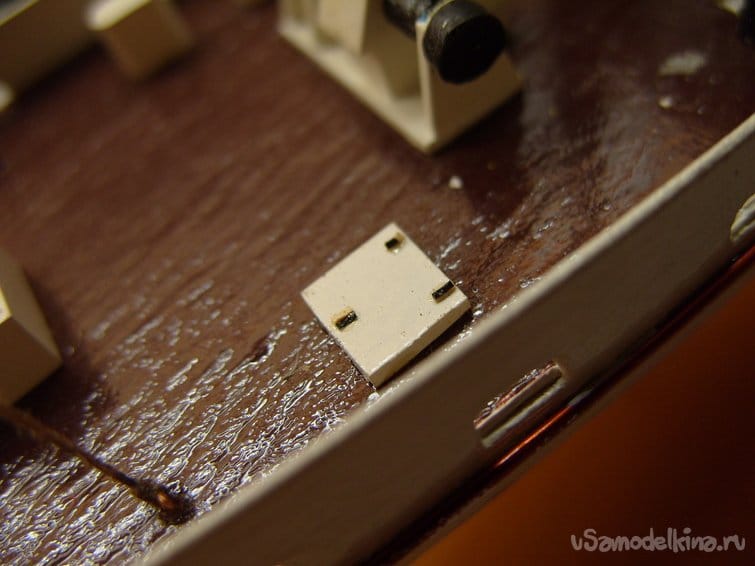 Masts and booms, steel wire. Top lights wire and insulation of the desired color.