Lifestyle
In Pictures: What life after lockdown may look like as restrictions ease around the world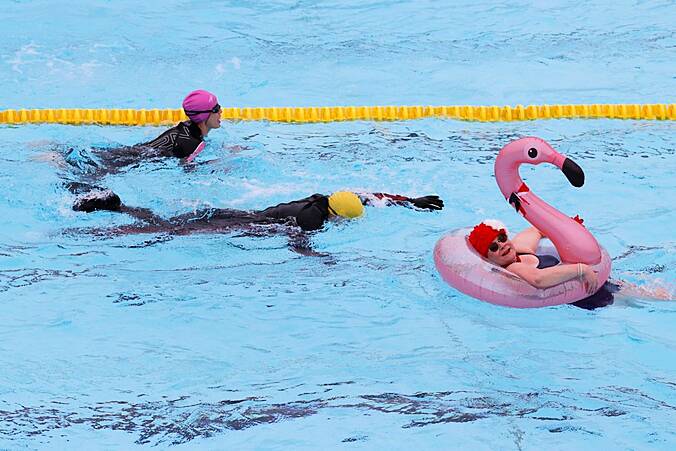 A woman swims with the aid of an inflatable flamingo at Hillingdon lido in west London as following the easing of Covid-19 restrictions across England. (Photo by Adrian DENNIS / AFP) (Photo by ADRIAN DENNIS/AFP via Getty Images)
After over a year of hearing the constant affirmations of 'Hold Firm' and 'We're in the together', the messaging surrounding Covid-19 restrictions has changed.
The rollout of vaccine around the world has signalled the shift towards 'the light at the end of the tunnel' and 'the end is in sight'.
However, with travel restrictions still in place and businesses across various sectors still closed, that optimistic outlook is not shared by all.
But while restrictions may be slower to ease here in Ireland, other countries are re-emerging from lockdown. Here are some images showing a glimpse of what Ireland has to look forward to, along with some Covid updates from around the world…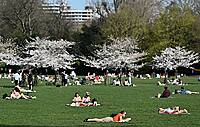 People enjoy the sunshine in Battersea Park, central London on March 30th as England's third Covid-19 lockdown restrictions eased on March 29th.(Photo by JUSTIN TALLIS / AFP) (Photo by JUSTIN TALLIS/AFP via Getty Images)
UK: People in the UK were asked not to gather in crowds or to lay flowers at royal palaces following the death of Britain's Prince Philip on Friday, but small groups are still permitted to meet following the easing of restrictions there.
Italy: Lockdown measures will be eased from Monday in six Italian regions, the health ministry ruled on Friday, even as the nationwide daily death toll remains well above 400.

Australia – Participants wearing costumes march in the parade during the 43rd Sydney Gay and Lesbian Mardi Gras at the Sydney Cricket Ground in Sydney on March 6th. (Photo by DAVID GRAY / AFP) (Photo by DAVID GRAY/AFP via Getty Images)

Malta: Aiming to revive its tourism industry and get ahead of rival destinations, Malta plans to offer foreign visitors a handout of up to €200 each if they stay at least three days on the Mediterranean island this summer.
Australia: The Australian governmetn said it has ordered more alternatives for the AstraZeneca vaccine, setting back its vaccination rollout, and Hong Kong delayed deliveries of the shot amid concern about a possible very small risk of rare blood clots.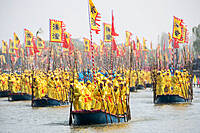 Boats taking part in a performance during the Qintong boat festival in Taizhou in China's eastern Jiangsu province on April 8th. (Photo by STR / AFP) / China OUT (Photo by STR/AFP via Getty Images)
India: A record number of new infections have been reported in India, after the number of daily deaths hit the highest level in more than five months.
Japan: Tokyo has been placed under a new, month-long state of "quasi-emergency" to combat surging infections.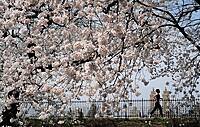 A woman jogs past Cherry Blossom trees around the Jacqueline Kennedy Onassis Reservoir in Central Park, as New Yorkers enjoy the warm weather on April 9th. (Photo by TIMOTHY A. CLARY / AFP) (Photo by TIMOTHY A. CLARY/AFP via Getty Images)
USA: Johnson & Johnson will ship relatively few shots around the US until it receives regulatory clearance for a plant in Baltimore, a top White House Health official said.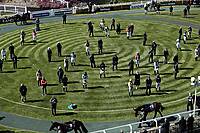 Jockeys and trainers stand for a minutes silence following the announcement of Britain's Prince Philip, death at the Grand National Festival at Aintree Racecourse in Liverpool on April 9th. (Photo by SCOTT HEPPELL / POOL / AFP) (Photo by SCOTT HEPPELL/POOL/AFP via Getty Images)
Brazil: The state of Sao Paulo in will begin easing restrictions from Monday, vice governor Rodrigo Garcia said, after the country set on Thursday a daily record of 4,249 deaths. Meanwhile, Brazilian president Jair Bolsonaro attacked a Supreme Court justice after the judge ordered Congress to begin a probe of the federal government's pandemic response.
Mexico: The Mexican vaccine rollout is set to expand to adults over 50 at the end of April, its president said. -Reuters