DIY
Two simple homemade scoops for seedling soil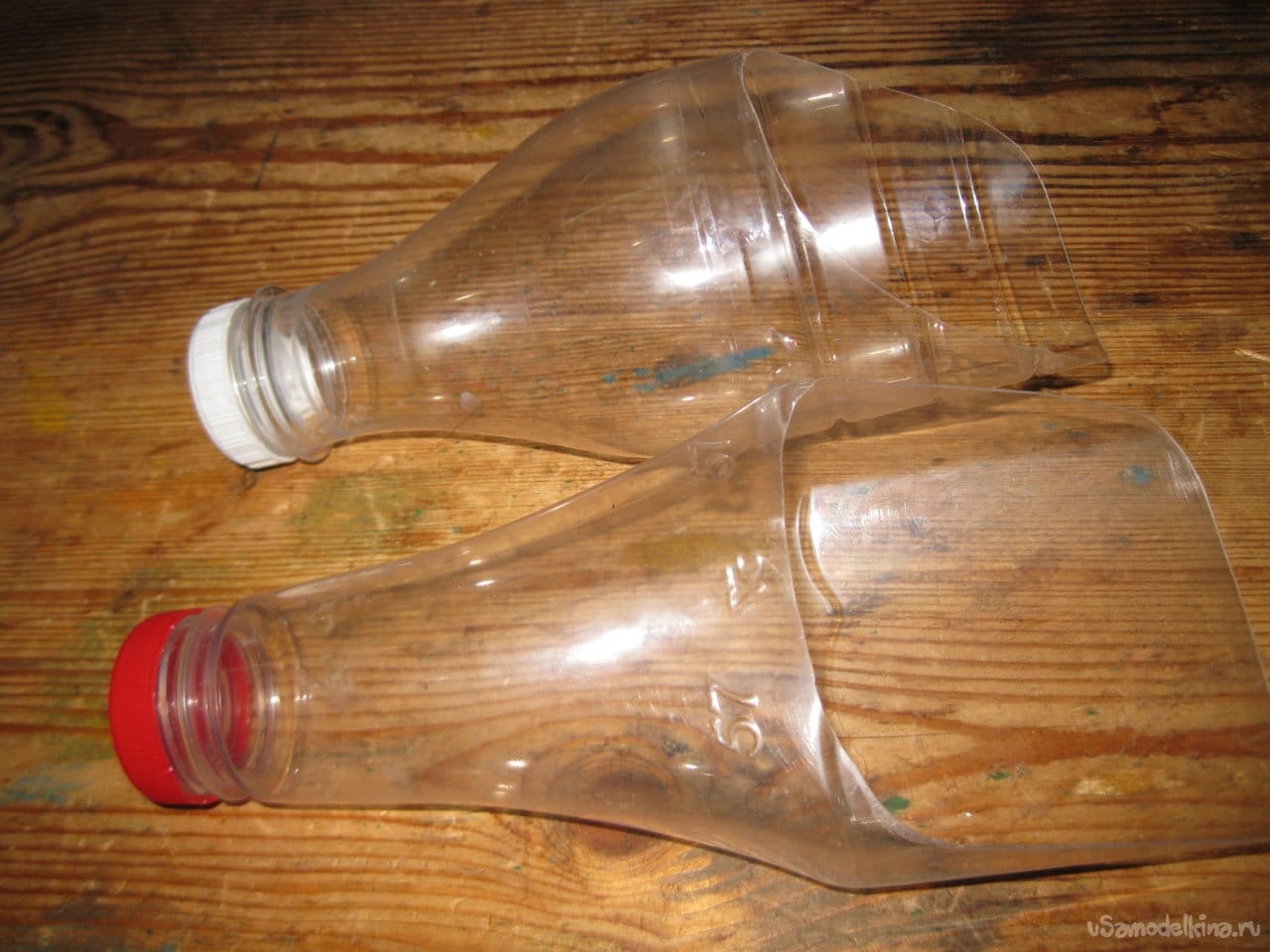 Two very easy to manufacture and at the same time quite convenient scoops for filling fertile soil when transplanting seedlings.
Greetings to all homemade colleagues, as well as everyone who is interested in homemade products! And along with all summer residents, gardeners and truck farmers.
Since my today's homemade product is again connected with the gardening theme, and, in particular, with the cultivation of seedlings of various plants on the windowsill.
All gardeners know very well that when the seedlings from the sown seeds grow to the desired size, they must be transplanted into separate pots or special containers. And here it is impossible to do without a convenient scoop, which is required in order to pour fertile soil into containers.
Moreover, it is very desirable that such a scoop be of the required capacity, approximately equal to or slightly larger than the capacity of the pot or planting container, and also that it fits freely into this container. In this case, the entire operation of filling the soil is greatly simplified. That is, you take, scoop up the required amount of fertile soil with such a scoop and pour it into the planting container at a time. After that, it remains only to transplant the plant into this container. This is especially true if you have to transplant a fairly large number of seedlings.
However, the problem is that such a scoop is very difficult to find. Moreover, ordinary steel or plastic garden shovels that are on sale are not very good for this.
That is why, such a shovel (or even several shovels for planting containers of different shapes and sizes) is best done by yourself.
By the way, I must say that on the Internet there are many homemade scoops of this type. True, they are mainly made from various plastic canisters of different sizes.
For example, they take just such a milk canister.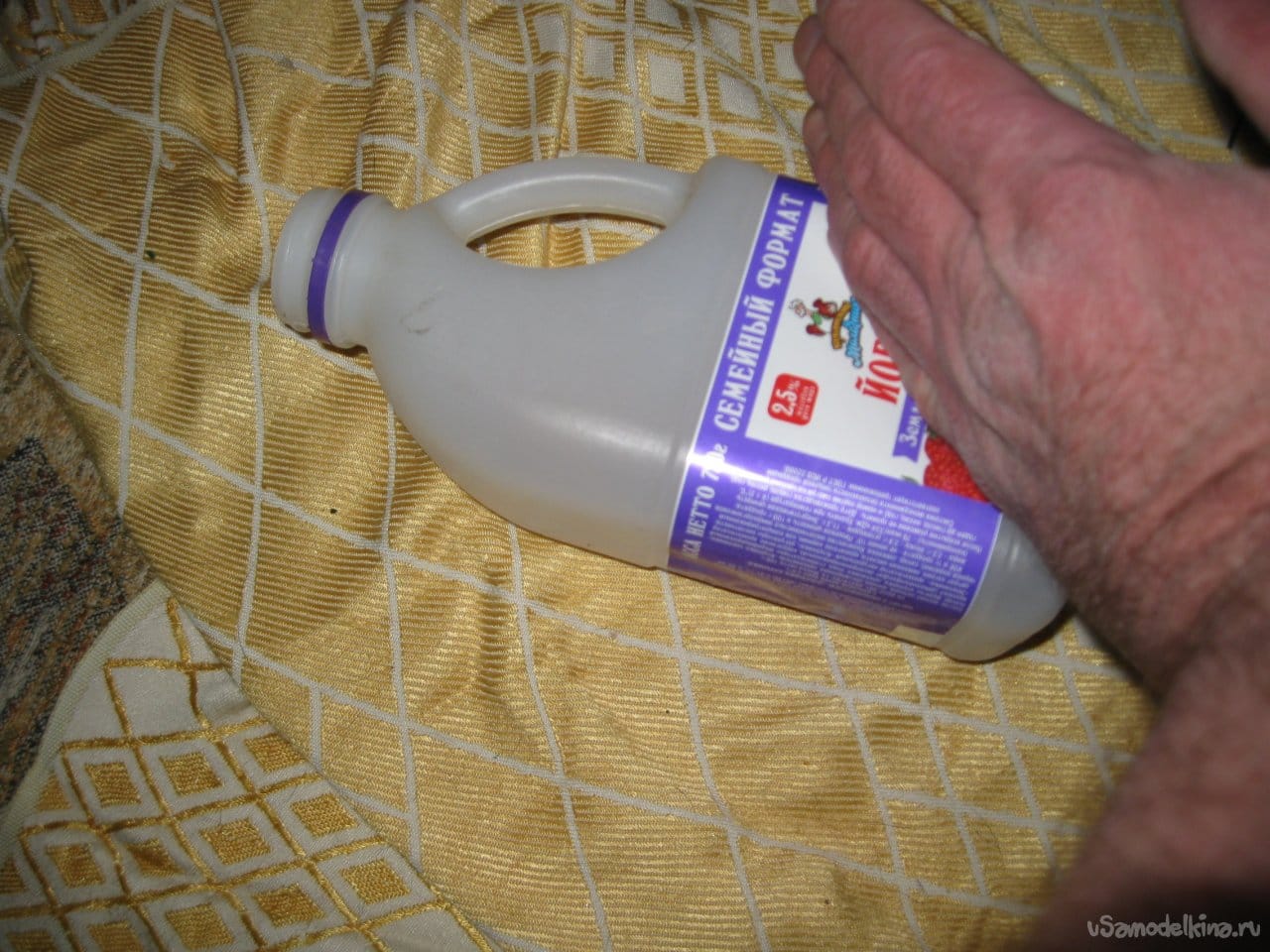 And it turns out a scoop with a comfortable handle.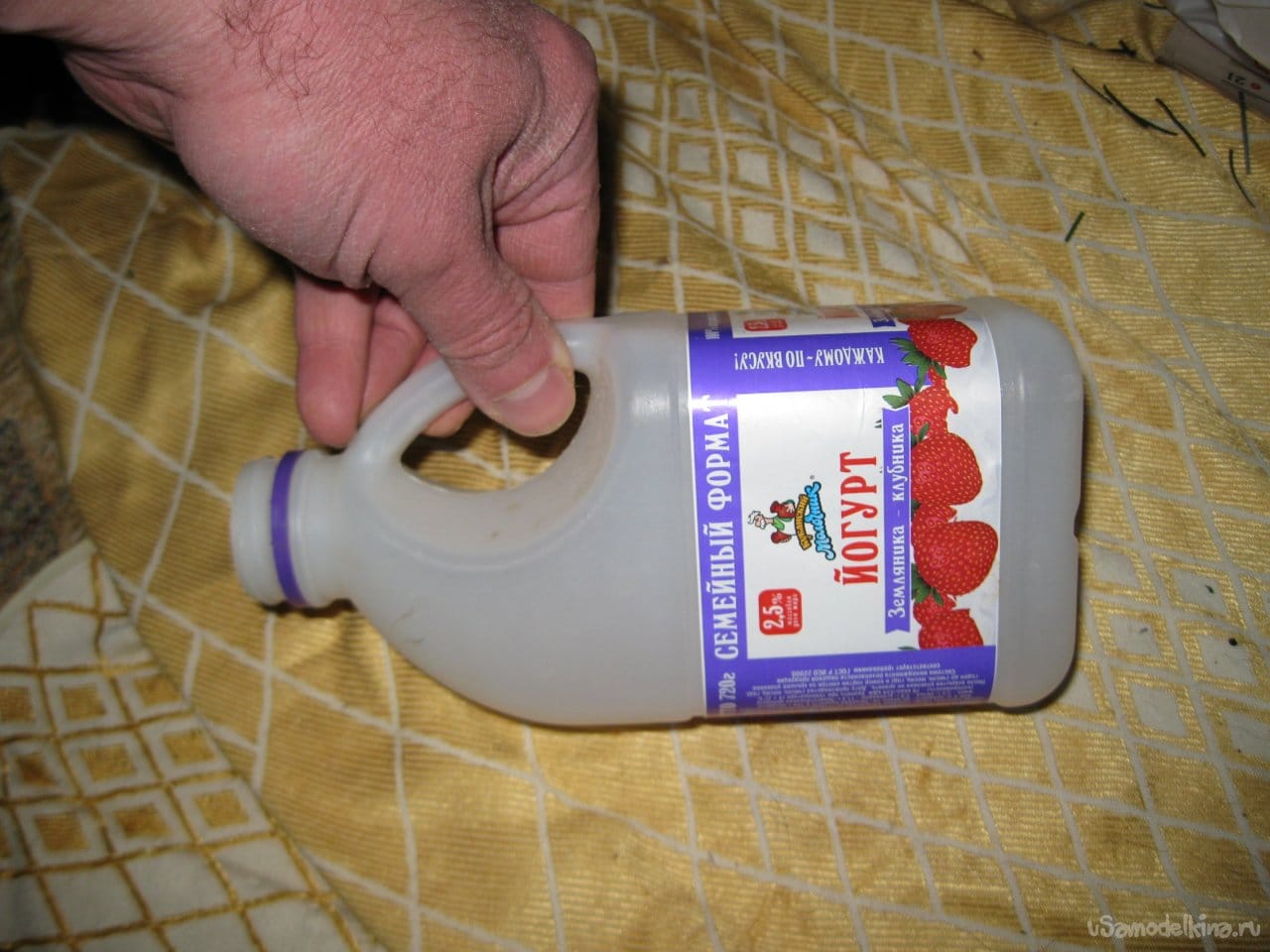 Such a scoop, of course, is very good and convenient, for example, for pouring various small bulk products, cereals, pasta, compound feed, etc. However, it is also not very suitable for pouring soil into planting containers.
Much more convenient in this case can be scoops made from plastic bottles from various drinks or liquid products. Therefore, today, I will show you how you can make two very simple and convenient scoops from a milk plastic bottle, as well as from a bottle of ketchup.
To make such scoops, I needed the following accessories :
Materials:
• A plastic milk bottle with a capacity of one liter with a lid.
• A plastic ketchup bottle with a lid.
Tools:
• Construction knife.
• Scissors.
• Fine-grained sandpaper.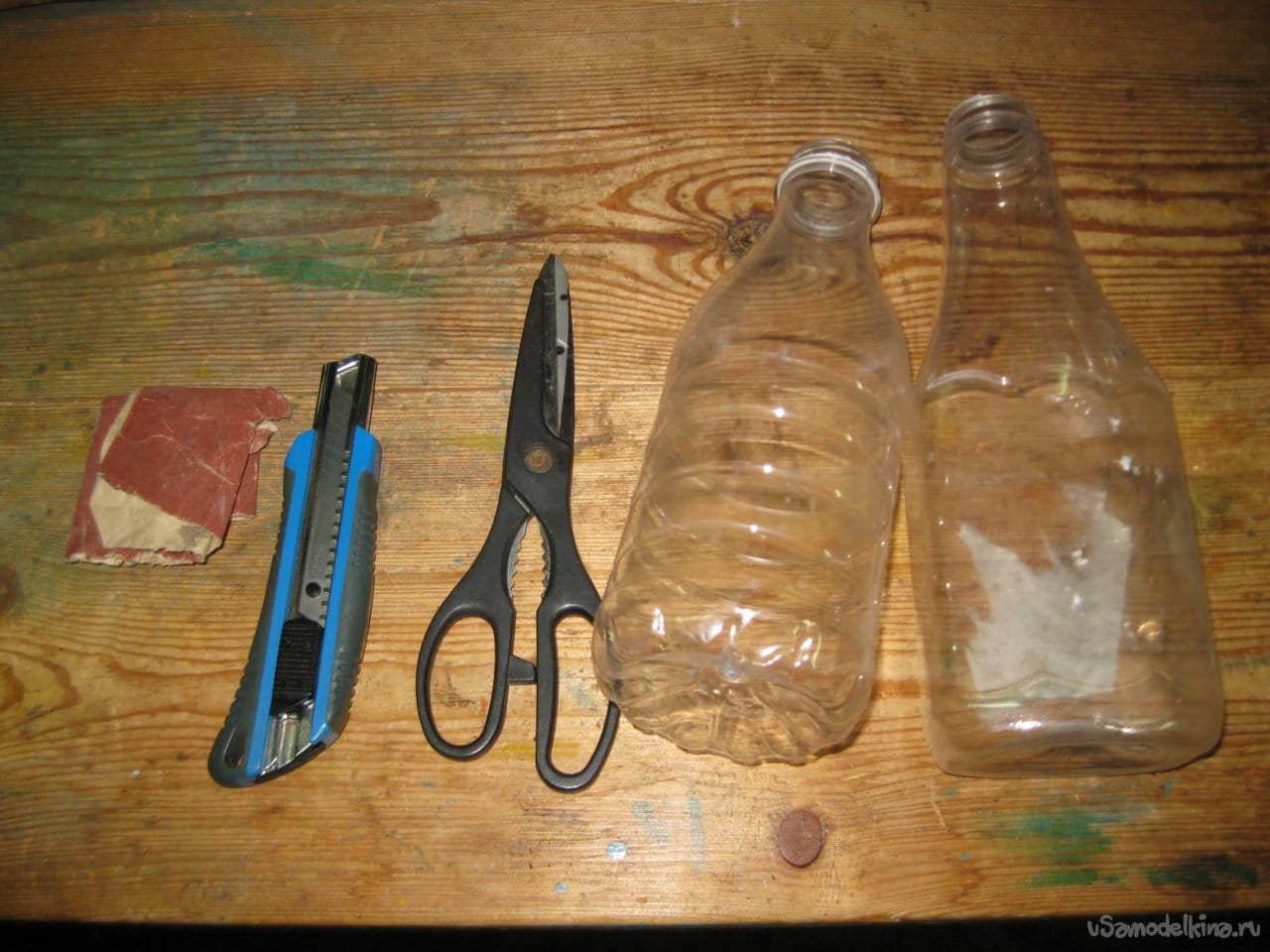 The procedure for making scoops.
Since the technology for making all such scoops is absolutely the same, I will show this using the example of making a scoop from a milk bottle.
For such a scoop, a bottle with a gradually narrowing neck is best suited, for example, like this.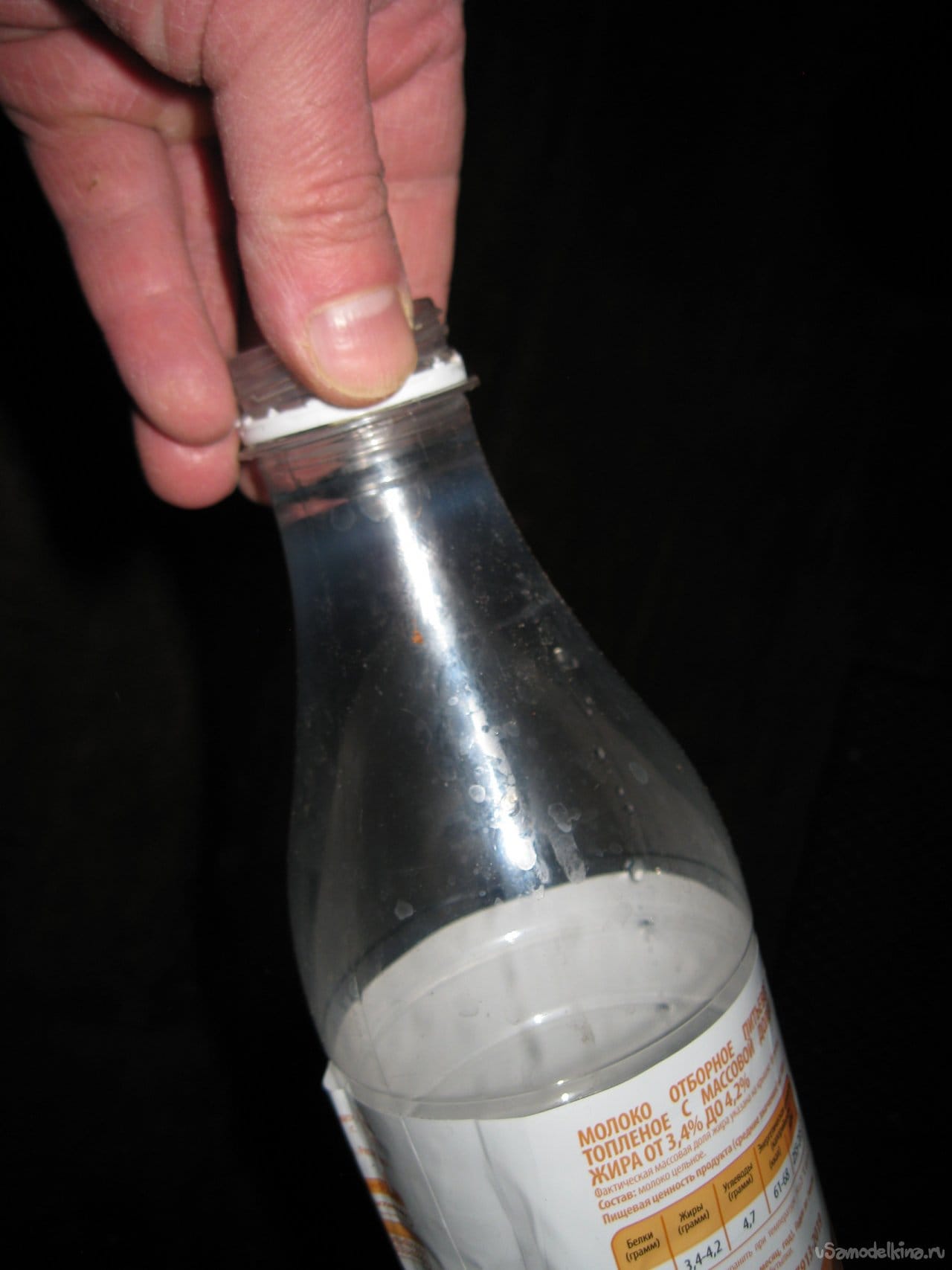 This is due to the fact that the neck of the bottle in this case will serve as the handle of the future scoop. Therefore, it should be comfortable enough to hold in your hand.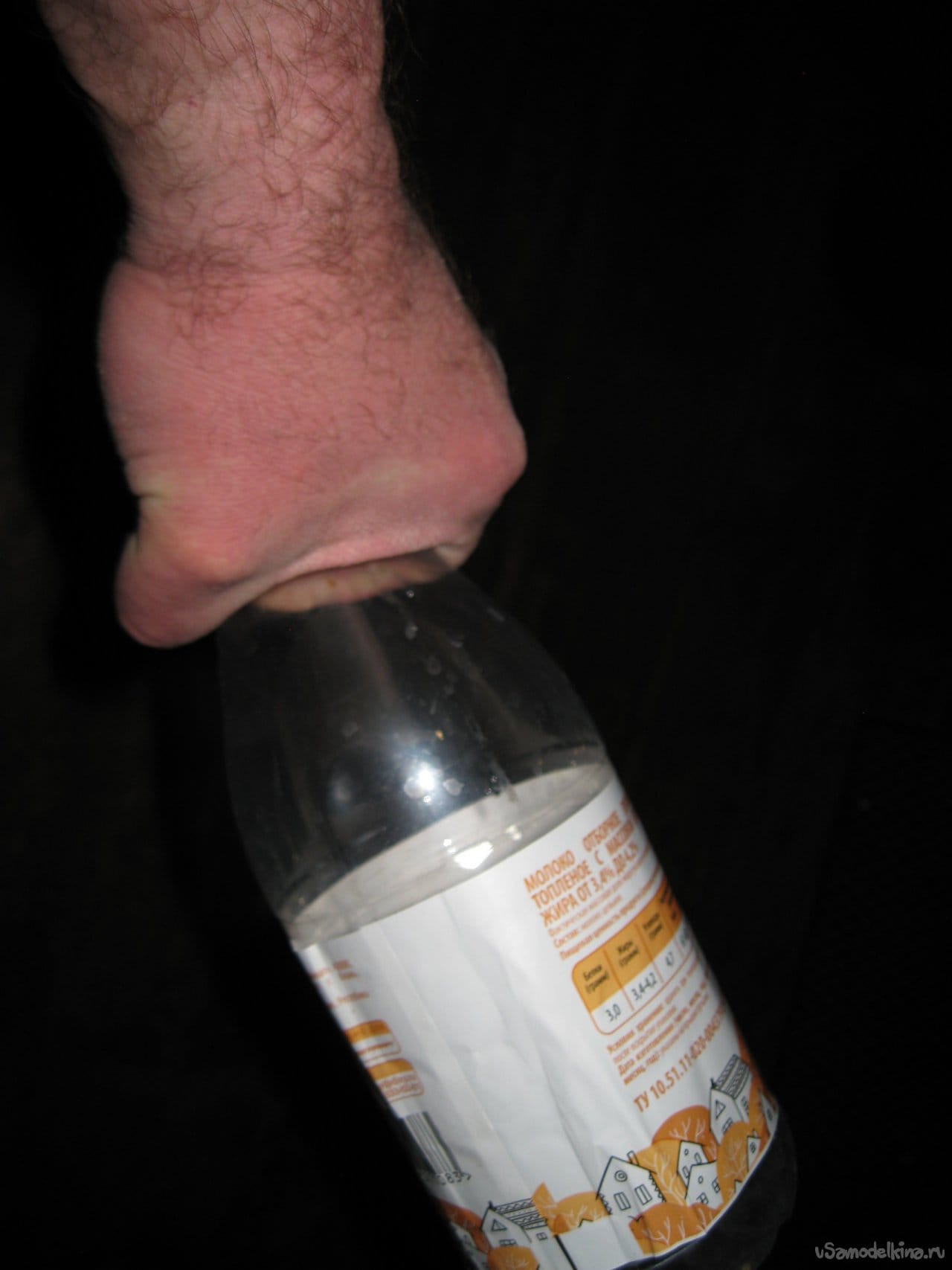 Step 1. Preparing the plastic bottle.
Step 1. Remove the paper label (if necessary) from the bottle and rinse it with water from the outside and from the inside.
Step 2. Using a construction knife, cut off the retaining plastic ring from the bottle neck so that it does not interfere with us in the future.

Step 3. Since the label is glued to the plastic bottle with a strip of some rather sticky and viscous glue, it is highly advisable to remove it so that various debris does not stick to the bottle.
Traces of this glue are visible on the bottle.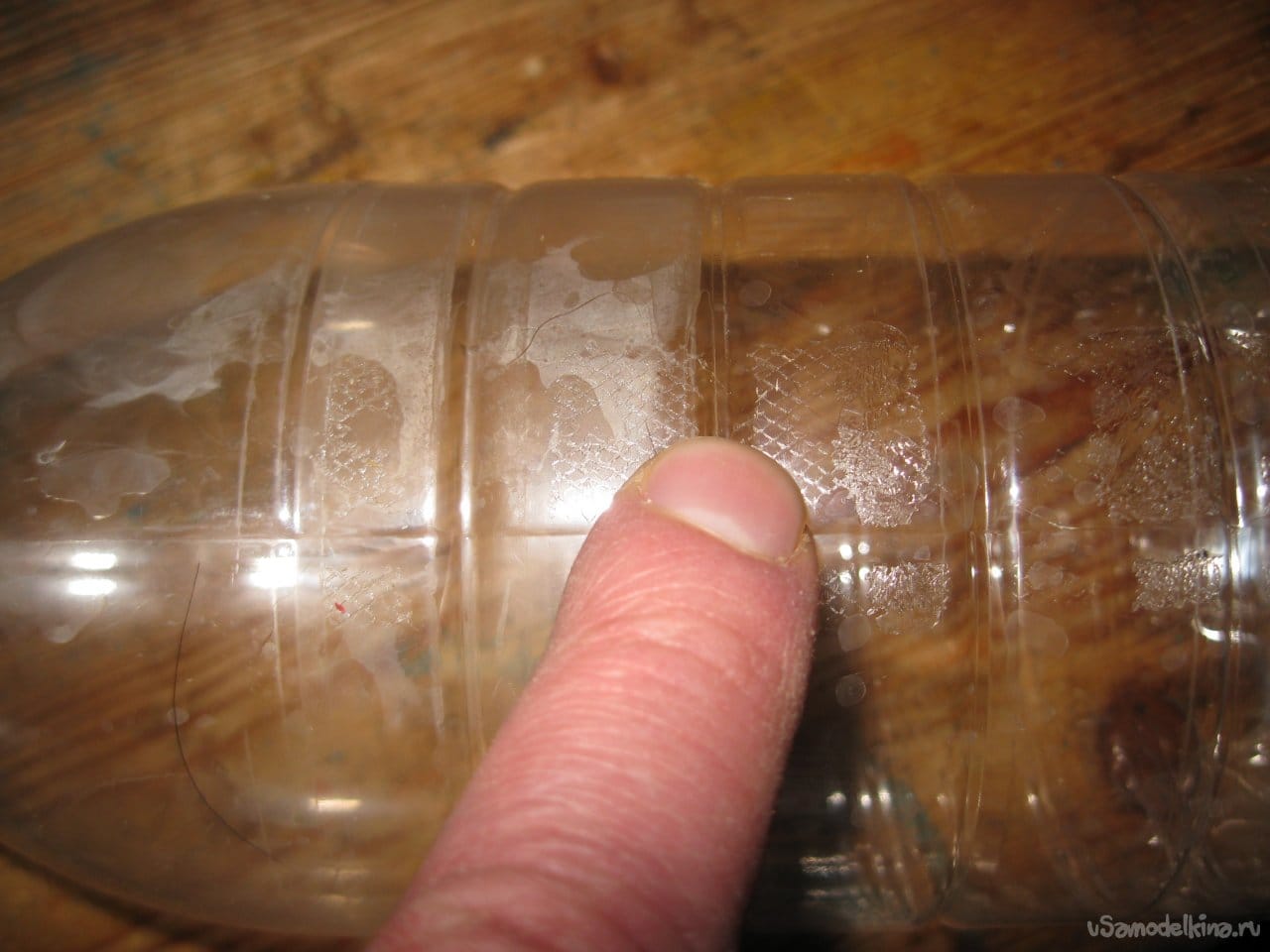 You can remove this glue with any solvent, white spirit, acetone and even, as practice shows, with ordinary gasoline.
Therefore, we wet the rags with gasoline and remove the glue strip from the bottle.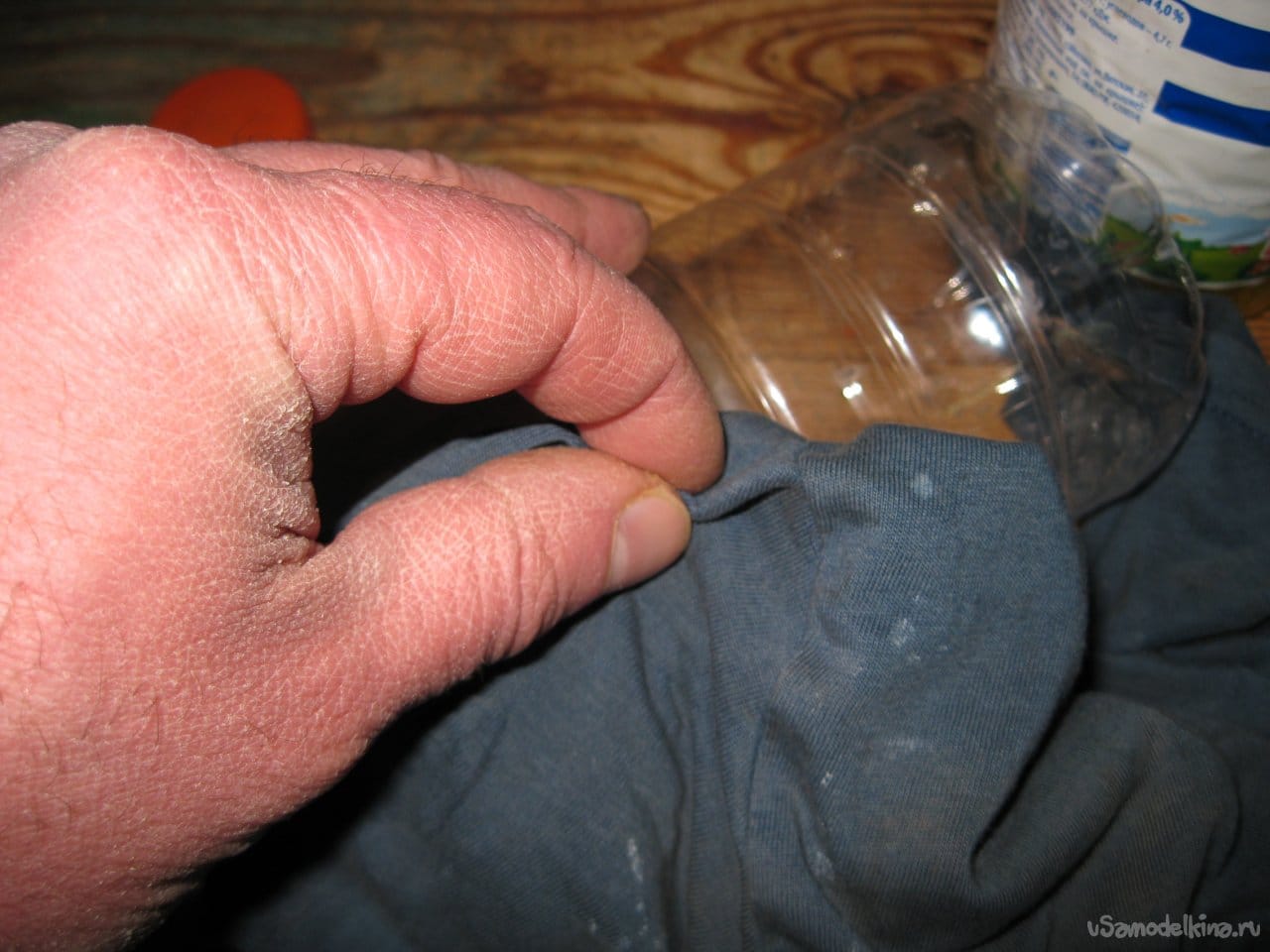 Step 2. Making a scoop .
Step 1. Using a construction knife, cut off a part of the bottle with a bottom obliquely. Moreover, the angle of inclination of the oblique cut in this case, you can take an arbitrary and even the cut itself, make it somewhat curvilinear.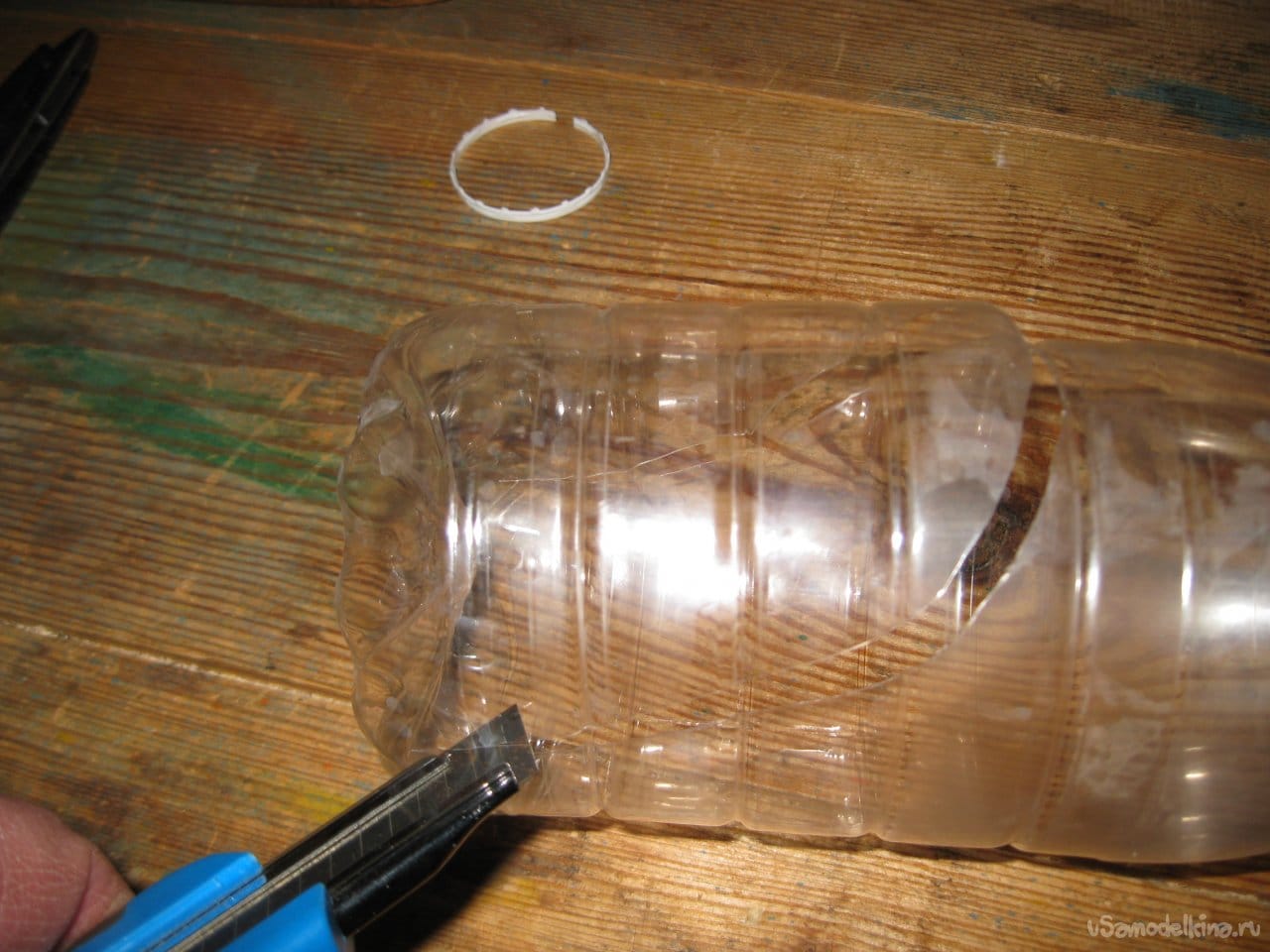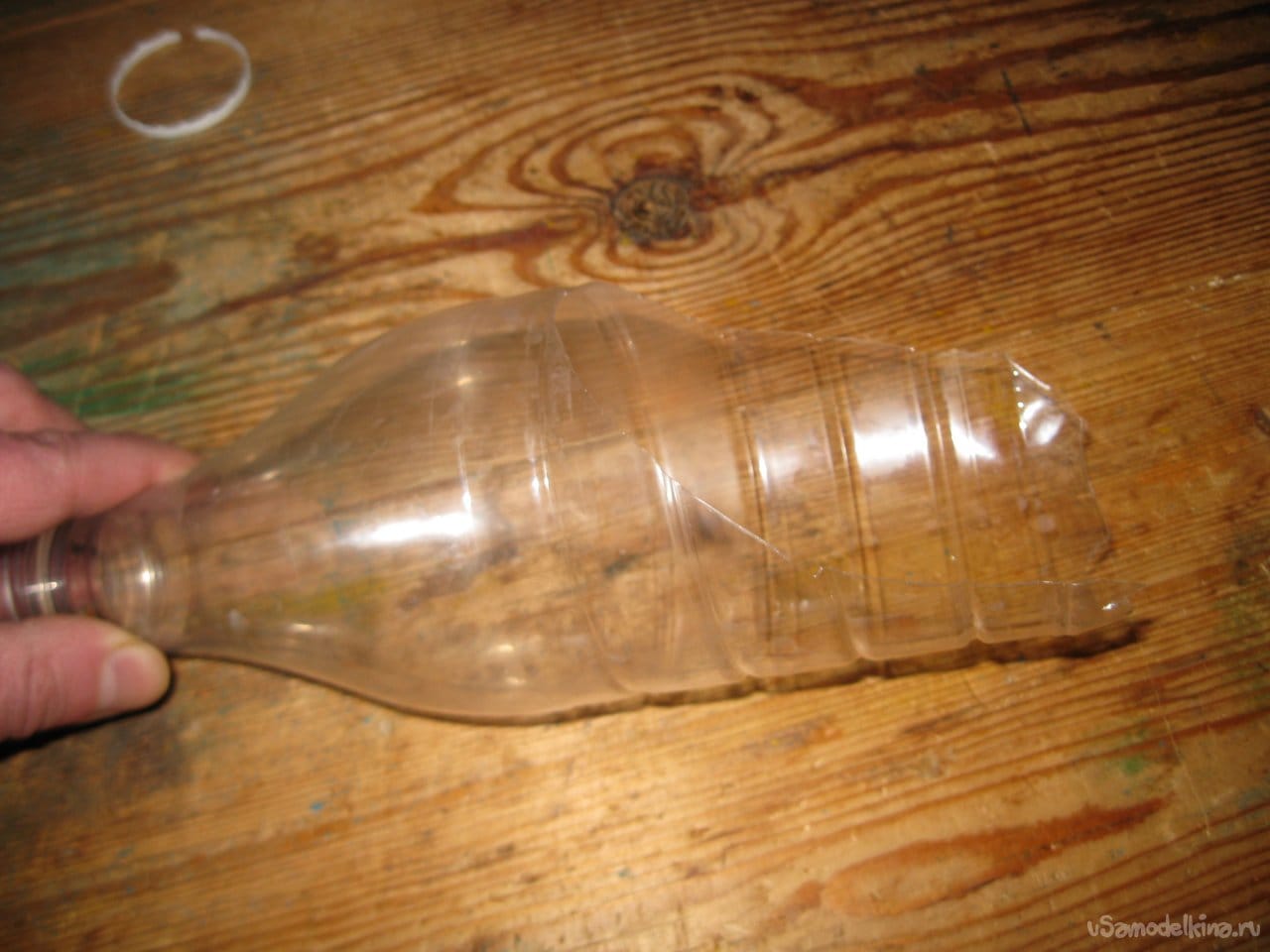 Step 2. Using scissors, trim the cut on the bottle, cutting off the sharp corners and making the cut smoother.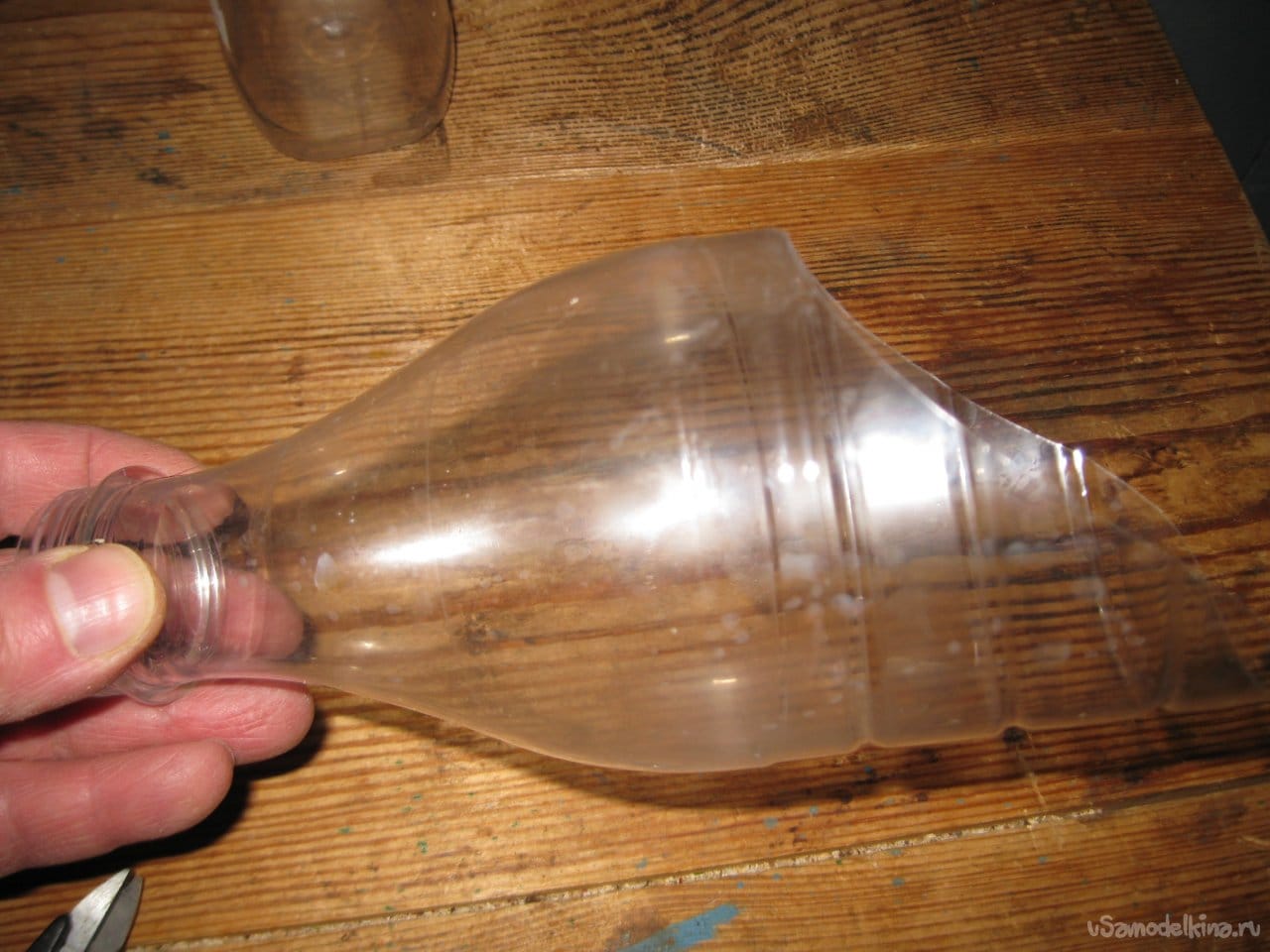 And now our scoop is almost ready!
This is how it looks from different angles.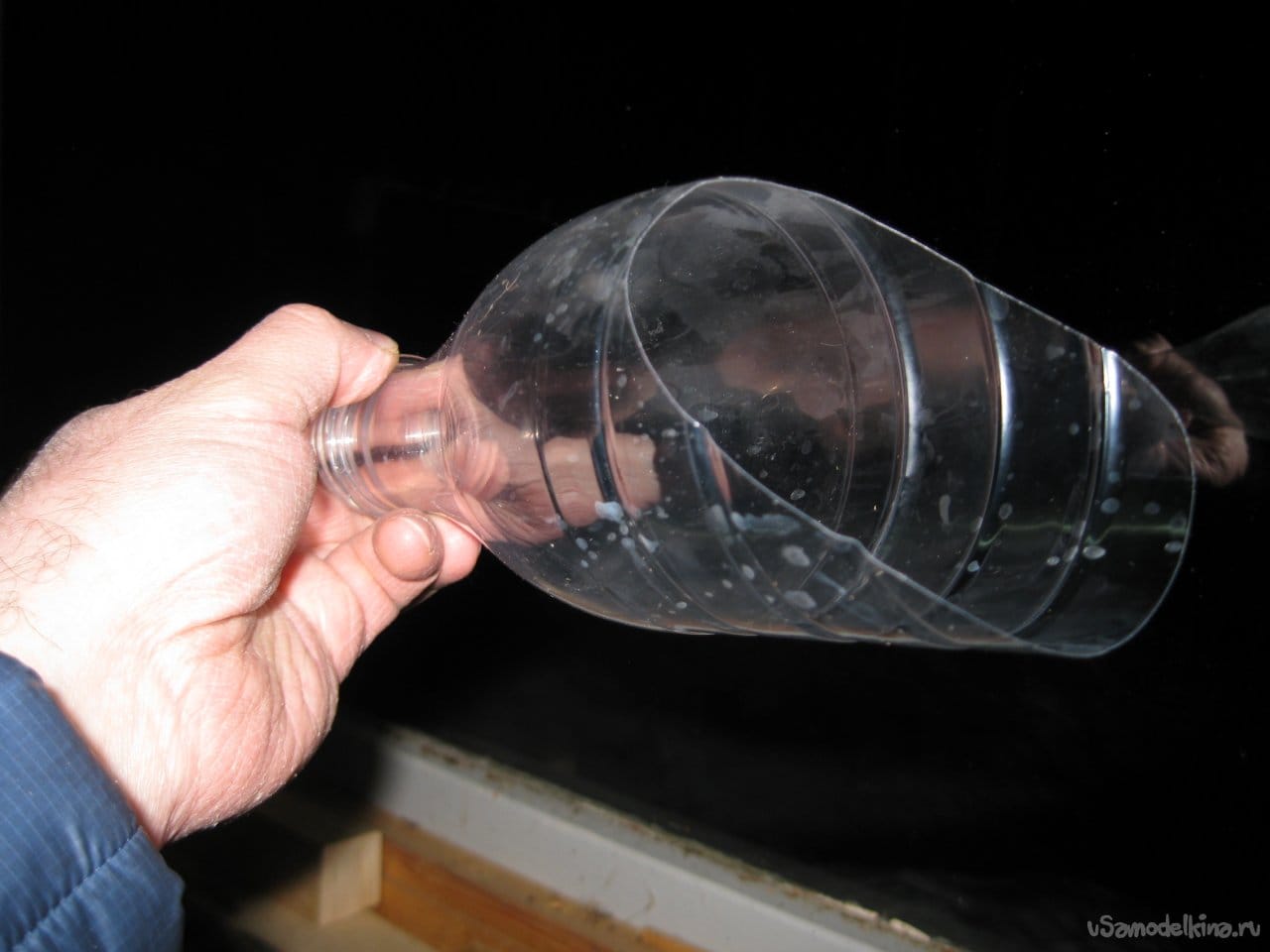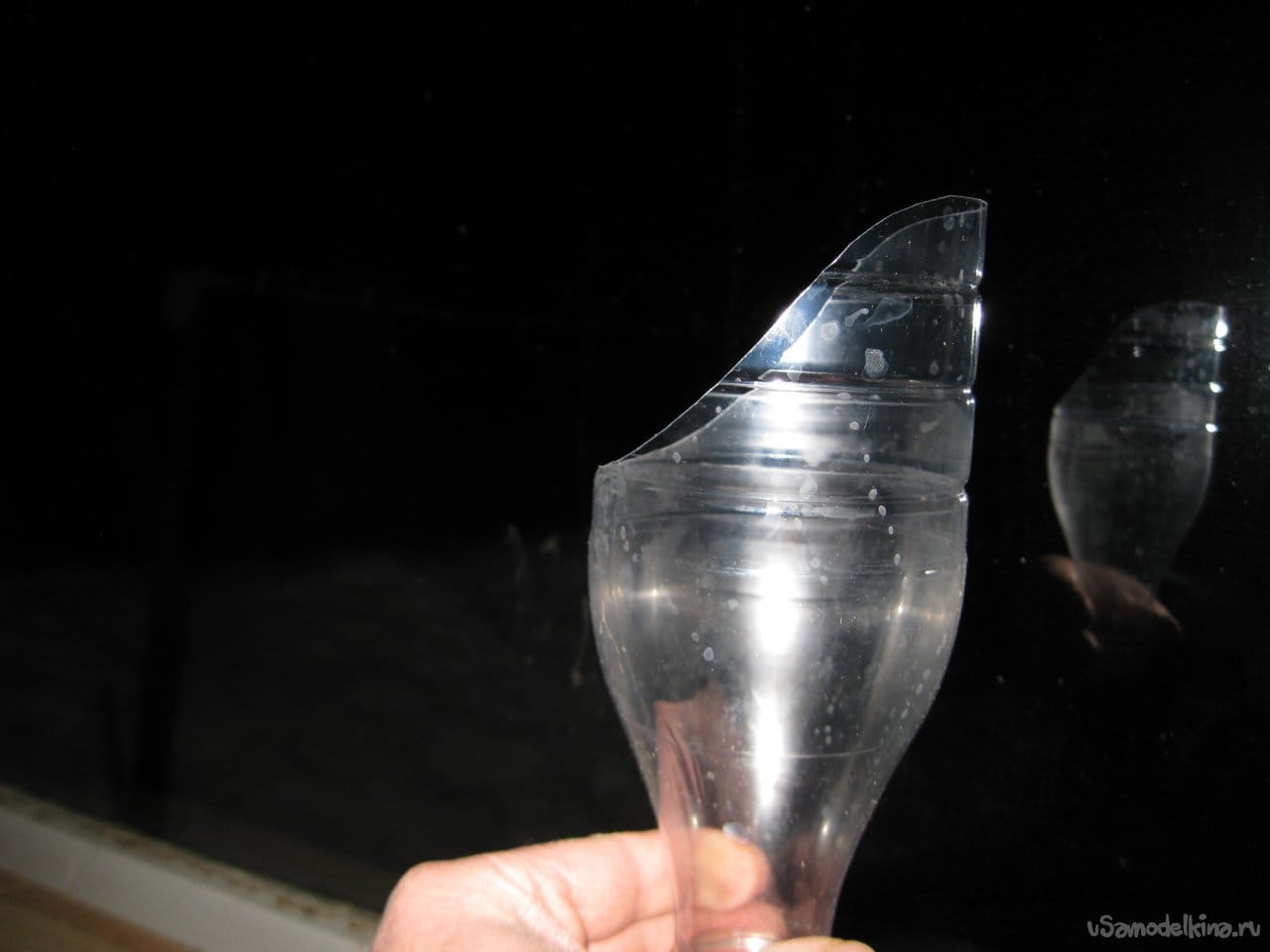 However, since the cut of the wall of the plastic bottle is very sharp, you can easily injure yourself. Therefore, we perform the last step:
Step 3. Using fine-grained sandpaper, we blunt the sharp edges of the cut of the plastic bottle body.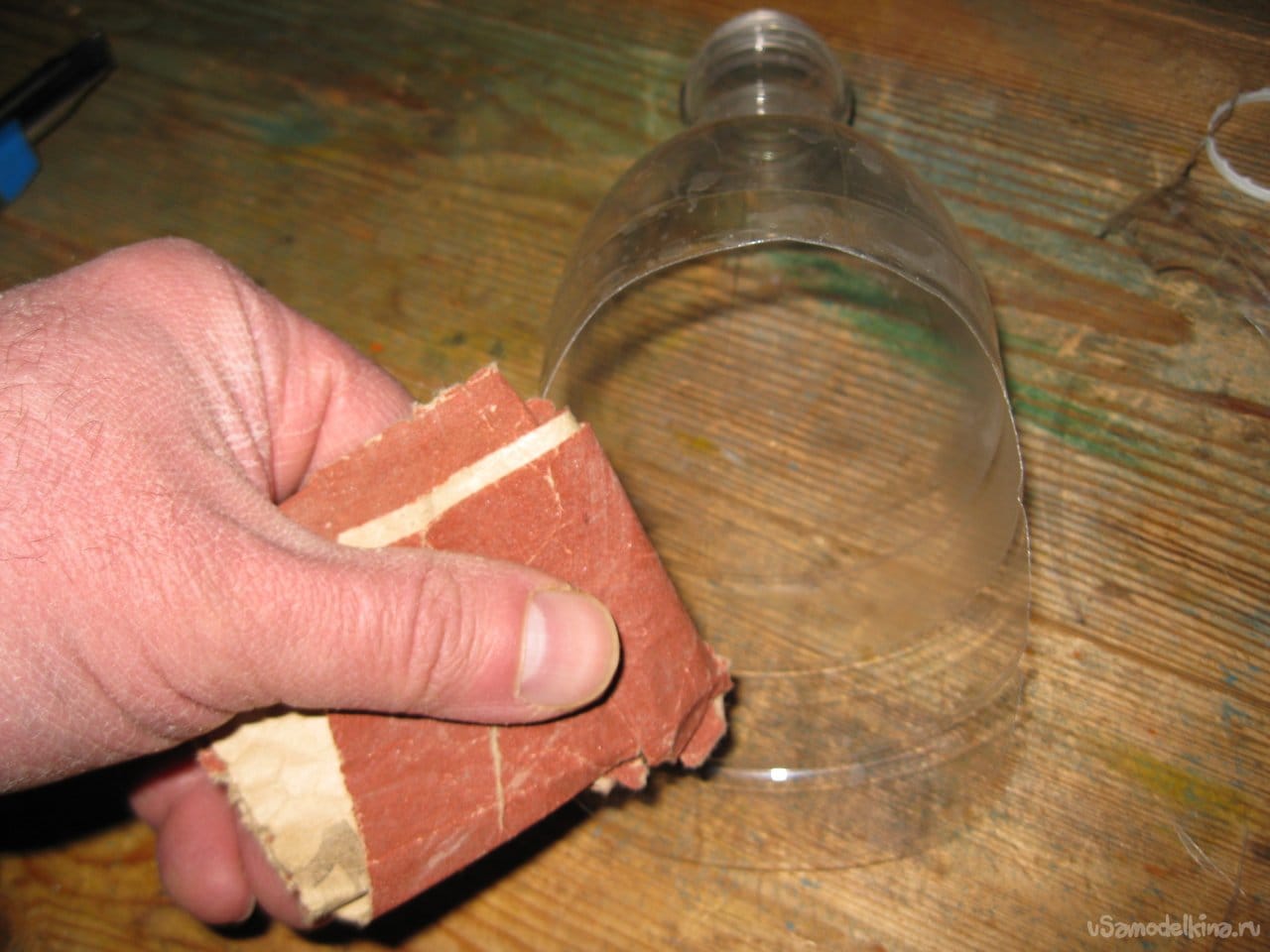 Now it remains to screw the plastic cap onto the neck of our scoop bottle. And now our scoop is finally ready!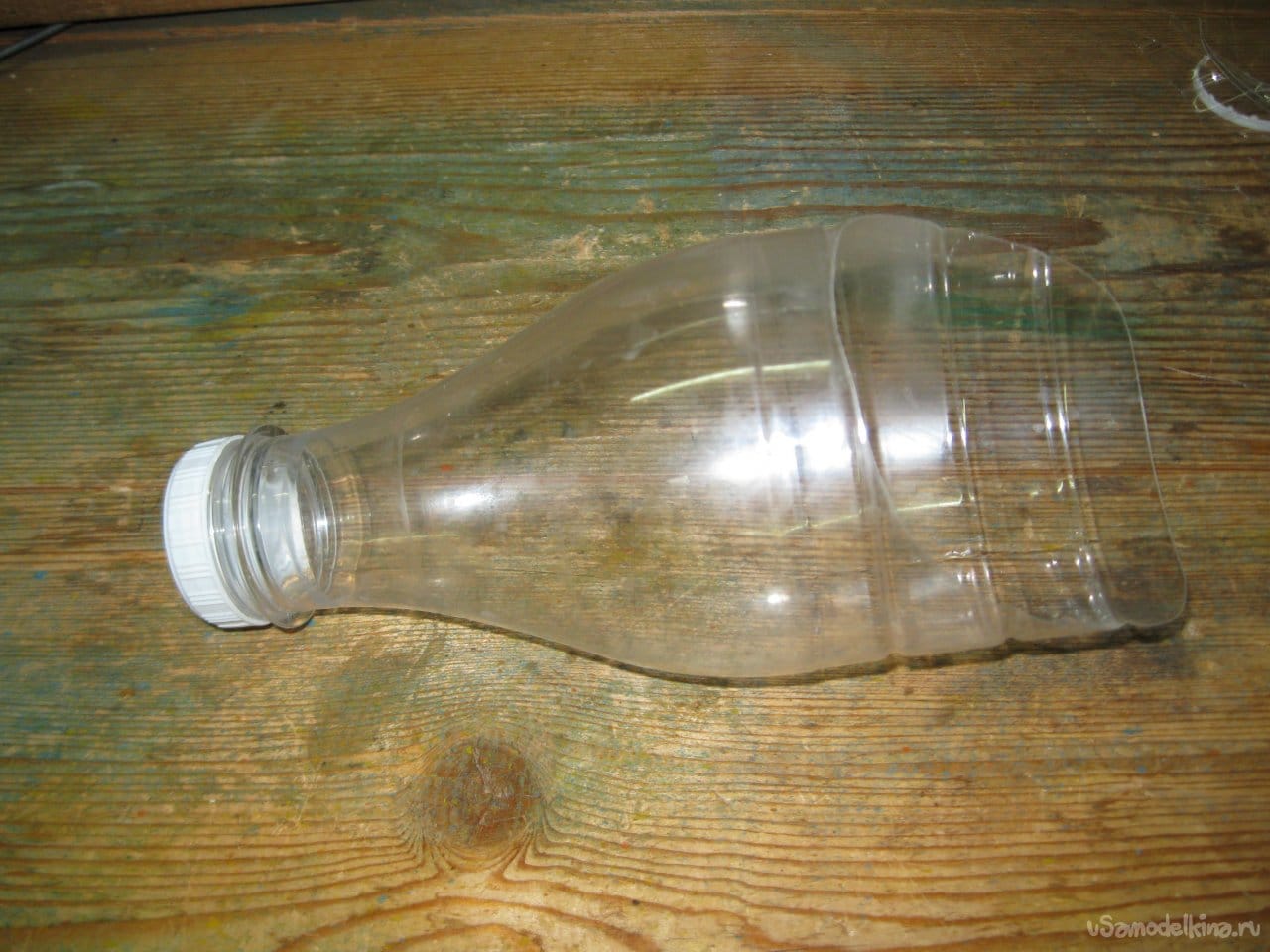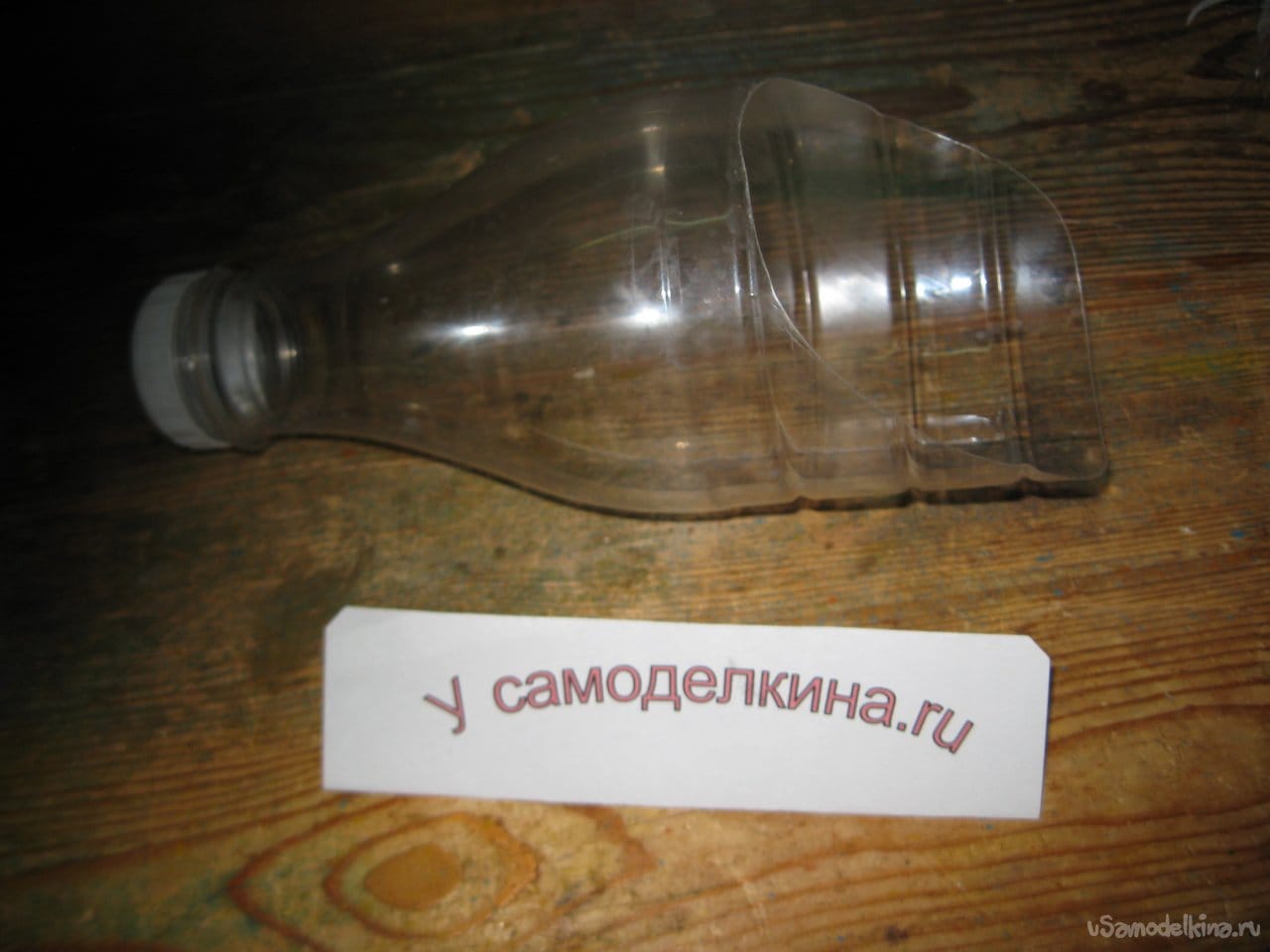 Using the same technology, I made the second scoop. The only difference is that I made this scoop from a plastic ketchup bottle.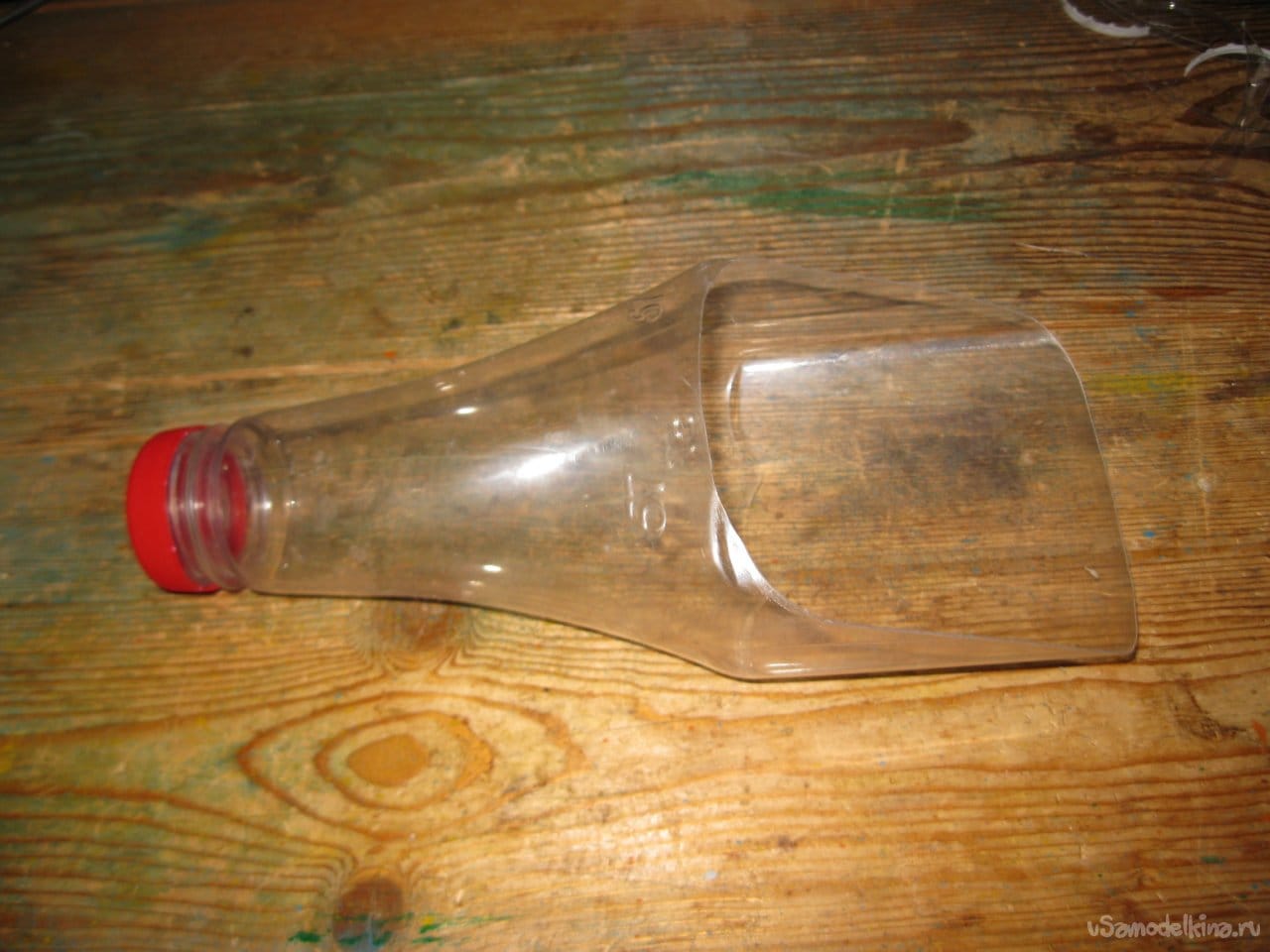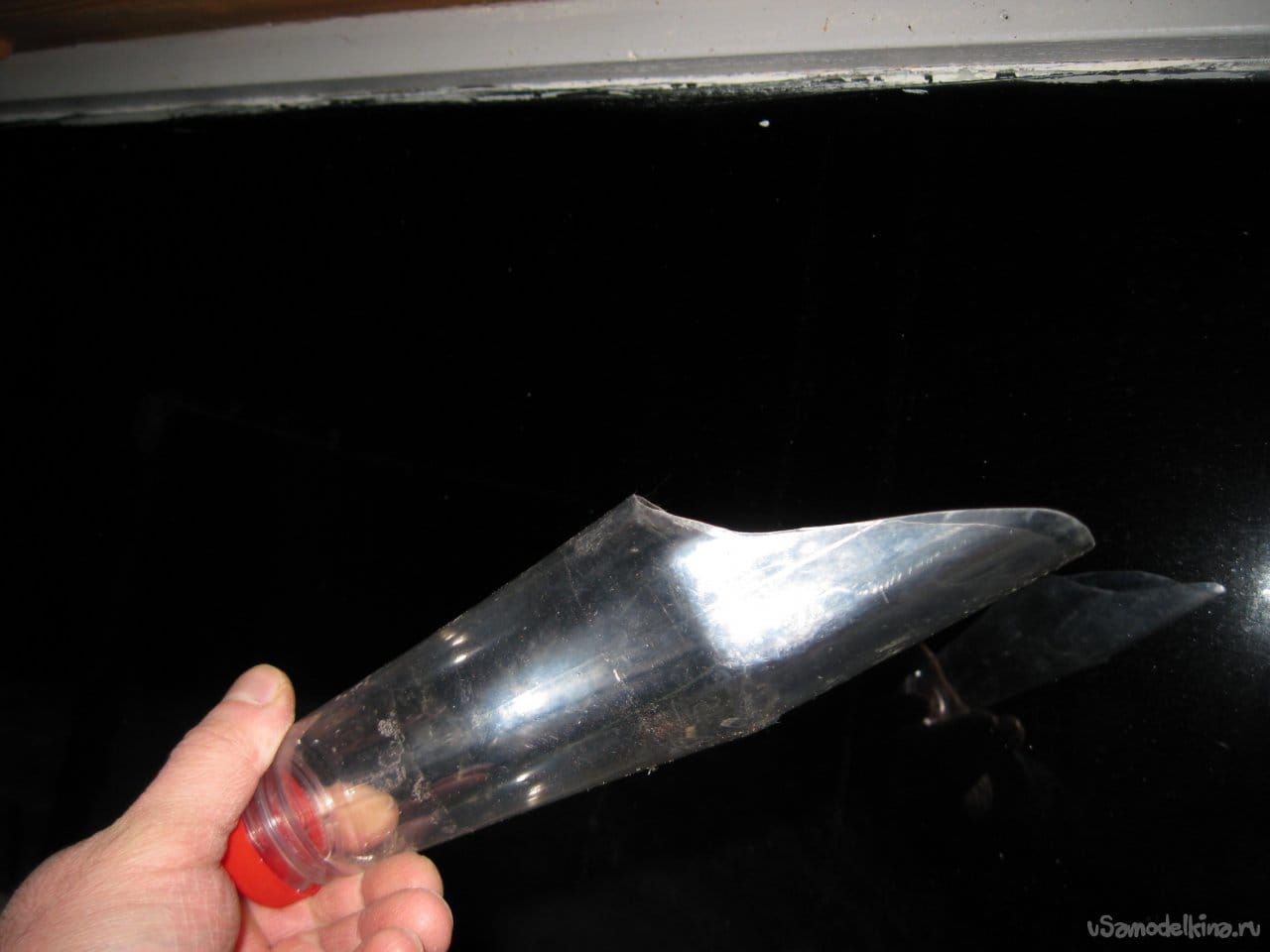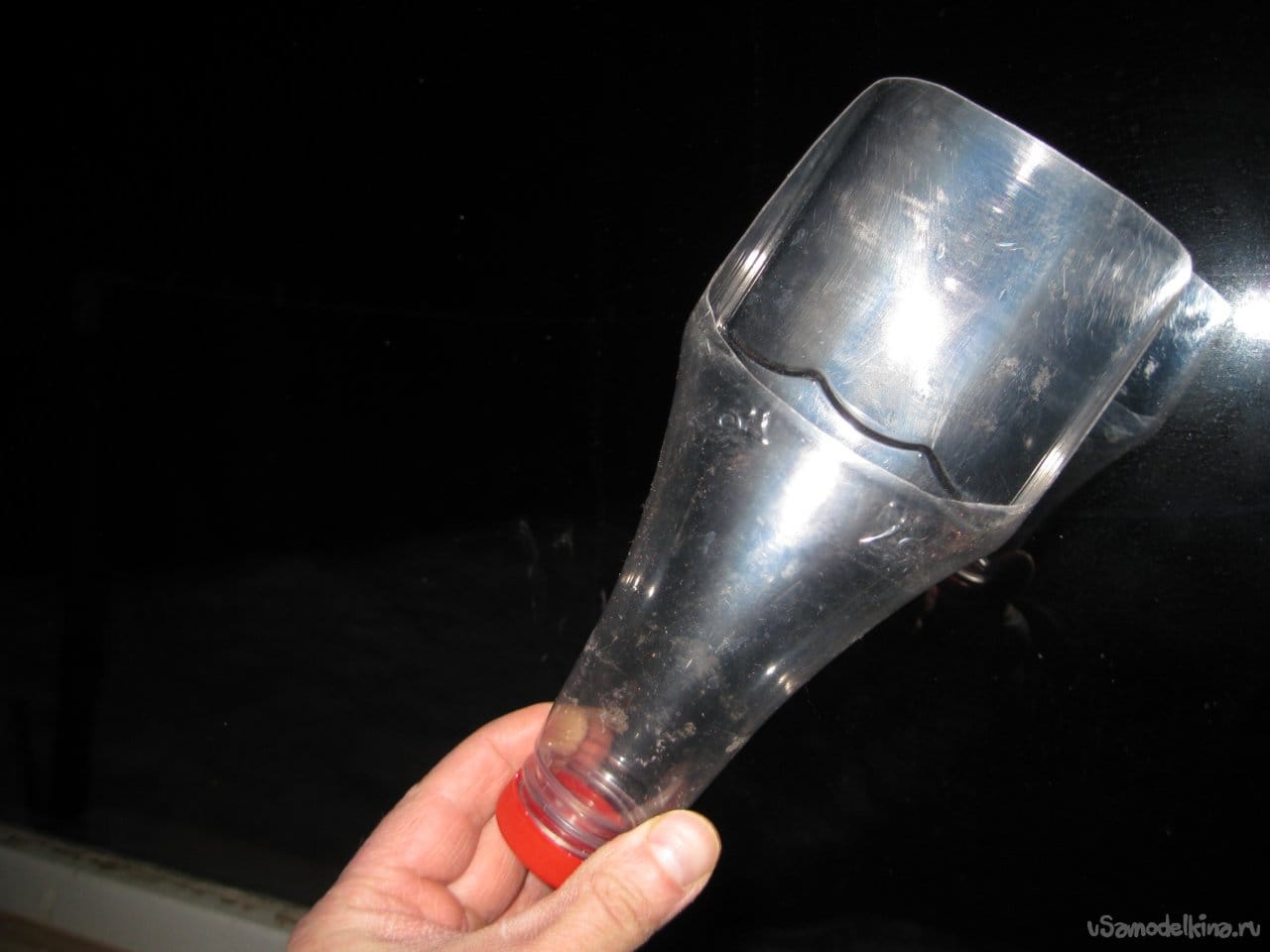 By the way, it should be noted that the walls of a plastic ketchup bottle are thicker than those of a milk bottle. Therefore, such a scoop can last long enough. That is, if a scoop from a milk bottle lasts two or three years, then a scoop from a ketchup bottle may well last five or six years. Provided, of course, that it will only be used for filling loose soil.
Thus, both of our shovels are ready for work!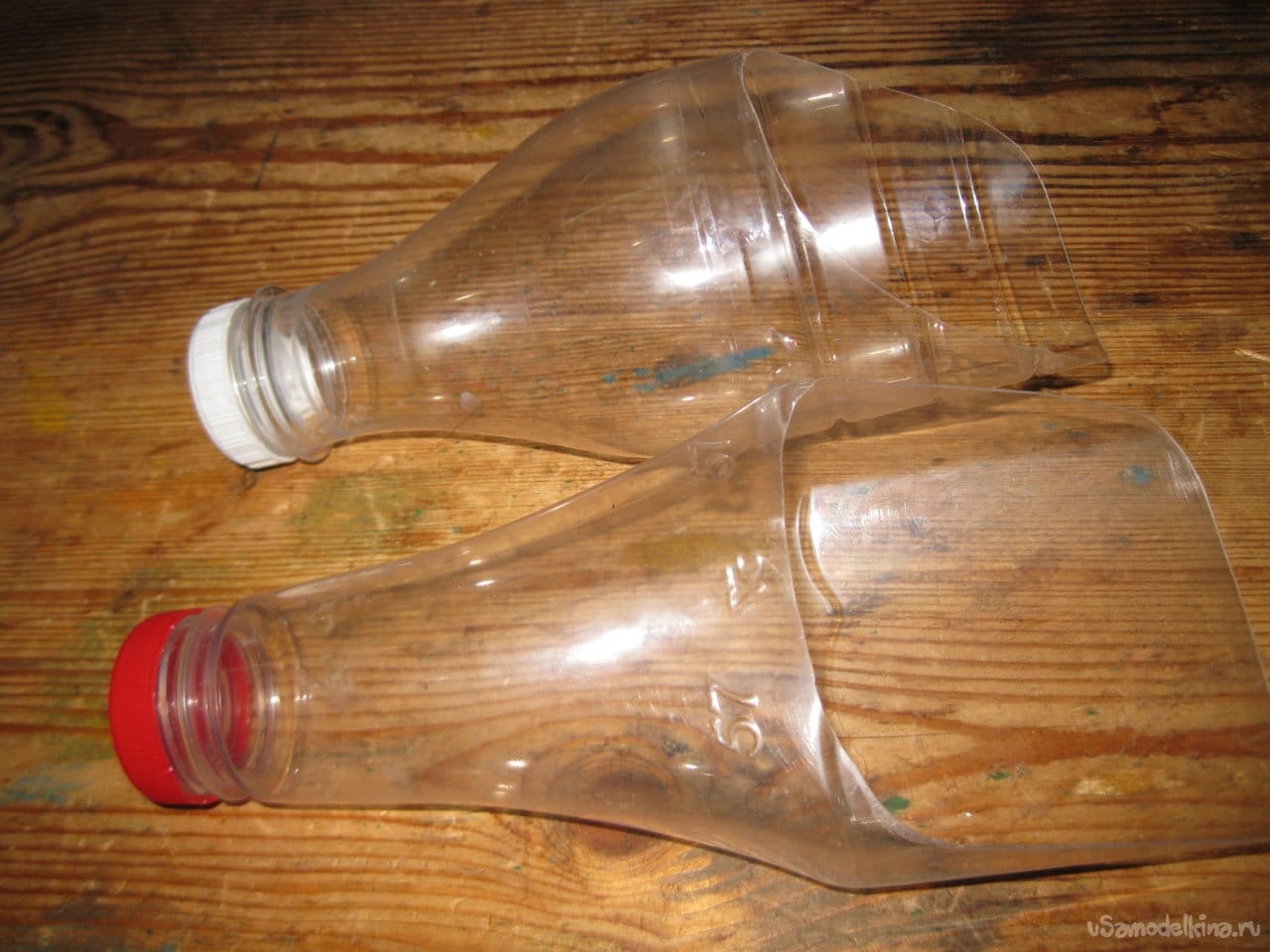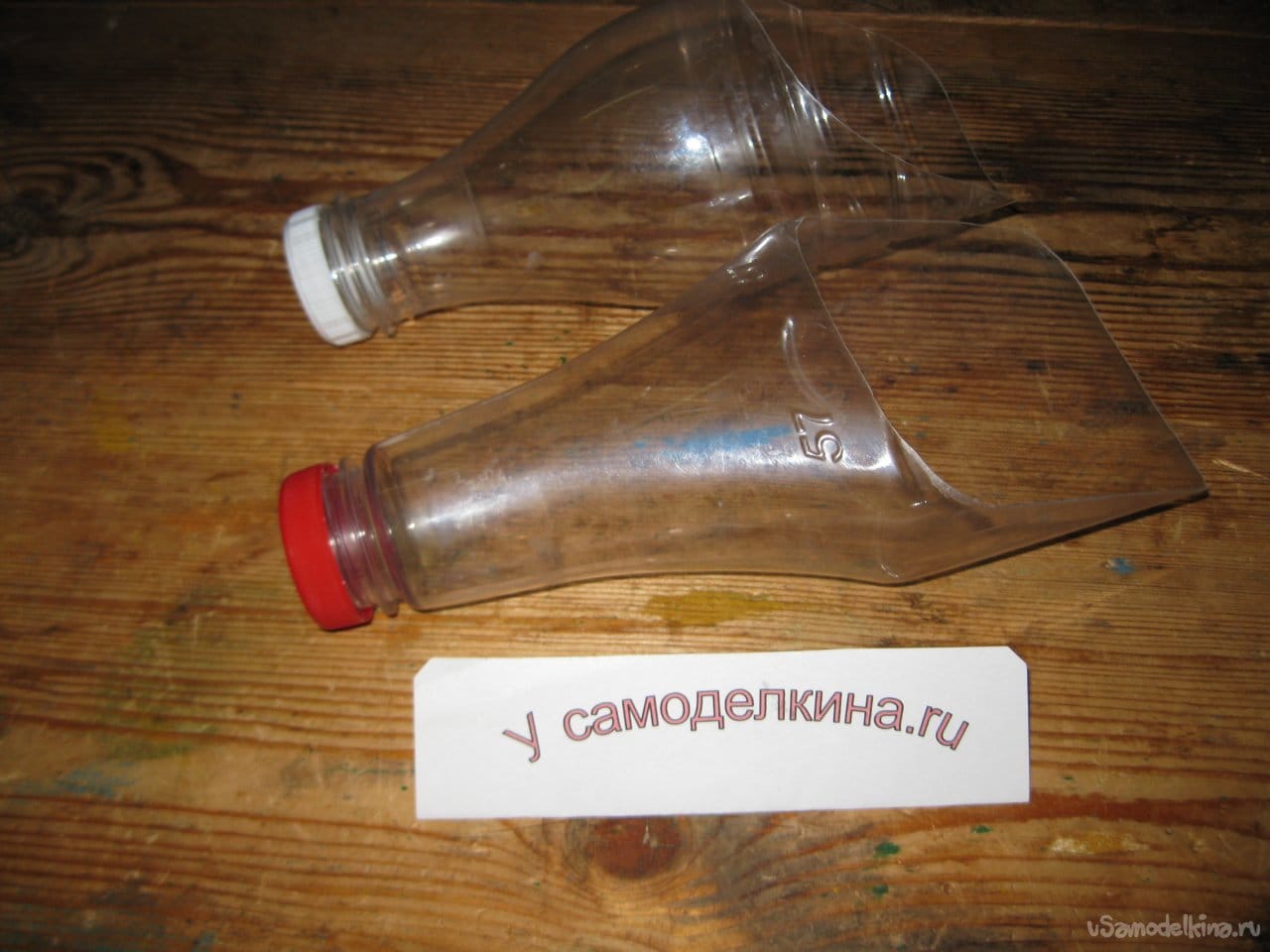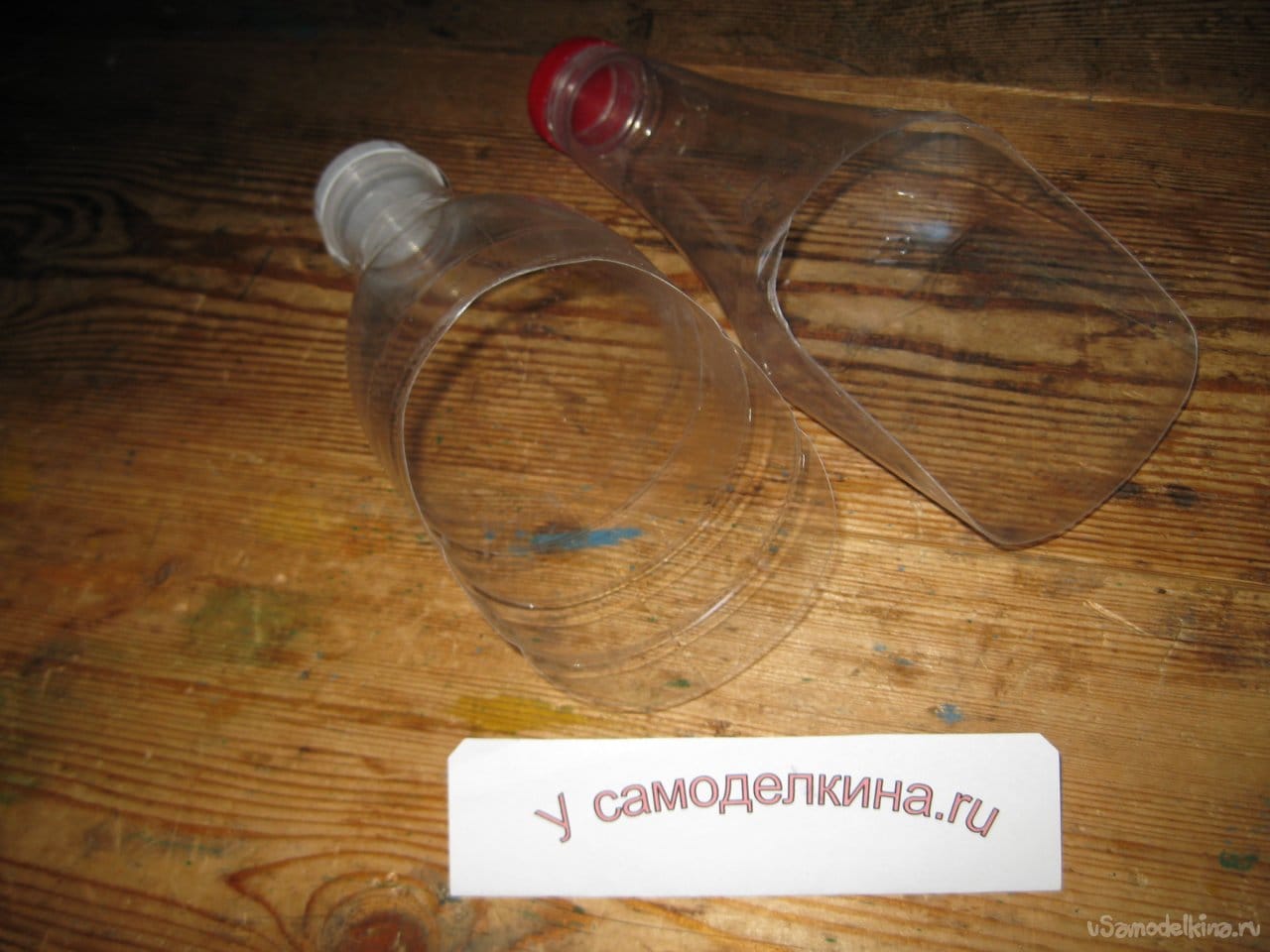 Well, now let's try to pour soil into planting containers with these scoops.
Tests of scoops.
Here it should be noted that for planting seedlings, we mainly use two types of containers:
Firstly, these are containers made from cardboard milk bags of rectangular and square cross-section.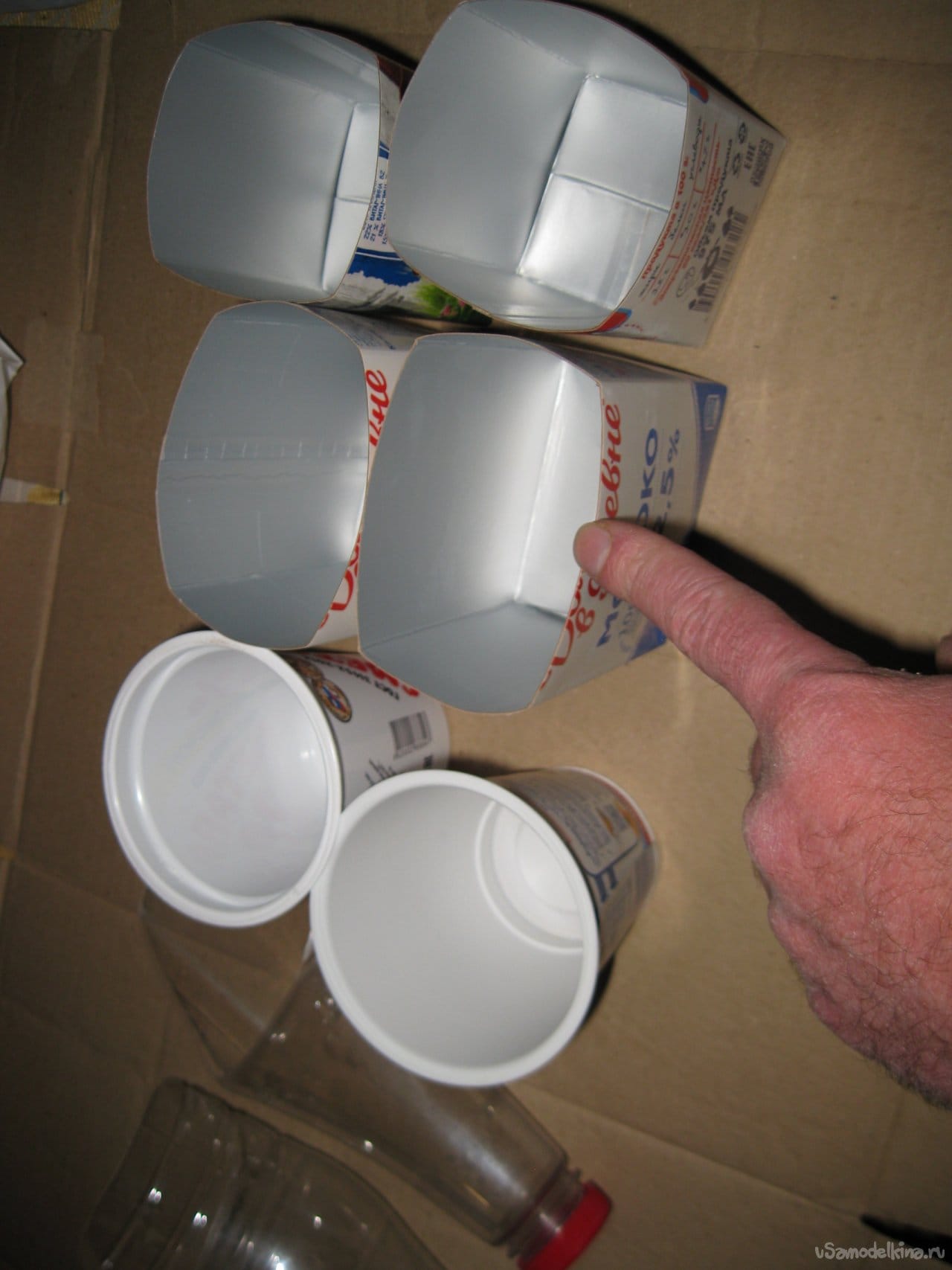 And, secondly, these are round plastic containers for sour cream.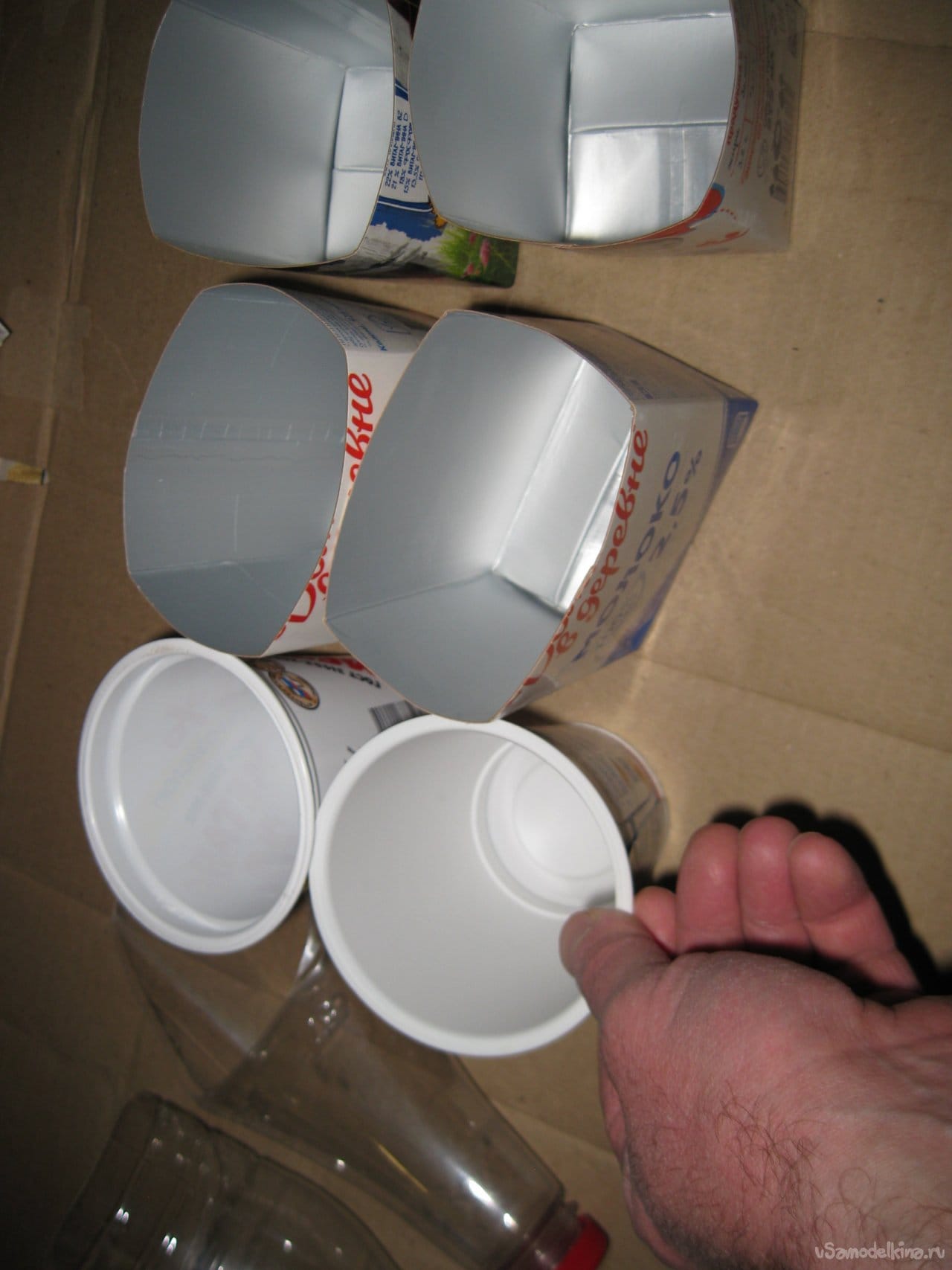 So the scoops made by us are ideal for these containers.
So a round scoop from a milk bottle easily fits into the sour cream container.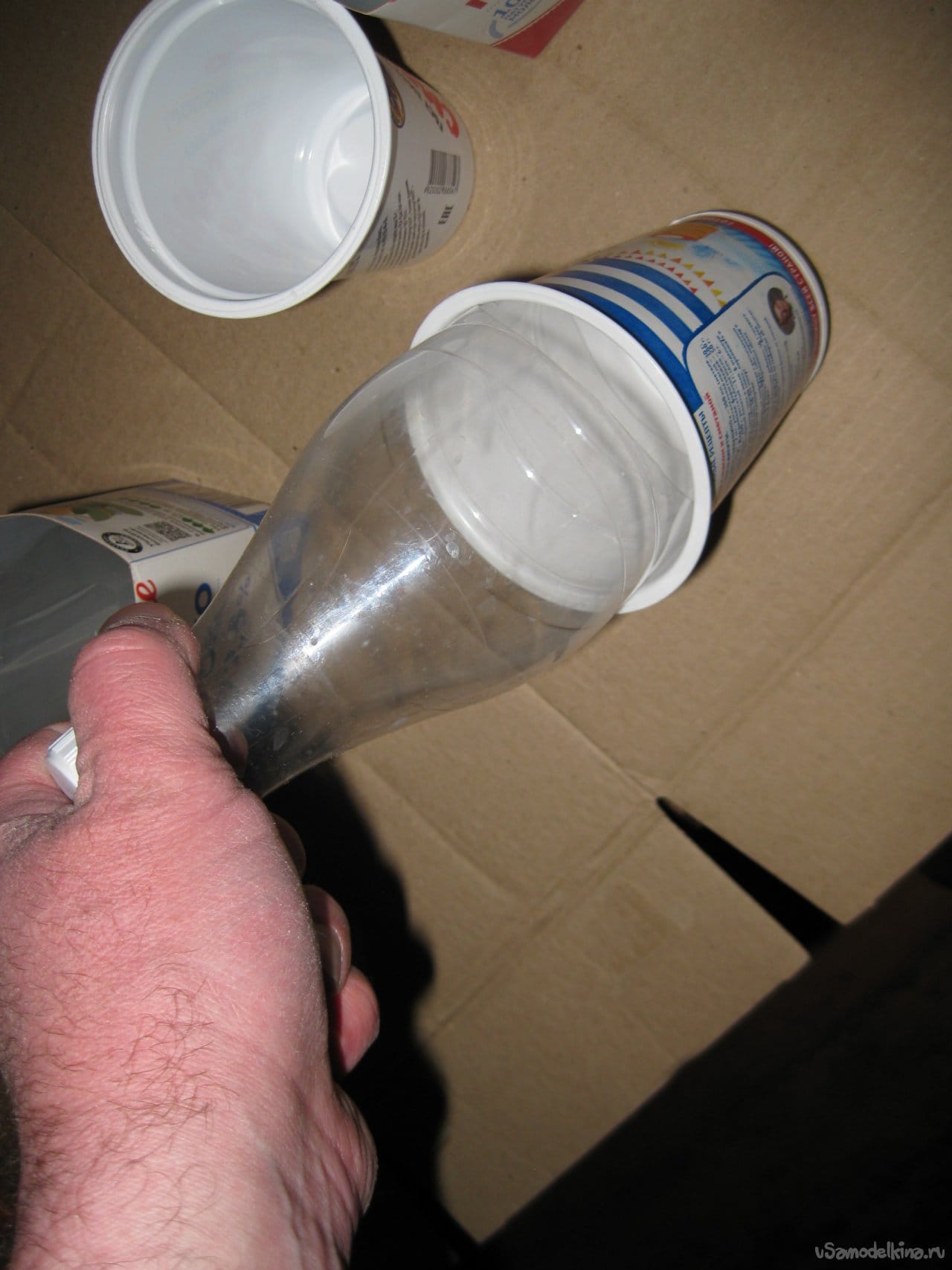 In addition, the same scoop fits easily into a square container from a cardboard milk bag, and a flat scoop fits well into a rectangular container.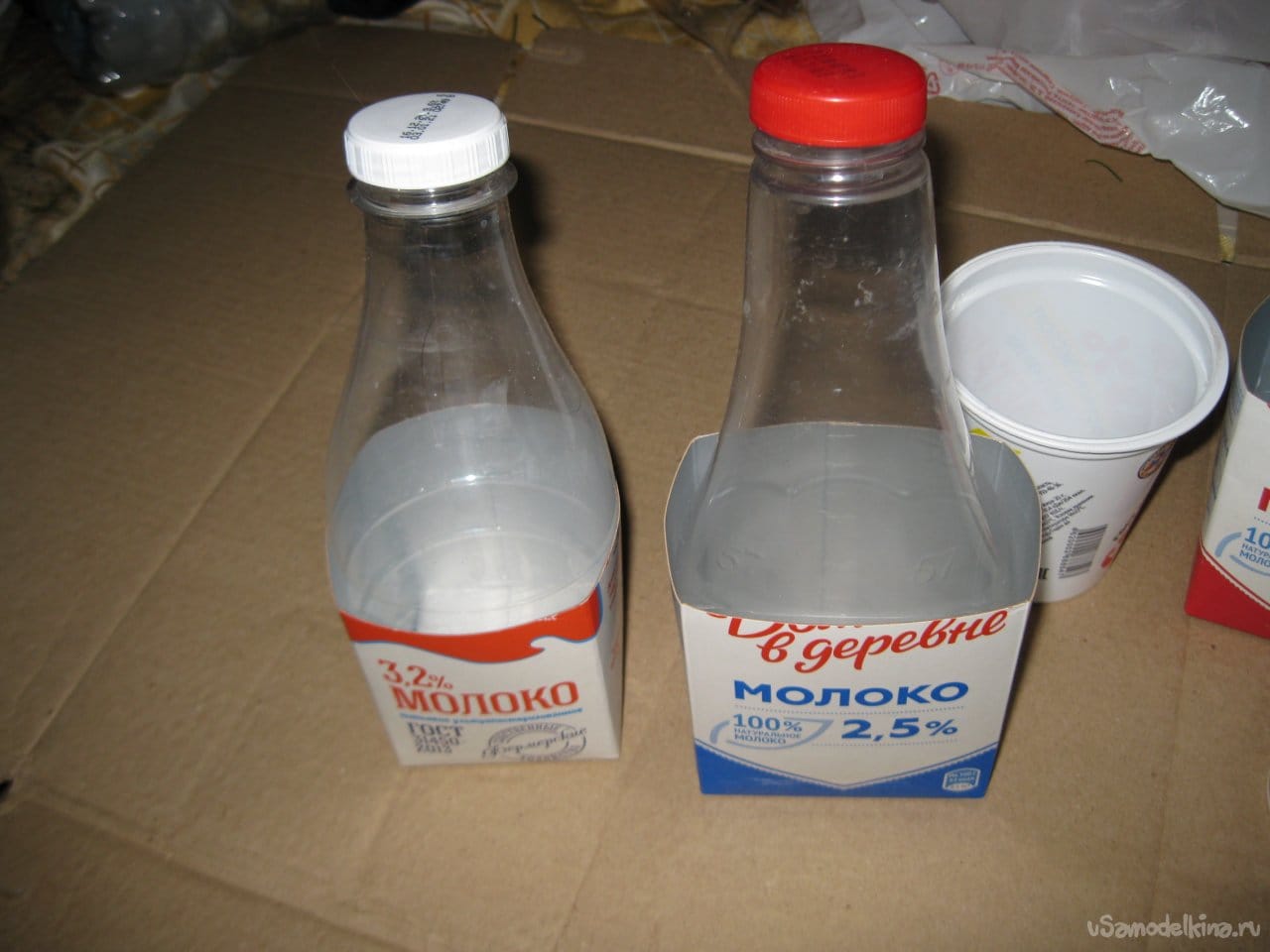 Thus, to pour soil, for example, into a square container, you need to scoop up the required amount of soil from a large container with a round scoop.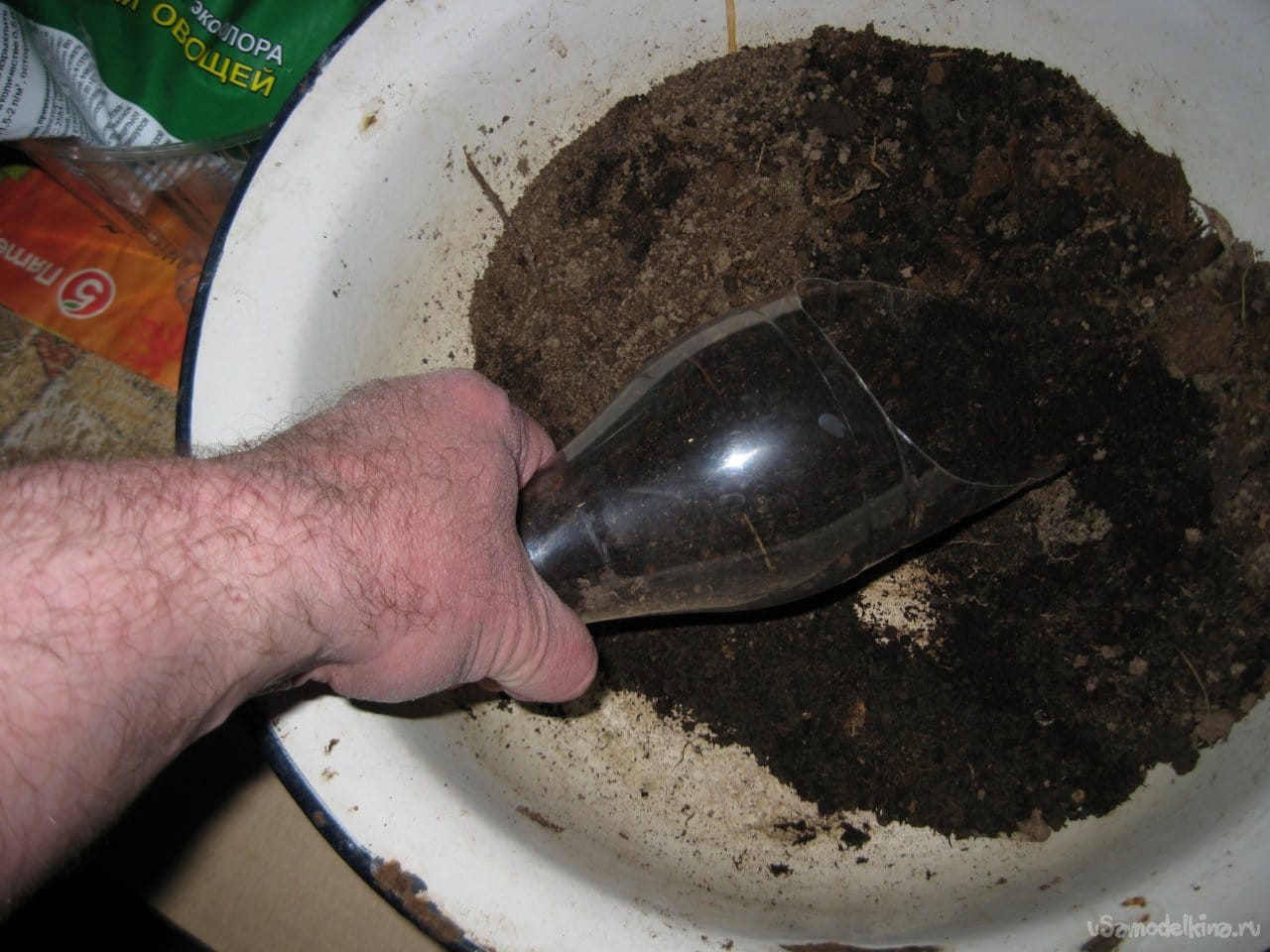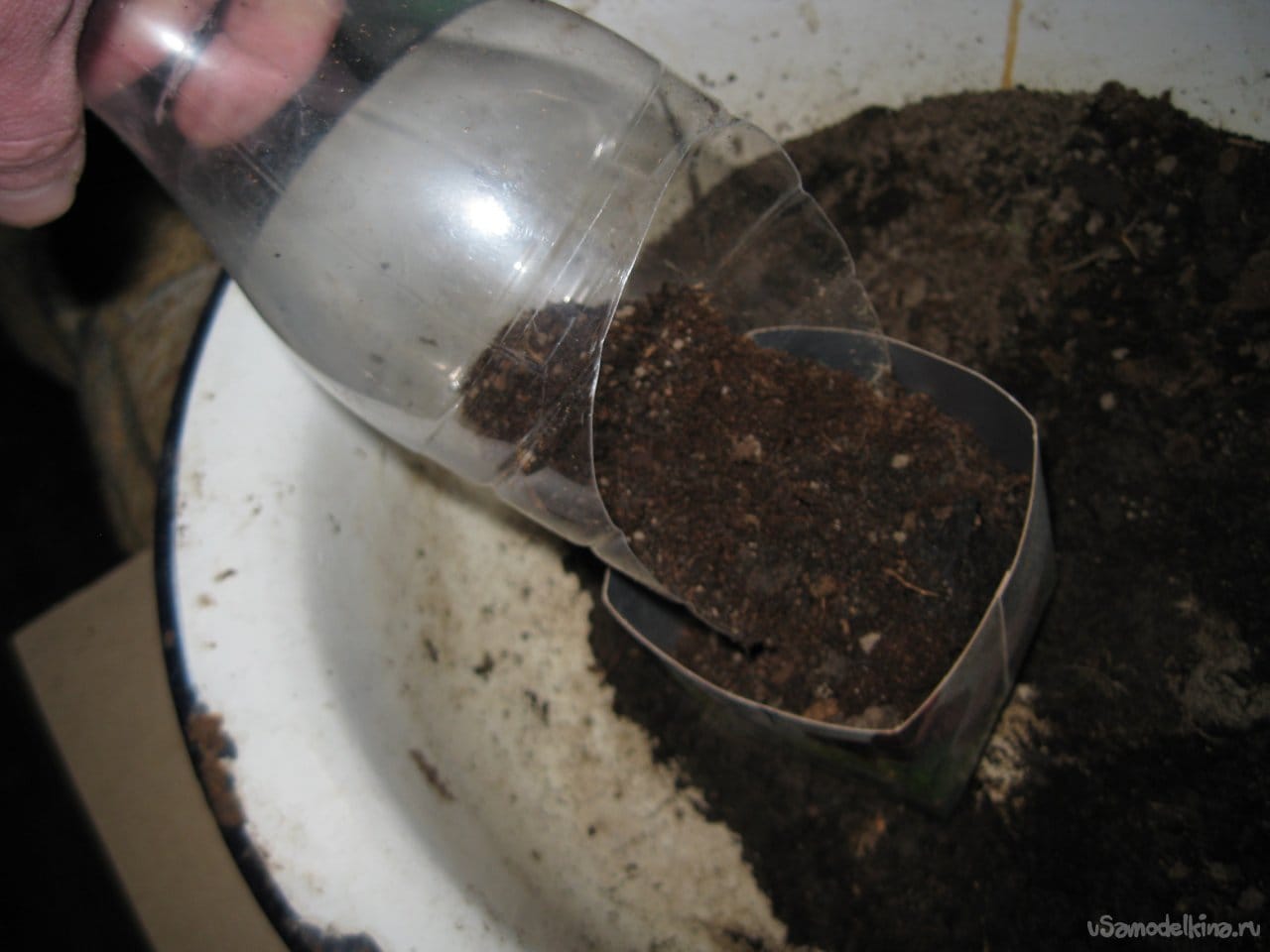 And then pour it into the planting container at a time.
< a href = "https://usamodelkina.ru/uploads/posts/2021-04/1618195974_izobrazhenie-034.jpg" rel = "prettyPhoto">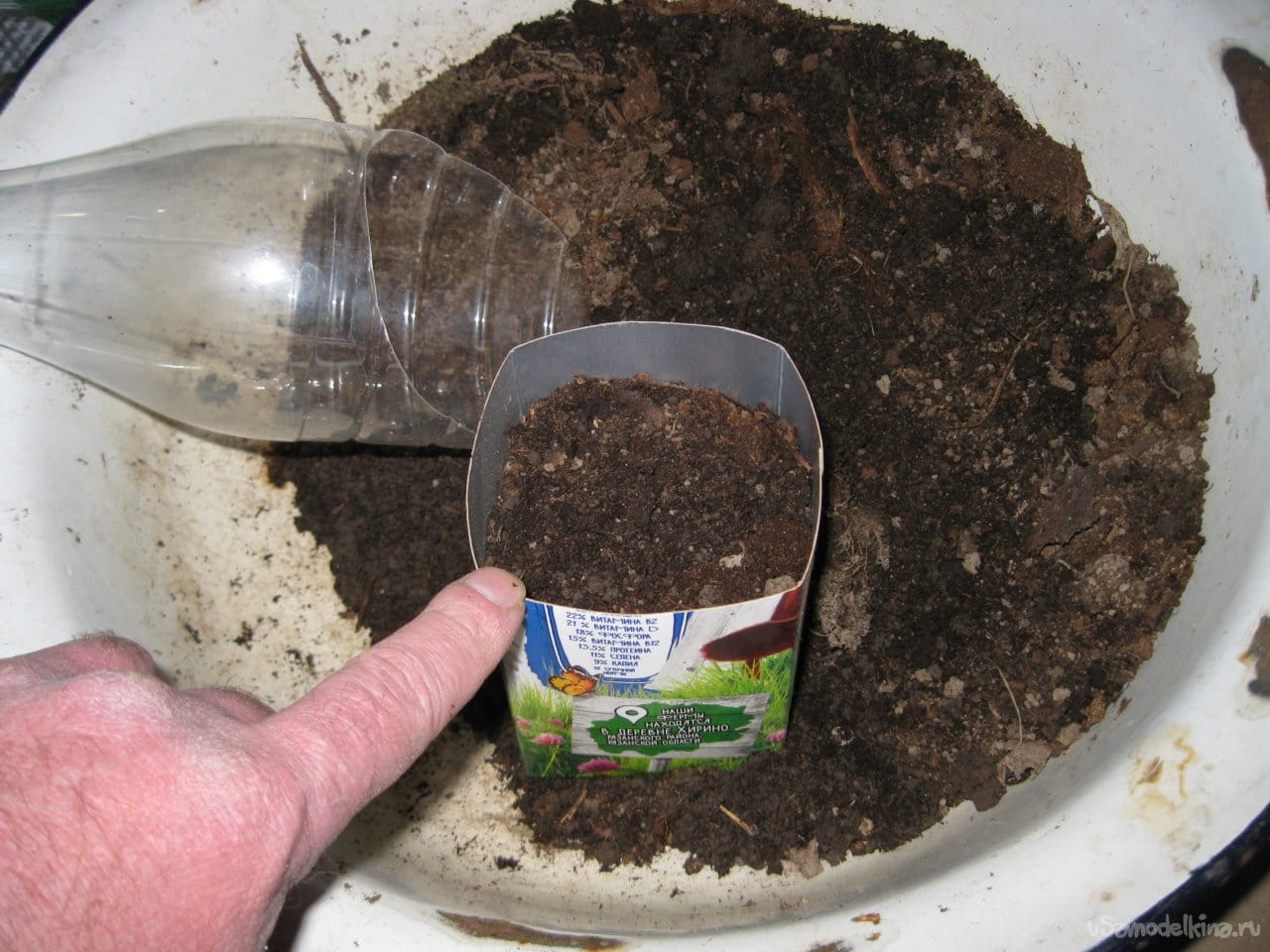 In the same way, at one time, pour soil with this scoop into a round container.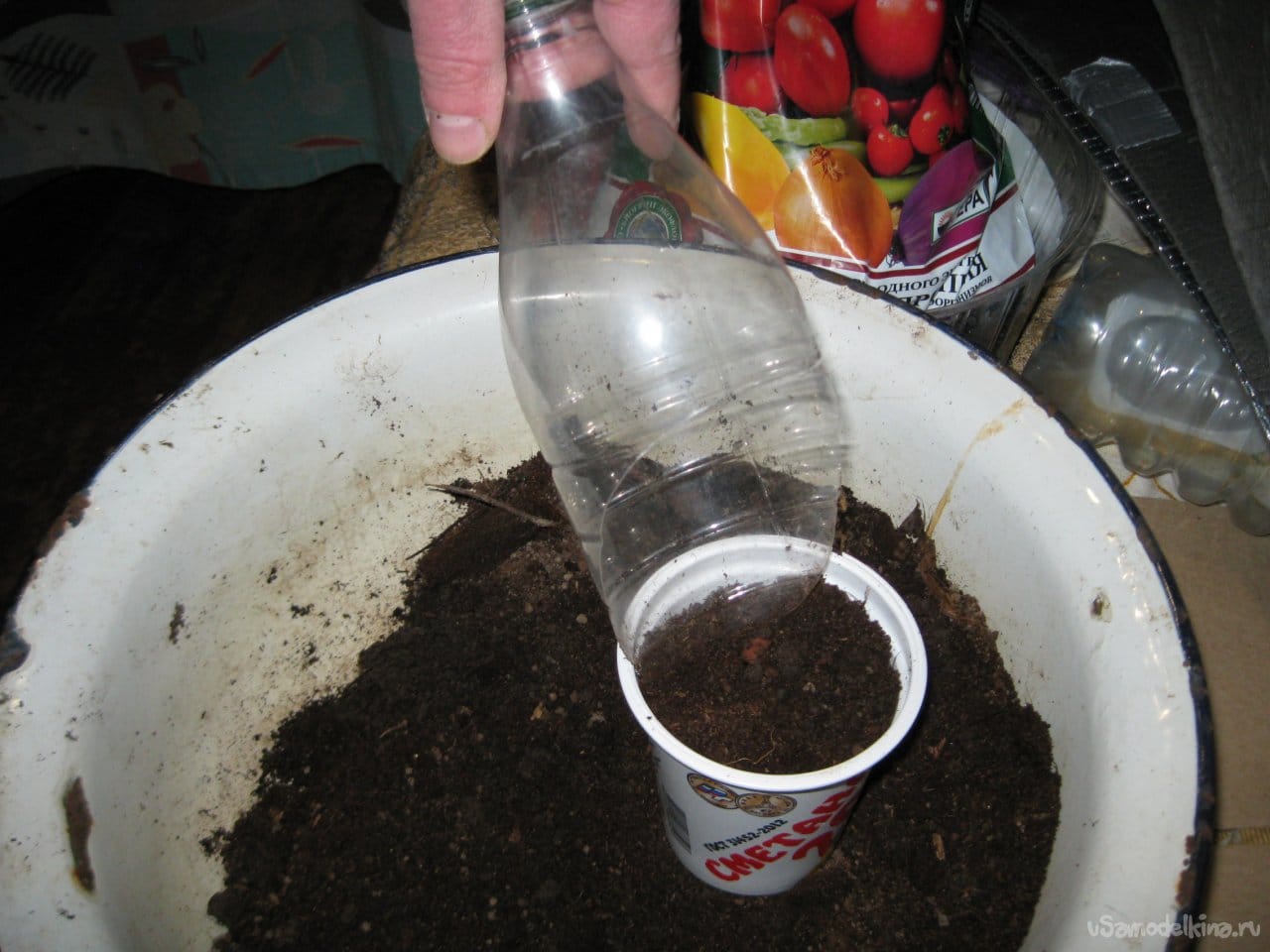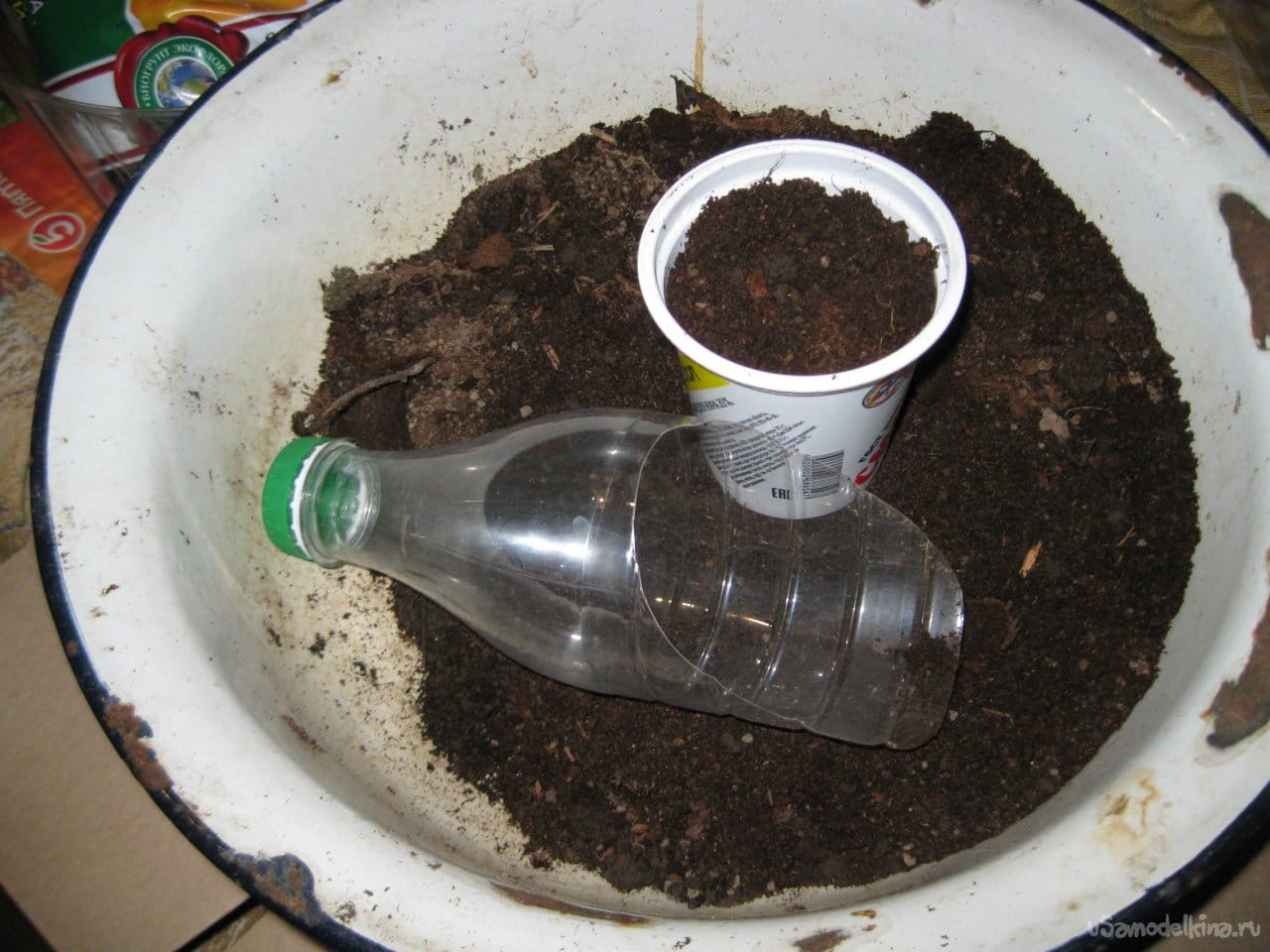 flat scoop.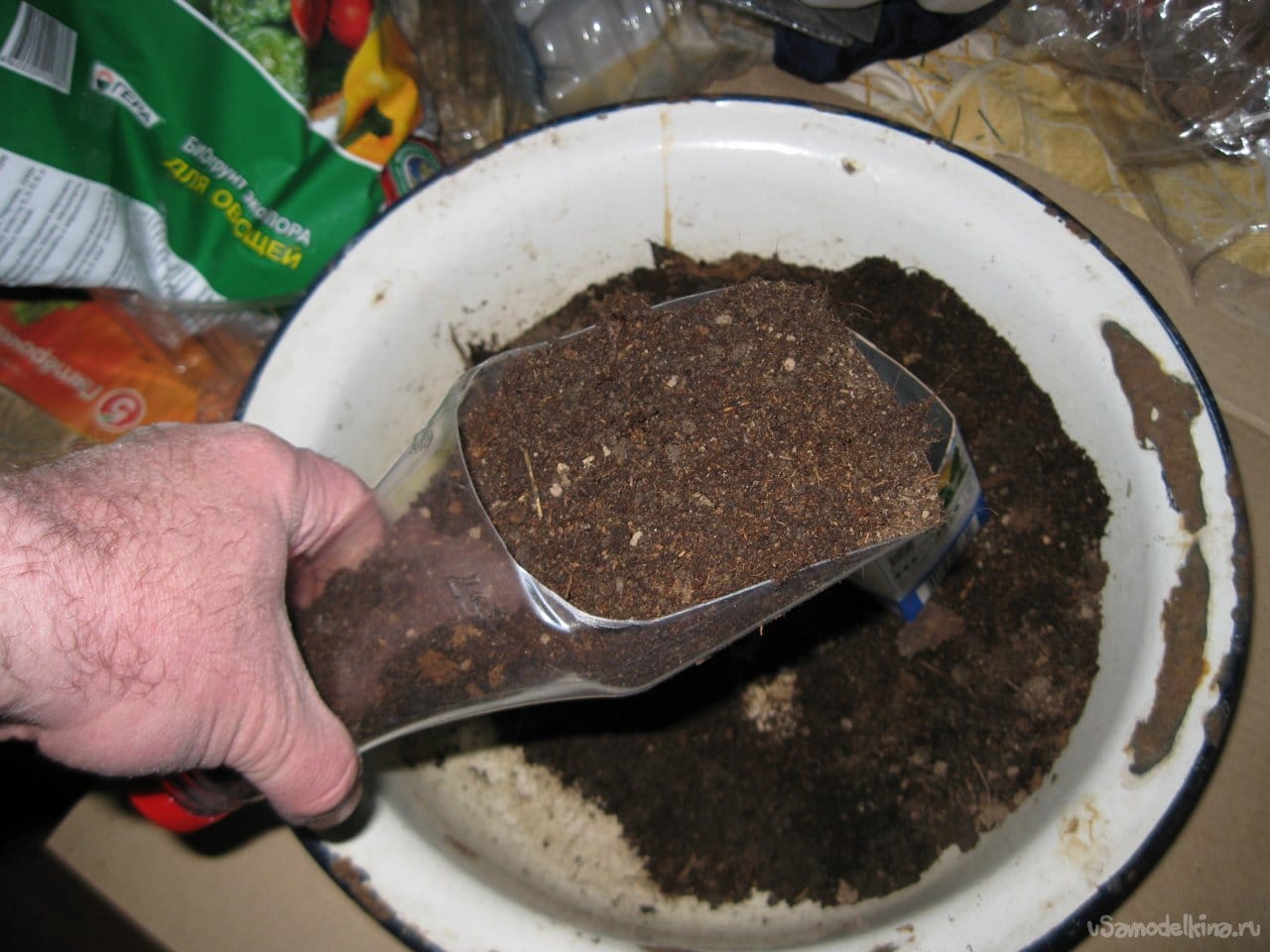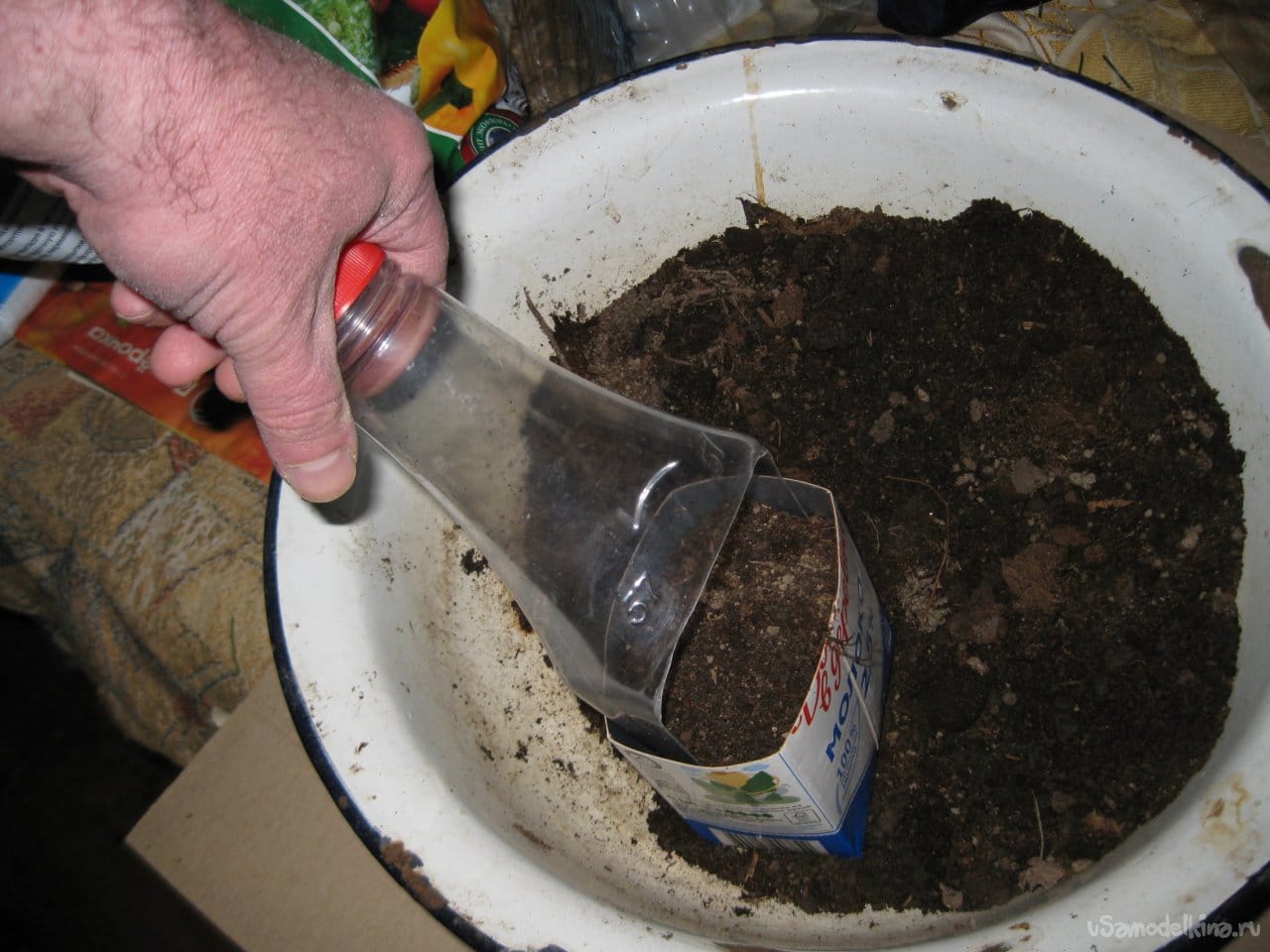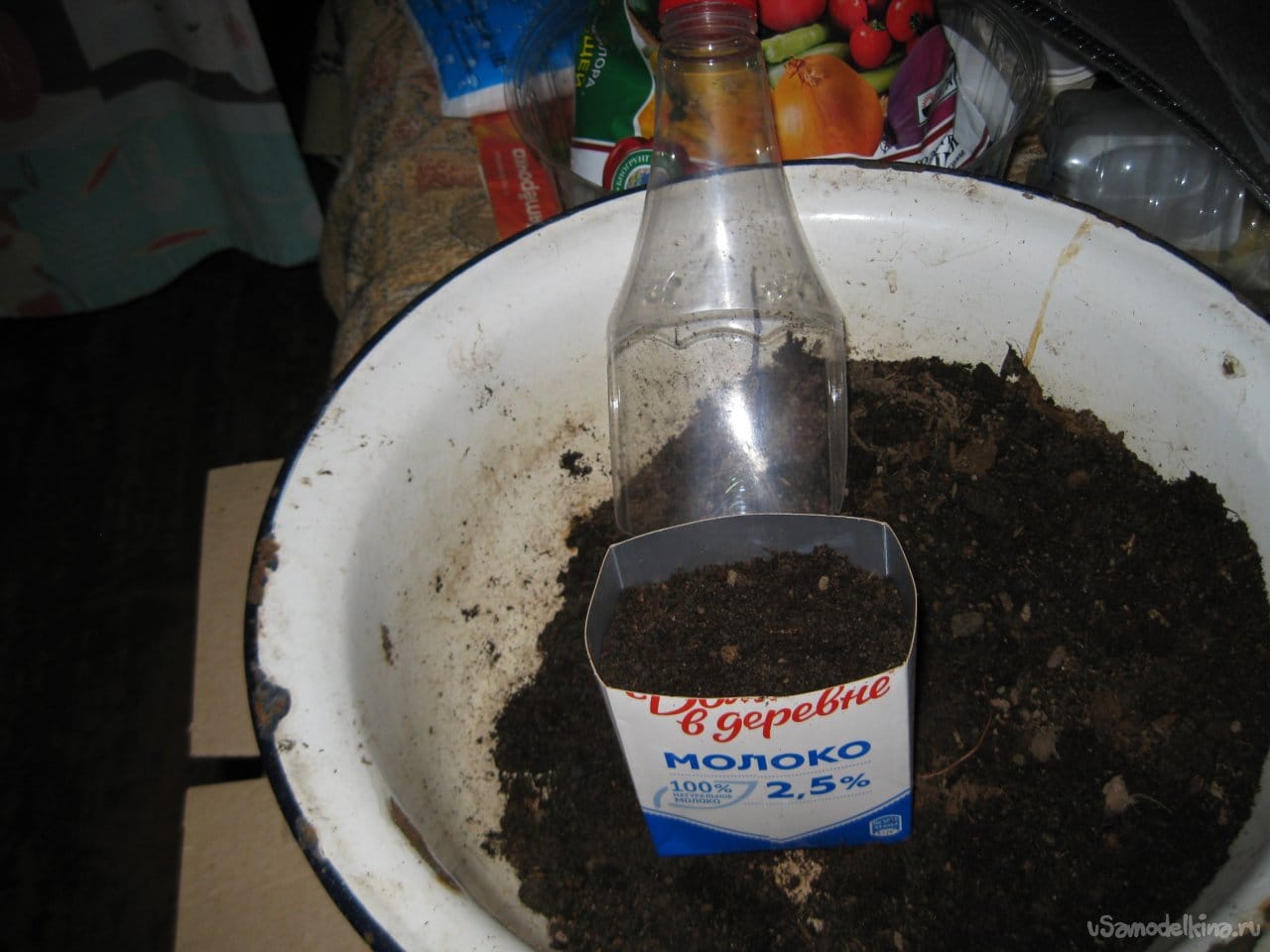 Thus, these scoops are very convenient for filling soil into the above containers. We fill each of these containers in one go, which significantly saves time.
As a result, just in case, I even made two round scoops, especially since it took quite a bit of time.

I must say that such scoops can be useful not only when transplanting seedlings. They can be used when transplanting any indoor plants and even when planting plants in the garden and vegetable garden, for example, for feeding these plants with humus, peat or other fertilizers of a loose consistency.
It is also quite easy to take care of such scoops, it is enough to rinse them with water, wipe and can be put away for storage.
In general, our scoops turned out to be very simple to manufacture, but at the same time convenient and absolutely free, since we made them from junk material.
Well, I finish here and how I always wish all my homemade colleagues a successful and productive creativity!