DIY
Do-it-yourself design and assembly of large size laser engraver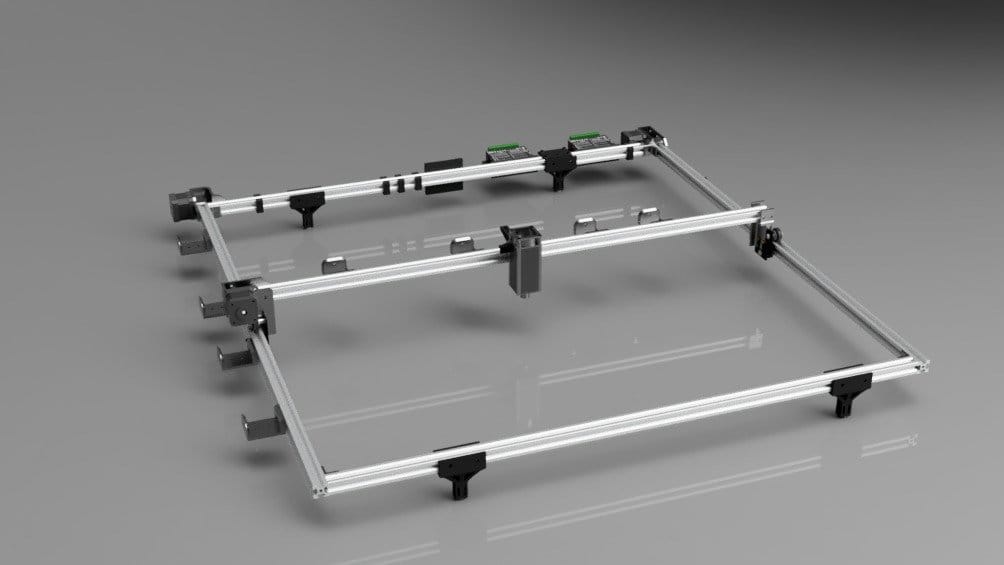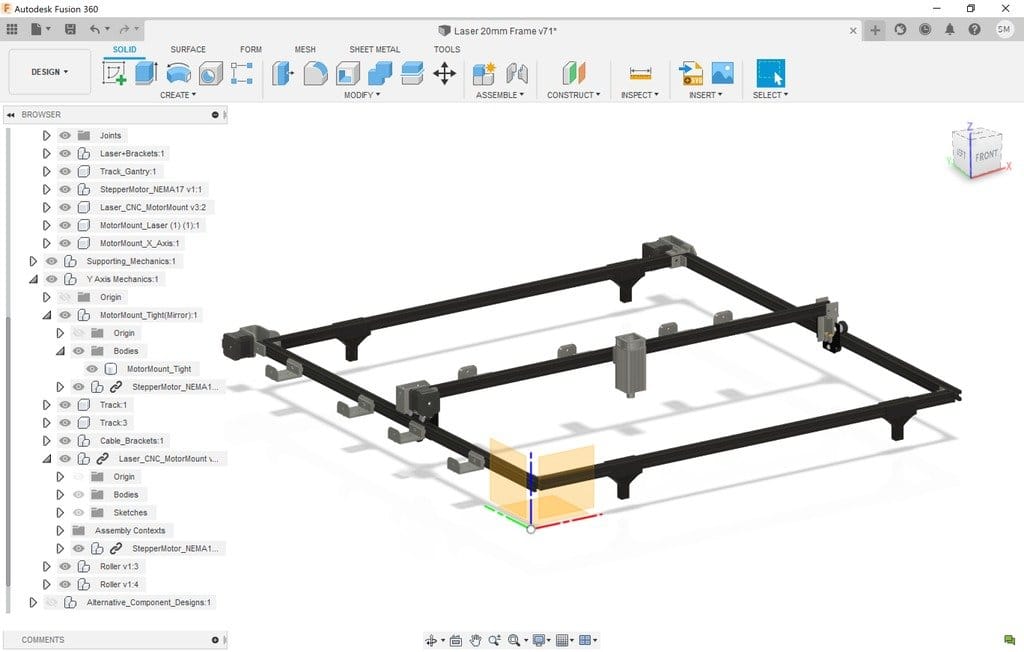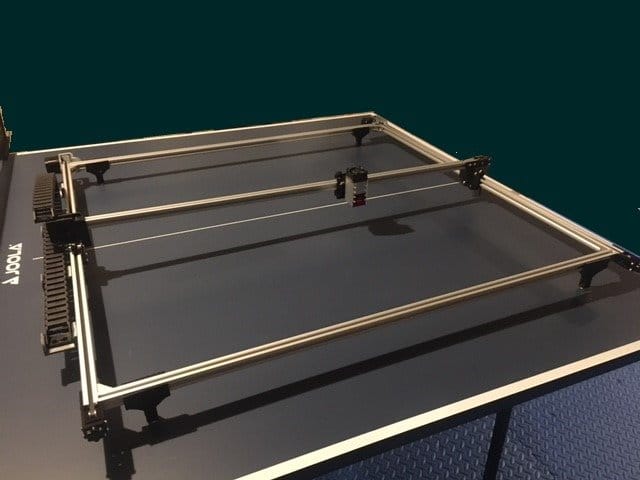 Thanks to this article, we will learn not only how to make a large and light laser engraver with power 7.5 W, but we will also learn to work in Autodesk Fusion 360.
This CNC machine allows you to cut large sheets of fabric for making clothes, cut plywood up to 0.7 mm thick, cut vinyl, burn masks on printed circuit boards.
Tools and materials: -Frame: 1000 mm x 20 mm x 20 mm, aluminum T-profile (5 pcs.); – Motors: Nema 17 Stepper Motors 17HS4401- 3 pcs; -Laser: optical power 7.5 W; -Carriage for laser; -Carriage for portal -2 pcs ([url = http: //alli.pub/5pjnys] alternative link); [/url]
-Step driver: 4 A – 2 pcs; -Cable: 4-core 20AWG; -Chain 15 mm x 30 mm -2 pcs; -Arduino UNO; -Belt width 5 mm, pitch 2 mm (10 meters); – Belt tensioners : pulleys 5 mm – 3 pcs; -3D-printer; -PLA filament; -T-slot brackets: corner brackets 6 mm (1 pack); – Mounting plate;
-Connectors;
-Computer with Software;
Step One: About Autodesk Fusion 360
Autodesk Fusion 360 is a multi-functional software program. 3D-modeling, design, calculation and a clear example of the work of mechanisms, design, modeling, engineering analysis, organization of production, all this can be implemented using this program.
To get started with the program, you need to go to Autodesk.com and download the program. Then create an account.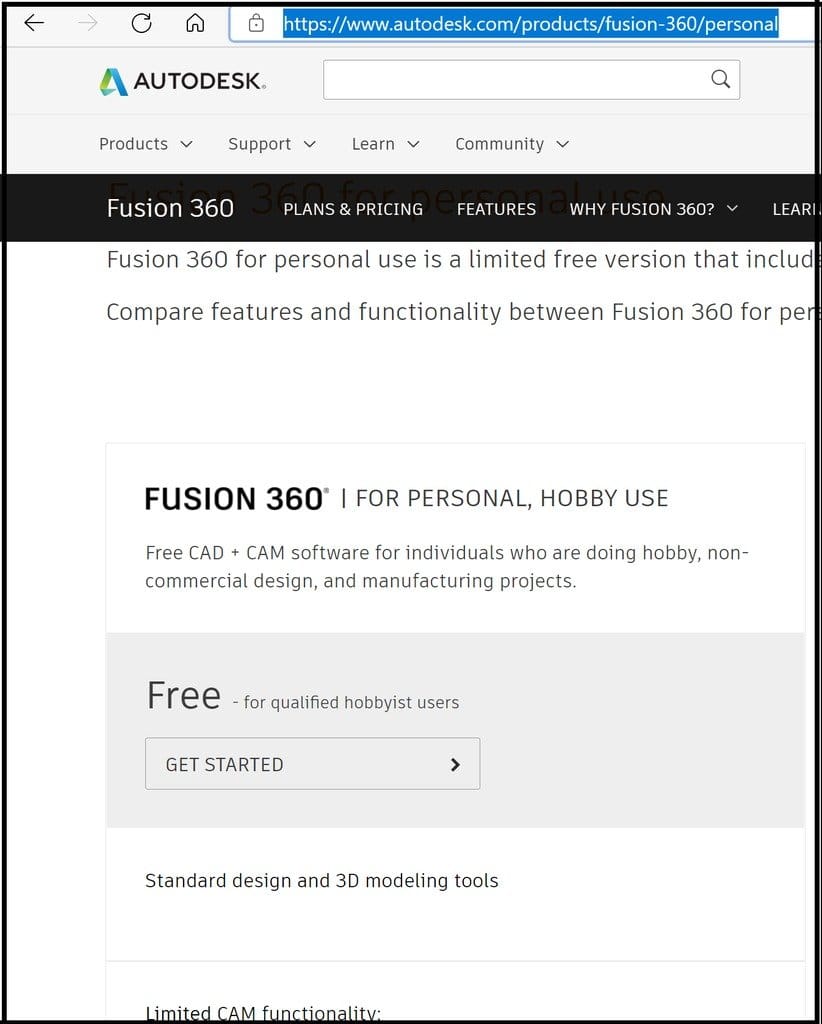 Step two : Basic Mechanical Assembly – Import from McMaster-Carr
To jump straight to this design, you can download the Autodesk Fusion 360 authoring file here. It can be used to export and print 3D parts.
To learn how to design, let's do some basic component insertion. Let's start by designing the body of the laser engraving machine.
Click: Paste – & gt; McMaster-Carr component.
Enter: 5537t911 in the search bar.
Click the product details icon.
Scroll through the page to find the downloaded 3D CAD model. The user now has a T-track. Repeat the process for McMaster-Carr # 5537T935 to get the corner brackets.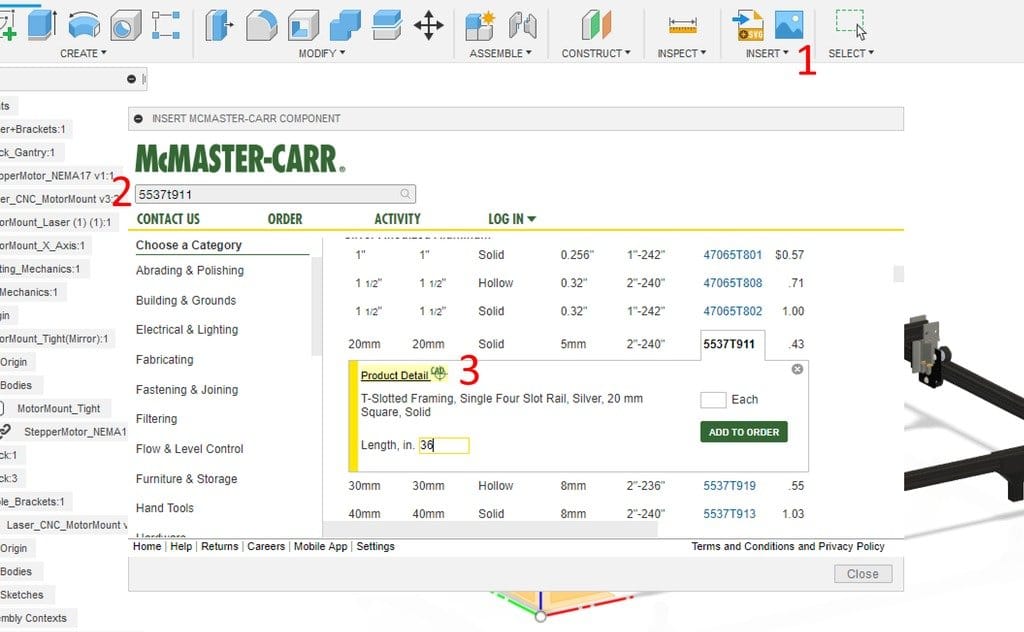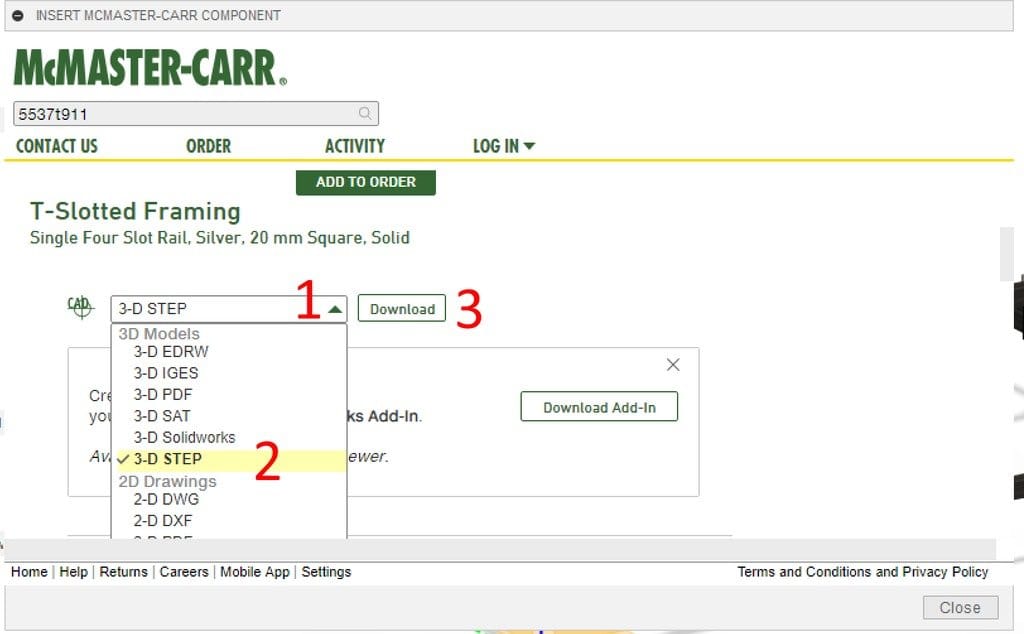 Step Three: Basic Mechanical Assembly – Import from GrabCad.com GrabCad.com is a community to share your 3D designs. In most cases, many devices have already been modeled, such as Arduino and stepper motors. So if they are not in the McMaster-Carr catalog, they can most likely be found at GrabCad.com.
Working at GrabCad.com is as follows:
First, you need to create a new folder named Prefabs in Autodesk Fusion 360. < br>Go to GrabCad.com and find an item of interest, such as a Nema 17 stepper motor.
Download the files to your local drive and unzip them.
In Autodesk Fusion 360, select File – & gt; "Open" – & gt; "Open from my computer" and find the unzipped file.
After importing the file, be sure to save it in the PreFabs folder.
After saving, you can simply drag and drop it into your future projects. Updating this master file will also update all associated design files.
Additional elements that the wizard used in this assembly and downloaded from GrabCad.com:
Stepper MotorLaserArduino uno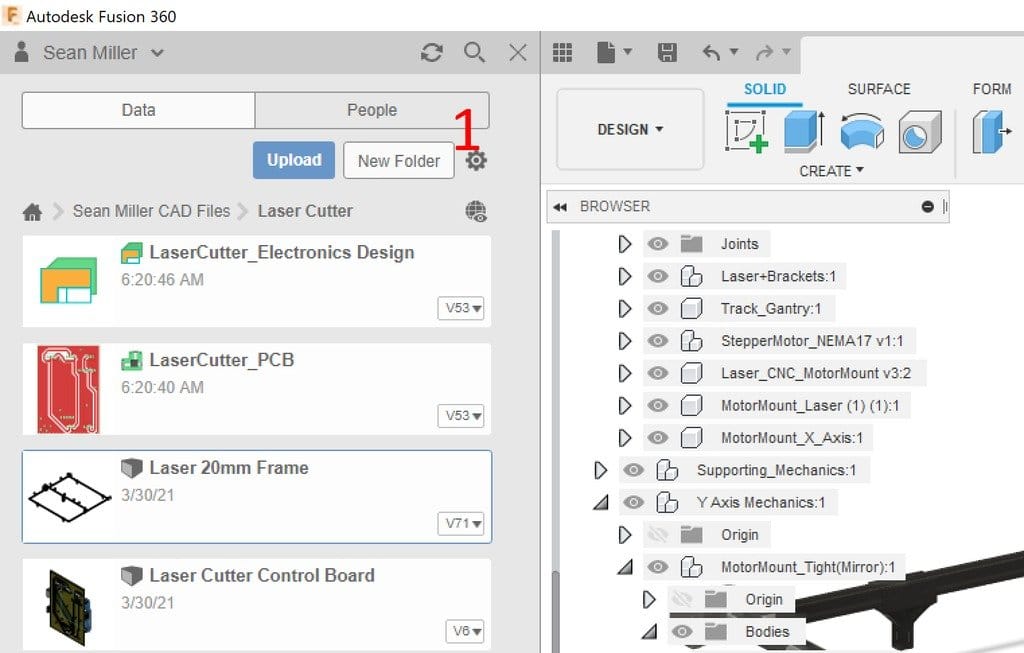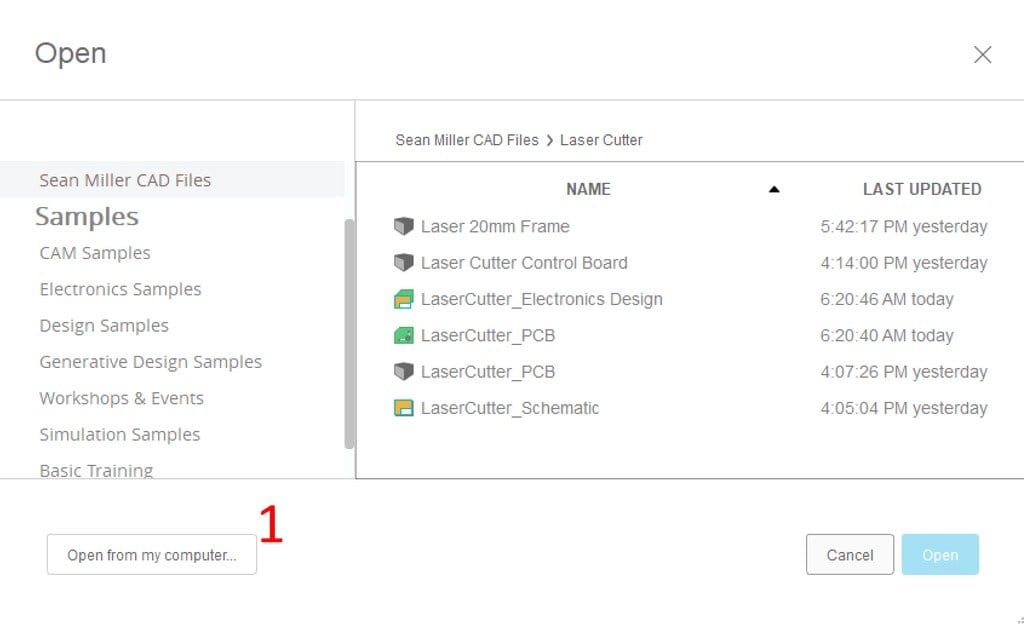 Step four: assembly in the program
To check how the parts of the machine will work after assembly, it is advisable to "assemble" them first in Autodesk Fusion 360.

Autodesk Fusion 360 allows you to design, simulate, and shape design features. This can be done using the Render workspace.
In the Render workspace, you can render your project using photorealistic lighting and shaders. To do this, click the Render workspace and use the options to configure the rendering.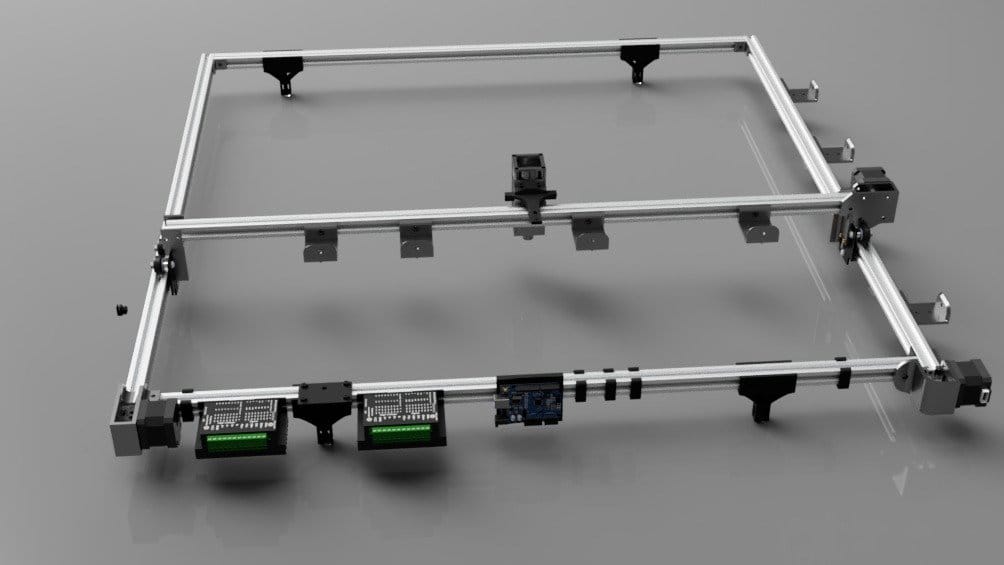 Step five: 3D print the parts Here you can open the print files, edit and save as STL. You can, for example, add your name to the motor mount.
For CNC, the following parts must be 3D printed with at least 10% filling:
Legs (4 pcs) Cable bracket (6 pcs) Cable clamp (6 pcs) Laser motor mount (1 pc) Portal mount for laser (1 pc) Left motor support (1 pc) Right motor support (1 pc) Step six: PCB design and fabrication
Another great use for Autodesk Fusion 360 is in PCB design. The design workflow fits seamlessly into the physical design, allowing you to create ideal enclosures.
To design the board, follow these steps:
1) Add multiple headers to the schematic and wire them together.
2) Place the headers on 2D- board layout.
3) Switch to 3D view to see what it looks like and drag it into the main project file so that you can design a case for the board.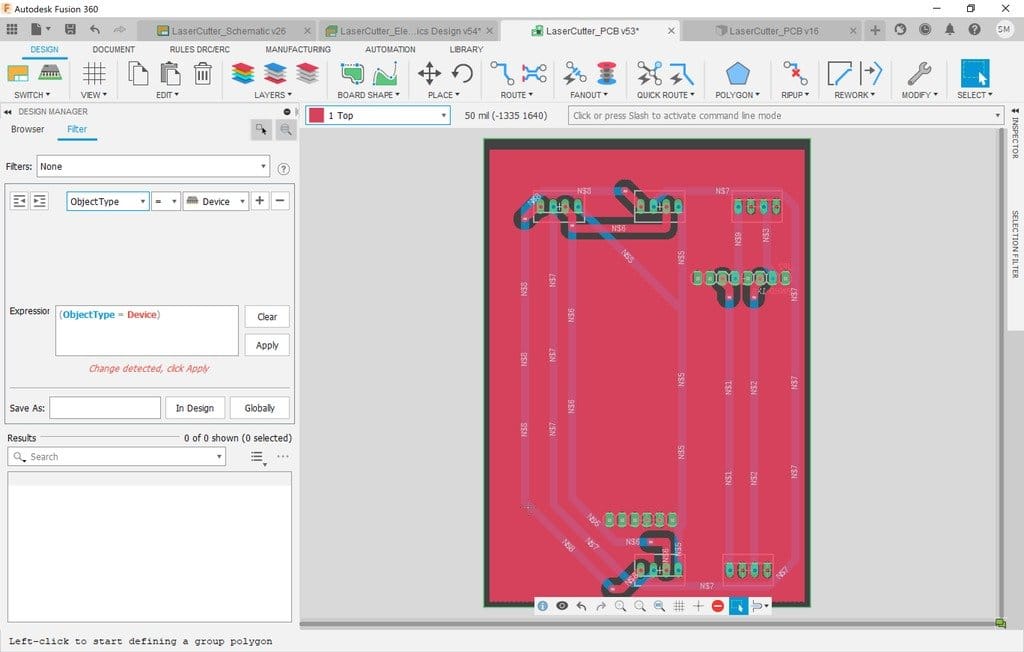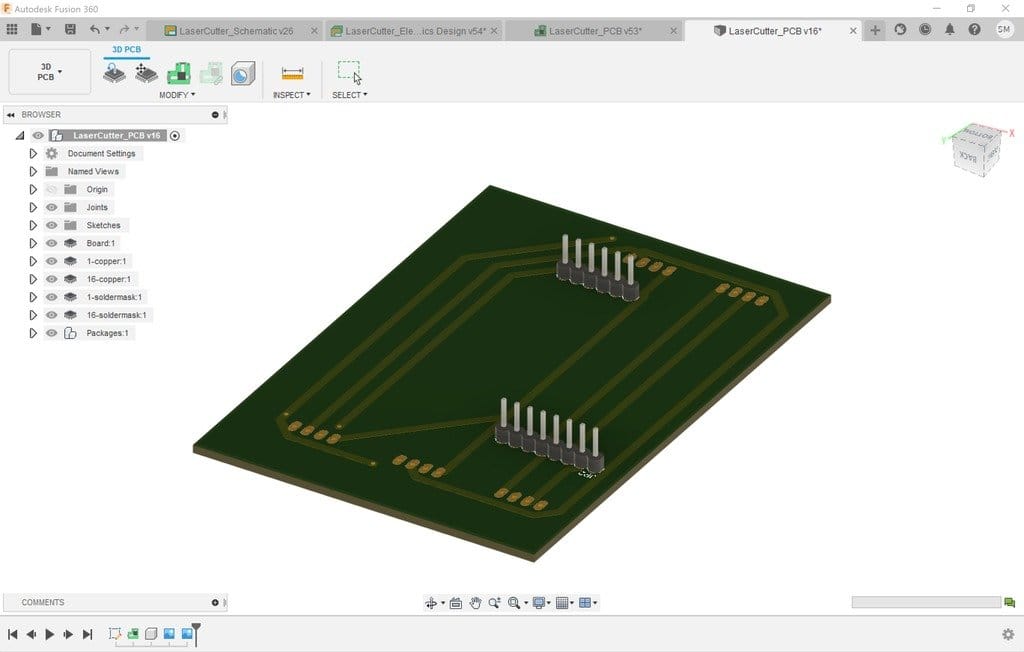 Step seven: electronics
A visual diagram of equipment connection can be found below.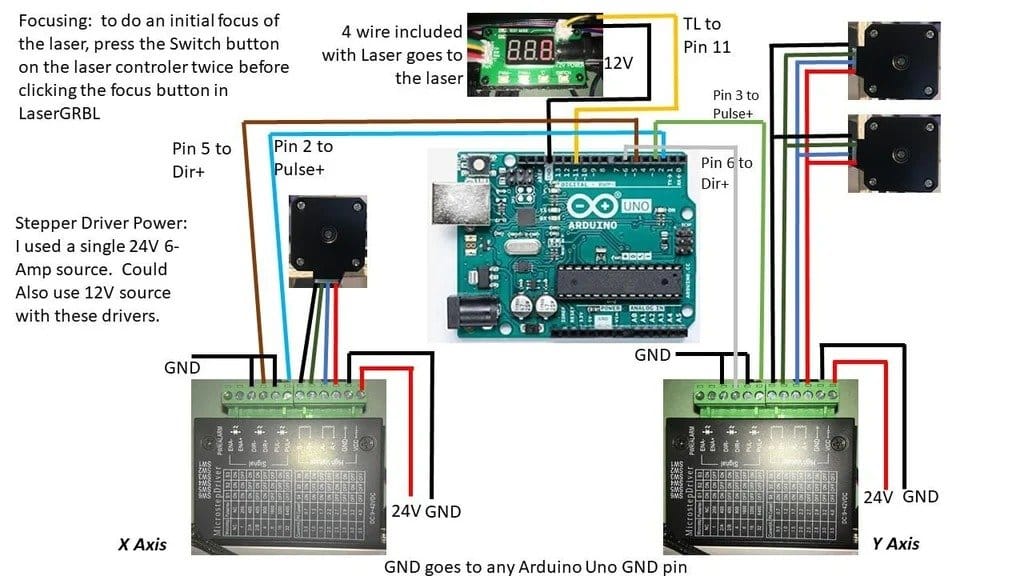 You need to download LaserGRBL for the device to work.
LaserGRBL is open source software. source code to control the Uno, which has GRBL firmware installed, which is also open source. You can download it here.
Then you need to connect the Uno to your computer using a USB cable. Start LaserGRBL. Select and download Flash GRBL firmware.
In this design, two Y-axis stepper motors are controlled by one driver. This allows the use of light belts for the drive instead of a heavy metal rod.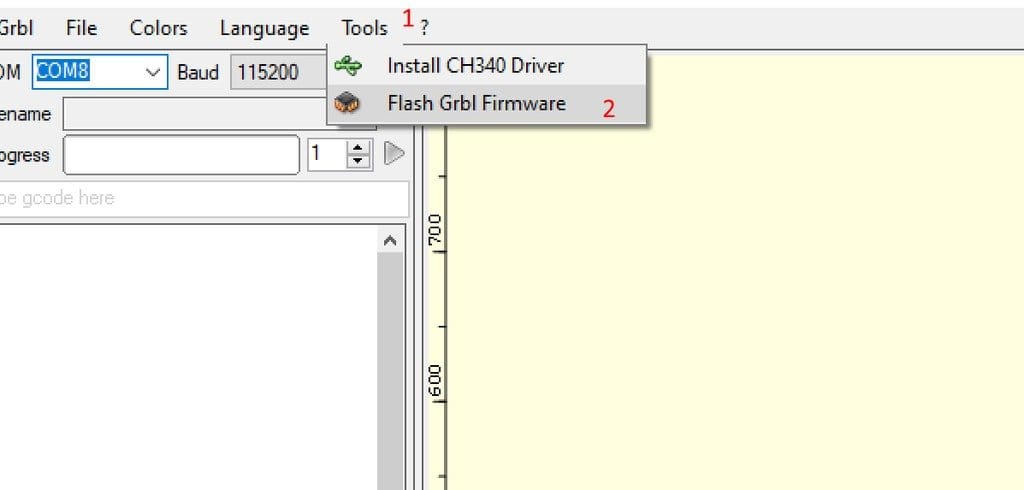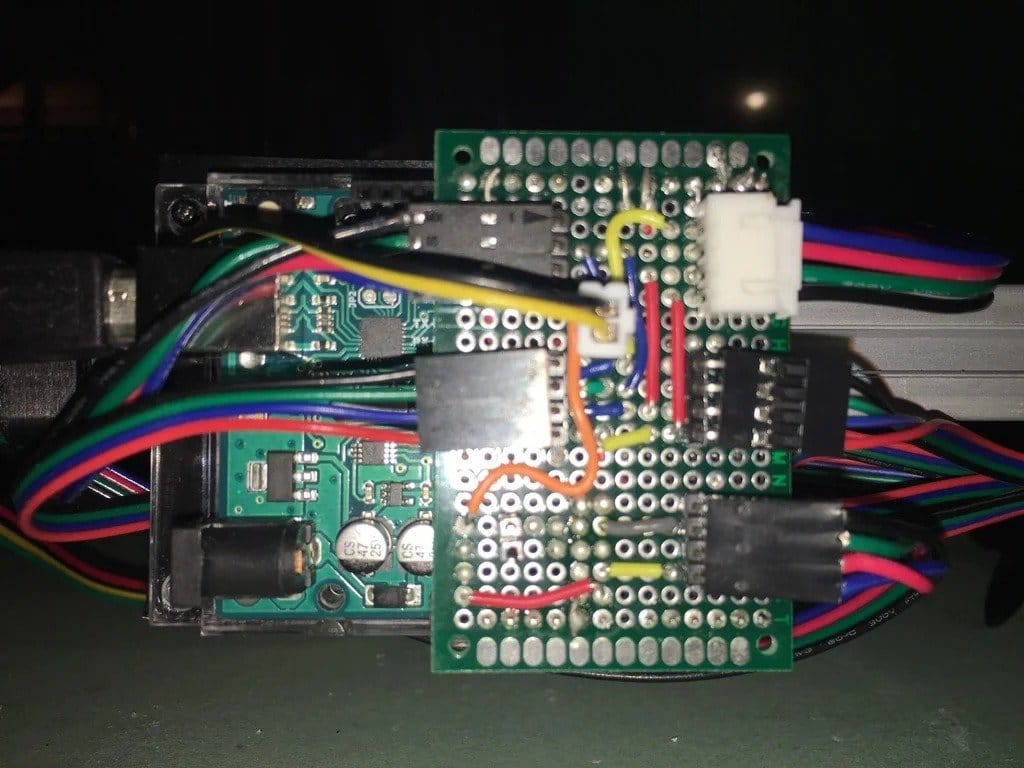 Step eight: assembly of the machine
Assembly is very simple, you need a pair of wrenches and about one hour.
The first photo in this step is a partially assembled frame. While the parts were being printed, the master tested the motors by connecting the electronics from another machine.
The rest of the images show the assembly process.
The components are simply assembled using the T-Slot fasteners.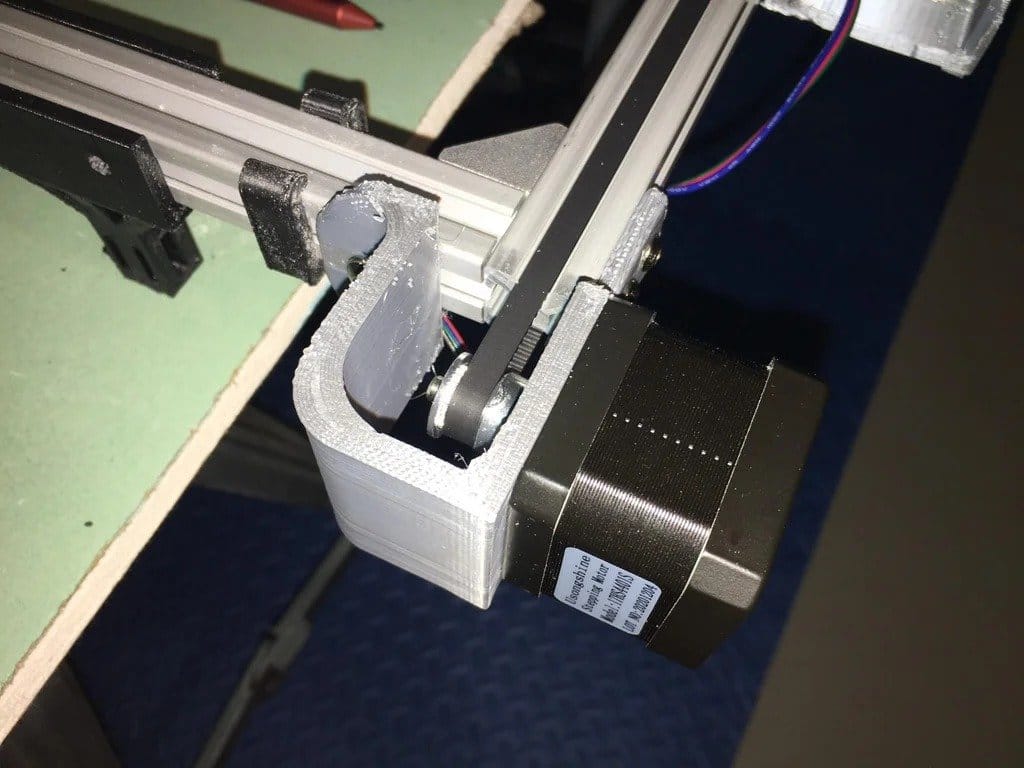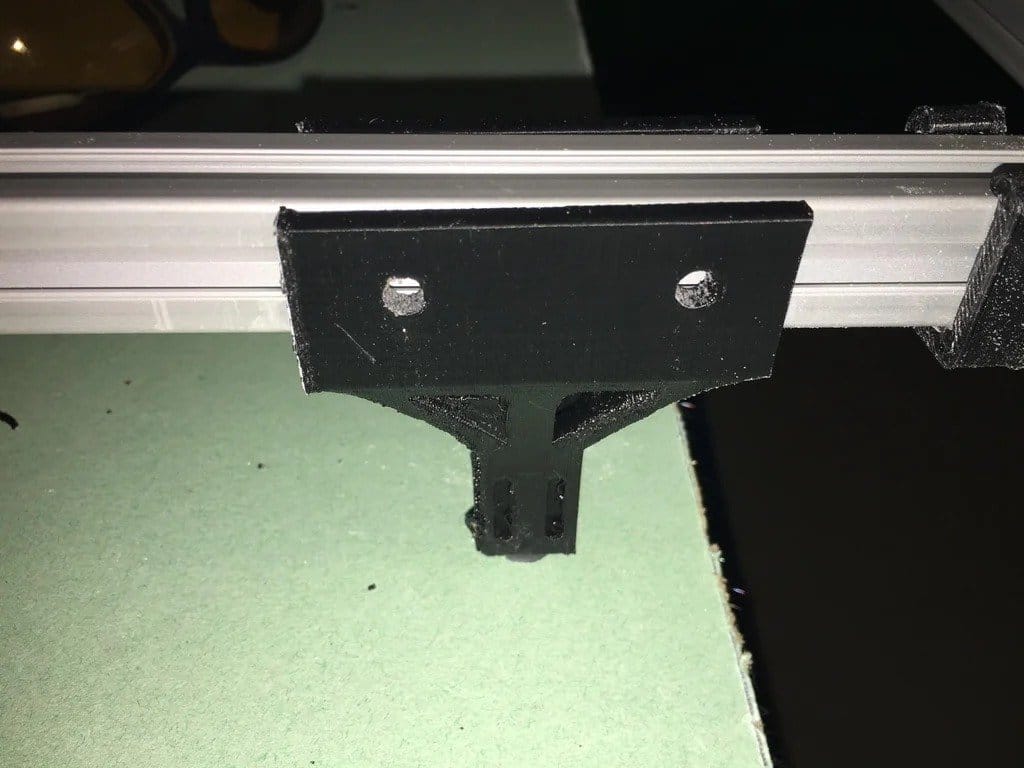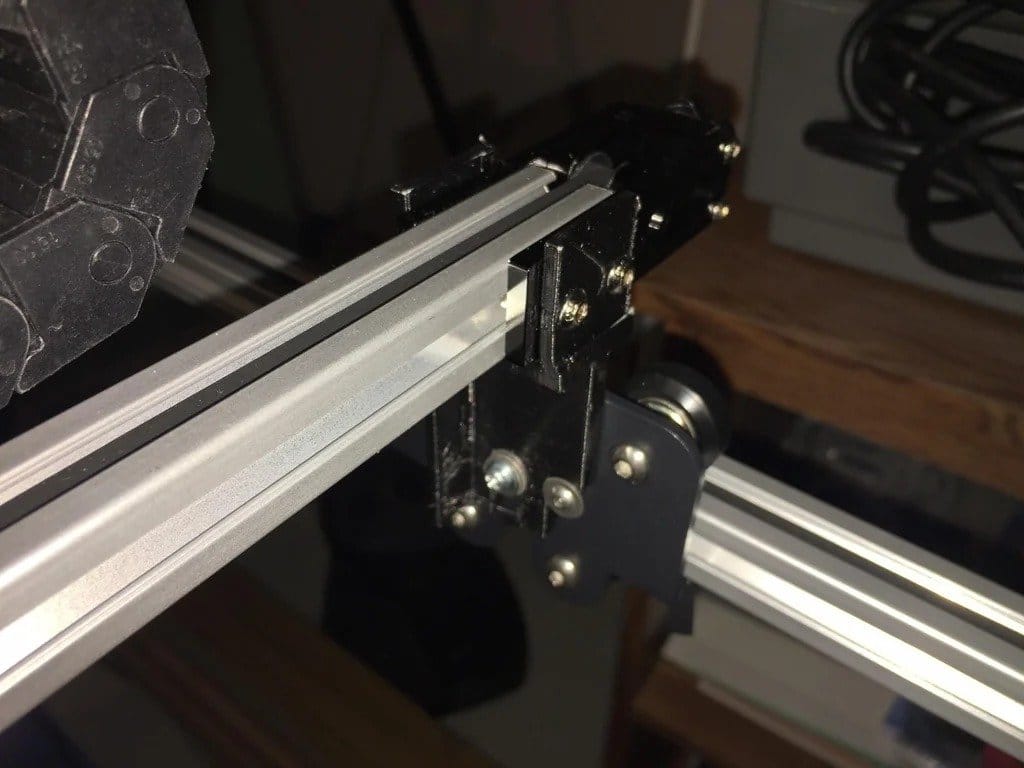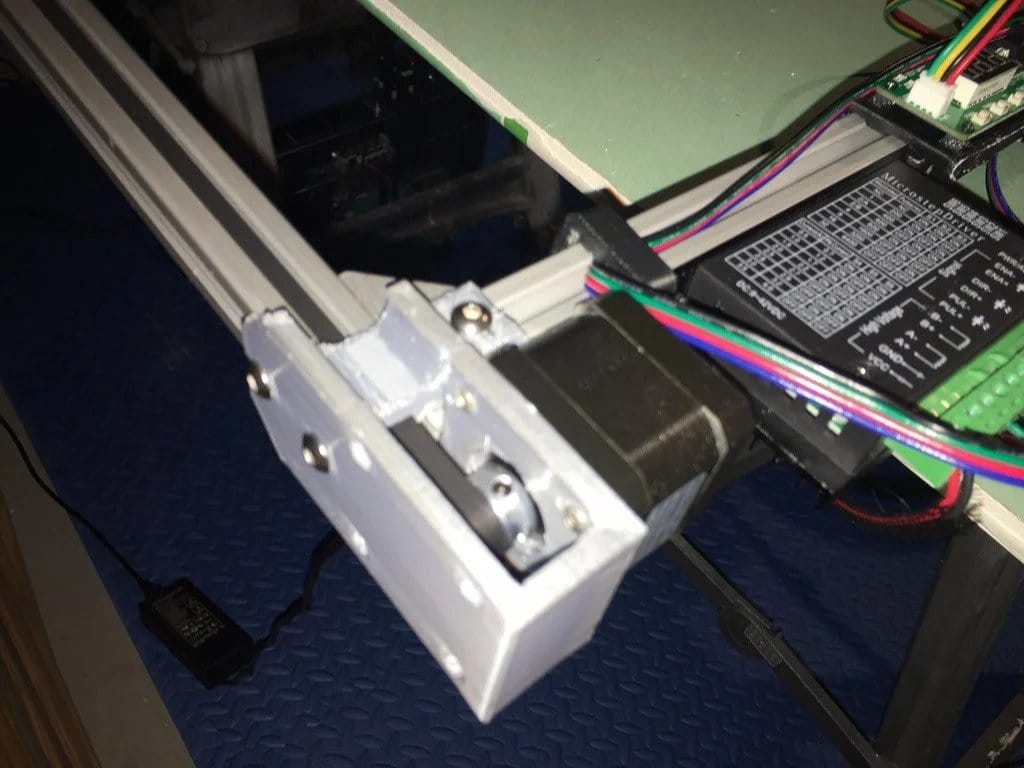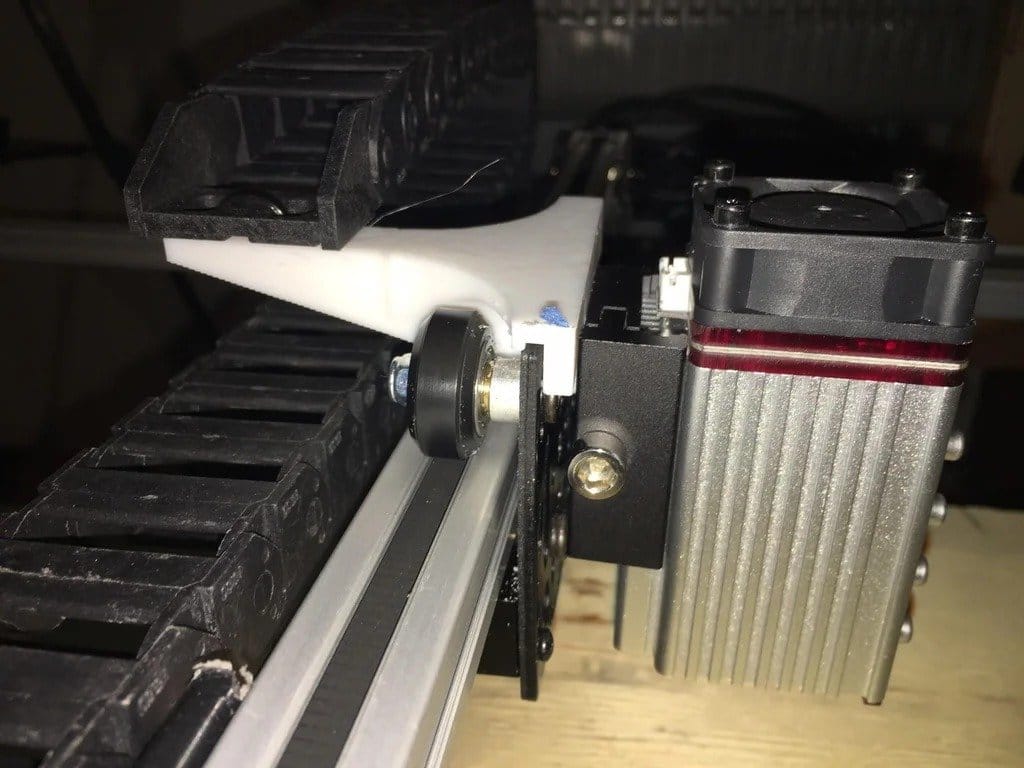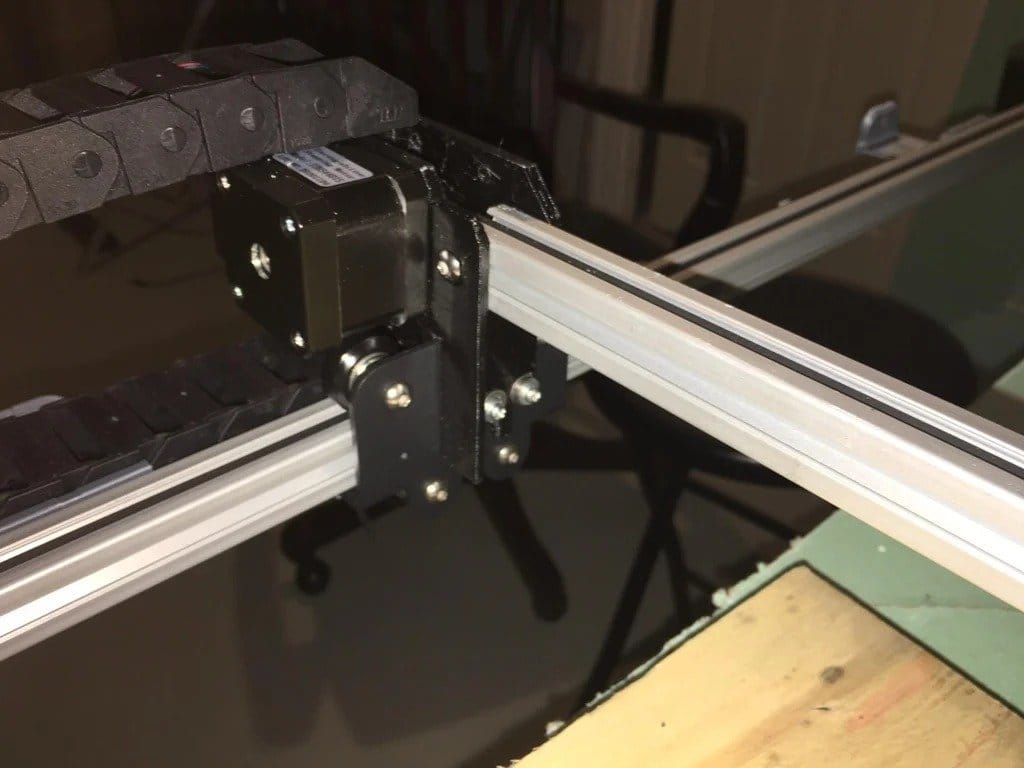 Step nine: setting
After assembly, you need to make a number of settings.
Aligning the axis.
This procedure is necessary to ensure that the left and right rails of the Y axis are aligned. You just need to take a tape measure and measure the distance from the edge of the machine to align both sides.
Pitch per millimeter.
By default the Arduino firmware will have 250 steps/mm as set by LaserGRBL and this does not match the actual machine mechanics.
Based on the 5mm rods with 2mm timing belt pitch used in this design , the pitch/mm must be set to 40.170. The master obtained these figures empirically. I burned a 50mm line, measured its true value, and then got the coefficient of discrepancy. To change the value in LaserGRBL, click the Grbl menu – & gt; Grbl Configuration.
Laser focusing.
Next, you need to adjust the laser. At the front of the laser there is a small wheel that turns to one side or the other to adjust its focus.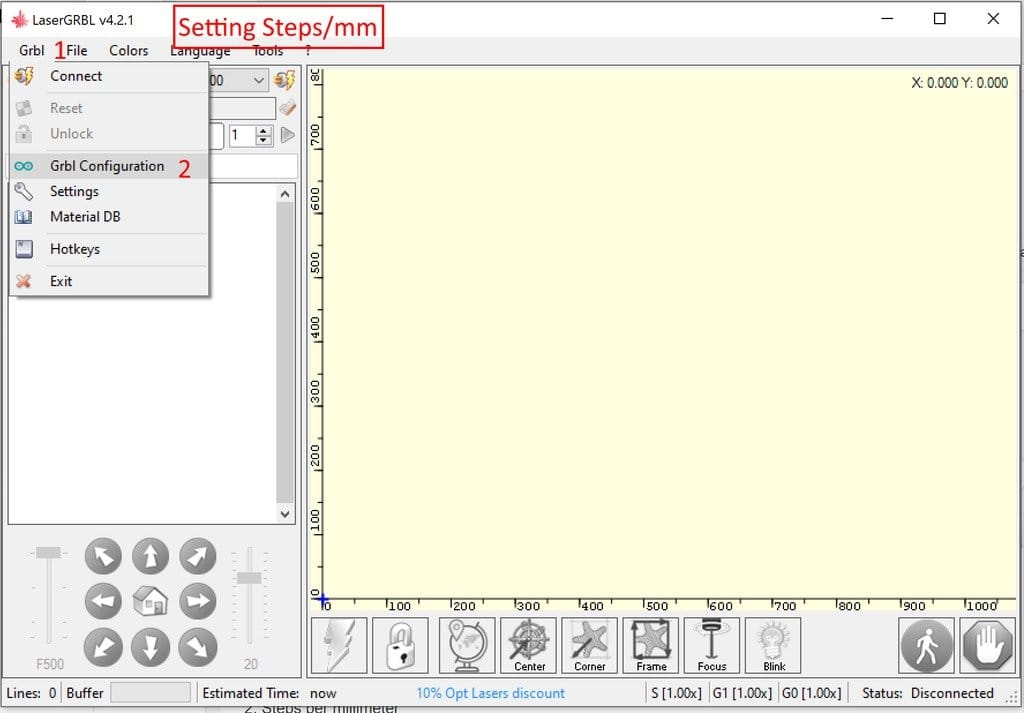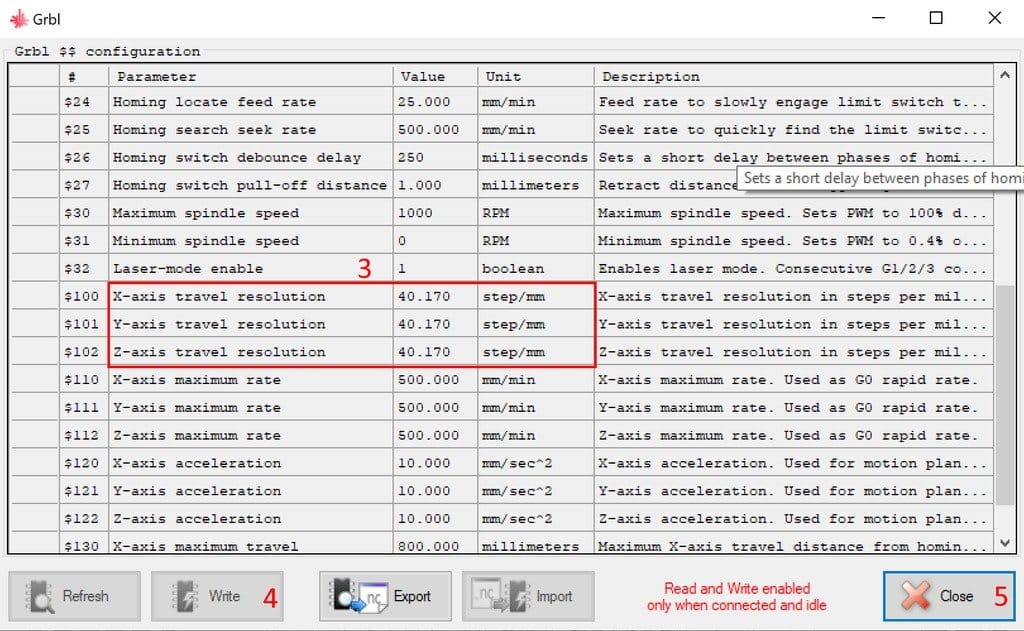 Step Ten: Working in GRBL
The wizard uses LaserGRBL as CNC control software. This software is compatible with Arduino UNO. Also, you can use Autodesk Fusion 360 to generate g-code. The program is very convenient for beginners. Convenient and informative menu with tooltips. Clean and precise lines for tracing and cutting. You can link etch and cut operations in the same program, etc.
To work in Autodesk Fusion 360:
Open a new file and create a sketch
Add text
Click the Manufacture Workspace button.
Click Fabrication menu item.
Select Cutting.
Set your instrument to Laser and select Etching.
Select profiles to etch.
Simulate the process with Actions – & gt; Simulate.
Click Actions – & gt; Post Process to generate the G-code.
Open LaserGRBL and select File – & gt; Open.
You can watch this process in the video.

Everything is ready. An example of the operation of such a CNC machine can be seen in the video below. The wizard says that the assembly and configuration of such a project is quite simple and any user who knows how to hold a screwdriver and a soldering iron in his hands is able to make it.