Hello
Recently my dog ​​ran away from the yard although it was sitting on a chain, although it there was no longer a chain because it had almost rubbed off all the links. As always, I squeezed money in the way that a meter of a good chain costs 400 rubles, and I need ten meters. I decided to make the chain myself, somehow I saw devices for making chain links from a good friend and approximately remembering how it all works, but not knowing the dimensions, I decided to assemble such a machine by typing, especially since it will take a little time and material for this.
There are many chain options on the market – I admit it is beautiful, but the soft wire is not strong there in places not even welded, and why does the dog need a beautifully shiny chain for how long. The main thing is not beauty, but how it all works and it is fashionable not to buy, but to do it yourself in our time of coronary crisis. Than I thought worse and started making a machine for making chain links. Well, at the end of the article I will show a video of how it all works.
You will need a tool
Bulgarian
Electric welding

Hammer
Drill 10mm
Vise
Eye protection and gloves < br>
Material required
Rod 10 mm
Sheet metal 10 mm
A piece of profiled pipe for fastening in a vice
Pipe 40 mm long 5 cm
Piece of reinforcement
Preparation
1. For the base, I took 10 mm thick metal – it was a piece of spring, I took dimensions 12 by 12 cm, I cleaned everything from rust with a grinder before processing, the metal was heated to red and allowed to cool in air, otherwise the metal would be difficult to process, and so it became an order of magnitude softer … A 10 mm rod was also cleaned with a grinder and cut off five pieces, three pieces of 3 cm each, and two pieces of 2 cm each. From a strip of metal, also 10 mm, I cut off two pieces 2 cm wide and 4 cm long, on each strip I round off the edges so that they do not cling to each other. For fastening the machine I will use teski, and for fastening I cut off a piece of a profile pipe 20 by 40 mm 10 cm long. For the handles, you can use a hundred or so, the main thing is that they are comfortable and strong; the effort when bending the links depends on the length of the handles, that is, the longer the handle, the easier and easier it will be to work with the machine. For my handles, I took two pieces of 15 mm reinforcement 30 cm long, later I had to increase it a little by 10 cm since it was difficult to work with 6mm wire. That's all, I prepared to stay put everything in its place.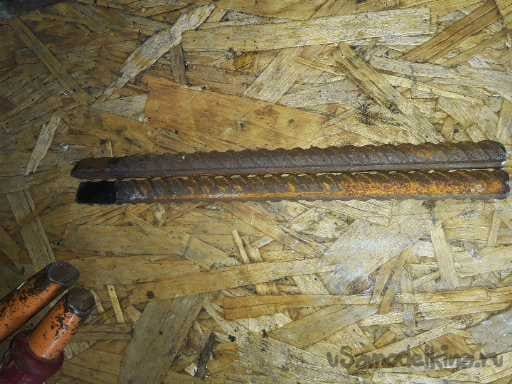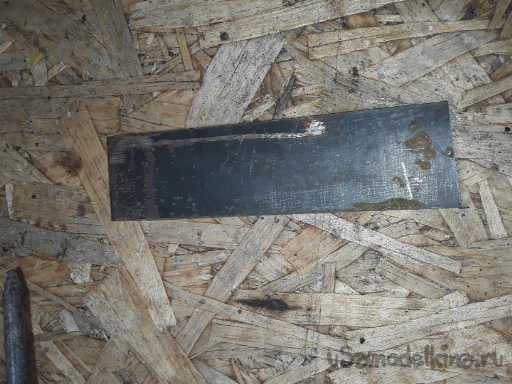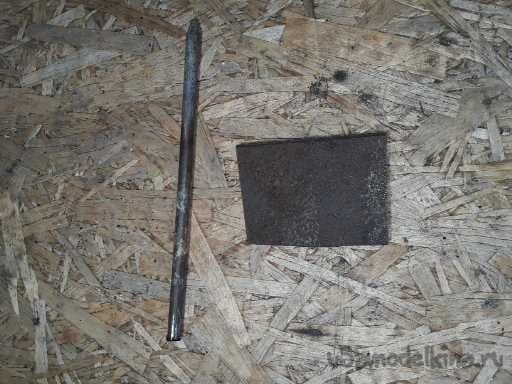 2. The assembly of everything happens without dimensions, so I will not say everything by sight. In the center of the base, I drill a hole first with a 4 mm drill, then with a 10 mm main drill. And I hammer a rod 3 cm long into the hole because of the thickness of the metal, the rod became 10 mm smaller, its working area turned out to be 20 mm. Then I retreat from it such a distance, which wire I will use for the links, I have it 4 mm and another 1 mm for the reserve. And I make markings for two more holes. The distance between them should be such a link in length I need. In my case, it is 30mm. I drill a hole and hammer the rods into place in the same way. On the reverse side, I grab it with electric welding for reliability. Now I'm starting to make handles. In rounded plates, you also need to make holes of 10 mm, two pieces per plate. I make the first hole stepping back from the edge 3 mm and with a 10mm drill I make a hole, and the second hole is also made equal to the thickness of the wire used, my second hole was drilled at a distance of 5mm. I repeat everything on the second plate. Then I weld the plates to the handles in the second hole and hammer a 20 mm duct into both handles. For fastening in a vice on the reverse side, I weld a profile pipe. That's all there is left to clean up and you can make a chain.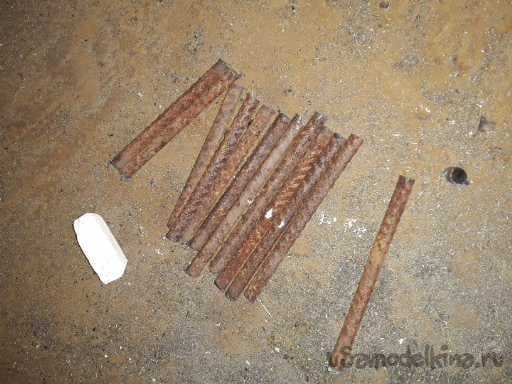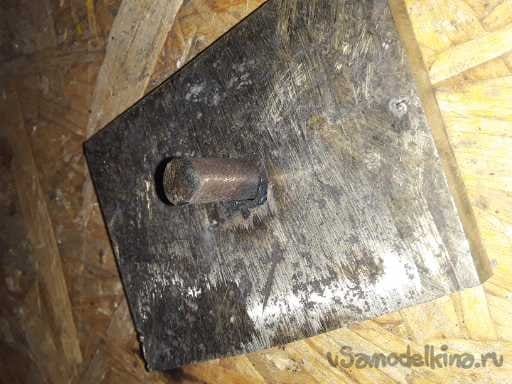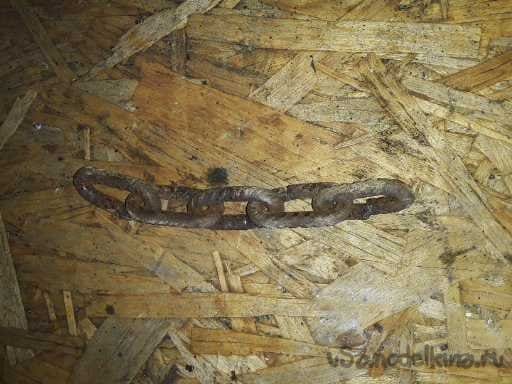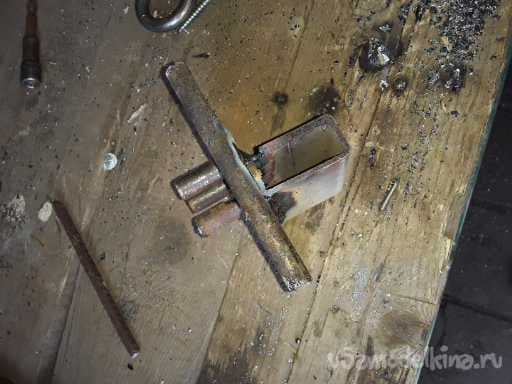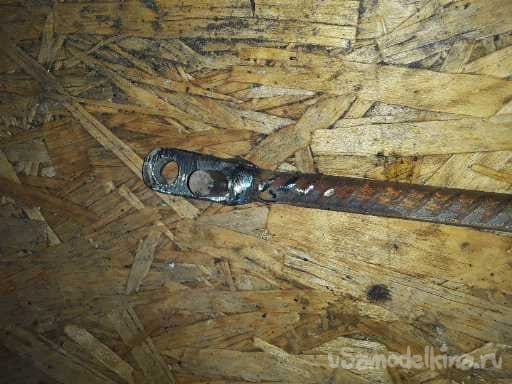 .
It is not difficult to work with a machine, first you need to learn, and then, as if on an automatic machine, you begin to rivet the links. I will not describe especially how it all works, I will show everything in the video. Then I bend everything on the machine, trim it with a hammer and electro-weld all the links. I rivet the chain from pieces of reinforcement with a diameter of 4 mm. I riveted a little chain and decided that it was necessary to assemble a device for the manufacture of rings for a full arsenal, although they could be bent like that, but a couple of them were needed, but I decided that it might come in handy on the farm. To adapt, you need a base plate and two pieces of pipe, one 40 mm long, 5 cm, and the second with an inner diameter of 10 mm. I weld a 10mm piece of pipe to the base in the center and weld a 40 mm pipe onto it from centering. To fasten the bar, I weld a piece of the bolt, stepping back 5 mm from the pipe. For the handle, I took a section of a profile pipe and welded a bolt to it on the edge, and the second bolt, stepping back a little at a distance of 5 mm from the pipe, welded another bolt with a diameter of 10 mm. That's all the machine is ready for anything complicated, all with your own hands and from unnecessary metal leftovers, and there are so many benefits. I clean everything with a grinder, degrease and paint with paint, although it will all fly off in the first hour of work, that's all dear friends my article is completed thanks for your attention, do not judge strictly. Until next time on our favorite site Visiting Samodelka.