DIY
Third arm made of polypropylene pipes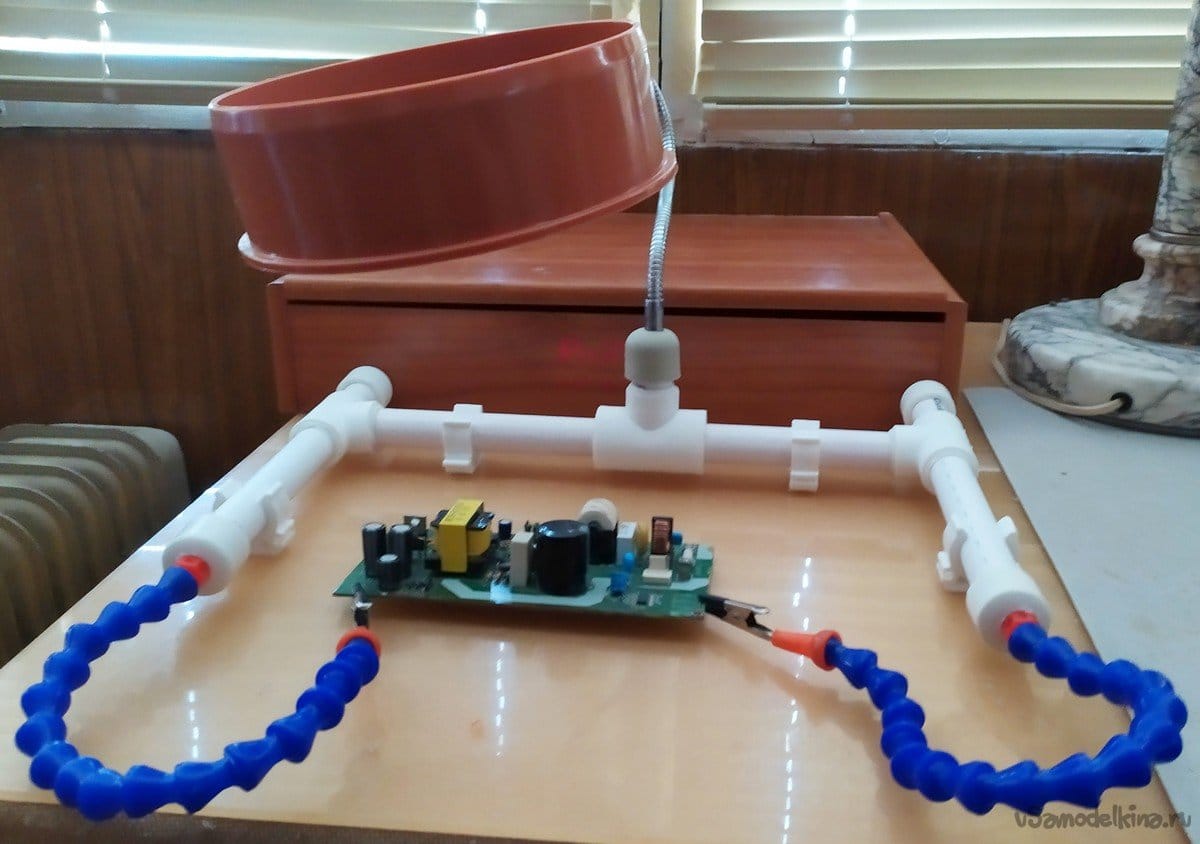 When working on repairing electronics or assembling miniature parts and structures, you very often come across the need for an additional holder. Also, with such activity, you cannot do without additional visual enlargement of the working surface. I am sure that all masters are familiar with this feeling when the third hand is missing, and sometimes even the fourth. Without special devices, such as a microscope or a magnifying glass, especially when soldering SMD components on electronic boards, for a high-quality result, such a device is indispensable.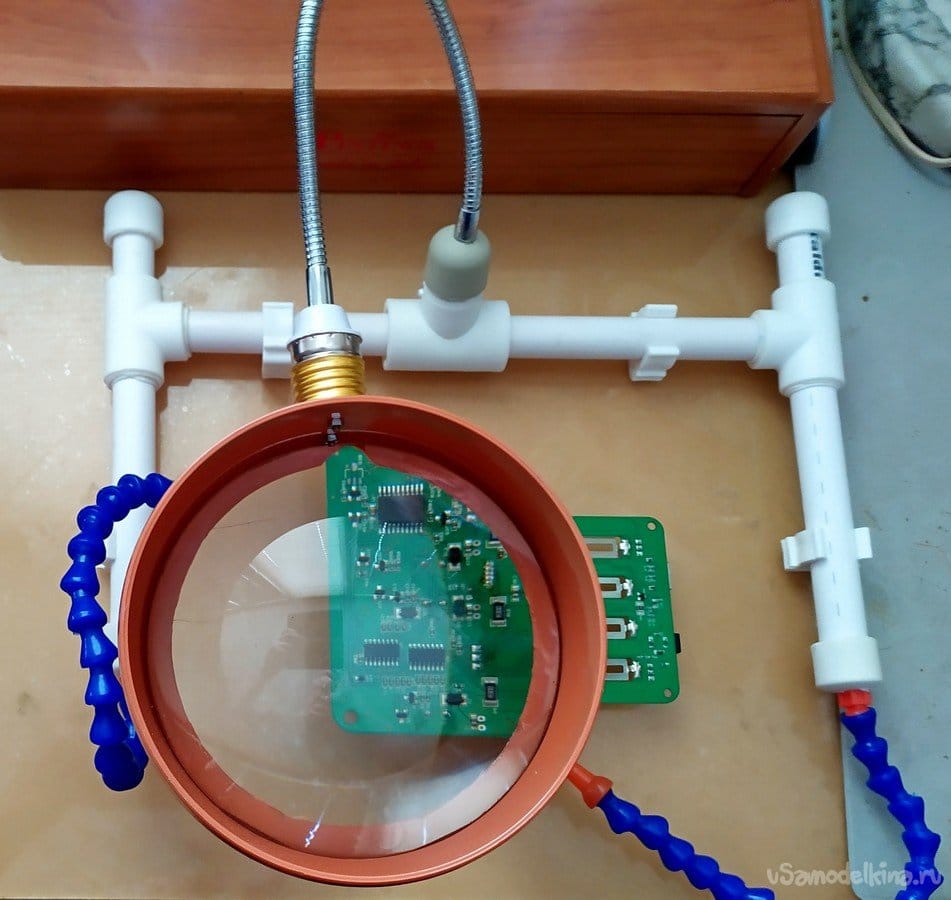 Such a tool as a magnifying glass is priceless not only for radio amateurs, but also for people engaged in jewelry work, as well as for numismatists and collectors. From my own experience I know that such a device can be useful even in crop production. Working with small seeds, I have often faced the lack of a large magnifying glass. Not to mention watchmakers, micro carving craftsmen and other exclusive professions.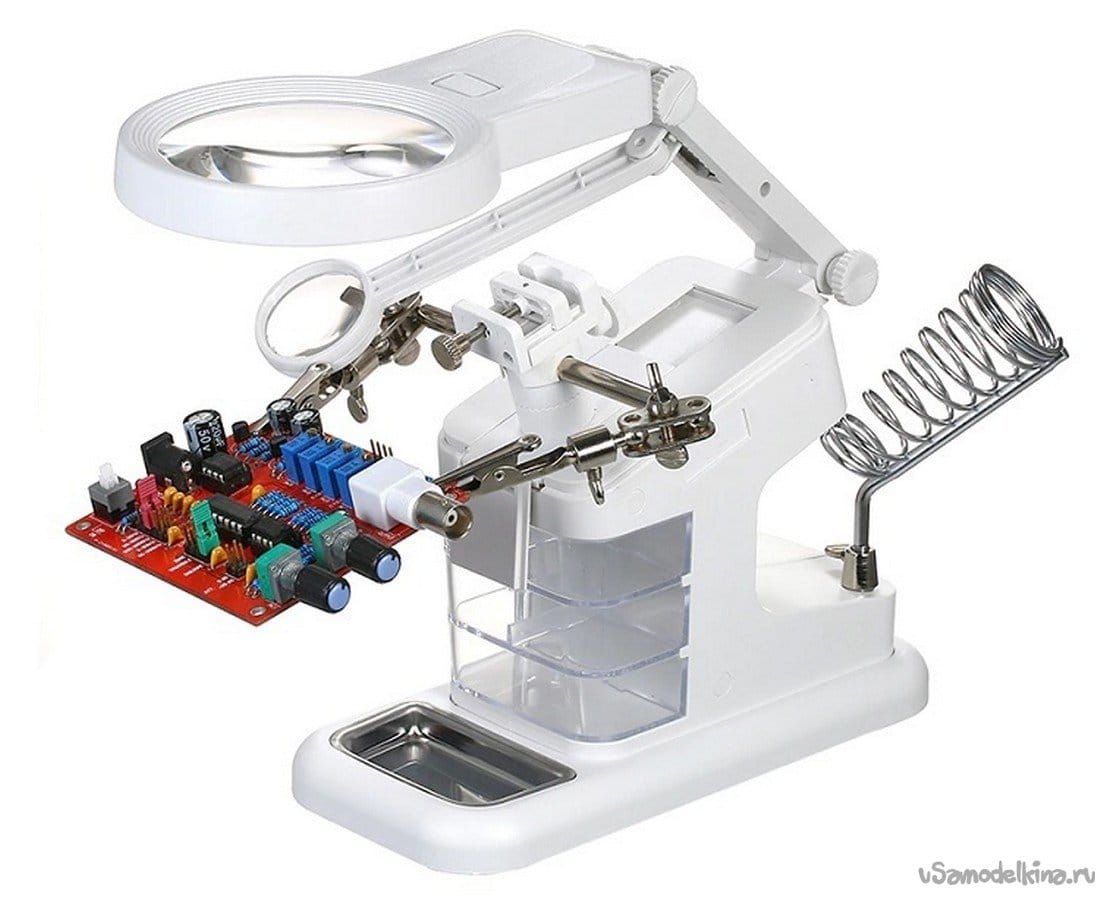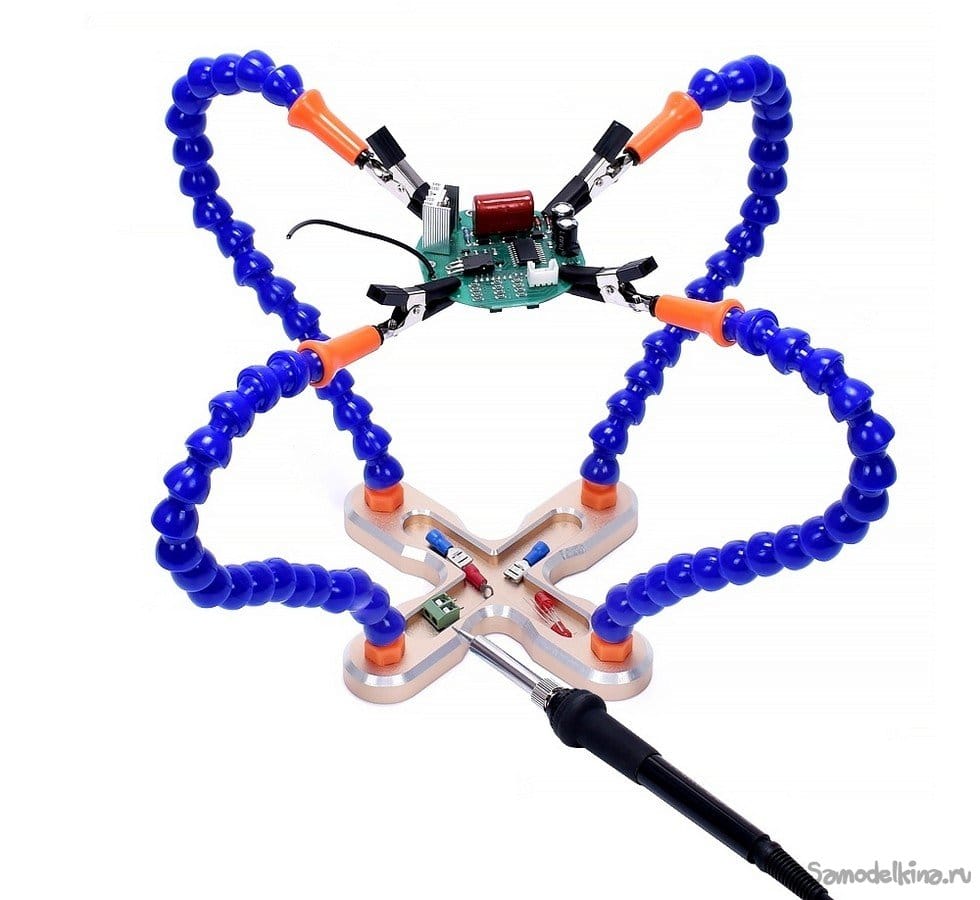 In this design, the task was originally to combine the minimum number of parts in order to optimize the workspace. That is, it was necessary to create more working space inside the tripod of this device.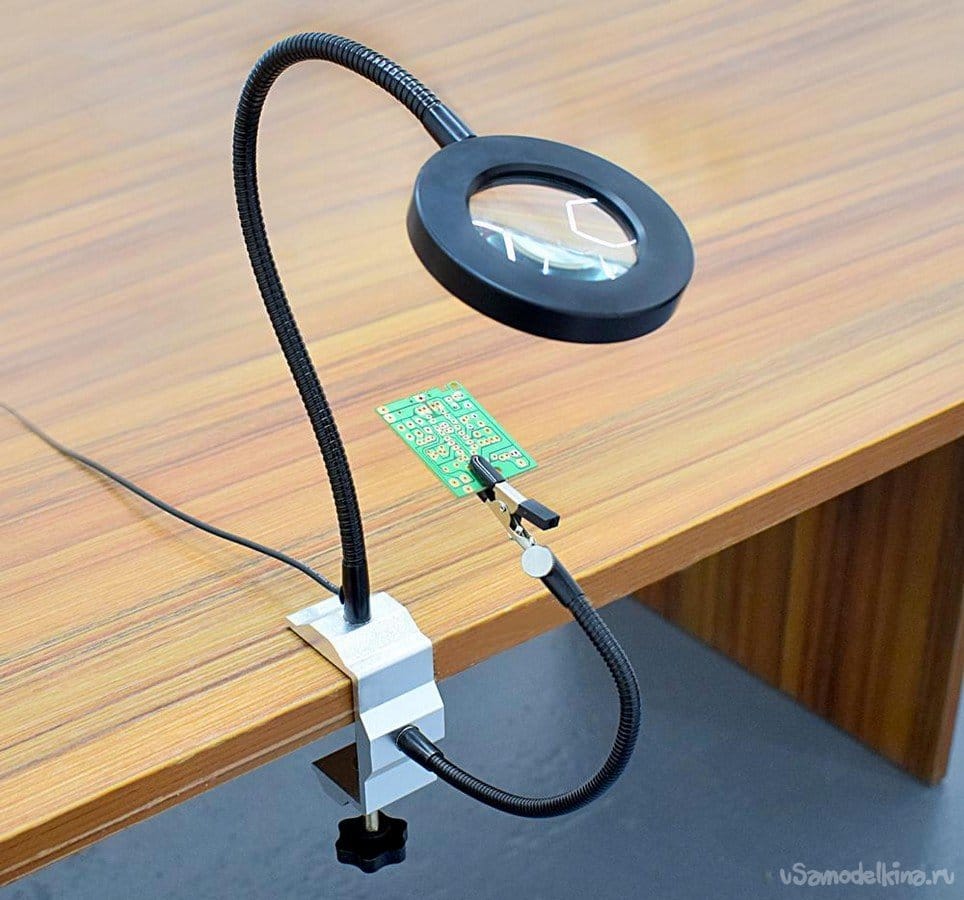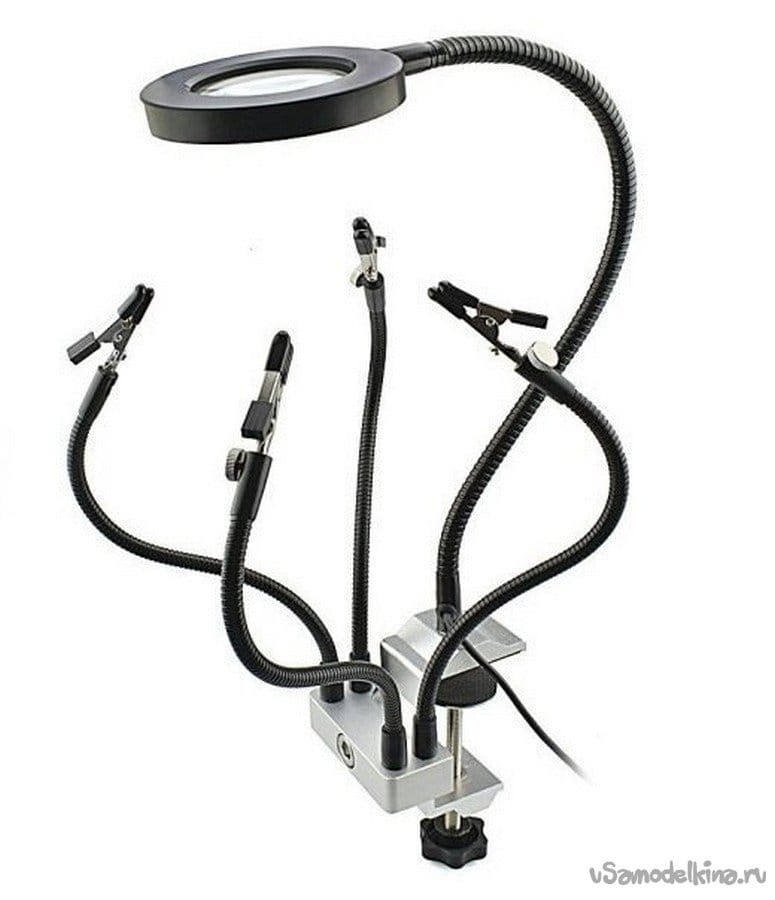 I have already encountered this problem when repairing electronics – such as mobile phones or tablets. In solving this problem, it was necessary to build a primitive installation of the so-called "third hand". In the photo you can see this simple fixture consisting of a tabletop LED lamp, to which I attached a small magnifying glass and a coil with a "crocodile".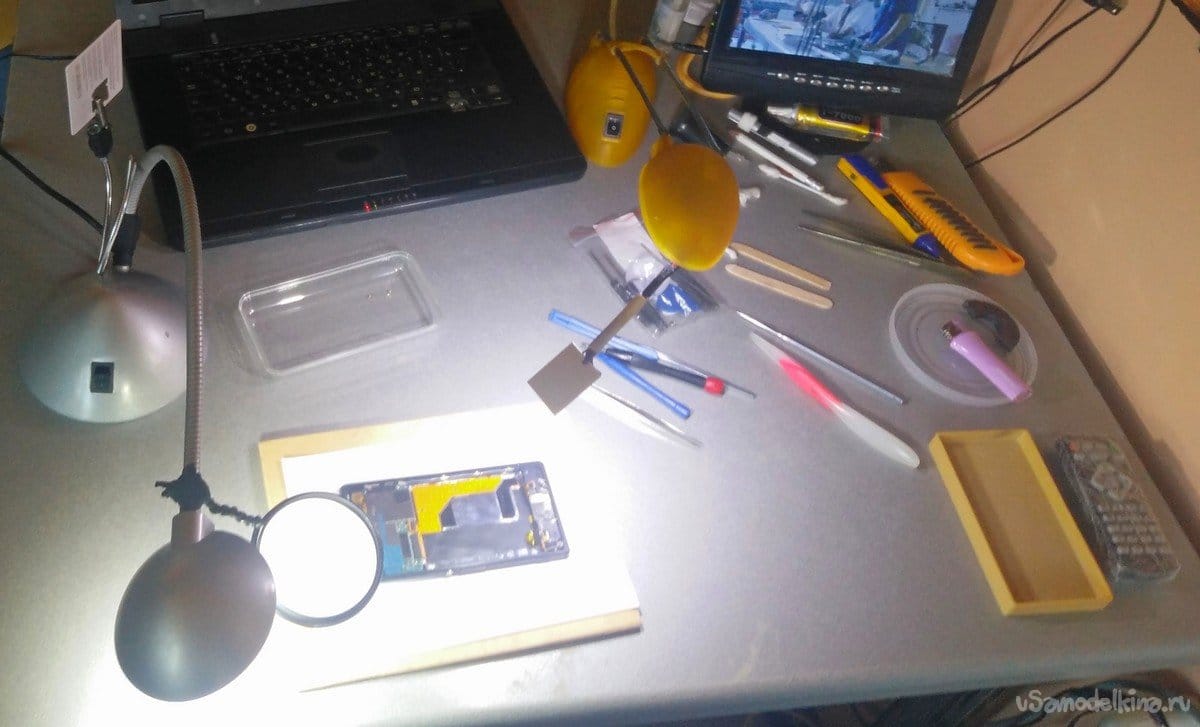 Well, besides that, I also have a magnifying glass for watchmakers, which is equipped with a lens of greater magnification – than a regular magnifying glass. The only problem is that it is difficult to keep it on the face for a long time. In such works, the larger the lens diameter, the more convenient it is to work.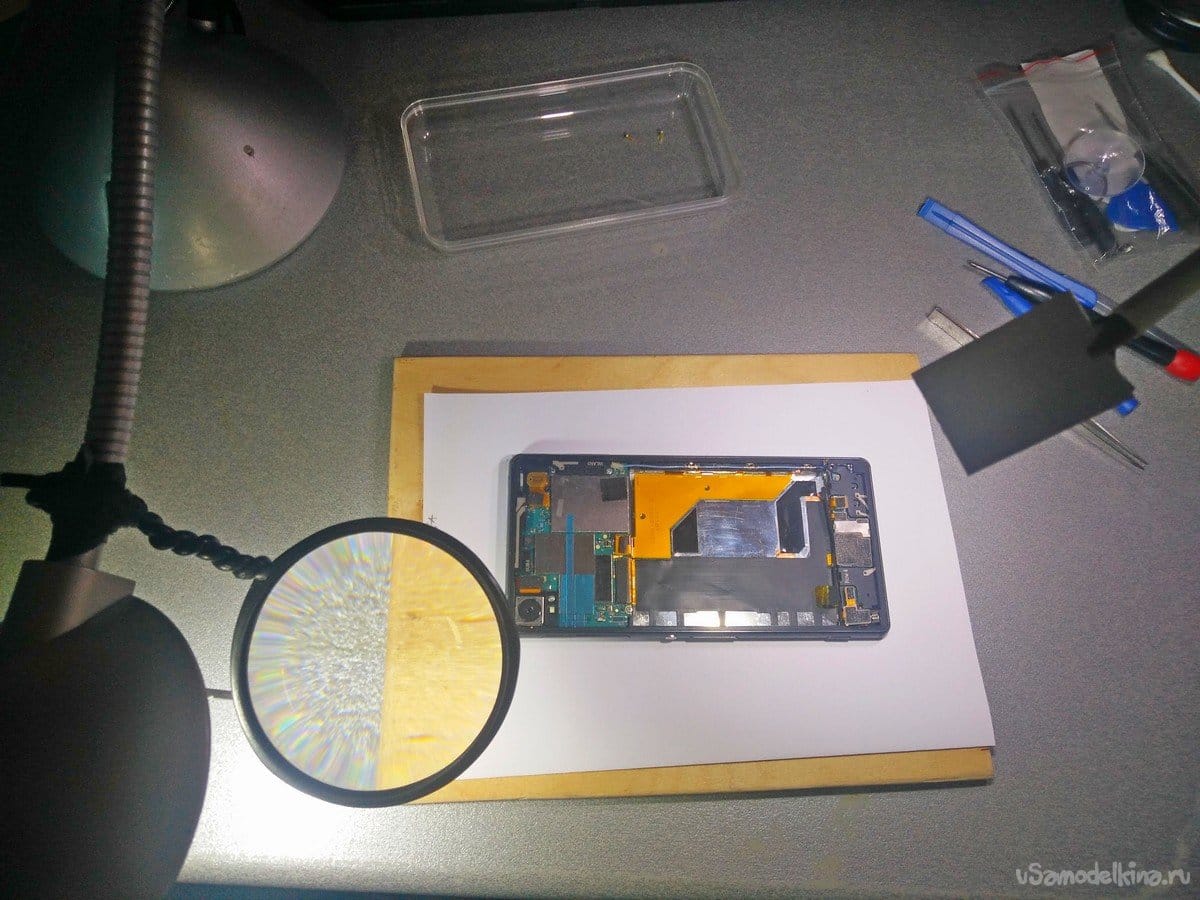 This time, I was approached by an old friend of mine, who set the task of quickly building a simple structure, no frills, for the repair of electronics. Considering the fact that he has worked all his life in this industry (communications operator) and has much more experience as a radio amateur; we took on the joint production of this "invaluable" tool. We have to work with soldering planar electronics, the SMD components of which are very small. You cannot do without a large magnifying glass in such a repair.
The following materials and tools will be needed to make the device:
Materials:
– PP pipe (PP ) d = 20mm, L = 300mm x 1pc, 140mm x 2pc, 40mm x 2pc,
30mm x 1pc;
– PP (PP) plug d = 20mm x 5pcs;
– PVC plug d = 160mm. (160PVC-U) x 1pc;
– PP (PP) tee d = 20/20mm – 2pc, 25/20/25mm x 1pc;
– PP (PP) fastening latch d = 20mm-4pc; < br> – gander for the E-27 light bulb L = 300mm x 1pc;
– plastic flexible adjustable hose L = 25mm x 2pc;
– magnifying lens d = 150mm x 1pc;
– crocodile clips x 2 pcs .;
– heat shrink tube;
– bolts and nuts М4 х 2 sets;
– nut М8.
Tools:
– soldering iron for PP pipes;
– drill or screwdriver;
– "ballerina" d = 150 mm;
– drills d = 2.5mm, 8mm, 13mm;
– tap М14, М3;
– tap wrench;
– clerical or assembly knife; < br> – pliers, a set of screwdrivers, a felt-tip pen and other small tools.
Going to use polypropylene pipes was born out of simplicity and affordability. Such pipes are very strong, durable and easily restore their original shape. Reinforced pipes are even more durable. When repeating this homemade product, it is better to give preference to them. But, given the small size of the tripod, any other PP pipes are suitable for implementation.
< img class = "aligncenter" alt = "The third arm made of polypropylene pipes" src = "https://usamodelkina.ru/uploads/posts/2021-04/1618968901_8.jpg"/> Due to the fact that the magnifying lens with a diameter of 150 mm is rather heavy, the latter had to be fixed on a stable base. Given this factor, the base of the product can be made heavier. For this, it was originally supposed to place inside the polypropylene pipes, iron fittings of a suitable diameter. But during the assembly process, this was not required. Due to the H-shaped shape, the design turned out to be quite stable.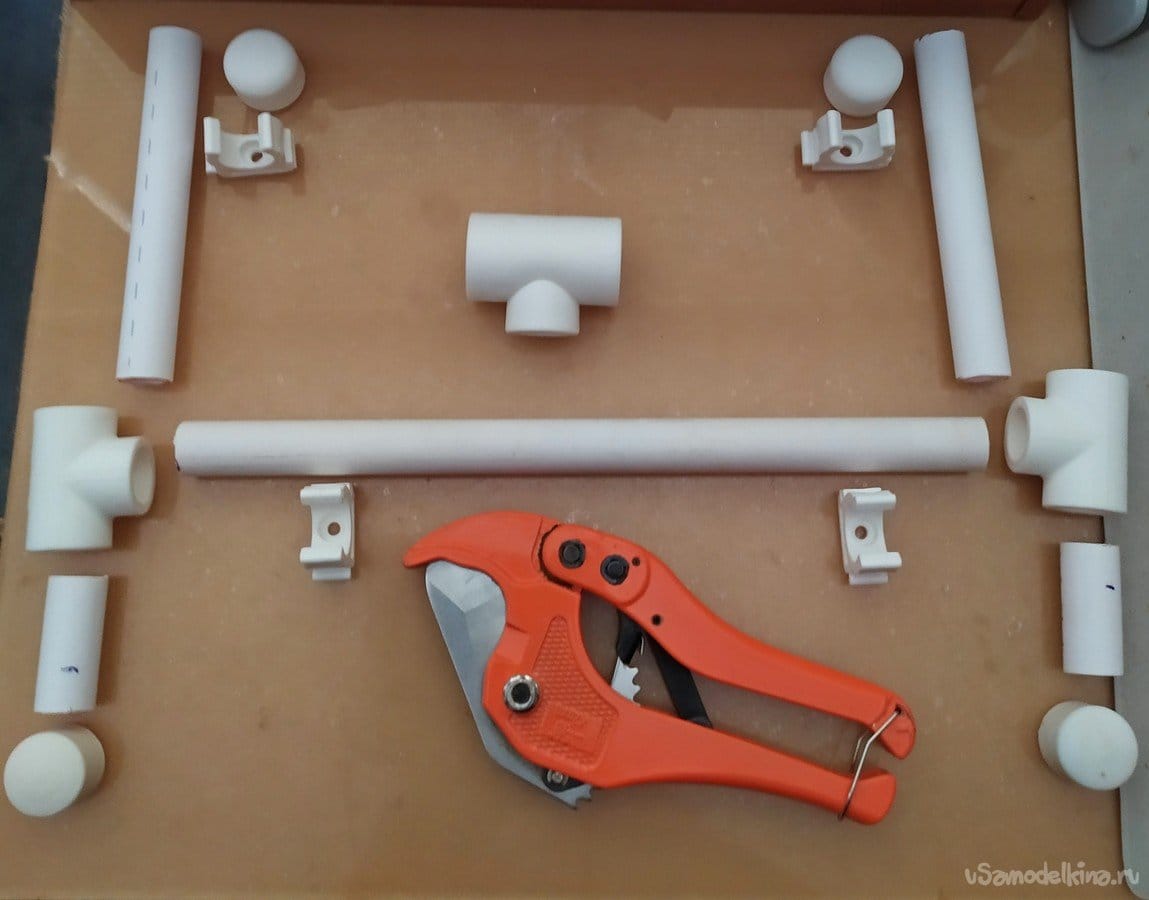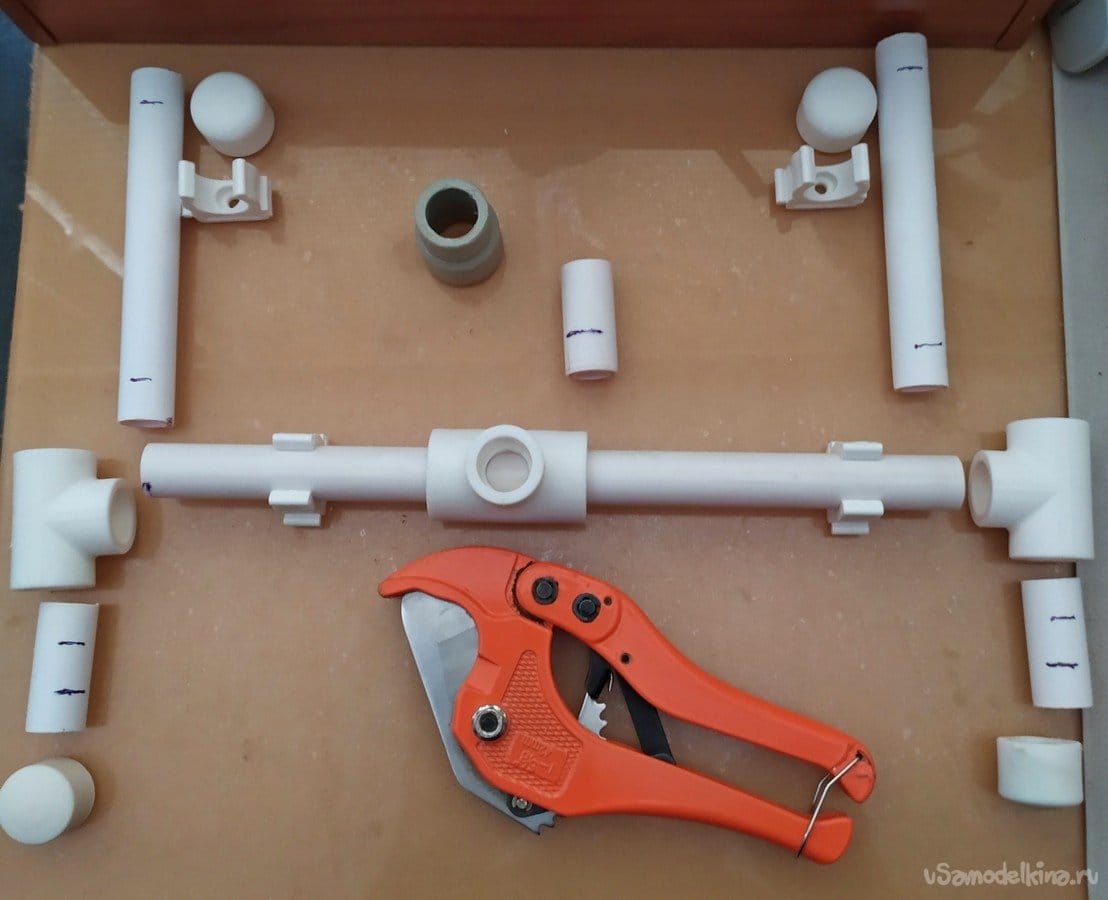 Having prepared the pipes and connectors in advance, they need to be marked with a felt-tip pen according to the dimensions indicated above.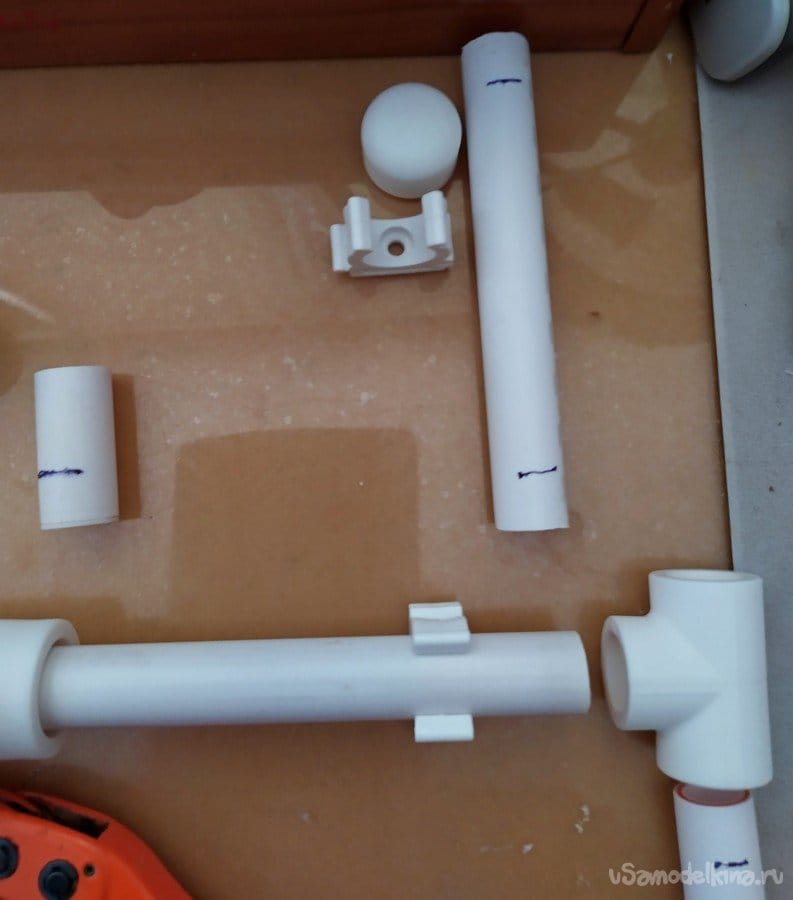 Soldering iron kit for polypropylene, I have special scissors. They have a ratchet mechanism, specially adapted for such work in the future. But, in the absence of such a tool, you can use any other jigsaw for metal. Having cut the workpieces to size, they must first be placed on the table before welding.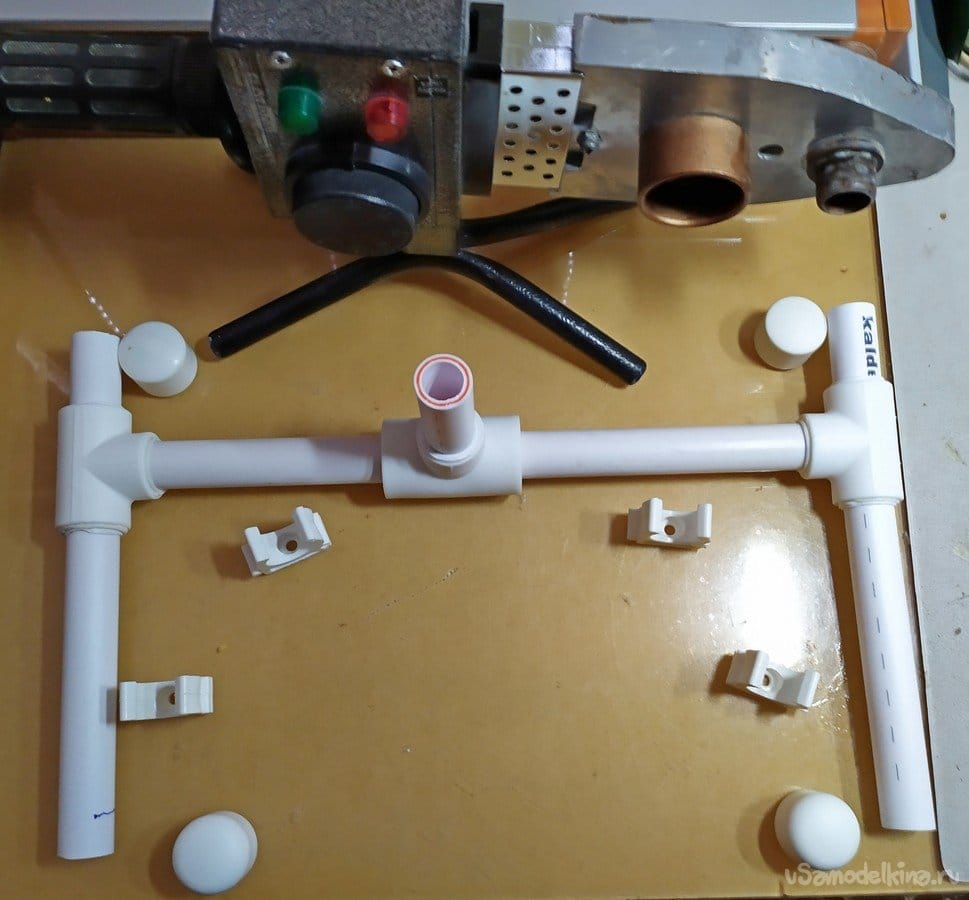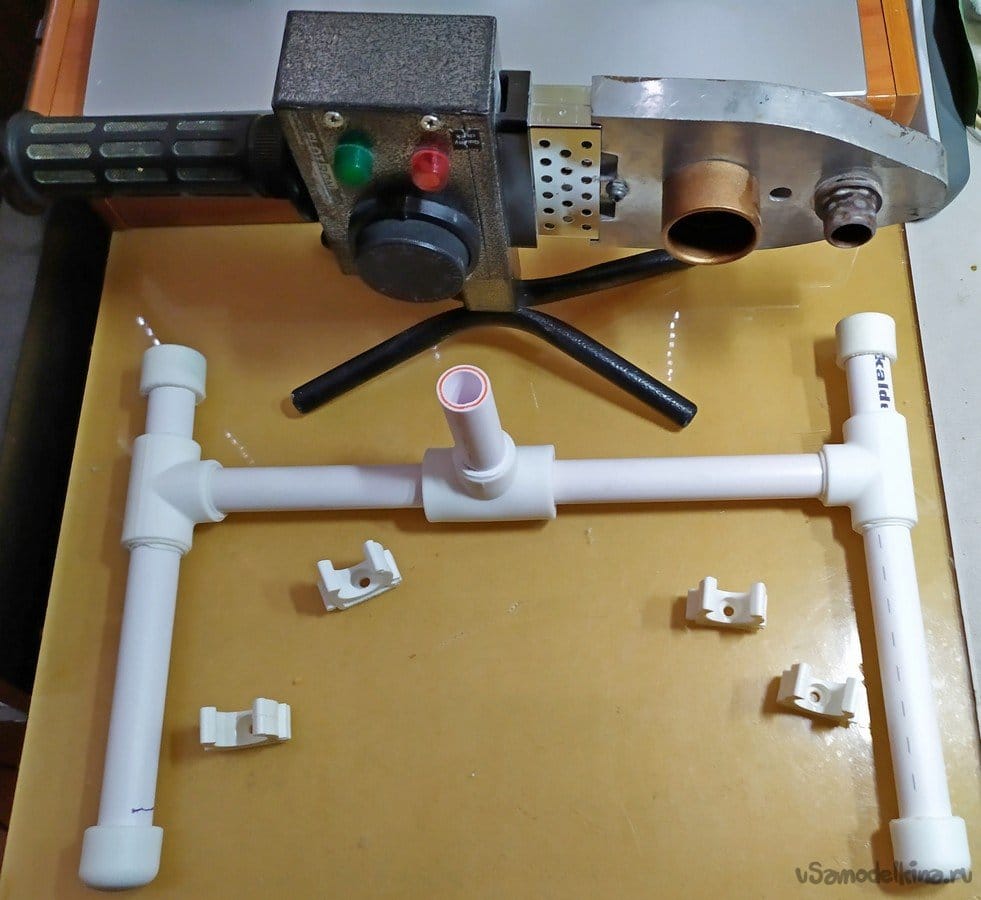 Preheating the soldering iron for polypropylene to about 250 degrees Celsius, you can start gluing the parts. Bonding time – no need to overexpose or underexpose during the heating of the product. Although here, high build quality is not required, but a beautiful aesthetic appearance will not hurt.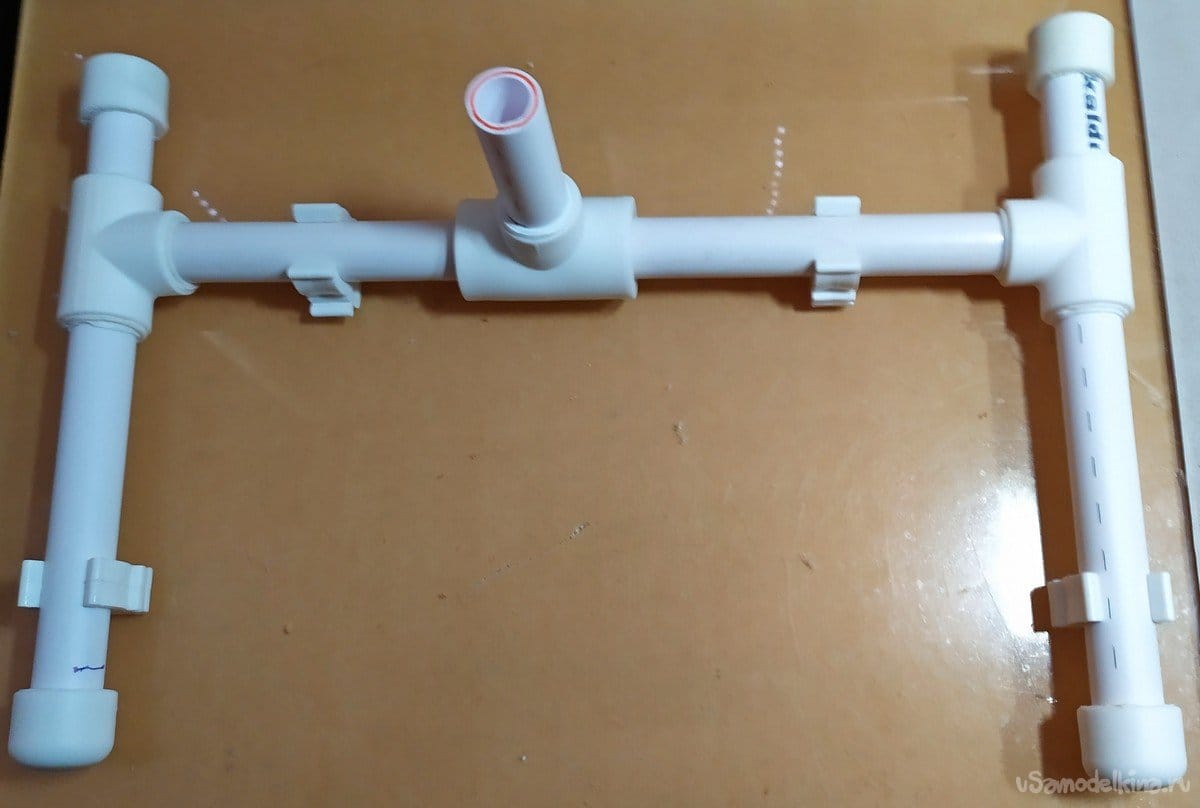 Having finished soldering the polypropylene, we can proceed to fastening the serpentine hinges with crocodiles. These flexible plastic hoses can be found and ordered online. But, instead of them, you can just as well use flexible metal hoses.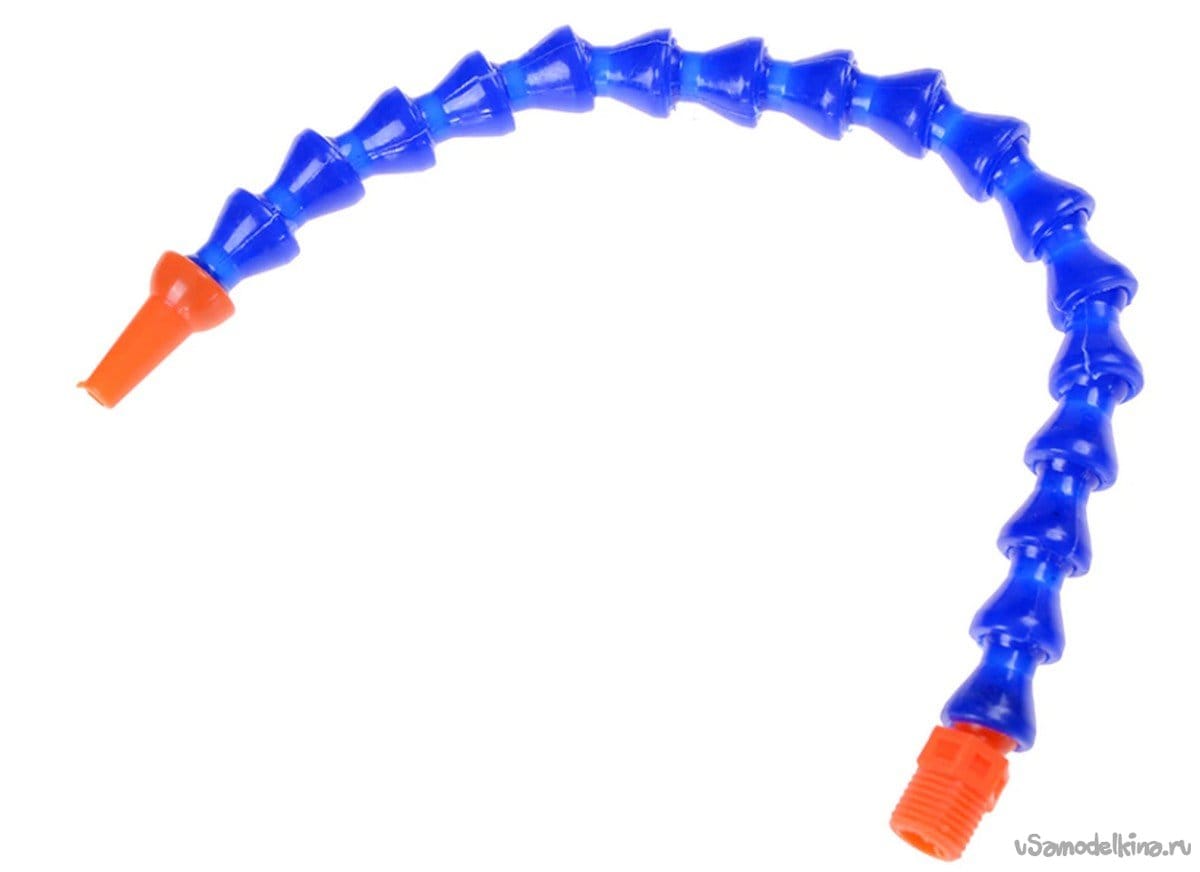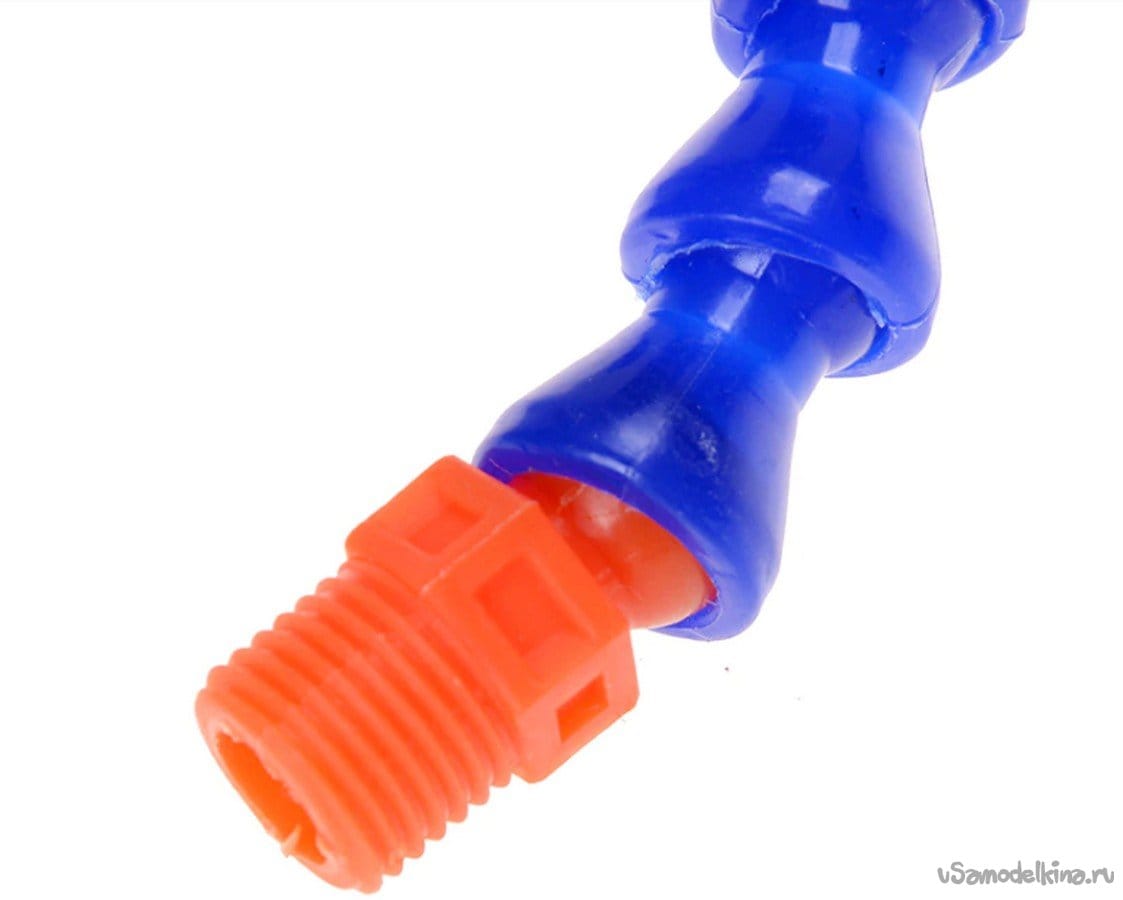 To the tips of the working teeth " crocodiles "it is advisable to attach a heat shrink tube. This will allow you not to damage them when clamping the parts with which you will work in the future.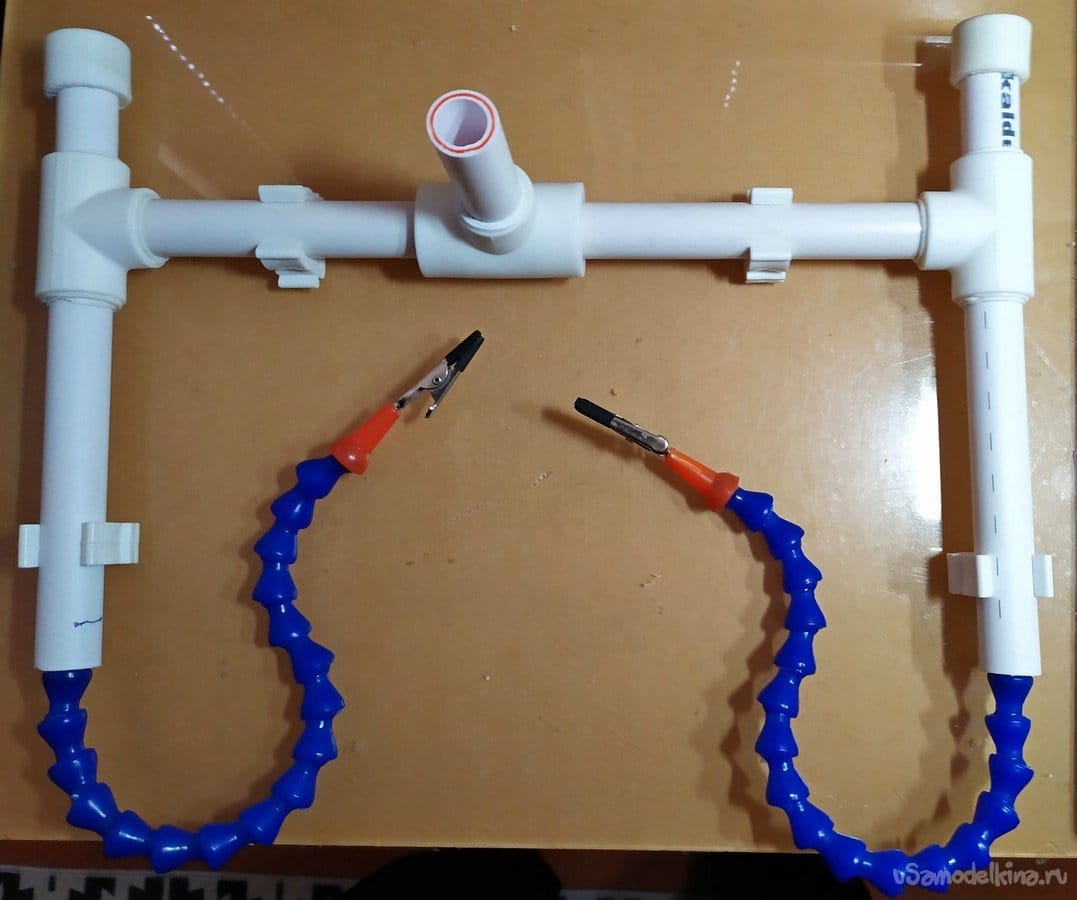 Next, you need plastic hoses fasten to the polypropylene plugs. To do this, drill a hole with a diameter of 8 mm in them.

Using a tap and a wrench, you need to make a thread into these holes and connect them with plastic hoses for crocodiles.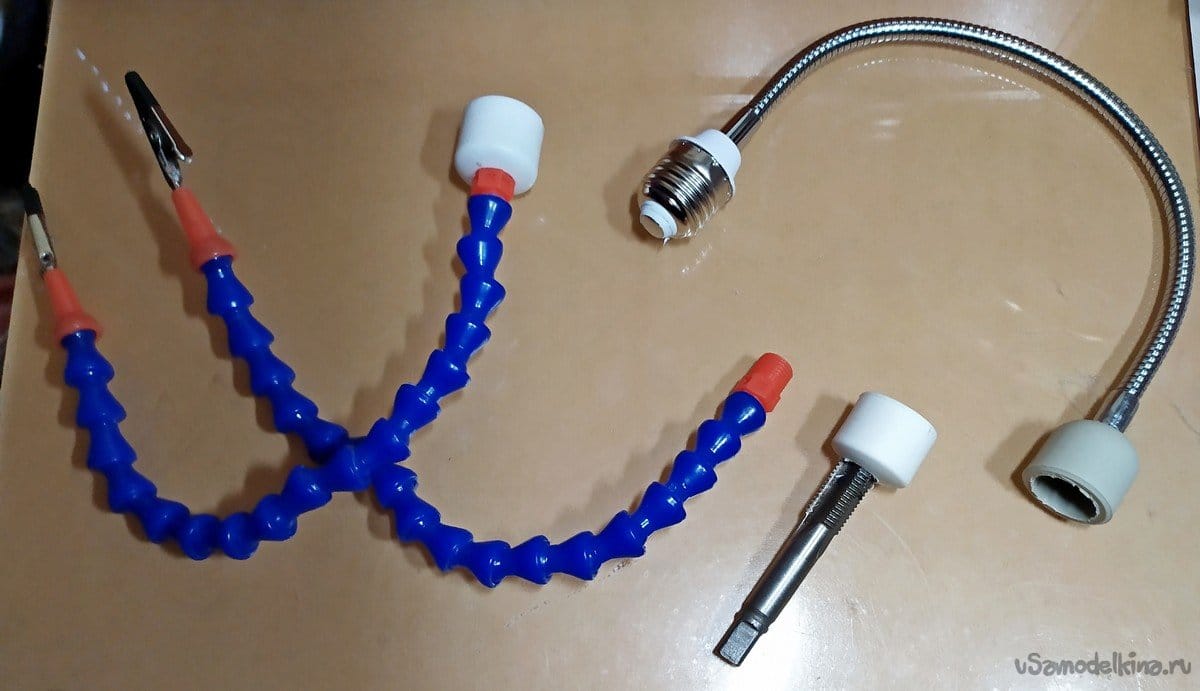 Next, we need flexible metal holders to attach the lens structure to the base. As you can see from the table, they are sold in different diameters. Depending on what you will attach to the rack, their diameter can vary from 6 to 12 mm or more.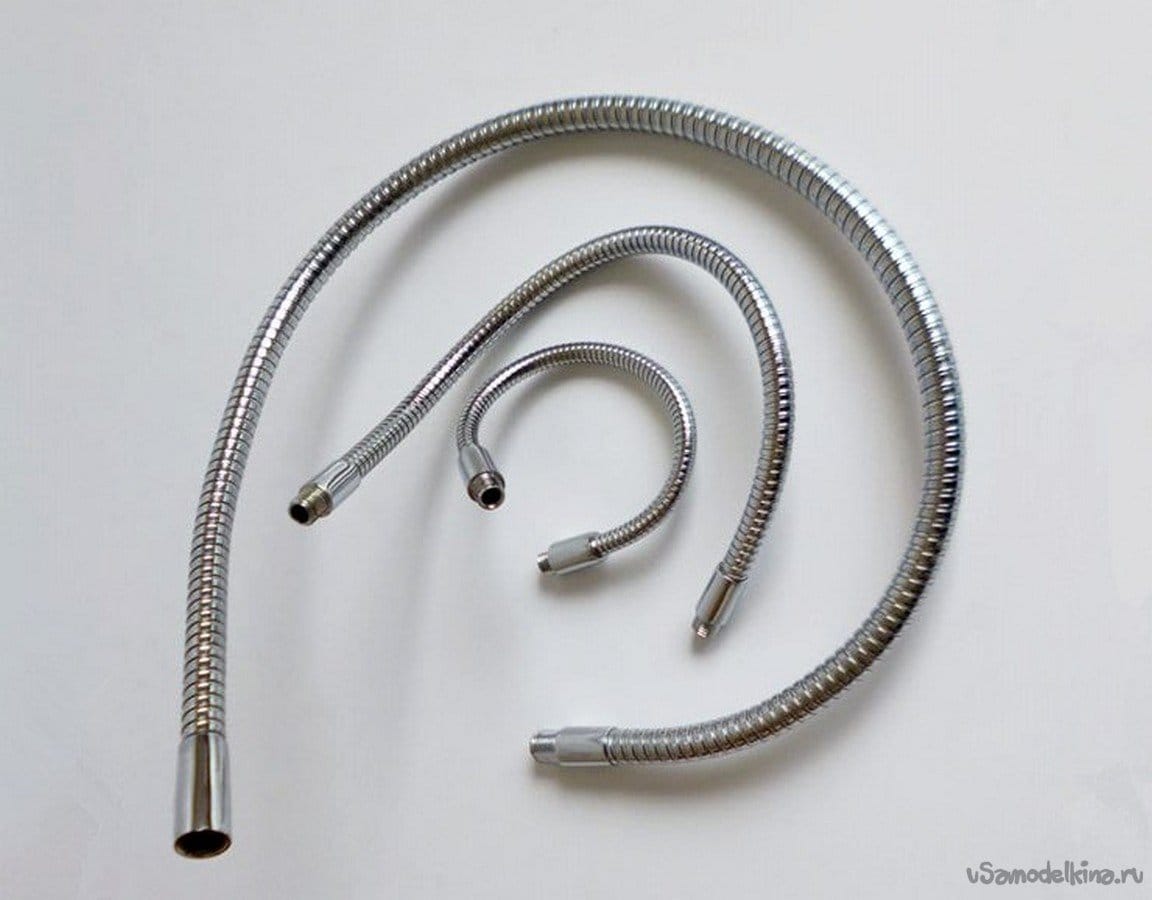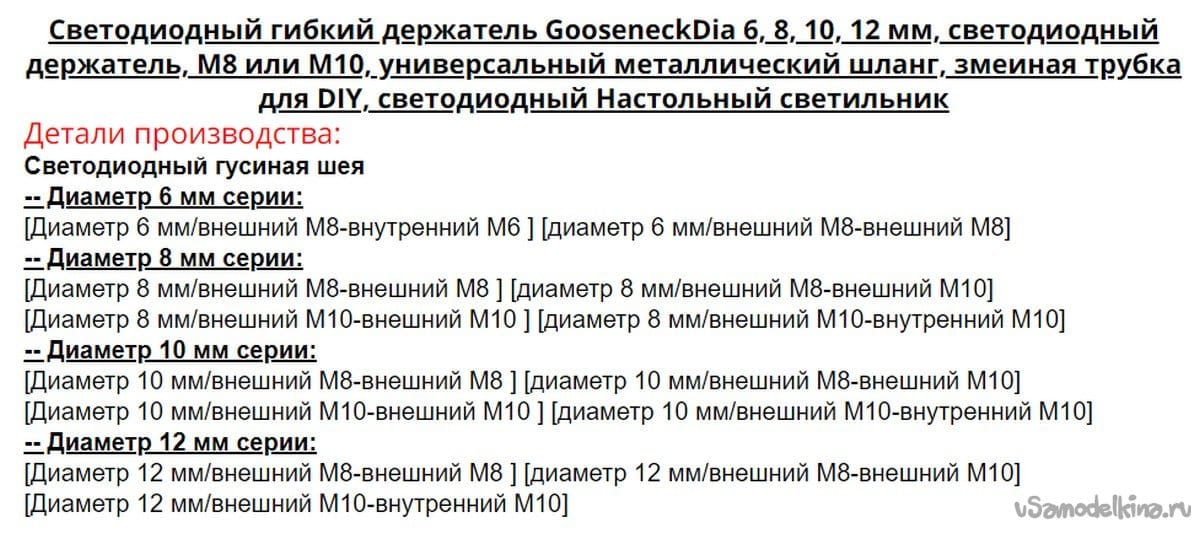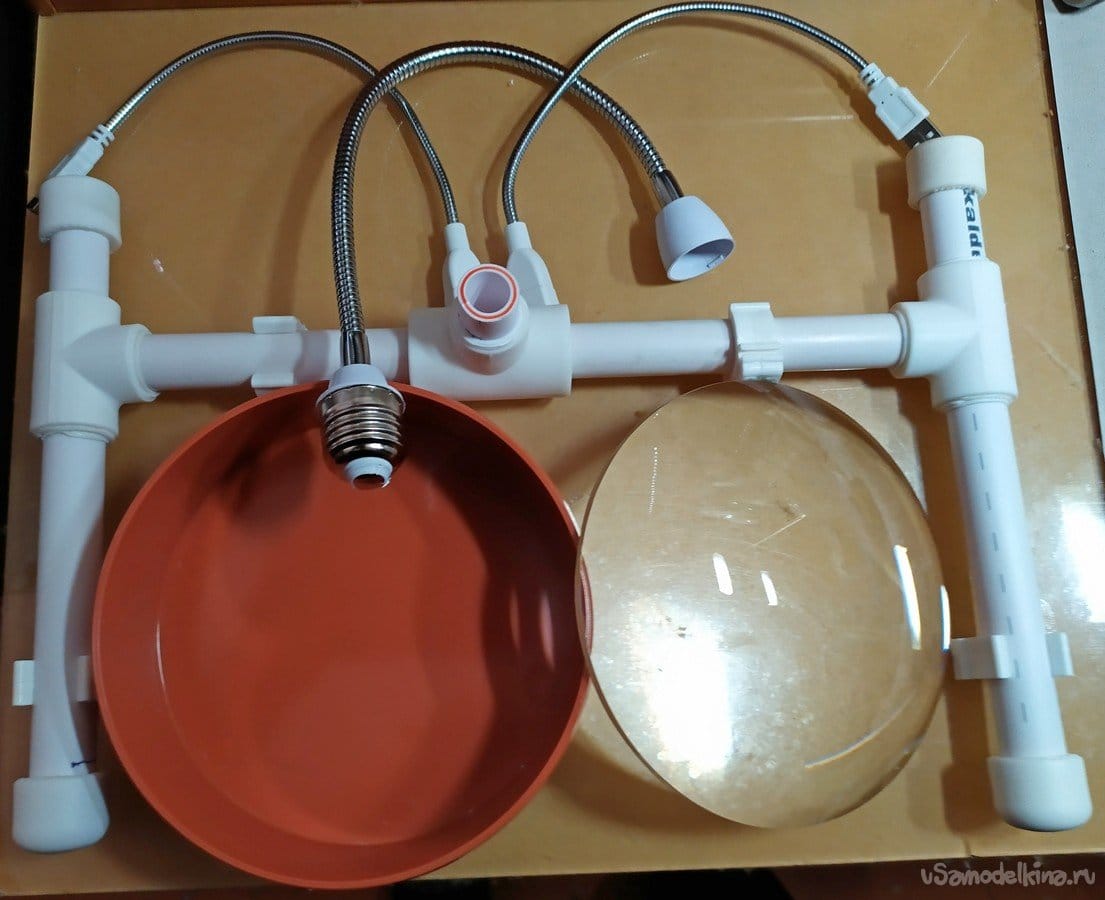 Having a gander for the lamp base extension, it turned out to be quite suitable for supporting the weight of a heavy magnifying lens. It is advisable to use a thicker extension cord with a large diameter!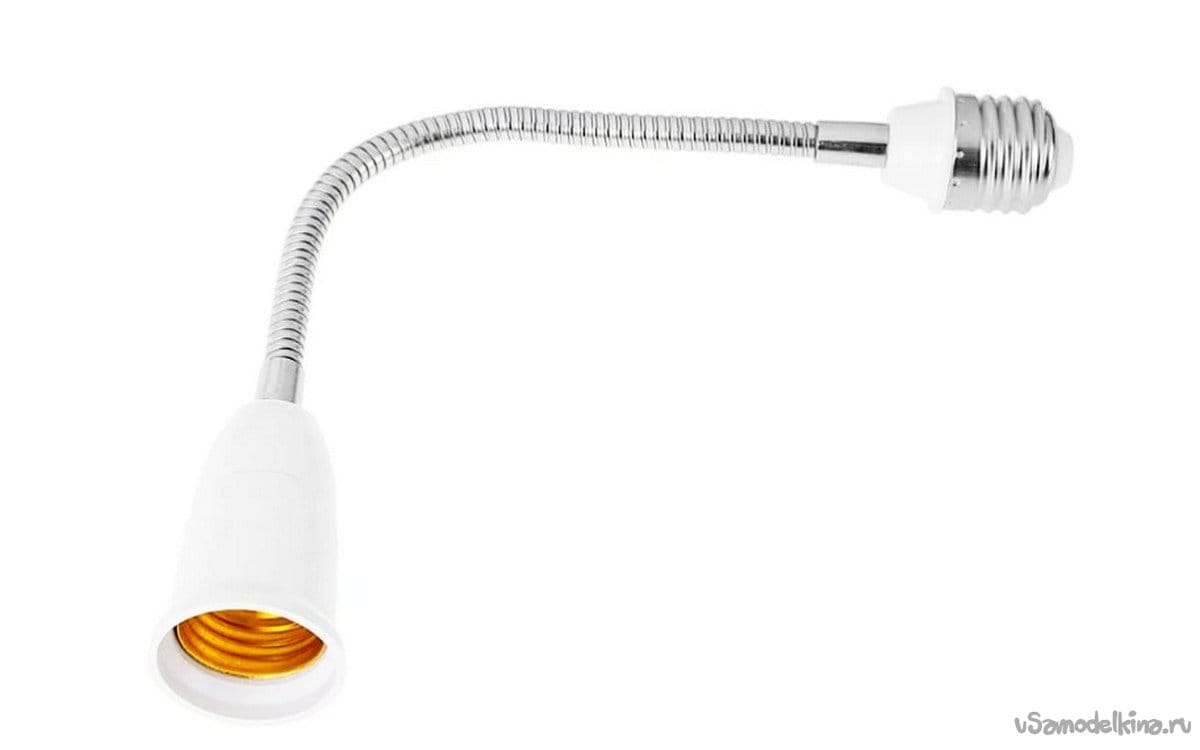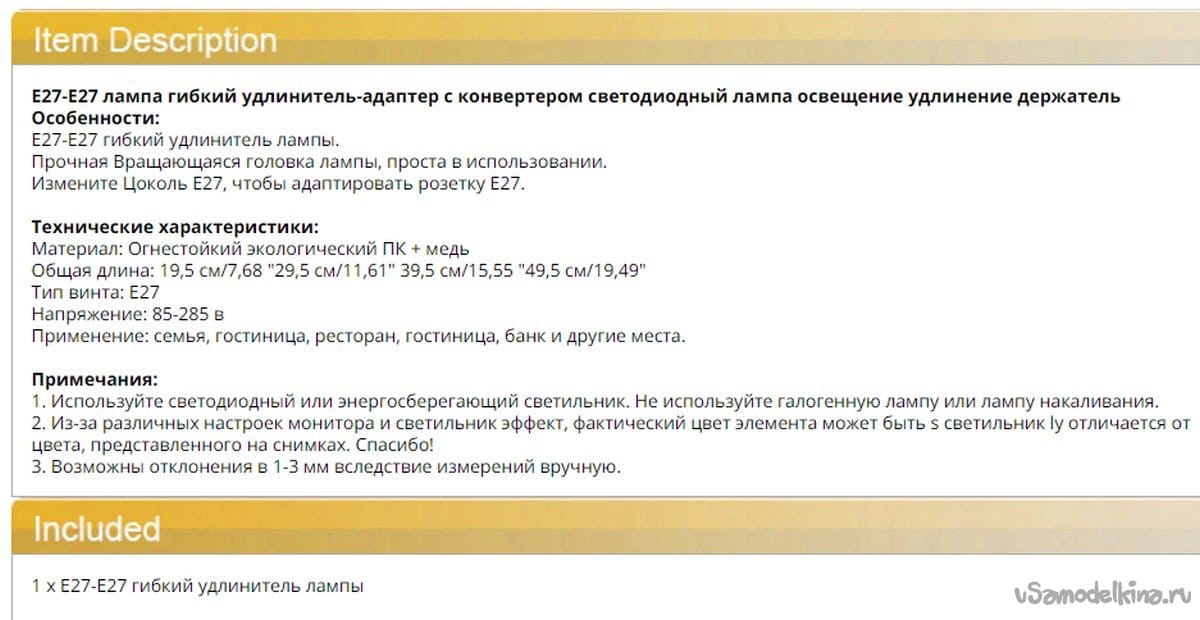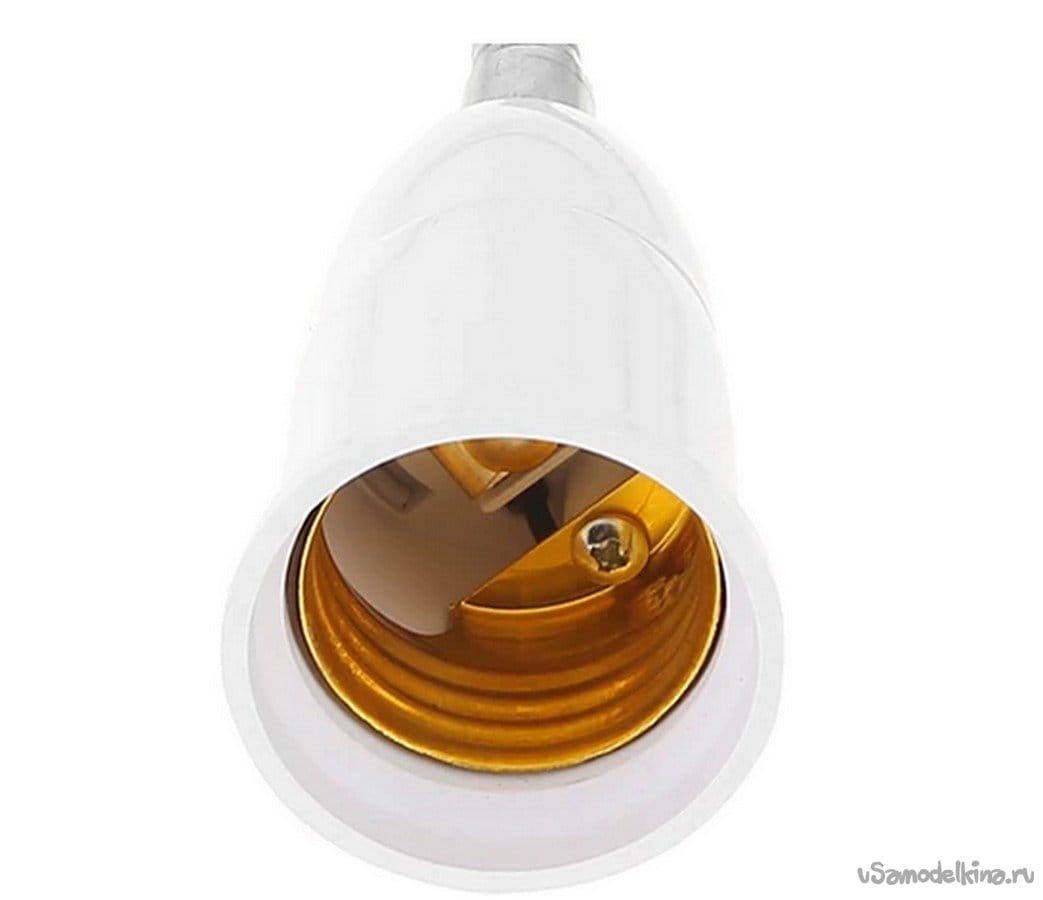 To the standard E27 base of this extension cord, we will attach a PVC plug for 160mm outside sewer pipes. You can attach it in other ways: for example, using a suitable clamp, etc.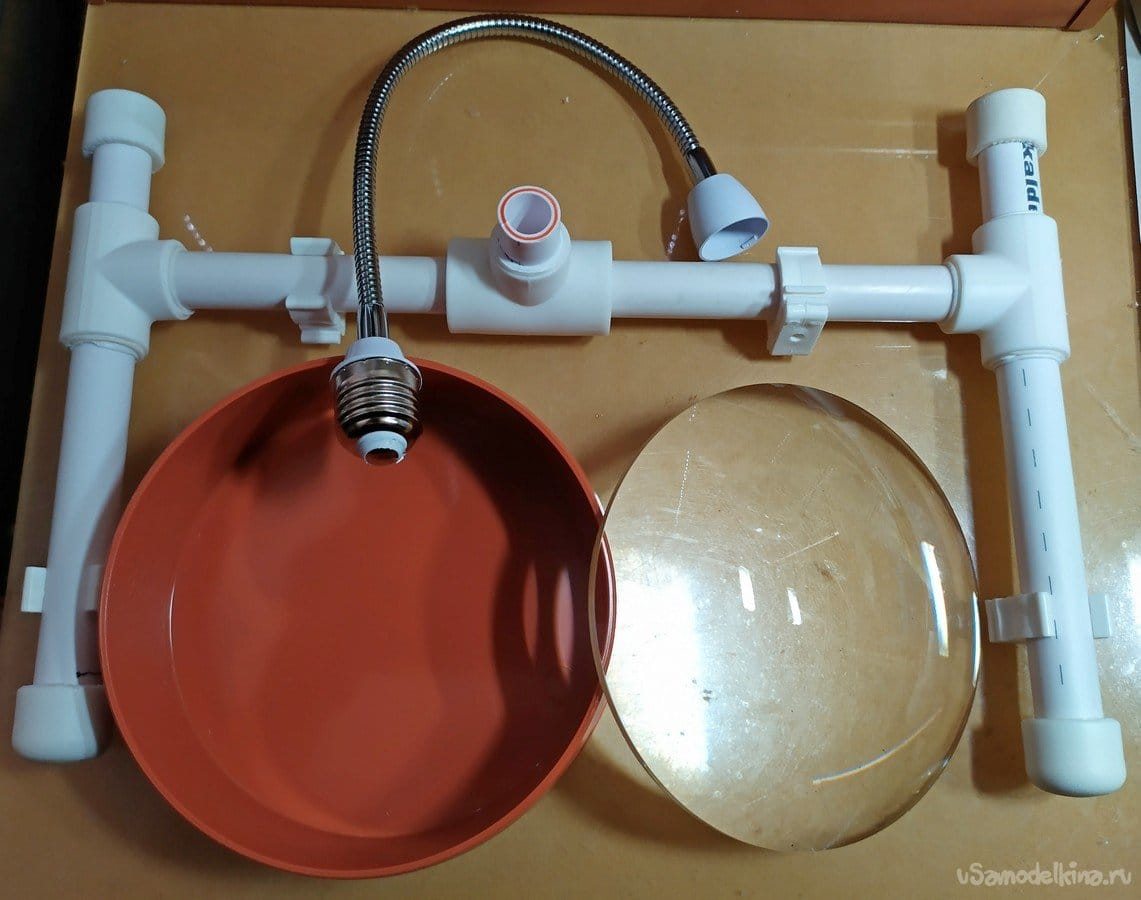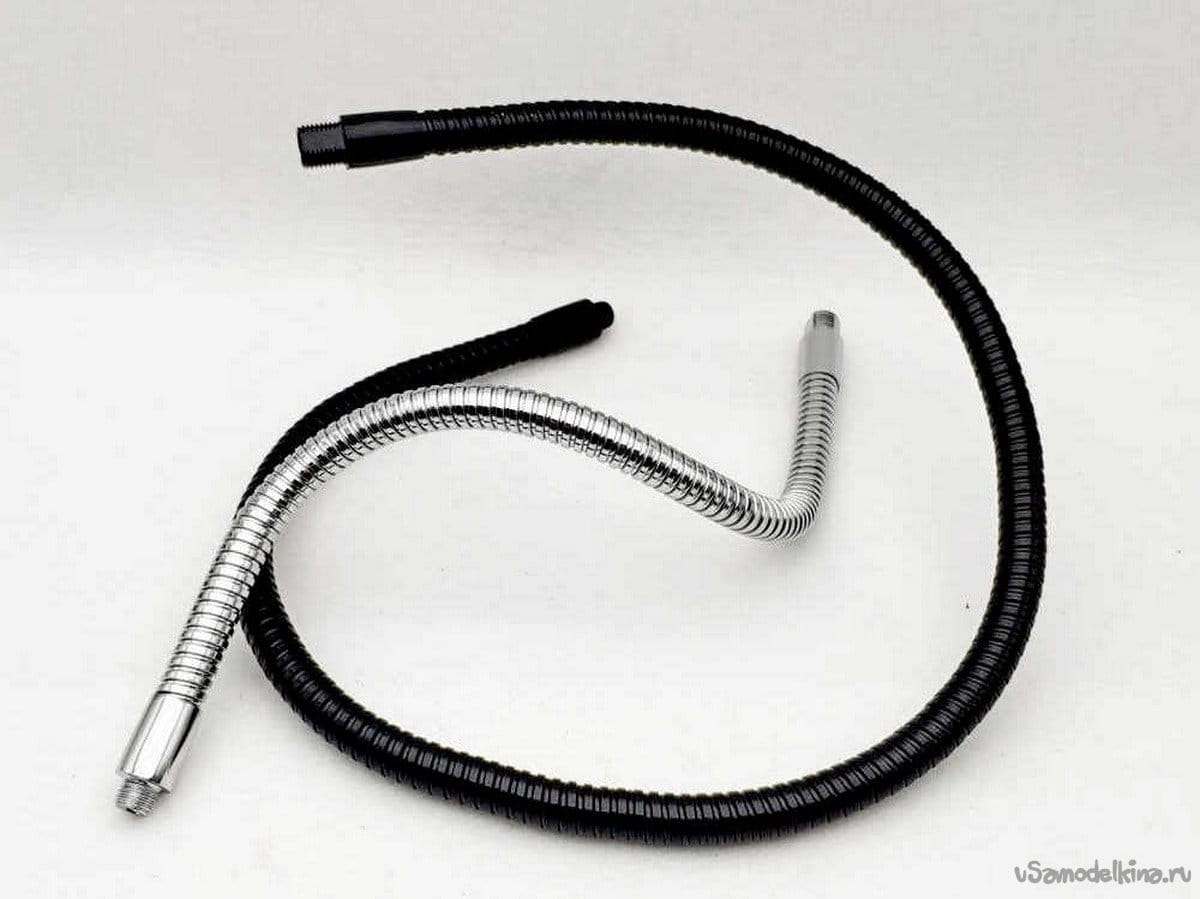 Before doing this, in the PVC plug you need to make holes with the help of a "ballerina" on wood, with a diameter less than the magnifying glass that you will use in your fake.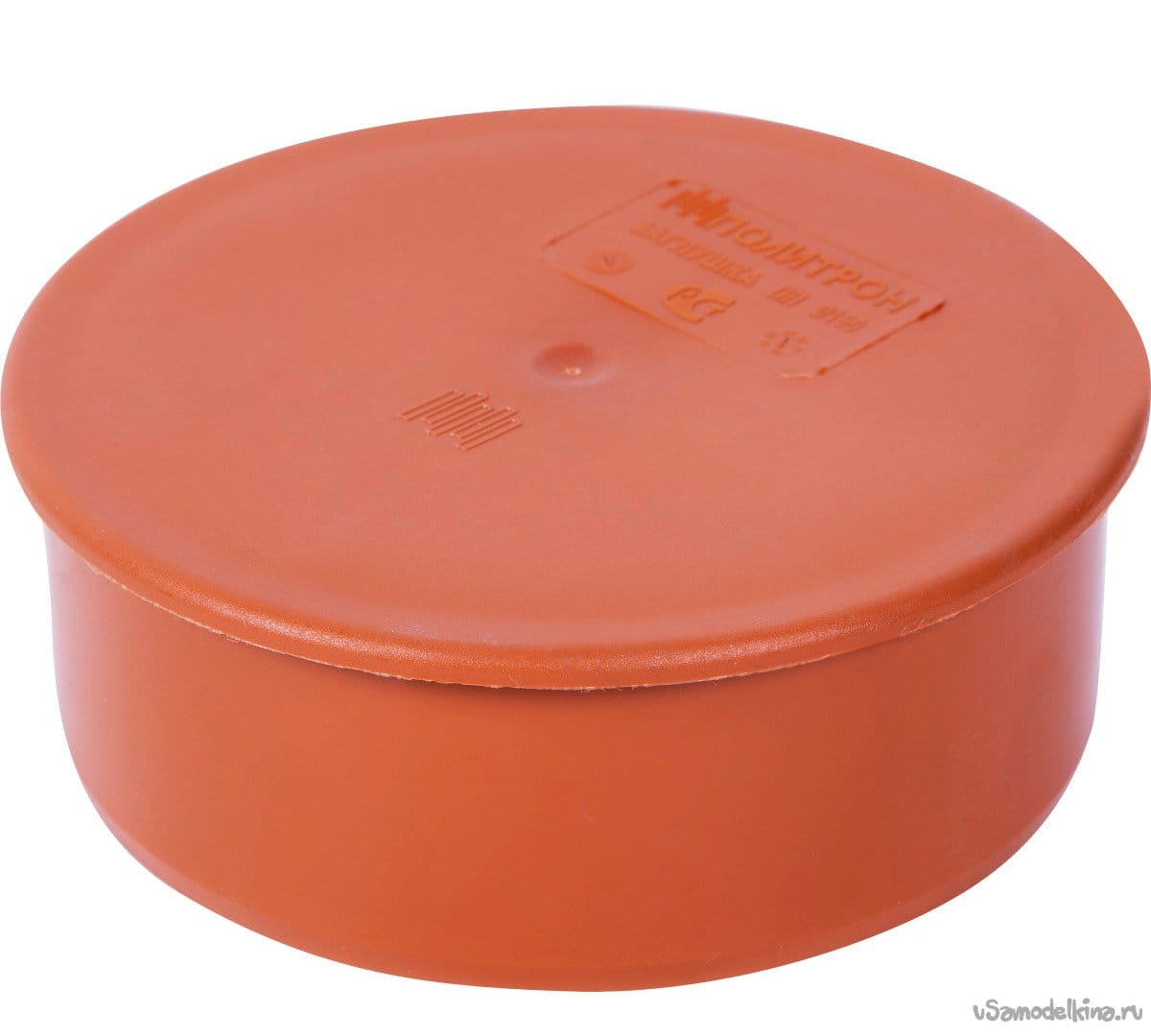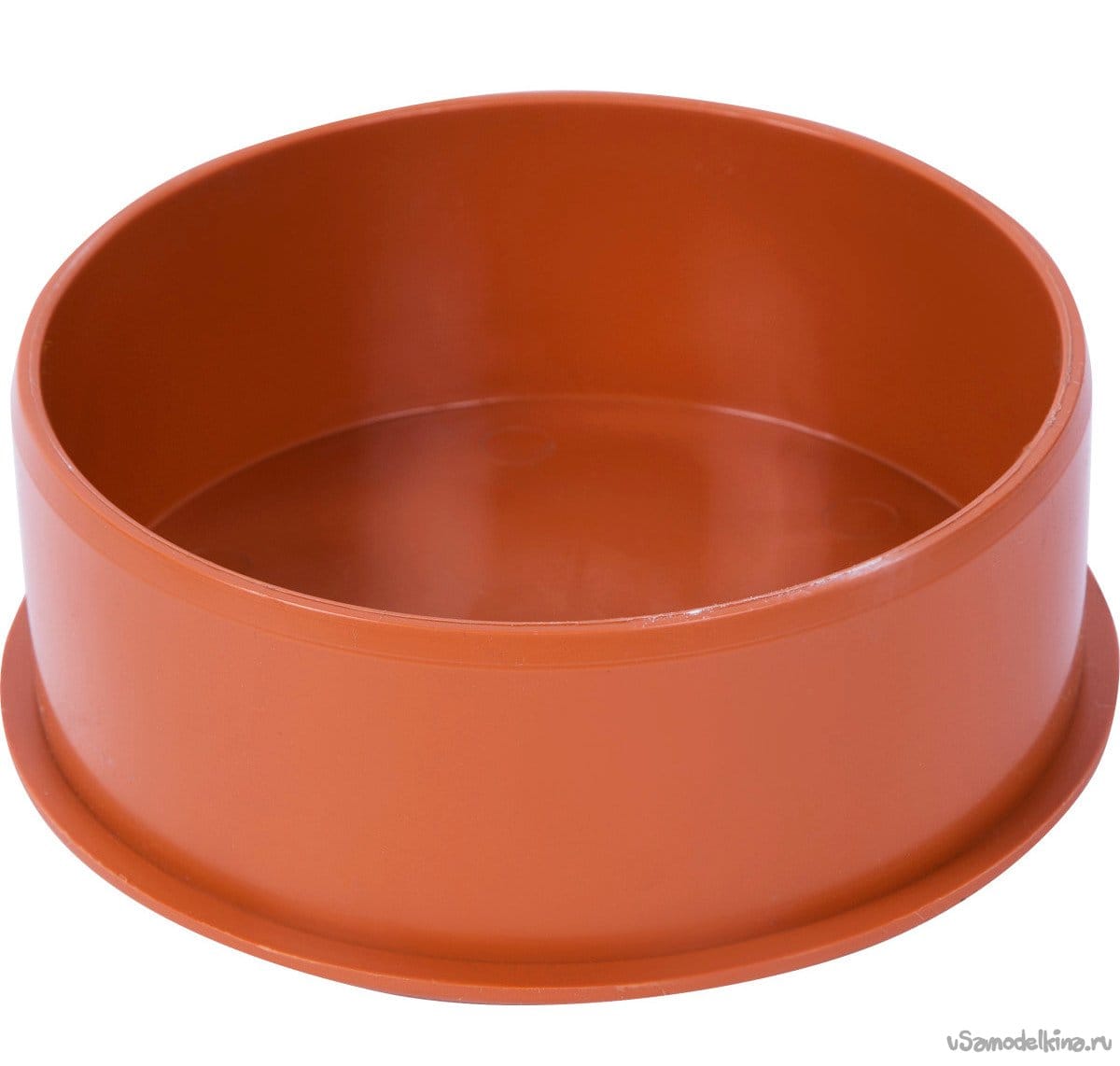 I have a" ballerina "that I use to cut holes in laminated chipboard (laminate). It does an excellent job of cutting plastics.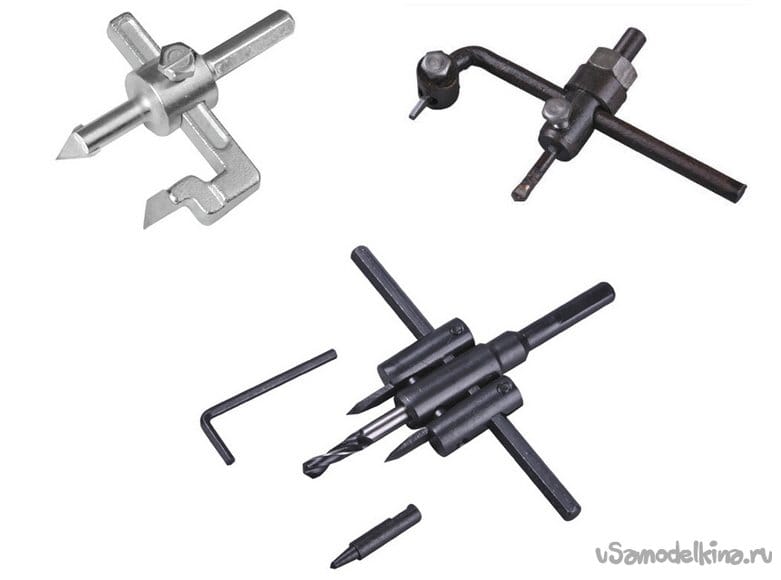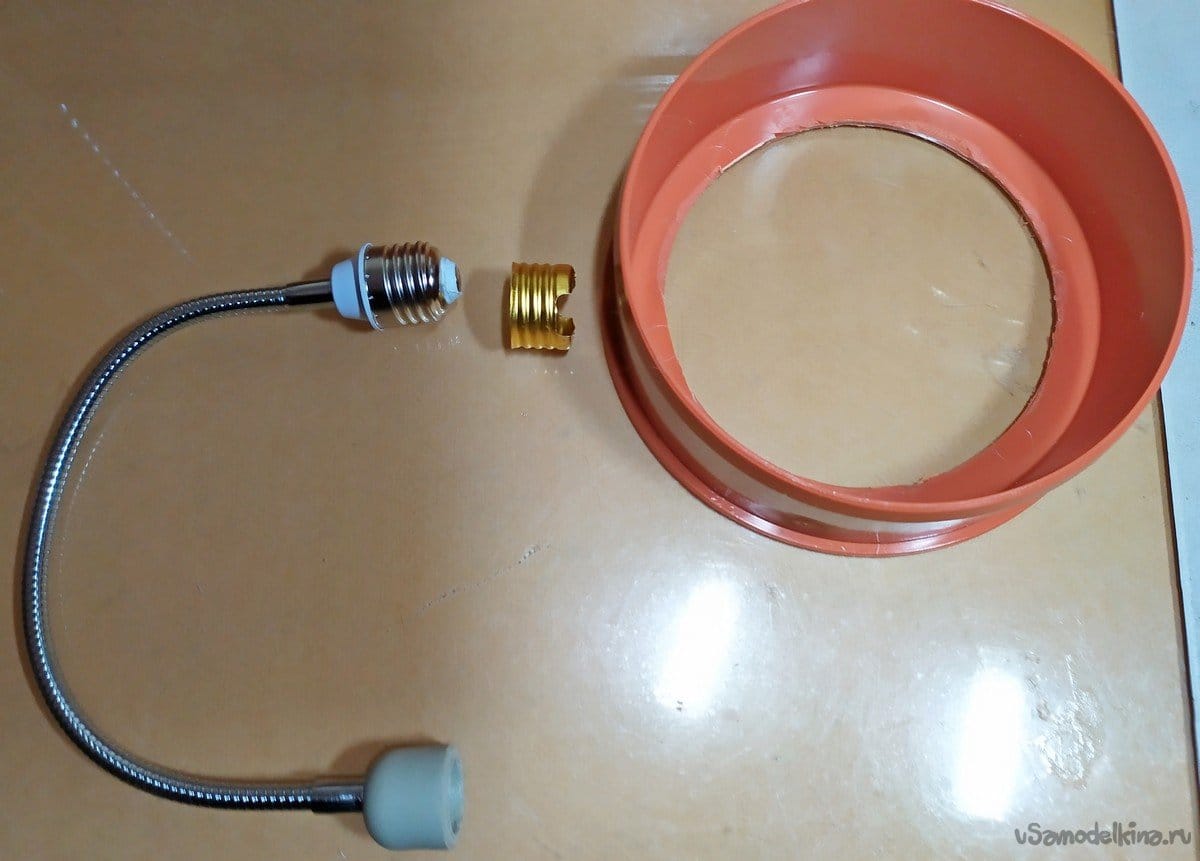 Next, the gander of the metal extension must be fixed to the PP plug (gray), having drilled an 8 mm hole in advance – using an M8 nut.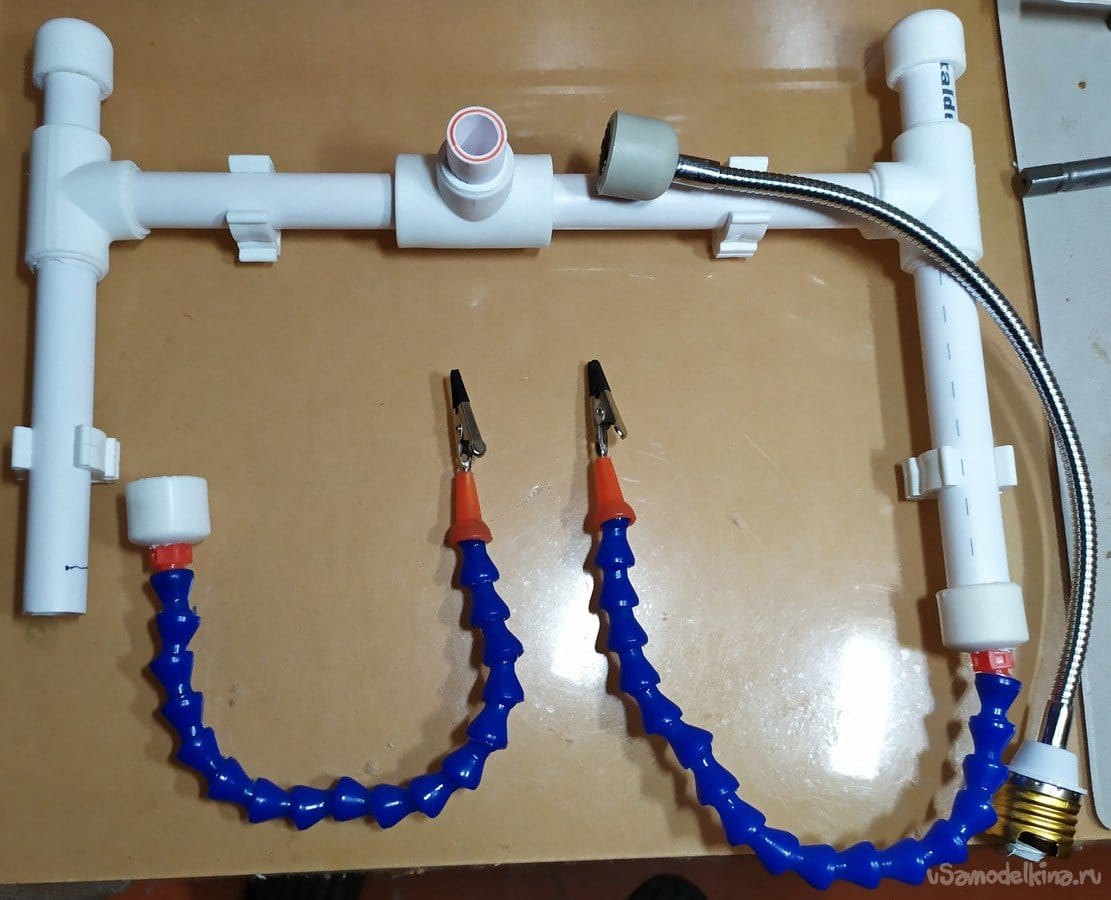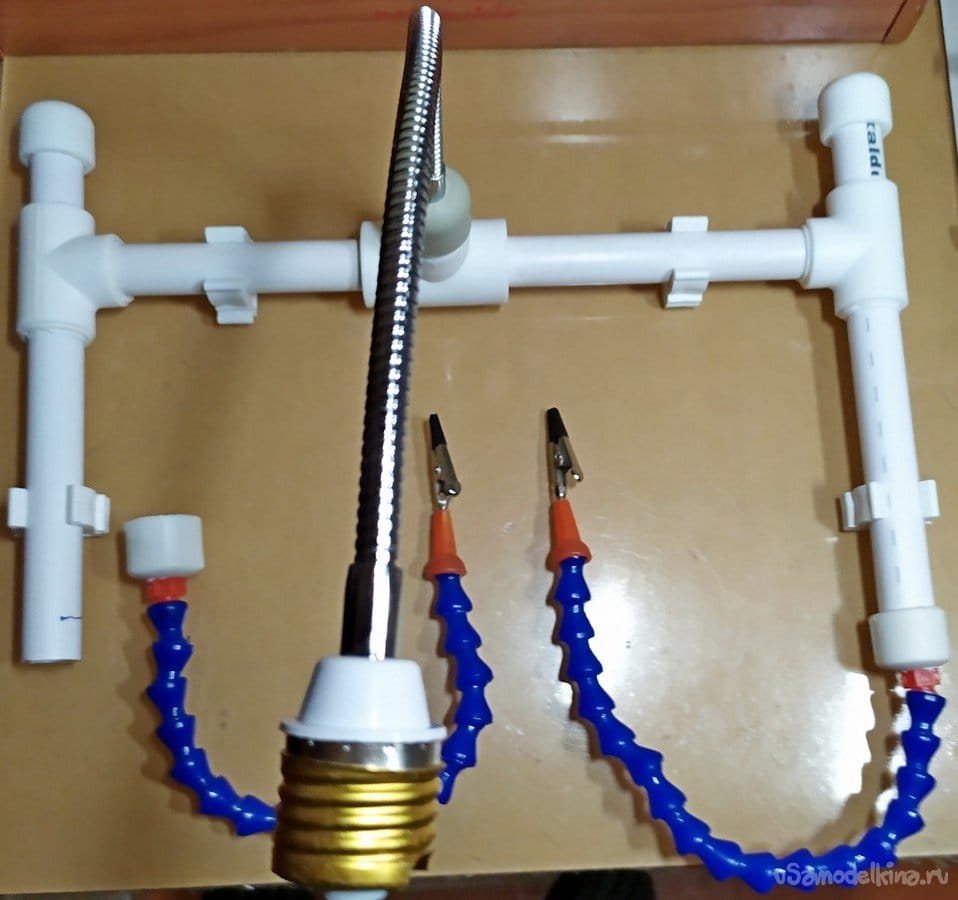 To the manufactured part for the magnifying glass, you need to attach a cartridge (in the photo it is golden in color). It is fastened with M-4 nuts, for this, a thread is pre-cut.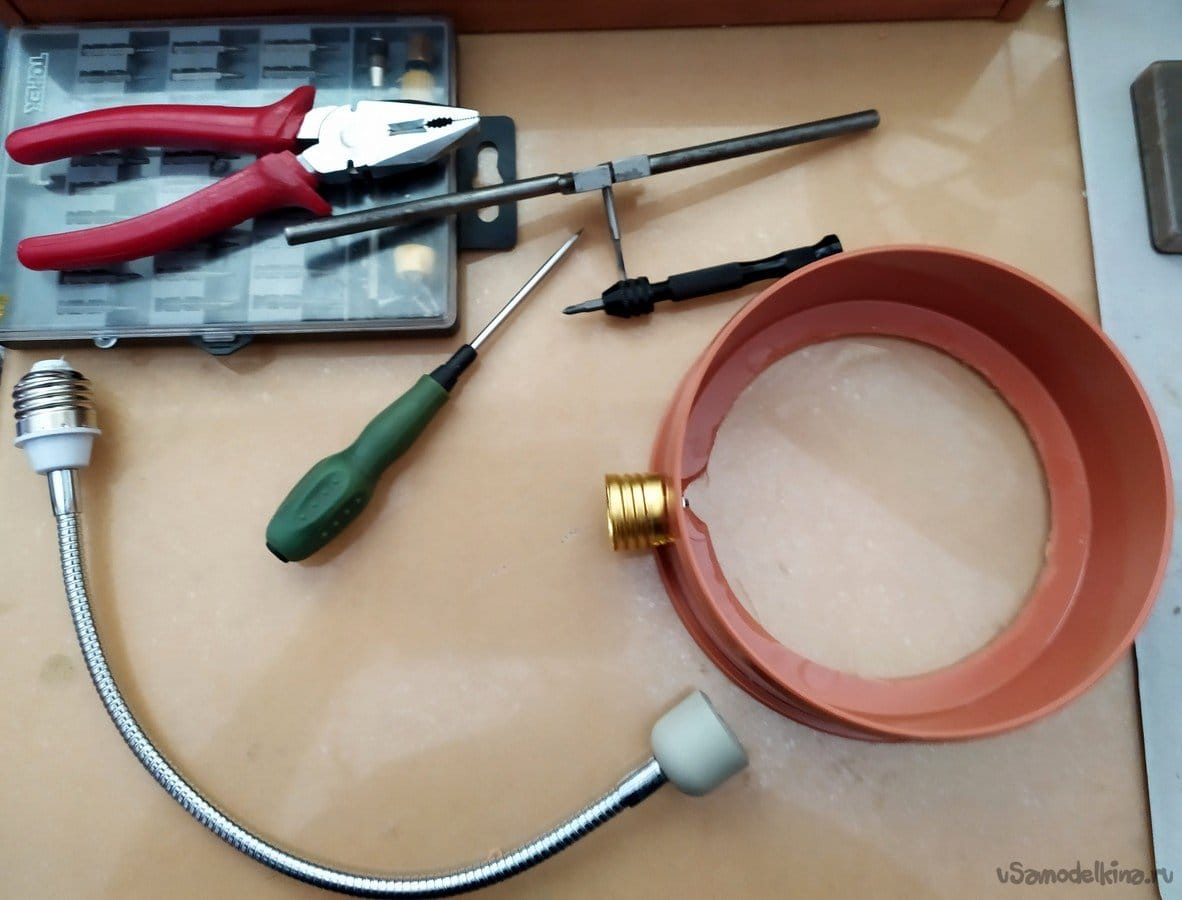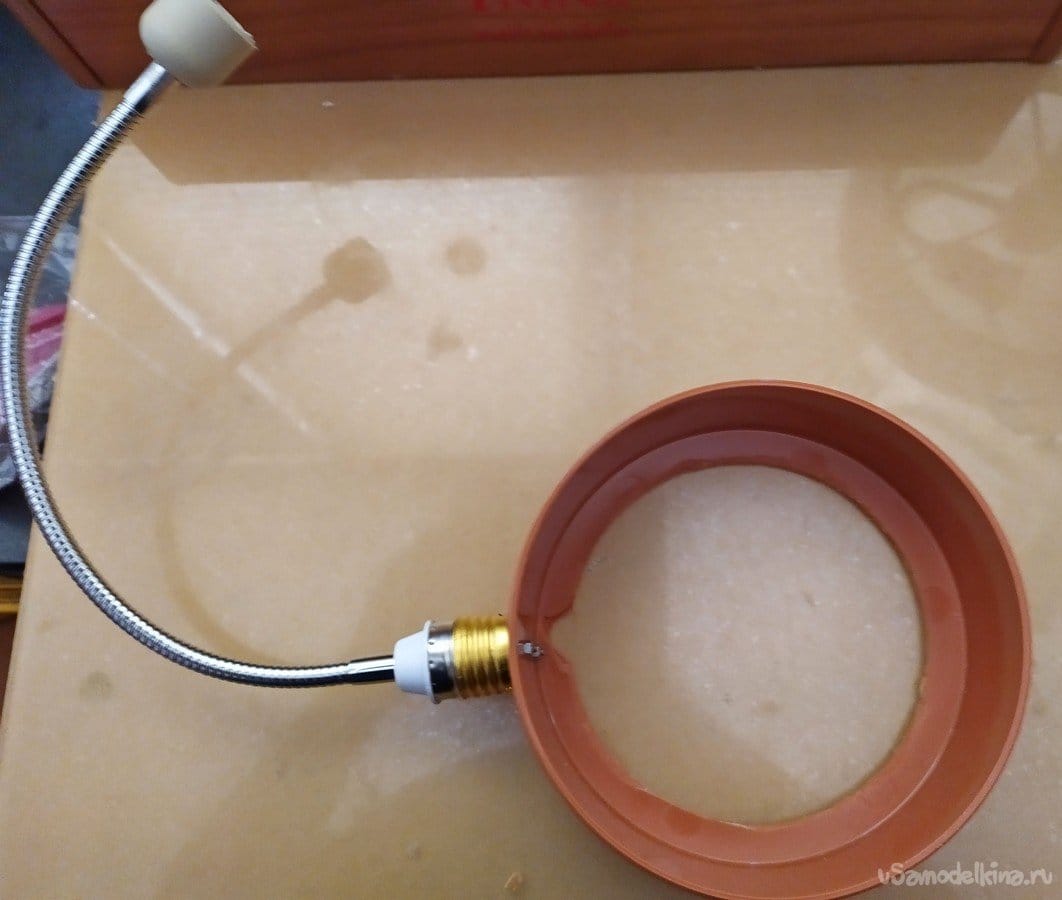 Details that we have prepared, it is better to make it removable. It is better not to glue the caps to which our tentacles and the magnifying glass holder are fixed to the tubular tripod. This will make our device more versatile and change the configuration of the product in the future.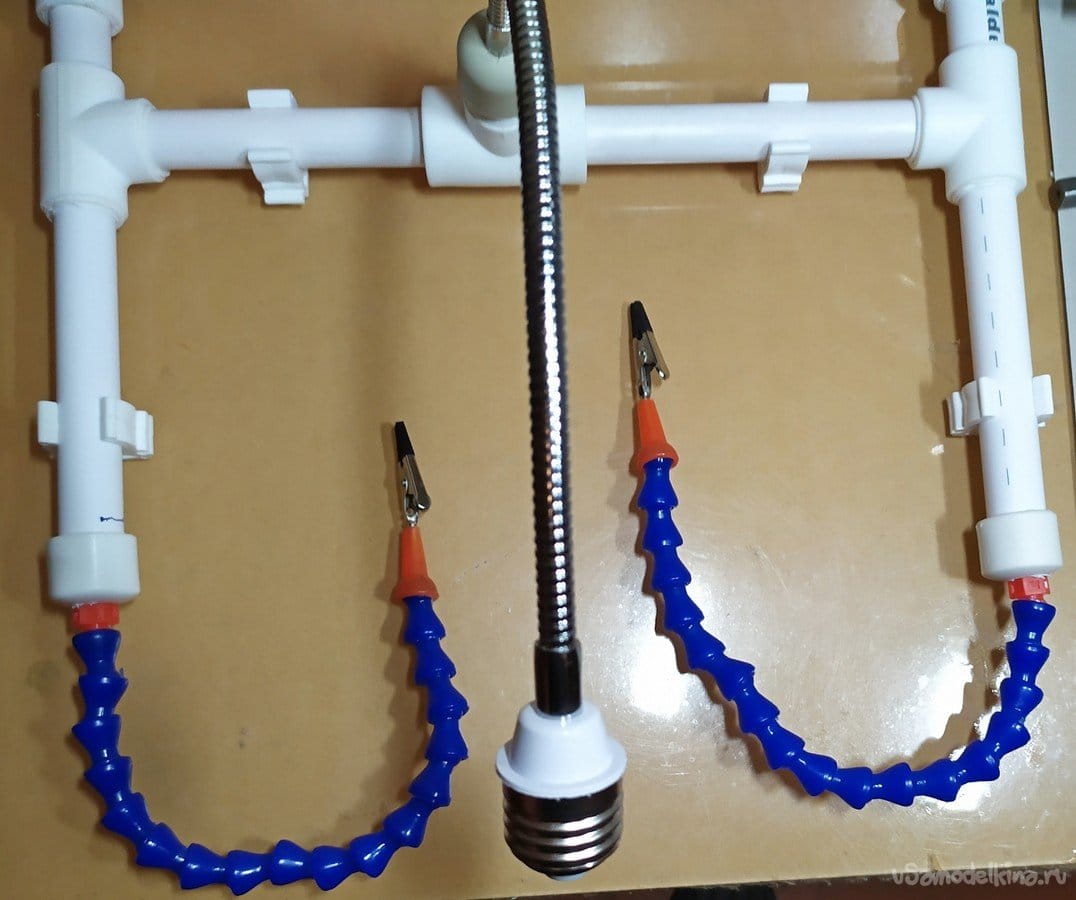 For greater resistance to the tripod can be supplemented with plastic clips for polypropylene pipes. They can also be fixed with screws to the base of some surface, for example, to a table.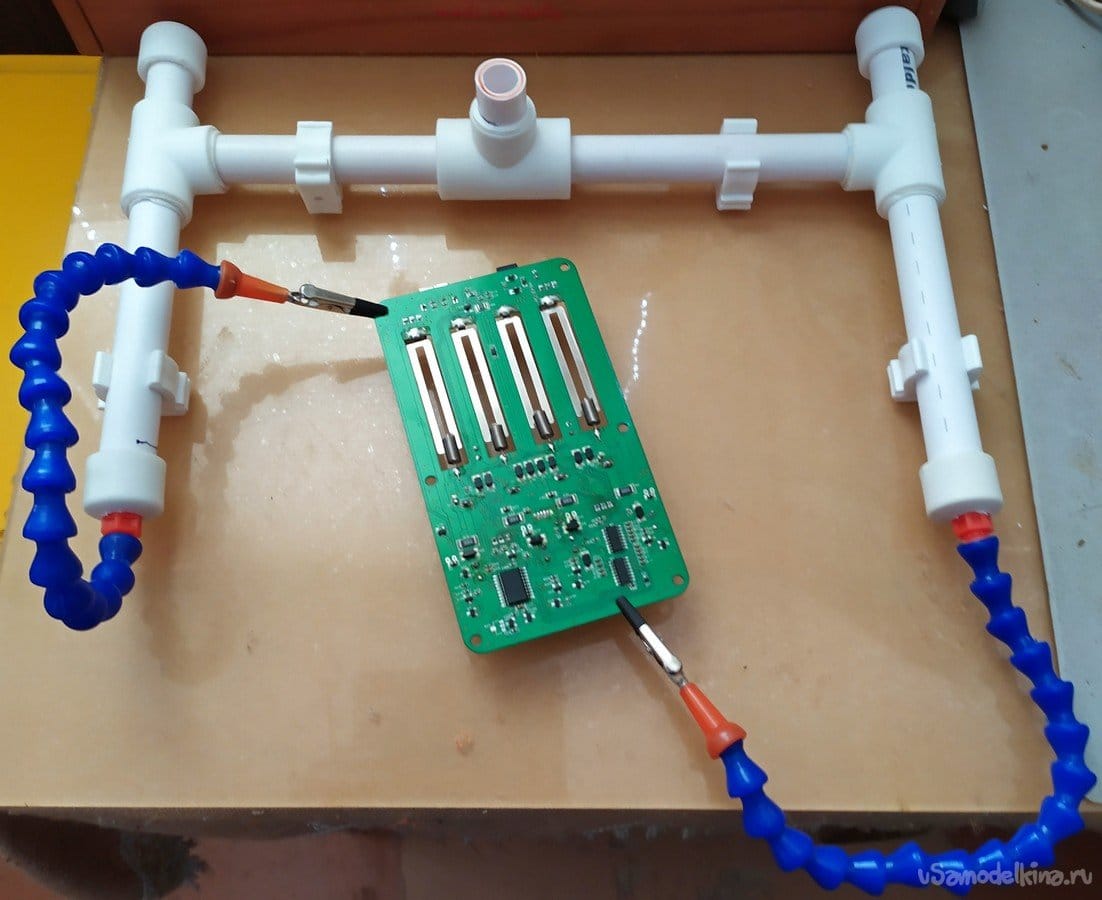 After collecting this device, it remains install the lens and fix it at will – with thermal glue or in another way, to the base of the cap (cap).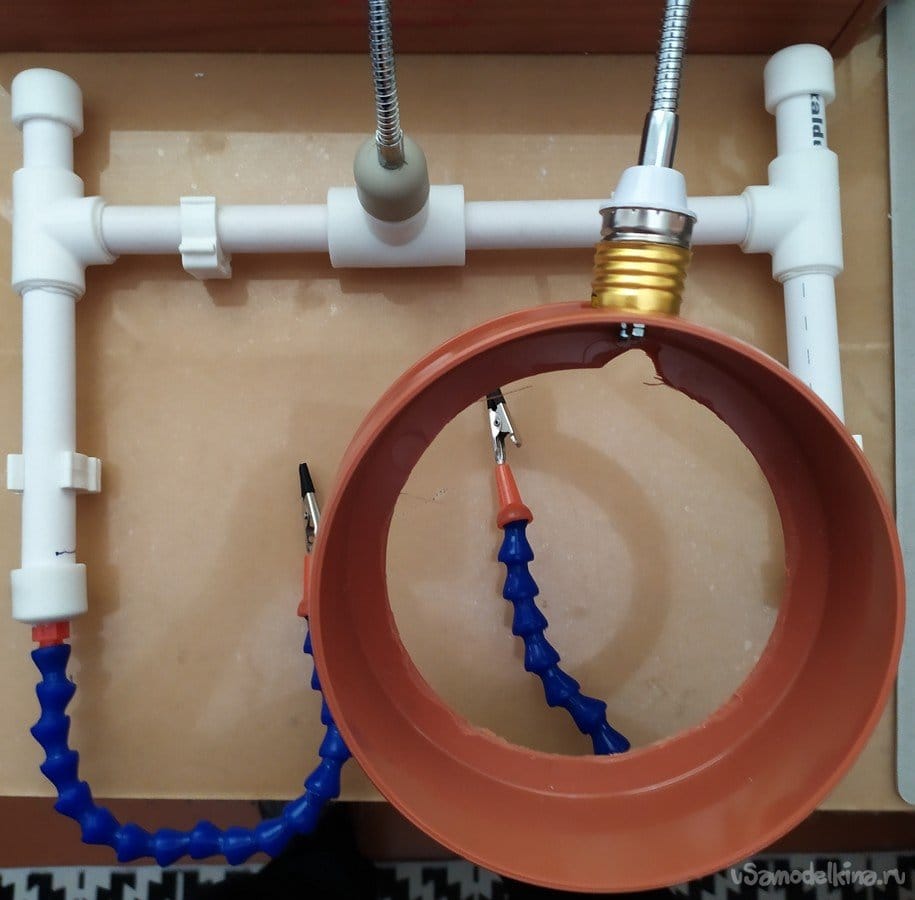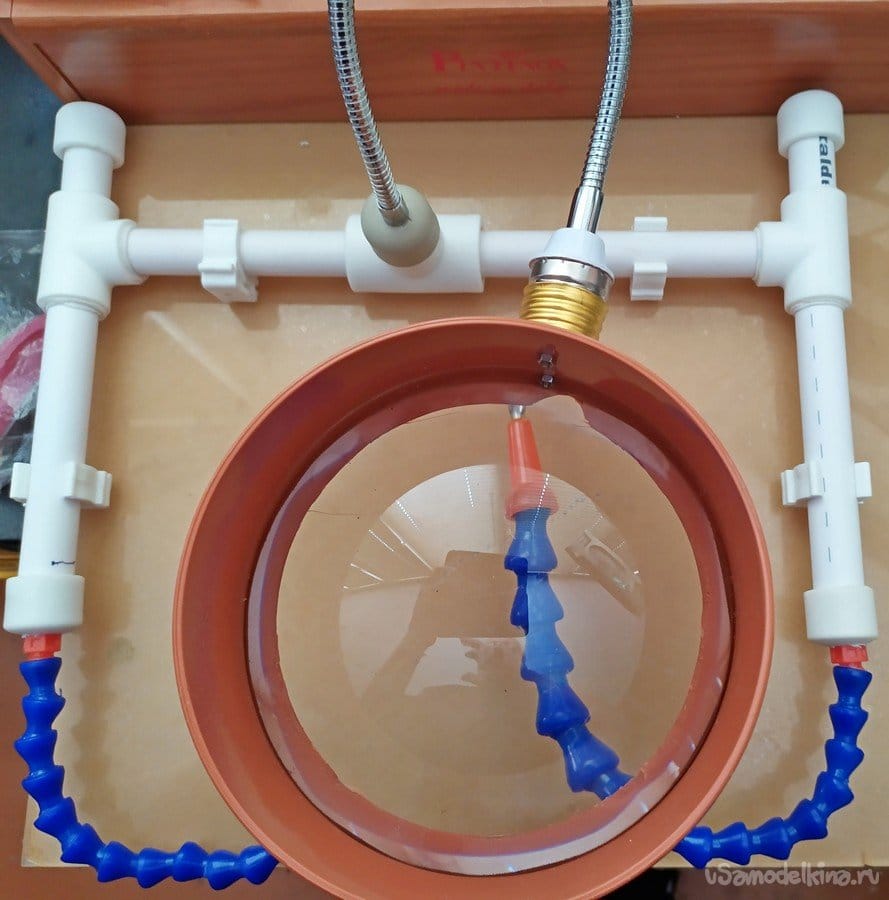 Depending on the repair work that you will perform, you can attach to the base or, on the contrary, remove the parts you need. For example: you can remove the magnifying glass and work only with flexible holders – when soldering electronic components. If you need to examine a microscopic object, only a magnifying glass can be attached to the base.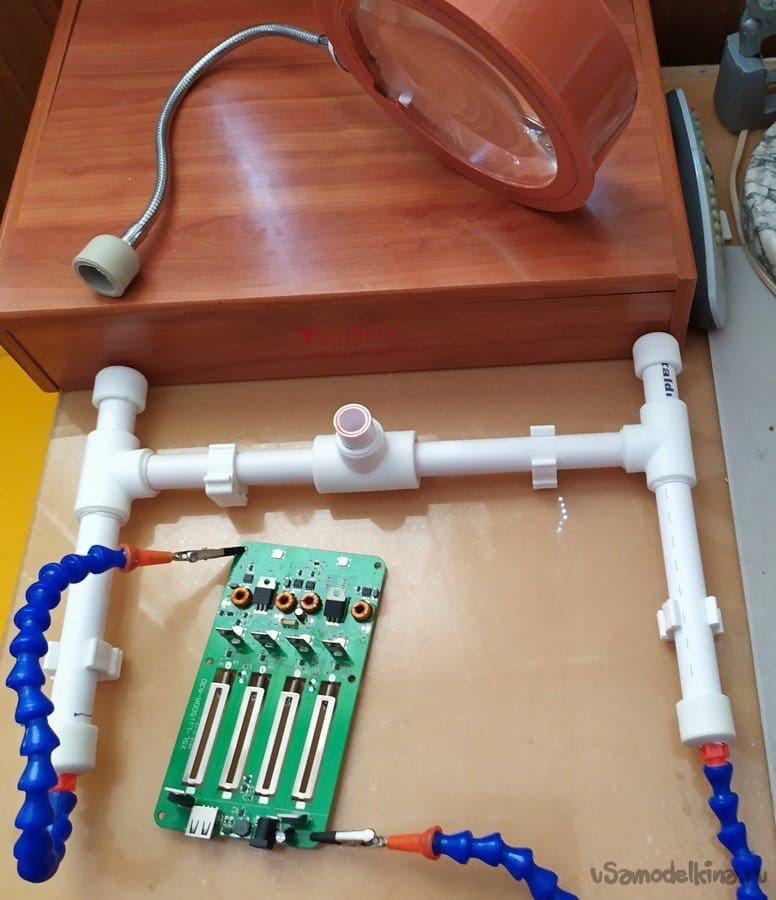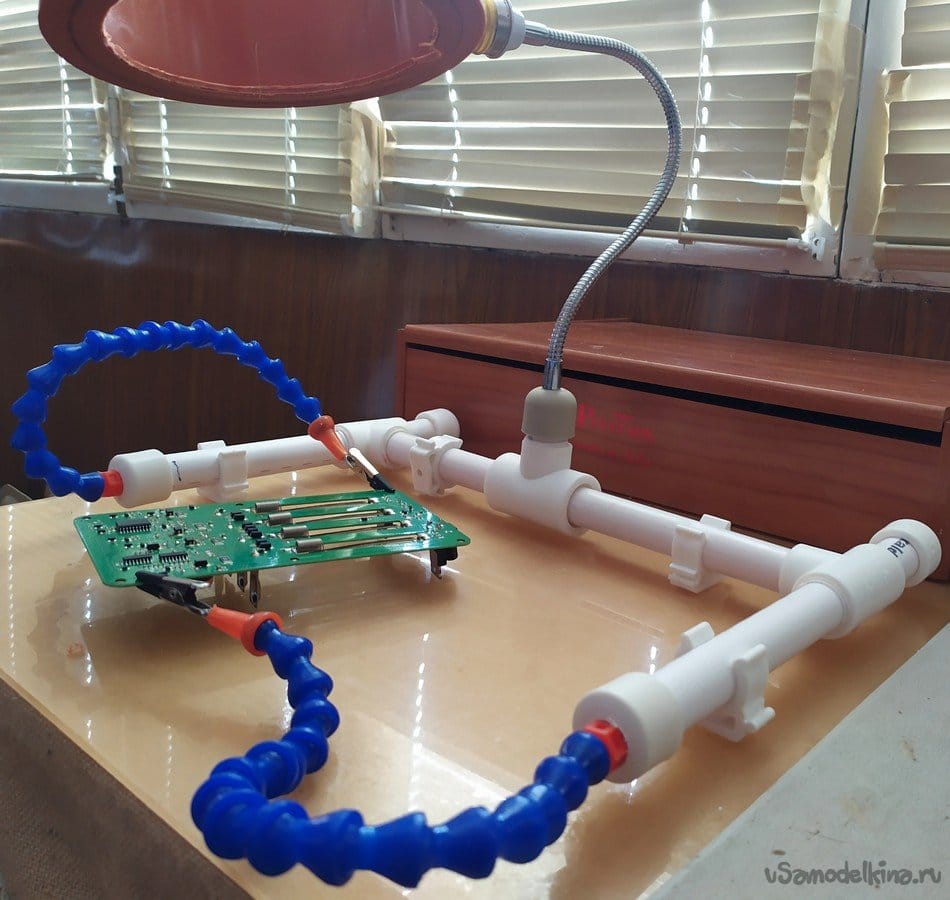 Another important point when assembling this structure, it is not necessary to weld the tee of the central part – to the base! Due to the fact that it fits tightly into the pipe, it is able to withstand the weight of the gander attachment with a magnifying lens. In the same way, the plug that is attached to the tee (gray) does not require additional gluing.

As seen in the photos, This "third hand" design allows you to work comfortably by holding the boards of electronic devices in a convenient position for their repair. In addition, this device can always be disassembled and stored on demand, without taking up much space.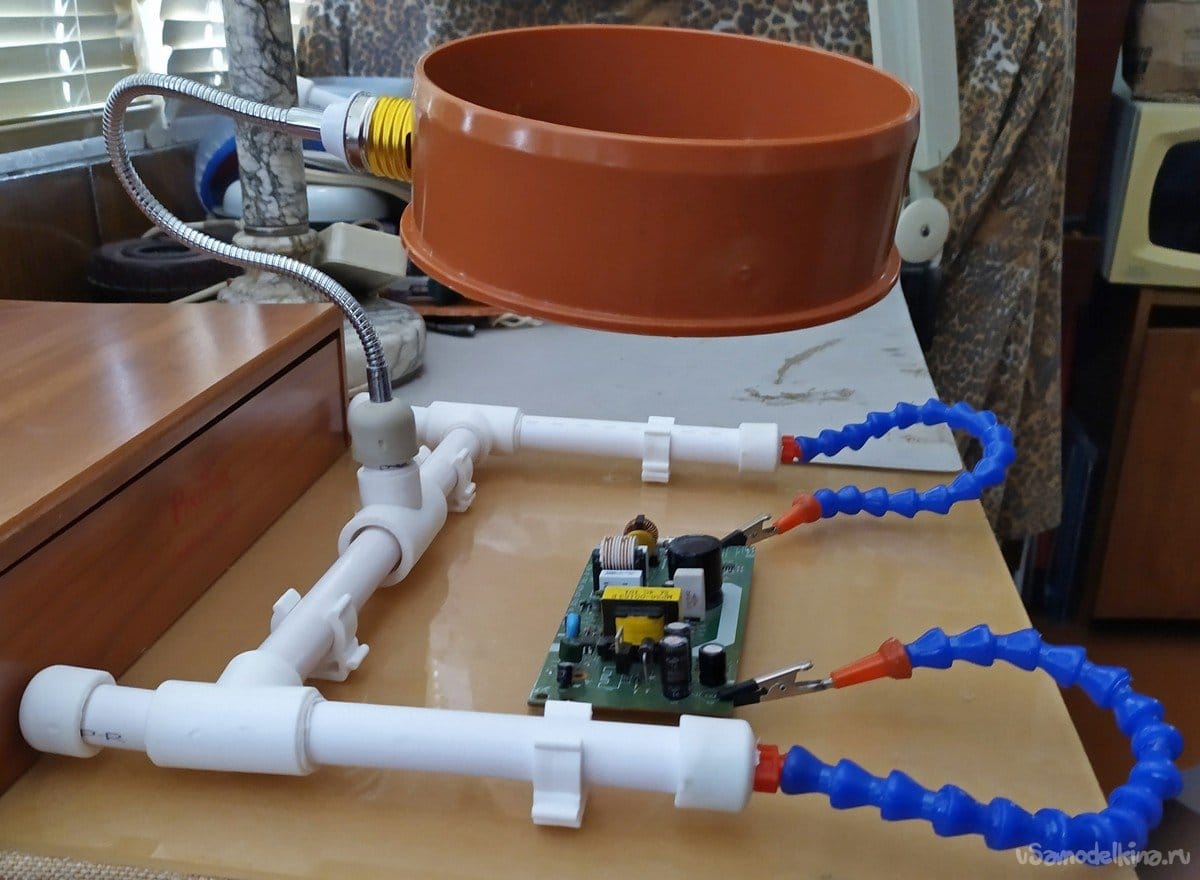 Even considering that There are a lot of such holders made by craftsmen from different parts of the world – this craft, created from polypropylene pipes, is distinguished not only by its originality, but also by its cheapness and simplicity.

In conclusion, I can say that, in the future, it will be possible to add other holders and components to this universal device. For example, by removing the plugs from the back of the tripod, you can install additional LED lighting on the same flexible extension cords. Thus, as needed, you can change the configuration of this useful and versatile device.
I wish you creativity and useful homemade products. Regards, FLOMASTER.