World
Covid news update: latest on coronavirus pandemic today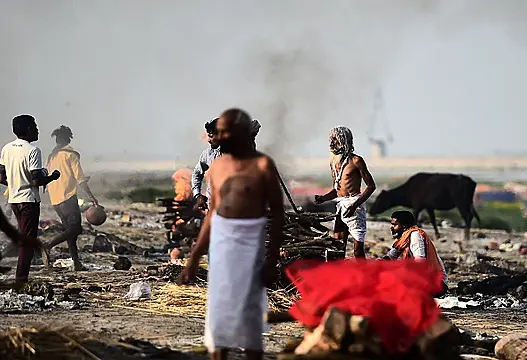 Ireland is set to send aid to India as the Covid situations worsens in the country. (Getty Images)
Ireland
Europe
A British minister flatly denied a report that prime minister Boris Johnson said he would rather bodies piled "high in their thousands" than order a third social and economic lockdown to stem coronavirus infections.
Fully vaccinated American tourists will be able to visit the European Union over the coming months without restrictions, European Commission president Ursula von der Leyen has said.
Germany's coronavirus infection rate rose at the weekend despite stricter restrictions and Finance Minister Olaf Scholz said he did not expect moves to ease curbs before the end of May.
Worldwide
Children attending summer camp can get within three feet of each other but should wear masks to limit the spread of Covid-19, according to fresh guidance issued by the US CDC.
Canada's health department said 1.5 million doses of the AstraZeneca Covid-19 vaccine imported from Emergent BioSolutions' Baltimore facility were safe and met quality specifications.
India's government will not import Covid-19 vaccines itself but expects states and companies to do so, two government officials told Reuters.
Thailand's government slapped restrictions on travel from India over concerns of imported coronavirus cases and closed more venues in Bangkok, even as it came under fire for not doing enough to contain a spike in infections.
The Philippines announced that the total number of coronavirus cases it had recorded had exceeded one million as it continued to record thousands of new infections in the capital region, the epicentre of its latest outbreak.
Turkey's cabinet will discuss adopting a tighter lockdown on Monday as President Tayyip Erdogan tries to prevent a second lost year of tourism revenues, officials said.
Turkish pharmaceutical firm Viscoran İlaç will produce Russia's Sputnik V Covid-19 vaccine at its plants, with production to launch in upcoming months, the company said in a joint statement with the Russian Direct Investment Fund (RDIF).
Economy
European stocks clawed their way higher on Monday as world markets began the week in a relatively upbeat mood following further signs last week that economies are recovering rapidly.
German business morale improved only slightly in April as a third wave of Covid-19 infections and a semiconductor shortage in the motor vehicle sector slowed a recovery in Europe's largest economy, a survey showed.
Friday, April 23rd
Ireland
Europe
Europe's drug regulator approved an expansion in manufacturing capacity of the Pfizer/BioNTech vaccine in Belgium, while recommending an approval for a new filling line at Moderna's site in Spain.
Germany and Hungary have backed a proposed lawsuit by the European Union against AstraZeneca over its failure to deliver supplies of Covid-19 vaccines according to its contract with the bloc, two EU diplomats and a source said.
France will step up donations to the international Covax vaccine programme in the coming months with a donation of 500,000 shots, including from suppliers other than AstraZeneca, President Emmanuel Macron said.
Worldwide
New daily cases of Covid-19 in Canada could almost double to more than 15,000 from 8,600 by the end of April unless stricter measures are taken as new coronavirus variants spread, health officials warned.
Advisers to the US Centers for Disease Control and Prevention (CDC) will meet again on Friday to consider whether it is safe to resume injections of Johnson & Johnson's vaccine, as senior US health officials prepare for a green light.
Brazil's Covid-19 vaccination programme is being put at risk by people failing to show up for their second shot, with 1.5 million people missing appointments for the follow-up dose needed to maximise protection, according to the Health Ministry.
People scrambled for life-saving oxygen supplies across India on Friday and patients lay dying outside hospitals as the capital New Delhi recorded the equivalent of one death from Covid-19 every five minutes. The World Health Organization (WHO) emergencies director said the country must control mobility and mixing to reduce a surge in infections.
Japan declared "short and powerful" states of emergency for Tokyo, Osaka and two other prefectures as the country struggles to contain a resurgent coronavirus pandemic three months before the Olympics.
Economy
A deluge of new orders swept through British businesses in April as the country lifted some of its COVID-19 restrictions, according to a survey that pointed to a rapid rebound for the pandemic-hit UK economy.
German lawmakers approved a debt-financed €60 billion ($71 billion) supplementary budget to boost aid for businesses and healthcare during the pandemic, which would lift annual new borrowing to a record high.
Thursday, April 22nd:
Ireland
The National Immunisation Advisory Committee (Niac) will meet today to consider the use of the Johnson & Johnson vaccine following the European Medicine Agency's (EMA) findings that the benefits of the shot outweigh the risk of blood clots.
Pfizer have announced the family members of the company's employees in Ireland will be offered the vaccine from next month.
Taoiseach Micheál Martin has signalled hairdressers, non-essential retail and religious services will be prioritised under the next stage in the easing of restrictions which is due to be announced next week.
Minister for Transport Eamon Ryan has said international holidays will resume in "months rather than weeks". The Green Party leader said he did not want to speculate on exact dates, as he did not want to raise expectations and then dash hopes.
Europe
The European Commission is working on legal proceedings against AstraZeneca after the drugmaker cut Covid-19 vaccine deliveries to the EU, sources familiar with the matter said. The Commission said it was considering all options to ensure AstraZeneca met its commitments with the EU on deliveries of vaccines.
Germany wants to buy up to a total 30 million doses of Russia's Sputnik V Covid-19 vaccine in June, July and August as long as the European Medicines Agency (EMA) gives the shot the green light, the premier of the state of Saxony, Michael Kretschmer, said on Thursday.
Hungary is expected to reopen restaurant terraces and shorten a night curfew from Saturday as the vaccination campaign allows for a further reopening of the economy, prime minister Viktor Orban's chief of staff has said.
Worldwide
A US plant that was making Johnson & Johnson's vaccine must fix a long list of problems including peeling paint, shoddy cleanups and poorly-trained staff to resume operation, according to a highly critical report by the FDA. Also, US president Joe Biden announced tax credits for certain businesses that pay employees who take time off to get vaccines.
India reported on Thursday 314,835 new cases of the coronavirus over the previous 24 hours, the highest daily increase recorded anywhere. Some hospitals in the Indian capital of New Delhi have run out of oxygen, putting lives at risk, the city's deputy chief minister Manish Sisodia said.
India's only domestically developed Covid-19 vaccine, Covaxin, has been found to be 78 per cent effective in a second analysis of clinical trials done around the country, its makers said.
Pfizer is in discussions with India and is committed to making its Covid-19 vaccine available for deployment in the country, the US drugmaker said.
Syria's government has received its first delivery of Covid-19 vaccines through the global COVAX initiative, with almost 200,000 doses of the AstraZeneca shot, UN officials said.
South African researchers hope to next week resume a study using J&J's vaccine to immunise healthcare workers, one of the scientists leading the programme said.
Japan is expected to issue a third state of emergency in Tokyo and three western prefectures, including Osaka and Kyoto, which could last for about two weeks.
Malaysia's government enacted a new emergency law allowing it to use funds derived from oil and gas contributions to pay for vaccine procurement, as it looks to ramp up its Covid-19 vaccination programme.
Economy
Global stocks ground higher while oil ebbed on Thursday as markets were torn between betting on economic recovery in the US and other developed markets, or worrying about a surge in Covid-19 cases in countries such as India.
Greek prime minister Kyriakos Mitsotakis announced new tax measures to help the economy recover from the effects of the pandemic, cutting the basic business tax rate by two percentage points to 22 per cent from next year.