DIY
How to make a large capacity powerbank with QC4.0 3.0 fast charging function
Hello, dear readers and homemade products!
Surely many of you have a small power bank, from which you can recharge various gadgets. The capacity of purchased power banks is often enough to charge a completely "empty" gadget 2-5 times. Quite a normal reserve for a week of "city" life.
A completely different situation arises when you plan to go on a long hike, and every extra gram in your backpack counts, and there will be no opportunity to charge the powerbank itself.
In this article, the author of the YouTube channel "KJDOT" will tell you how you can make such a portable charging station based on lithium polymer batteries designed for radio-controlled models.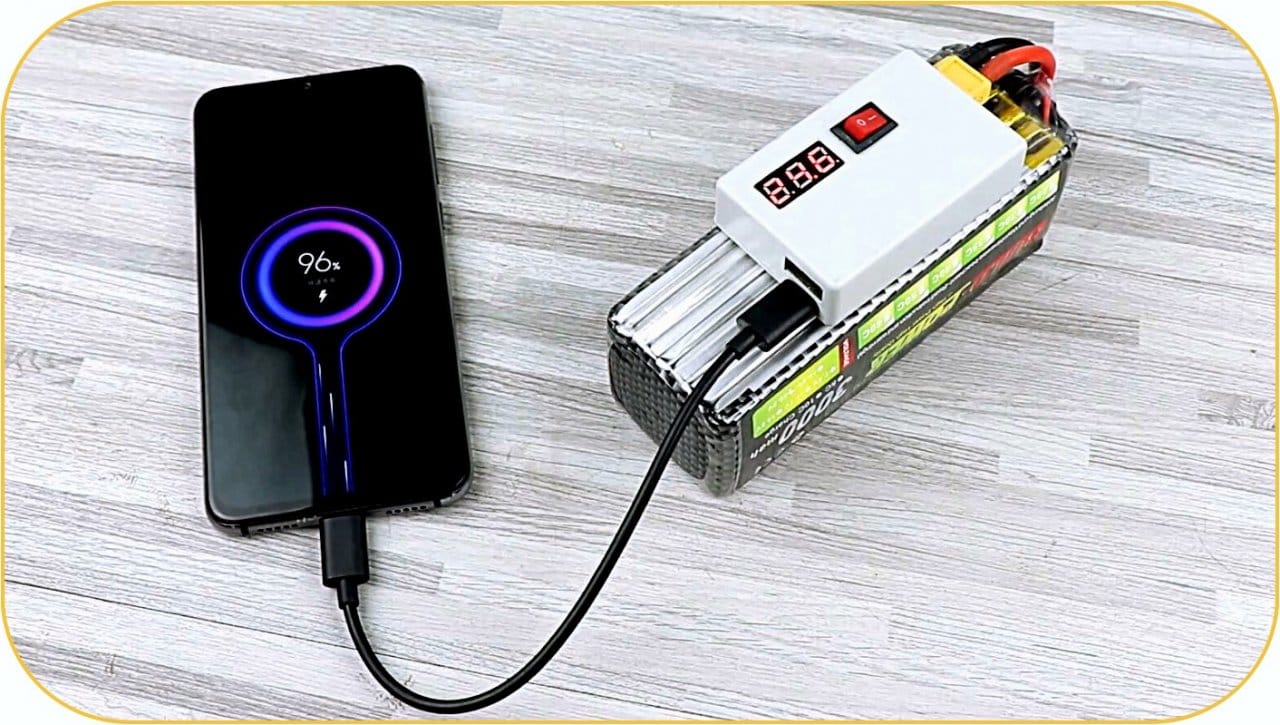 This project is very easy to manufacture, and can be repeated at home.
Materials required for DIY.
– Step-down fast charging module 6-35V QC4.0 QC3.0
– Lithium Polymer Batteries
– 0-100 V LED Digital Voltmeter
– Rocker Switch, XT60 Connector, Flexible Silicone Wire
– Flux, Solder
– Junction Box 70 × 45 × 18mm
– Super-glue 502, double-sided tape.

Tools used by the author.
– USB tester FNIRSI FNB48
– Electric soldering iron with temperature control
– Screwdriver
– Digital caliper
-" Third hand »Illuminated
– Stainless steel nippers, handicraft scalpel, tweezers
– Smart charger ISDT Q6, Q8, PowerBank.
Manufacturing process.
First of all, the author places all electronic components inside the case (for junction box 70 × 45 × 18mm ), and marks the holes for them.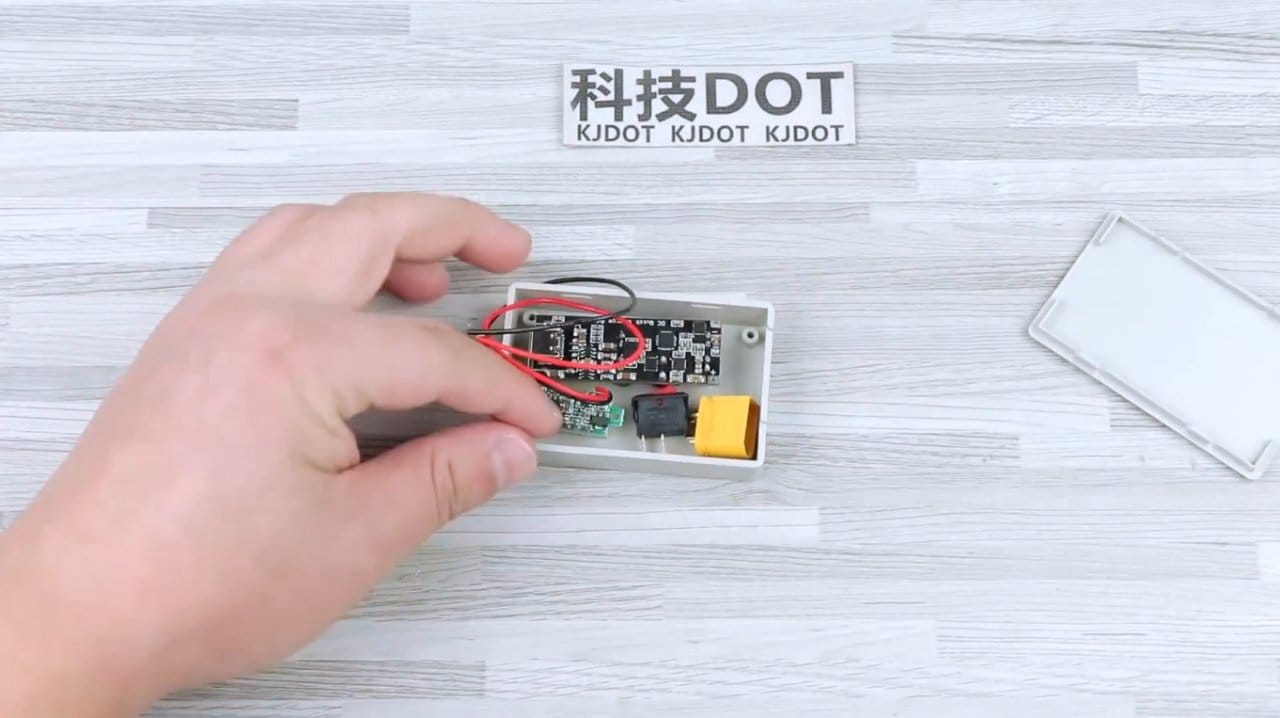 Holes are first drilled with a screwdriver and then cut with a craft scalpel.
Such operations are much faster and more convenient to do with an engraving machine.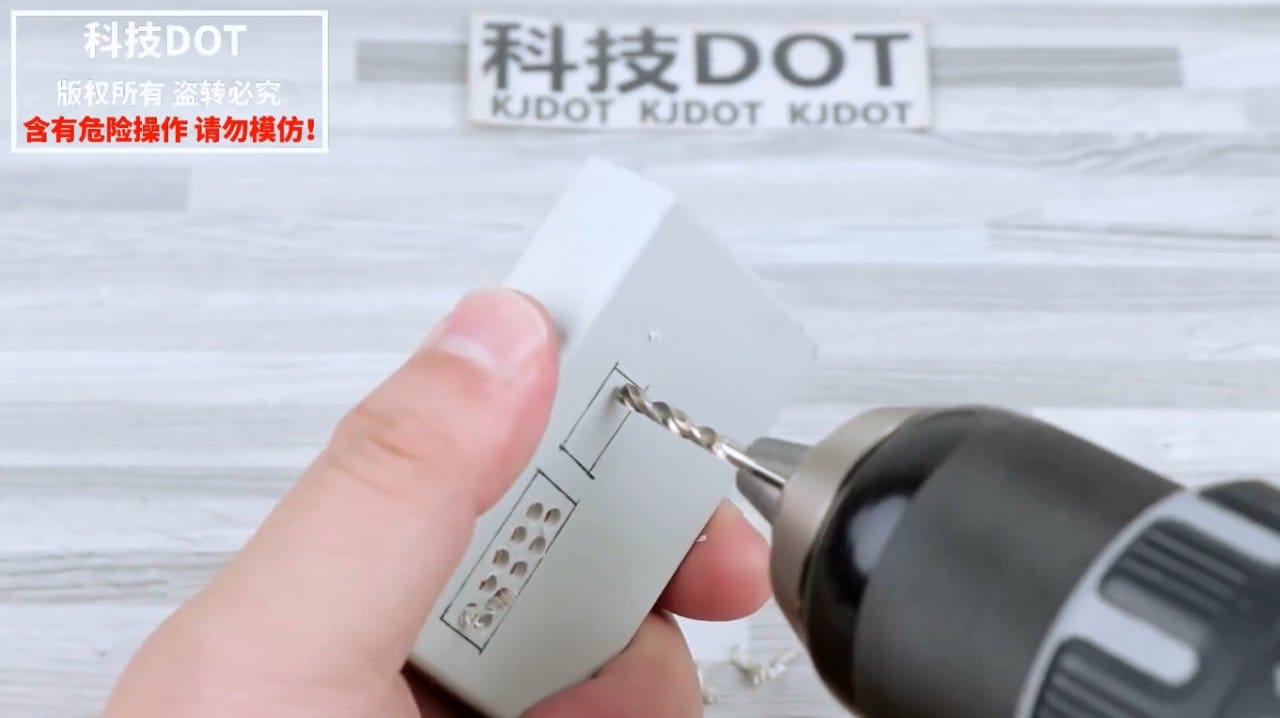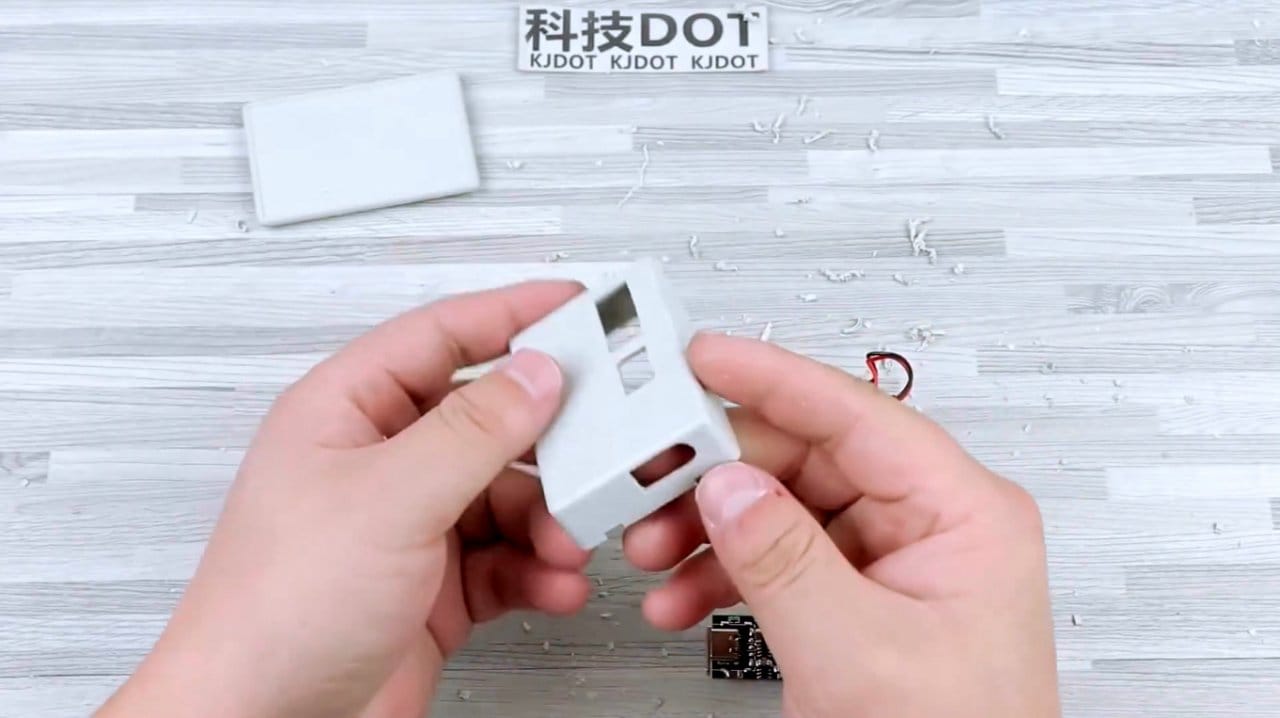 XT60 connector will be used to connect an external battery, A pair of power wires is soldered to it.

The connection diagram of all elements is as follows.

The heart of this device is step-down module with fast charging function QC4.0 QC3.0 . Its input can be supplied with voltage in the range from 6 to 35V.
Now the positive wire from the XT60 connector is soldered to the "B +" pad of the controller. Only a piece of wire is soldered to site "B-".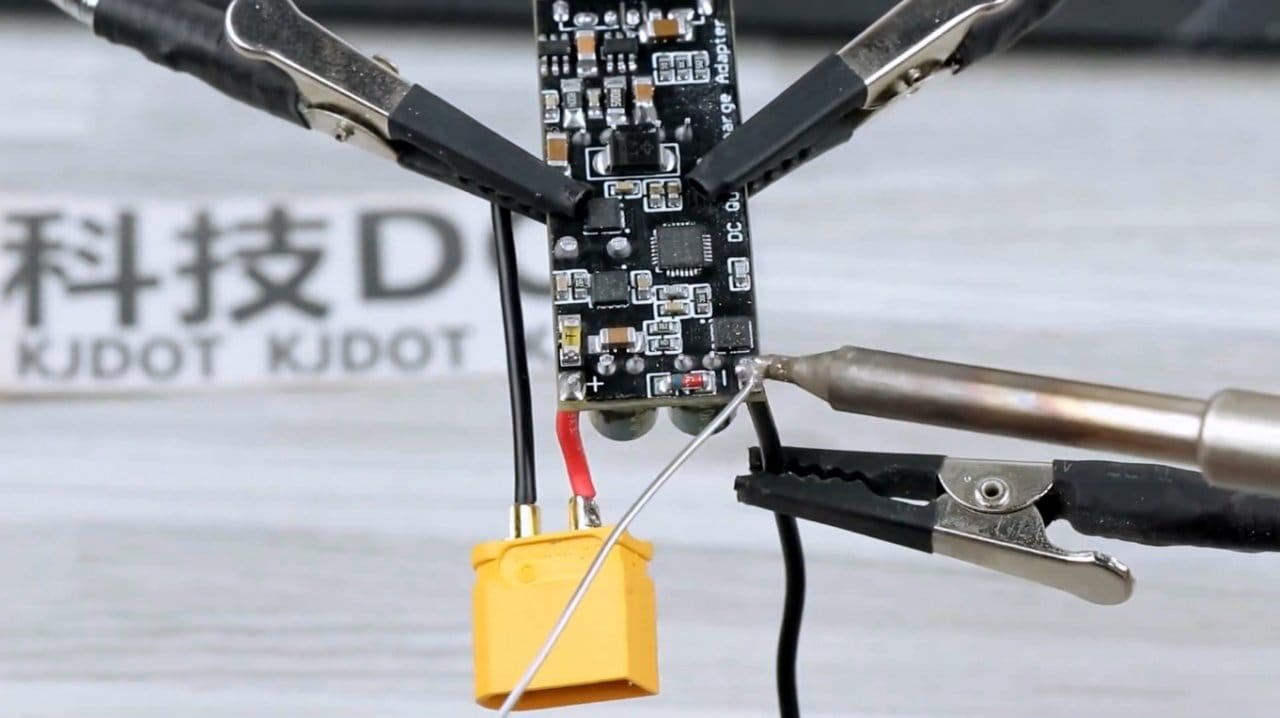 The controller board and connector are installed in the chassis.
They are quite simply and reliably fixed in place with the help of a second glue.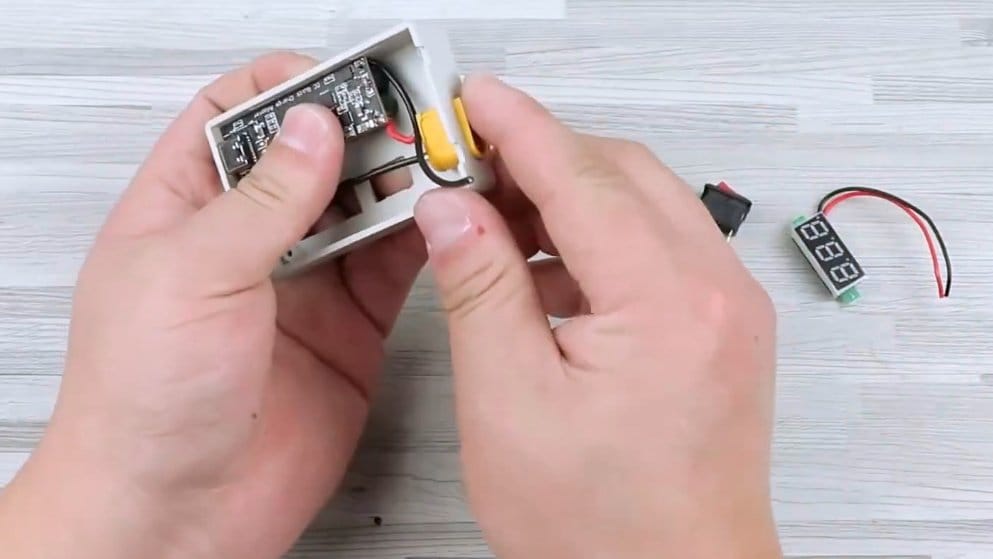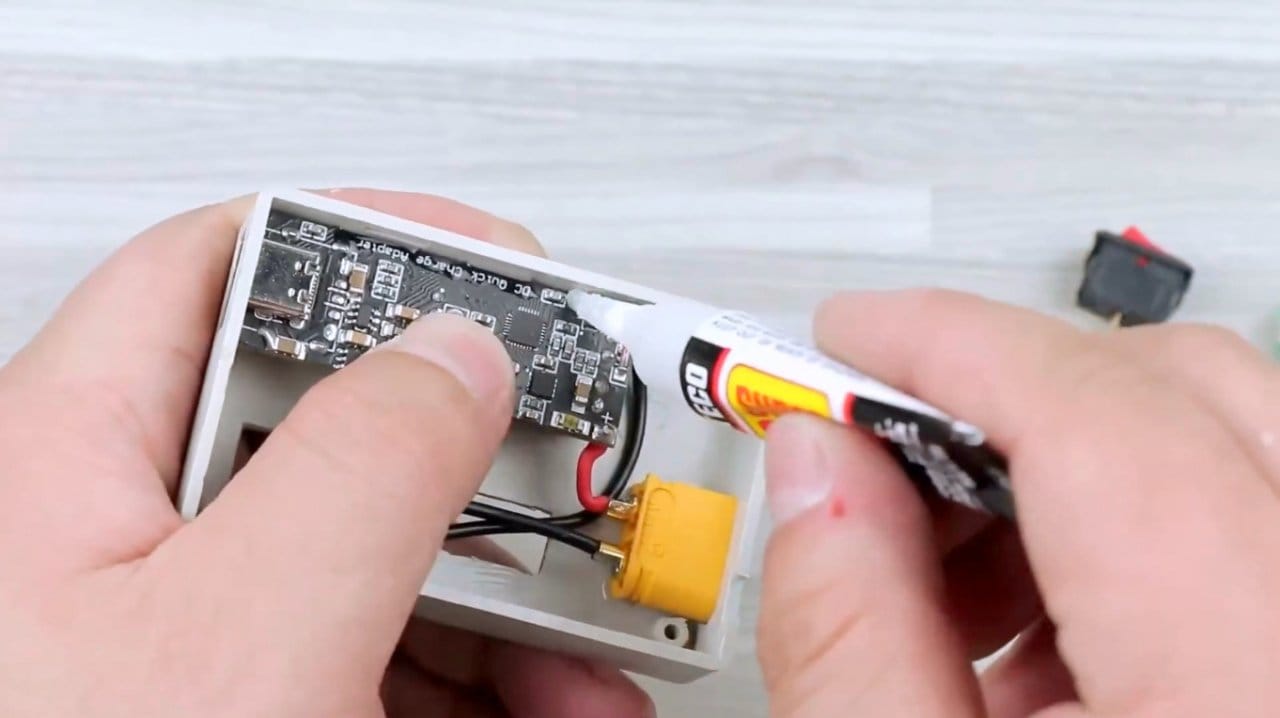 The device will turn on using the keyswitch . Free ends of negative wires from the board and the connector are soldered to its terminals.
< img class = "aligncenter" alt = "How to make a high-capacity powerbank with fast charging function QC4.0 3.0" src = "https://usamodelkina.ru/uploads/posts/2021-04/1619712465_pwb-064 .jpg "/>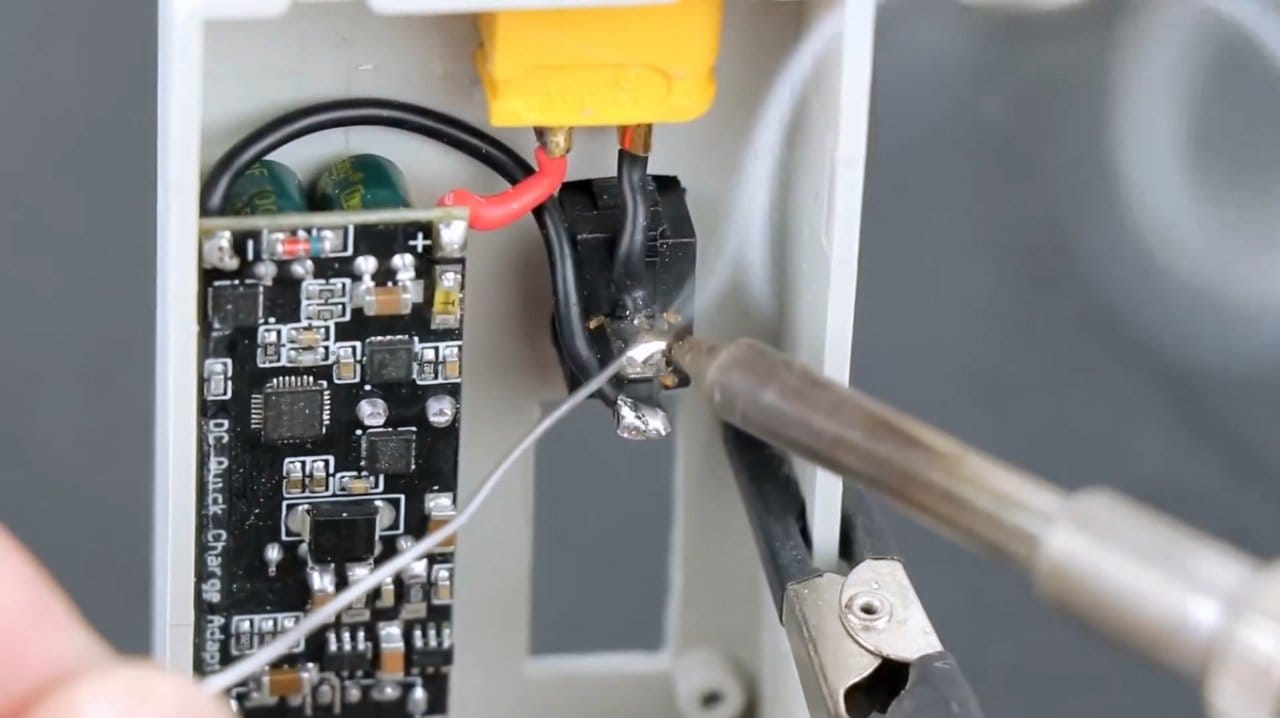 A simple digital LED voltmeter . It is also fixed in the case with a second glue.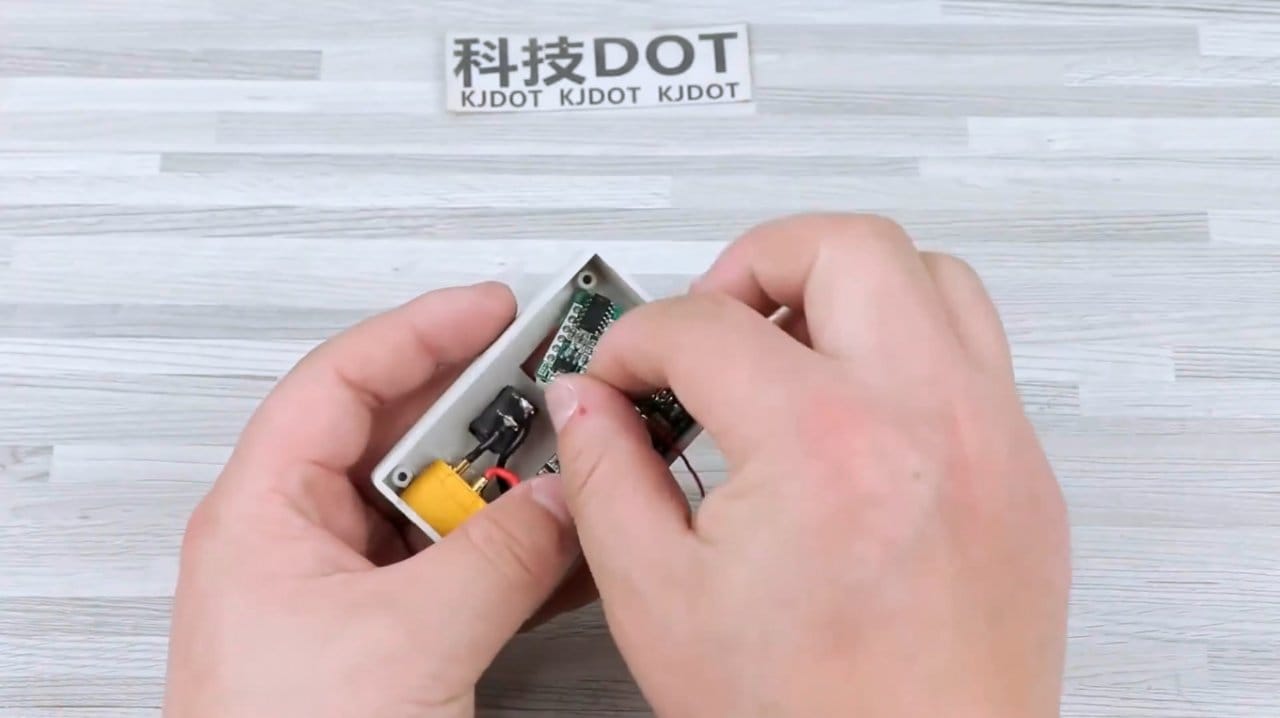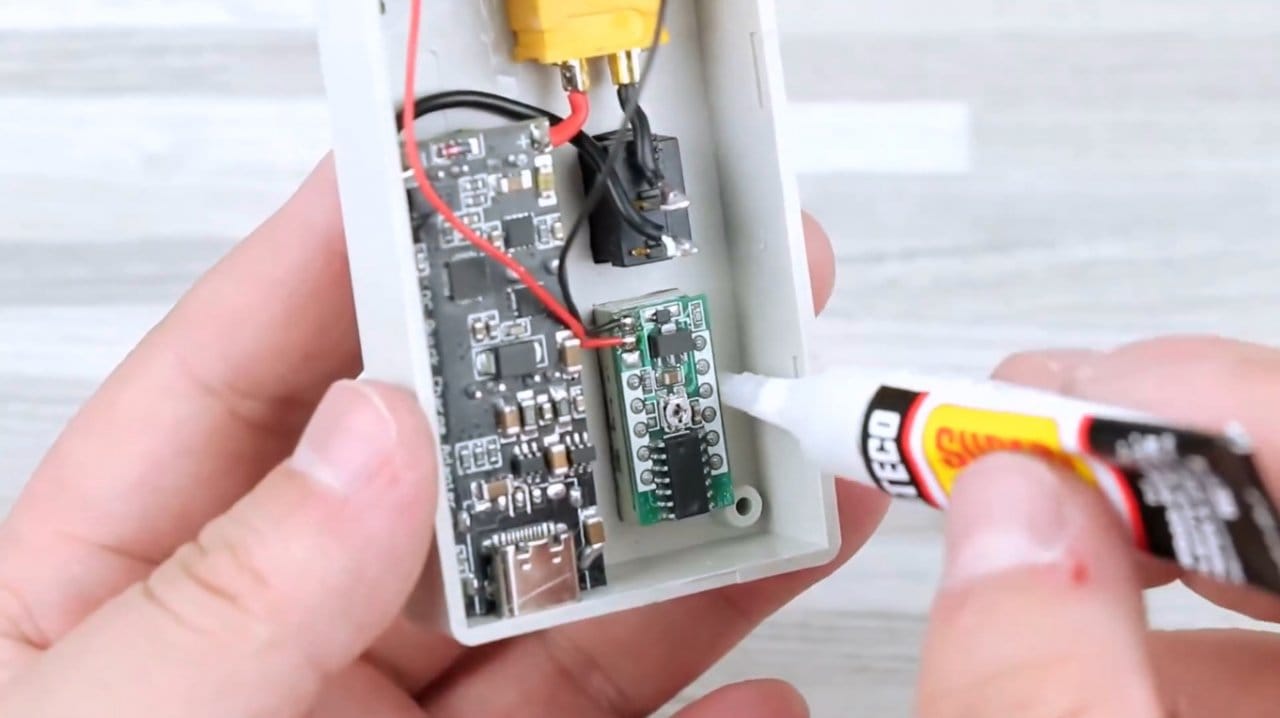 The wires from the voltmeter are soldered to the same sites "B +" and "B-", and it will be turned on together with the converter.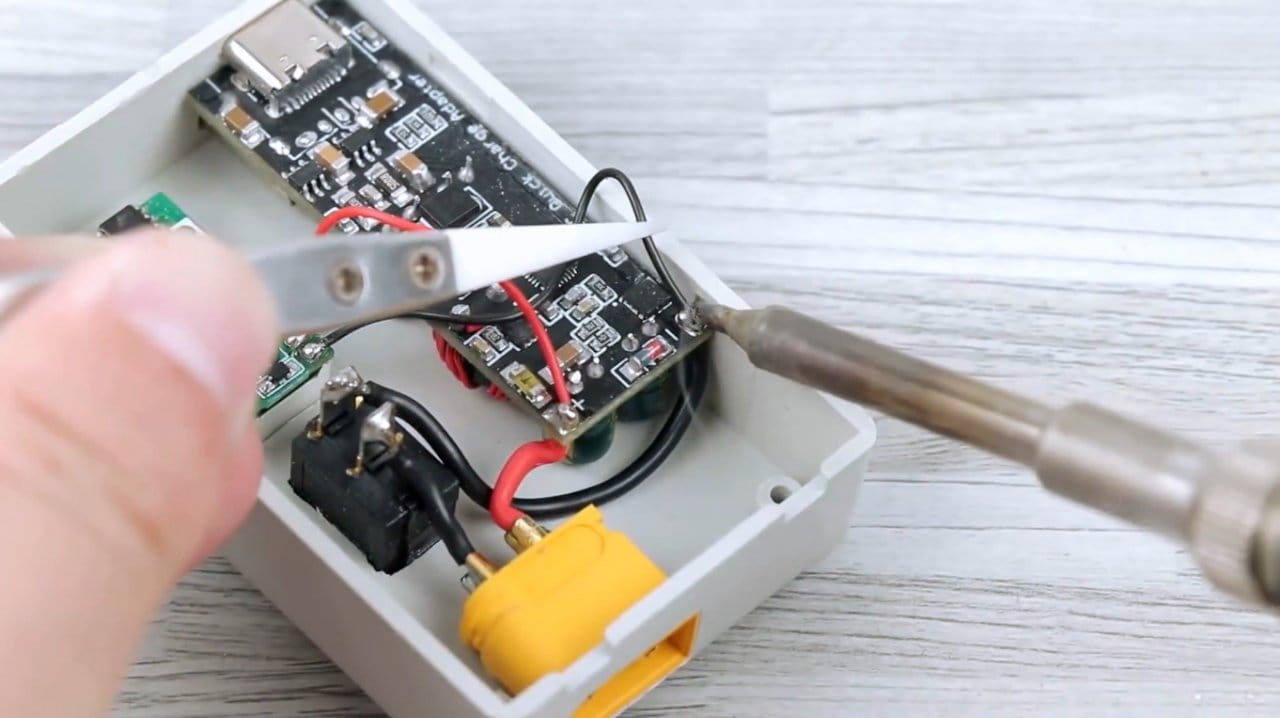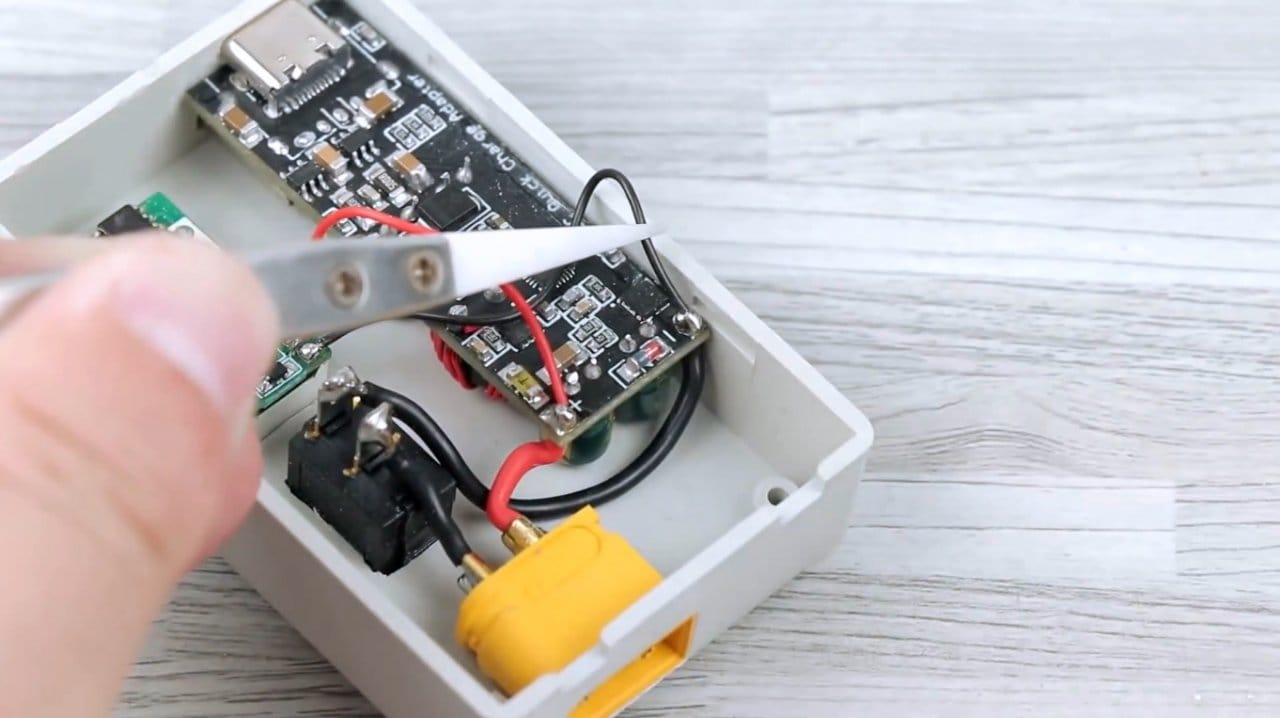 Everything is ready, it remains to close the lid, and fix the block to the battery.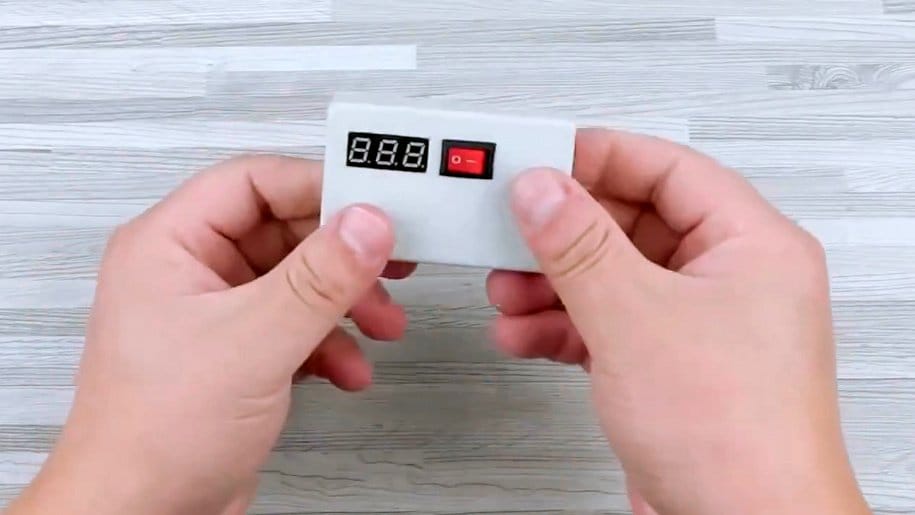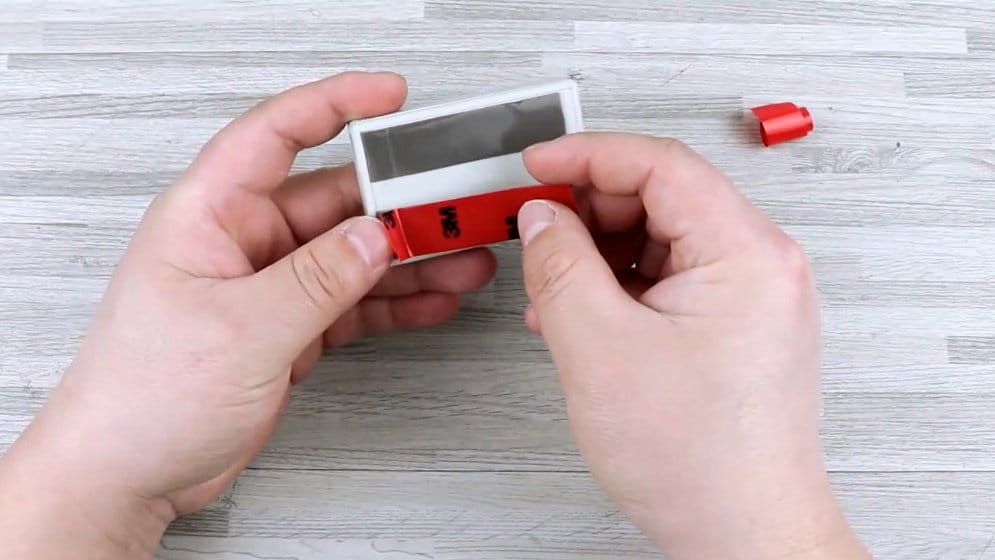 Such a module can be used in conjunction with < u> Lithium Polymer Batteries 3S-6S (11.1V to 22.2V). In this case, the author connected a 6S battery with a voltage of 22.2V and a capacity of 3000mA/h.
These batteries are widely used in radio-controlled models, copters, so such a device will be very useful for the owners of such "toys."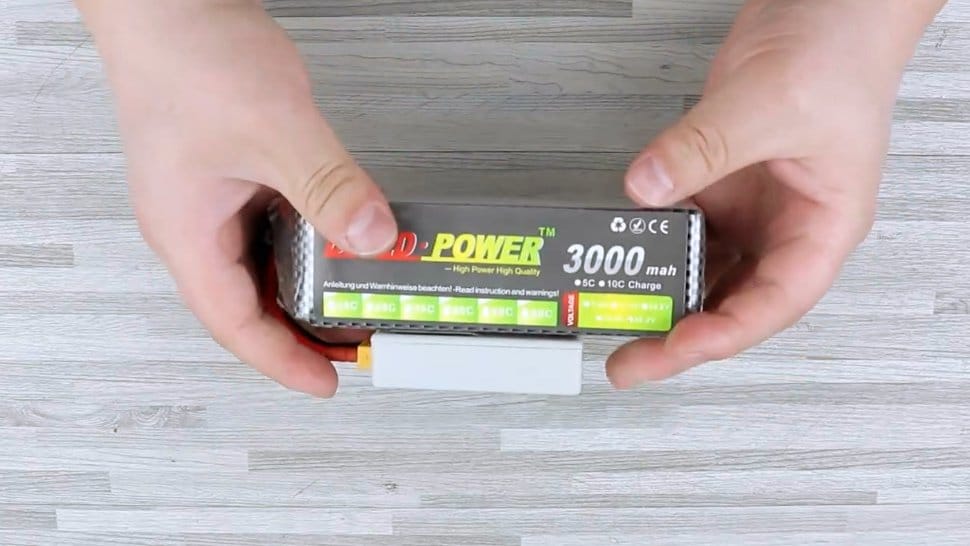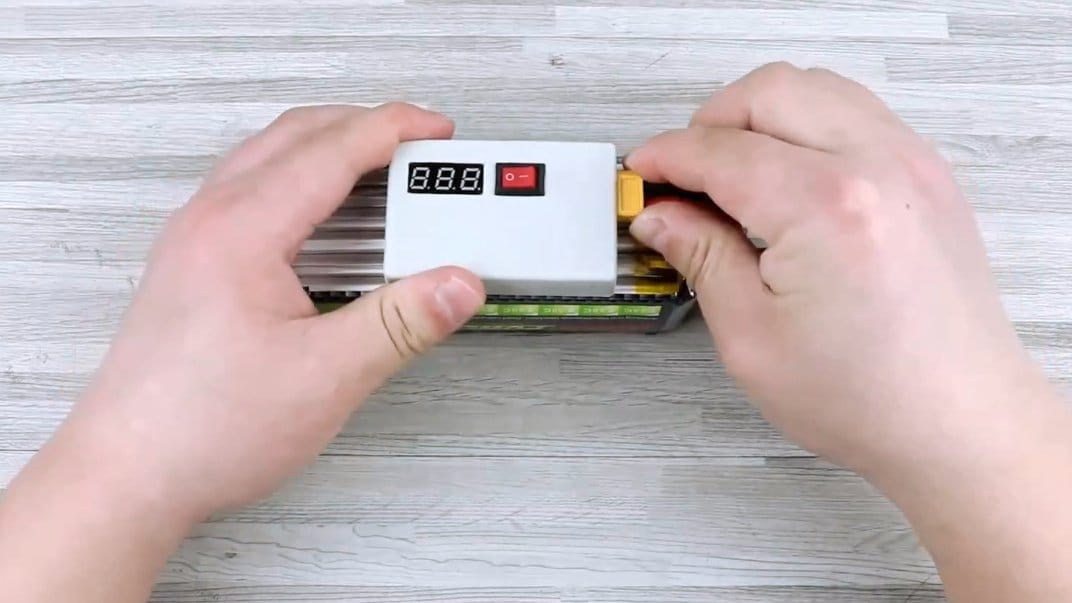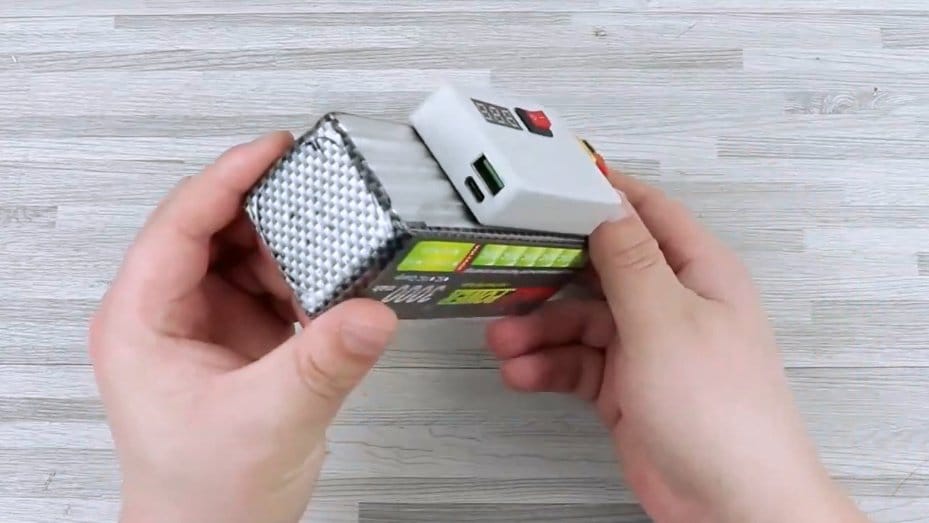 To check the supported fast charging modes, as well as many different parameters, the author uses the FNIRSI FNB48 USB tester .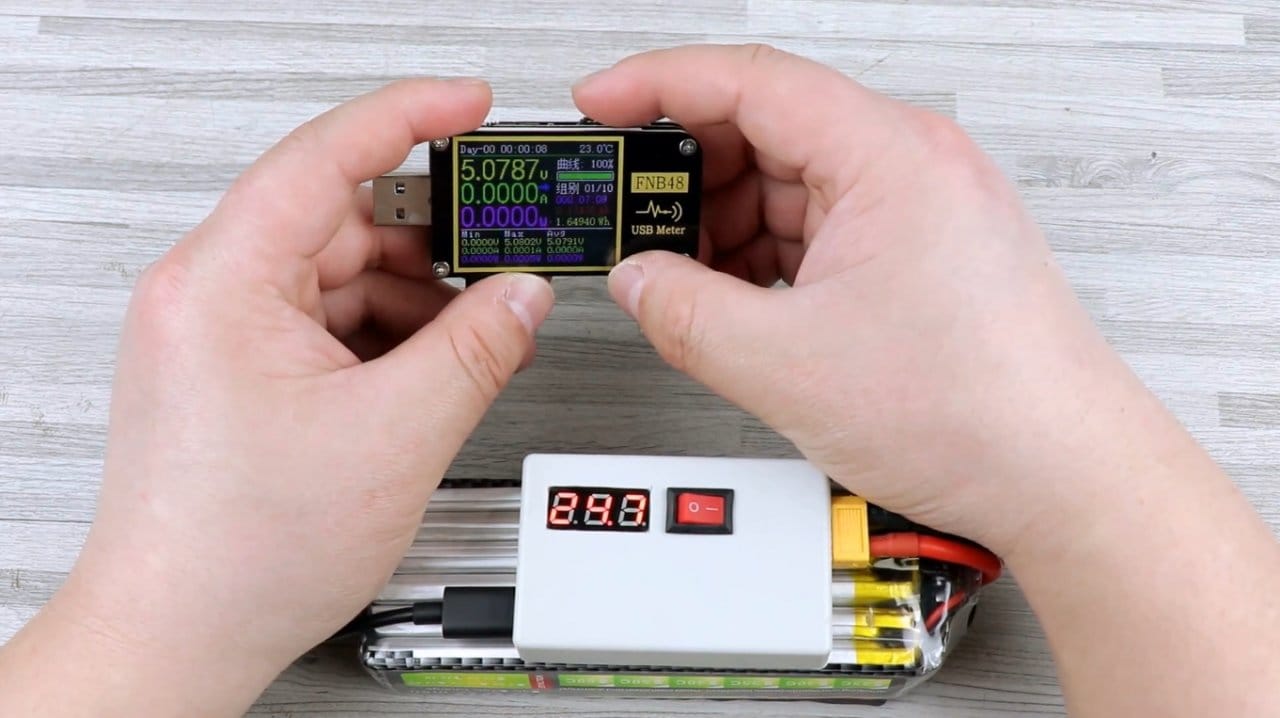 Almost any gadget can be connected directly to the USB output, and the controller will automatically select the correct charging mode. If the connected device does not support fast charging, it will be charged with a standard voltage of 5V and a current of up to 1A.

Having connected a purchased powerbank through the tester, it is clear that it supports fast charging with a voltage of 12V and a current of almost 1.5A.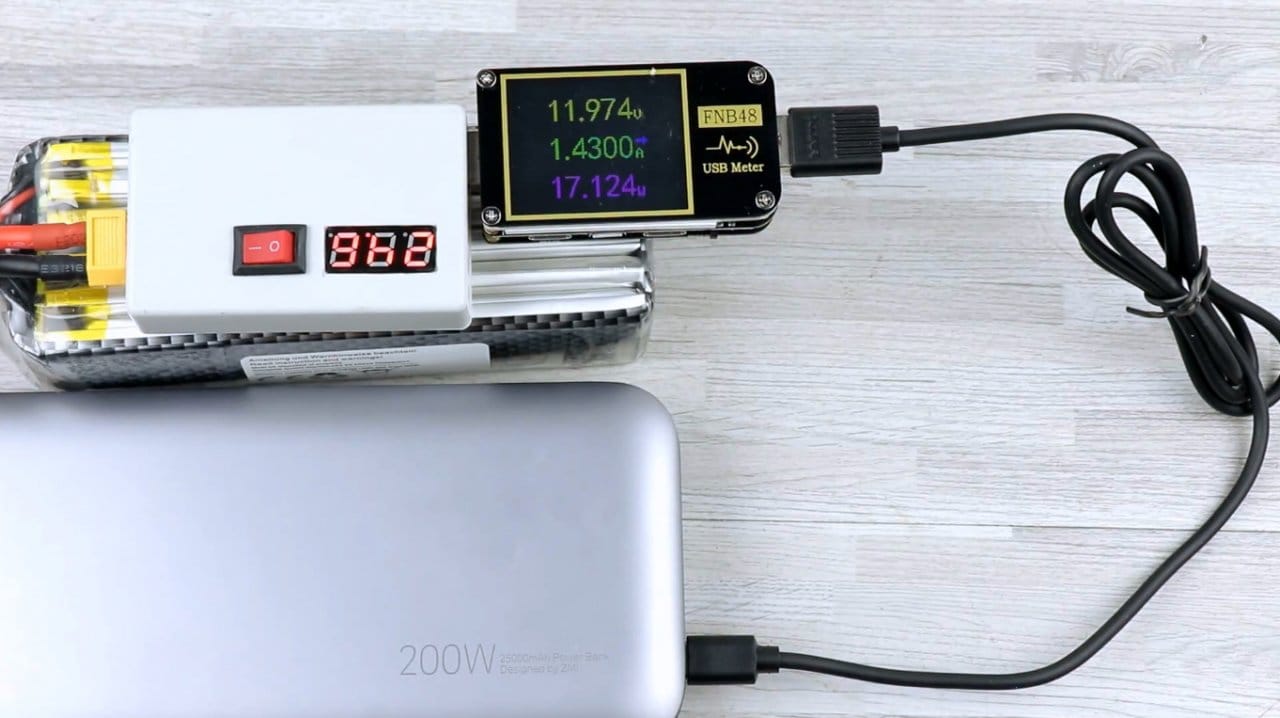 The disadvantage of this implementation is the need to charge the batteries with a separate power supply unit (often sold with a battery), or using the smart charger ISDT Q6, Q8 .
In addition, lithium polymer batteries in this design have very weak protection against damage, and this should be taken into account during transportation and operation.
I thank the author for the interesting implementation of a powerful and capacious powerbank.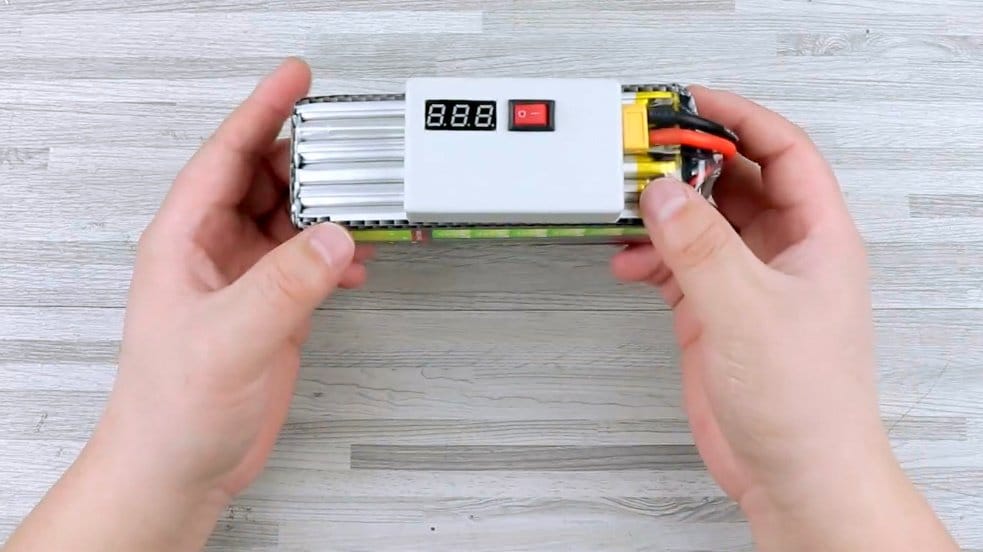 Good mood, good health, and interesting ideas to everyone!
Subscribe to the telegram channel site so as not to miss new articles.
Author's video can be viewed here.