DIY
Battery assembly (LiFePO4) for solar panel and more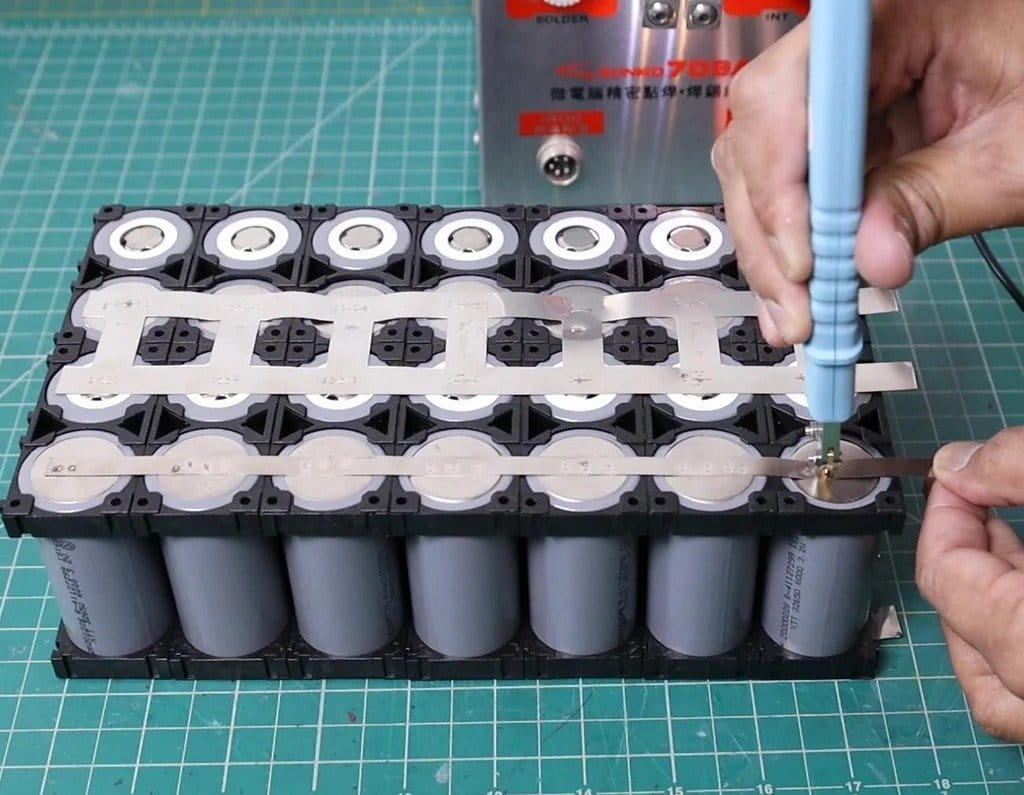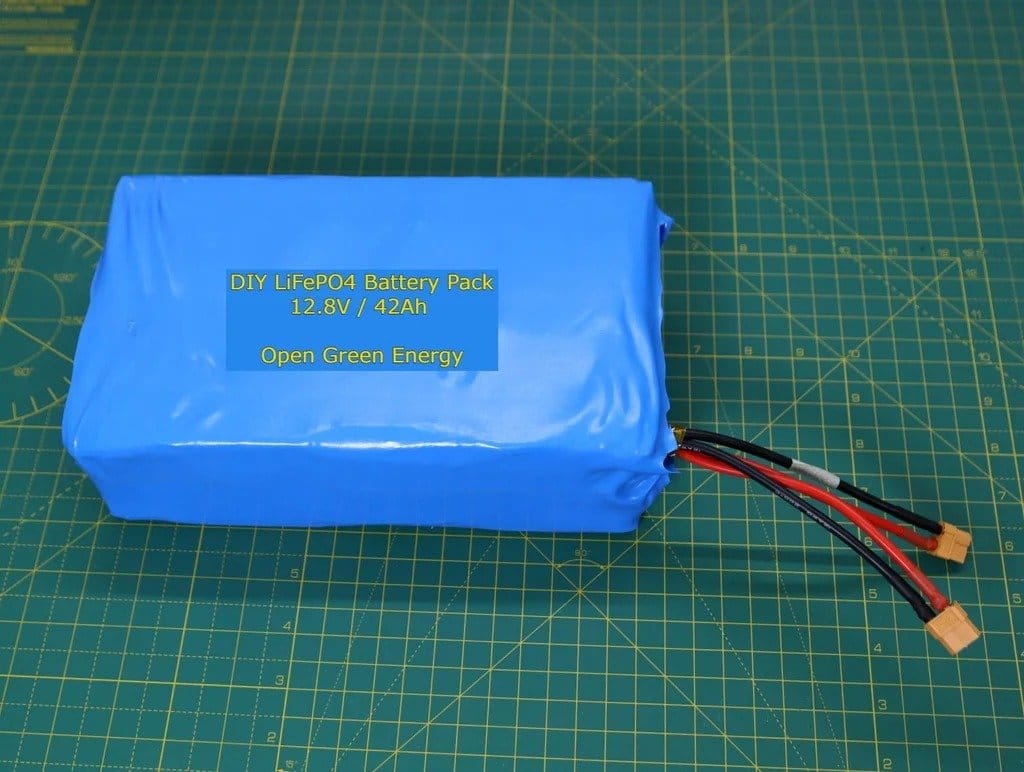 The cost of solar panels has dropped dramatically over the past few years, but the total cost of an off-grid solar system is still high. The cost of traditionally used lead-acid batteries and their limited lifespan compared to solar modules (25+ years) add to the overall cost of the entire system. If you are going to install new solar panels for your home or office, it is very important to choose the right battery for it. In this case, we need rechargeable batteries with large capacity, high power potential, longer service life, stable and safe.
Lithium-ion batteries have become a popular option for storing energy in solar systems, but technology has advanced and a new winner in the race for energy storage solutions has emerged: Lithium Iron Phosphate (LiFePO4) batteries. LiFePo4 battery has many advantages over traditional lead acid batteries.
In this article, the wizard will tell us how to assemble an 18650 battery pack for applications such as solar system, solar generator, electric vehicle, etc. LiFePo4 cells are available different sizes, but here the master used type 32650.
Tools and materials: -LiFePo4 rechargeable batteries; -Holder; -Nickel strip; -BMS module; -Wire; -PVC heat-shrink film; -Heat shrink tube; -Insulating paper; -Fiberglass tape; -Kapton tape; -Double-sided tape; -XT60 connector; -Pot welding machine; -Soldering equipment; -Nippers; -A tool for stripping wires; -Hair dryer; -Multimeter; Step one: lead-acid battery or LiFeP04
Continuous power supply:
The main difference between LiFePO4 and lead acid batteries is that the capacity of lithium iron phosphate batteries is independent of discharge rate. It can continuously deliver the same amount of energy throughout the entire discharge cycle. However, for lead acid batteries, the nominal capacity decreases with increasing discharge rate.
Life Cycle:
Lithium batteries also have a longer life span than lead acid batteries. LiFePO4 batteries can also last for a very long time. Good quality batteries are rated for approximately 3000 cycles at a full 100% charge/discharge cycle. If you do this every day, you can ride an e-bike for more than 8 years without changing the battery.
Charging time:
LiFePo4 batteries charge four times faster than lead acid batteries. Consequently, less time to charge and more time to use the battery. The battery is charged to 100% in just 2-4 hours.
High/low temperature performance:
The LiFePo4 battery also has superior high temperature performance compared to lead acid batteries. Lithium batteries perform better at high temperatures than lead acid batteries. Lithium batteries also have a higher discharge capacity at low temperatures.
Battery Installation:
The LiFePo4 battery can be installed in any position as it does not leak. Whereas lead acid batteries are likely to leak.
Weight:
The LiFePO4 battery also weighs less than 1/2 of a lead-acid battery of similar capacity.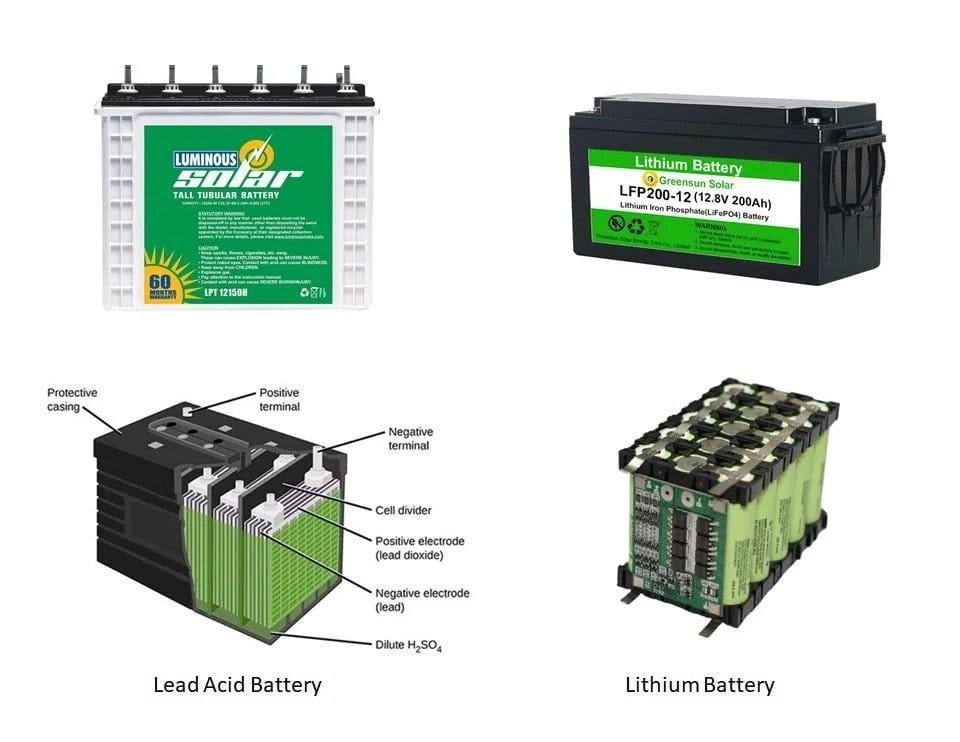 Step Two: Serial and Parallel Connection
Batteries can be used in series and/or in parallel to achieve higher operating voltage and/or power to achieve the desired requirements for a particular application.
Series connection:
Series connection of cells increases the voltage of the two batteries while maintaining the same rated strength current (ampere-hours).
Example: When two cells are connected in series 3.2 V/6000 mAh, the battery will supply 6.4 V, but the total capacity will remain the same (6000 mAh).
Parallel connection:
Parallel connection increases the rated current (ampere-hours), but the voltage remains the same. We end up with one cell with more capacity.
Example: When two cells are connected in parallel 3.2V/6000mAh, the battery will deliver 3.2V, but the total capacity will be increased to 12000mAh.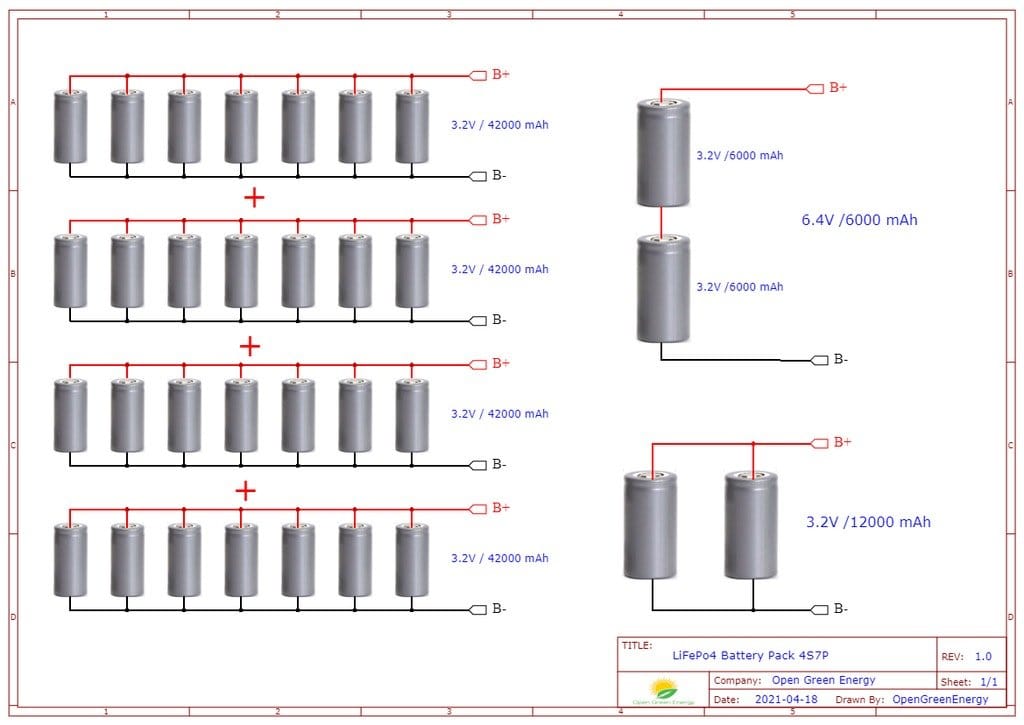 To make a rechargeable battery, you must first determine the nominal voltage and capacity of the battery. We have to connect the cells in parallel to achieve the desired capacity (mAh), and connect such a parallel group in series to achieve the rated voltage (Volts).
For this project, the battery specifications should be 12.8 V and 42 Ah. < br> Specification of used cells 32650: 3.2V 6000mAh
Number of cells required for parallel connection = 42000/6000 = 7 pieces
Usually parallel connection is abbreviated as "P", so this package will be referred to as "7P package". When 7 cells are connected in parallel, we end up with one cell with a higher capacity (eg 3.2 V, 42000 mAh.)
Voltage (volts):
Desired nominal battery voltage is 12.8 V .
Nominal voltage of each cell = 3.2 V
Number of cells required for daisy chaining = 12.8/3.2 = 4 pieces
Usually cells connected in series are abbreviated as "S", so this package will be named as "4S package." connect 4 parallel groups (7 cells in each group) in series to make a battery pack.
The final configuration of the unit is designated as a "4S7P unit" with a final specification of 12.8 V, 42 Ah and has 28 individual cells.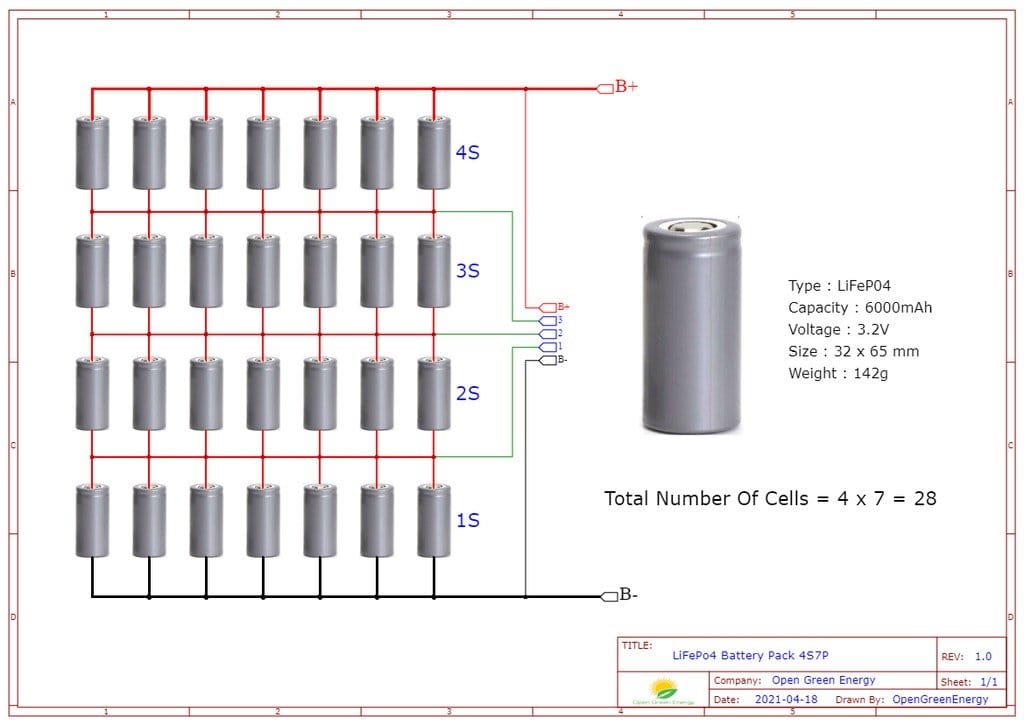 Step three: checking the elements
Before connecting cells in parallel, you first need to check the voltage of each individual cell. It is important to use batteries of the same model with the same voltage and never mix batteries of different production dates.
For the cells to work in parallel, the voltage of each cell must be close to each other, otherwise a large current will flow from the cell with the higher voltage to the cell with the lower voltage. This can damage the elements and even in rare cases lead to fire.
If you are using brand new cells, the voltage is between 3.1V and 3.2V. You can connect them together without worry. But if the cell voltages are very different, then first you need to balance them, charge the cells to the same voltage level.
Cells in batteries must be balanced, especially when exposed to high charging and discharging currents.
A weaker cell in series-connected cells will cause imbalance. This is especially important in a series configuration because the capacity of the battery is determined by the capacity of the weakest cell (similar to the weakest link in a chain). A weak element may not fail immediately, but it may discharge faster than others. When charging, a weak cell can fully charge faster than the rest of the cells and eventually recharge.
In simple terms, the full potential of the battery will not be used. It will be charged, focusing on the "liveliest" cell, and shut down when discharged, focusing on the "deadliest" one.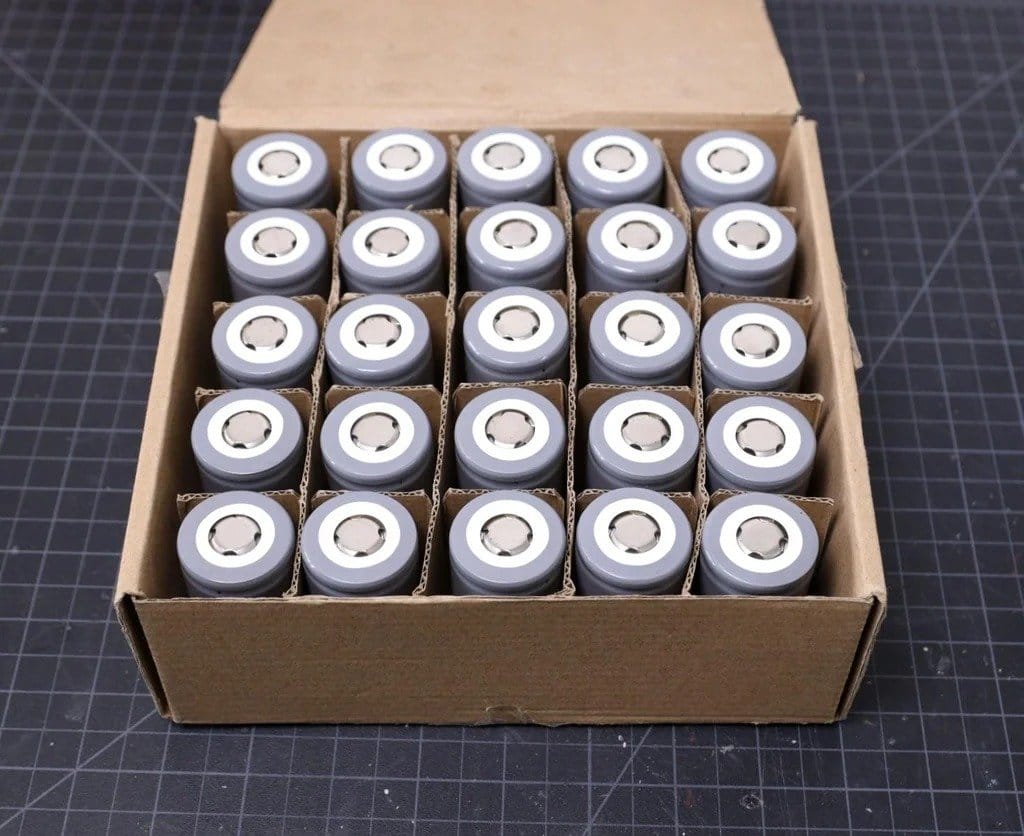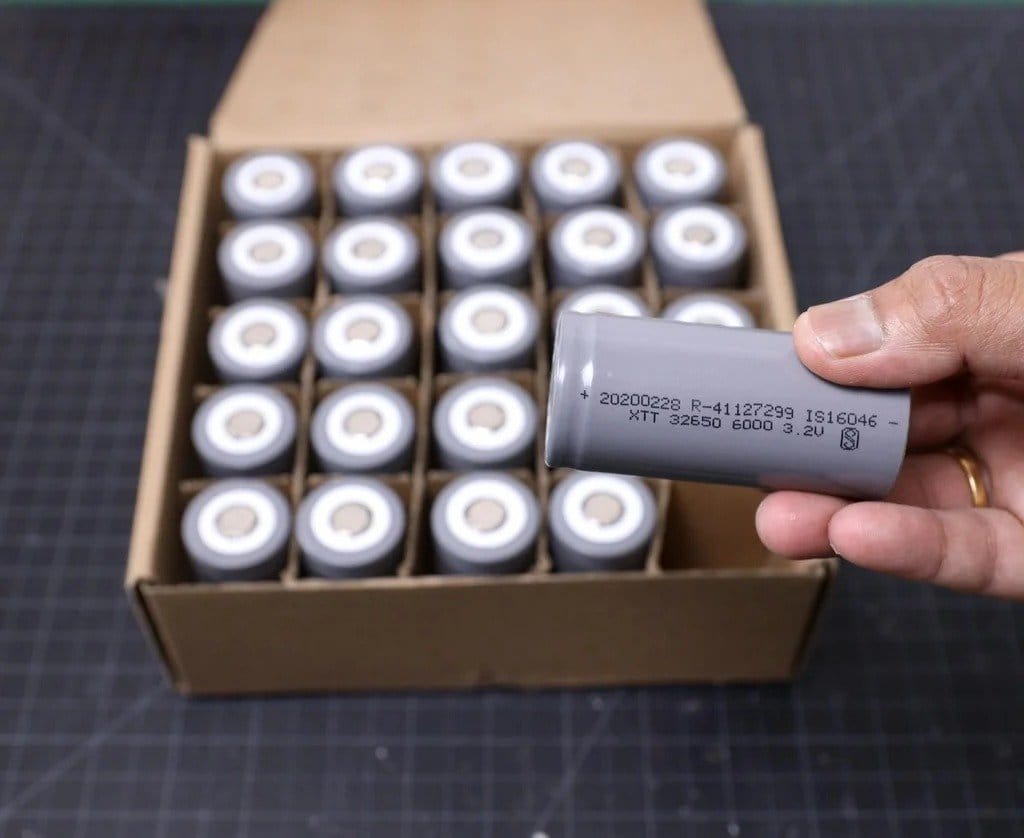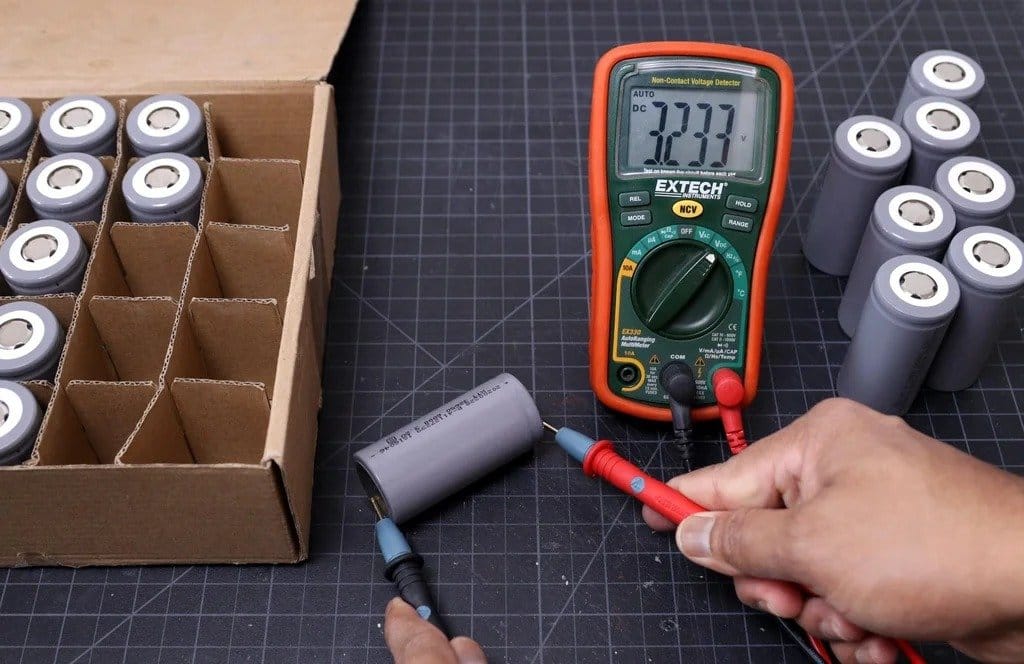 Step four: nickel strip
To assemble the battery, you need to connect the LiFePo4 cells together using nickel strips or thick wire. Nickel strips are commonly used for this. There are two types of nickel strips available on the market: nickel-plated steel strips and pure nickel strips. The master advises to buy pure nickel. Such a strip is slightly more expensive than nickel-plated steel, but has much less resistance. Low resistance means less heat generation during charging and discharging, resulting in longer battery life.
Nickel strips come in a variety of sizes and lengths. We select strips in accordance with the tasks.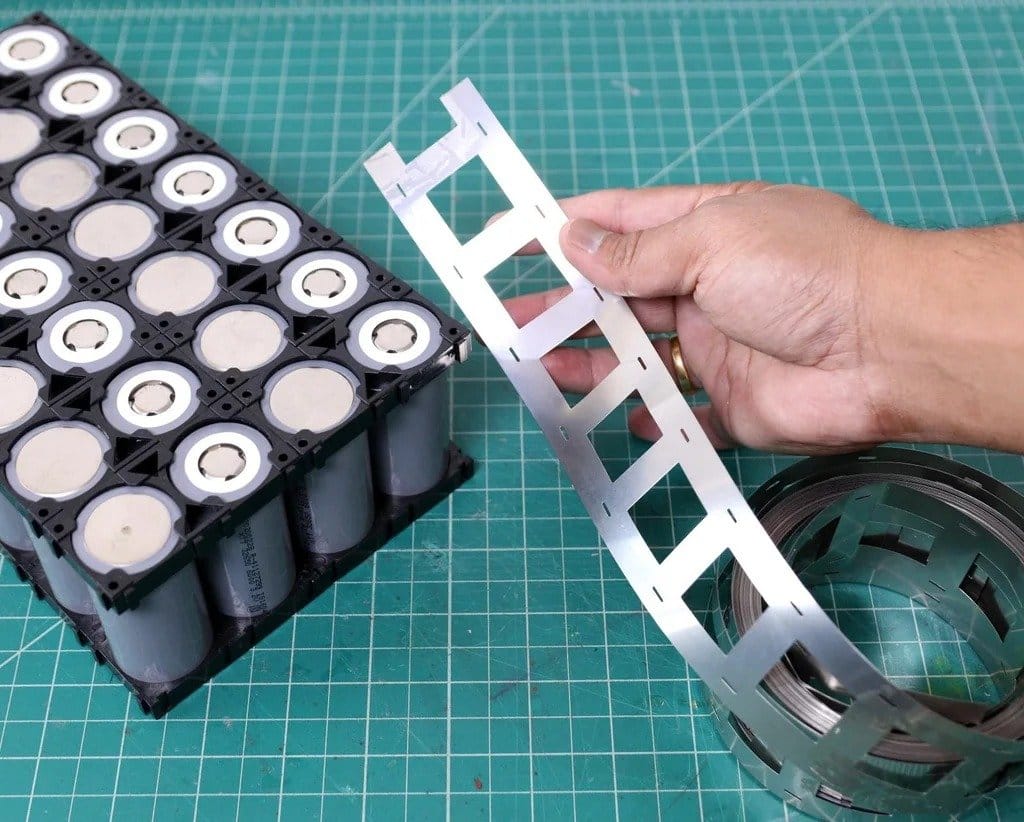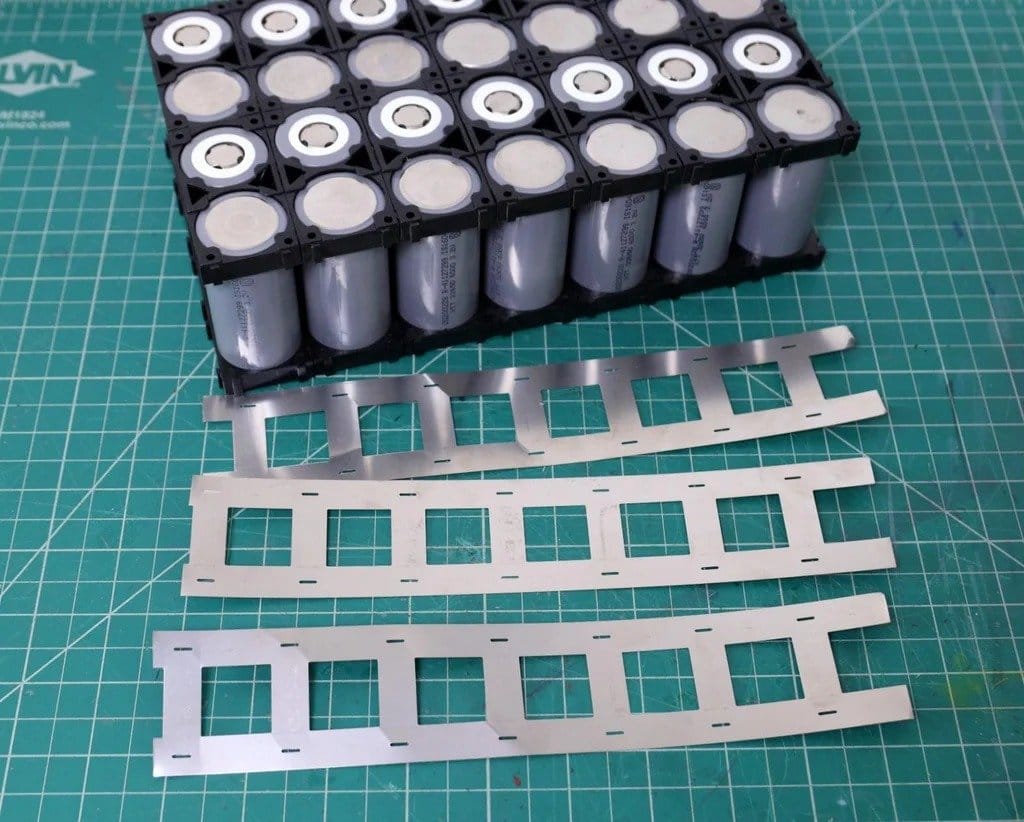 Step five: holders
Cells can be bagged with hot glue or plastic battery holder 32650. Craftsman used plastic holders/spacers for 32650 cells. The main advantages of using these holders are:
1. You can make individual packaging in any size according to your requirements. They are assembled like a puzzle.
2. This assembly provides space between the cells that allows fresh air to pass through and the battery is easily cooled.
3. Quite rigid construction.
4. Provides battery safety and vibration protection.
First, you need to position the holders of the cells so that you get 4 rows and 7 columns. We need to make 2 of these holders in a rectangular shape, one will be used at the bottom and the other at the top.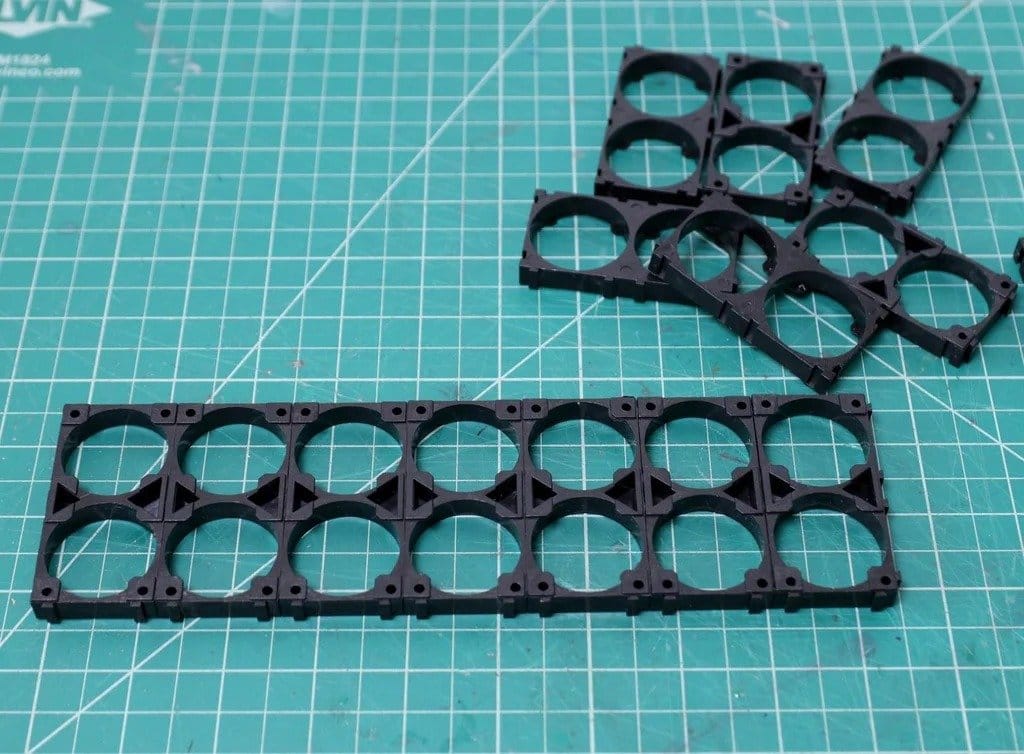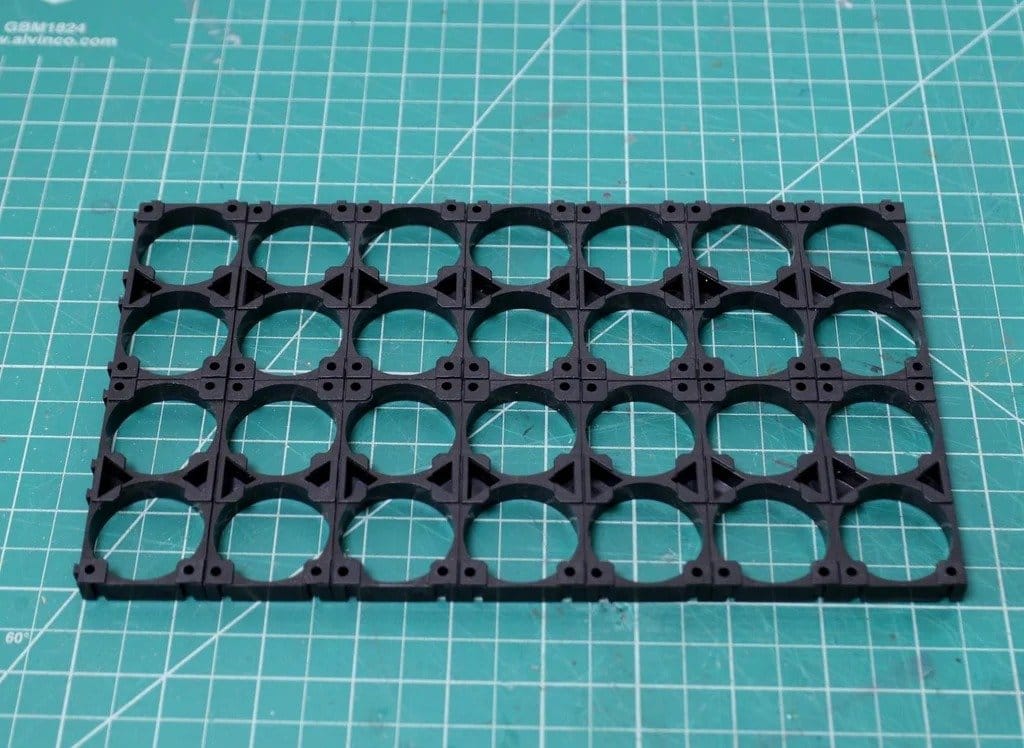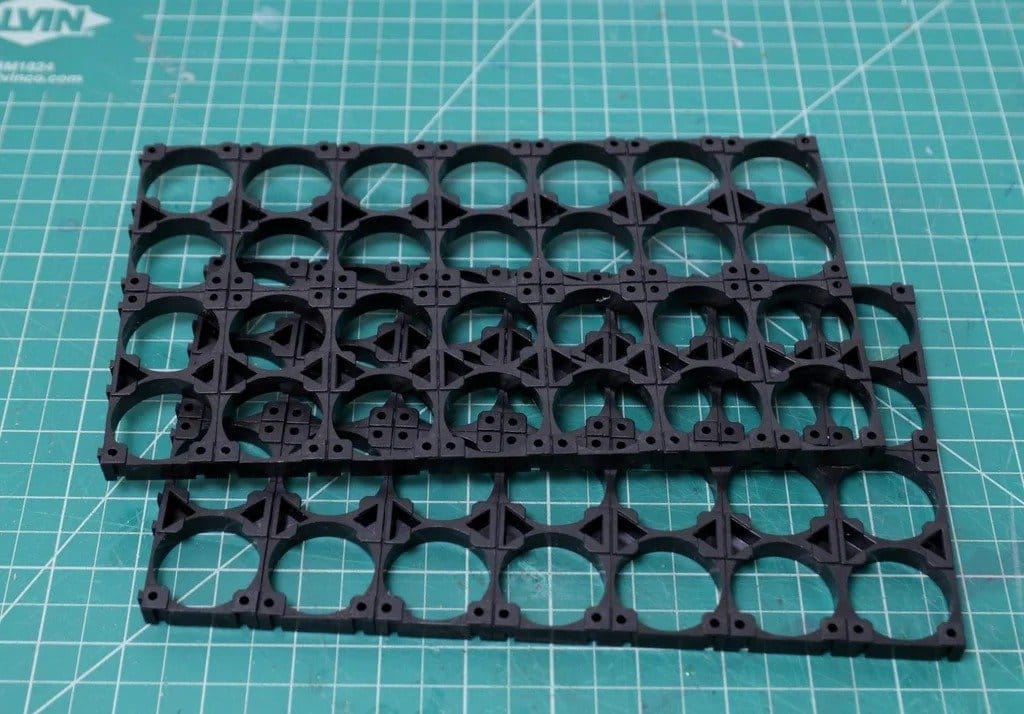 Step six: building
It is clear from the previous steps that the battery pack consists of 4 parallel groups connected in series (4 x 3.2V = 12.8V) and each parallel group has 7 cells (6000mAh x 7 = 42000mAh). Now we need to correctly place the 28 cells in the battery holder so that there is an electrical connection between them.
Place the first parallel group of cells (7 pieces) in the plastic holder with the positive side up, then place the second parallel group with the negative side up, then the third parallel group with the positive side up and finally the last parallel group with the negative side up.
After installing all the elements, place the top battery holder.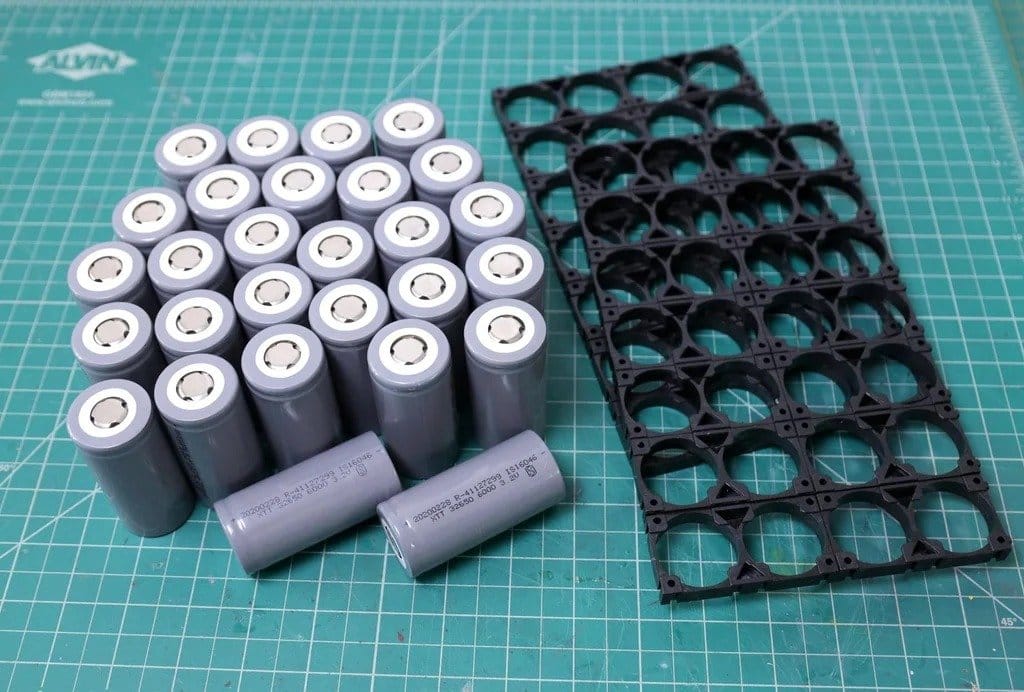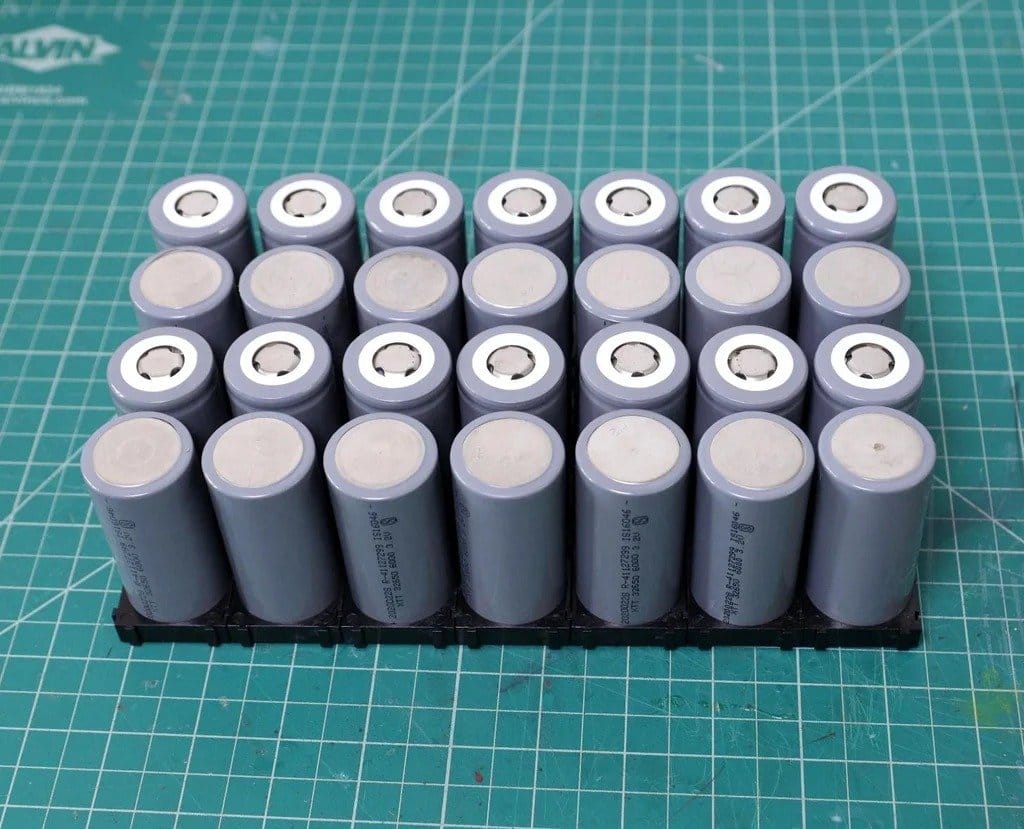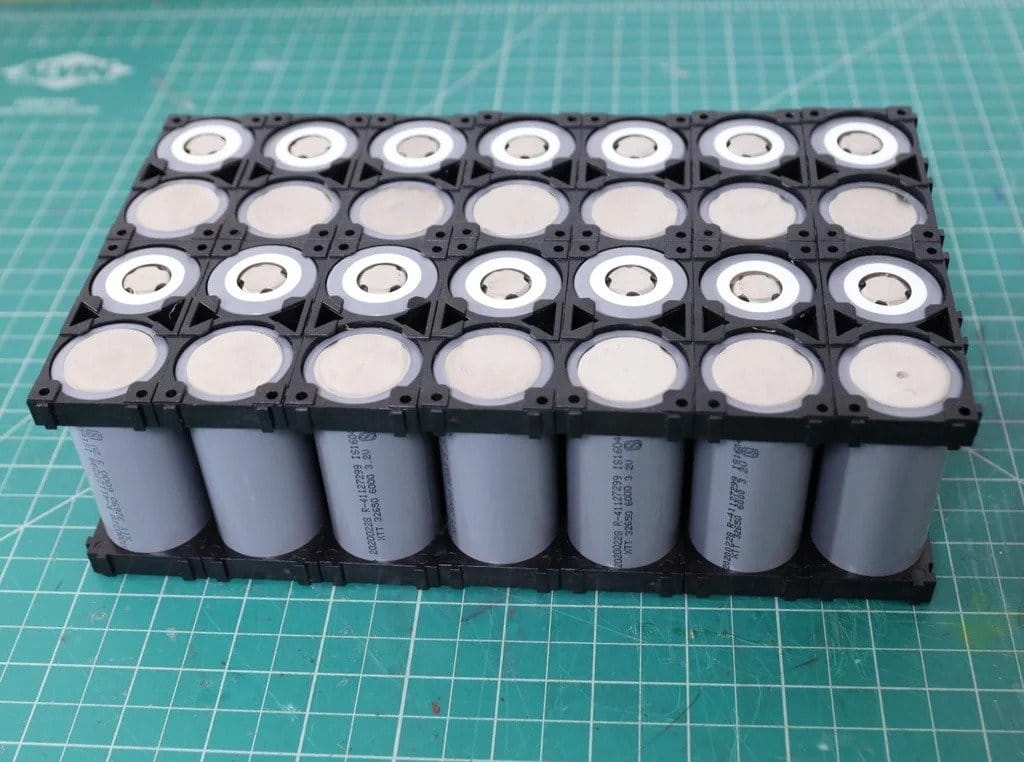 Step seven: spot welding or soldering
There are two options for mounting 18650 cells together: soldering or spot welding
Spot welding is best, although it is much more expensive than a good quality soldering iron.
Soldering:
The problem with soldering is the fact that when soldering, the element heats up a lot, and the heat does not dissipate quickly. This intensifies the chemical reaction in the cell, which impairs its performance. Ultimately, we lose some of the capacity and life of the cell.
If the work is one-time, then there is no point in purchasing an expensive spot welding machine. In this case, you can solder the nickel strips, observing some rules.
1. To minimize the contact time of the soldering iron with the cell, make sure the surface is well cleaned and sufficient flux is used.
2. A good quality soldering iron with high power (min. 80 W) and good heat capacity should be used so that it can quickly transfer heat to the contact pad.
3. Soldering should be done as quickly as possible.
Spot welding:
Spot welding securely joins the cells together without overheating. There are currently two classes of welding machines available on the market: amateur and professional. A good amateur pinpoint device costs from 200 to 300 dollars, while a good professional one can cost about ten times more.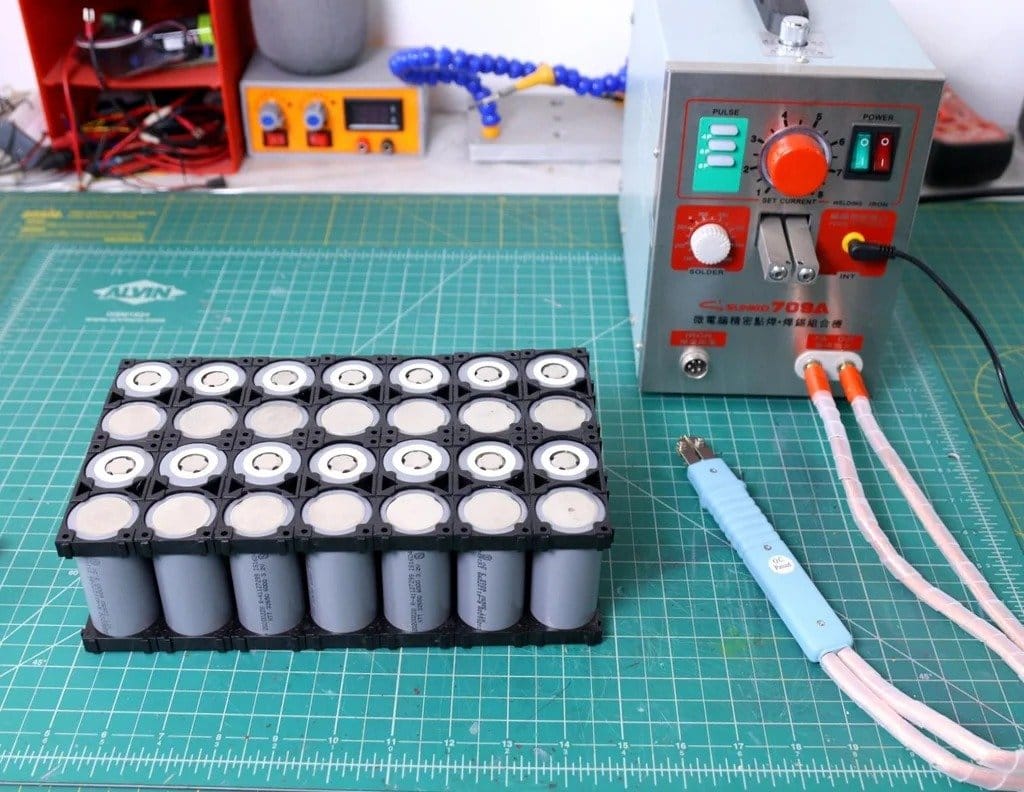 The spot welder used by the master has three welding options: fixed welding head, fixed welding head with foot switch, movable spot welding handle with foot switch. He prefers to use the second option.
You can check the weld quality by pulling on the nickel strip. If the strip does not come off, then this is a good weld, if it comes off easily, then the current must be increased.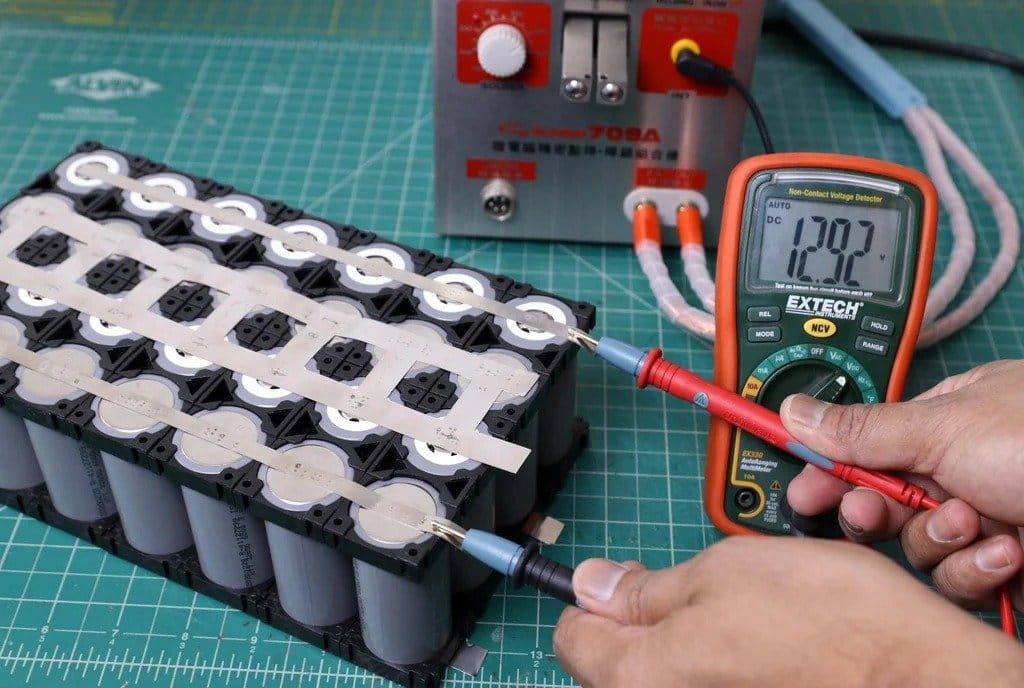 Step Eight: BMS Board
Battery Management System (BMS) is an electronic system that manages a lithium battery. Its main functions are:
1. Monitors all parallel groups in the battery pack and disconnects it from the input power source when it is fully charged.
2. Balances the voltage of all cells evenly.
3. Prevents over-discharge.
BMS takes care of battery protection. The board shuts off the battery when it is low or in danger of overcharging. The BMS also takes care of limiting charge and discharge currents, monitors the temperature of the cells (and reduces charge/discharge if necessary), and most modules balance the cells every time a full charge is performed.
Two important parameters you need to buy a BMS are :
1) Number of monitored cells – eg 4S/6S/8S.
2) Maximum discharge current – eg 20A/30A/50A
For this project I used a BMS 4S and 50A board.
The BMS board is connected in accordance with the connection diagram shown below.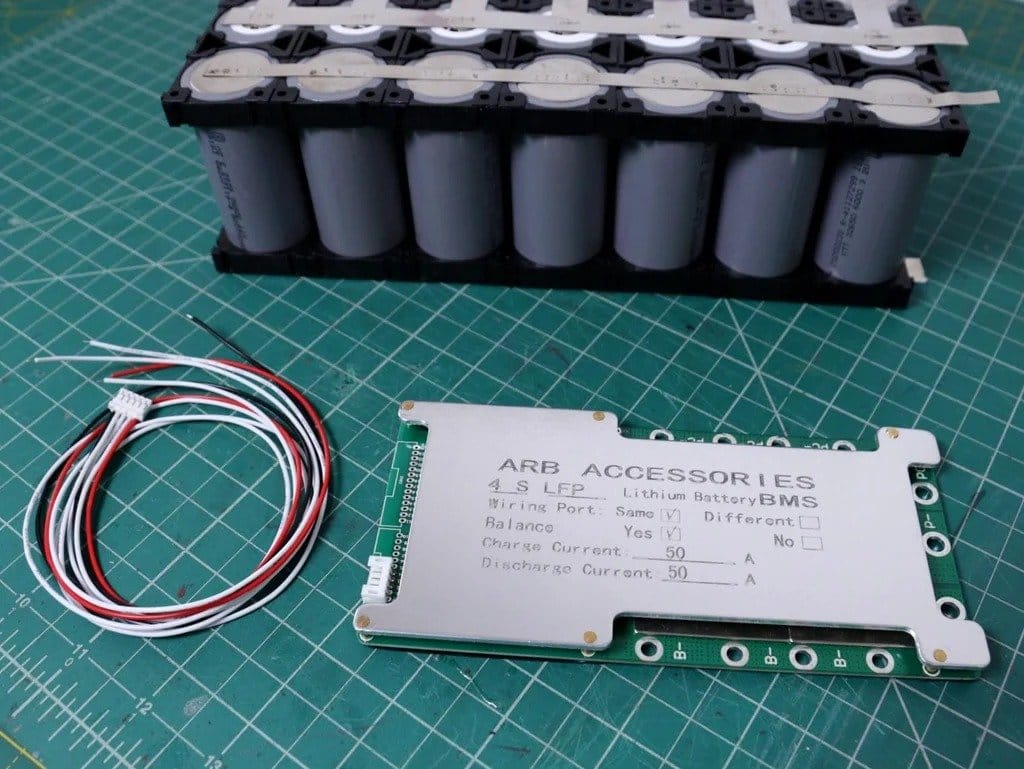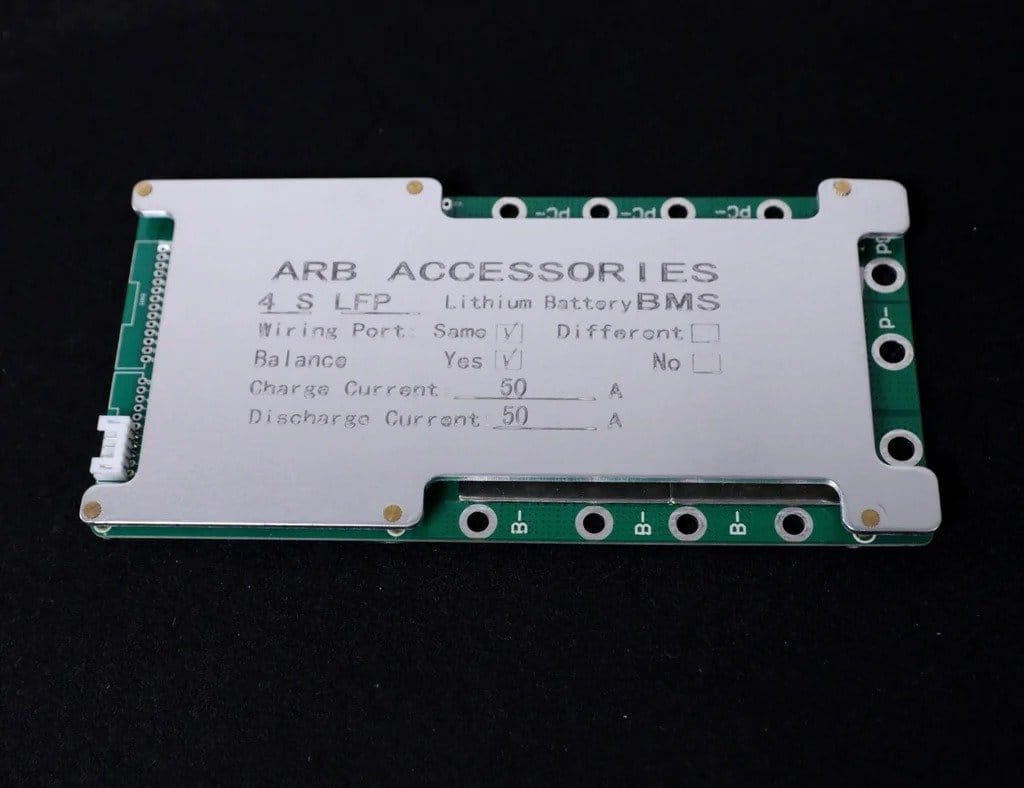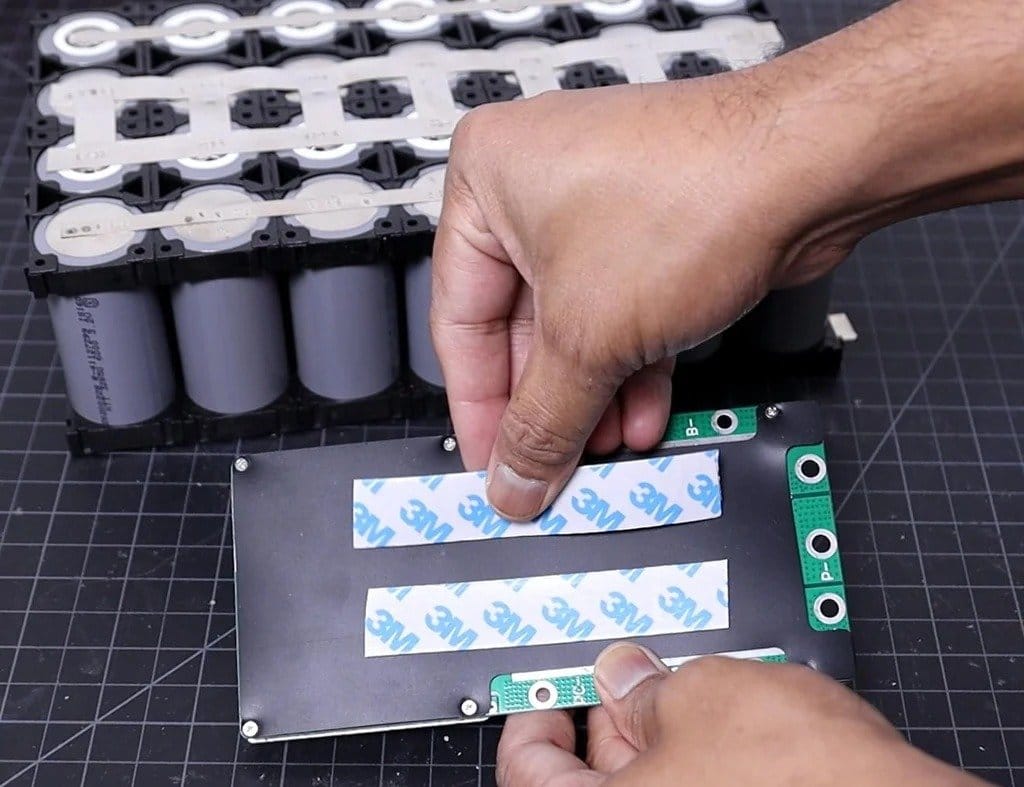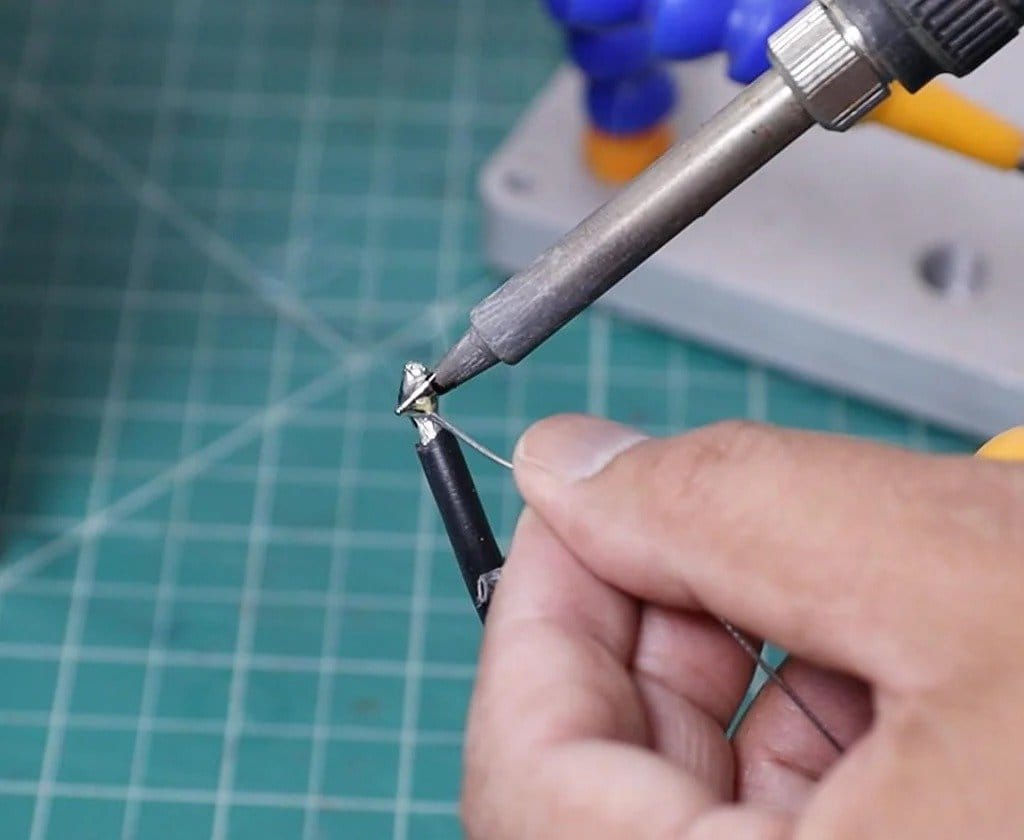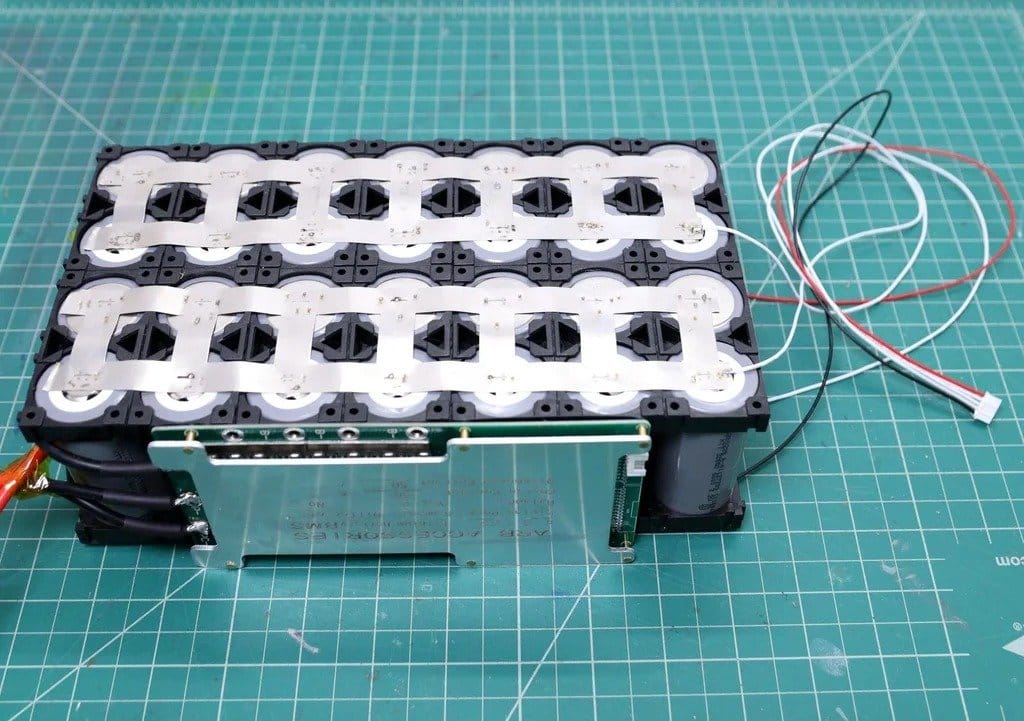 Step nine: final assembly
After soldering balancing wires and cables charging-discharging master collects them and fixes them with Kapton tape.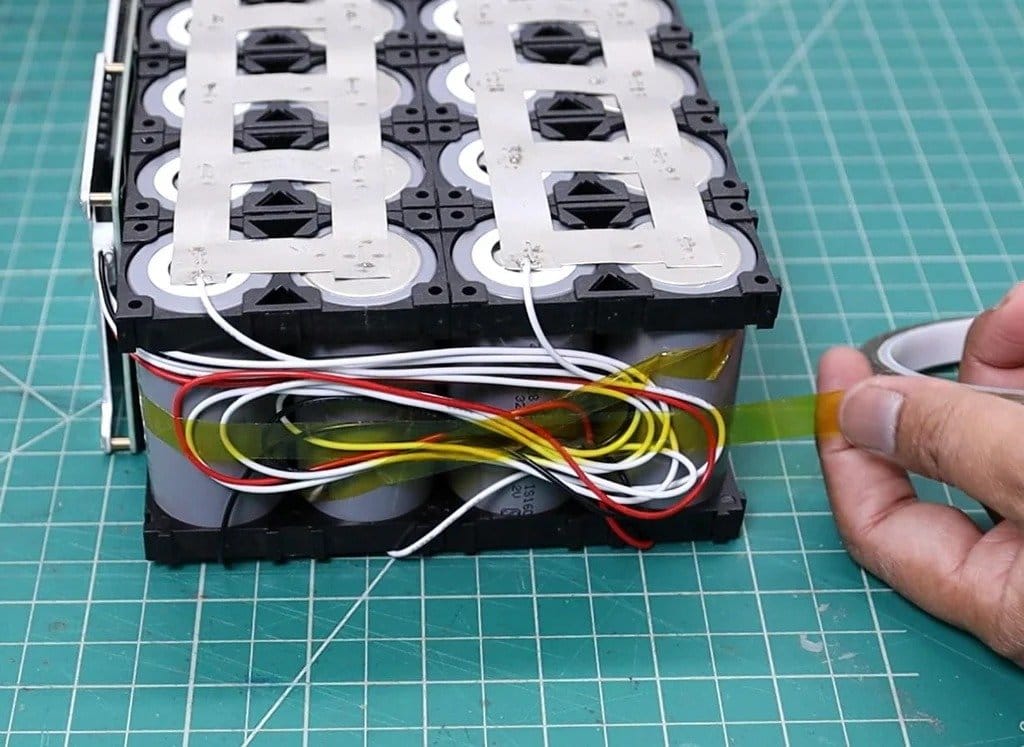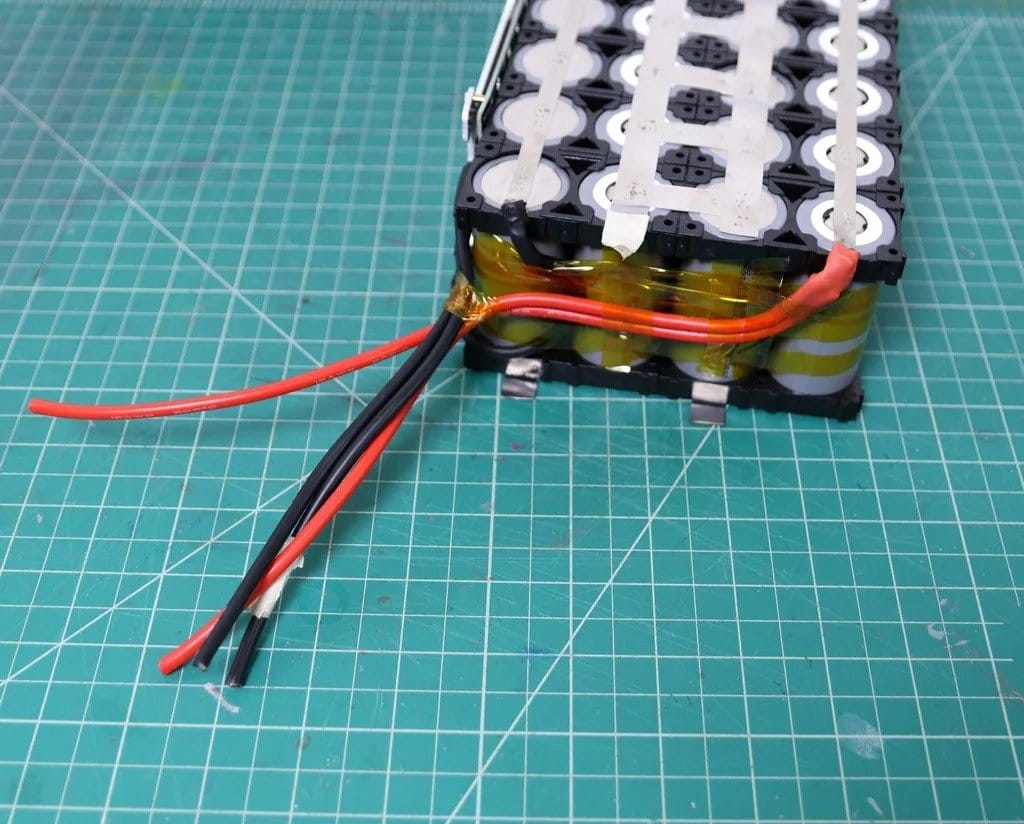 Any short circuit in the battery can lead to fire and explosion.
For protection, the technician first applies a layer of insulating paper over the top and bottom of the battery. Insulating paper is pure cellulose with high electrical insulating properties, making it suitable for assembling portable lithium-ion batteries.
This paper comes in different sizes, so you need to order the correct width and length to match the size of the battery pack. It is very easy to use because it has an adhesive layer. After gluing the paper, make sure that there are no exposed parts.
For the battery to have the correct (rectangular) shape, the wizard added an additional layer of insulation on top of the paper.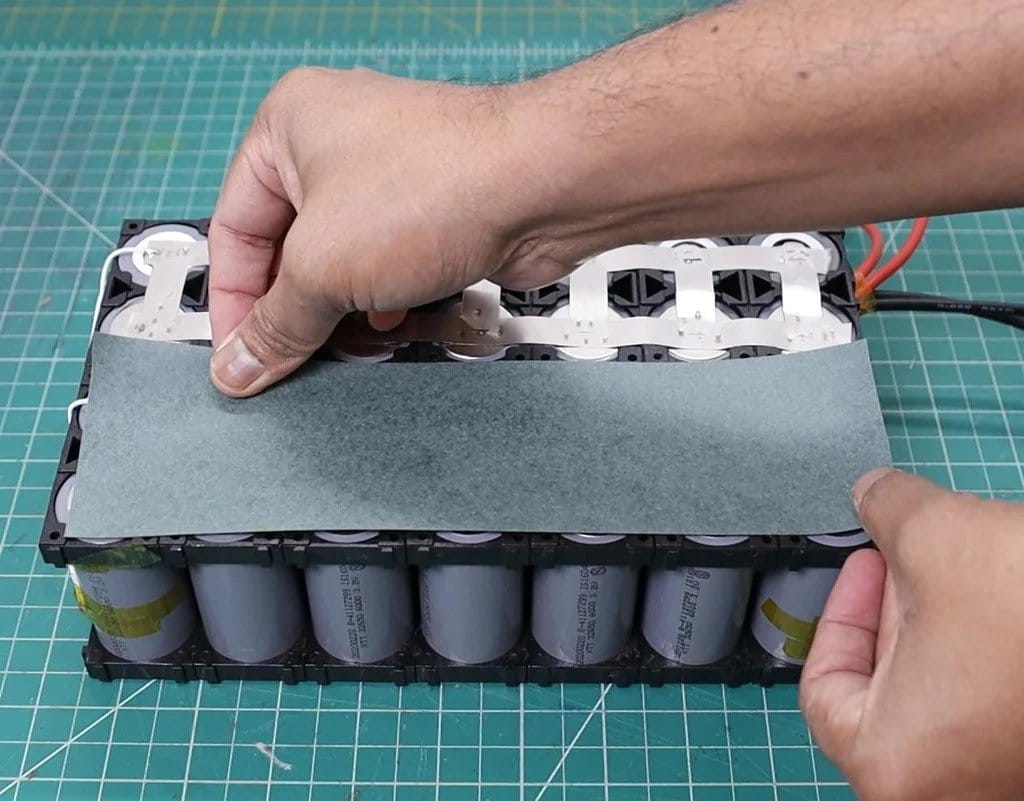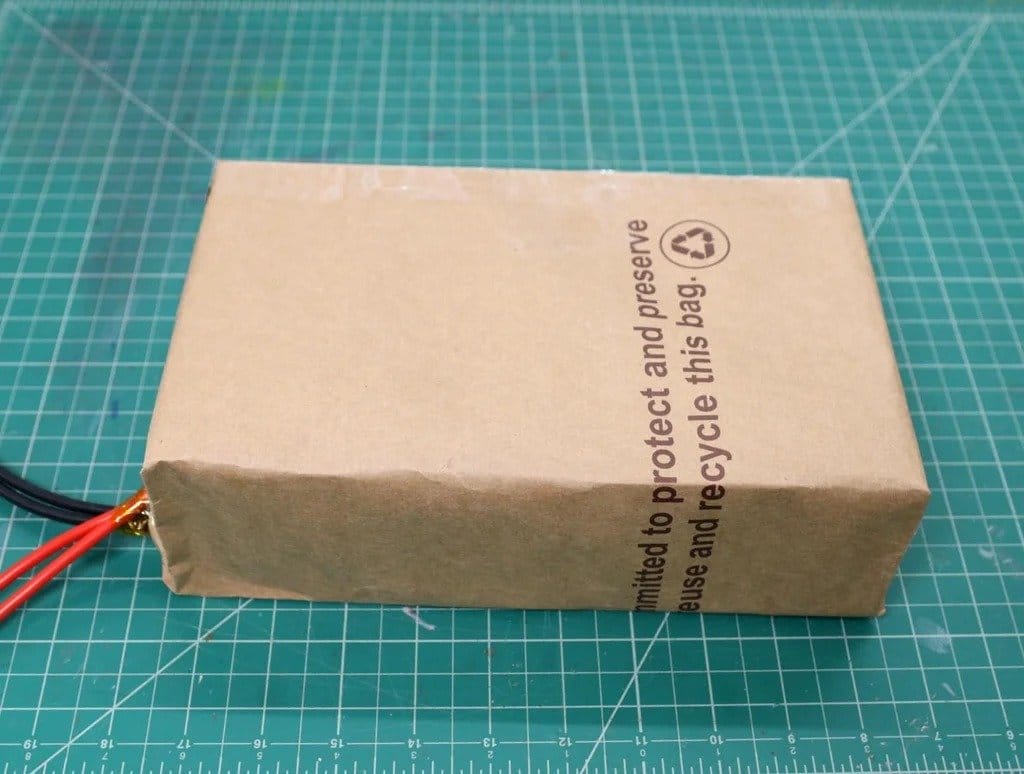 The last layer is a shrink film. Cut off the required amount of film. We wrap the battery. Warm up with a hairdryer.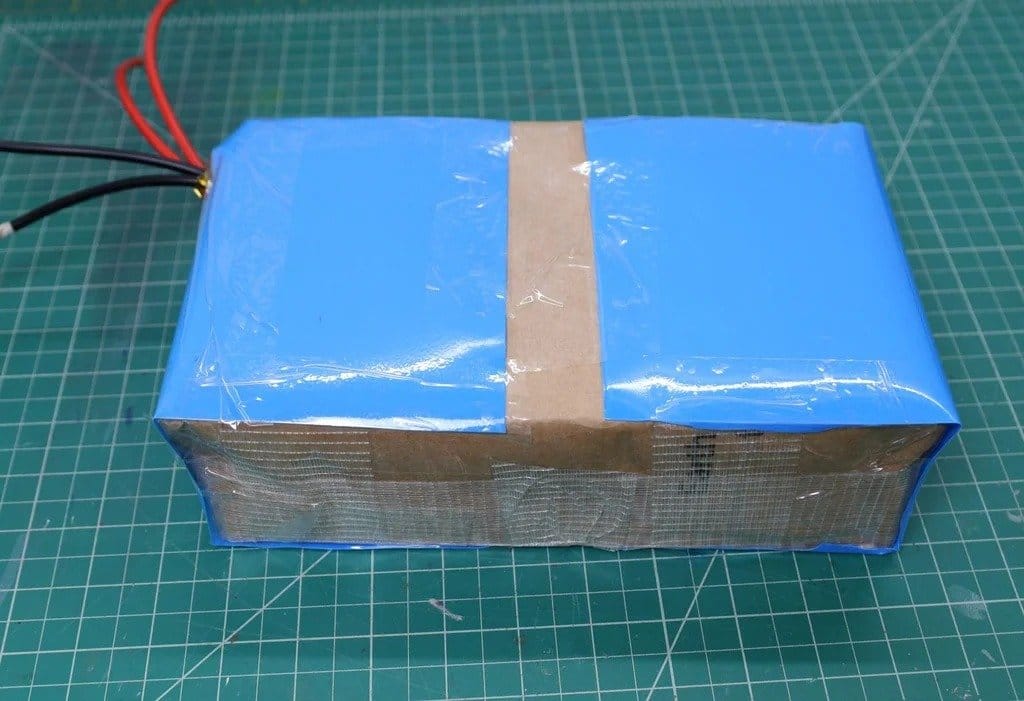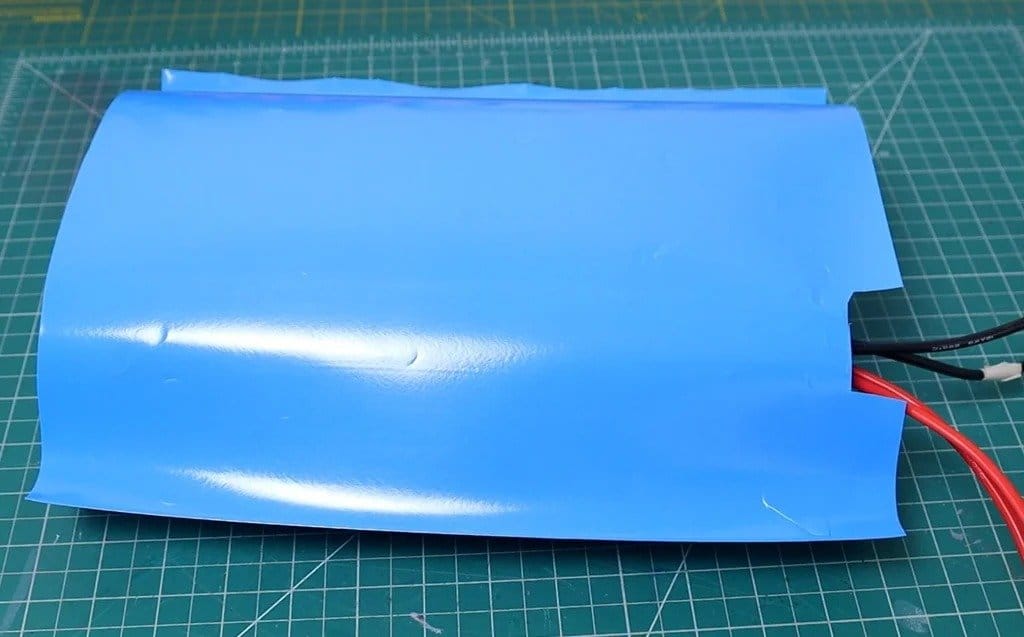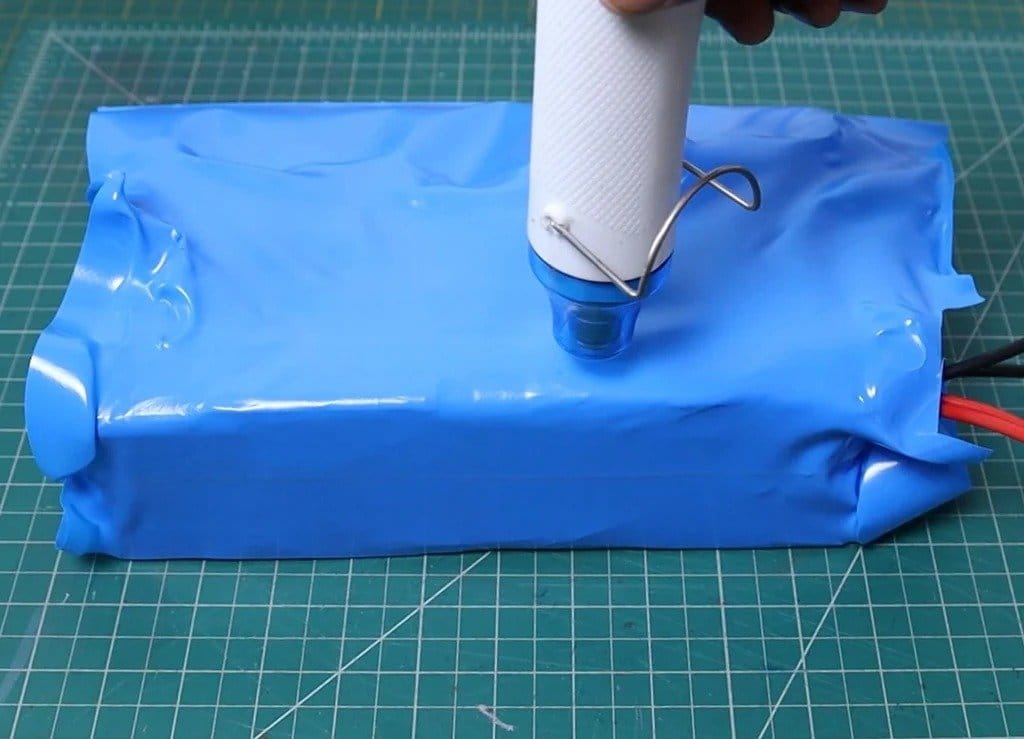 Everything is ready. It remains only to charge the battery and install it in the intended place.
The whole process of assembling the battery can be watched in the video.