DIY
We make shrinkage compensators ourselves
Good day to all!


In this material I will share my homemade product, namely, we will make shrinkage compensators (supports, support legs), under the main logs of the future porch, to enter the bathhouse (previously presented me material on the site "Dressing a log house for a bath" and "Dressing a log house for a bath – 2" ) .
Let's start everything in order.
I looked at the finished products in stores in this direction, the price of my comrades did not even suit me. I decided once again, homemade, so homemade. I didn't have any sheet metal for the plates. In a fastener store, with an adequate price and my 10% discount, the whole set of parts cost me 421.9 domestic ones (M16x1000 mm hairpin – 190 rubles, 8 M16 nuts, 5 rubles each, 8 metal plates 210×90 mm, each 56.7 rubles, washers reinforced for 3 rubles + pivasik to the owner of the welder, then, in the process, the primer – enamel is already available), the cost of one such product is 300 rubles, once again I am convinced that it is cheaper to craft yourself.

Materials and tools:


Materials:
1. Nut М16 – 8 pieces.
2. Perforated metal plates 210×90 mm. – 4 pieces.
3. Reinforced washer – 4 pieces.
4. Hairpin М16х1000 – 1 piece.
5. Enamel – primer for rust (black).
Tools:
1. Wheels, cutting and grinding.
2. Ruler.
3. Semiautomatic welding machine.
4. Drill Ø16.5 mm.
5. Vise.
6. LBM.
STEP 1 Marking.
Mark the plates in half. Hairpin into 4 parts, 250 mm each, firstly a multiple of 4, secondly, the length of the parts is obtained with a margin, then I will cut off the excess, if necessary.

The stated dimensions of the perforated plate 210×90 mm, in fact, turned out to be 5 mm. less, i.e. – 205×90. All around deception. It turns out that now you have to go to a store with your own ruler …

STEP 2 Cut (Saw).
We clamp the plate in a vice and cut along the markings using a grinder with a cutting wheel, we do the same with the hairpin, observing safety measures (See my publication "Eureka " and " Eureka – 2 "). We remove chamfers.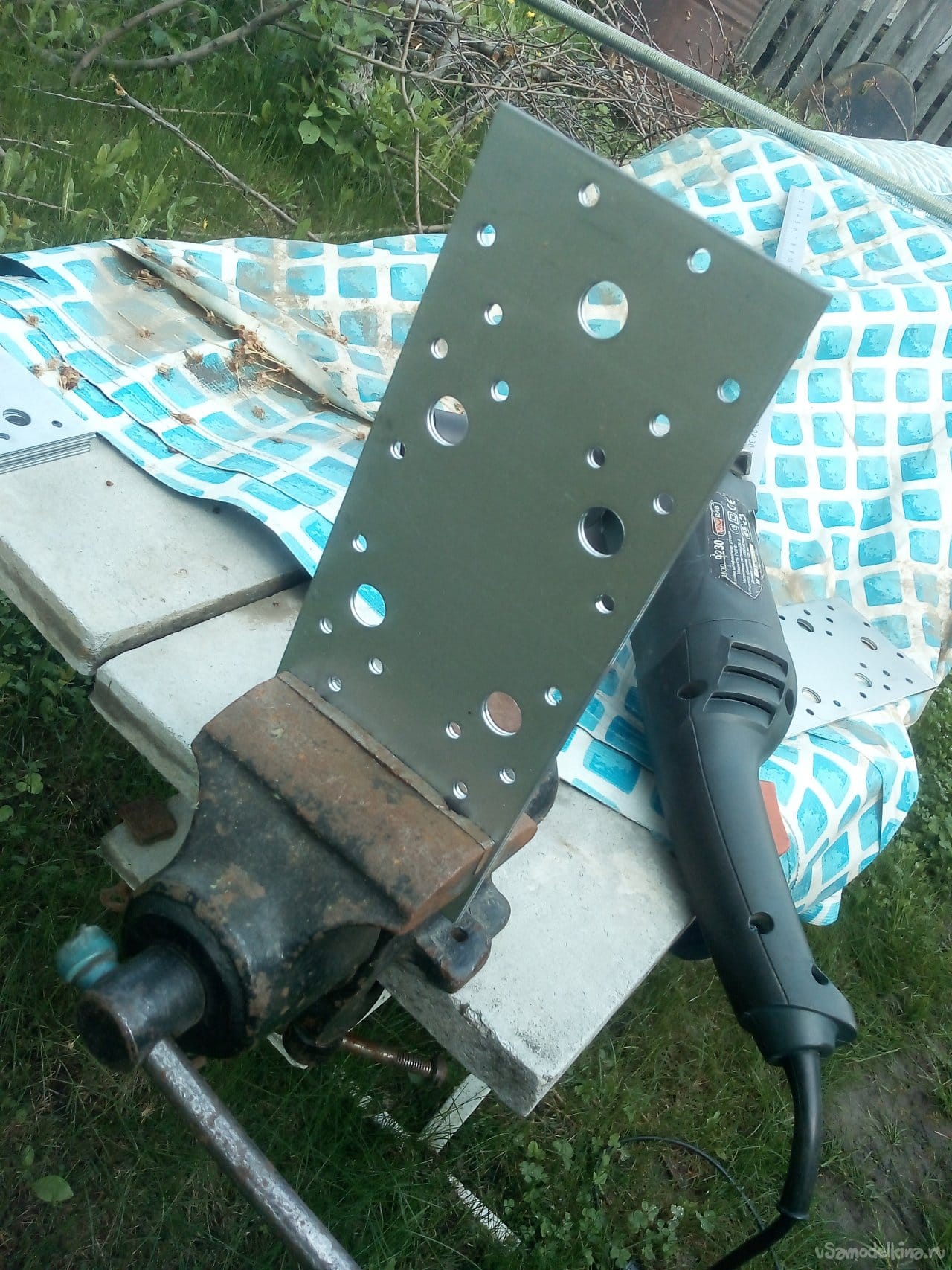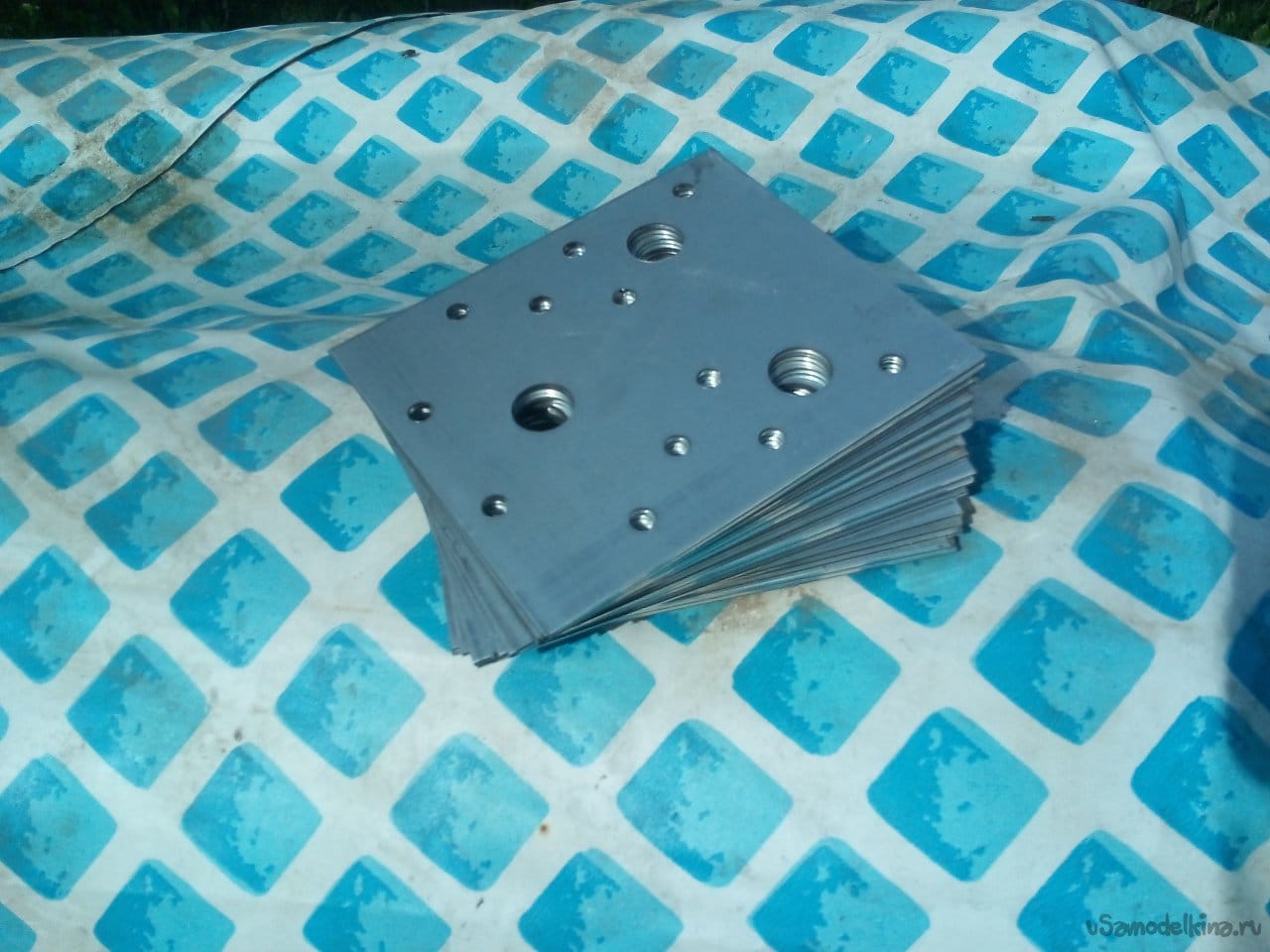 STEP 3 Welding and drilling.
In my" household "only electric arc welding, turned to a neighbor for help,

he has a car service and has a semiautomatic welding machine. Since the thickness of the perforated plates is 2 mm, it was decided to weld 2 blanks to each other, at 2 points, from 2 edges. We get 8 blanks. We weld the nuts in the center onto four blanks. On the remaining four blanks, we drill holes of 16.5 mm in the center, however, we had to look vertically – a drilling machine, because the holes are not small, and the thickness of the metal was already 4 mm, and they drilled in a pack in a vice.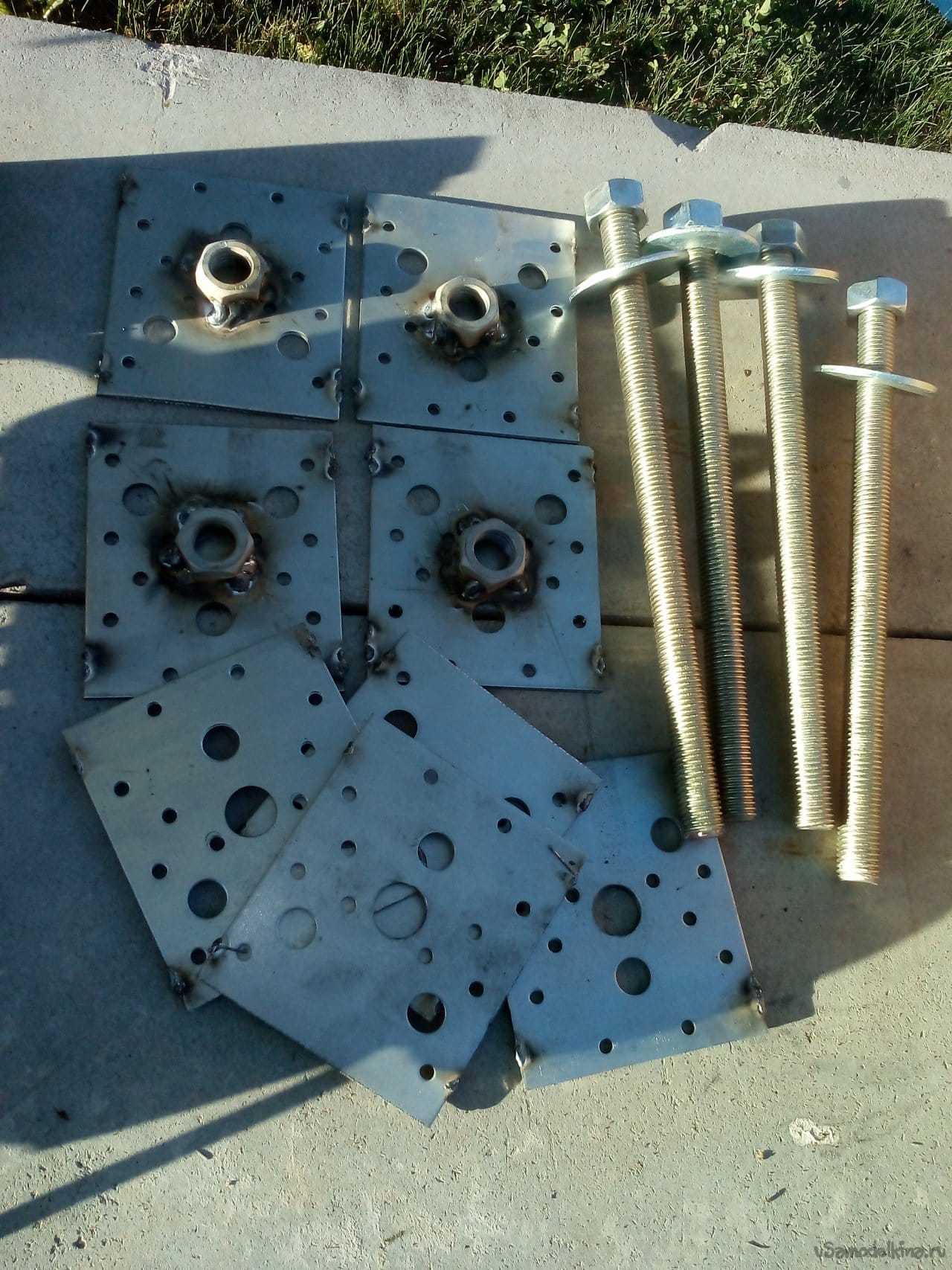 STEP 4 Painting .
The parts were degreased and primed with enamel, and the studs were partially screwed in. You will say that – "It is troublesome to paint galvanized, the paint will fall off anyway." >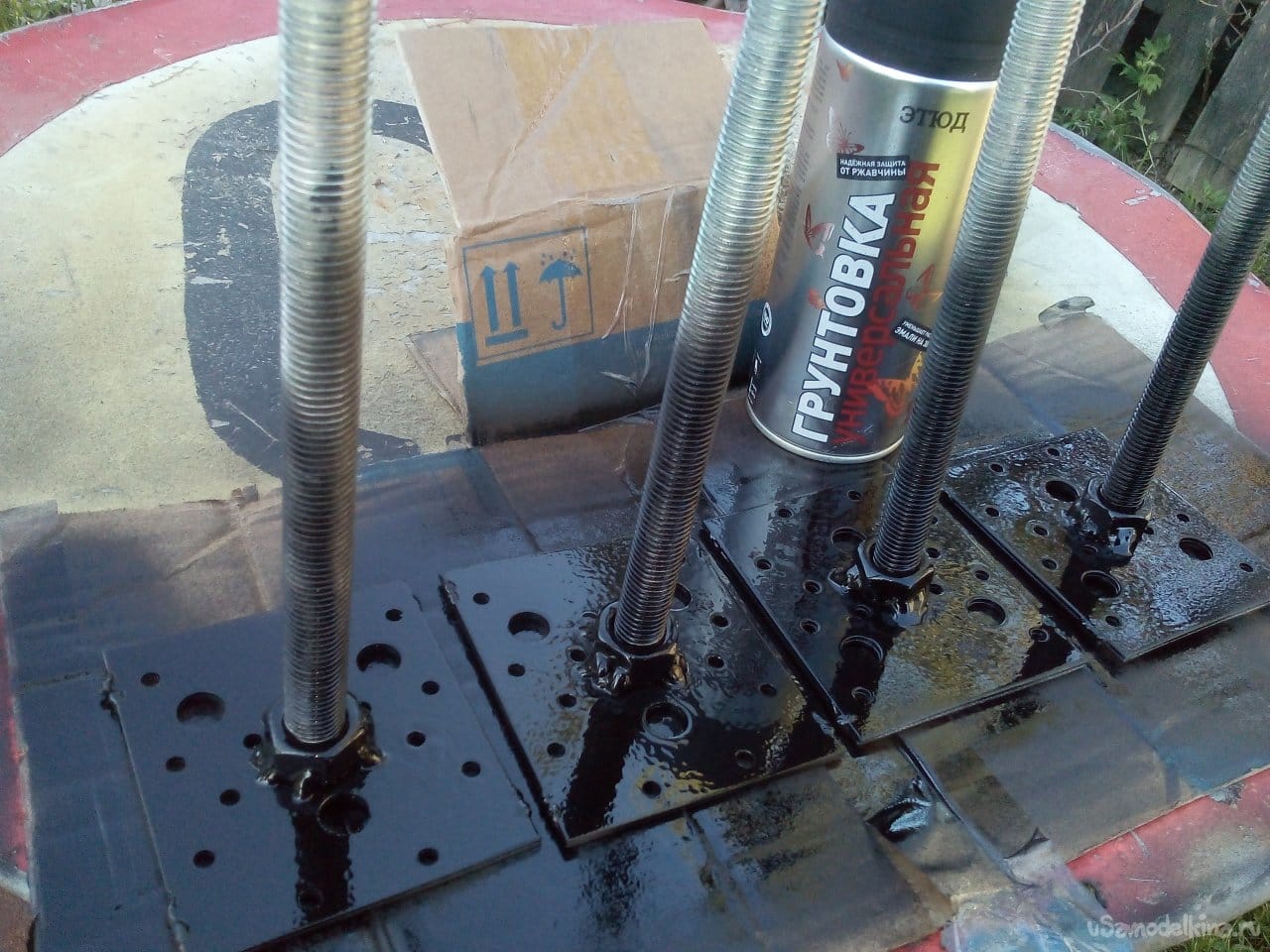 STEP 8 Pleasant sensations.

Put together all the resulting structure. Seems not bad. "Cheap and cheerful."


The foundation is laid. The porch will be …
P.S. Be creative, but do not mess up ….
GOOD LUCK !!!

Do you do alternative things yourself.
I understand that it is not difficult to do it yourself seen in the store and …..
Yes, I will "create" myself by trial and error! No, I will buy it anyway, it's not hunting …. Total voted: 1 Vote Results