Technology
Bitcoin price suddenly crashes, taking Ethereum and dogecoin with it – latest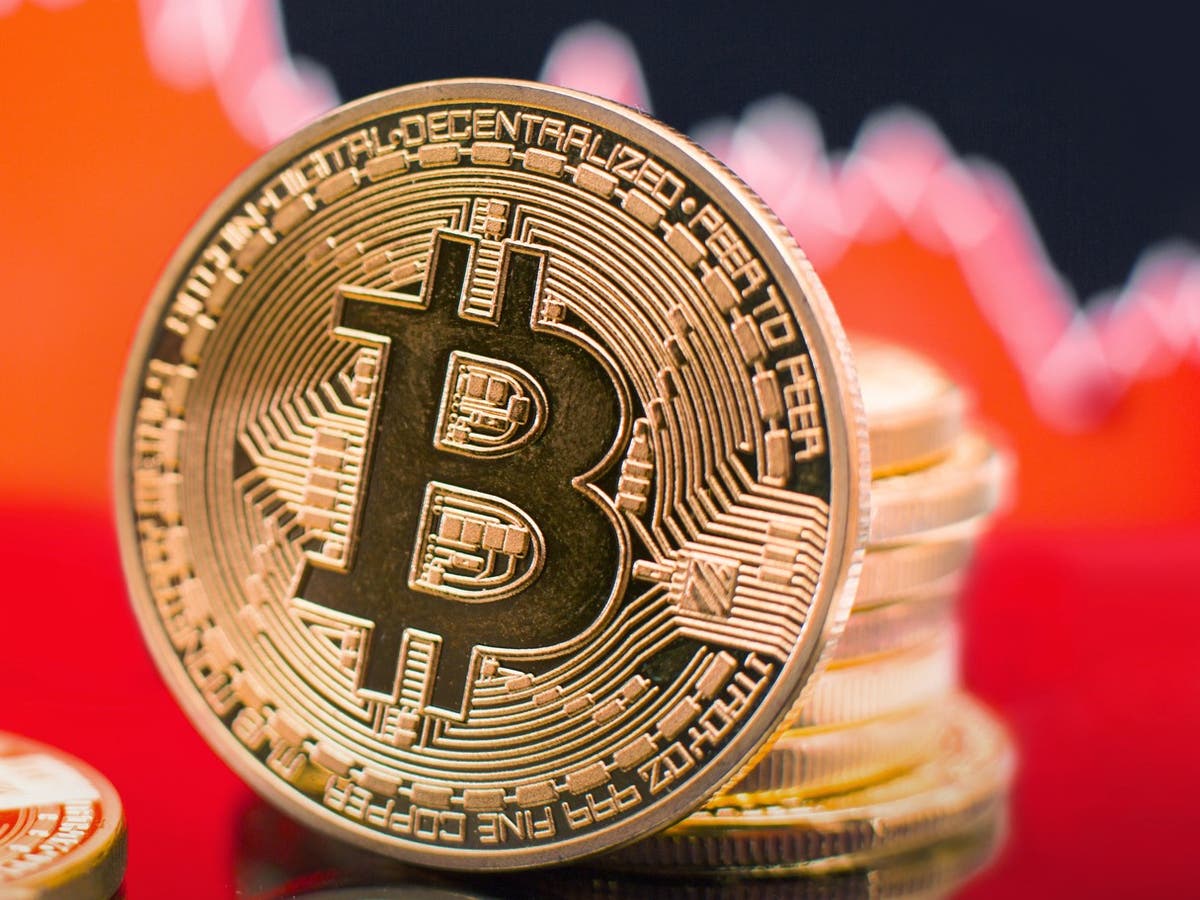 The price of bitcoin fell suddenly by 10 per cent overnight, prompting a market-wide downturn that saw billions wiped from Ethereum (ether), Cardano (ada) and dogecoin.
Bitcoin was trading at just above $32,000 on Tuesday morning, having reached close to $40,000 at the end of last week. The latest dip took the overall market cap of all cryptocurrencies combined below $1.5 trillion for the first time since May.
The price crash comes despite growing support for cryptocurrency, with the president of El Salvador announcing over the weekend that bitcoin would considered legal tender in the Central American country.
The NHL's San Jose Sharks also became the latest major US sporting franchise to begin accepting payments in bitcoin, ether and dogecoin.
Former US president Donald Trump also gave a back-handed endorsement of bitcoin, calling it a "scam" but also a "currency" that could rival the US dollar.
We'll have all the latest updates, analysis and price predictions from crypto experts right here.
Show latest update 1623175008
Bitcoin seized by FBI discovered
It looks like the address holding the bitcoins seized by the FBI during the agency's investigation into a ransomware attack on a gas pipeline in the US has been tracked down.
Antoine Le Calvez, the self-proclaimed "Indiana Jones of the cryptosphere", used info from the warrant to find the bitcoin wallet holding the illegally gotten gains. It seems the hackers did not move them into cold storage, where they would have been safe, but instead left them on an exchange or custodial wallet based in the US that was subject to interference from law enforcement.
The $2.3 million seized by the Department of Justice has been attributed by some as the cause of the latest price crash, though it amounts to just 69 bitcoins – and is no reflection on the network's overall strength or security.
XXXX-style censoring won't stop me: https://t.co/5QKKjmWx9W https://t.co/3yx6LEtjqs

— Antoine Le Calvez (@khannib) June 8, 2021
Anthony Cuthbertson8 June 2021 18:561623170571
Bitcoin expert 'still extremely bullish'
Despite the sudden drop in the market, many bitcoin price analysts and crypto experts remain overwhelmingly positive about the cryptocurrency's future.
Paolo Ardoino, the chief technology officer at the exchange Bitfinex, tells The Independent that he is "extremely bullish" about bitcoin in the long term.
Here's what he had to say:
Anthony Cuthbertson8 June 2021 17:421623167108
Crypto market turns red
The latest crypto market crash is showing no signs of slowing down, with bitcoin falling by more than $1,000 over the last hour.
All other major cryptocurrencies have followed its lead, with Ethereum (ether), Binance Coin, Cardano (ada), dogecoin, Ripple (XRP), Polkadot, Uniswap and bitcoin cash all registering losses of between 10-25 per cent over the last 24 hours.
It means all of them are now also down when looking at their price charts on a week-by-week basis. (Only the stablecoins Tether and USD Coin, whose value is tied to that of the US dollar, have prevented the entire top half of the market from turning red.)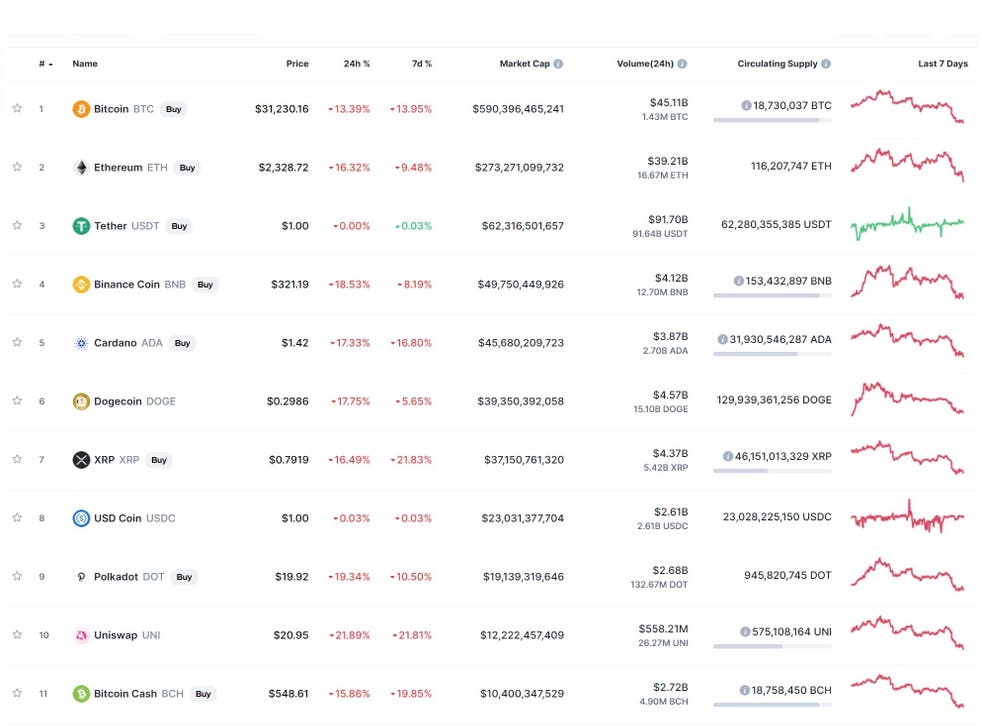 Anthony Cuthbertson8 June 2021 16:451623163534
PayPal sees bitcoin record
Online payments giant PayPal, which began supporting crypto payments earlier this year, has registered a new daily volume record in excess of $300 million.
The new peak surpasses the previous record seen in January this year, according to ItBit, the cryptocurrency firm that serves as the custodian for PayPal's bitcoin funds.
Some analysts have speculated that this could be a bullish sign for the market, as it could suggest that investors are stocking up on bitcoin while the price is around half that of the $64,000 peak it saw in mid April.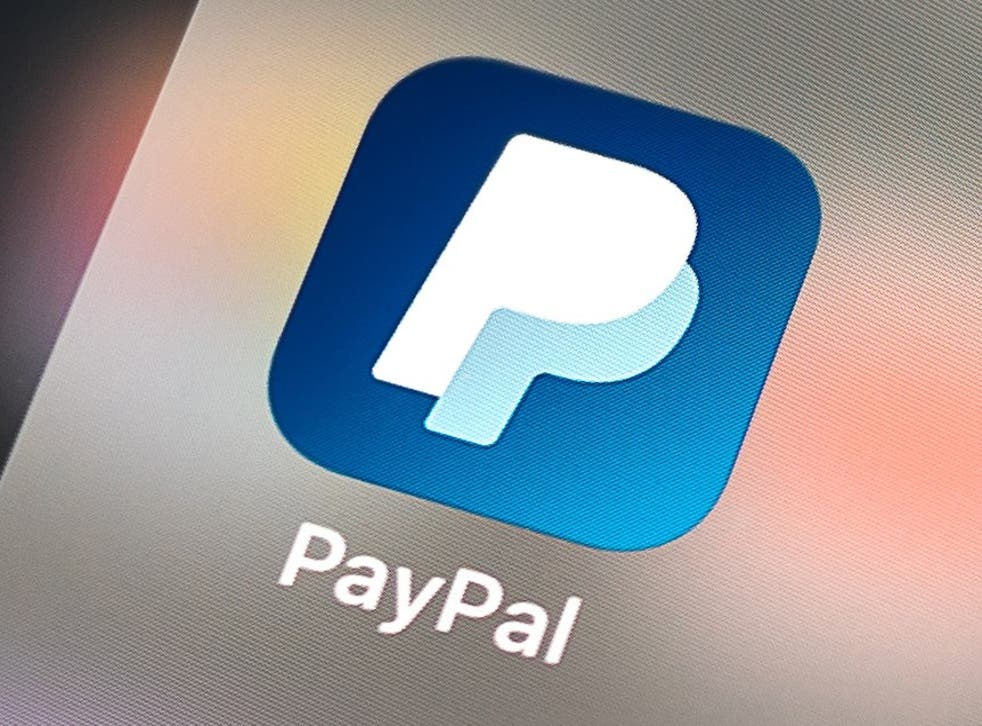 Anthony Cuthbertson8 June 2021 15:451623159836
Biden adviser reveals he owns bitcoin
One of Joe Biden's top technology advisers has a major stake in bitcoin, according to a new report.
Tim Wu, who also serves as one of the White House's leading anti-trust experts, owns between $1 million and $5 million of bitcoin, as well as hundreds of thousands of dollars worth of Filecoin (FIL).
The holdings were first reported by Politico, who cited a personal financial disclosure made by Wu. The US President appointed Wu the special assistant for technology and competition policy at the National Economic Council in March 2021.
Anthony Cuthbertson8 June 2021 14:431623152358
Elon Musk responds to crypto criticism from Anonymous
Tesla CEO and occasional bitcoin enthusiast Elon Musk has responded to a video purportedly posted by the hacking group Anonymous.
After warning Musk to stop tweeting about cryptocurrency, the tech billionaire continued to interact with dogecoin memes on Twitter and even responded with a crying laughing face emoji to a spoof of the Anonymous video.
The masked figure in the video, which was posted over the weekend, accused Musk of "destroying lives" through his various market-moving posts and comments.
You can read the full story here: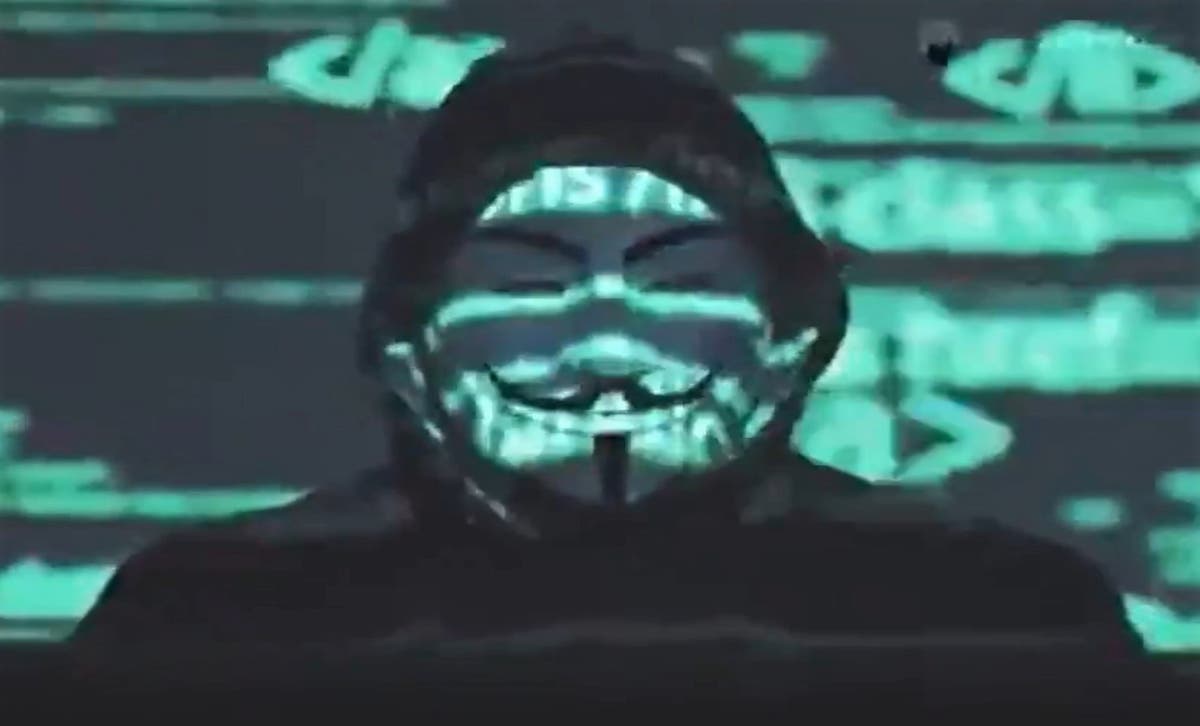 Elon Musk responds to Anonymous bitcoin threats with crying laughing emoji
Tesla share price rose despite threats from online activists
Anthony Cuthbertson8 June 2021 12:391623137793
Analysts unpick latest crypto price crash
While there has been a lot of positive news in the crypto space in recent days, some less headline-grabbing developments could be behind the latest market movements.
A crackdown in China on trading and revelations that some institutional investors have been withdrawing means "caution remains the watchword", according to Simon Peters, an analyst at the online trading platform eToro.
"Professional investors remain concerned about the near-term outlook. A note from Goldman Sachs said their meetings with 25 chief investment officers of long-only and hedge funds revealed bitcoin as the least favourite asset for investment," he says.
"Investment director at Ruffer, Hamish Baillie, revealed that the London-based asset management firm closed out its bitcoin position for more than $1.1 billion in profit during April. The firm has moved the profits it made on the BTC trade into other 'protective' assets such as inflation-linked government bonds. However, Baillie is confident that major financial institutions, including Ruffer and Goldman Sachs, will continue to buy bitcoin, stating that another purchase is 'certainly not off the menu'."
Anthony Cuthbertson8 June 2021 08:361623134607
Bitcoin price crashes 10 per cent
The market has taken a sudden downwards turn on Tuesday morning, with leading cryptocurrencies all losing around 10 per cent of their value overnight.
Bitcoin, Ethereum (ether), Cardano (ada), Binance Coin and dogecoin all fell by between 10-15 per cent, though the immediate cause of the crash is unknown.
Many analysts had predicted a more positive trajectory at the start of the week due to a slew of positive news in the crypto space.
Anthony Cuthbertson8 June 2021 07:431623097137
NHL's San Jose Sharks join bitcoin bandwagon
Yet another US sports team has announced payment support for bitcoin and other cryptocurrencies.
From next season, fans of the San Jose Sharks will be able to buy tickets and suite leases using btc, Ethereum (ether) and dogecoin, the president of the NHL franchise announced.
The Sharks have partnered with BitPay in order to process transactions, with PayPal's recent move into the space acting as the catalyst.
"We're accepting PayPal, so then by definition, we're accepting cryptocurrency," Sharks president Jonathan Becher said. "Why not embrace it and make it more visible as opposed to just doing it through a third party."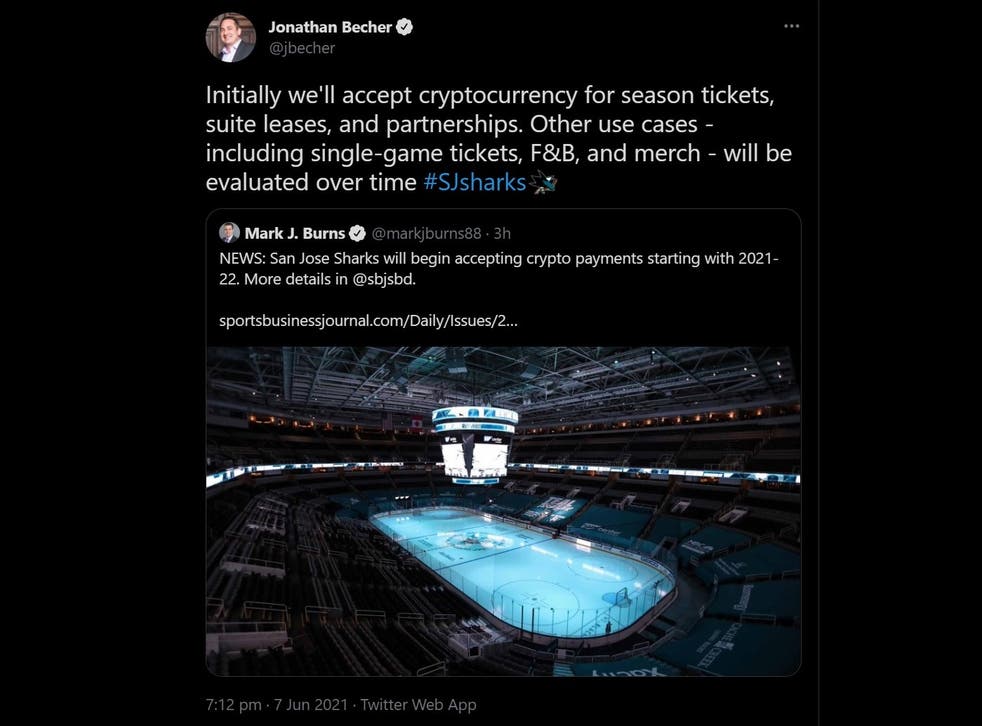 Anthony Cuthbertson7 June 2021 21:181623083389
Bitcoiners look to move to El Salvador
Interest in El Salvador real estate has spiked after President Nayib Bukele declared bitcoin legal tender and detailed the benefits of moving to the country.
"Great weather, world class surfing beaches, beach front properties for sale," he tweeted.
"No capital gains tax for #Bitcoin, since it will be a legal currency… Immediate permanent residence for crypto entrepreneurs."
Even Changpeng Zhao (known as CZ), the CEO of Binance, described the offer as "enticing", while sharing an animated gif of Mickey Mouse frantically packing.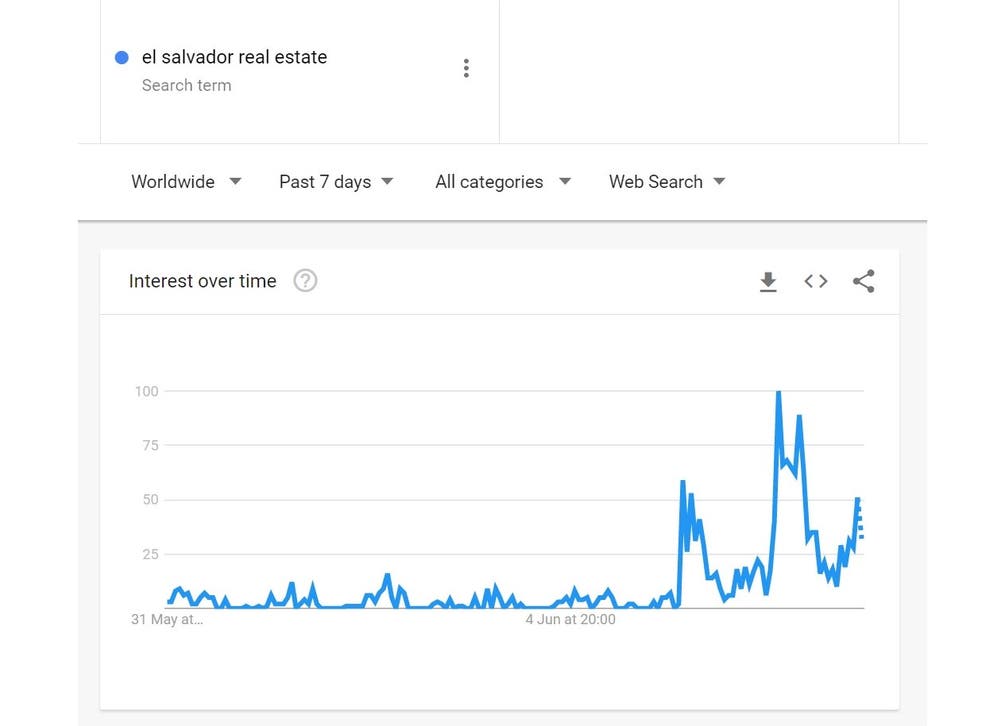 Anthony Cuthbertson7 June 2021 17:29NewerOlder