DIY
Hand tool for twisting metal spirals
Hello everyone, lovers of making something with their own hands. In today's article, we will consider making a very interesting useful homemade product. Namely, we will assemble a fairly simple hand tool with which it will be possible to twist metal strips or square metal rods in a spiral. Such spirals are usually needed by needlework welders who like to collect decor parts, etc. These are, perhaps, any urns, benches, benches, swing gates, etc. They are very often, in turn, decorated with such spiral metal elements. That is, the homemade product has a rather narrow focus, but if you come here, it means that this homemade product is still interesting to you. It is also worth noting that this is a manual tool, and you are unlikely to be able to bend thick metals. Well, well, I think you shouldn't delay with a long preface, let's go.
For this metal spiral curler we need the following, namely:
– A small sheet of thick metal "Metal plate" < br> – Section of a square metal bar
– Section of a metal strip
– Screws
– Nuts
– Bolt
– Metal pipes of square cross-section of different sizes
From tools we also need the following:
– Grinder
– Cutting and grinding discs for grinder
– Ruler
– Hexagons < br> – Marker
– Building corner
– Drilling machine or ordinary drill
– A set of drills of the required diameter
– Countersink
– Some kind of lubricating oil
– Welding machine
– All necessary accessories for working with the welding machine
– Hammer
– Kerner
– Taps (for cutting internal threads)
Making a metal spiral twist.
The manufacture of this homemade product is nothing from the manufacture of that part of the structure in which we will fix the material for further twisting it into a spiral. For this part, we need to saw off a small rectangle from a thick sheet of metal. Approximately the same size as the one cut by the author of the homemade product in the photo below (here, the exact dimensions are not important). It is important to use thick metal for greater structural reliability, since a relatively large load will act on this part of the homemade product.

Having cut out a metal rectangle of the required size, it is necessary to drill 4 through holes in its corners. To do this, first you need to mark them, take a ruler and a marker, mark symmetrically along the edges of the place for drilling holes. Then, in order not to miss and start drilling in the right place, it is necessary to make notches with a center punch and a hammer for a convenient initial installation of the drill.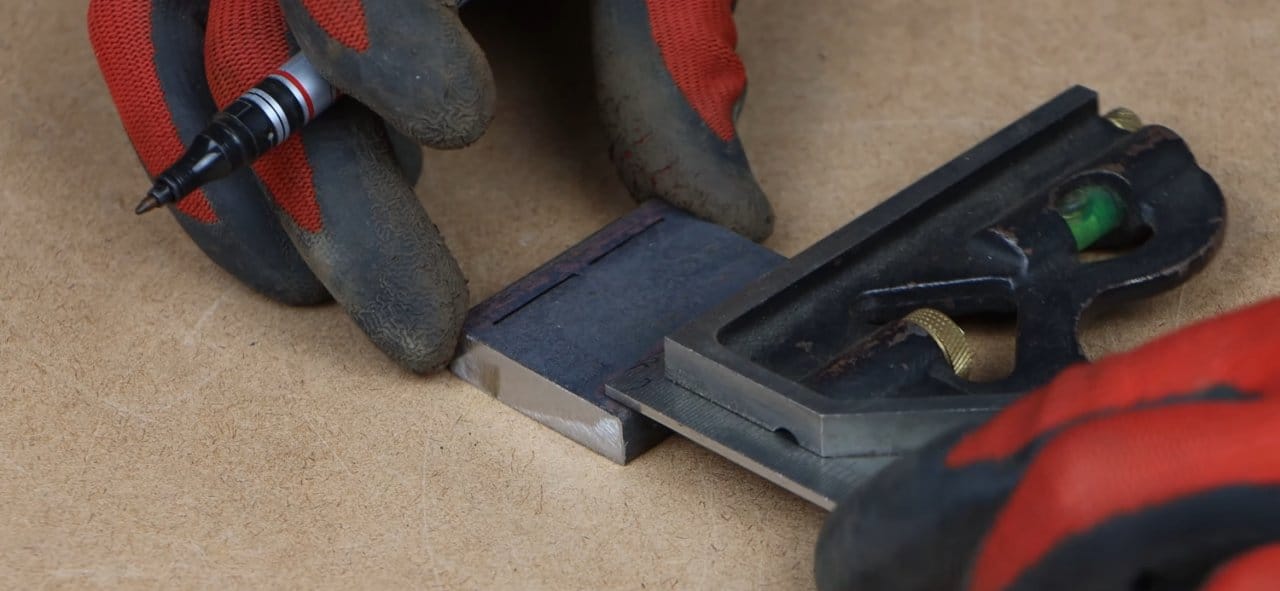 Having marked the places for drilling through holes and leaving serifs, we proceed directly to drilling the holes itself. You can also drill such holes using an ordinary drill, but it will be even more difficult to do this than to do the same using a drilling machine. Therefore, I recommend using a drilling machine, as the author of this homemade product did. When drilling thick metal, it is recommended to lubricate the drill with some kind of lubricating oil, thereby you will reduce friction and, accordingly, facilitate drilling, since the drill will enter like a knife in oil.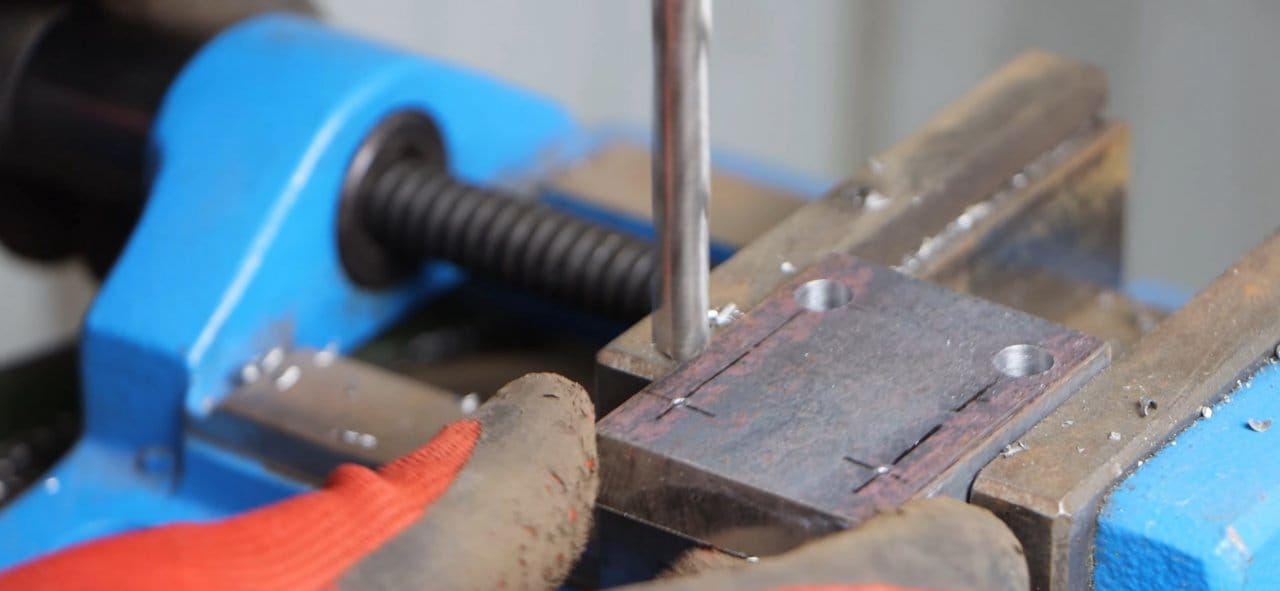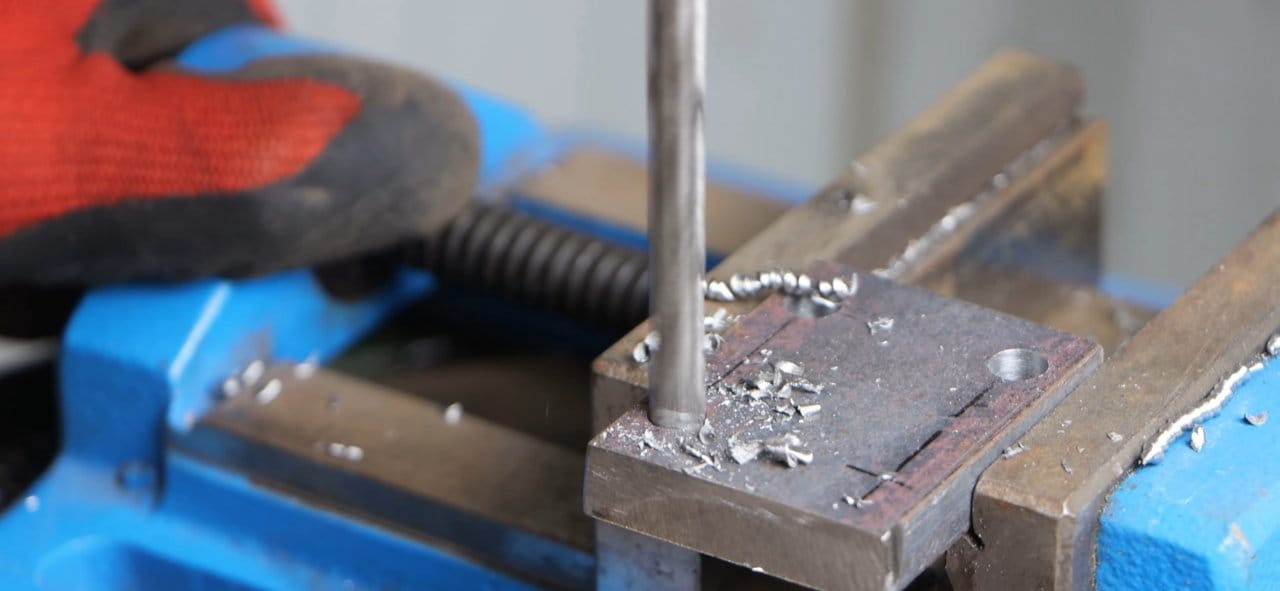 We continue assembling the clamping part. For the next step, we need to take a square metal rod, about 1 cm wide. From this rod, we need to cut off two identical segments. The length of these segments should be equal to the length of the previously made metal rectangle with through holes.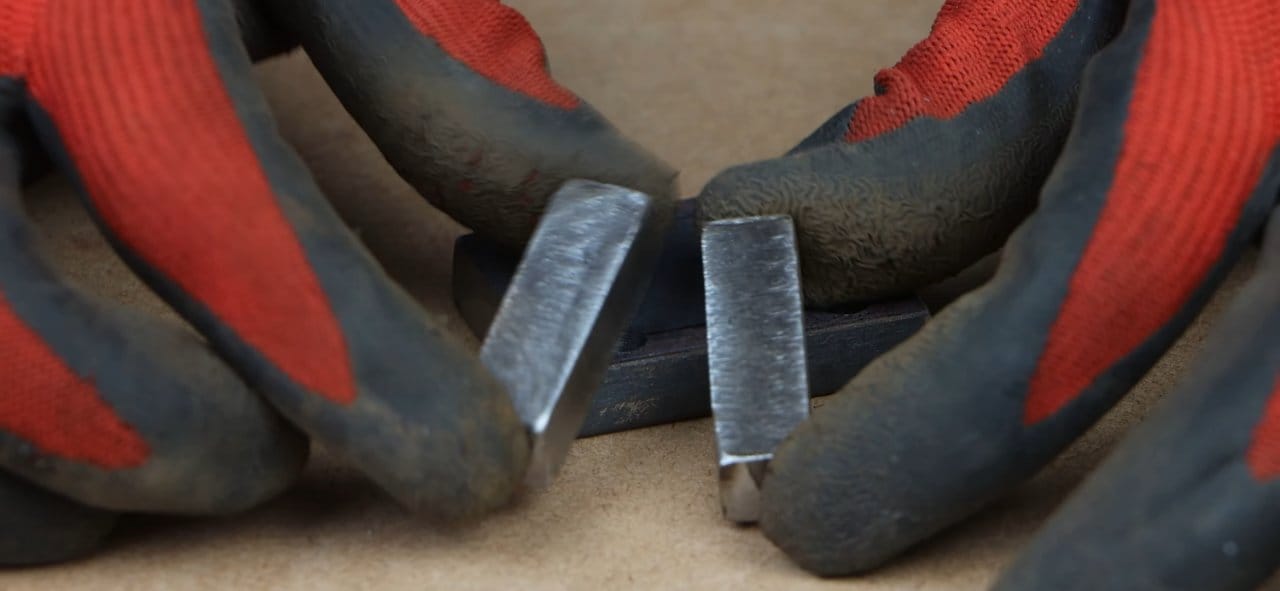 Having cut out the metal rectangles, two through holes should be made in them along the edges. To do this, we put them parallel to each other on the table, at such a distance that our metal rectangle can be placed on them in such a way that these very rods are flush with it (see photo). We need this to mark places for drilling holes. Take a marker and leave marks through the rectangle. And we also leave marks with a center punch, for a convenient initial installation of the drill. Well, in fact, we carefully drill holes with a drill of the same diameter as we used when drilling holes in a metal rectangle.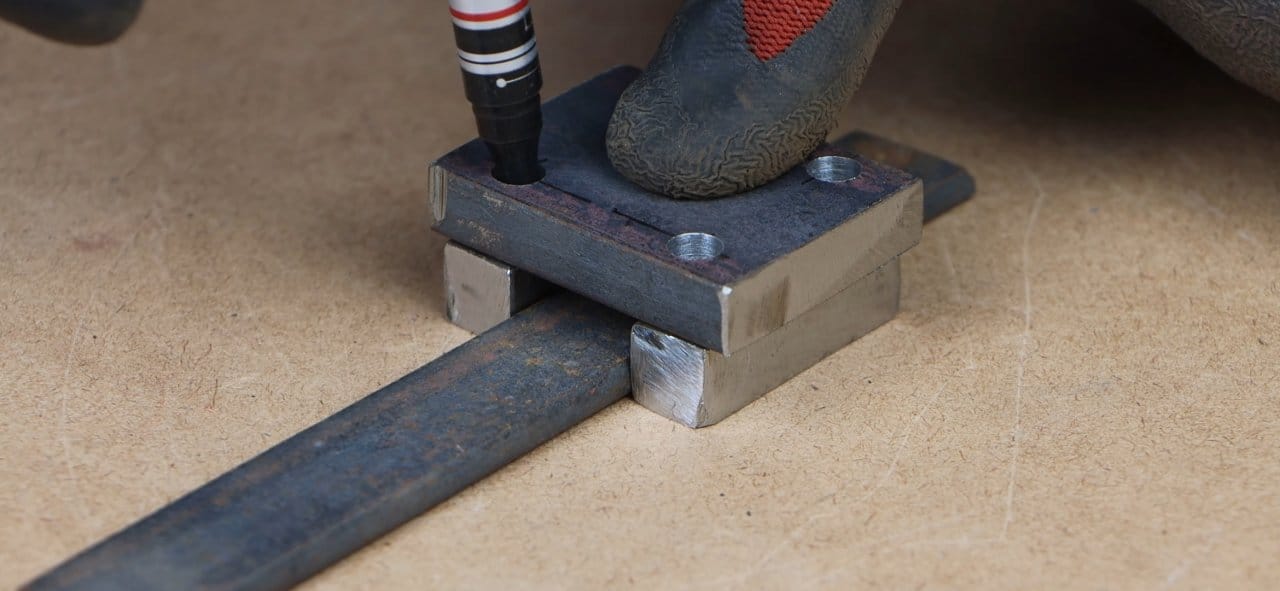 Next, we again need to cut out a metal rectangle from thick metal, approximately the same as in the photo below. In it, as in all previous blanks, it is necessary to drill several through holes. Holes so that they line up with the holes in the first rectangle. Therefore, we apply the first rectangle to the newly cut one and mark, as in the last time, the places for drilling holes, using a marker. Use a center punch to place serifs and drill holes. In the just made metal rectangle, or rather, in the through holes just drilled in it, it is necessary to cut a thread. We will cut the thread using an ordinary tap. Mounting screws will be screwed into these holes in the future.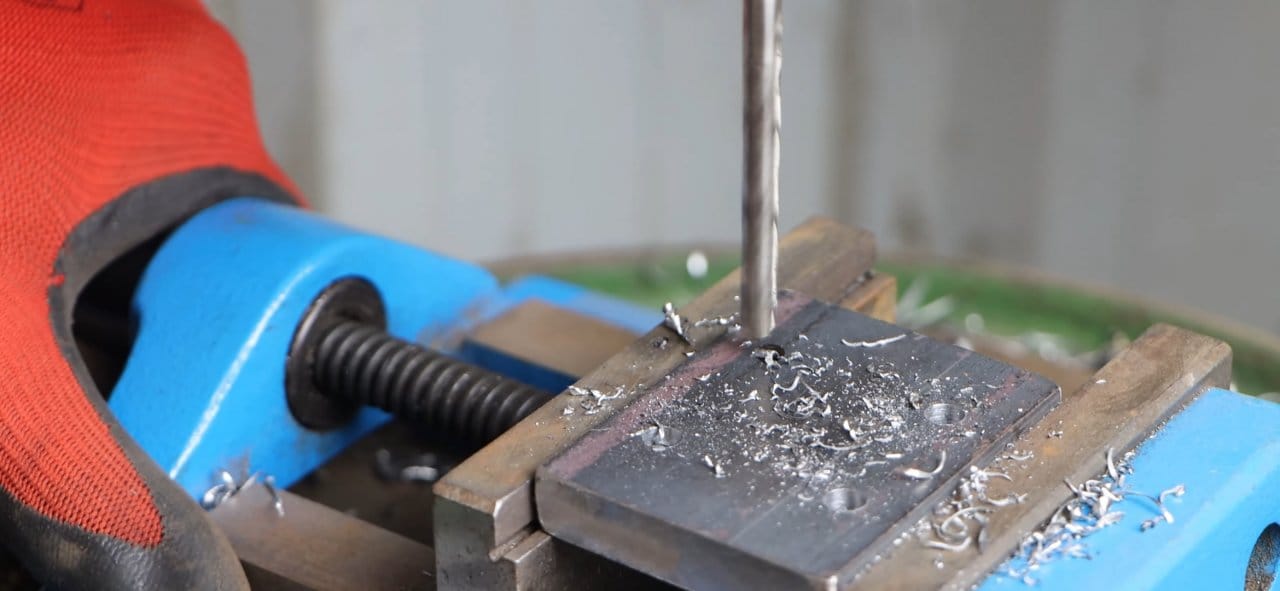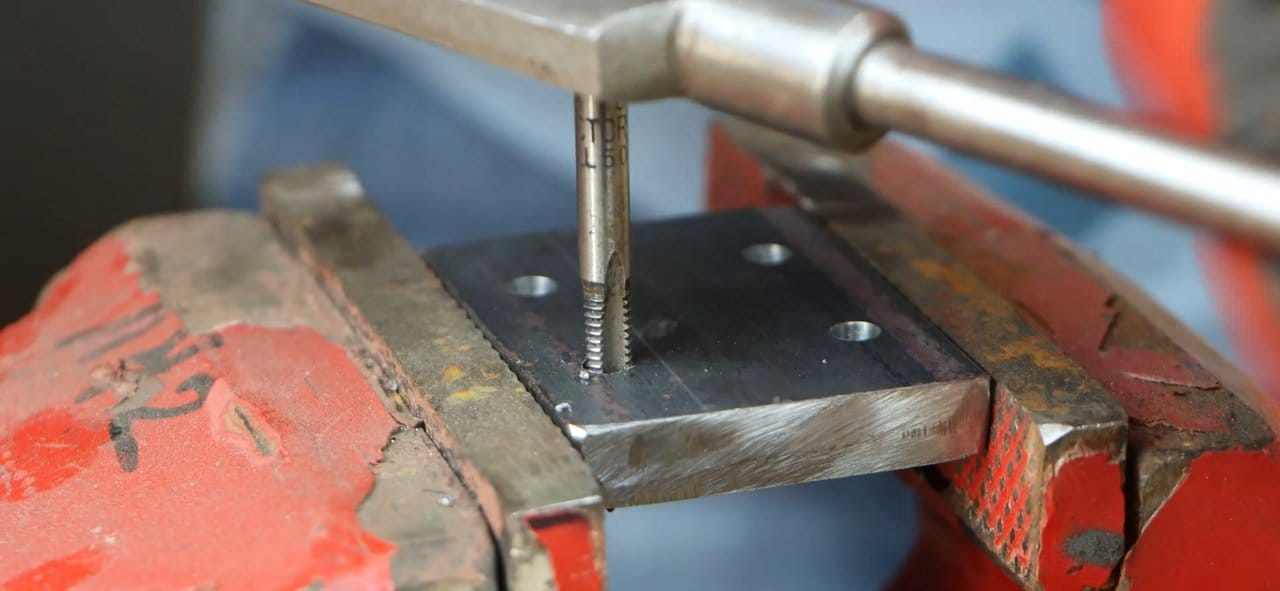 At this stage, the author of this homemade product decided to siphon all the drilled holes, in all metal blanks on both sides. Then we go back to the first cut out metal rectangle. This time, exactly in the center of this rectangle, we need to drill a large hole, a large bolt will be screwed into it, respectively. This bolt will fix objects that need to "spiral". Take a ruler and a marker, find the middle, put a mark and drill a hole.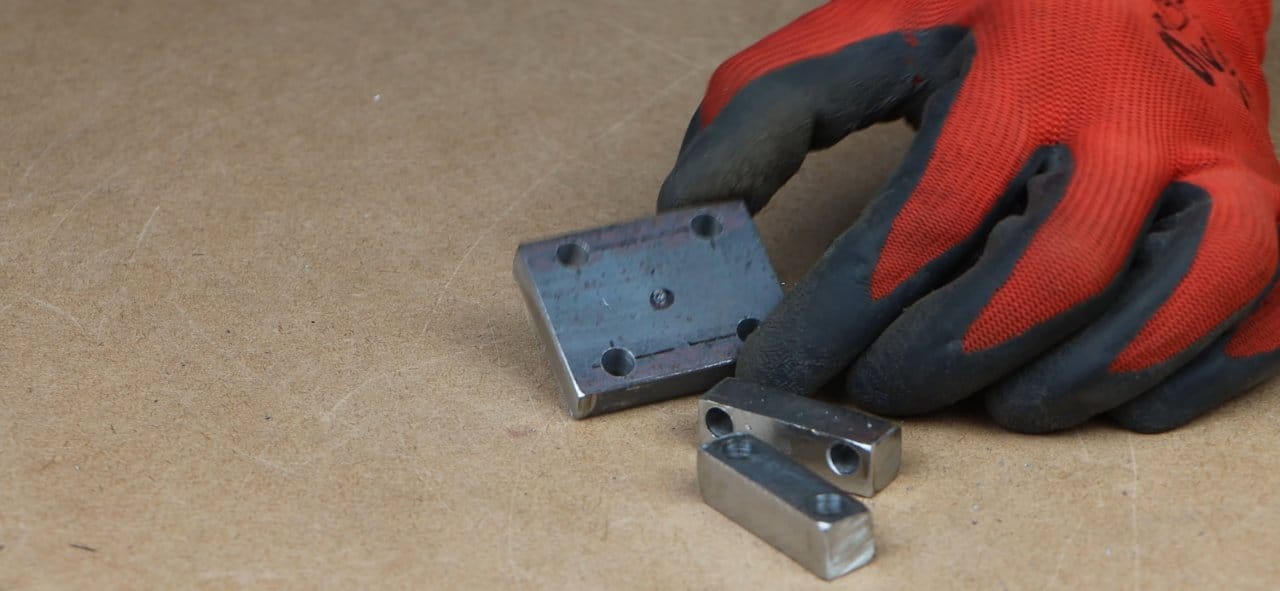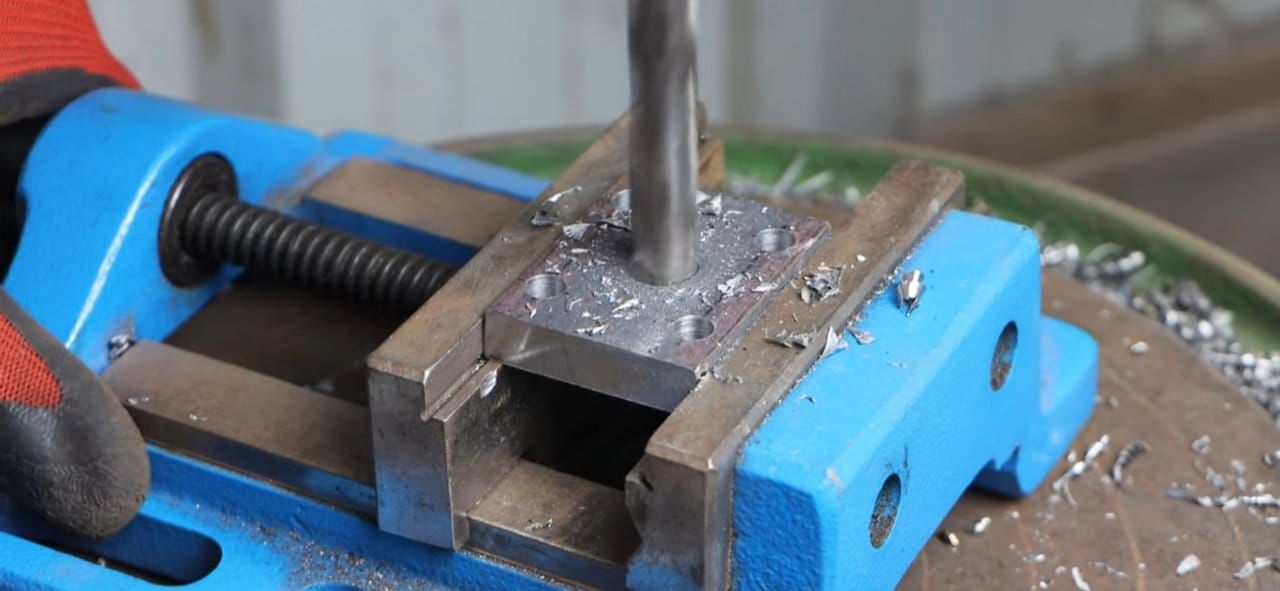 After drilling a large hole in the first metal rectangle, in order for a bolt to be screwed into this very hole, it is necessary to cut a thread in this hole with a tap. After that, we collect all the details available at the moment together. We insert the screws into the first rectangle, put square metal rods on these screws and screw all the screws into the remaining metal rectangle, slightly tightening the screws. Thus, you should have a kind of "sandwich", as in the photo below.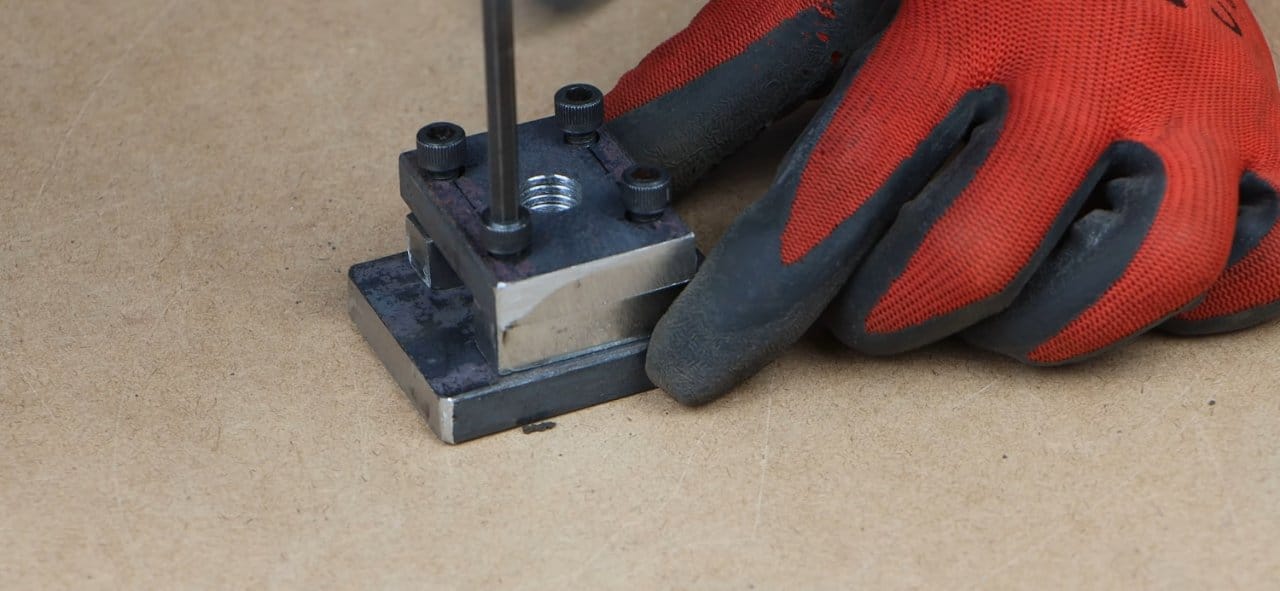 Now we need to take care of the reliable fastening of this part, otherwise it will be impossible to use our tool. We will fix this part in a vice, and so, in order to fix it in a vice, we need to weld a clamping "foot" to our structure. The clamping foot will be a small piece of metal pipe. We weld a piece of this pipe to the last rectangle exactly in the middle and perpendicular to it. Since this place will be loaded, try to thoroughly weld all the joints. After welding, for the aesthetic component of the homemade product, we grind the welded seams.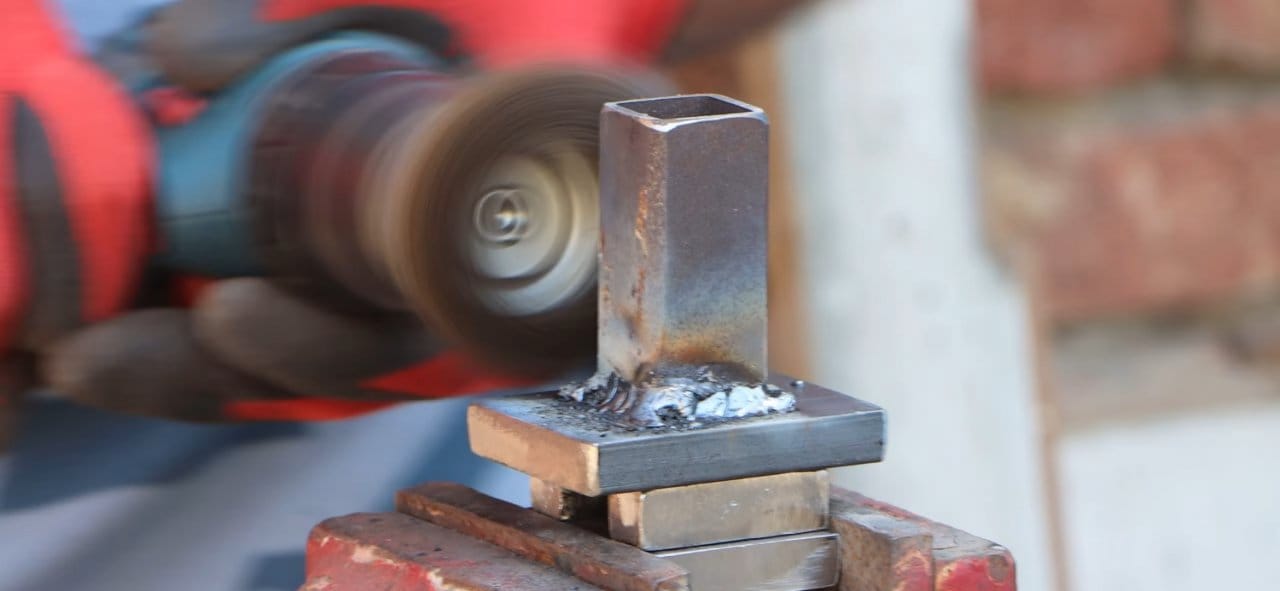 Next, we need to make a" lever ", holding on to which we will twist the metal workpieces into a spiral. To do this, take and cut off from a metal sheet about the same rectangle as in the photo below. Then, in this rectangle, drilling two through holes in the places indicated in the photo.
Then we proceed to the choice, directly, of the lever itself. As such a lever, the author of the homemade product decided to use a square shaped pipe. From this pipe it is worth cutting off a piece of the length you need. The longer the lever, the correspondingly, it will be easier for you to twist the workpiece into a spiral.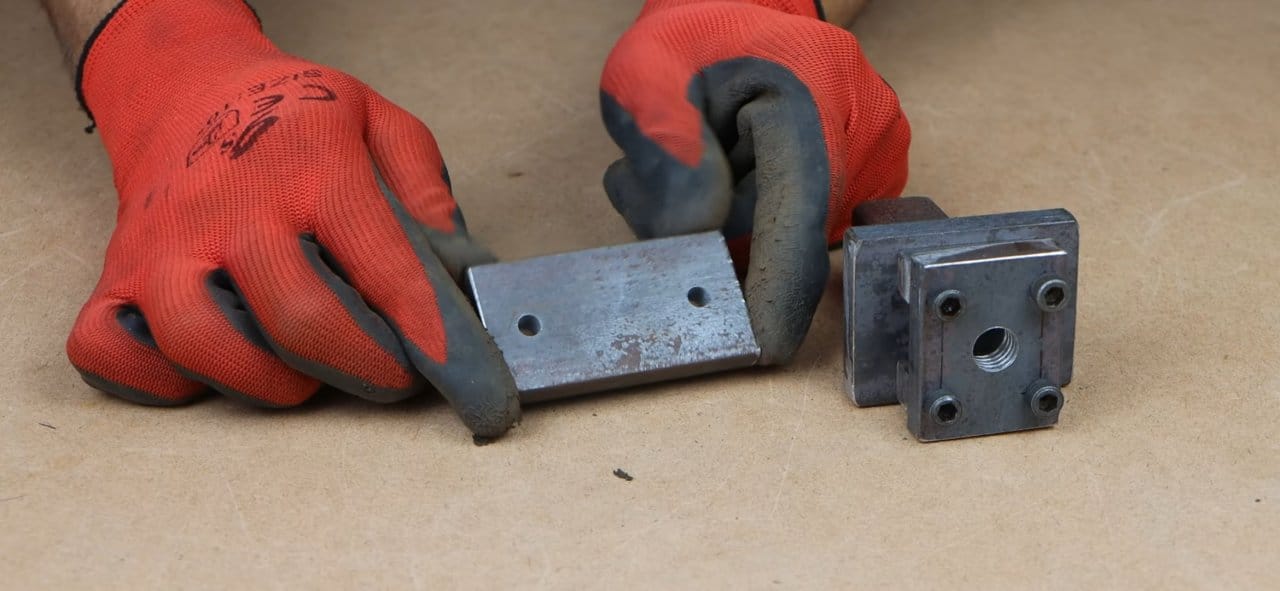 The next step is to connect our two new blanks. Namely a metal rectangle with a square metal tube. We will connect them together with a pair of screws and nuts. To do this, you also need to drill a couple of holes in the metal pipe.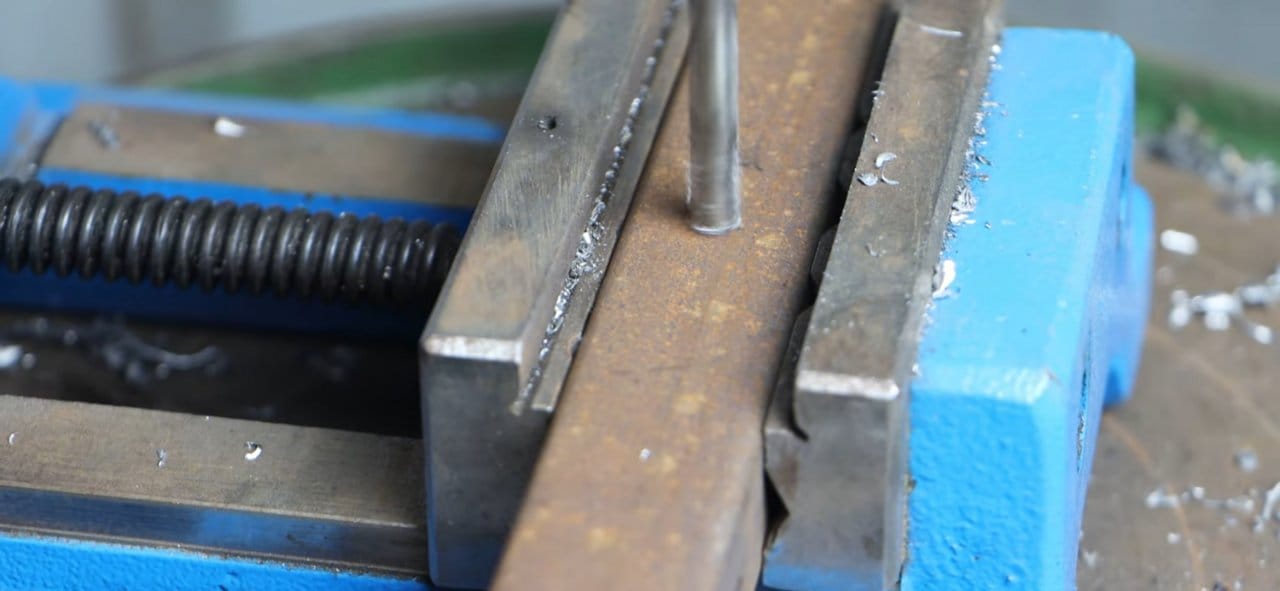 All is ready! In order to use this homemade product, you need to install the necessary material in this part, which we tighten with a bolt, we press the other end of this material between the pipe and the metal rectangle (see photo), tightening the bolted connections. And applying force, we rotate this pipe around its axis.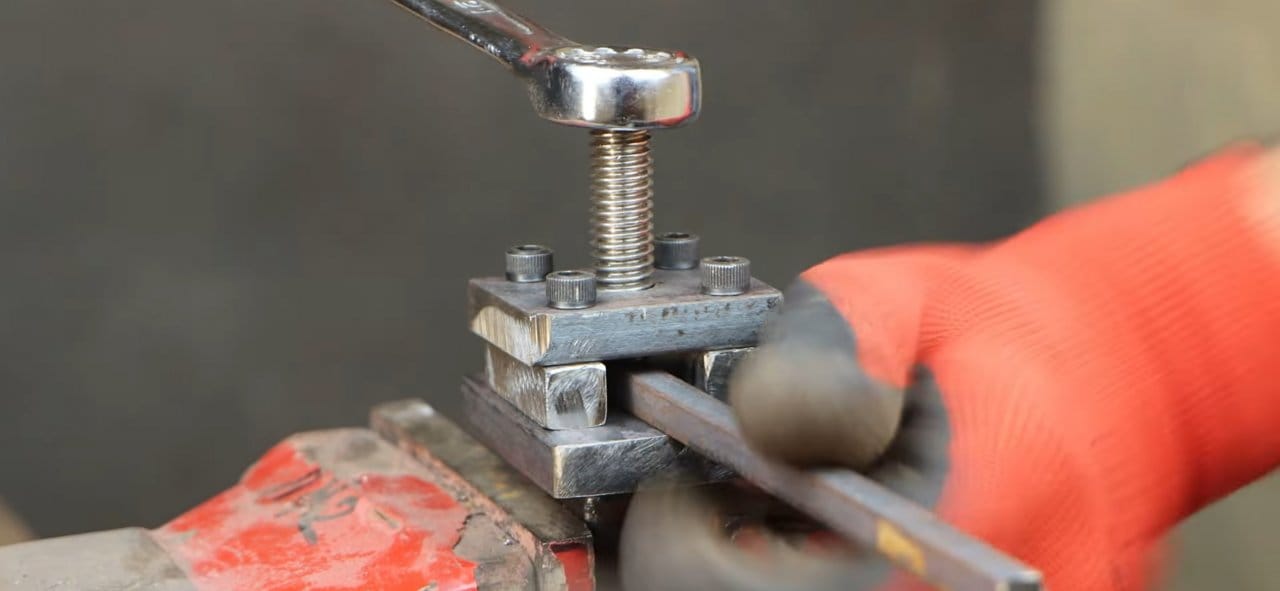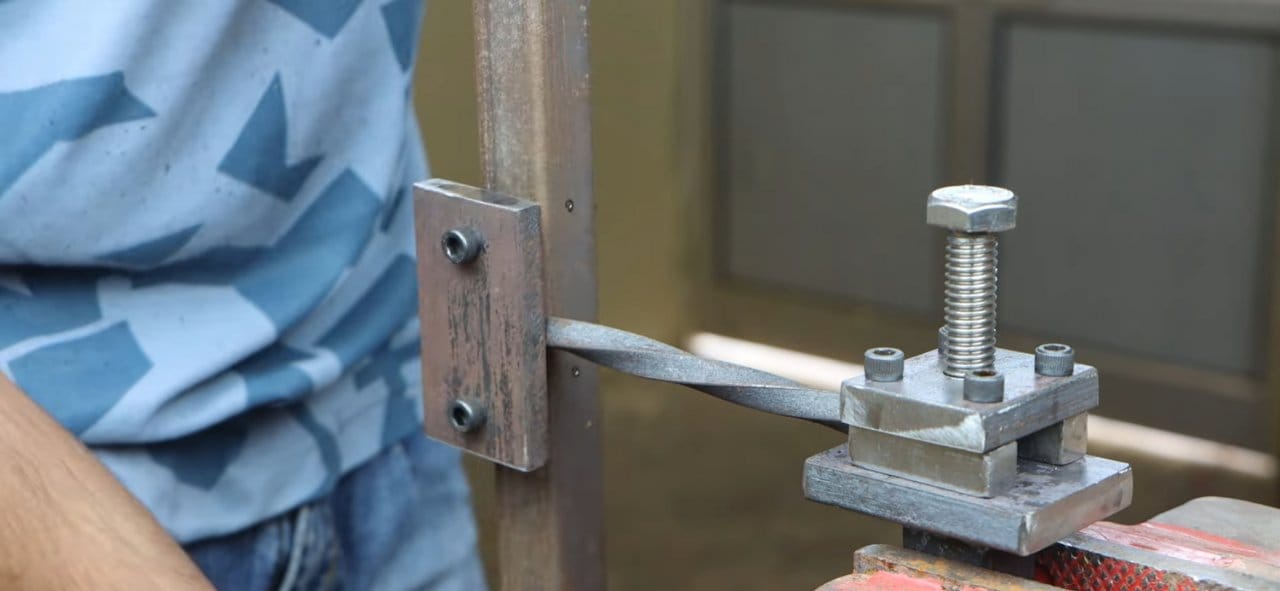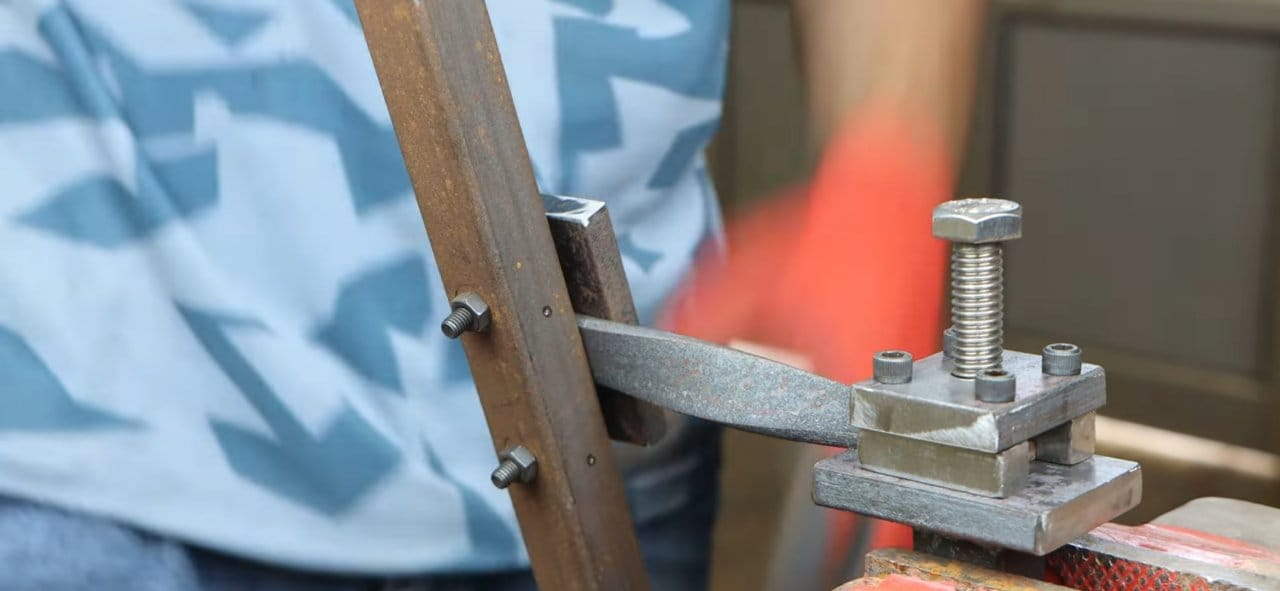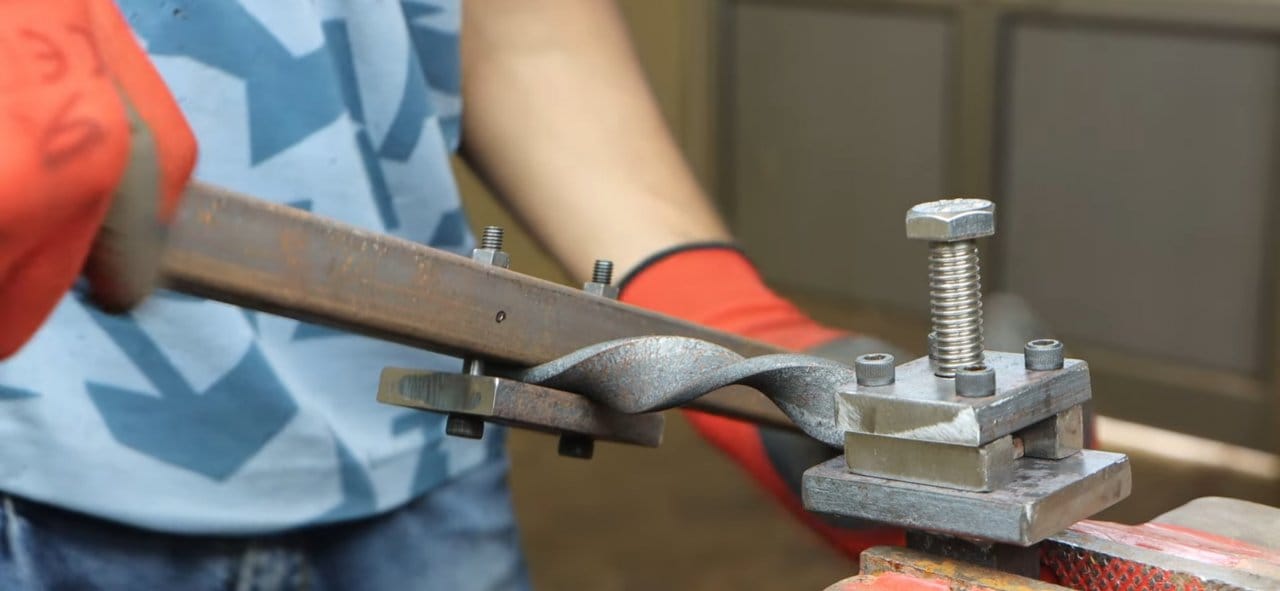 Here is a video of the author of the homemade product:

Well, thank you all for your attention and good luck in future homemade projects!