DIY
A device for washing parts, tools, etc.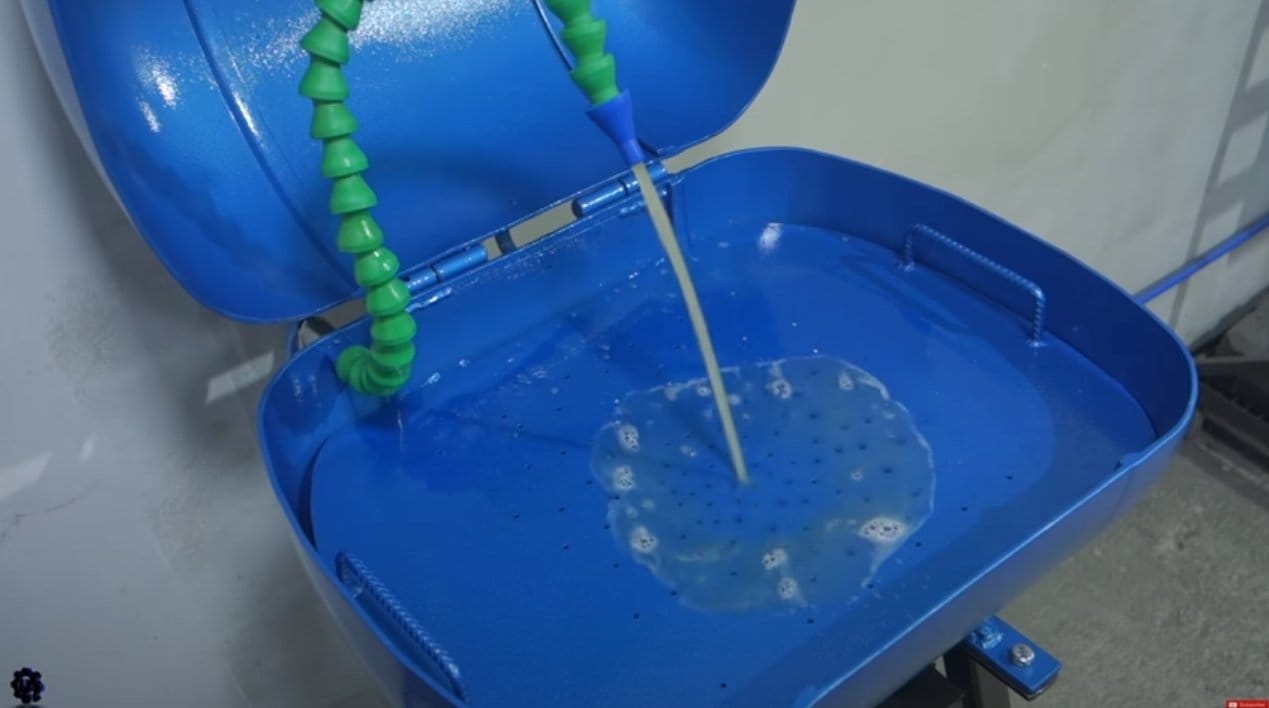 Greetings to all lovers of tinkering, I suggest for consideration the instructions for making a simple sink, in which you can wash tools or parts … A sink is a tank in which liquid circulates in a circle. In the lower part there is a coarse filter. For washing, you can use special liquids or water with detergent. Everything is assembled simply, if you are interested in the homemade product, I propose to study it in more detail!

Materials and tools used by the author:
List of materials:
– a gas cylinder or other container;
– a small pump for 12V (better mud);
– hose for water supply (fixing);
– power supply 12V;
– fittings;
– steel plates;
– shaped pipes;
– bolts and nuts;
– coupling, fitting, coarse water filter;
– switch;
– door hinges.
List of tools:
– welding machine;
– grinder;
– drill;
– tape measure, marker;
– soldering iron.
The process of making homemade products:
Step one. Preparing the tank
We clean the can from the paint and cut it into two halves. Be careful if there was flammable gas in the cylinder, such a cylinder must be cut with water inside, otherwise it may explode.
Inside, such cylinders are also usually rusty, the whole thing needs to be thoroughly cleaned.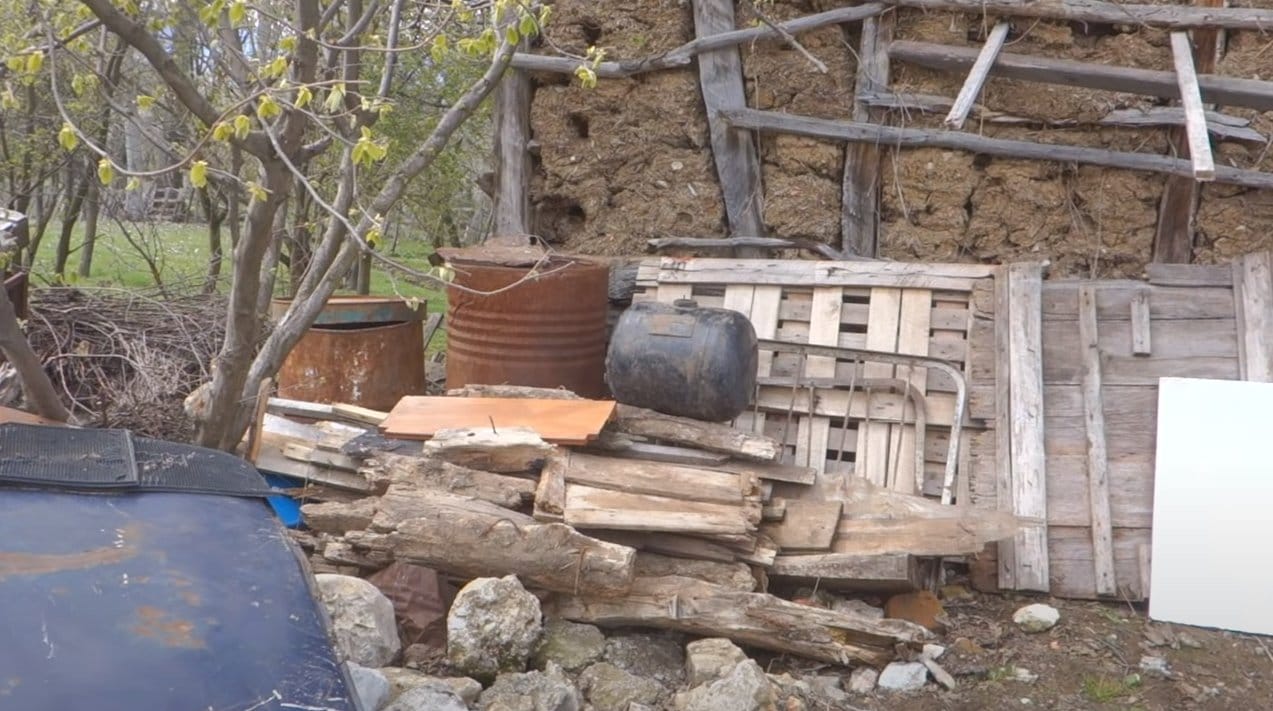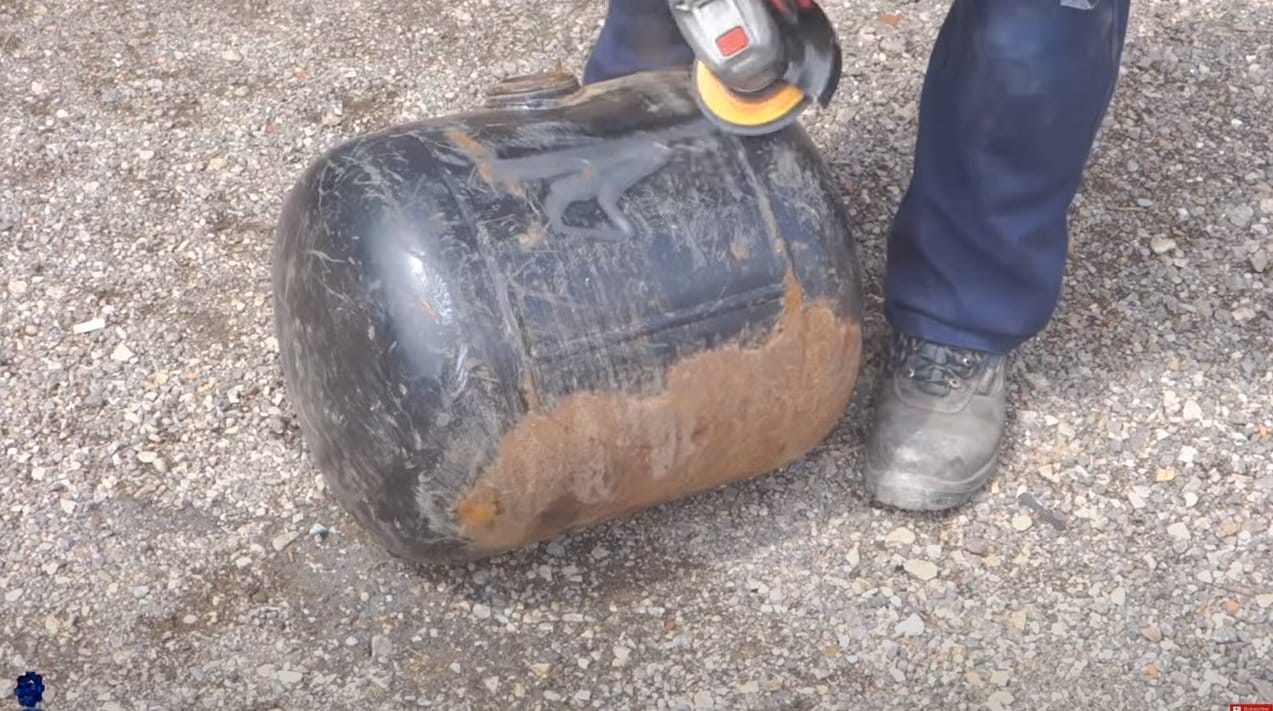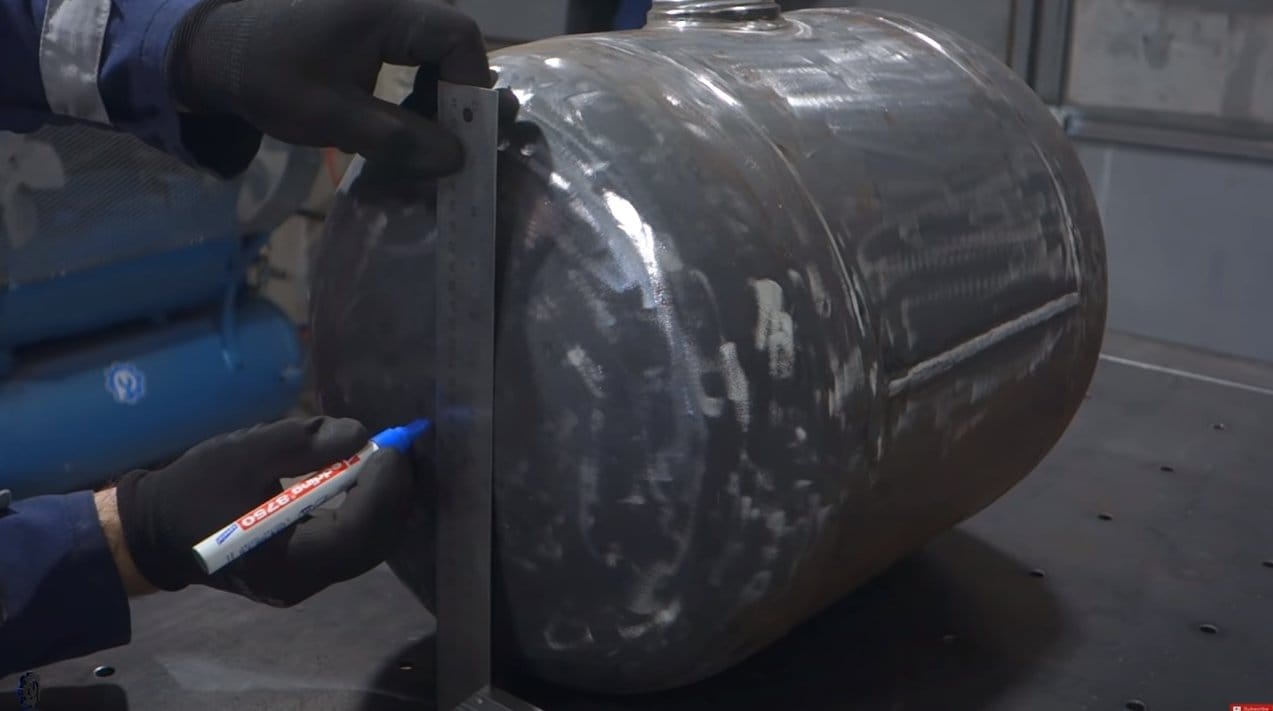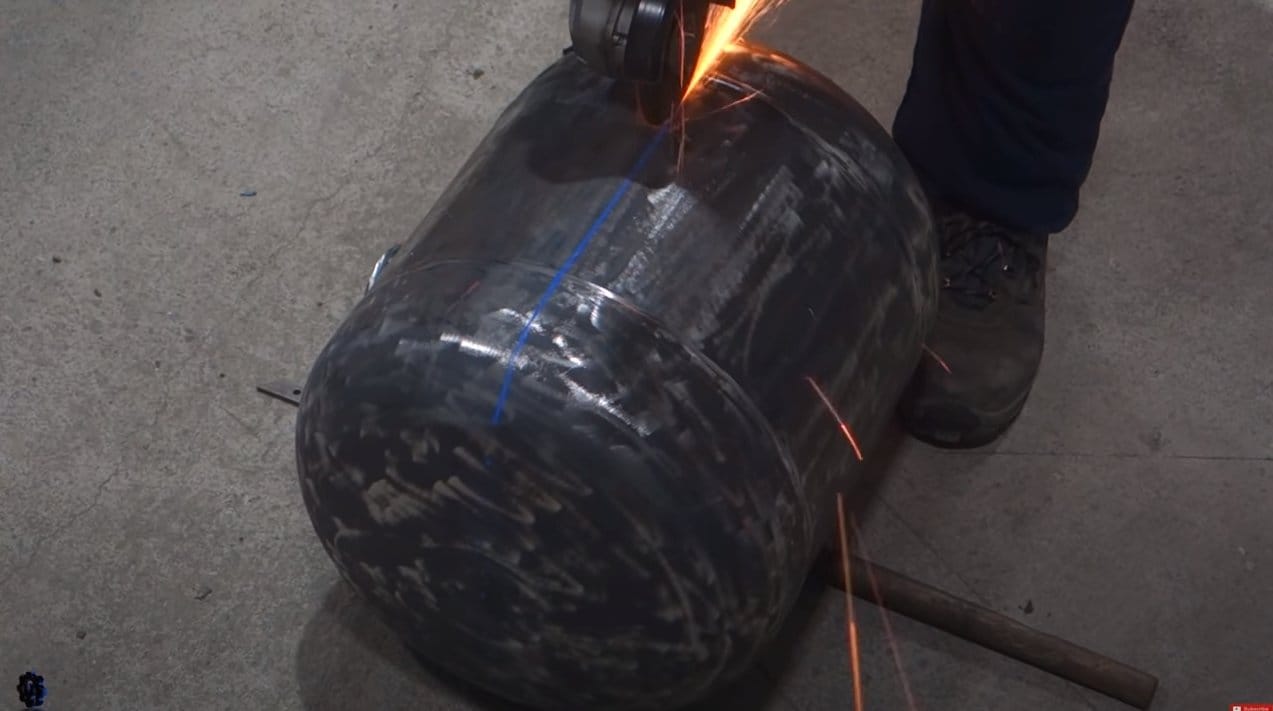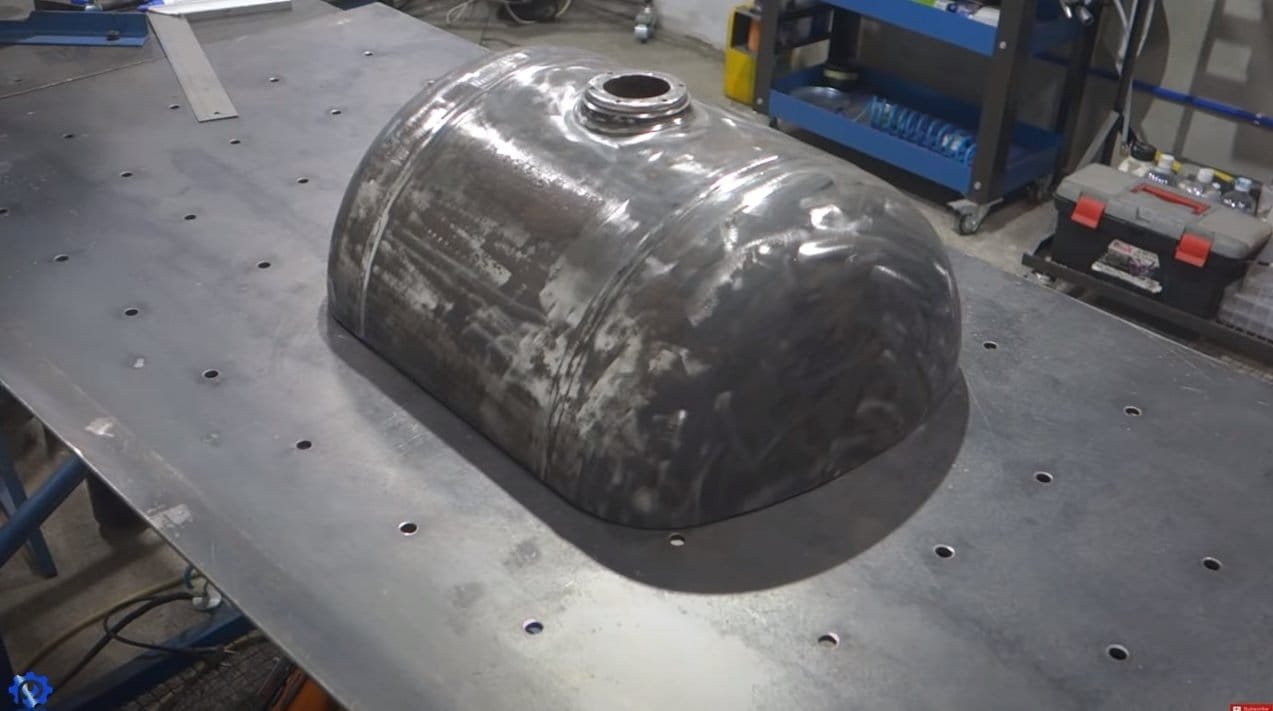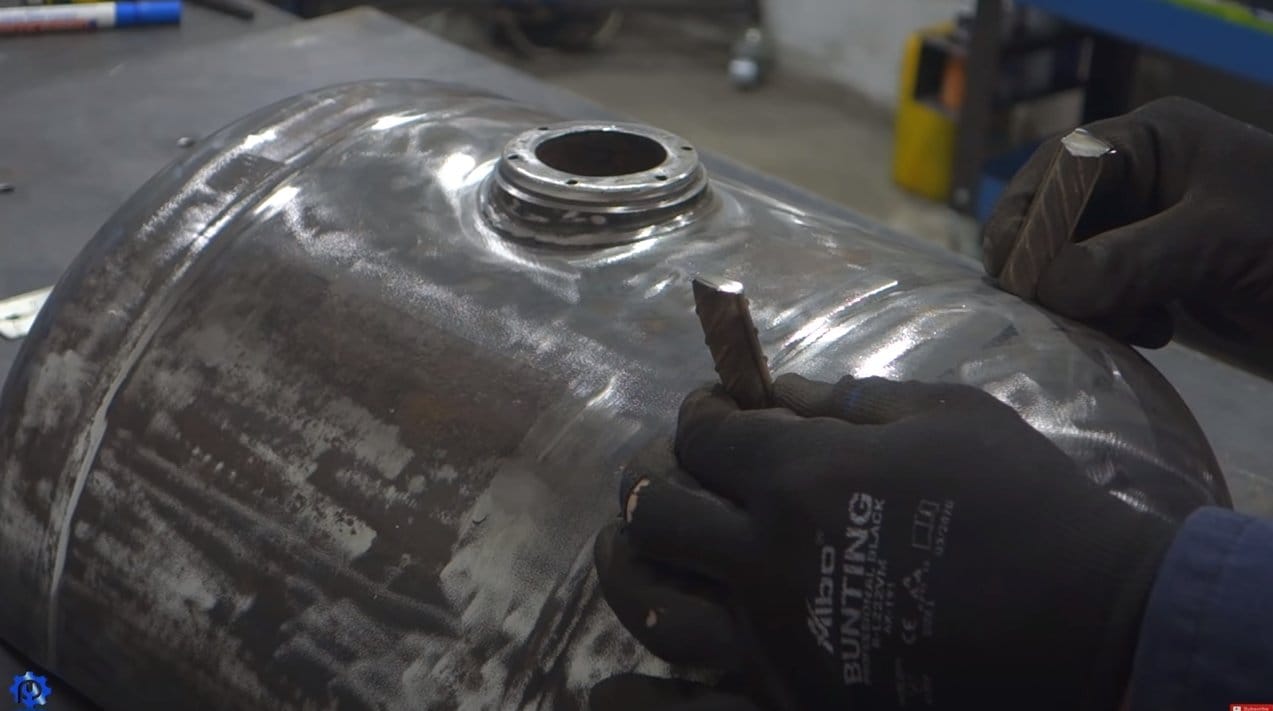 Step two. Legs
The author welded legs made of reinforcement to the half of the cylinder and welded steel plates with holes to them. Further, a reliable frame of their pipes was made for homemade products. To make the structure collapsible, the author connected both parts with bolts and nuts.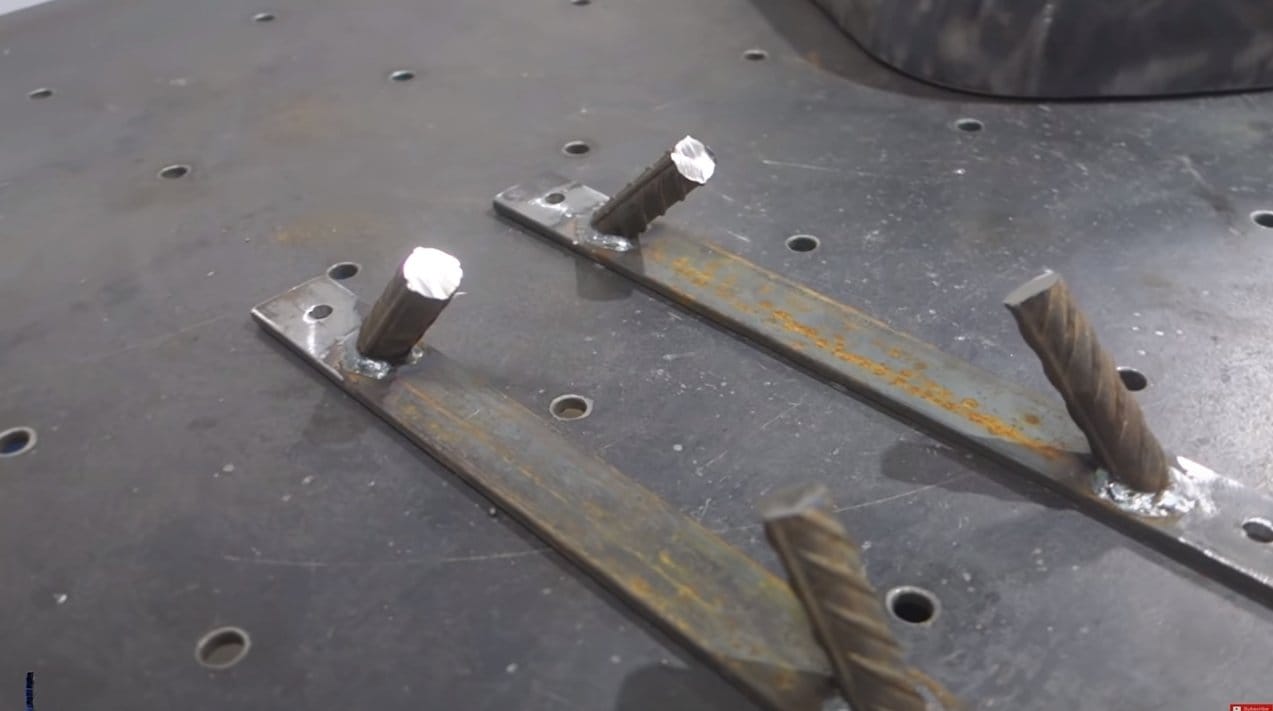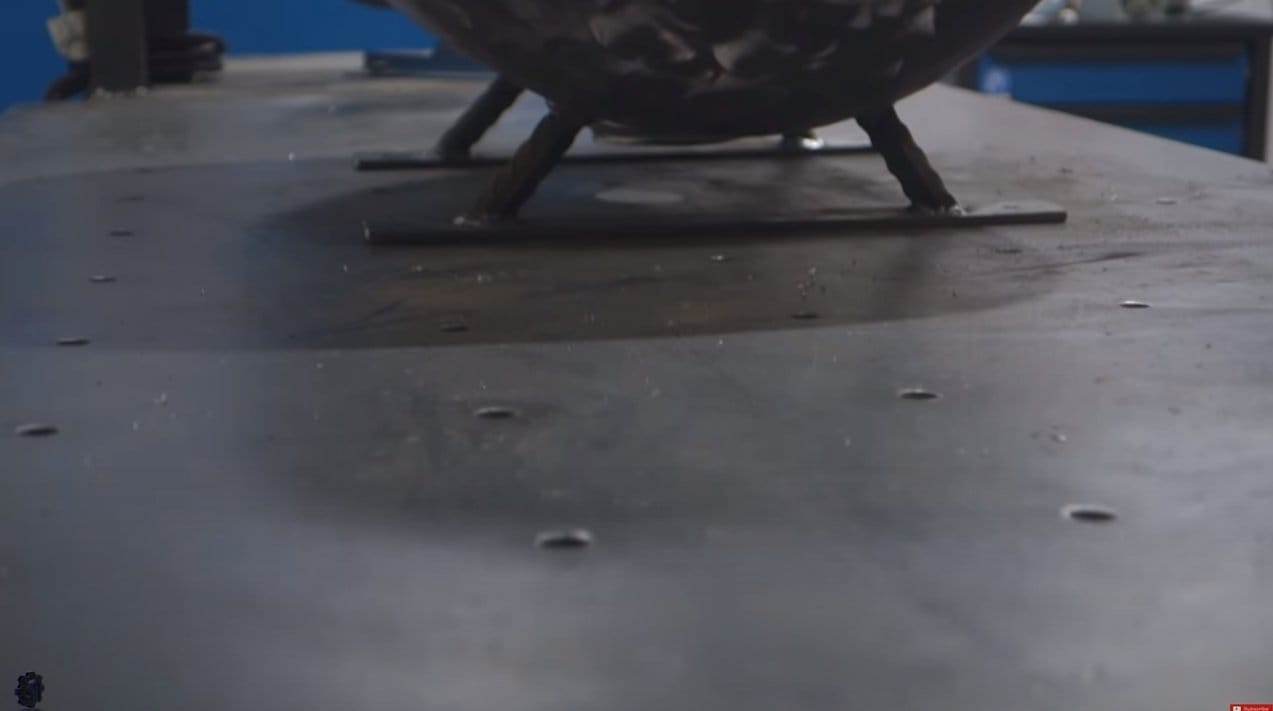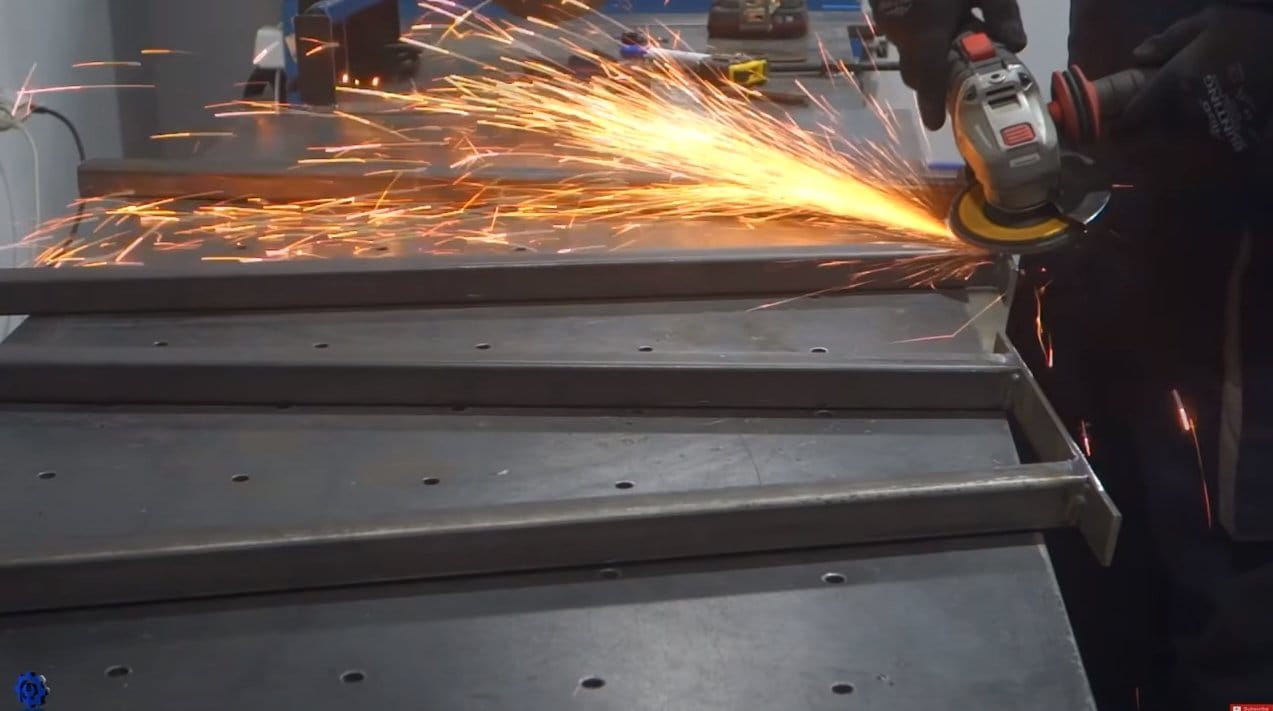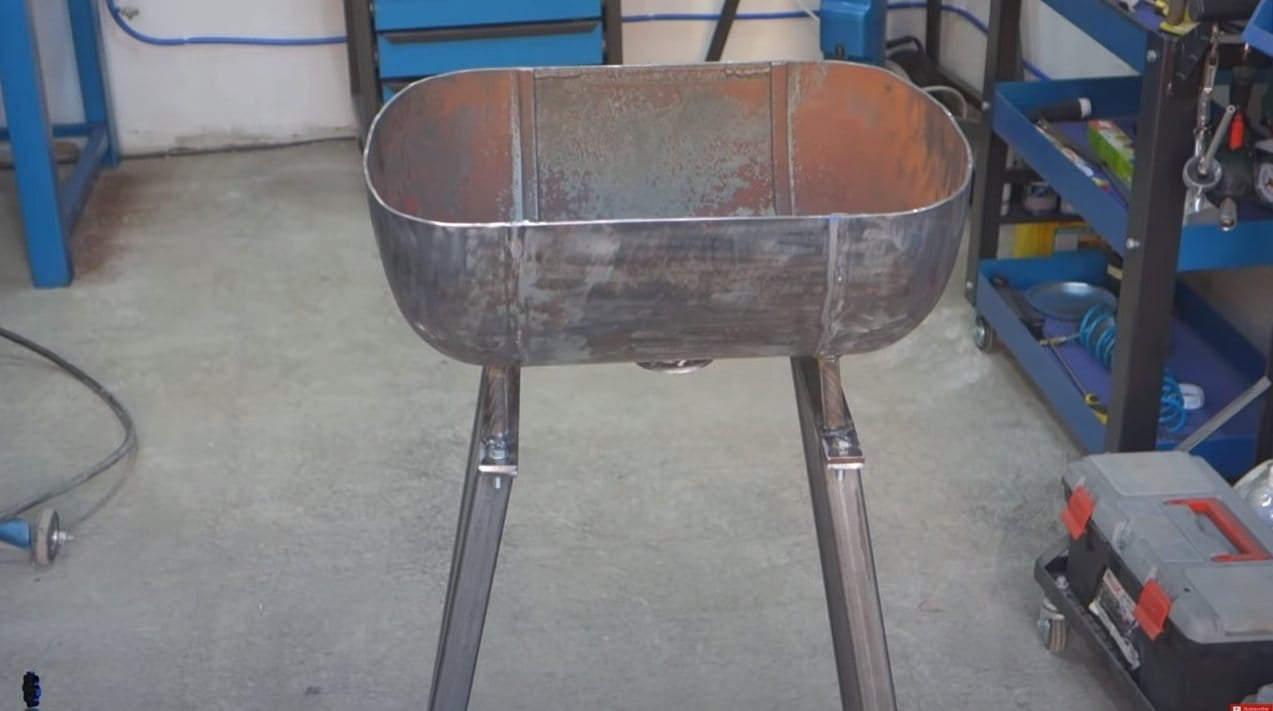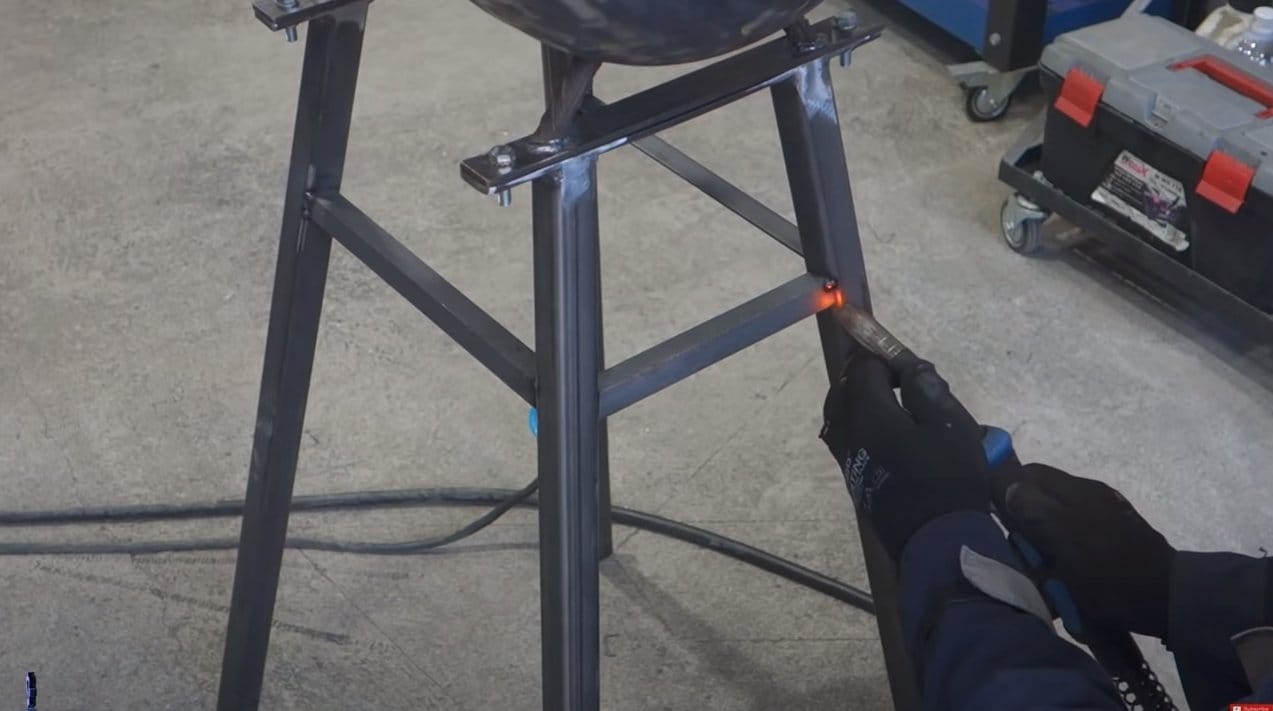 Step three. Power supply and pump
The pump is used for 12V, it is safe due to the low voltage. You need to power such a pump from a power supply, the author used a power supply from a computer. Yellow and black wires form a voltage of 12V, the author soldered the wires by color so that the power supply could deliver the maximum current. To turn on the power supply, you need to short-circuit the black and green wires.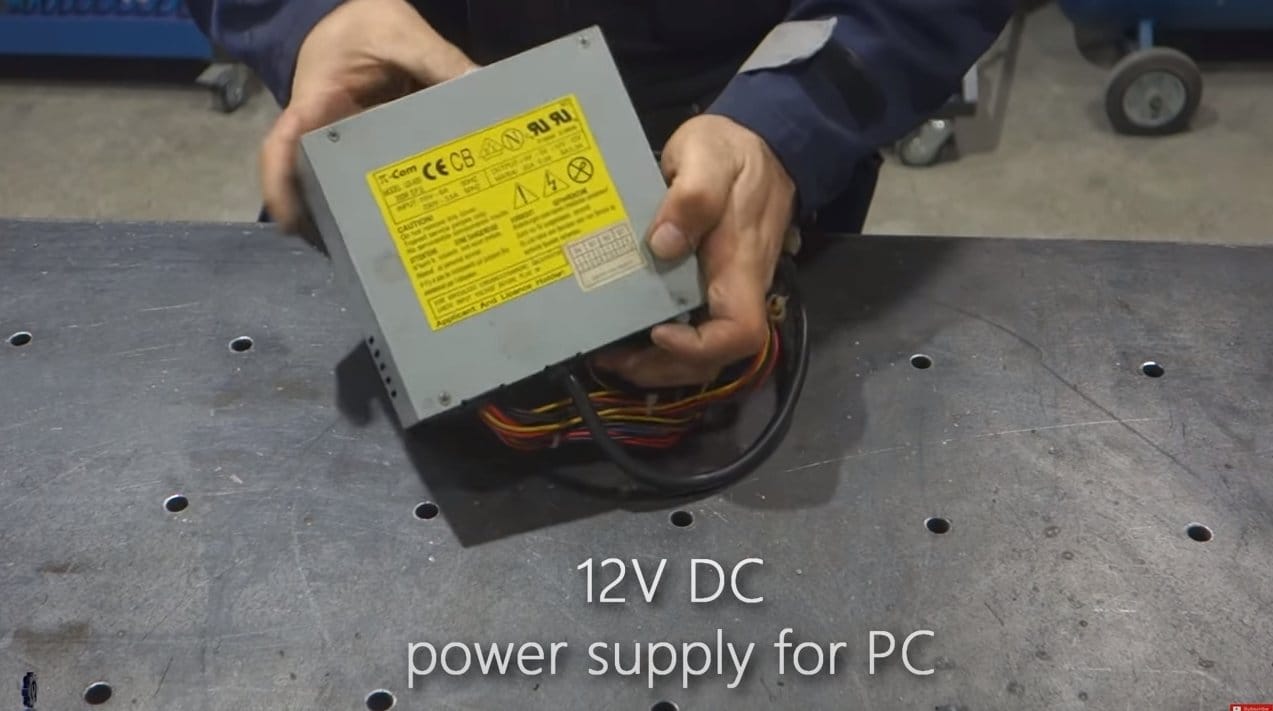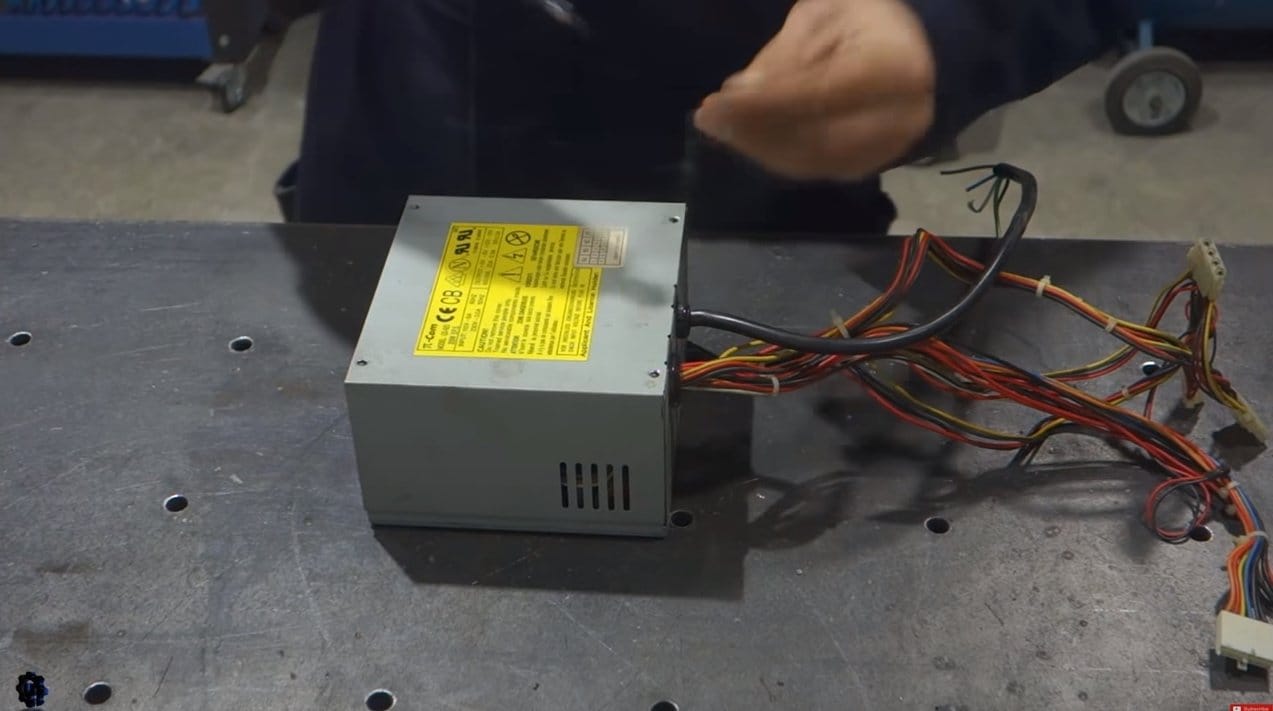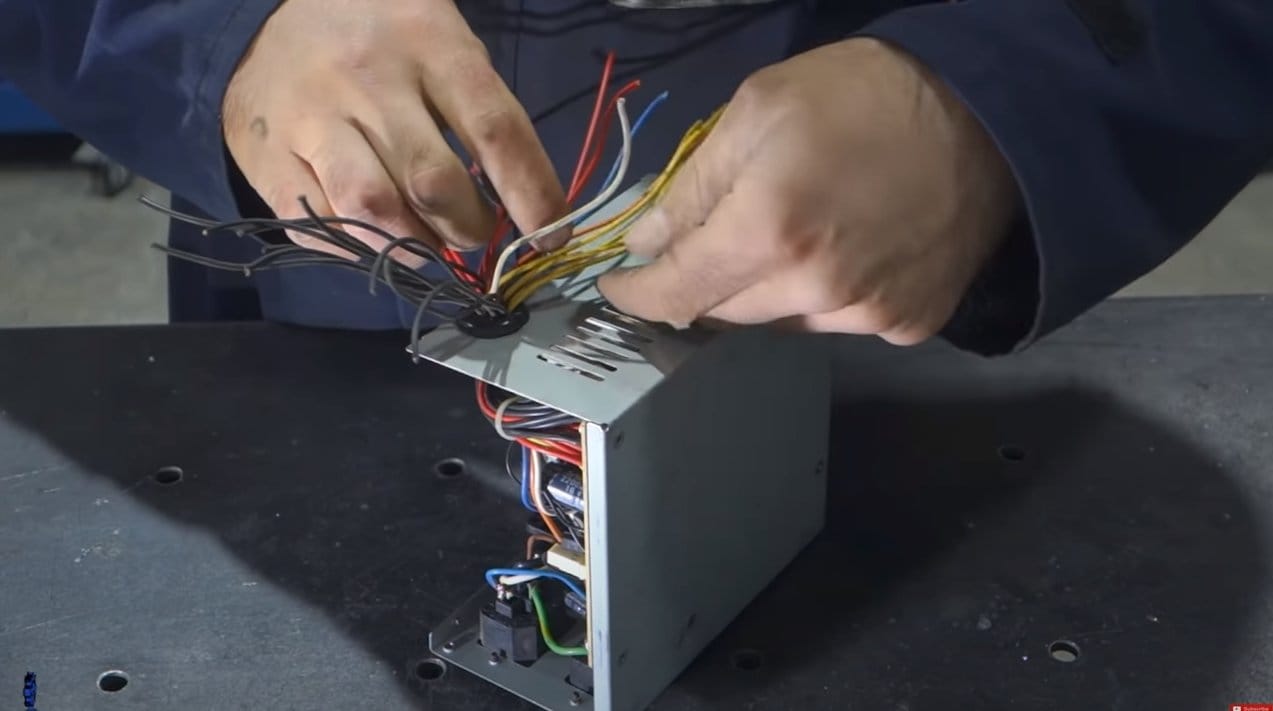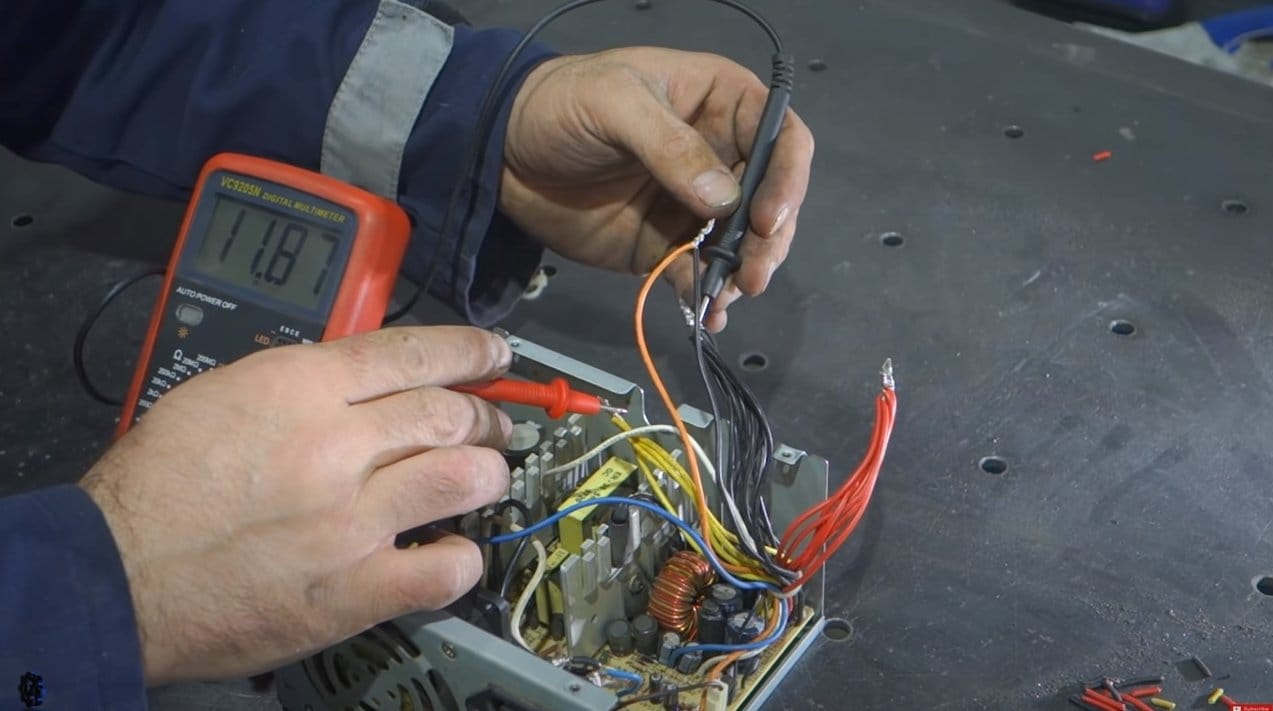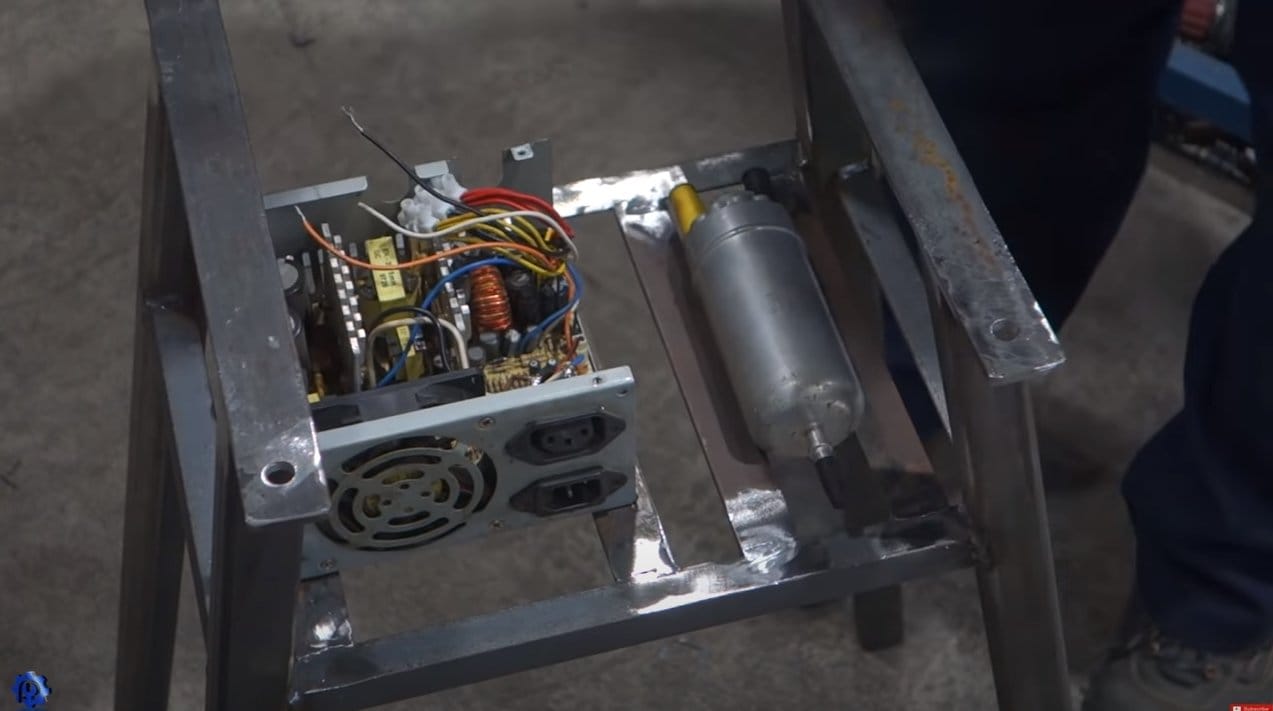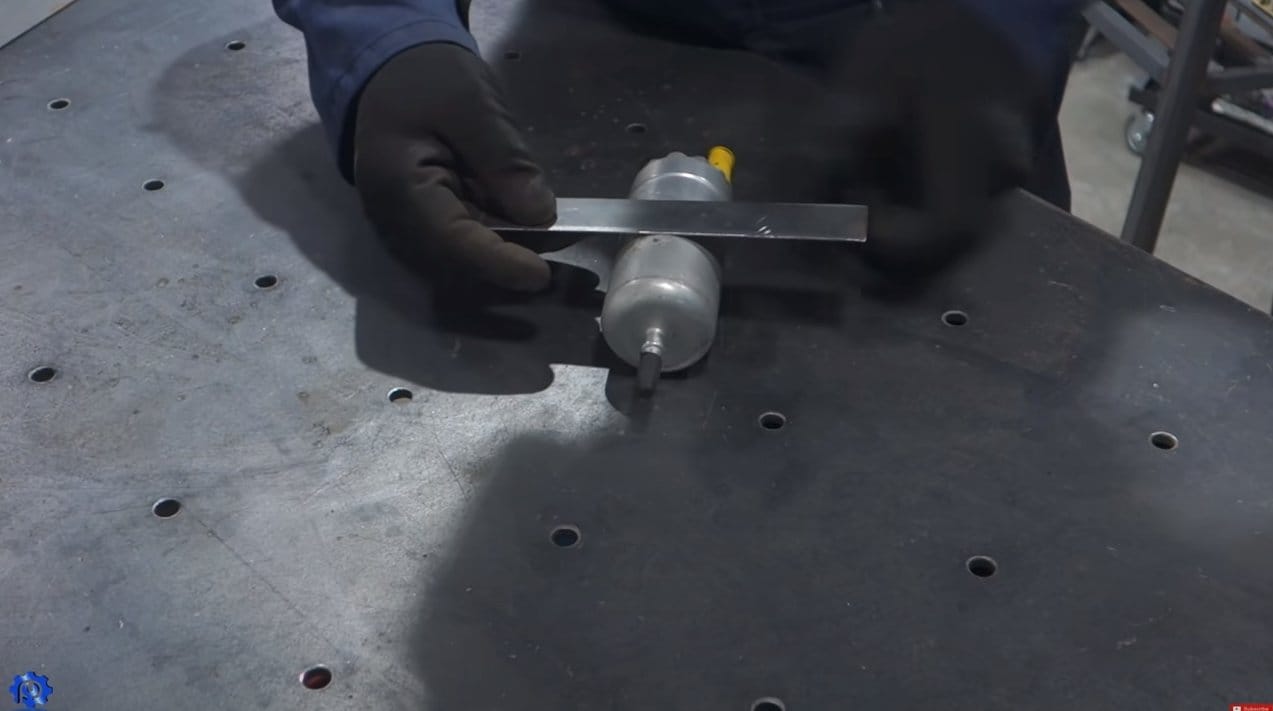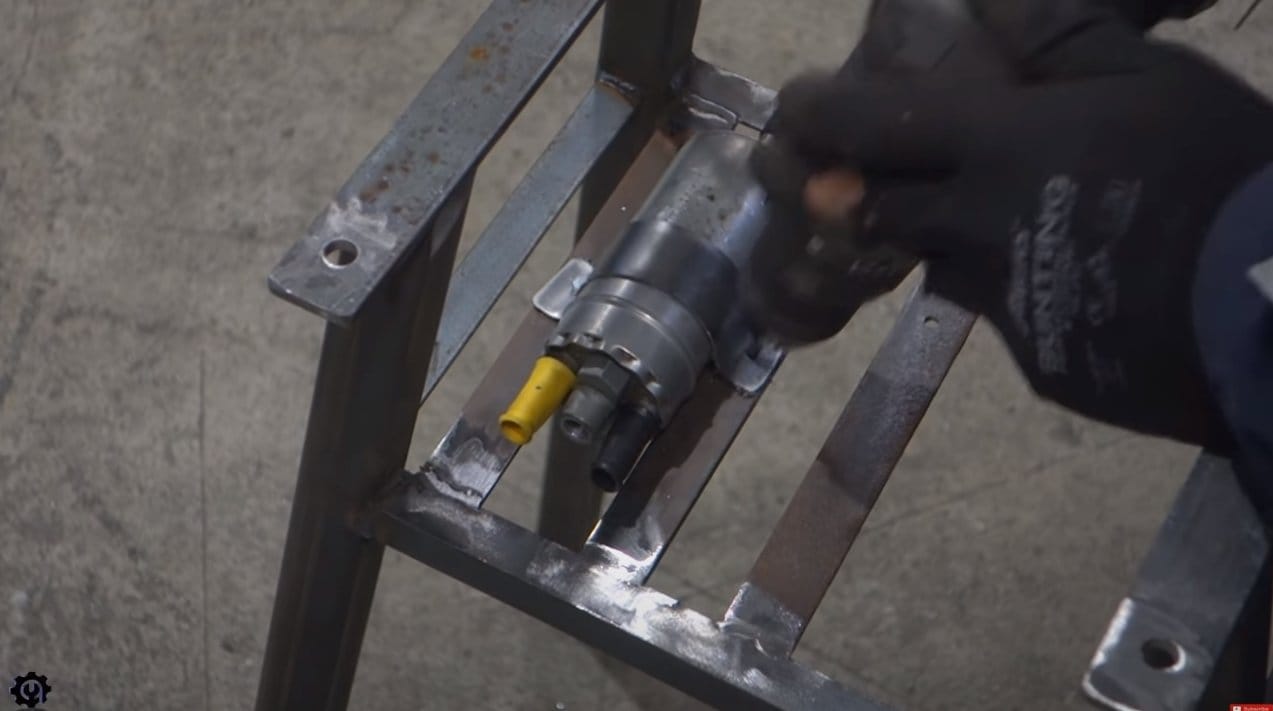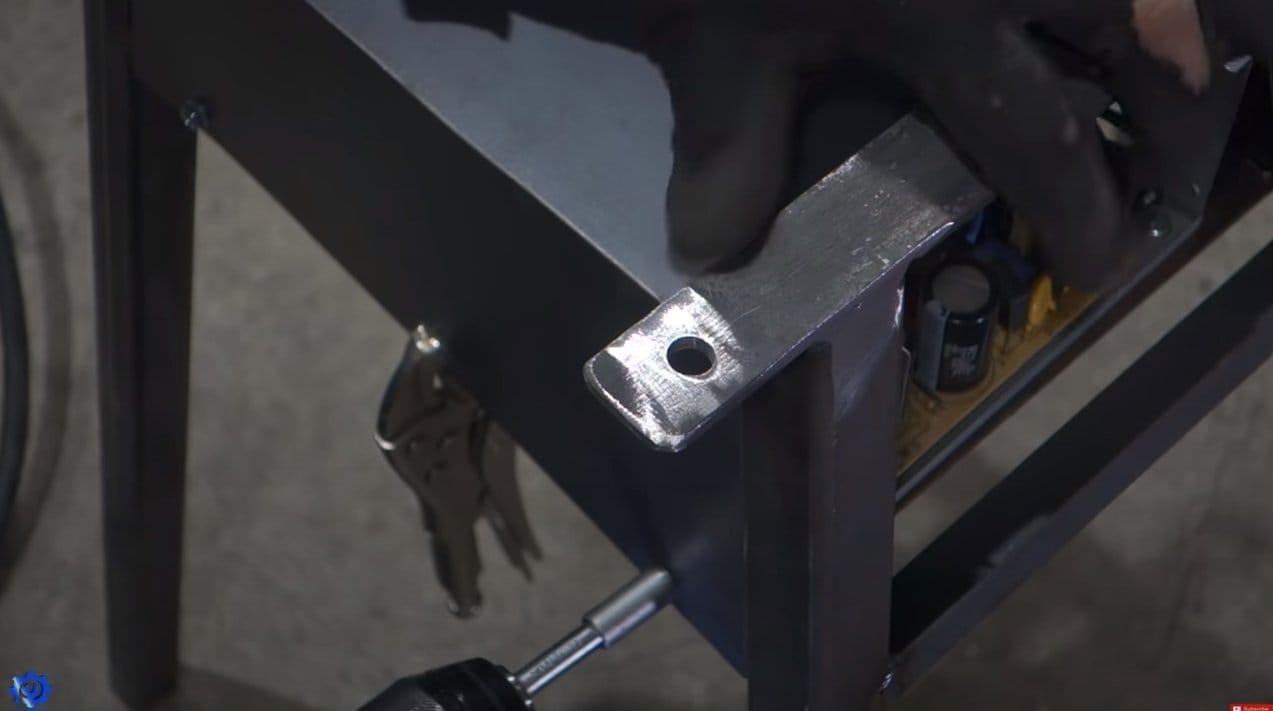 As for the pump, choose a convenient place for it and fasten it to the frame with a clamp. It is better to use a pump that can withstand aggressive substances and dirt.
Step four. Filter
At the very bottom of the tank, you need to drill a hole and weld in a sleeve or welded thread with a thread of 25, a coarse filter will be screwed into it. Such filters can be found in plumbing stores.
A fitting is screwed on the back side, a hose is connected to it, which goes to the pump suction.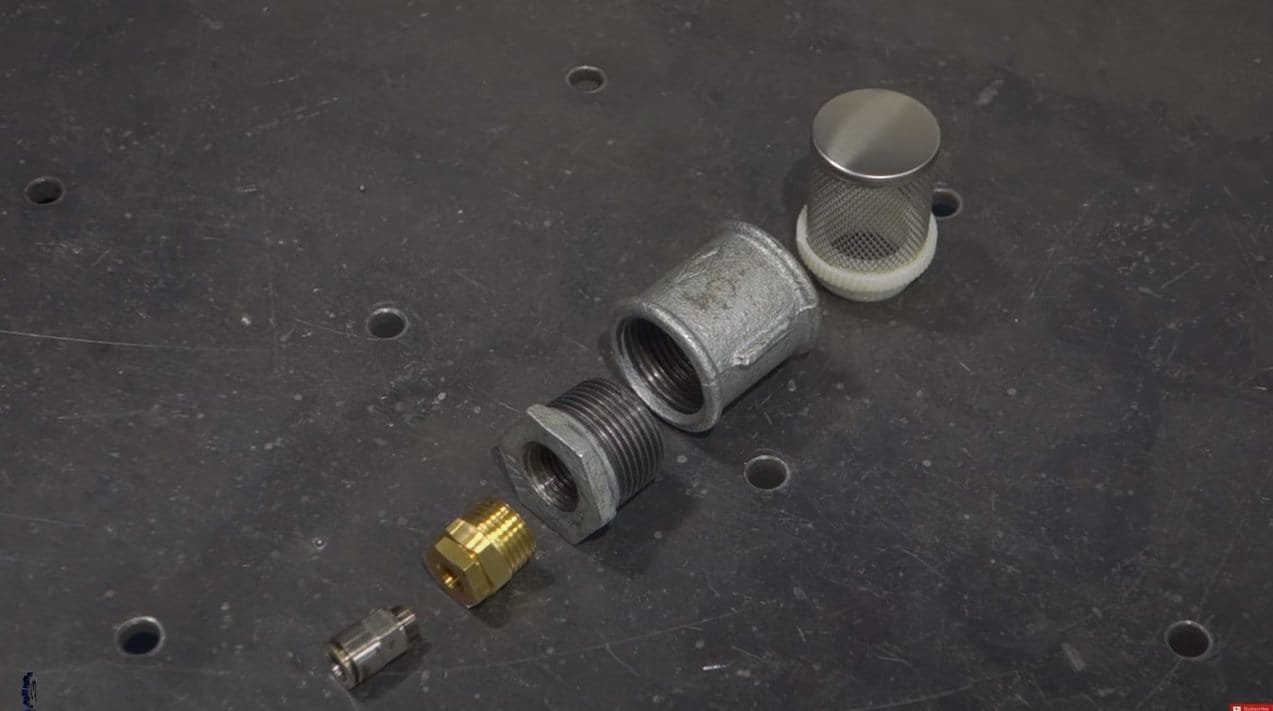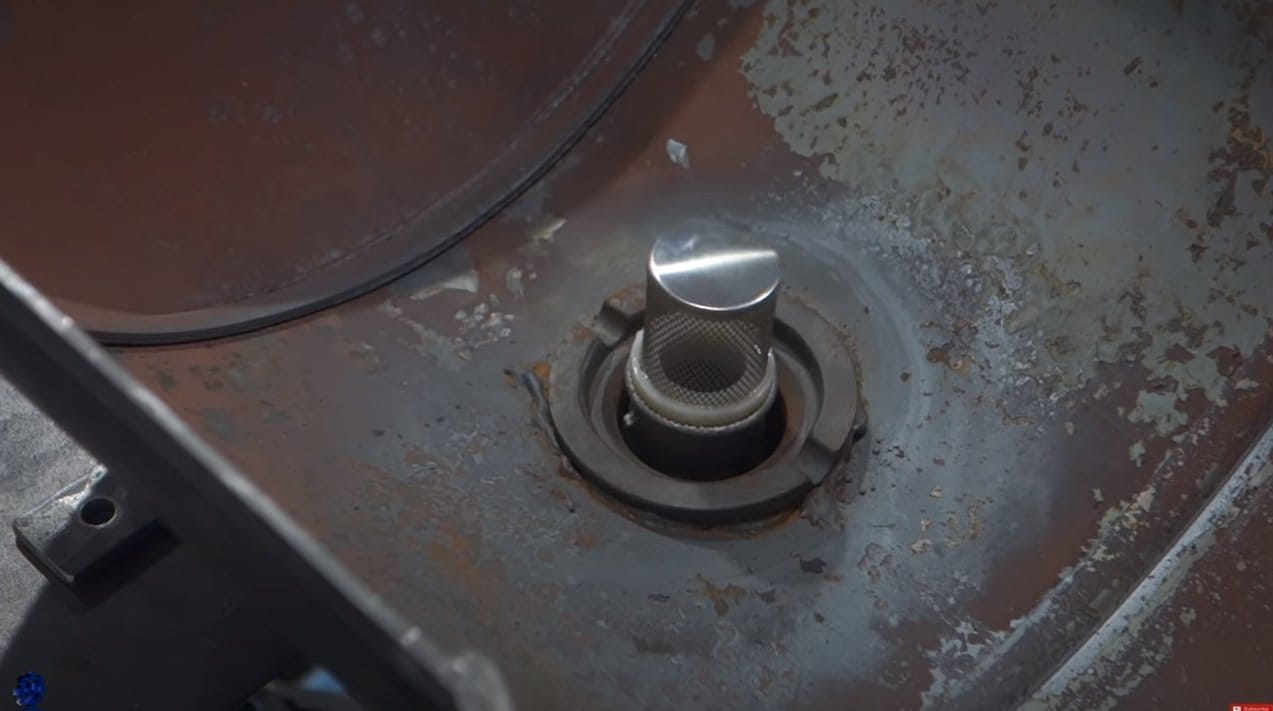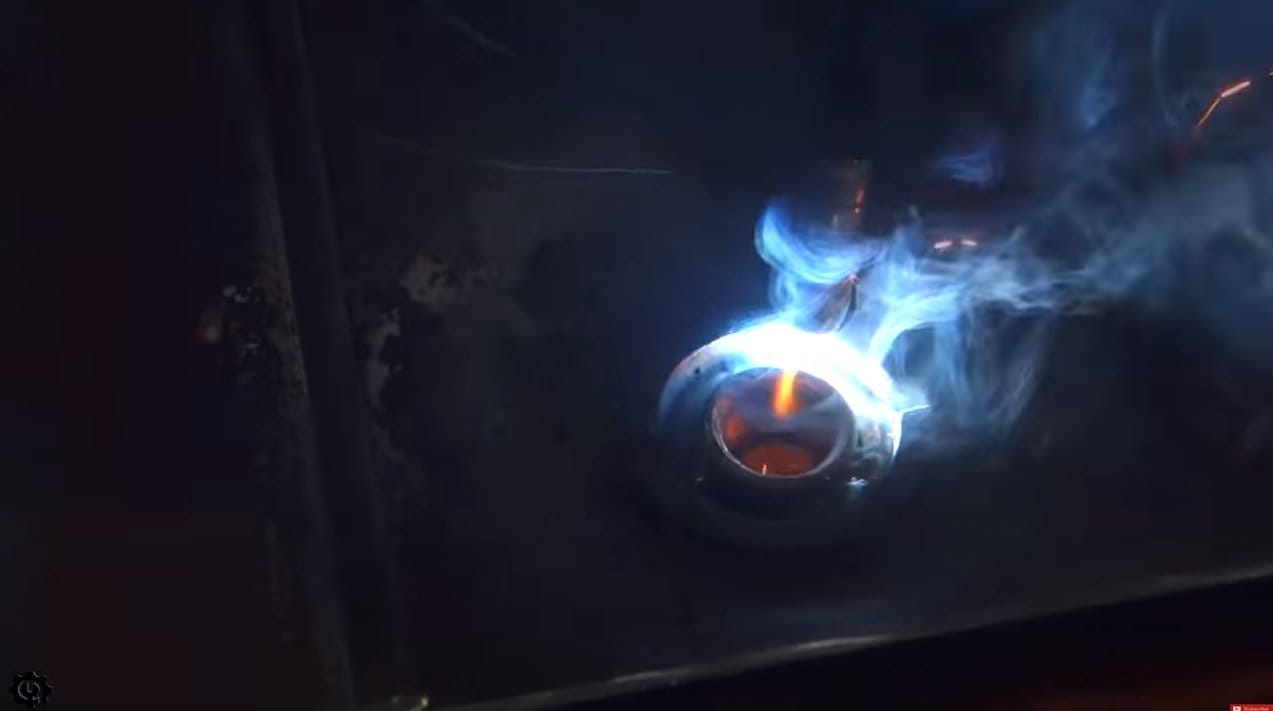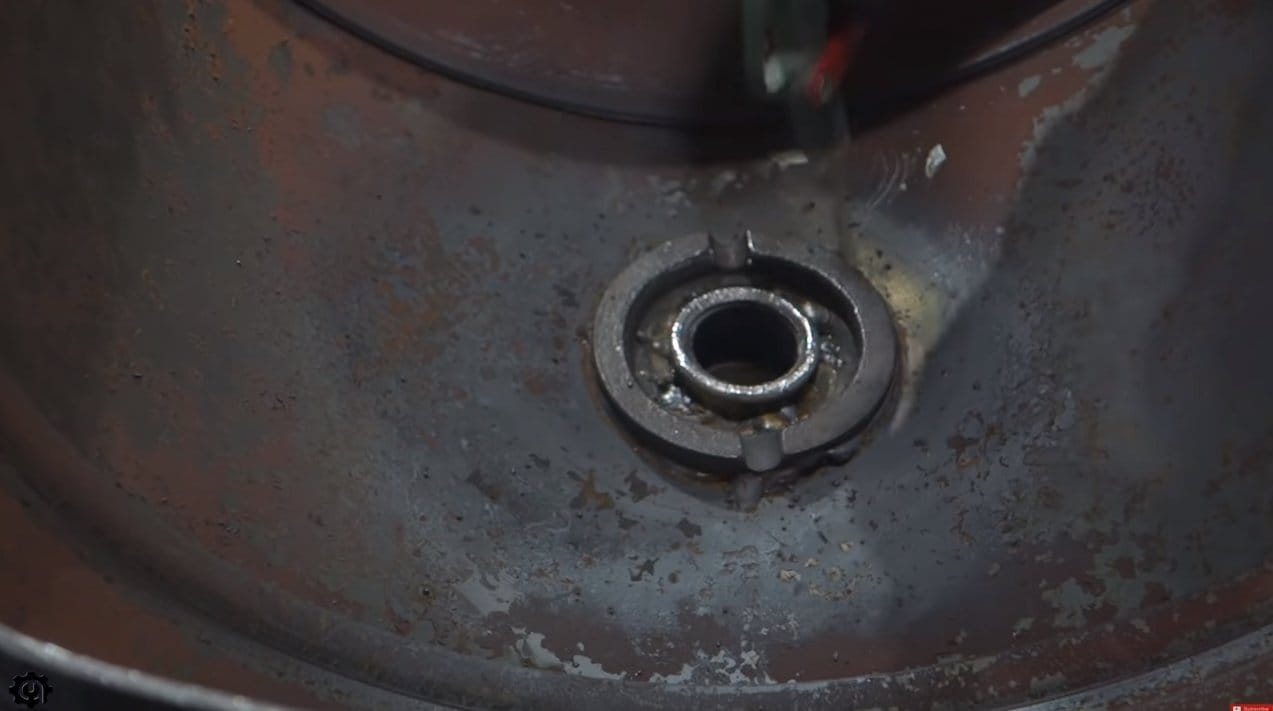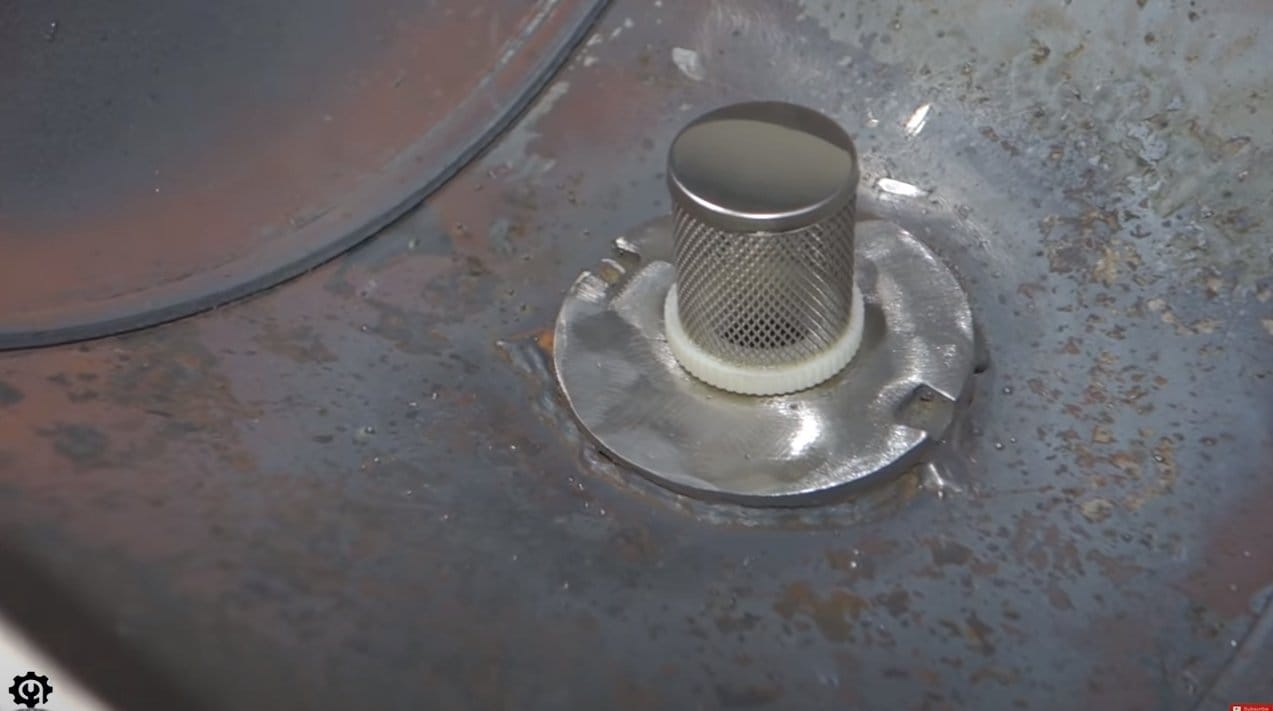 Step five. Protective casing
The power supply and pump must be protected from water and dirt from above. For this we make a protective cover from sheet steel. We cut a window in the casing on the side and mount a switch that will turn on the power supply or pump.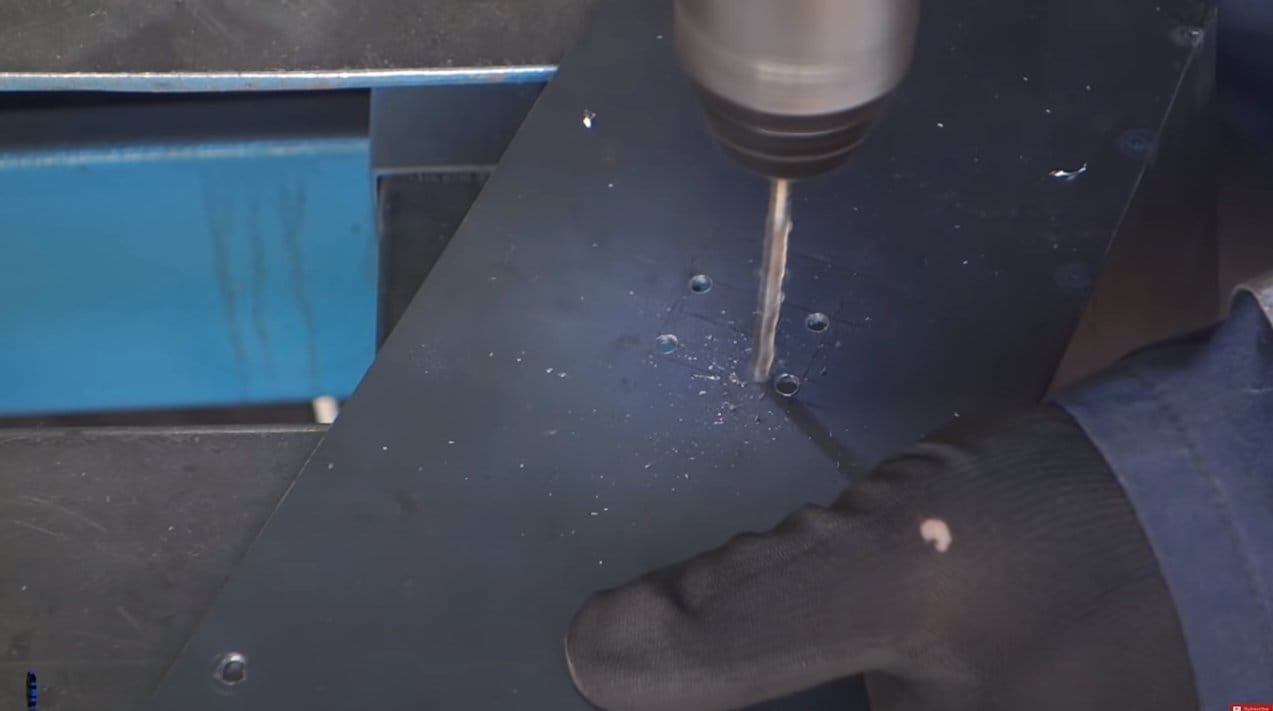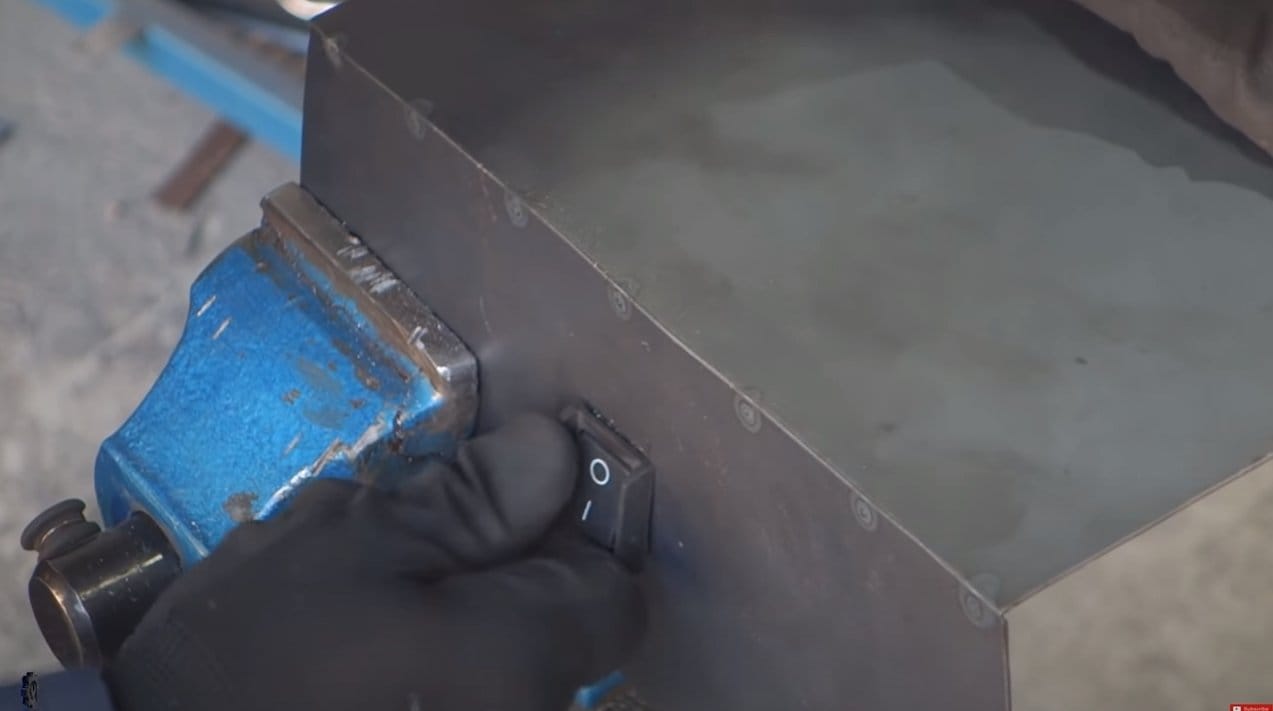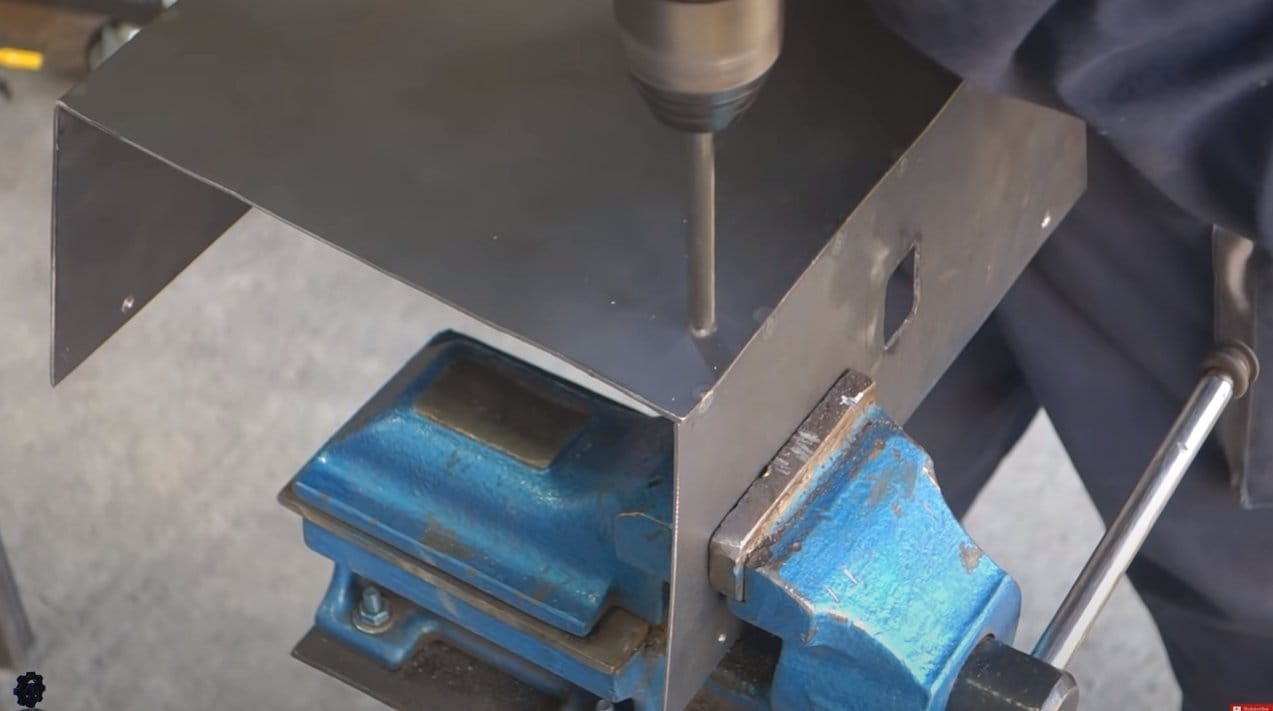 Step six. Upper part
We attach the upper part to the hinges, it will be a kind of protective shield against splashes, and even so the homemade product can be completely closed.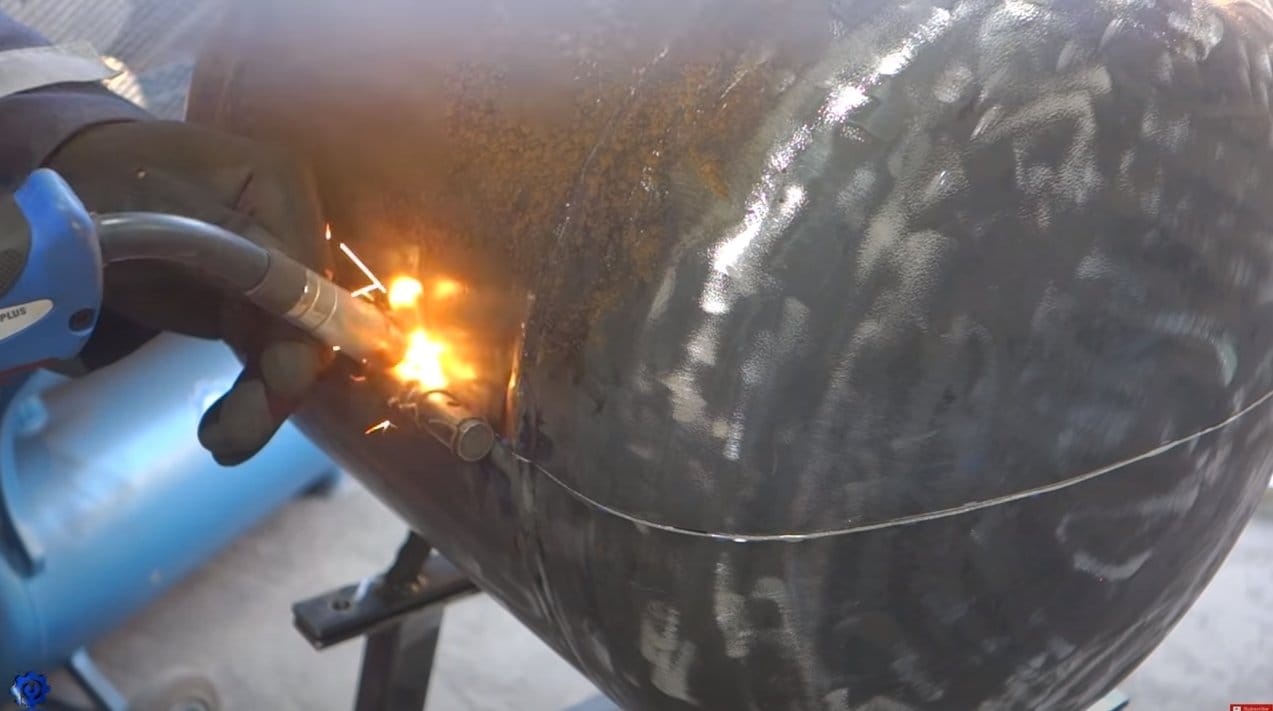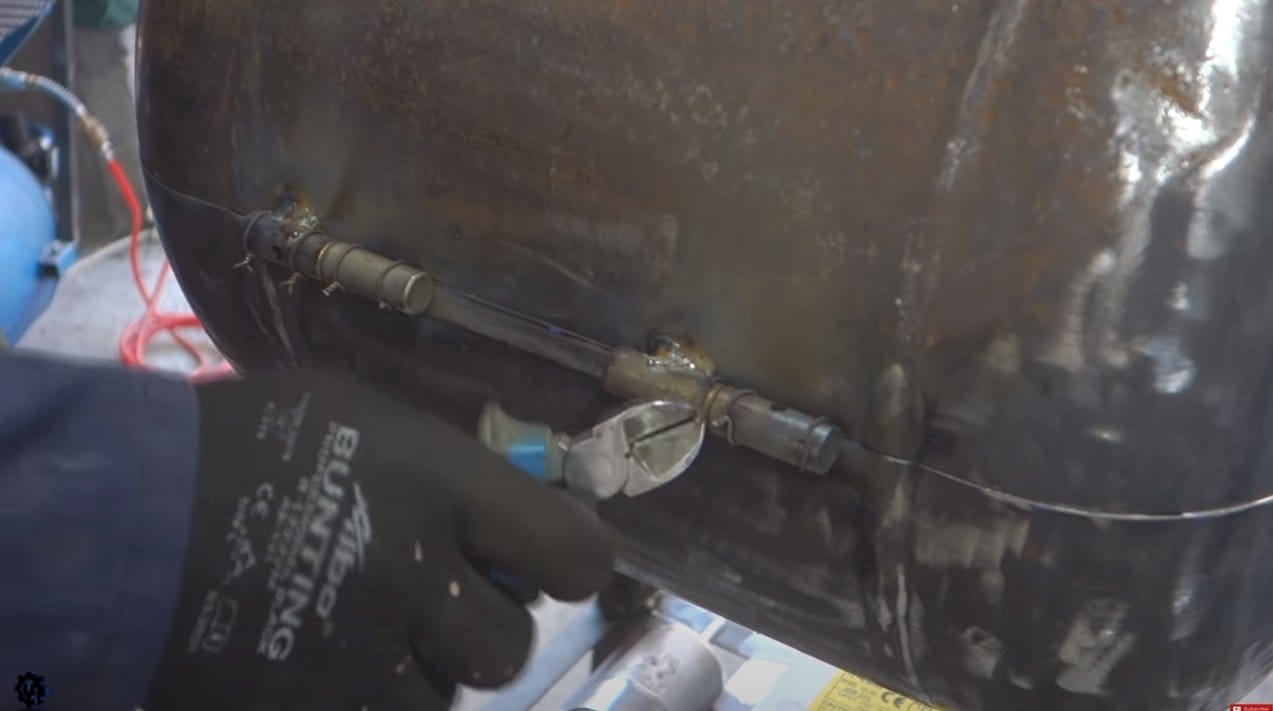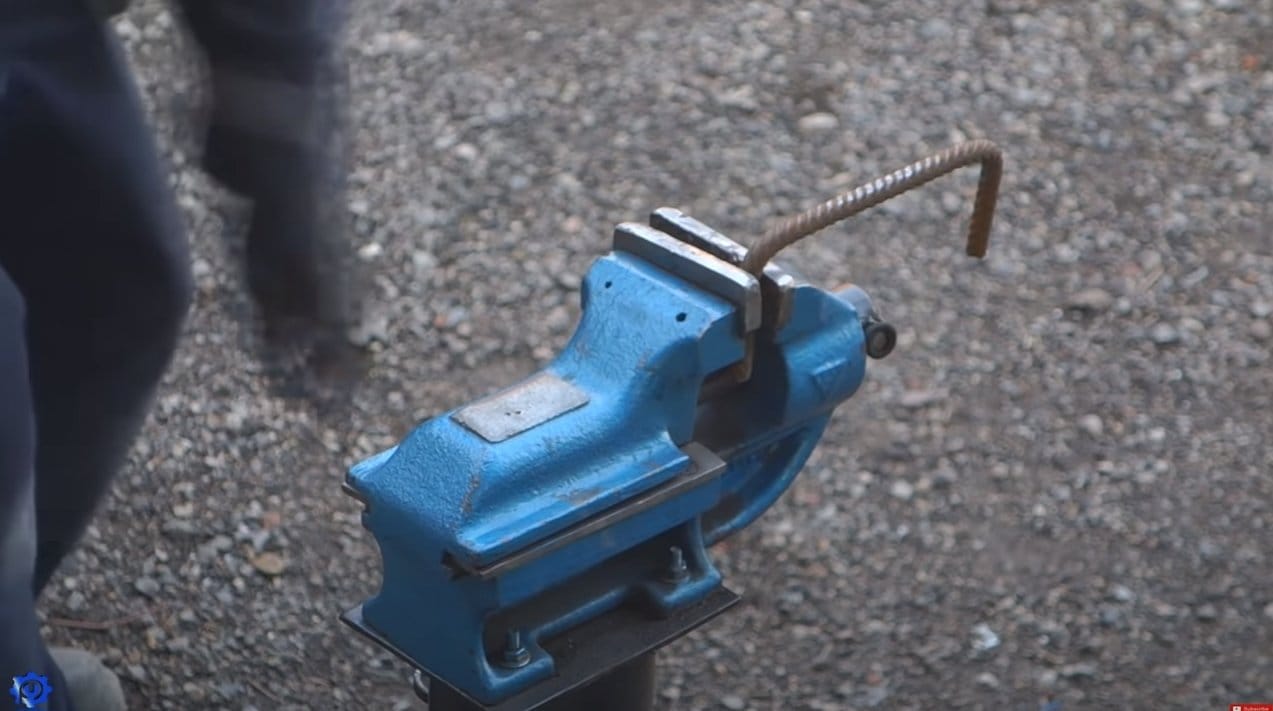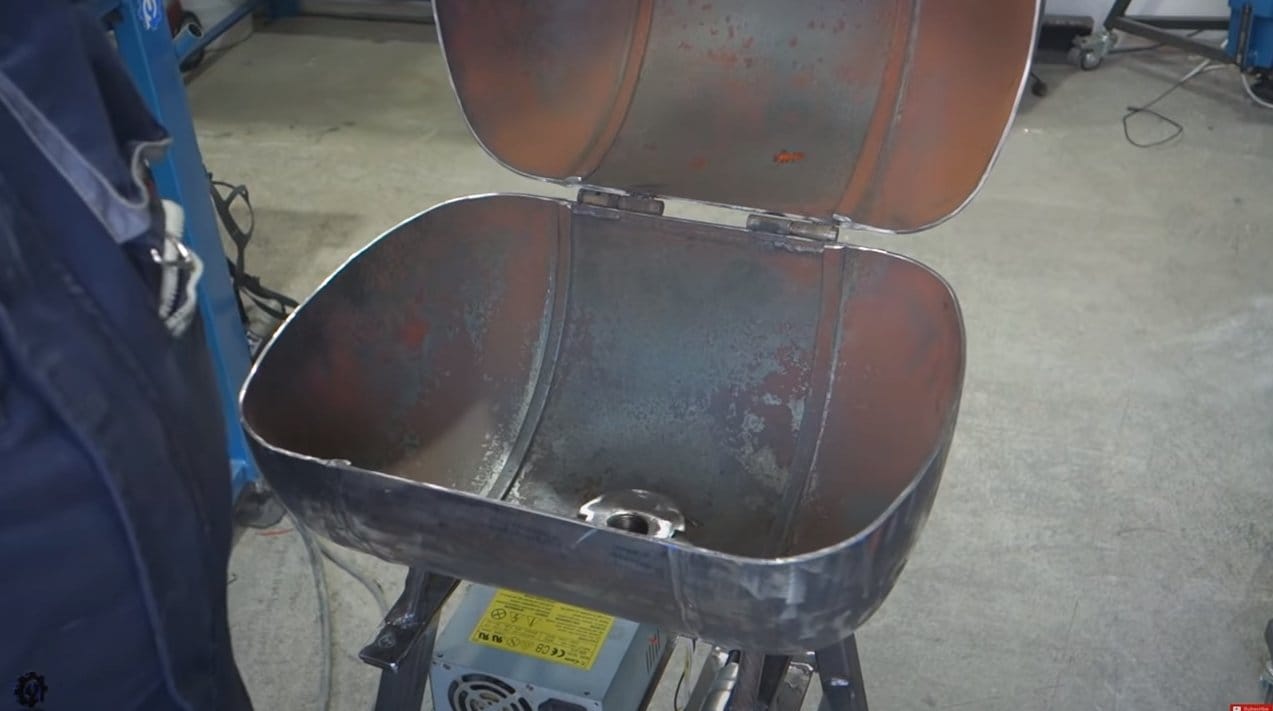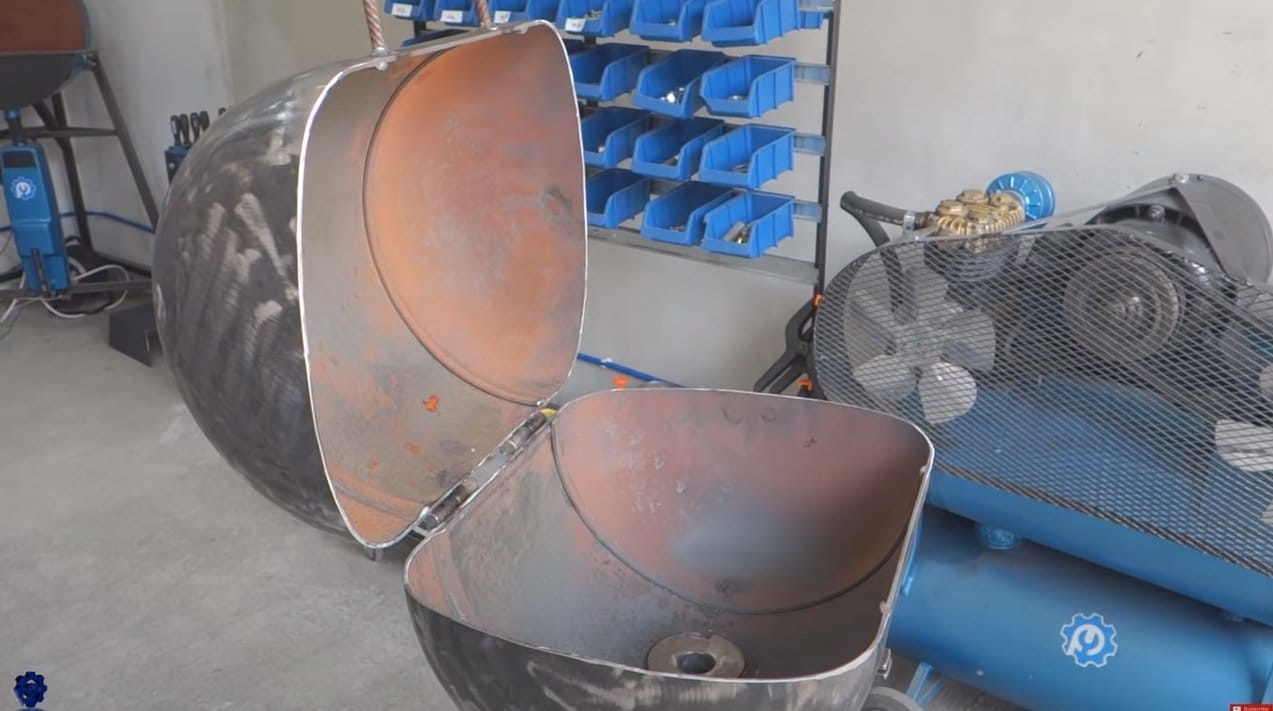 Step seven. Work table and hose
We cut out a work table from a sheet of steel, drill holes in it through which water will flow. We also drill a hole in the sink for the hose. It is convenient to use the hose "hard", which can be fixed in the desired position.
Also, in the lower part of the sink it will not be superfluous to drill a hole and weld the sleeve. This will be a drain for dirty water, everything can be drained through it when the liquid needs to be replaced.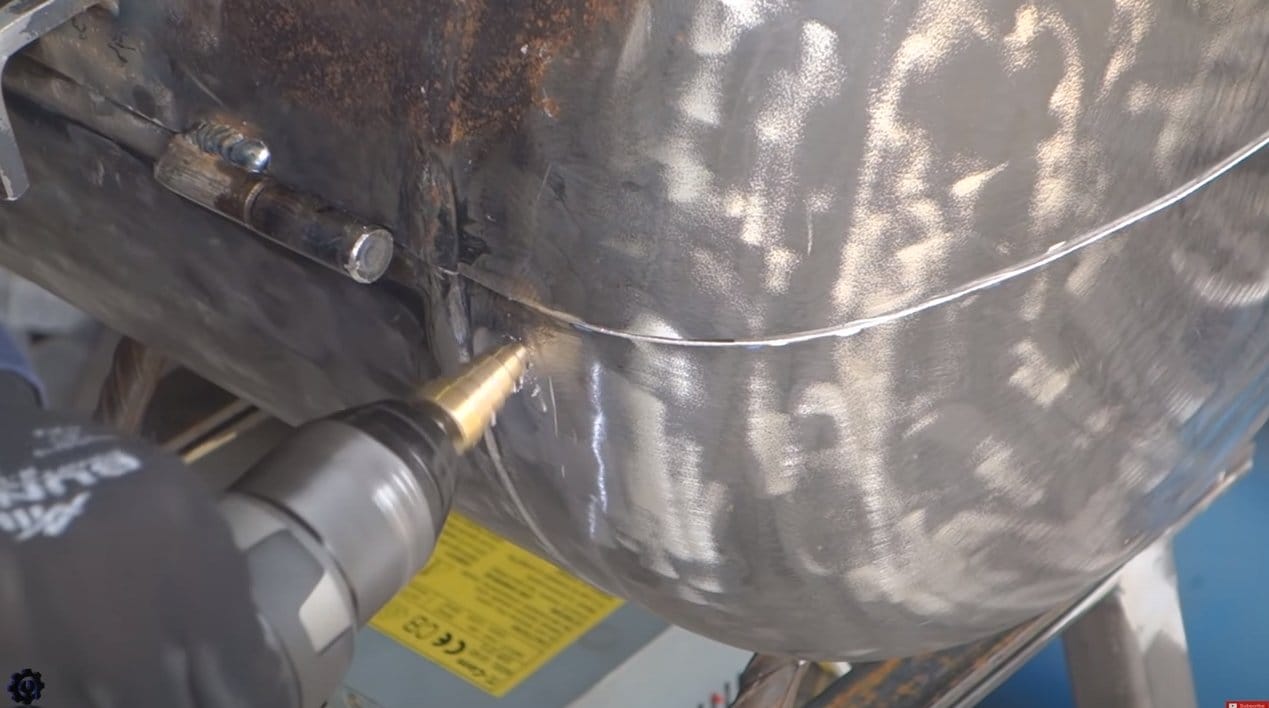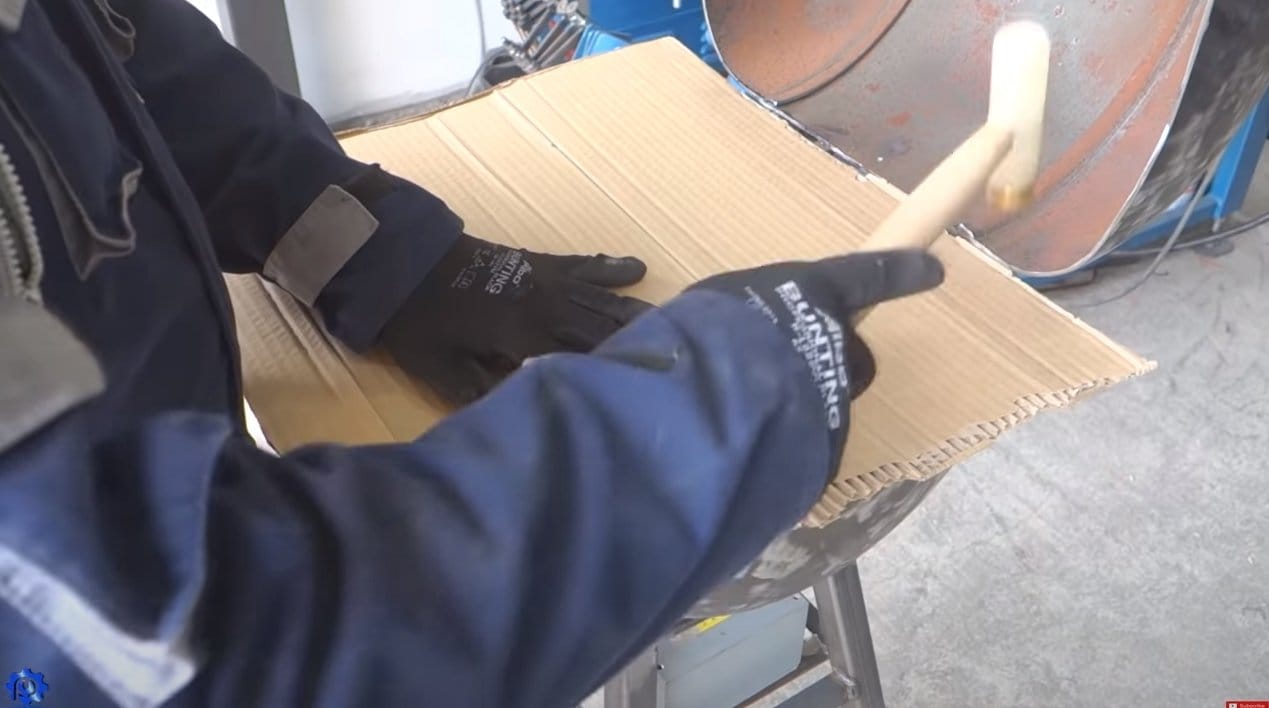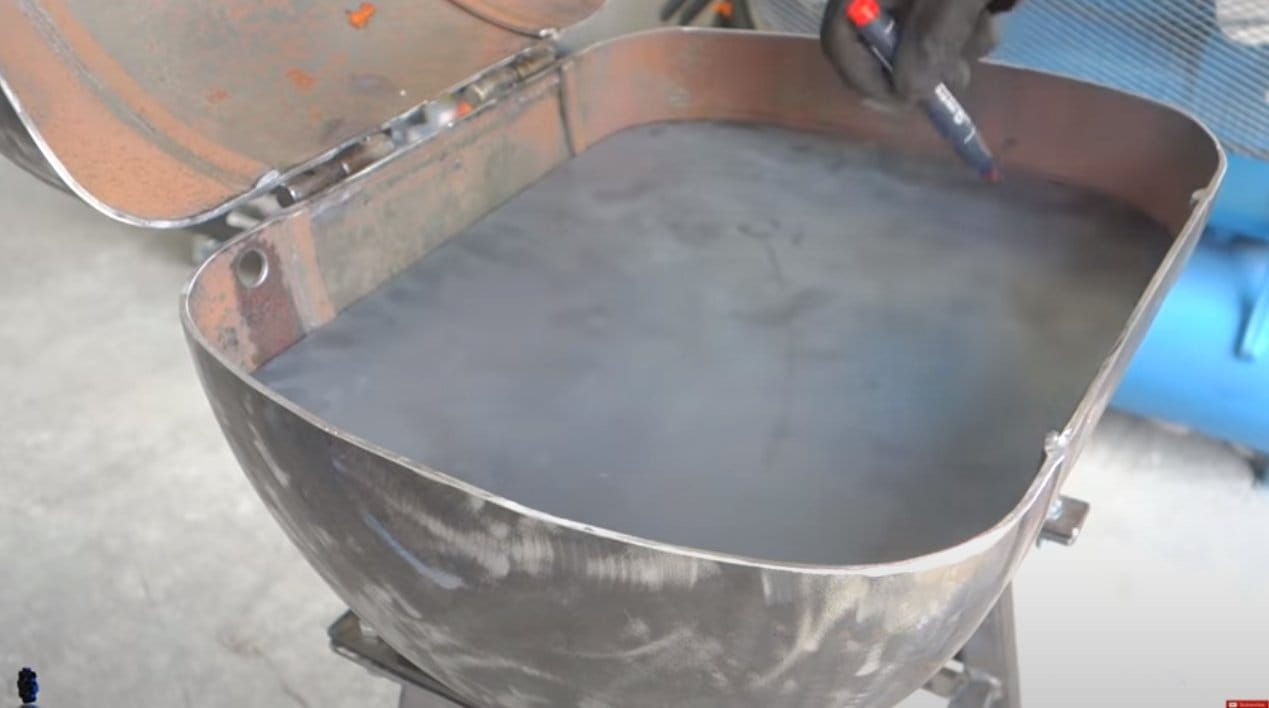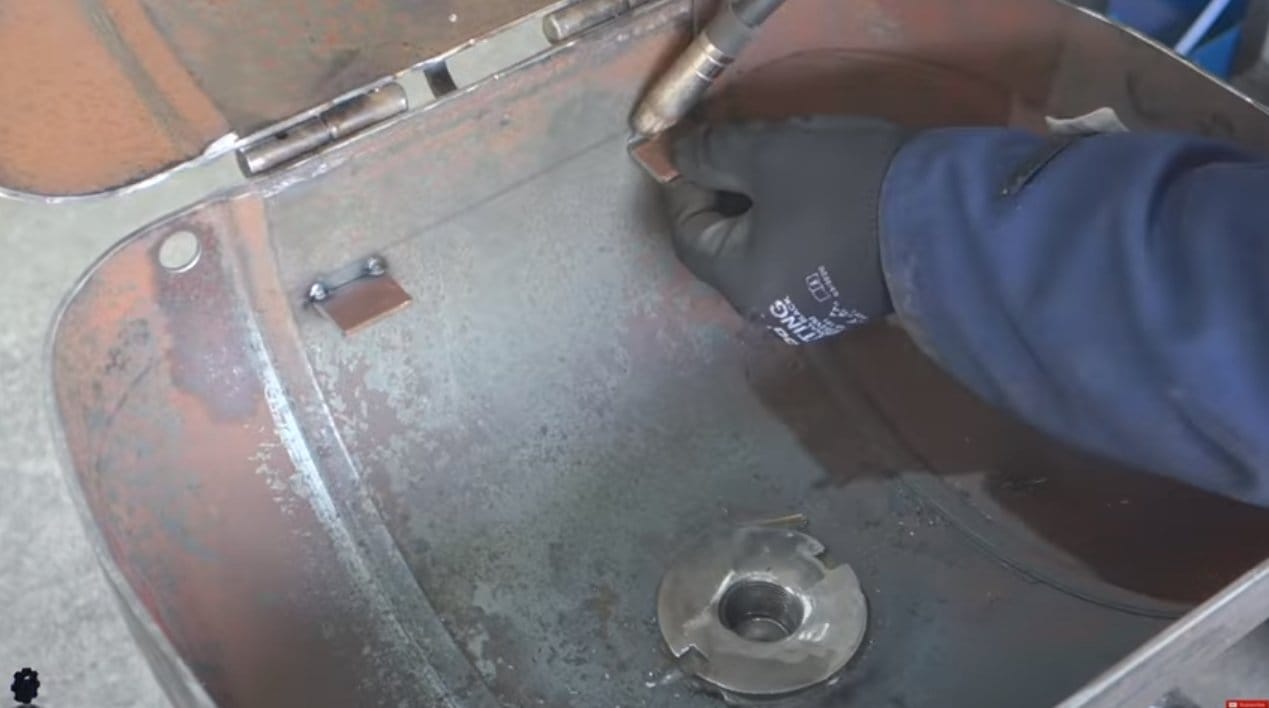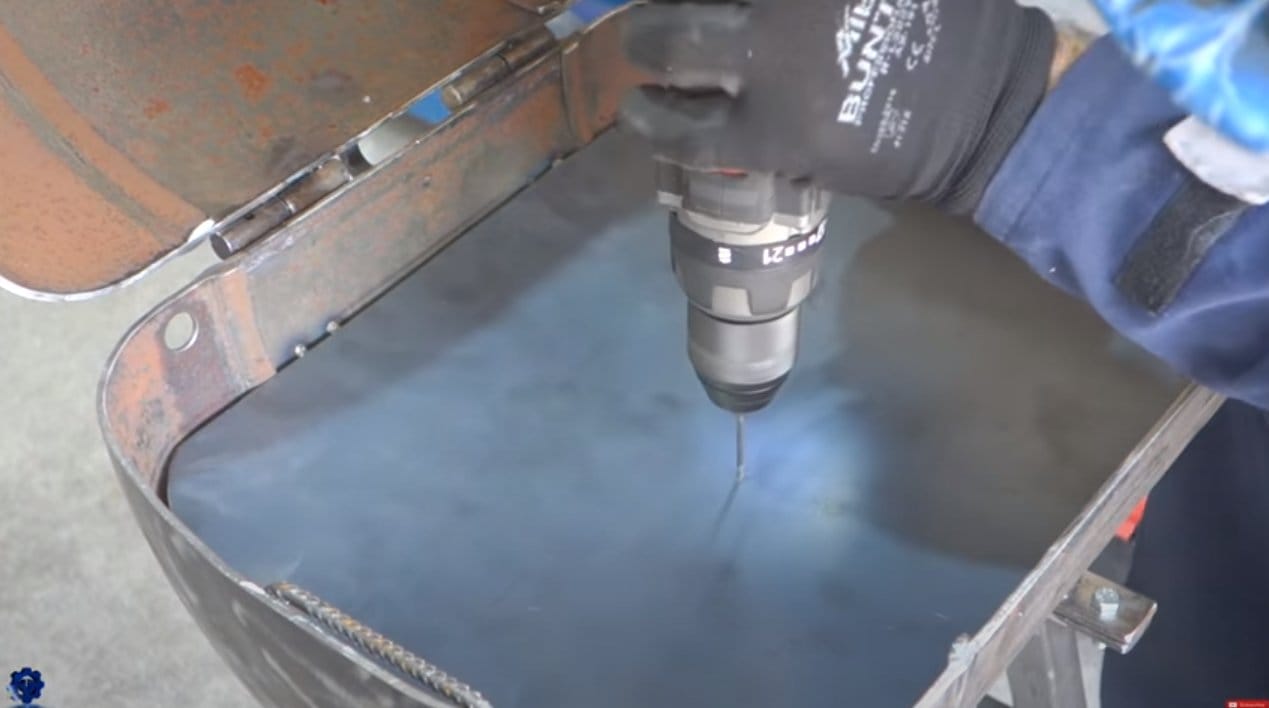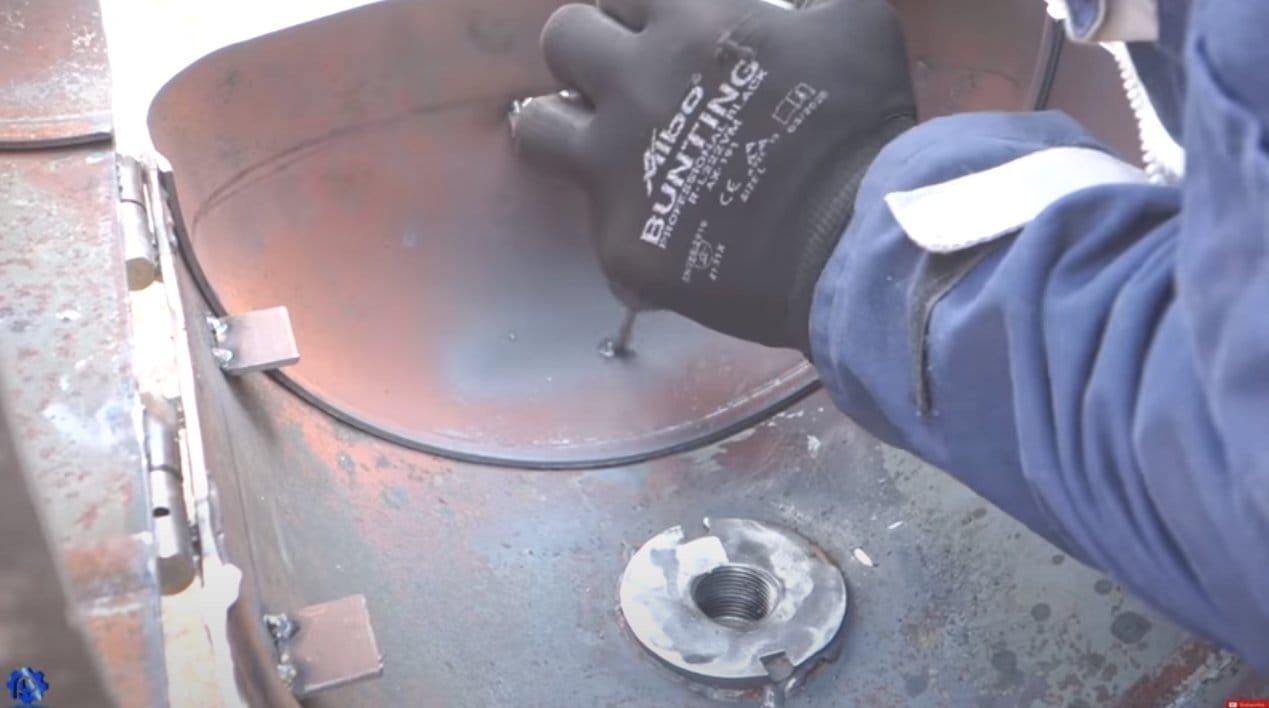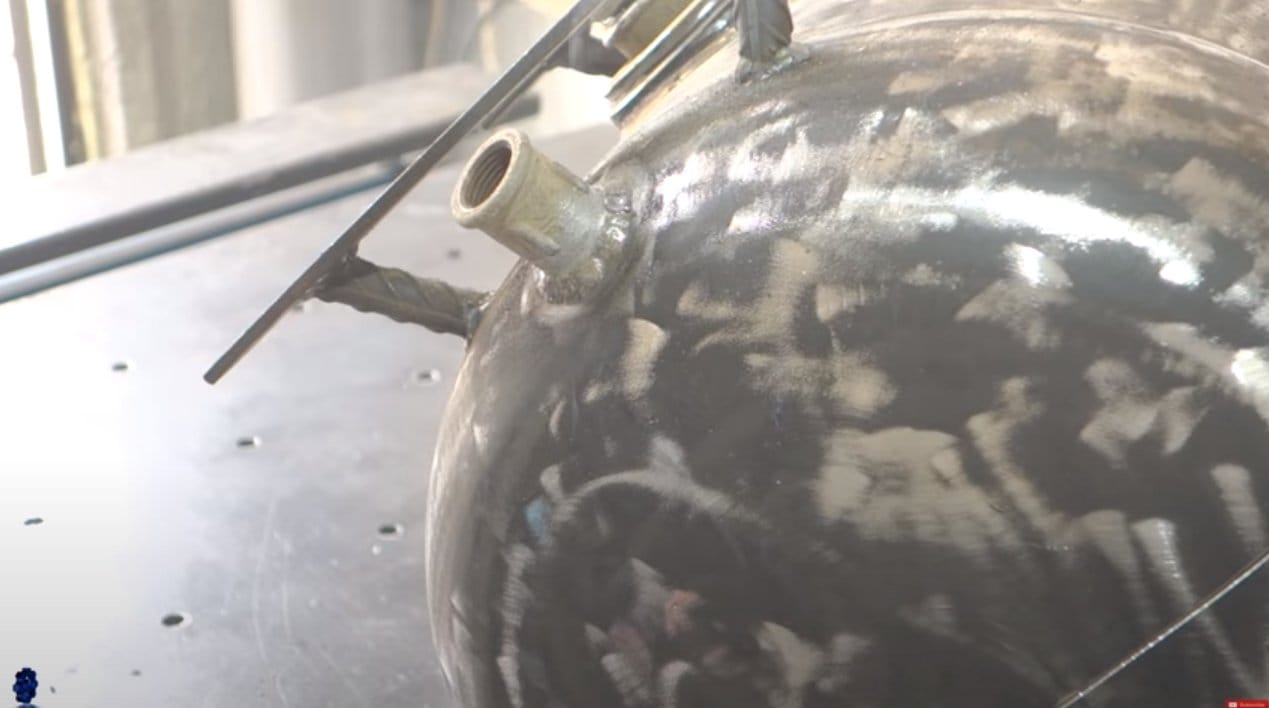 Step eight. Painting and testing
That's all, it remains to paint the homemade product well, otherwise everything will quickly and strongly rust from dirt and water. It is better to use a primer before painting, or you can simply paint everything with a special primer against rust.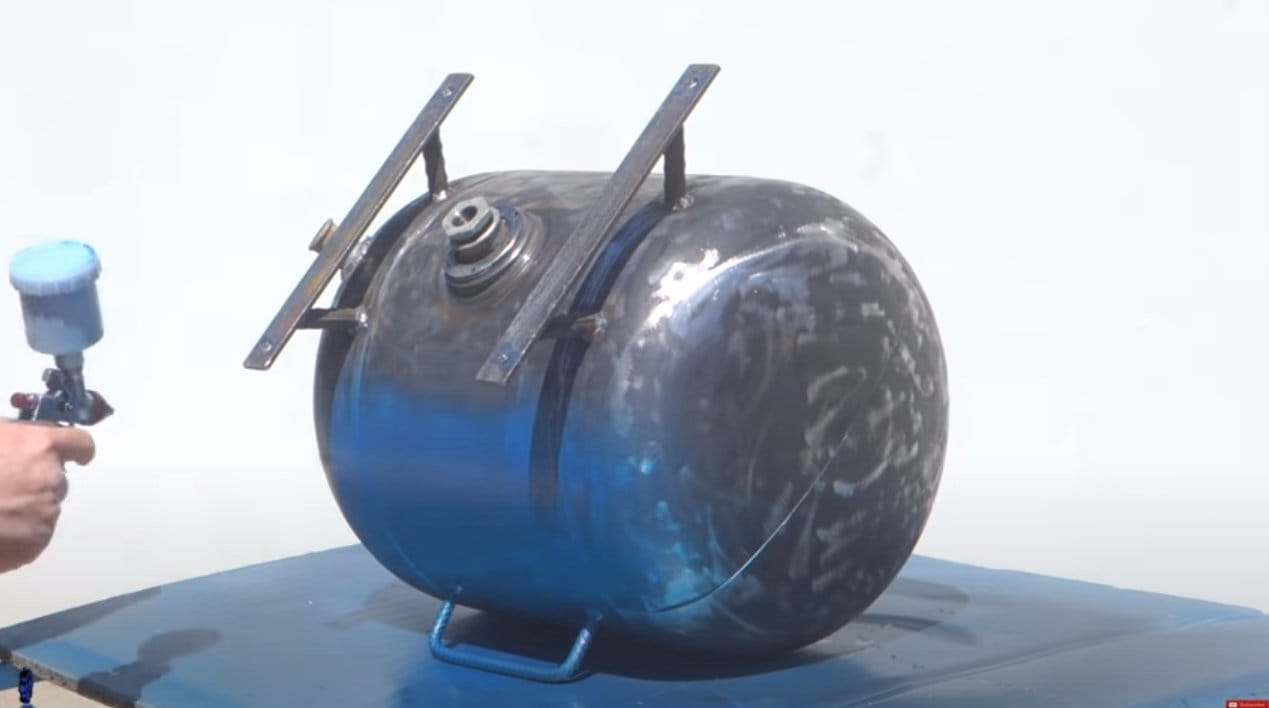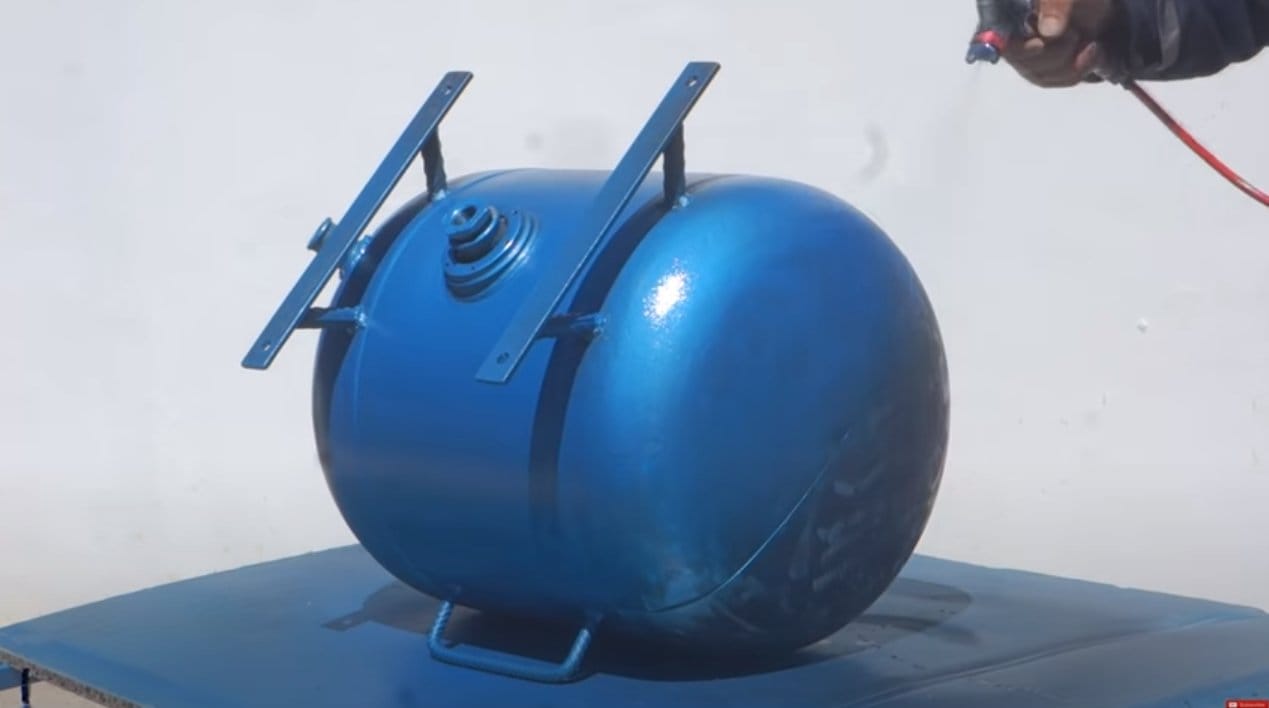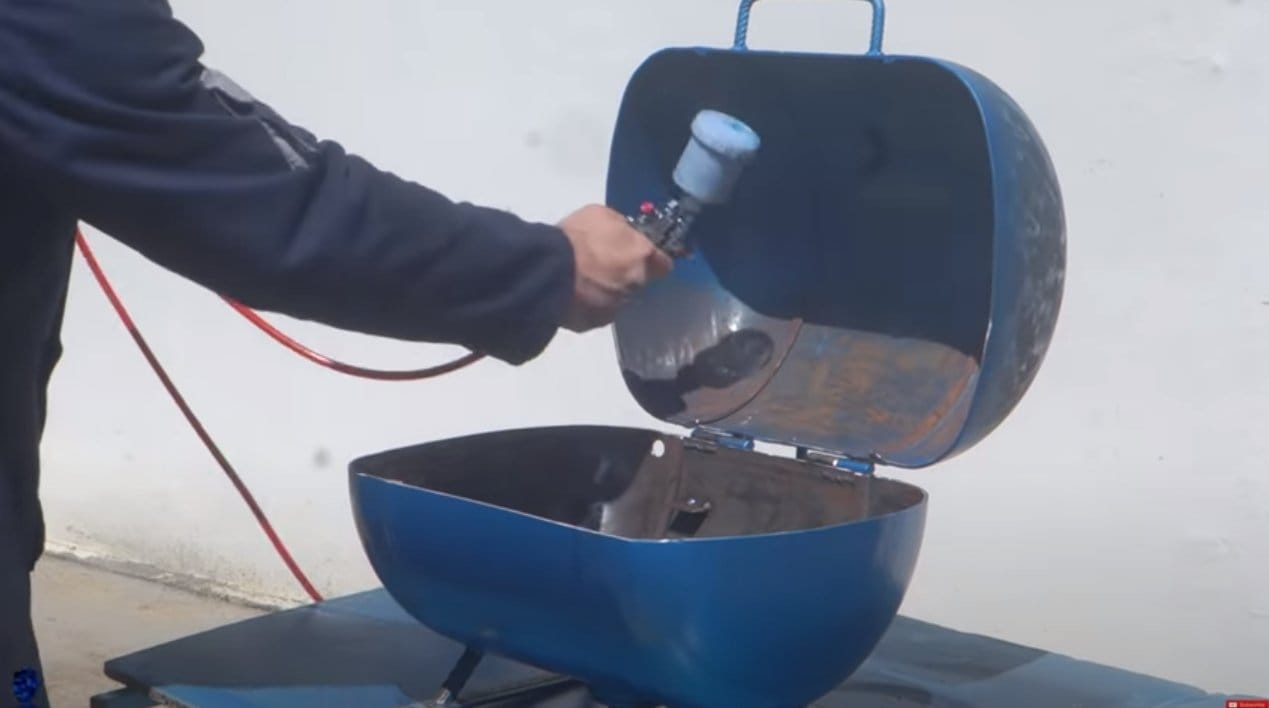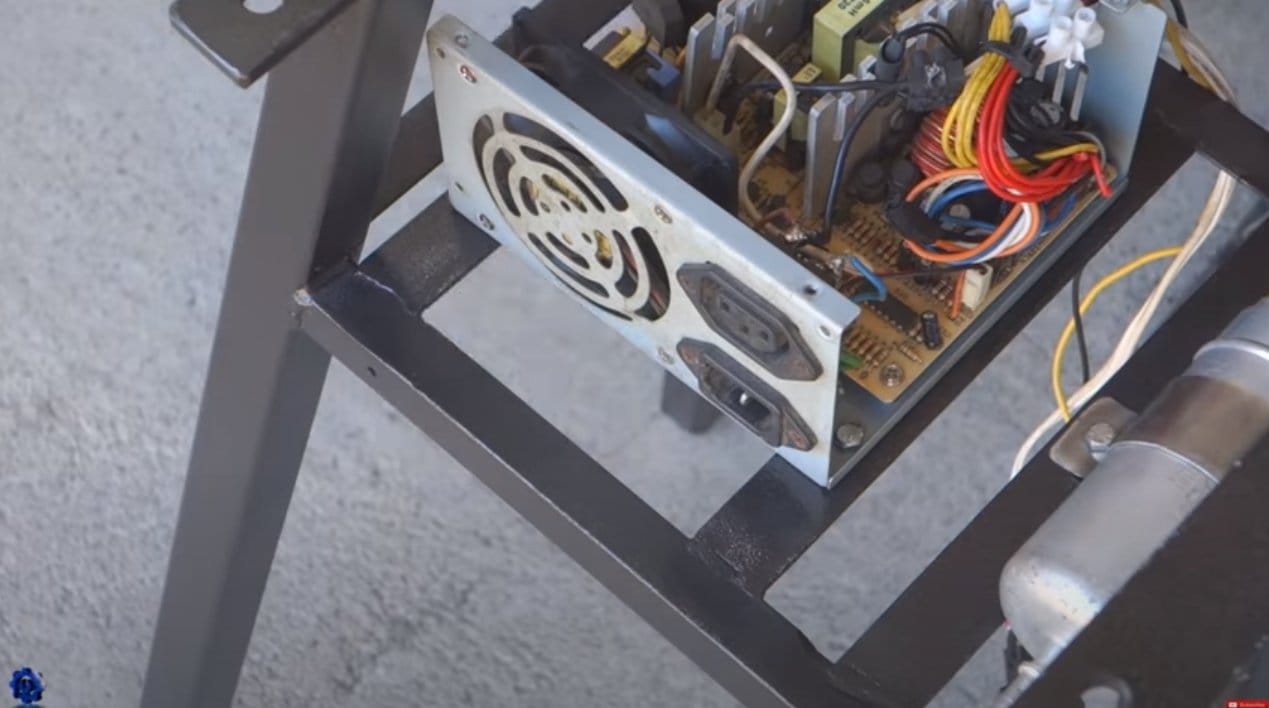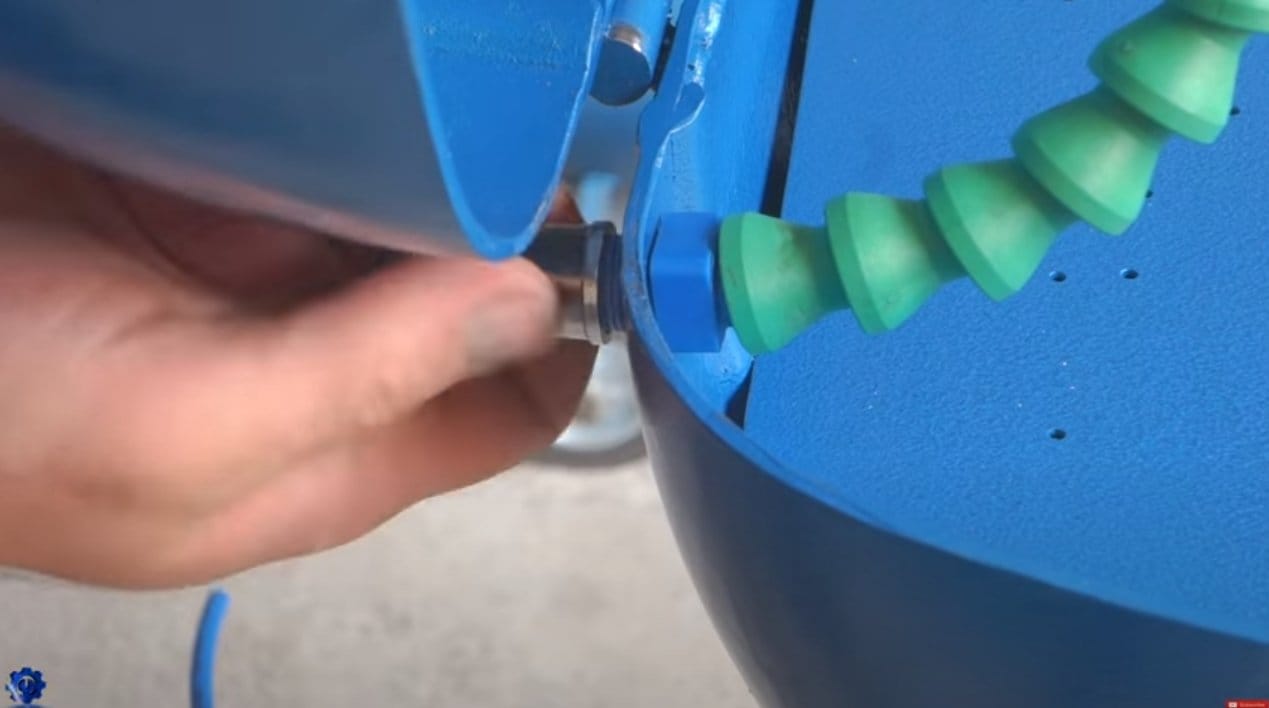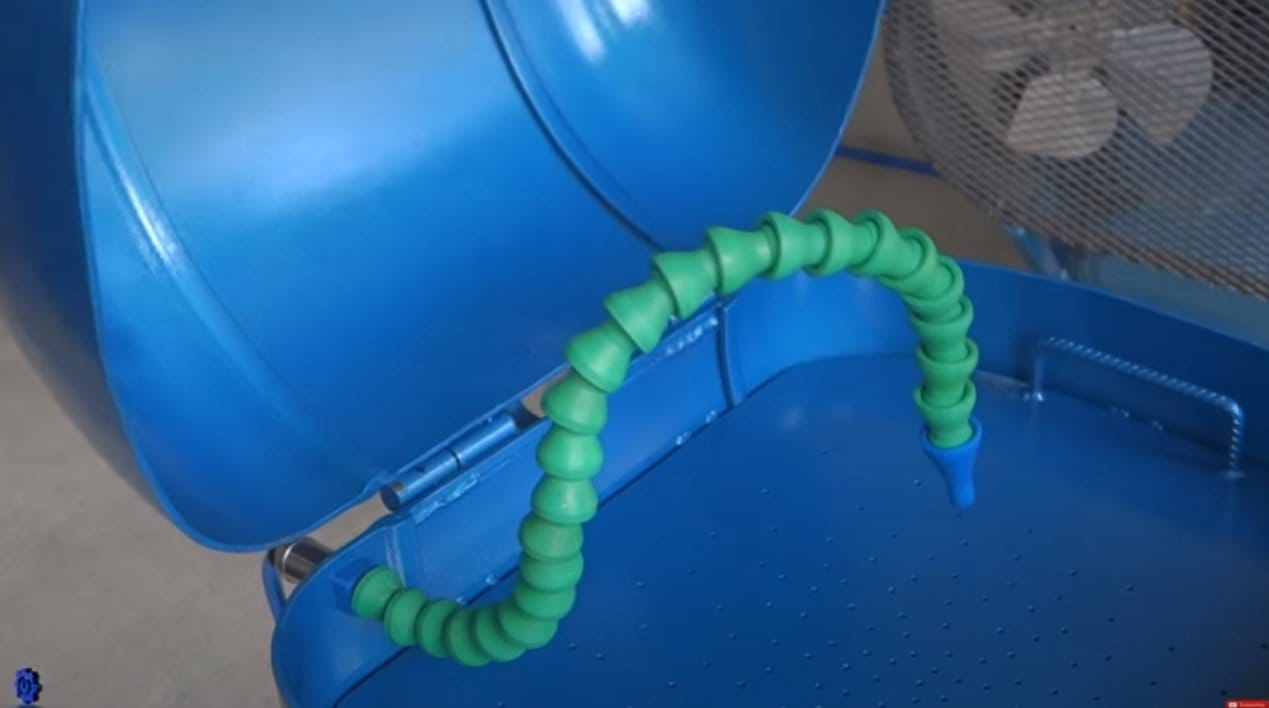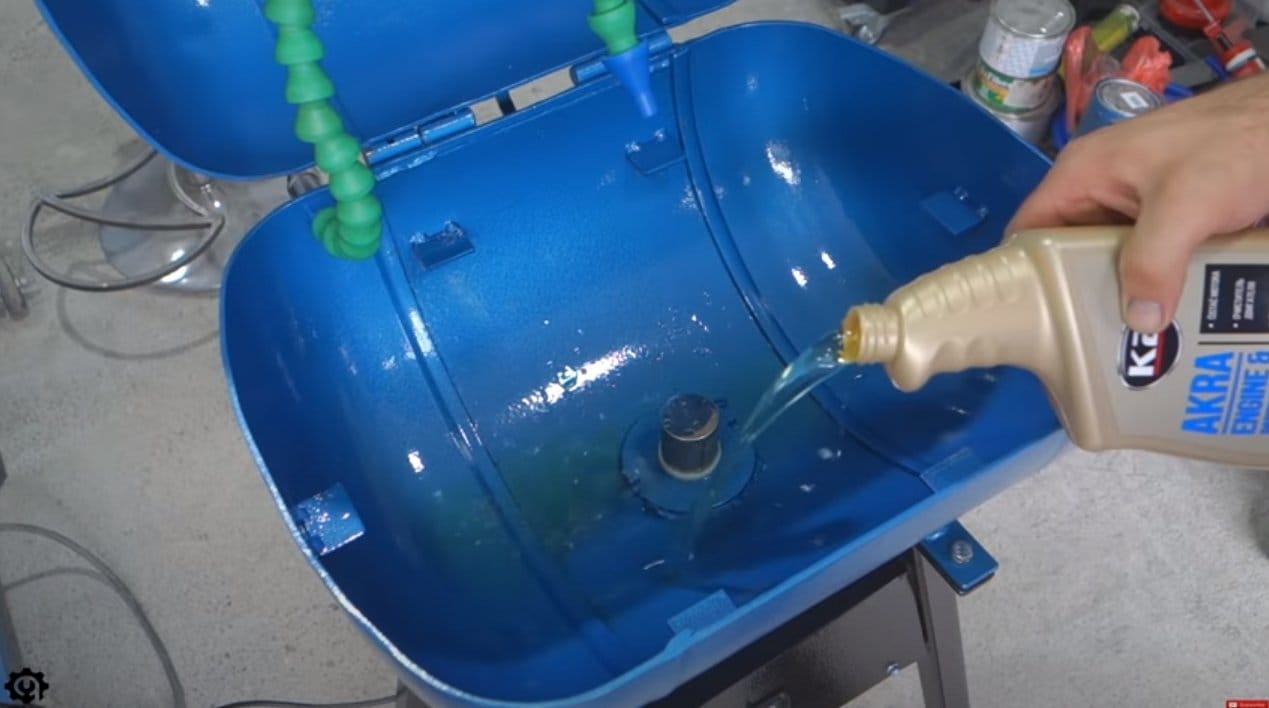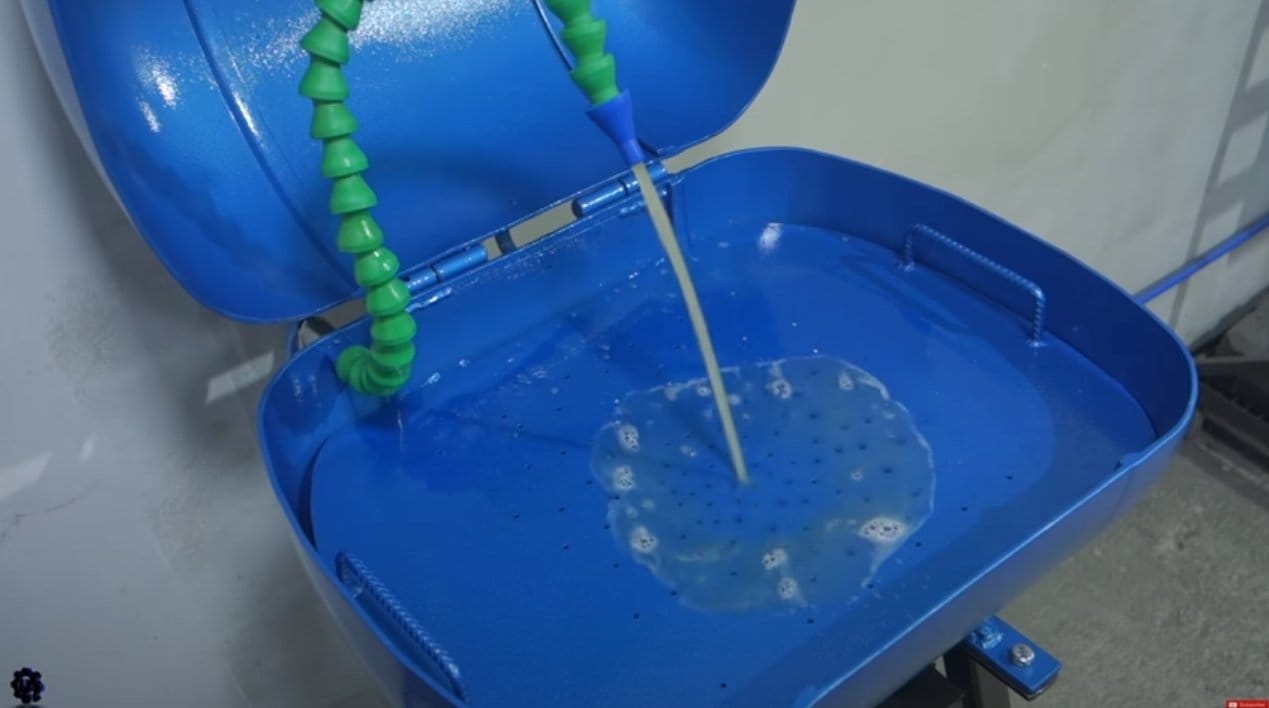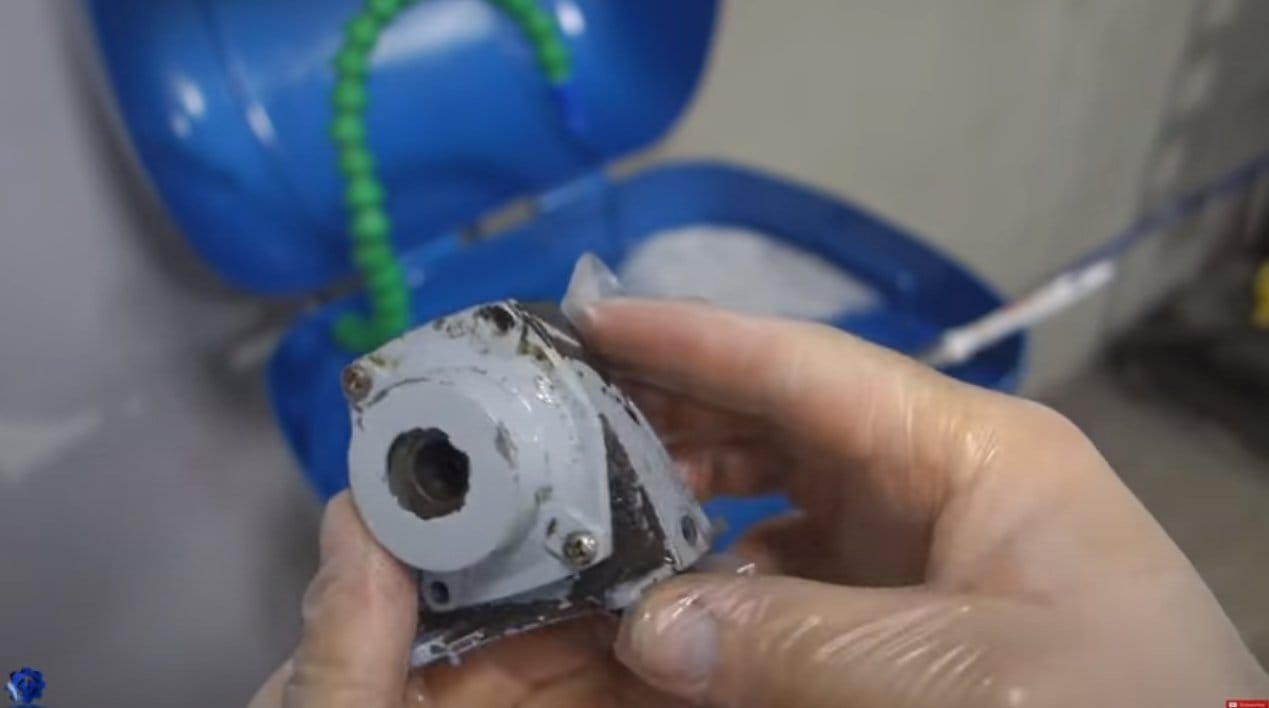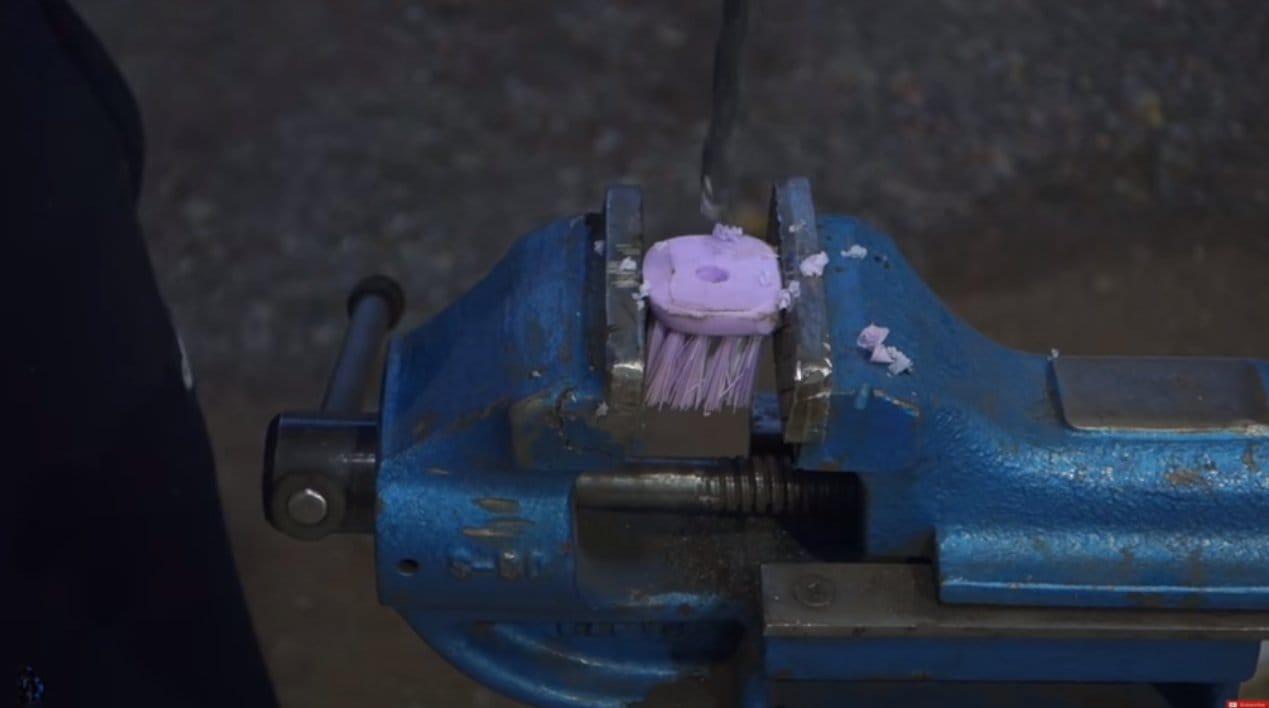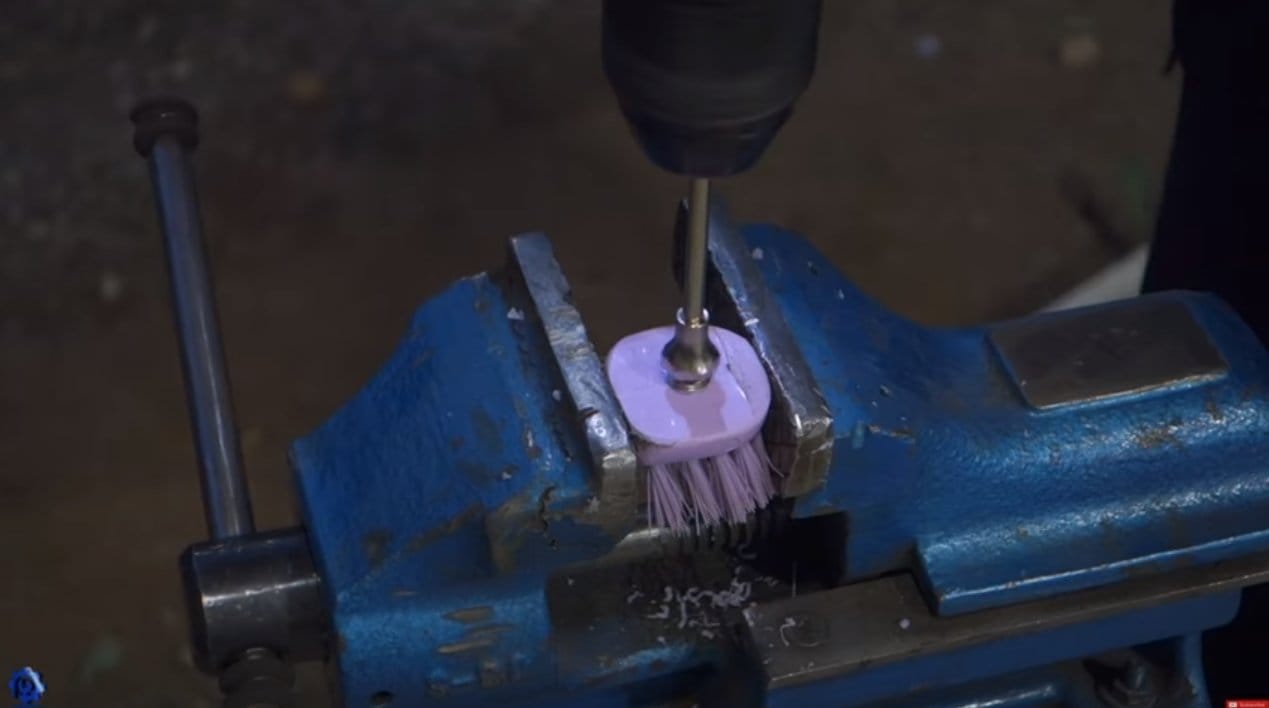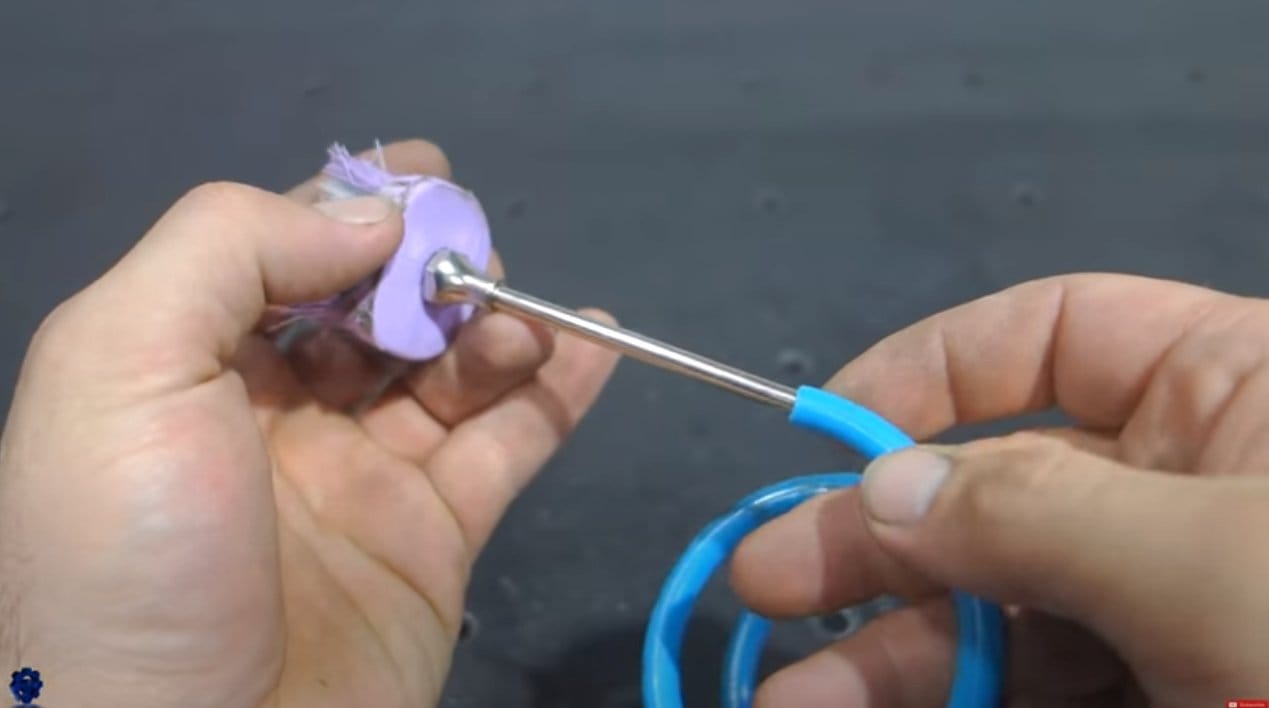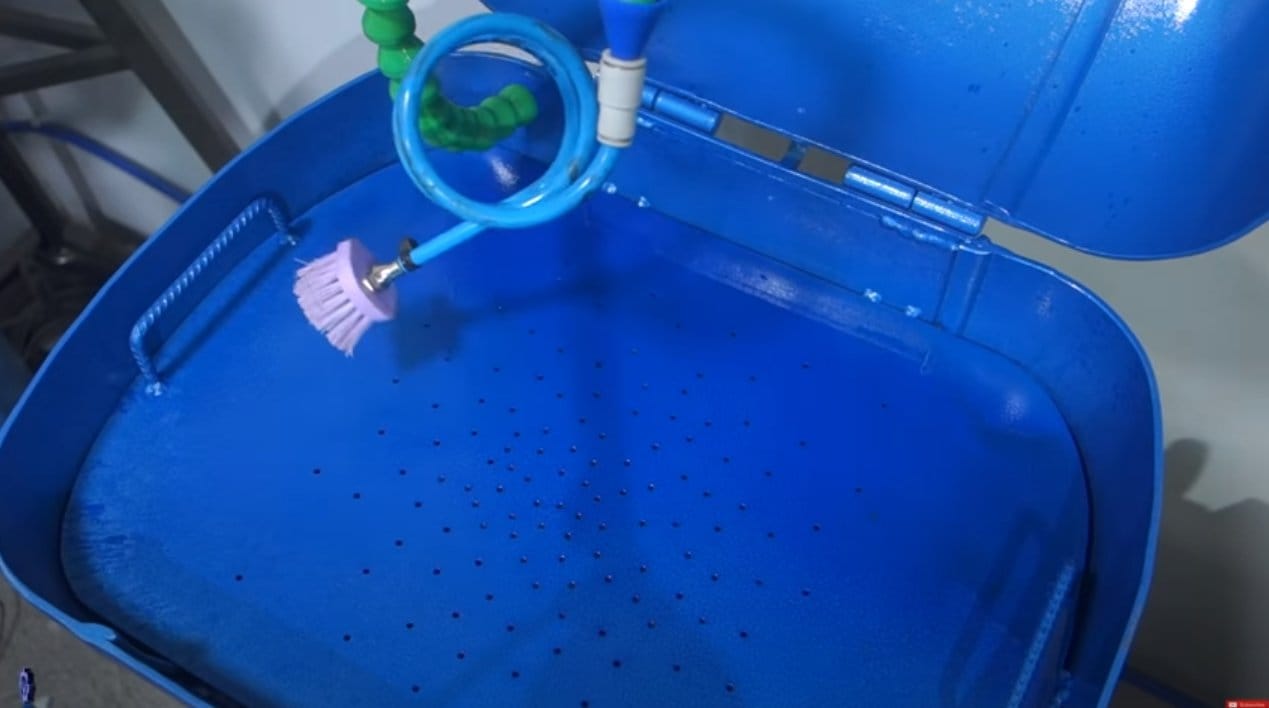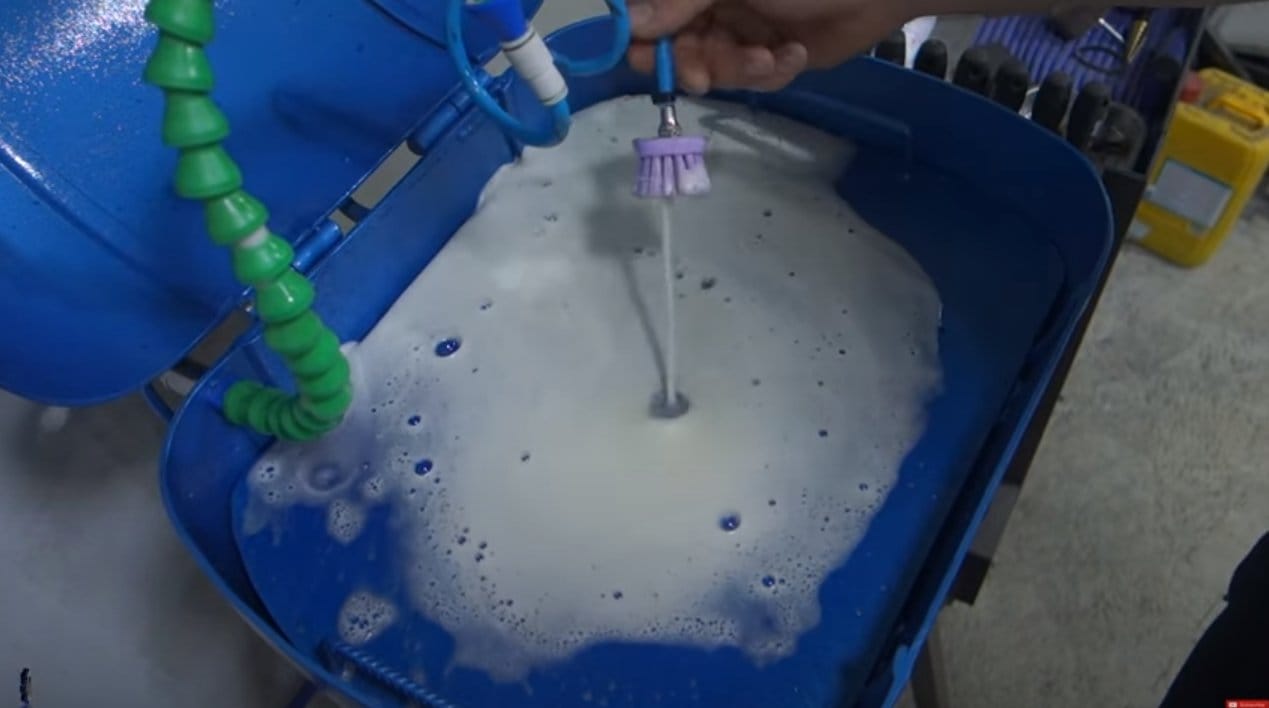 Fill in the cleaning liquid and you can work. With the help of a brush, the author quite successfully washed the gearbox housing of the grinder.
As a small improvement, the author made a brush through which water or detergent solution flows. It became even easier to work with such a brush!
This completes the project, I hope you liked the homemade product and found useful thoughts for yourself. Good luck and creative inspiration if you decide to do this again. Don't forget to share your ideas and homemade products with us!