Technology
Bitcoin price suddenly crashes amid 'death cross' fears – latest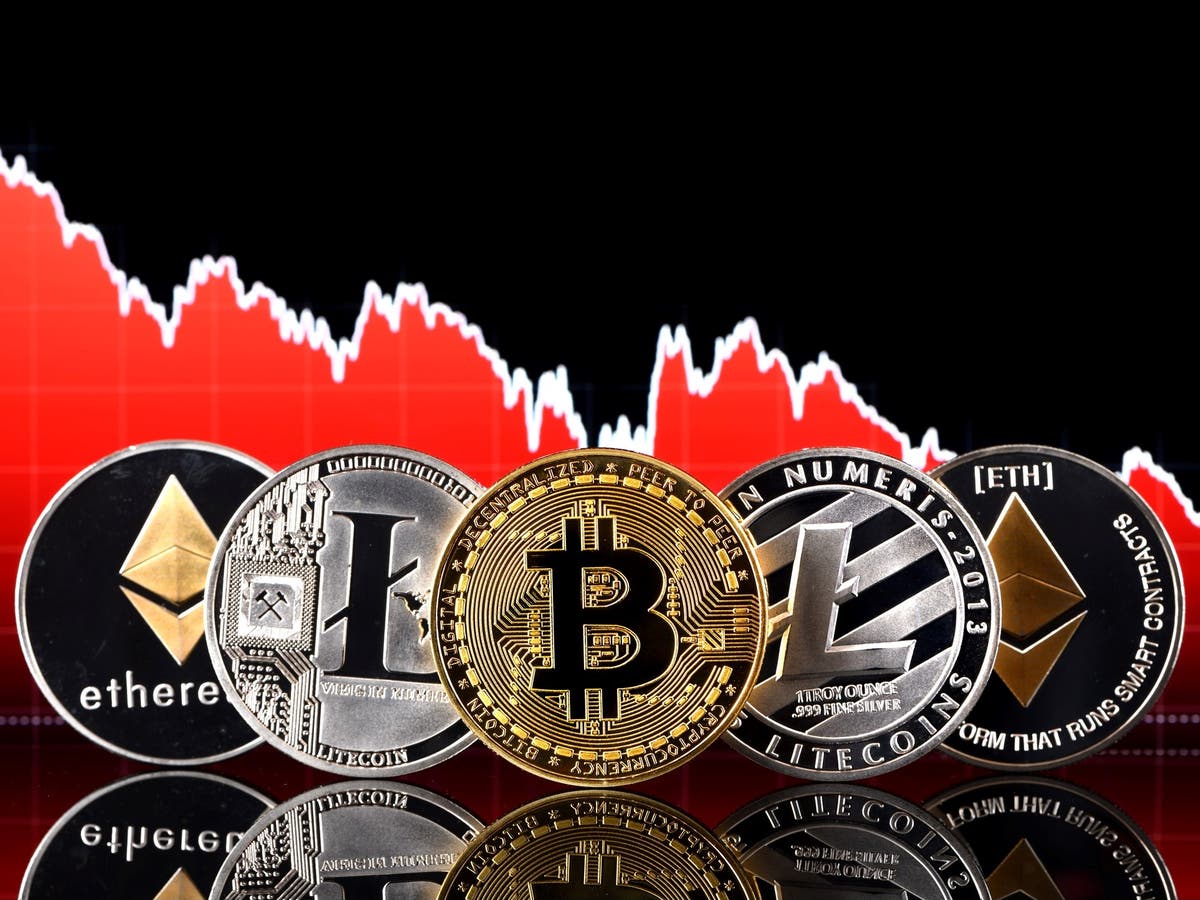 The price of bitcoin has crashed once again over the weekend, leading a market-wide nosedive that shows no signs of slowing down on Monday morning.
Nearly $200 billion was wiped from the cryptocurrency market since Sunday, adding to a further $200bn in losses over the last week.
Bitcoin was back below $33,000 at the start of the week for the first time since early June, though it still remains way up when looking at the year-on-year charts for 2021.
The latest drop has led to fears that more losses could be on the way, as a pattern known as the "death cross" has been reached. This is where the 50-day moving price average falls below the 200-day moving average, potentially signalling the arrival of a bear market.
Other leading cryptocurrencies also suffered, with Ethereum (ether), Cardano (ada), Binance Coin and dogecoin all dropping by a similar margin to bitcoin.
You can follow all the latest news, analysis and expert price predictions for the crypto market right here.
Show latest update 1624297346
Bitcoin price 'death cross' a bear market omen?
Bitcoin has passed through a so-called "death cross" today, marking the first time in 2021 that such a price pattern has occurred.
Such events can prove catastrophic for traditional markets (seen during both the Wall Street Crash of 1929 and the 2008 Financial Crisis) but cryptocurrency can be harder to pin down.
It is actually the seventh death cross since 2013 for bitcoin, with the last two actually resulting in massive gains. For a run down of what this milestone means, you can read the full story here: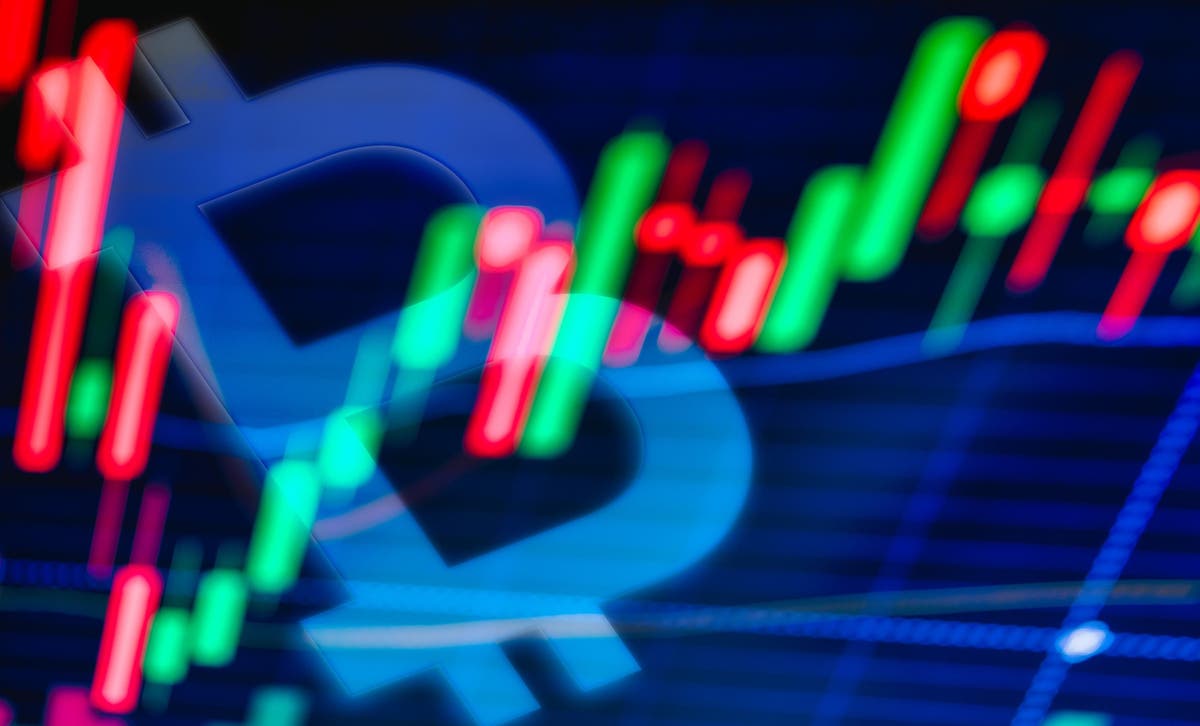 Bitcoin price crashes through 'death cross'
Market pattern was seen during Wall Street Crash of 1929 and 2008 Financial Crisis – but cryptocurrency is notoriously immune to prediction models
Anthony Cuthbertson21 June 2021 18:421624288911
More on MicroStrategy's big bet on bitcoin
MicroStrategy's doubling down on bitcoin amid a price crash has proved divisive among market watchers. Bitcoin advocates see it as a strong show of faith for the cryptocurrency, while shareholders appear less convinced.
The software firm's share price dropped 8 per cent on Monday following the news. The investment is also down more than $60 million since the time it was made and the time it was announced due to the current market downturn.
You can read more on the story from The Independent's tech editor Andrew Griffin right here.
Anthony Cuthbertson21 June 2021 16:211624283509
MicroStrategy buys another half a billion dollars worth of bitcoin
MicroStrategy CEO Michael Saylor says his firm has ploughed another massive chunk of cash into bitcoin.
An additional 13,005 bitcoins takes the software company's total holdings above 100,000, strengthening its position as the largest corporate investor into the cryptocurrency, ahead of Tesla.
Bought for $489 million, the current price crash means the latest batch are now actually only worth around $422m – a $67m loss. Bitcoin would need to fall below $26,000 for MicroStrategy to be at a net loss for all its holdings.
"As of 21 June, 2021, MicroStrategy holds an aggregate of approximately 105,085 bitcoins, which were acquired at an aggregate purchase price of approximately $2.741 billion and an average purchase price of approximately $26,080 per bitcoin, inclusive of fees and expenses," the company stated in a press release.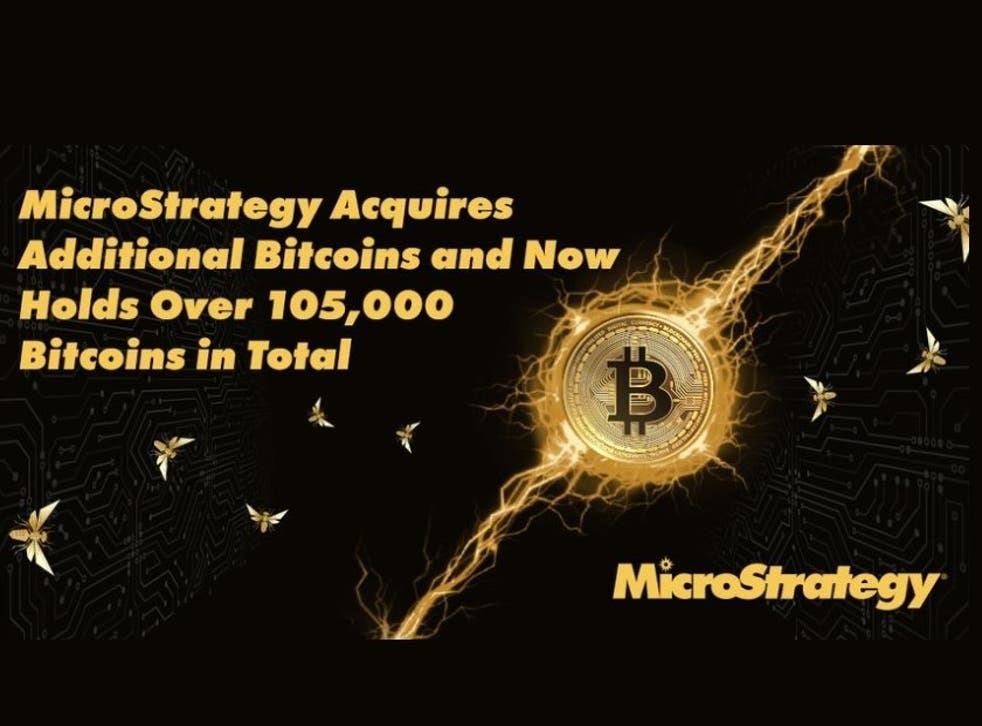 Anthony Cuthbertson21 June 2021 14:511624279608
Bitcoin price faces 'moment of truth'
Glen Goodman, market analyst and author of The Crypto Trader, says bitcoin faces a "moment of truth" as it nears the end of a possible price pattern.
The head-and-shoulders pattern that began to form back in January is nearing the end of the second neck line, meaning the next market movements could prove crucial to bitcoin's future trajectory.
"Completion would be red arrow. Failure green arrow," he wrote in late May.
The left shoulder found resistance at around $30,000, which is where we are currently heading.
Moment-of-truth time for this #Bitcoin head-and-shoulders pattern soon. It's testing the support line once again. Exchange analysis shows thousands of short-sellers now trying to push the price below the line….https://t.co/lB4ARkmMa8

— Glen Goodman (@glengoodman) June 21, 2021
Anthony Cuthbertson21 June 2021 13:461624276273
'Worst case scenario' for bitcoin price in 2021 is still above $100k
As the price of bitcoin continues to crash – it just fell below $32,000 – not everyone is pessimistic about its prospects.
Renowned bitcoin price analyst PlanB remains firmly bullish on the cryptocurrency's future, sticking by his Stock-to-Flow Model that charts the price against its in-built scarcity. (You can read more about that model here).
The pseudonymous Dutch expert claims the latest crash was caused by "FUD" (fear, uncertainty and doubt) brought about by negative news within the crypto space, but this could turn-around in the second half of 2021. His most pessimistic prediction? $100k+ by the end of the year.
Bitcoin is below $34K, triggered by Elon Musk's energy FUD and China's mining crack down.

There is also a more fundamental reason that we see weakness in June, and possibly July. My worst case scenario for 2021 (price/on-chain based): Aug>47K, Sep>43K, Oct>63K, Nov>98K, Dec>135K pic.twitter.com/hDONOVgxH1

— PlanB (@100trillionUSD) June 20, 2021
Anthony Cuthbertson21 June 2021 12:511624272089
Billionaire says he feels it's 'still early' for crypto
Billionaire investor Steve Cohen says he has done a "deep dive" into cryptocurrency and is now "fully converted".
The CEO of asset management firm Point72, which has more than $20 billion in AUM, said in an interview that his interest is focussed on the blockchain technology underpinning bitcoin.
"I'm hopeful that we will be able to start building something within Point72… We are in the process of starting to think about that," he said.
"I'm not missing this. I'm not going to miss this. I already feel like I missed the first part of it, but I still feel like it's early."
Anthony Cuthbertson21 June 2021 11:411624269233
Bitcoin price 'death cross' signals bear market or end to losses?
The dreaded "death cross" was hit over the weekend, whereby bitcoin's 50-day moving price average crossed its 200-day moving average.
For some analysts, this event is an indicator that the market has switched from a bull market to a bear market – meaning more losses are expected to follow.
For others, this pattern is a lagging signal that most damage is actually already done.
"At the 2019 death cross, bitcoin had already went through a -47 per cent dip before the death cross flashed, with a 52 per cent recovery after. And a -64 per cent dip before the 2020 death cross, with a quick 150 per cent recovery," noted one crypto enthusiast on Twitter.
"Ironically, death crosses are often a sign that the worst is already behind us."
Here's what the so-called death cross actually looks like: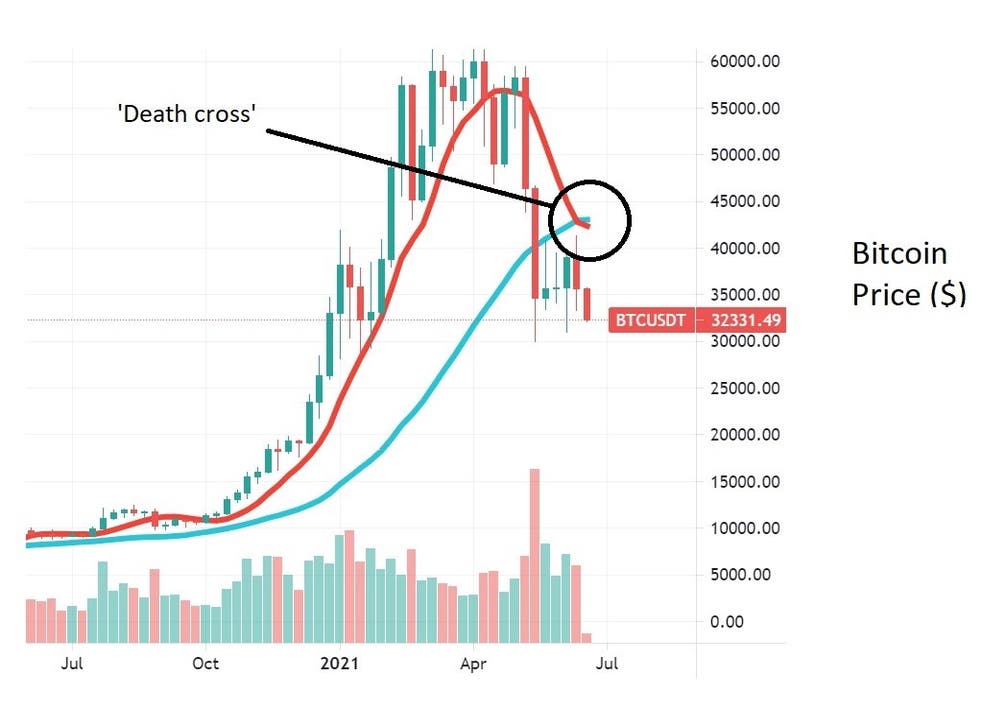 Anthony Cuthbertson21 June 2021 10:531624264662
China crackdown on bitcoin mining
The latest losses may have been spurred on by concerns that China will continue to crackdown on bitcoin mining.
The ban has already been expanded to the province of Sichuan, where authorities ordered the closure of 26 mining facilities last week.
In the long term, this could actually be good news for the cryptocurrency, as the majority of the bitcoin mines in China ran off non-renewable sources like coal. It is hoped that miners will shift to countries and locations that favour clean energy.
You can read the full story here.
Anthony Cuthbertson21 June 2021 09:371624263487
Bitcoin price crash continues into Monday
Hello and welcome to The Independent's live coverage of the cryptocurrency market.
The price of bitcoin has continued to crash on Monday morning, following a market-wide downturn over the weekend.
A 7 per cent price fall over the last 24 hours for BTC was mirrored by other leading cryptocurrencies, with Ethereum (ether), Cardano (ada), Binance Coin and dogecoin all falling by between 5-10 per cent since Sunday.
We'll have all the latest news and analysis from market experts right here.
Anthony Cuthbertson21 June 2021 09:18