Europe
Can French law rein in cyberbullying? A court case may tell.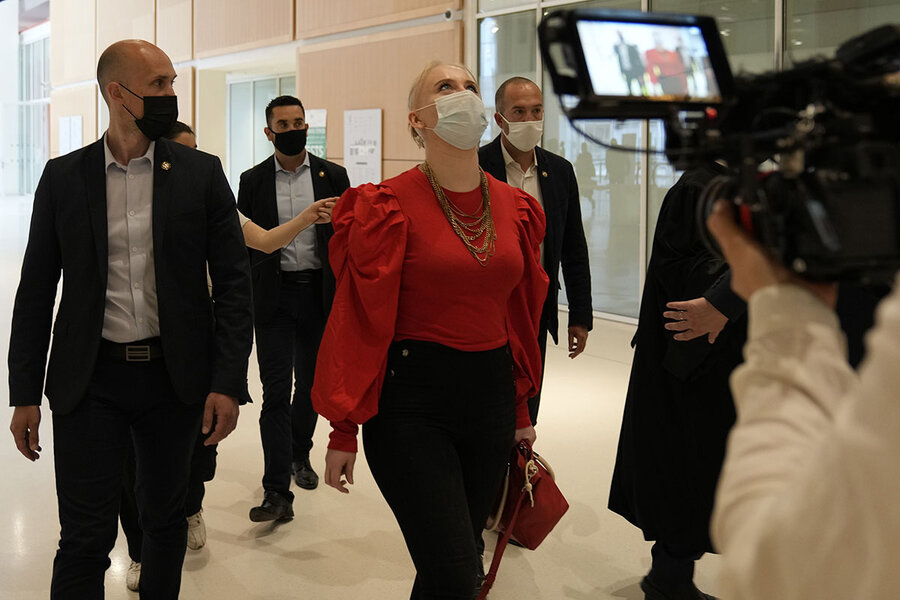 In January 2020, Mila, a French teen, had just dyed her hair a pale mauve tint and wanted to show it off to her some 10,000 followers on photo-sharing social media platform Instagram. As she did so, she chatted about her likes and dislikes, before leaving a "Stories" video, where she stated that she hated all religion.
"The Quran is a religion of hate, Islam is" trash, said the Lyon high school student, who is a lesbian. "I'm not racist… you can't be racist towards a religion. I've said what I think, I have the total right to do so. I don't regret it at all." She repeated her criticism of Islam in a November 2020 TikTok video that she posted after the jihadist killing of teacher Samuel Paty.
Her comments caused a social media firestorm – around 100,000 hateful messages including  homophobic comments, death and rape threats, and the publication of her personal details online.
Why We Wrote This
The trial of 13 people who harassed online a French teen who condemned Islam could indicate how the country will punish cyberbullying, an often overlooked and hidden crime.
Mila, as she is identified publicly, was forced to drop out of school and has been put under police protection. And what might have remained online rants by an angst-filled teen quickly spawned a media blitz that lasted more than a year, and turned into political dynamite, with voices across the political spectrum debating Islamophobia versus freedom of expression.
Now, because blasphemy is protected by law in France and punishment for cyber harassment is in a fledgling state, the "Mila Affair" has turned into a test case for the definition, and potential consequences, of online bullying. Last week, 13 people ages 18 to 30 went to trial for their online remarks directed at the French teen, in what looks to be a landmark criminal case about online harassment.
"It's horrible what happened to Mila but she's become a kind of symbol of cyber harassment," says Justine Atlan, general director of Association e-Enfance, a nonprofit that has set up a national helpline for victims of internet abuse. "This case has been important pedagogically, to show people how to become more responsible. Sending a message or tweet can seem like nothing, but you can end up in court for doing it."
Finding a balance
Soon after Mila's controversial video went viral, a legal complaint was brought against her for incitement to racial hatred, which was later dropped. The right to blasphemy is protected under an 1881 law and Mila has always maintained that she was criticizing a religion, not individuals. 
Meanwhile, 13 people who attacked her online after her November TikTok video – ranging from a psychology student to an aspiring police officer – are being tried in the first high profile case using a 2018 law on cyber harassment. Under that law, it is a crime to post comments that intentionally participate in mob bullying against a single victim. 
The new law helps take some of the guesswork out of defining what kind of language constitutes cyber harassment, as social media networks struggle to find a balance between freedom of expression and controlling hate speech.
"Before, you had to show why a certain comment was harassment. Now, we have something innovative in the law," says Gérard Haas, a Paris-based lawyer who specializes in new technologies and cybersecurity. "It's the repetitive act that is key. People can no longer participate in an online lynching of one person. I think it's a good thing to scare people who are trying to scare others."
France has seen an uptick in online harassment over the past decade – especially during the COVID-19 pandemic, when incidents of cyberbullying rose by 30% among young people during France's first lockdown. 
The phenomenon affects people of all ages, but especially young people, and calls for help to Association e-Enfance rose by 54% in 2020 from the year before. According to an April 2020 study by the Institut Montaigne, a Paris-based think tank, more than half of French people ages 11 to 20 have been victims of cyber harassment, while just 9% of parents thought their children were affected. Many parents don't monitor their children's phones or computers once they reach high school.
Sexting and revenge porn – the dissemination of sexually explicit messages or photos online – is a particular problem for girls and women. This past March, Alisha, a 14-year old French girl was found dead in the Seine after having been violently beaten by two classmates. It was later discovered that her phone had been hacked, and intimate photos of her had been widely spread on social media platform Snapchat.
Since 2013, the government has organized a competition between schools for the best PSA announcement about harassment, and in 2016, Education Minister Najat Vallaud-Belkacem made tackling cyberbullying one of her top priorities.
But nonprofits say that there are still too many victims, and that efforts to counter cyberbullying are hindered by a failure of the police to fully acknowledge the problem, and by the difficulties in providing accessible legal aid to victims.  
"I hope this affair opens people's eyes, especially the government's, to all the victims out there and the need for more training," says Magali Chavanne, secretary and spokesperson for Cybhar'so, a nonprofit near Toulouse that works on preventing cyber harassment among young people. "There need to be more specialists to help victims. Laws are great, but they need to be understood at all levels of the chain and then applied."
A fresh opportunity
Many observers cringe at the gigantic proportions Mila's case has reached – as well as the months-long debate it spurred – but they agree that it has provided a fresh opportunity to raise awareness of a situation that is not getting any better despite the government's intentions.
The Stop Fisha collective was founded last year and is trying to fight cyber harassment and cyber-sexism preemptively. More than 20 young female members scour the internet, working to close down suspicious accounts as well as support victims who are hesitant to speak out to adults. 
Other nonprofits are focusing on prevention efforts, like Cybhar'so and the Amazing Kids association, both of which partner with local groups and offer workshops in schools. Mental health professionals say prevention is better than cure.
 "Adolescents have an extremely high ability to hide their emotions, so it can be very difficult for parents to spot when harassment is happening," says Catherine Verdier, a Paris-based psychologist for children and adolescents, and co-founder of Amazing Kids.
"The multiplying effect of online harassment – one piece of information can reach astounding numbers with just a few clicks – makes victims feel like the whole world sees them in a certain way. It doesn't take long before their entire sense of self is eroded," she adds.
On July 7, French judges will give their verdict in the case; 12 of the 13 defendants face up to six-month suspended prison sentences. During the trial, one defendant apologized for his comments; another said he was only trying to attract more online followers. One young woman said she didn't see the difference between the freedom of expression Mila used in her posts and her own angry Twitter responses. 
Mila is seeing a therapist to cope with her new situation. She's slowly returning to social media and still says she has no regrets.
"To ask me to stop [using social media] is like asking a woman who has been raped to never go out into the street so she won't be raped again," said Mila during her trial. "If I had stopped, it would allow everyone to walk all over me. I just want to exist, to enjoy the time I have left."