DIY
The rustle of the air in the Canon EF-S 18-135mm f/3.5-5.6 IS USM
Came for repair a Canon EF-S 18-135mm f/3.5-5.6 IS USM lens.
With an interesting defect. Is there a rustling or rustling sound during operation?
I will look on the Internet for the characteristics of this very good lens.
Briefly:
Zoom lens standard
Canon EF-S mount
Minimum focusing distance 0.39 m
Autofocus, ultrasonic motor IS USM
Built-in image stabilization
Adapted for video shooting
7.5x zoom
Number of elements/groups of elements: 16/12
Dimensions: 77.40×96 mm, weight: 515 g
Got it, but a little more detail?
Canon EF 28-135mm f/3.5-f/5.6 IS USM was the first standard zoom (5X) lens with built-in stabilization (first Canon IS lens – EF 75-300mm f/4-5.6 IS USM, 1995). Produced since 1998.
The lens is universal – suitable for a landscape, portrait, reportage. On a digital camera with an APS-sized sensor, its focal length range is "lengthened" by 1.6 times and you can shoot, especially without getting close to the subject. Stabilization, rated in terms of effectiveness as the equivalent of two to three stops in shutter speed, is of great help, especially in reportage photography.
The lens is designed for full frame cameras. Focusing drive – USM motor. For manual focusing, it is not necessary to switch to manual focusing mode before focusing – the mechanical drive ring works regardless of the mode. Focusing is carried out by moving the internal groups of lenses – the attachment point for filters and hoods does not rotate during focusing. The focal length is changed by rotating the wide zoom ring.
What I like and not so much about this lens.
Of course I haven't used this device for a long time as a real reporter. I shot a little.
I liked the transition mode from auto focus to "manual" so to speak. You don't need to switch anything.
The zoom movement is very fast. BUT .. BUT .. with intensive "pushing in and out", the dust is sucked in like a vacuum cleaner. There is not enough protection in the form of spacers between the retractable barrels.
Highly not recommended to shoot in sand pits.

At motocross competitions and when traveling desert.
Competitions" Paris-Dakar "also fall into this list.

And also the focus drive is very fast, the motor runs almost silently. All elements are installed inside the lens, well protected from external influences.
For some units, the front lens is focusing and is easily damaged even with a slight mechanical impact.
And a little fun, or something.
Clients have been reporting lens drooped quite often. It is enough just to tilt the camera with the lens downwards, as the barrels under their own weight move to their maximum value. And when shooting tilted, you need to constantly keep the lens secured. This bad effect is not a warranty case.
How many bad luck with photographers.
I know how to fix it, but Canon stubbornly does not consider this repair under warranty.
If the repair comes in the post-warranty period, I eliminate it, for a fee.And so the patient is on the table, what is this extraneous sound?

I'm starting testing, rustling!
Doesn't look like a motor defect, rustling when the lens extends, when autofocus is working.
We'll have to disassemble and it seems to go deeply. br> Prepared the tool.
Tweezers, open the cable clamps.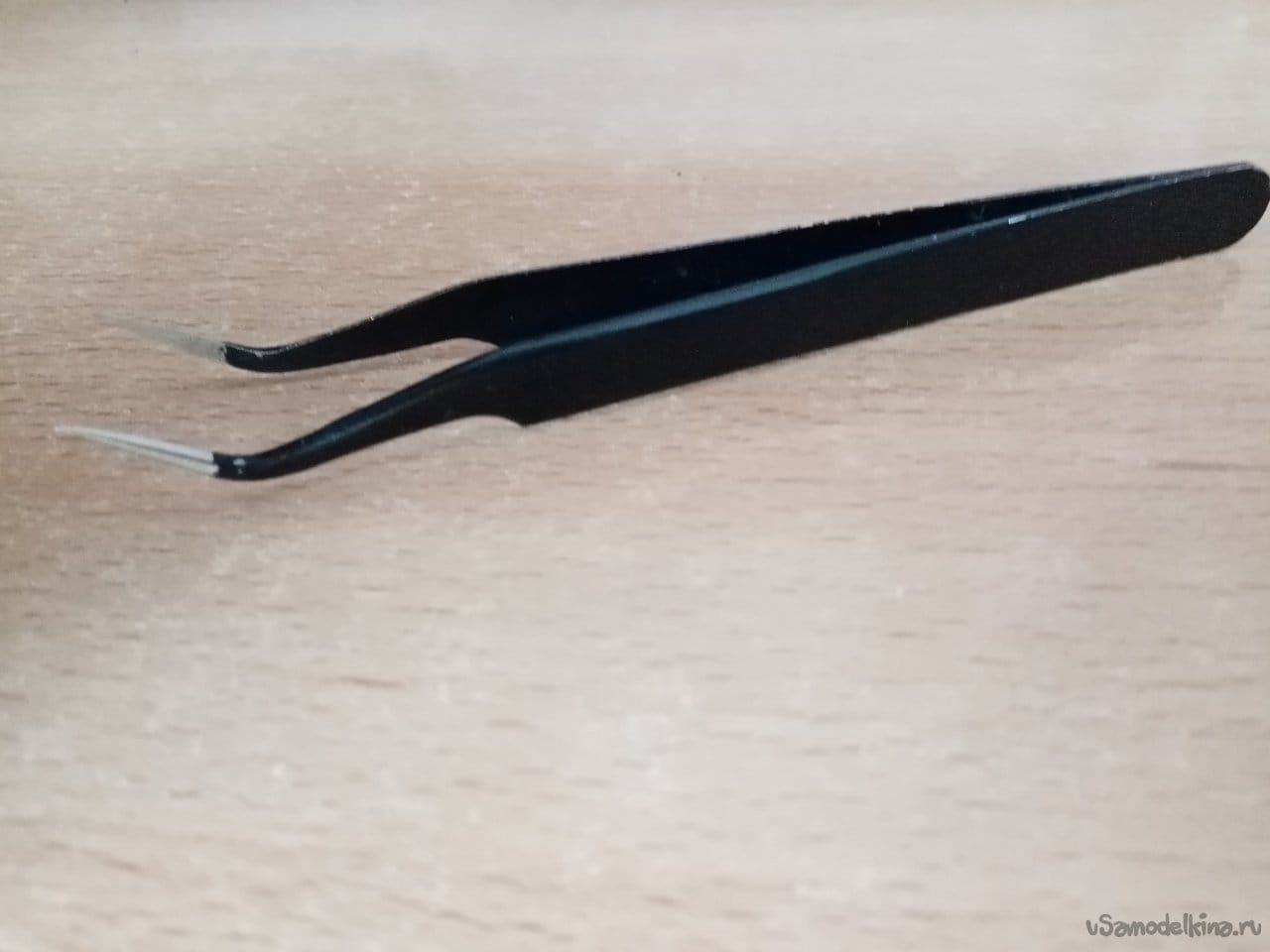 A screwdriver with a good chall.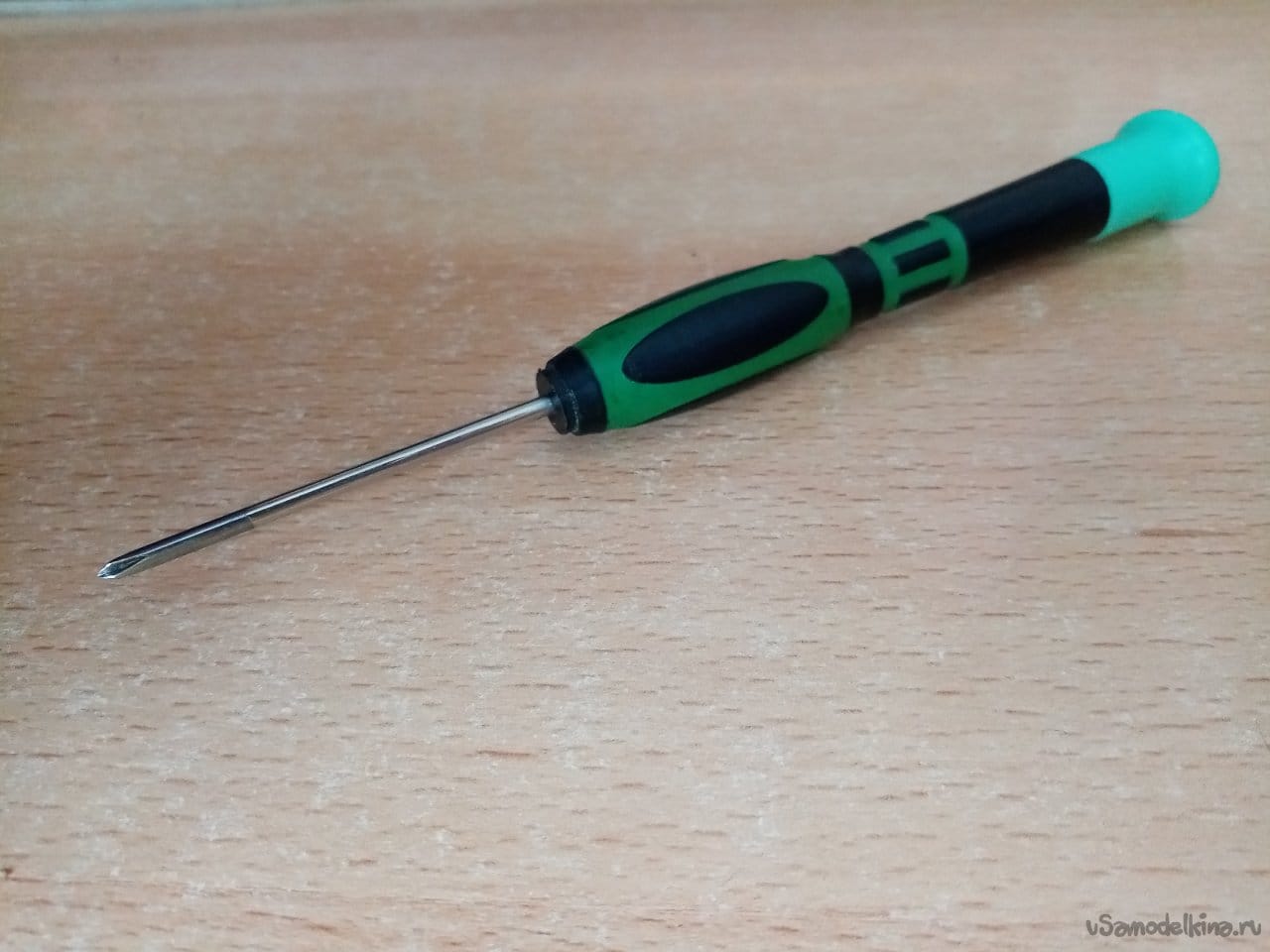 Enema blower.

An electrifying brush of dust particles

It will start now.

Taking off the bayonet, all such metal.

Rear lens and all its periphery. < br>
Then the intermediate chassis.

I open all connectors and dismantle the control board.

I remove the autofocus motor .

Boxes on the sides, these are stabilizers.
Dismantled very thoroughly. I examined almost all the moving parts, I found nothing.

Put it back together. I'm starting to run tests. The defect manifests itself periodically. Sometimes a rustling is heard.
Quite by accident I found the position of the lens in tilt, when the rustling is almost always heard.
I marked the side with a sticker with a piece of masking tape.
I start disassembling again. I draw your attention to this side. Obviously, when tilting, the barrels warp a little and touch something there.
I take off the bayonet, lens, motor. The second time I examine all the details.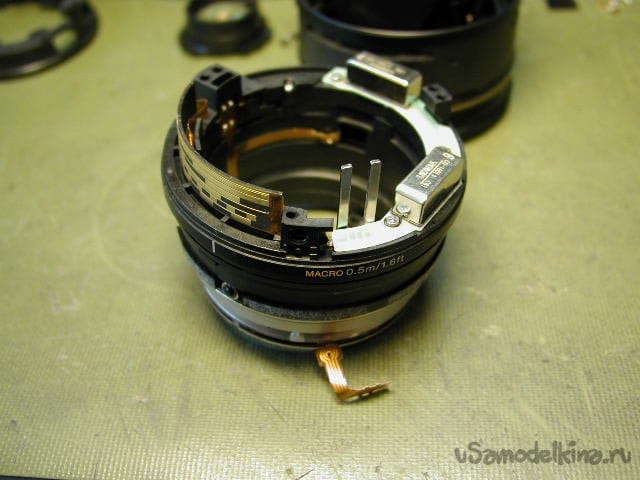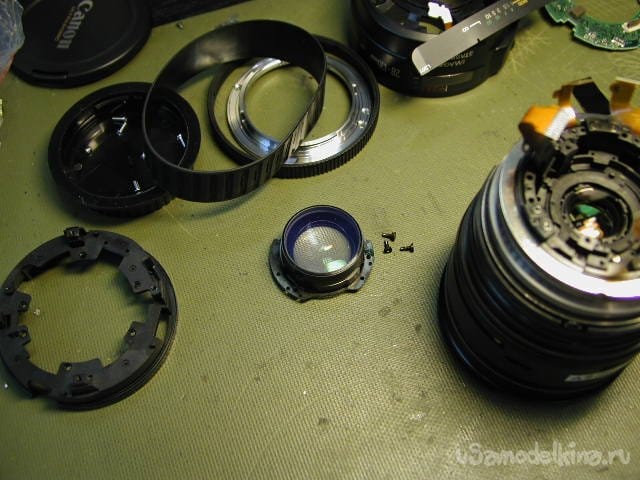 Turned the block exactly this side.
Found it.
A corner of the loop came off. The client was lucky, nothing was frayed. Just walked away, along with double tape.

Using a toothpick I drip cyacrine and glue this corner. I rinse with alcohol using an ear stick so that the scotch sticks well.
On top I also glue the 3M super crystal with scotch tape.
I like 3M scotch tapes, although they cost a lot.
Especially the cool slogan "There is only one scotch tape – everything else is sticky tape!" times. We have to prepare the workplace very carefully. I vacuumed everything I could, wiped all the places with a damp cloth, turn on a humidifier. Well, I have no dustproof box! And a speck of dust on the internal blocks of the objective lenses is again disassembling into noodles.
Repair is completed.

It wasn't there.
The client wants to talk!
Svetochka banged on the nerves.
Blinnnn burned. Well, then something else.
A quite decently dressed guy hesitates at acceptance.
Probably in my face you can see that I am deeply out of sorts. Although I always try to hide my mood behind the duty of friendliness. Sometimes the "muzzle" fails.
After the usual words of gratitude, a request should be made to upgrade the lens. This is in the sense of the barrels falling out due to gravity in an inclined position. I was recommended to contact you.
And when they brought it for repair, could it be stated?
We'll have to help the forgetful one, he even knows the cost of this process.
Svetik-take an order for a new one.
All modernization consists in replacing all pins in the lens. Again, you will have to disassemble.
These pieces have a different design solution.
That's about.
A plastic washer is put on the bolt, and it slides along the cutouts of the barrels.
Photo from another lens for clarity.

Our patient has a slightly different size of these parts. But the principle is the same.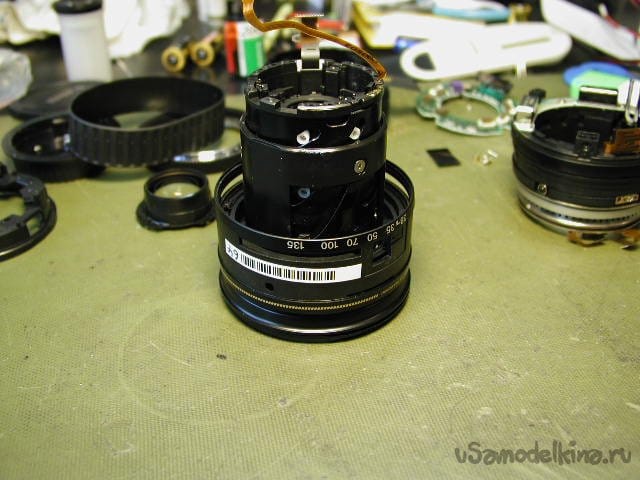 You just need to make the same plastic, but a micron more. They will fidget with some effort in the slit and the lens will not advance on its own.
For a long time I was looking for a specialist who can carve me such small stepped tubes, and even in internal holes of different diameters from caprolon or fluoroplastic.
I also turned to an optical factory. They can, of course, order, but the quantity …. from the car.
Through the reverse gear, it did not work either. Few details. It is necessary, several sizes well .. about 10-20 pieces.
They don't want to get their hands dirty.
Quite by chance, they recommended my grandfather, he is restoring an old clock. He has a homemade machine tool for such small and precise details, although he sharpens it from bronze. Acquainted showed what is needed. Truth without much hope. Caprolon and fluoroplastic are very capricious materials in turning, it is difficult to fit a detail into size.
It did not work out. Sadness. And then the master watchmaker was provoked. Defeated the vile stuff. Everything fit with micron precision.
I brought a few more different pins. We tried it, adjusted it to size. Beauty.
The master made a rationalization proposal.
Let's number the samples.
You write an e-mail and order, let's say "number 3" – ten pieces.
I come, get the products, pay and everyone is happy. Especially photographers.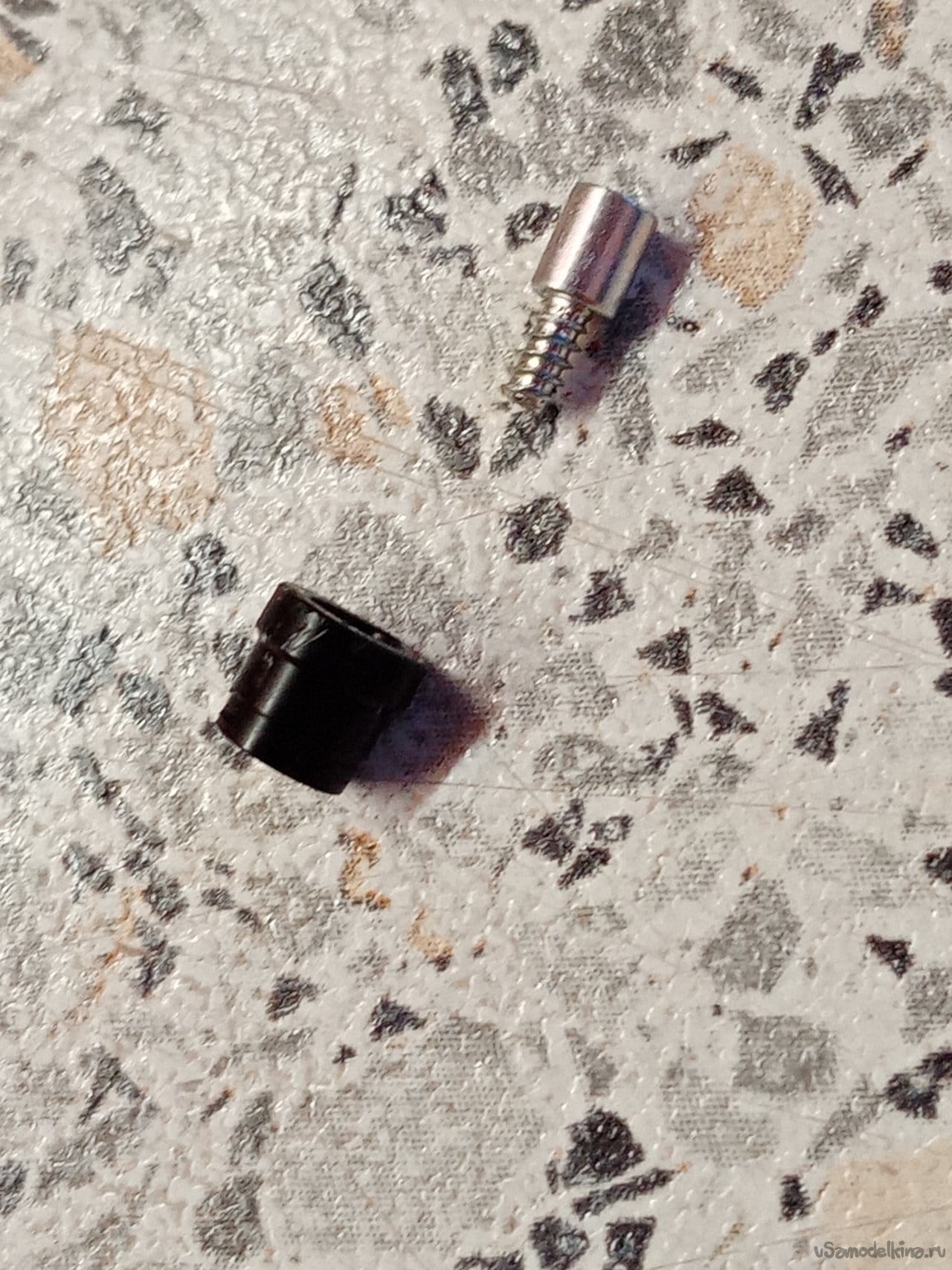 Again for the vacuum cleaner and a rag. I turn on the humidifier.
I disassemble the lens, change the pins to PTFE. Collecting.
Ready. The question/topic is automatically published in the social. site network – follow the answers there too: