DIY
CANON IXUS 400 camera with "growl"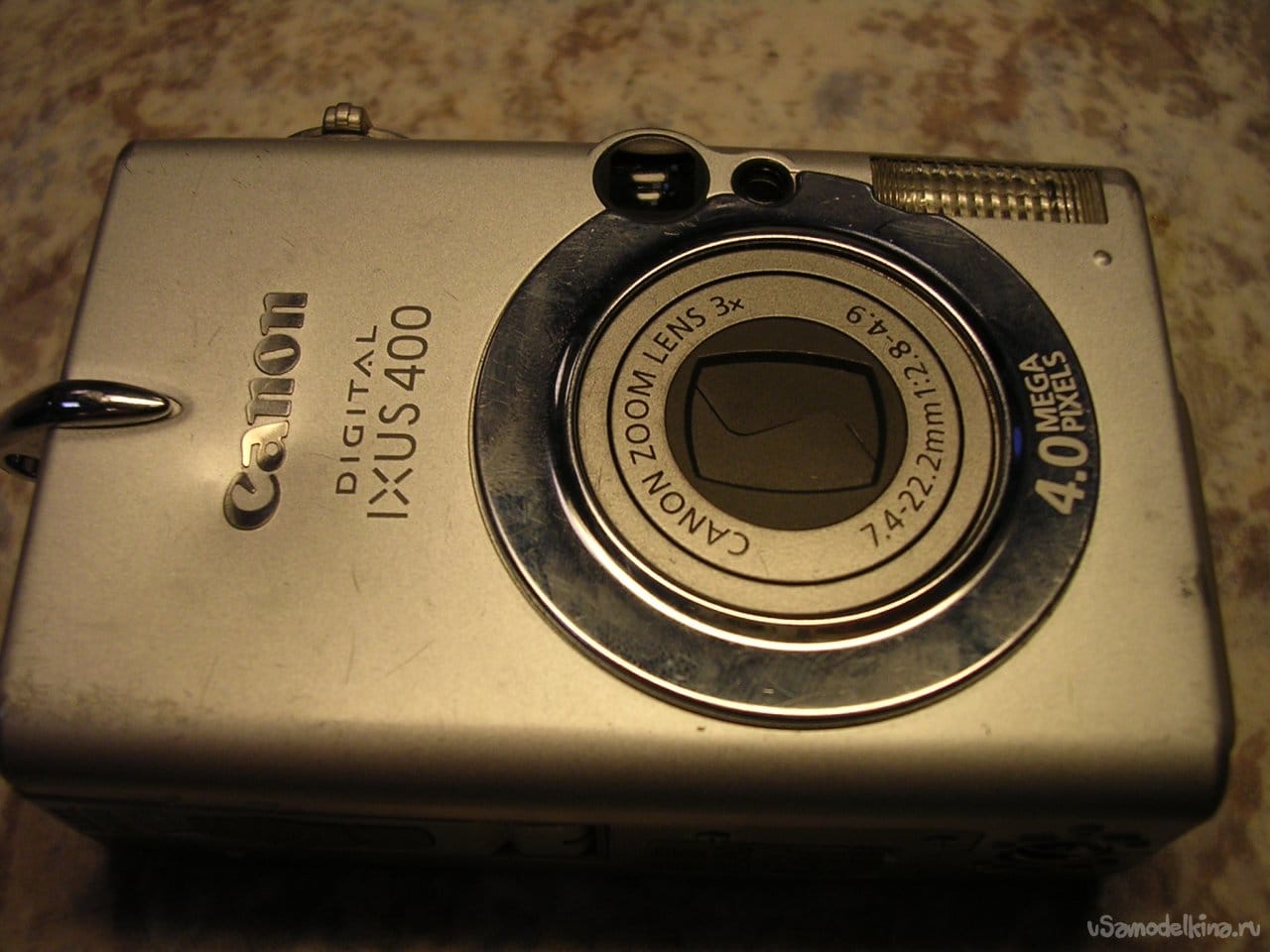 A boy brought the device for repair.
the area of ​​the company inscription ".
Malfunctions from the words of the client" growls when turned on! "Another patient is on my table, now let's see where the little piece of iron "growls".
I pull up the battery to the nominal value, turn it on, and the truth is, when the lens is extended by half a centimeter, a sound of a very low quality is heard. I pull the lens out a little with my hands and then it moves and works normally. To guarantee I run it through the tests, everything is normal except for the sound in the initial stage of the advance. The sound is high, it means that there is a defect in the gears of the reducer in the vicinity of the motor. Because everything is spinning at great speed. If low means closer to the lens the rotation of the gears there is much slower.
I am looking at the warehouse of the service center, there are no such lenses.
I am looking at my warehouse. There are several options for disassembled and cogwheels. I climb into the boxes, so, the first barrel and the last gear in stock are not damaged.
I explain about two spare parts warehouses.
I've been repairing photographic equipment for a long time since 1997. Little has accumulated for various reasons.
Customers give as a gift for spare parts or refuse to pick up from repair. I buy it myself. They are given by familiar engineers when they stop doing photographic equipment or the next service is liquidated. This, of course, is the saddest, it only stems from one reason – the "crooked" manual.
Repairers will always be needed, just like medicine, vodka and chocolates


He worked in several companies good and bad, different in short.
I moved from place to place with my tools and equipment because I bought everything for my own money and dragged something from abroad. links on the Internet. These are my developments, my status as an engineer. And even a chair he bought from Ikea carried. Only there was no table


Concerning spare parts (for example).
Sign in Excel for SAMSUNG.
3 SAMSUNG lens L 100 mechanics/rear wall with gear …… 6 pcs.
3 SAMSUNG lens S 760 mechanics/focus ………………. …….. 14 pcs.
3 SAMSUNG lens S 630 VE/S 730 mechanics/stripes ……………… 2 pcs.
3 SAMSUNG lens ES 15 …………………………………… 3 pcs. < br>3 SAMSUNG S 500 lens mechanics/focus ……………………… 3 pieces
3 SAMSUNG S 850 lens mechanics/reducer. ………………….. 3 pcs.
3 SAMSUNG lens NV 15 mechanics/focus …………. ………….. 2 pcs.
3 SAMSUNG lens NV 10 ……………………. ……………… 2 pcs.
Three is the box number. Model, damage, quantity. Sometimes a sticker on the parts with explanations. Simple and convenient.
Slightly distracted, sorry.
So what are the sellers of this little iron writing.
The camera body is made of stainless steel, and the new super-durable "Super Hard Cerabrite" metal-ceramic finish in a pleasant tint gives the camera a great look. Classic Digital IXUS design – a chrome ring around the 3x 36-108mm (35mm equivalent) f/2.8-4.9 zoom lens and a belt loop around the edge of the body are a work of art. Intelligent orientation sensor and iSAPS technology, video editing, soundtrack (up to 60 sec), built-in speaker.
The beauty is stainless steel, metal ceramics, and the belt eyelet is only for graceful ladies' pens !!!
Specifications Canon Digital IXUS 400
Image sensor ……………… 1/1.8 "CCD.
Effective pixels. …….. 4.0 million
Total pixels ……………. 4.1 million
Maximum recording number … …. 2272 x 1704.
Primary color filter
Lens ………………………. 7.4 ( W) – 22.2 (T) mm.
(35mm film equivalent range: 36 – 108mm).
maximum aperture ………….. F2.8 (Wide) – F4.9 (Tele),
7 elements, 5 groups (2 aspherical elements).
Zoom .. …………………………. 3x optical zoom, 3.6x.
Digital zoom …………………… 11x zoom with a combination of optical and digital.
Focus ……………………. 9-point TTL AiAF/AF with one center point, AF lock mode available, AF-assist beam on/off, focusing range ……………. normal shooting (46 cm – infinity) and macro photography (5 cm (Wide)/30 cm (T) – 46 cm).
Light metering/Exposure …… Evaluative metering, center-weighted metering, spot metering (center point), AE lock mode available, exposure compensation: +/- 2 EV in 1/3-stop increments, ISO film equivalent: auto/ISO 50/100/200/400.
Shutter speeds ……………….. 15 – 1/2000 s (shutter speeds from 1 to 15 s are selected manually in manual mode when the long exposure mode is on), for shutter speeds shutter duration longer than 1.3 seconds, noise reduction is used.
White balance settings ……….. Auto, 5 presets (daylight, cloudy, incandescent, fluorescent, high temperature fluorescent) and custom settings .
Viewfinder LCD monitor …………. Zoom real-image viewfinder, 1.5-inch low-temperature polycrystalline silicon TFT color LCD monitor.
Flash …….. ………………… yes.
Operating modes …………………. .Auto, Auto Red-eye Reduction, Forced Firing and Flash Off, Slow Sync. Operating range ……………….. 30cm-3.5m (Wide)/30cm-2.0m (Tele) (at ISO sensitivity: auto) , Flash exposure lock possible (FE Lock).
Shooting modes ………………….. Auto, manual, panorama shooting mode, movie (with sound), photographic effects ……… …. vivid/neutral/de-sharpening/sepia/black & white, continuous shooting: high speed mode – approx. 2.5 fps (provided for the first 5 frames) and normal mode – 1.5 fps (provided for the first 8 frames) (in high definition/high quality mode with the LCD off).
Recording pixels/compression … Still images – (L) 2272 x 1704, (M1) 1600 x 1200, (M2) 1024 x 768, (S) 640 x 480 (selectable from three compression levels – highest, high, normal).
Movie recording …………………… 320 x 240, 160 x 120 (Movies are shot at 15 fps for max. . 3 min, depending on type and capacity of CF card).
File format ………………….. Photo JPEG (Exif 2.2 compliant [Exif Print])/Design rule for Camera File system compliant with Digital Print Order Format (DPOF) Version 1.1
Video ………………………… AVI [Motion JPEG + WAVE (mono).
Soundtrack …. ……… WAVE (mono).
LCD menu language …………… 12 languages ​​(English, French, German, Italian, Spanish, Dutch, Swedish, Norwegian, Danish, Finnish, Japanese, Chinese).
Interface …………………….. USB (PTP), audio/video output (PAL/NTSC).
Memory card ………………….. Compact Flash type I.
Power supply ………………. Rechargeable Li-ion Battery NB-1LH (Battery and charger included).
Other Accessories …… ………… Waterproof case (depth up to 40 m), car charger, soft case.
Operating conditions …………… 0 – 40 ° C, humidity 10 – 90%.
Dimensions ……………………… 87.0 x 57.0 x 27 , 8 mm.
Weight ………………………….. 185 g.
Prepared the instrument. < br> Screwdriver, tweezers, discharger, breaker, blower and brush.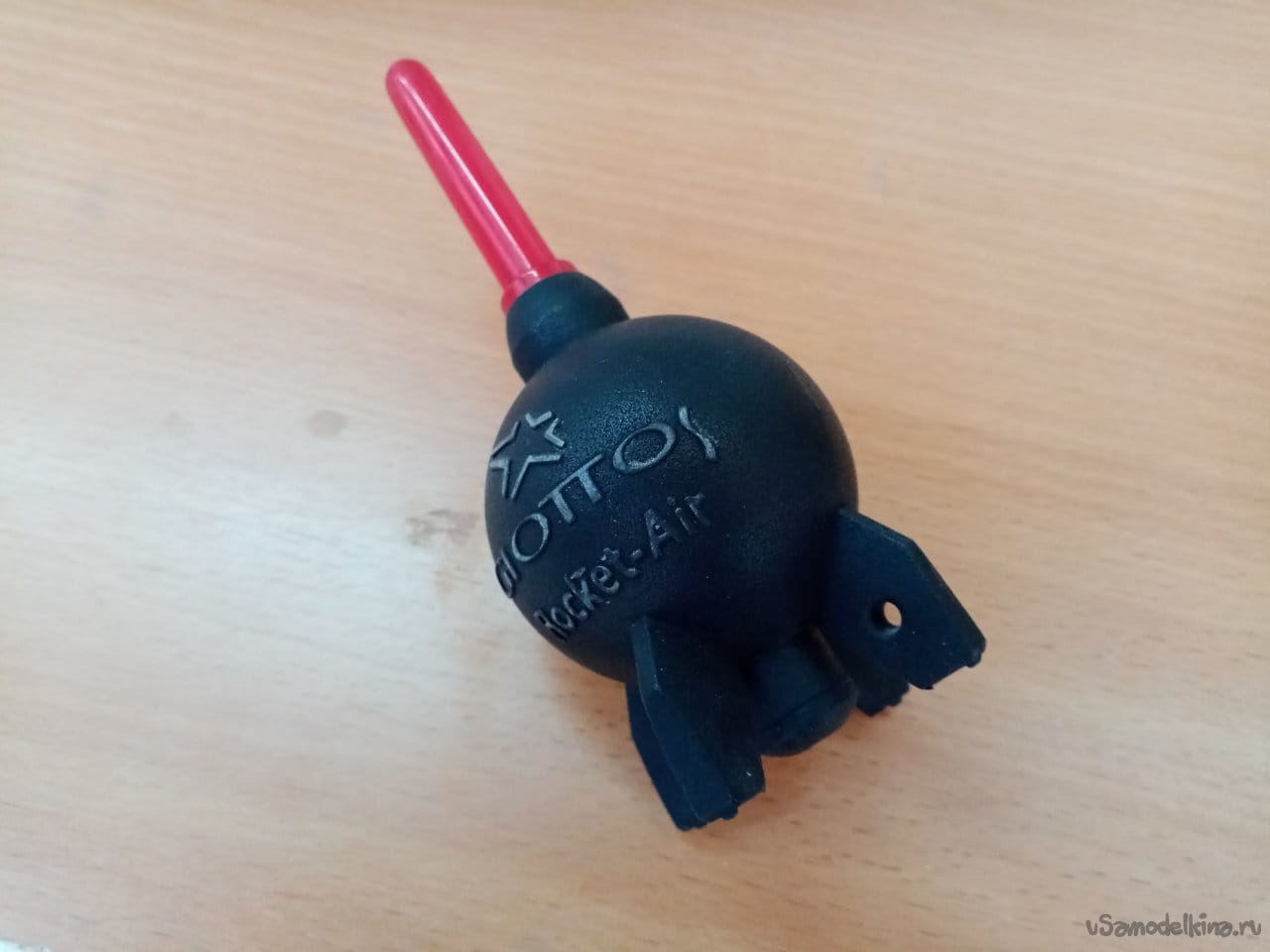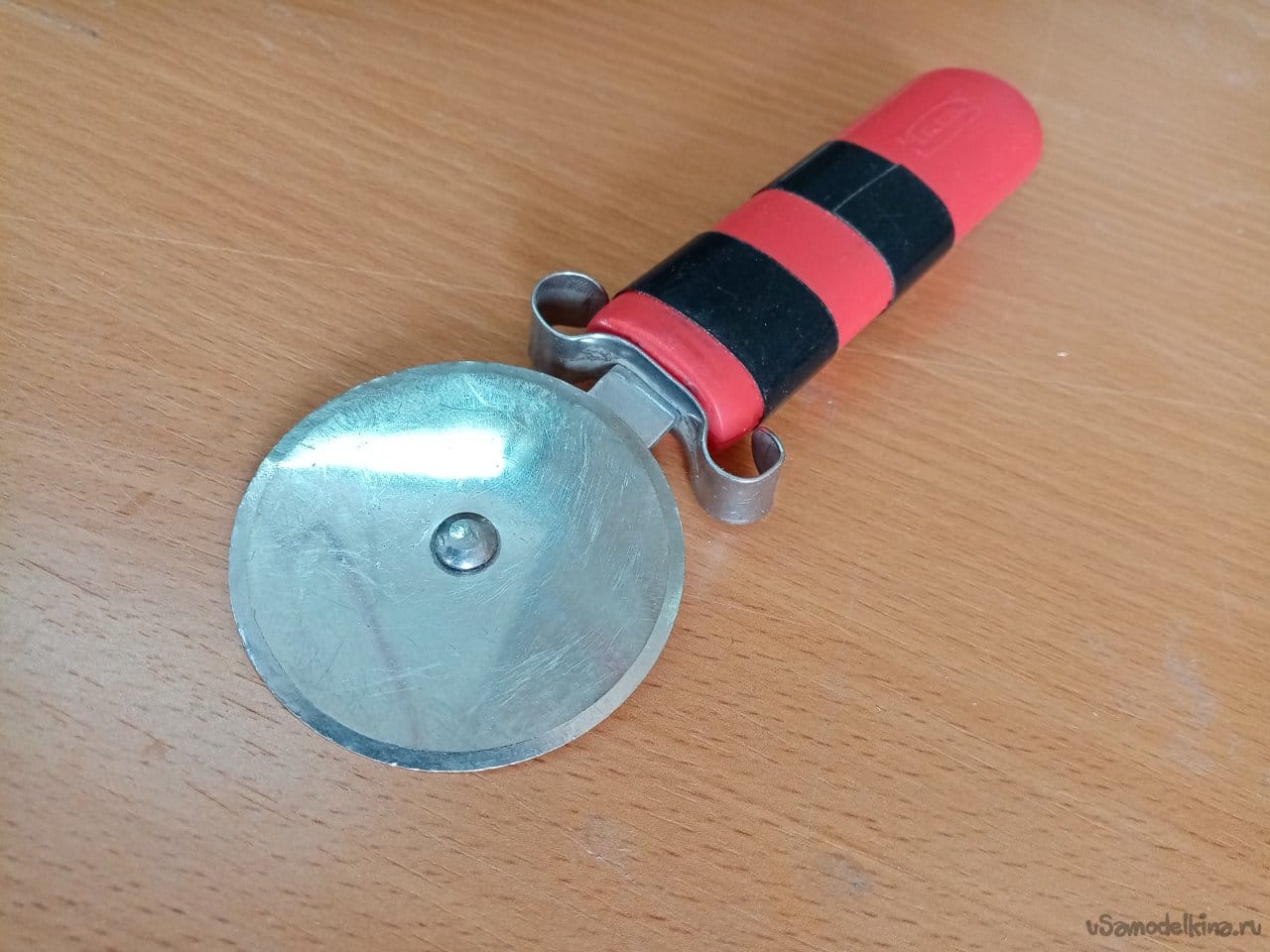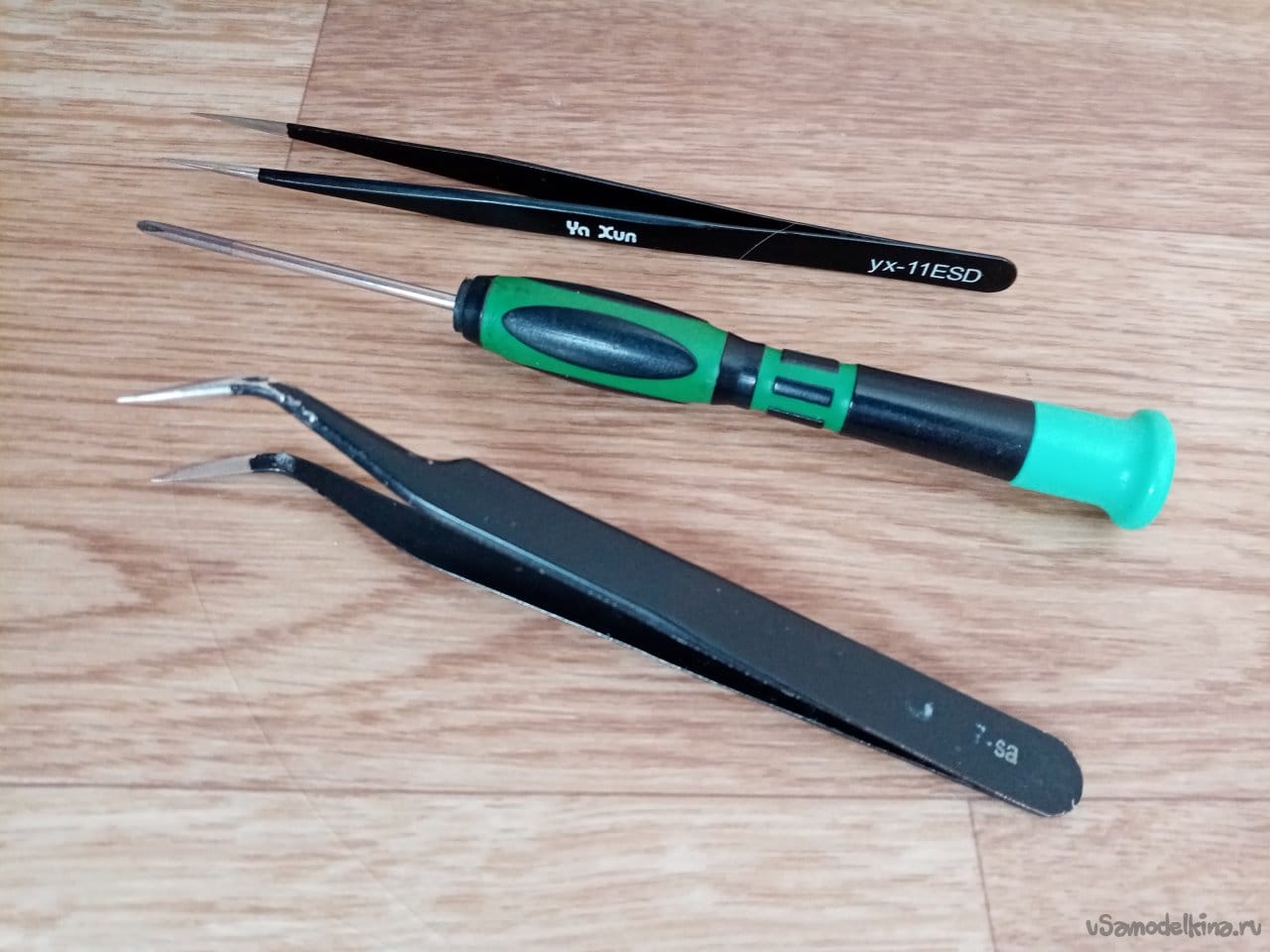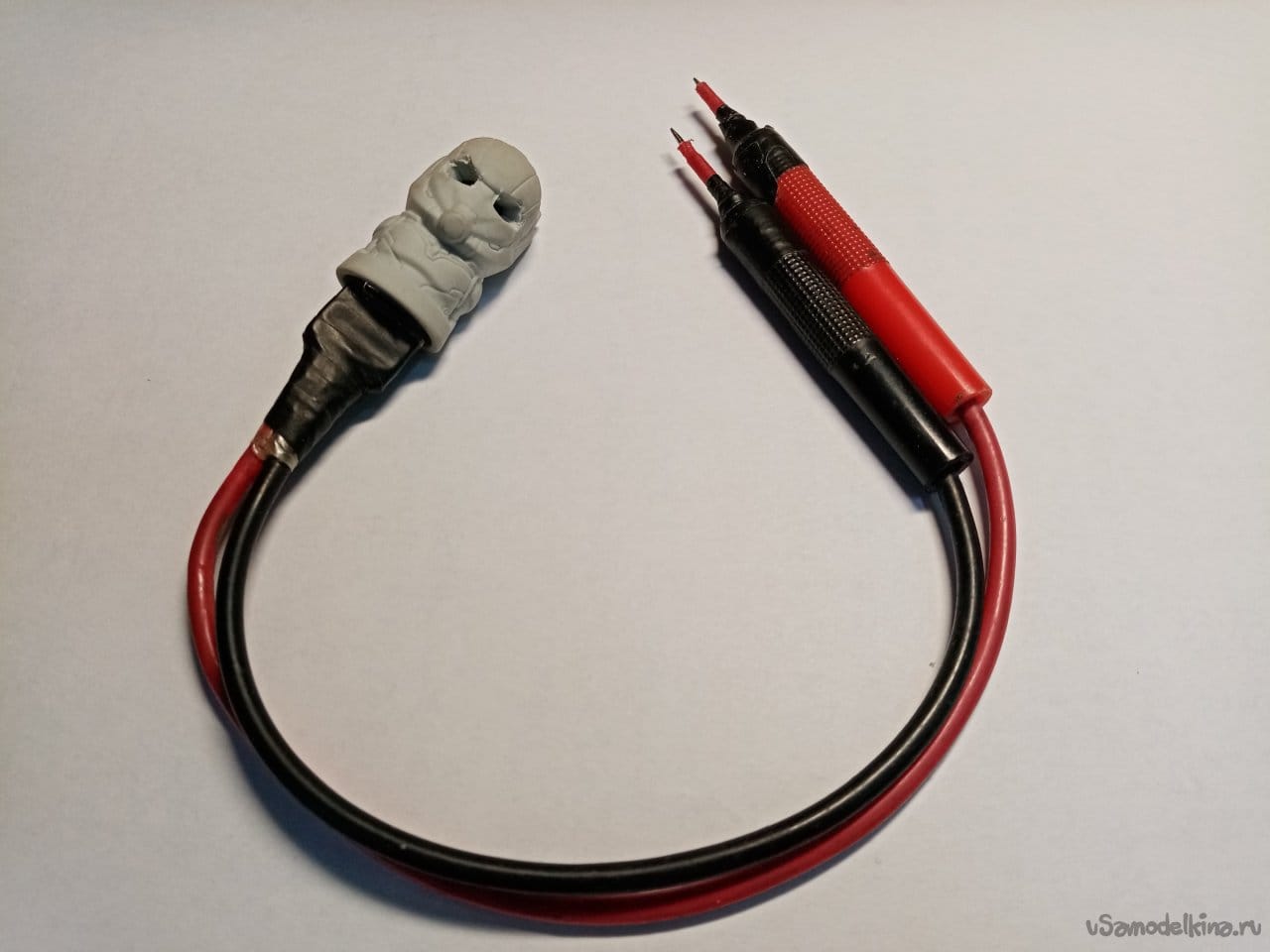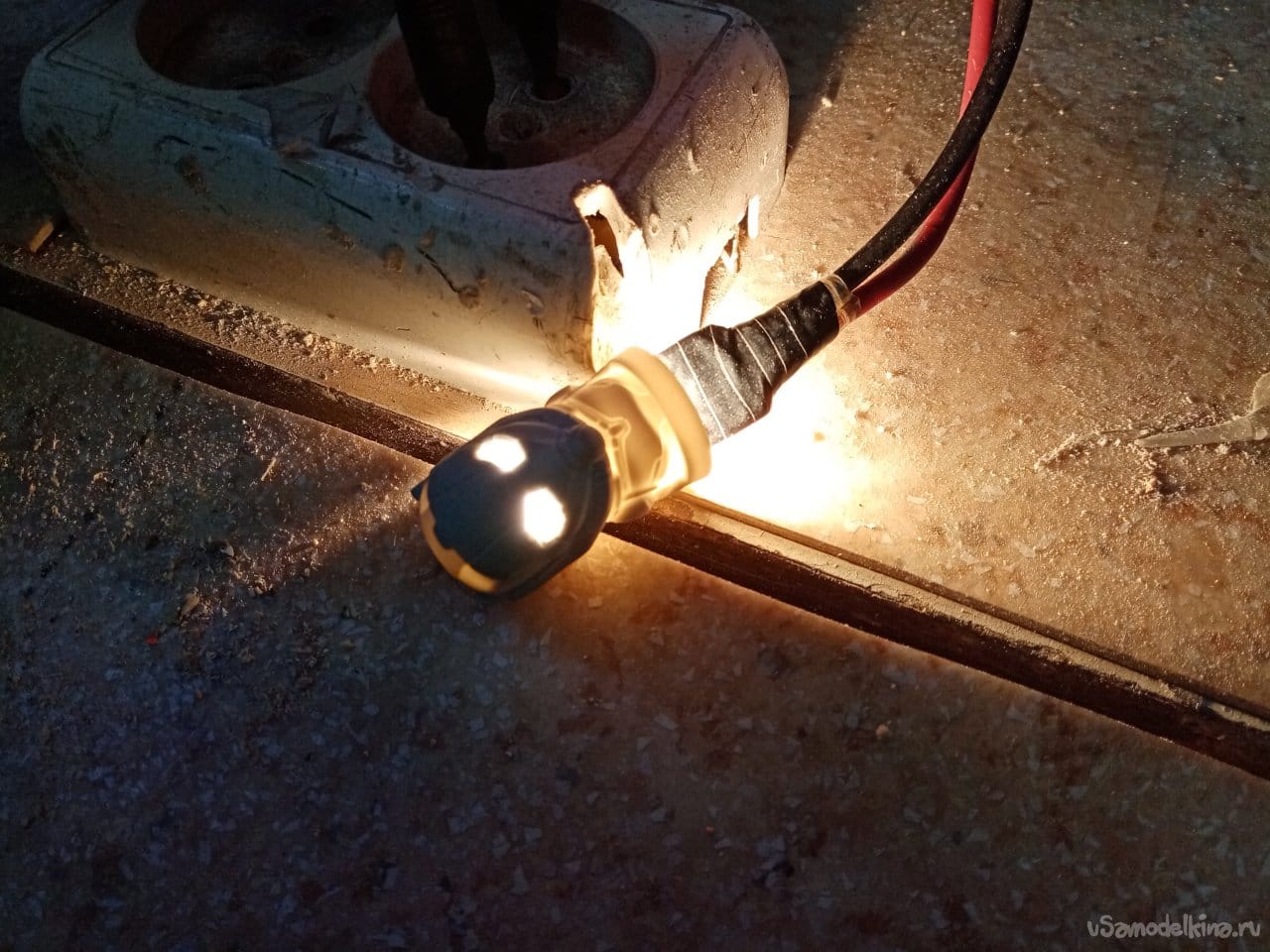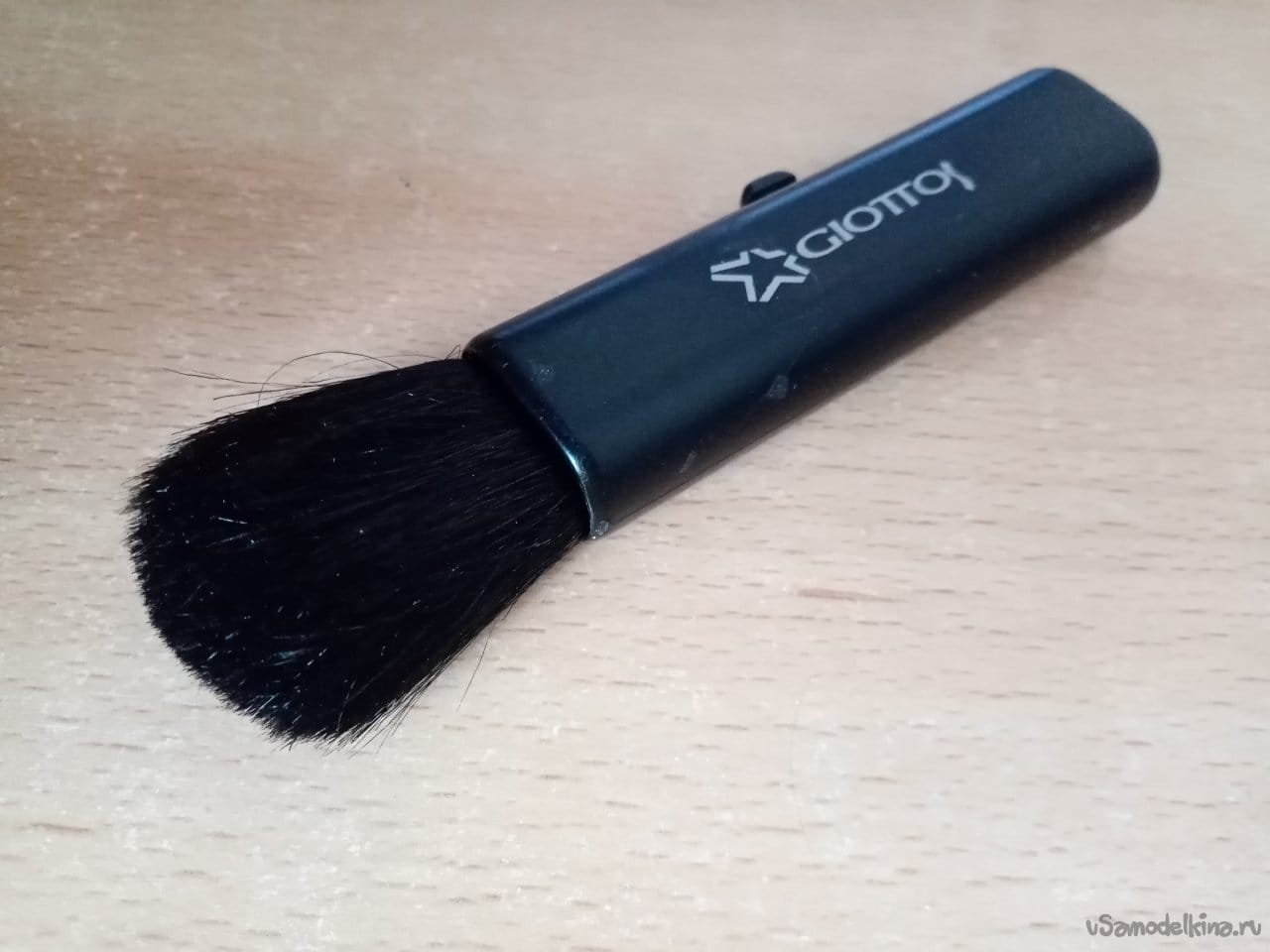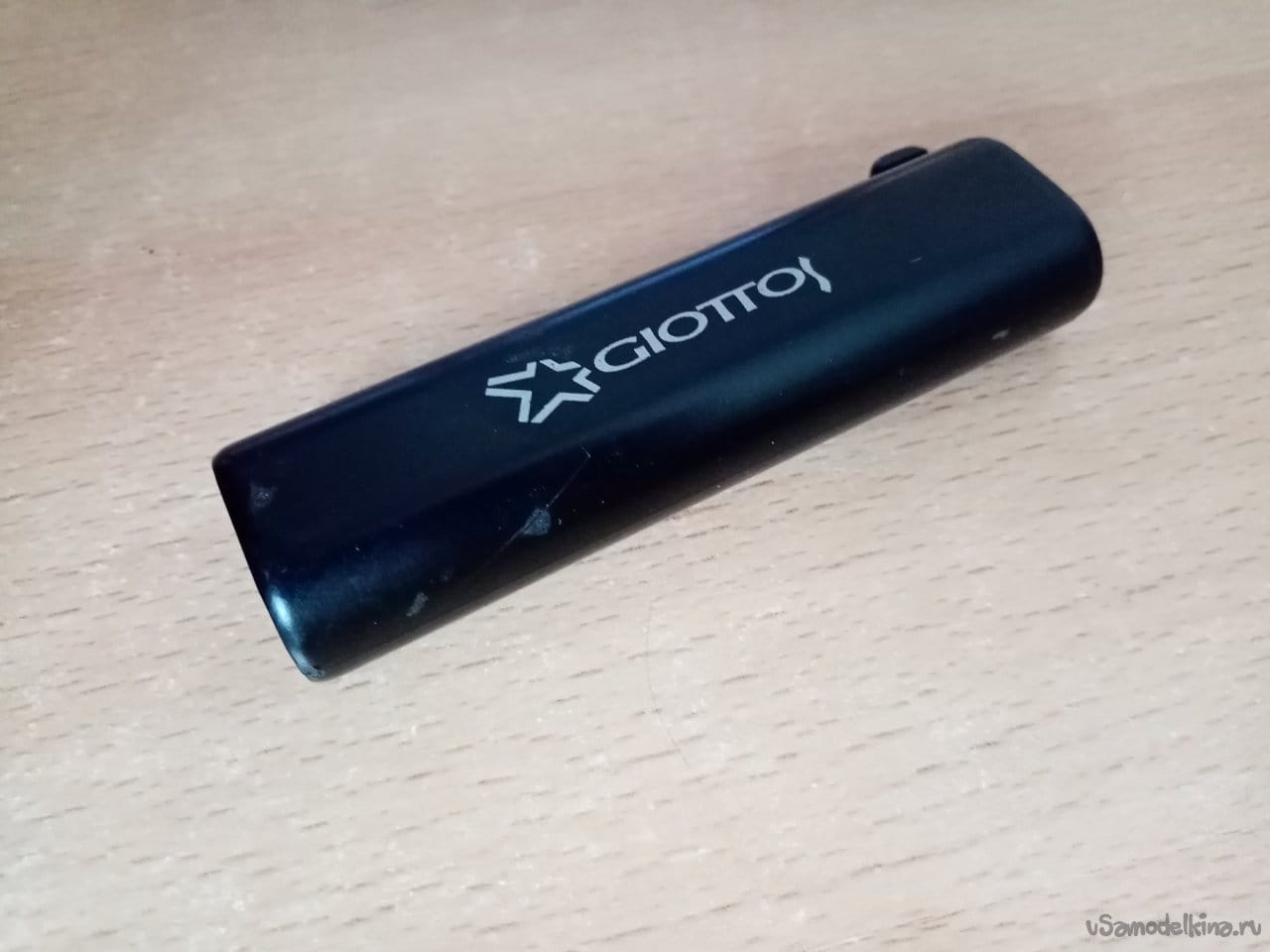 An email comes from Svetik-client agrees to the restoration and terms.
The patient is on the table, repairs are starting.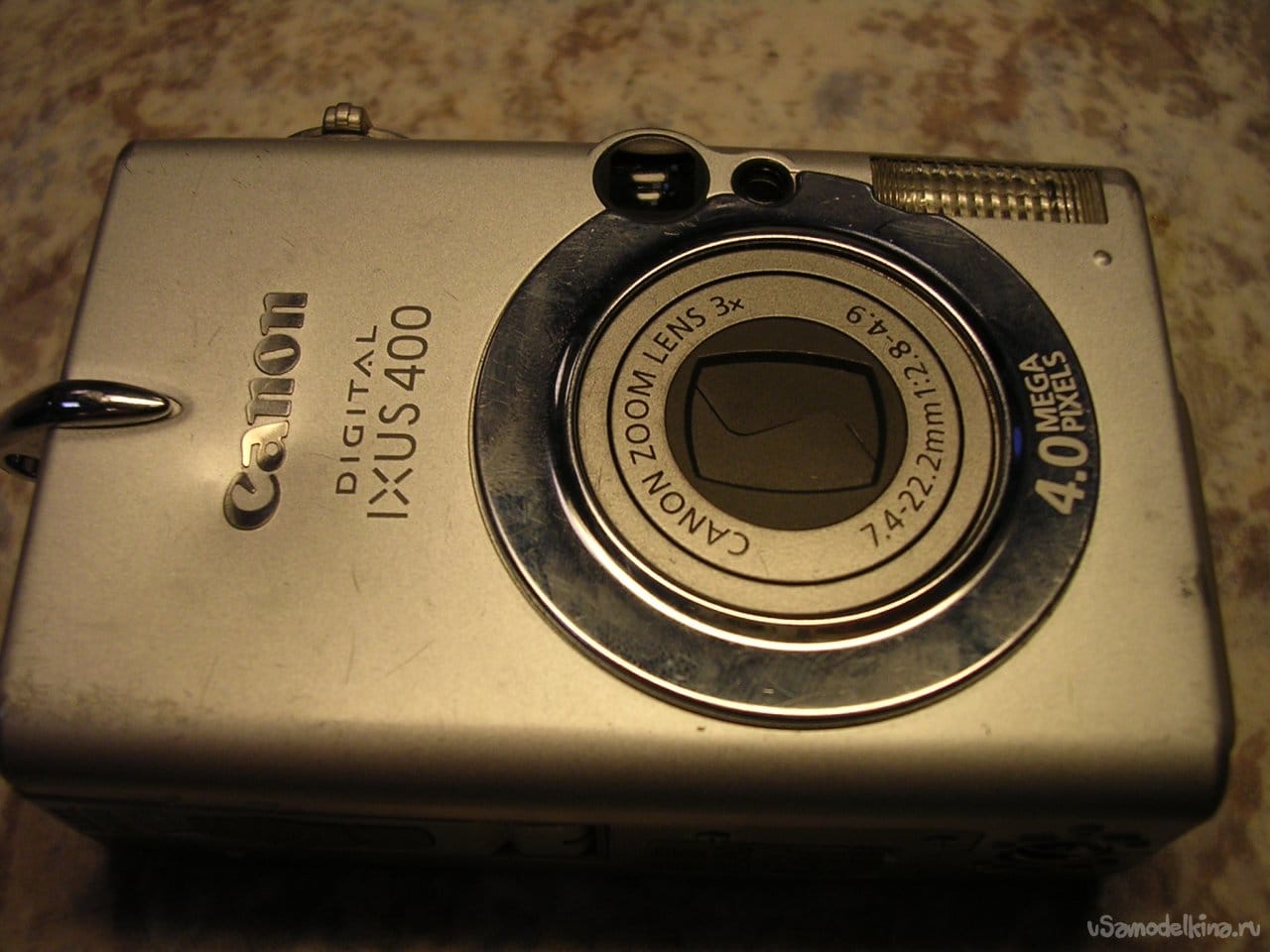 Well dropped, the dent is quite deep, but it works. It's a little bit bitten, by the way, it sits quite well in the hand.
I'm starting to remove the case, the mounting screws with oval caps are interesting.
a couple at the bottom near the tripod mount.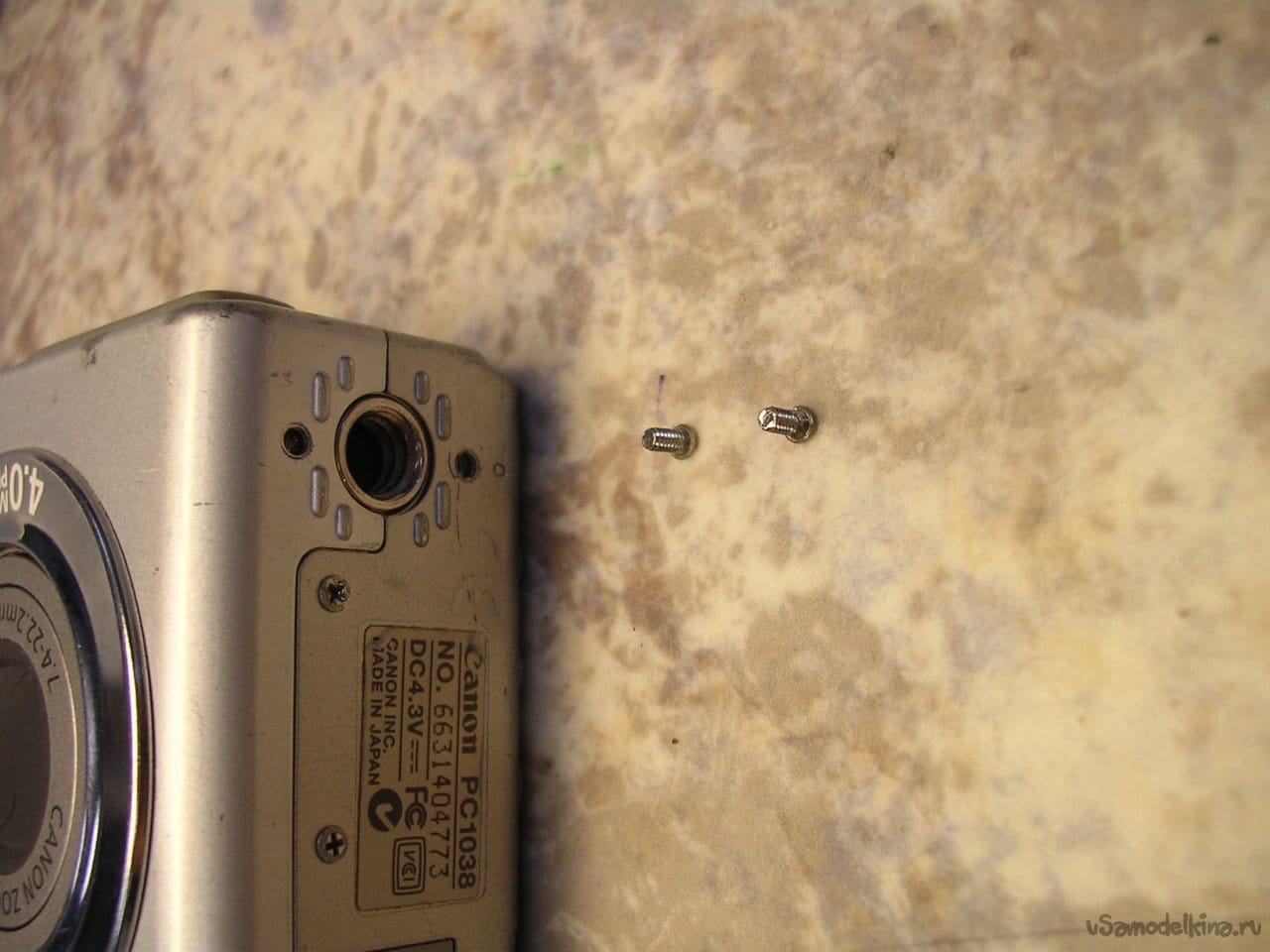 And then in a circle, or rather in a square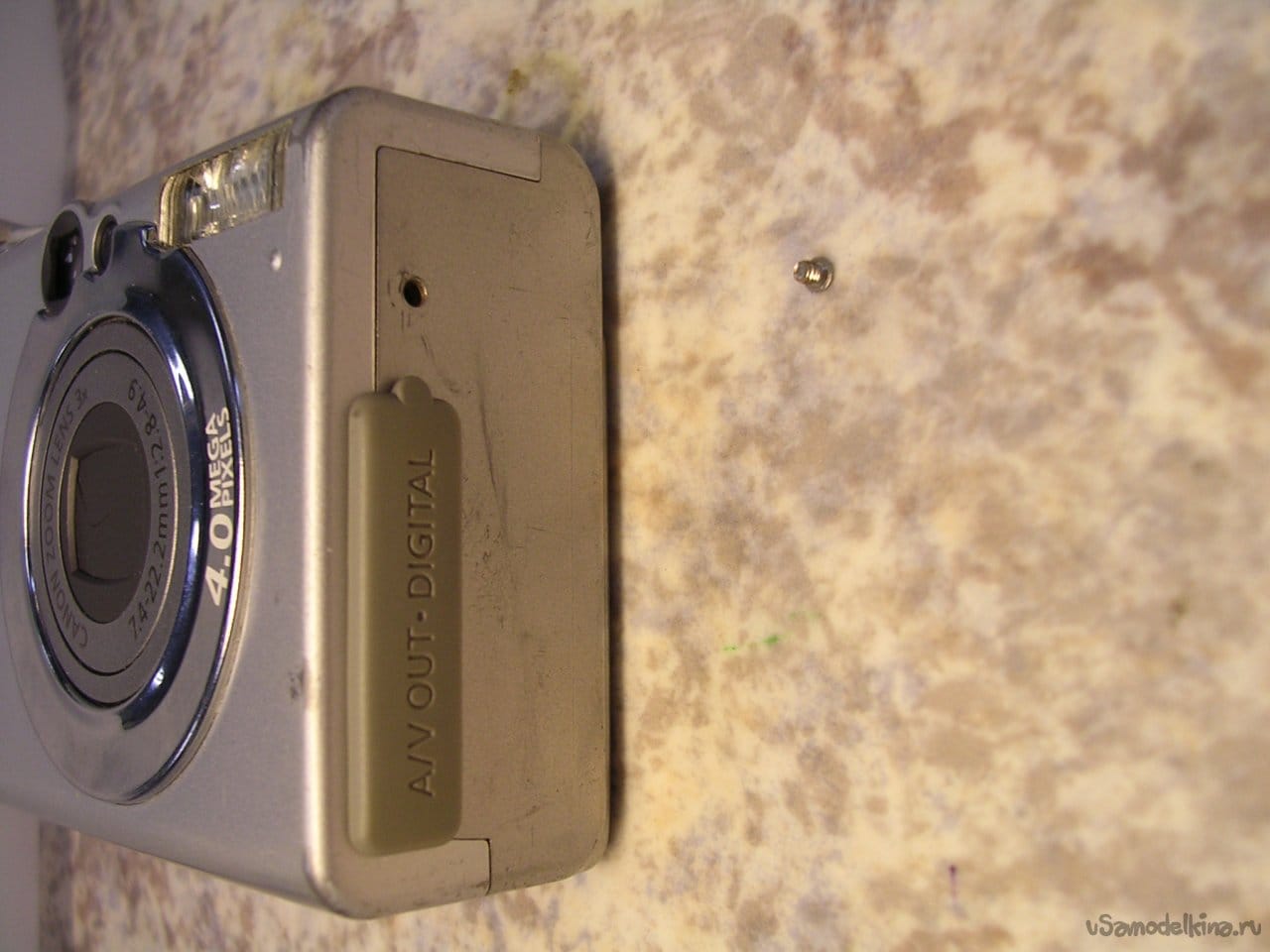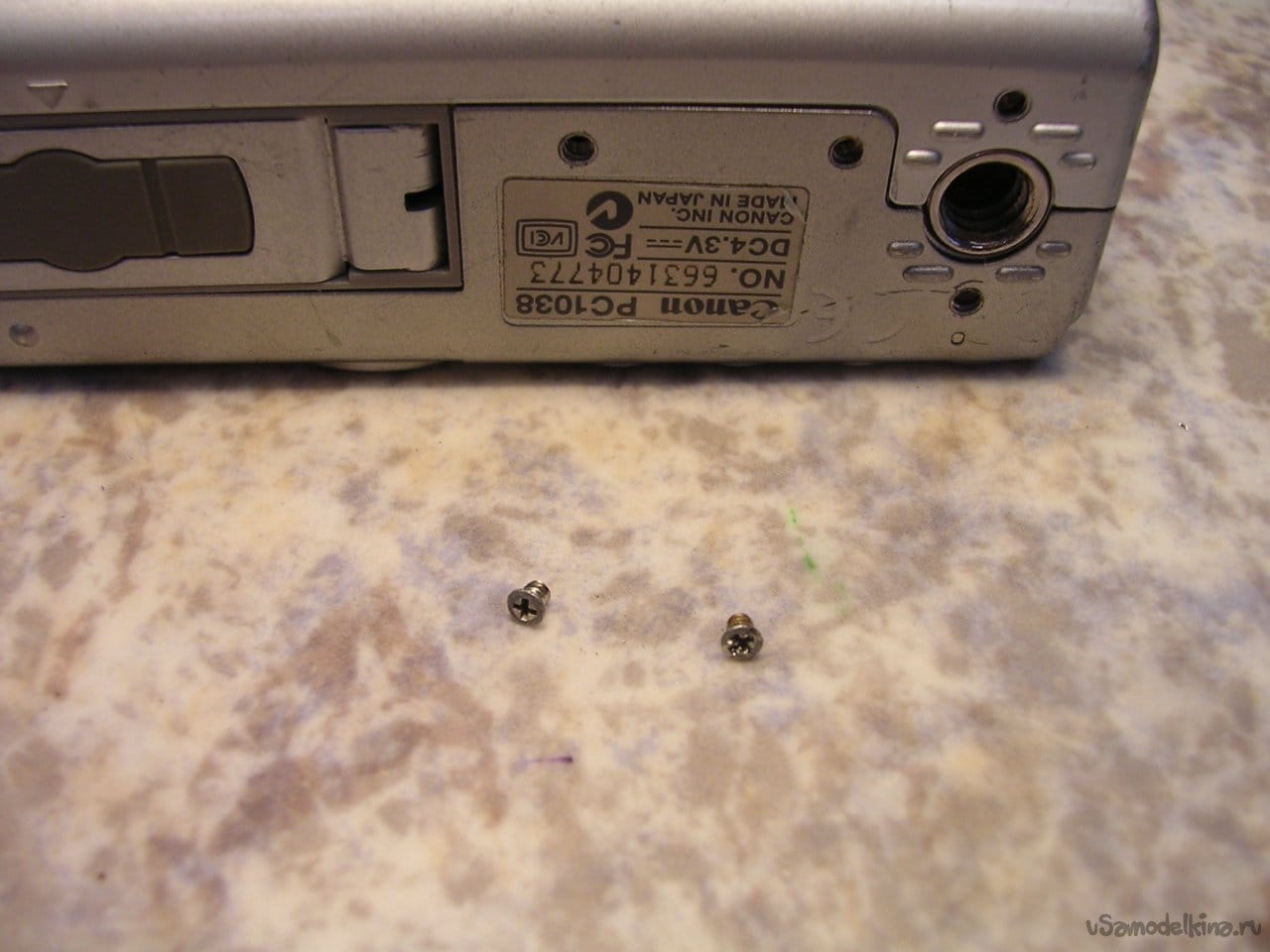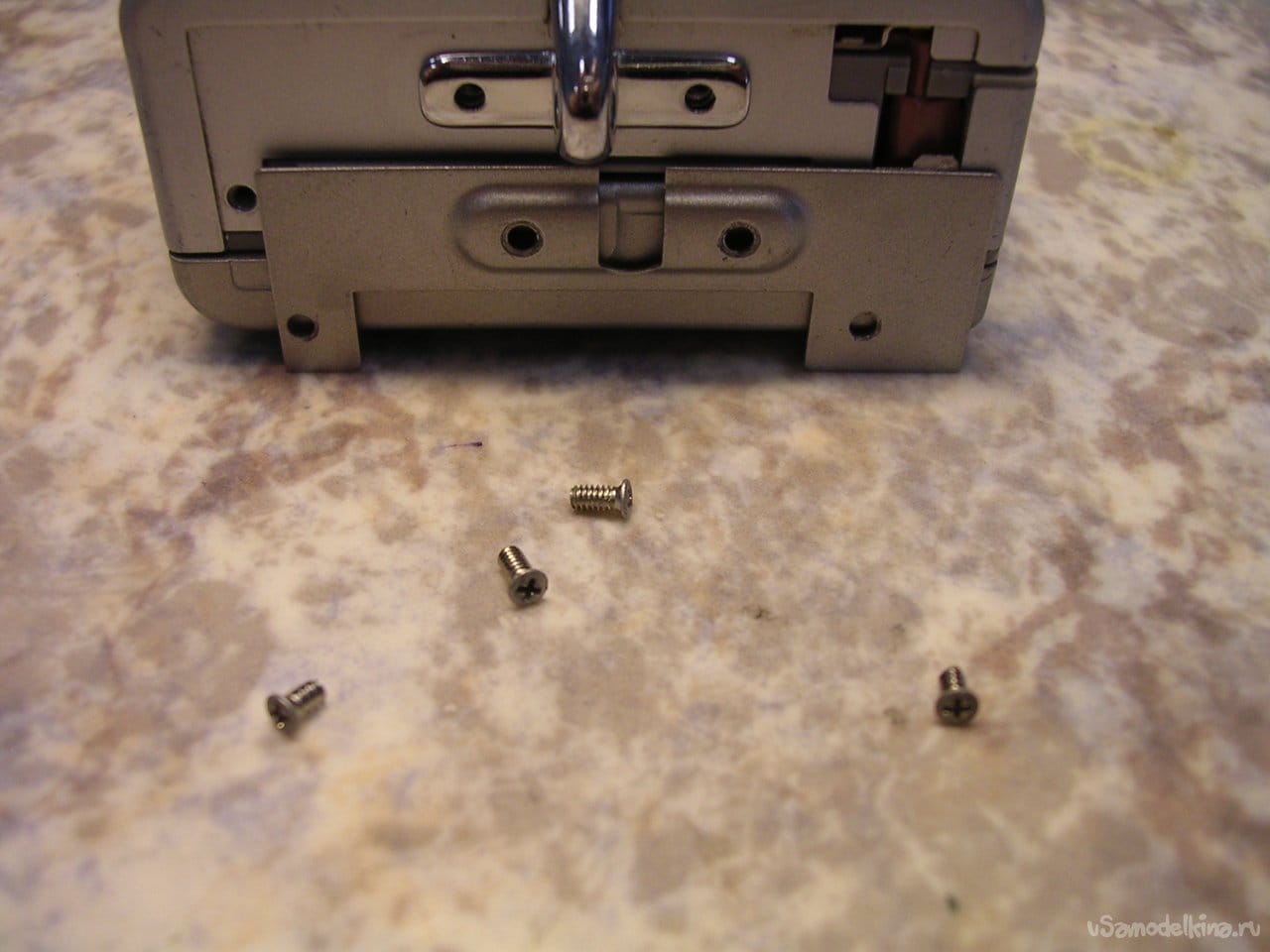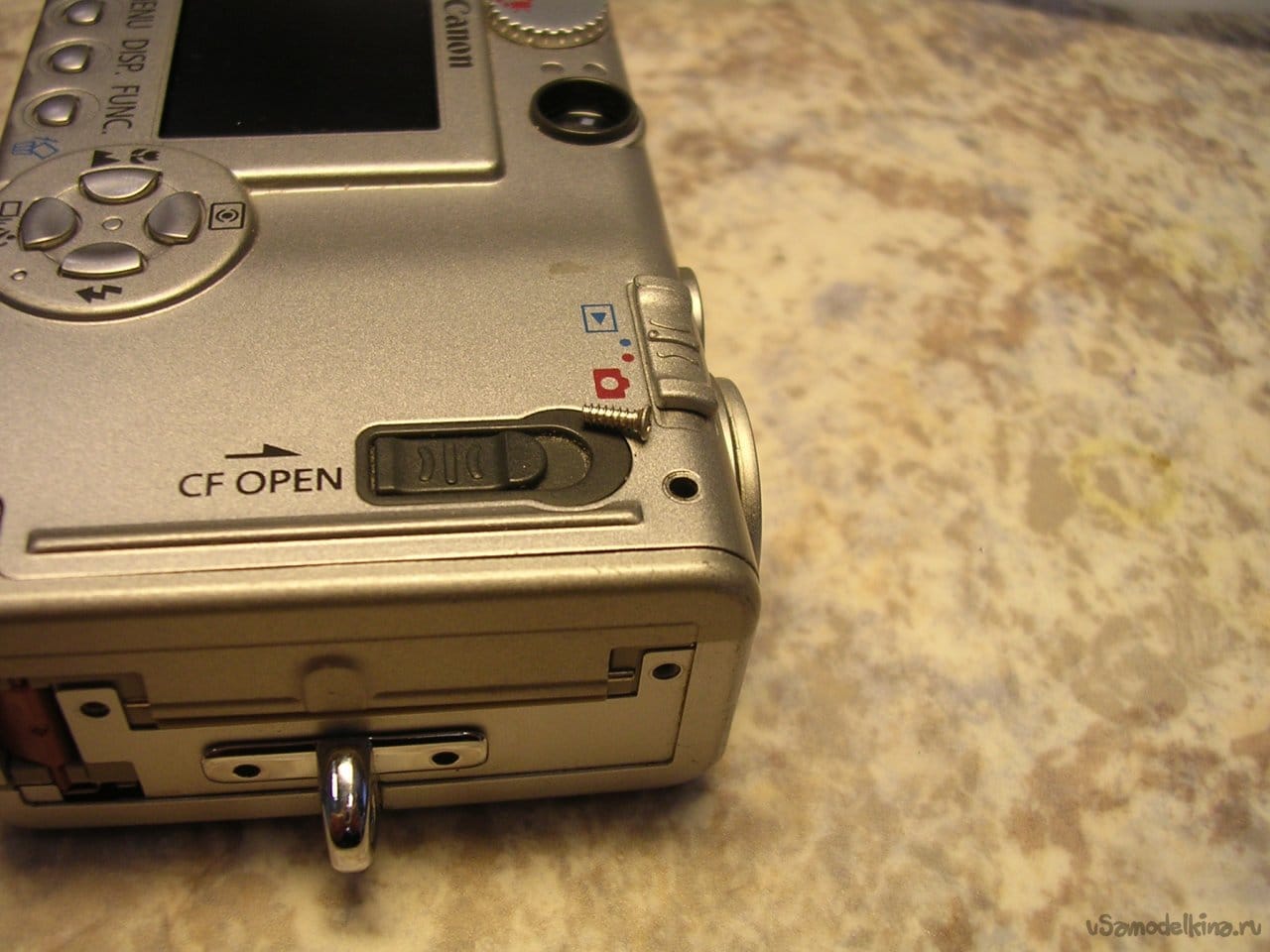 Removing the cover of the large memory card compartment.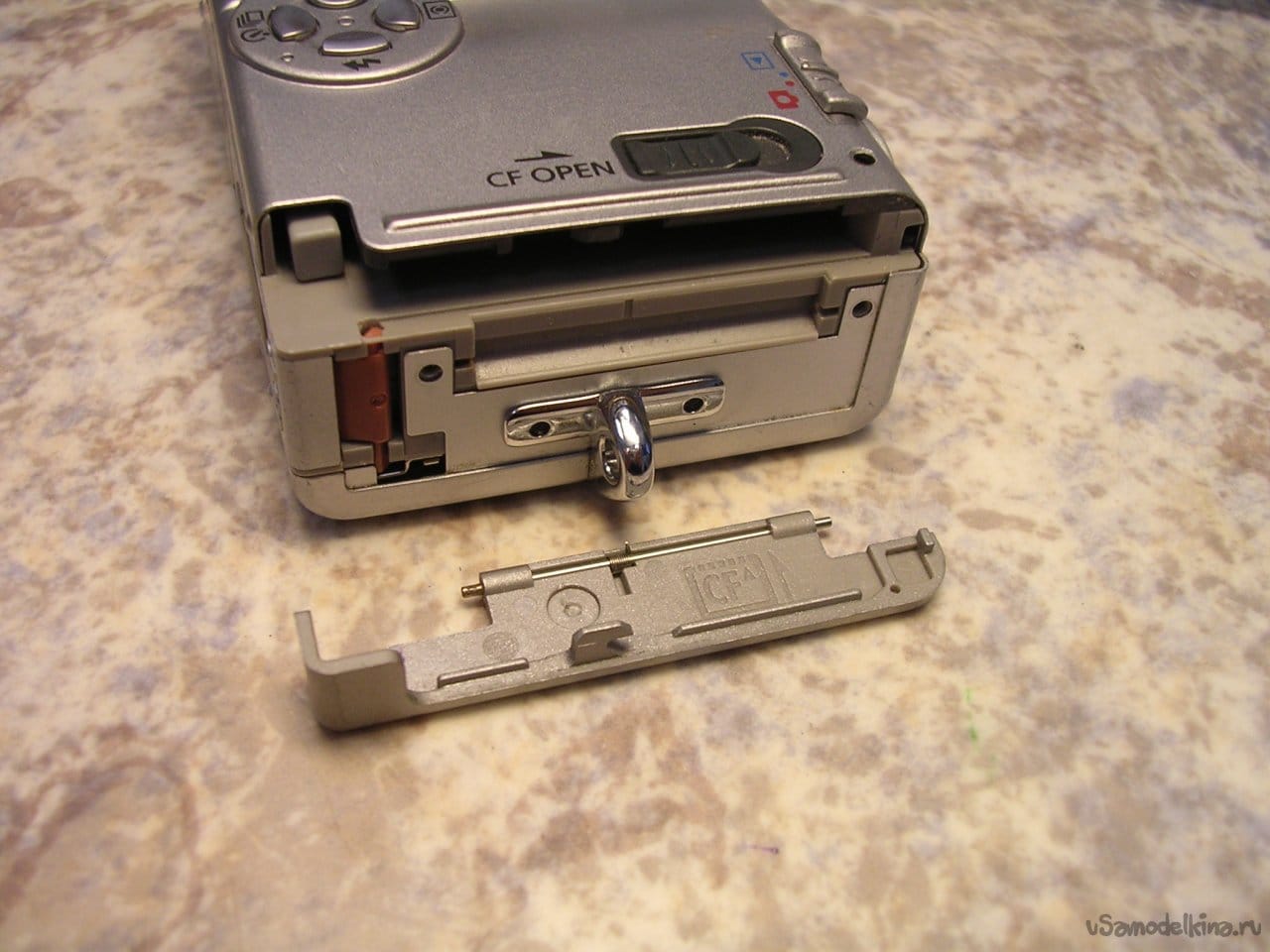 Such a rastak.

Take off the back cover.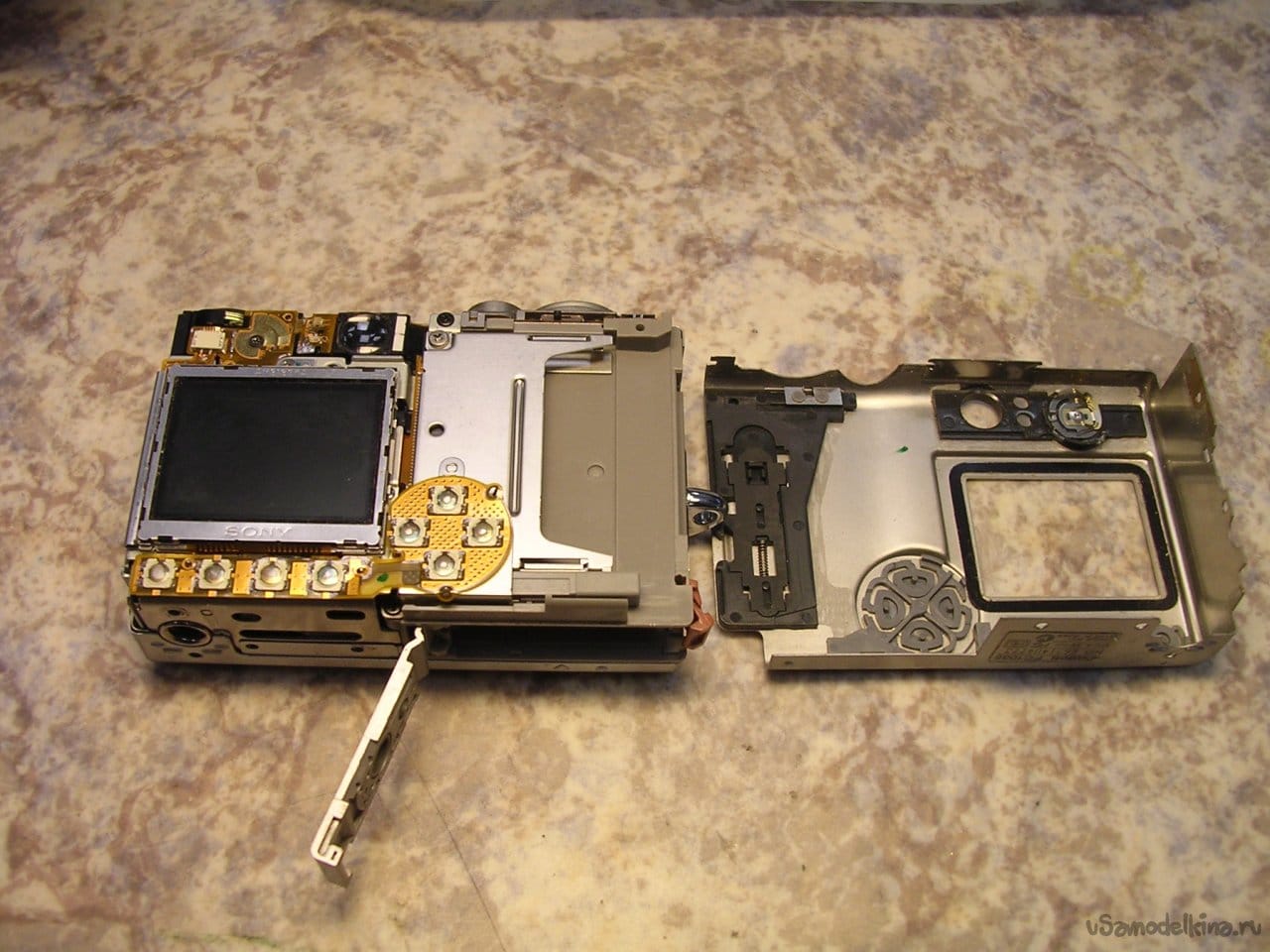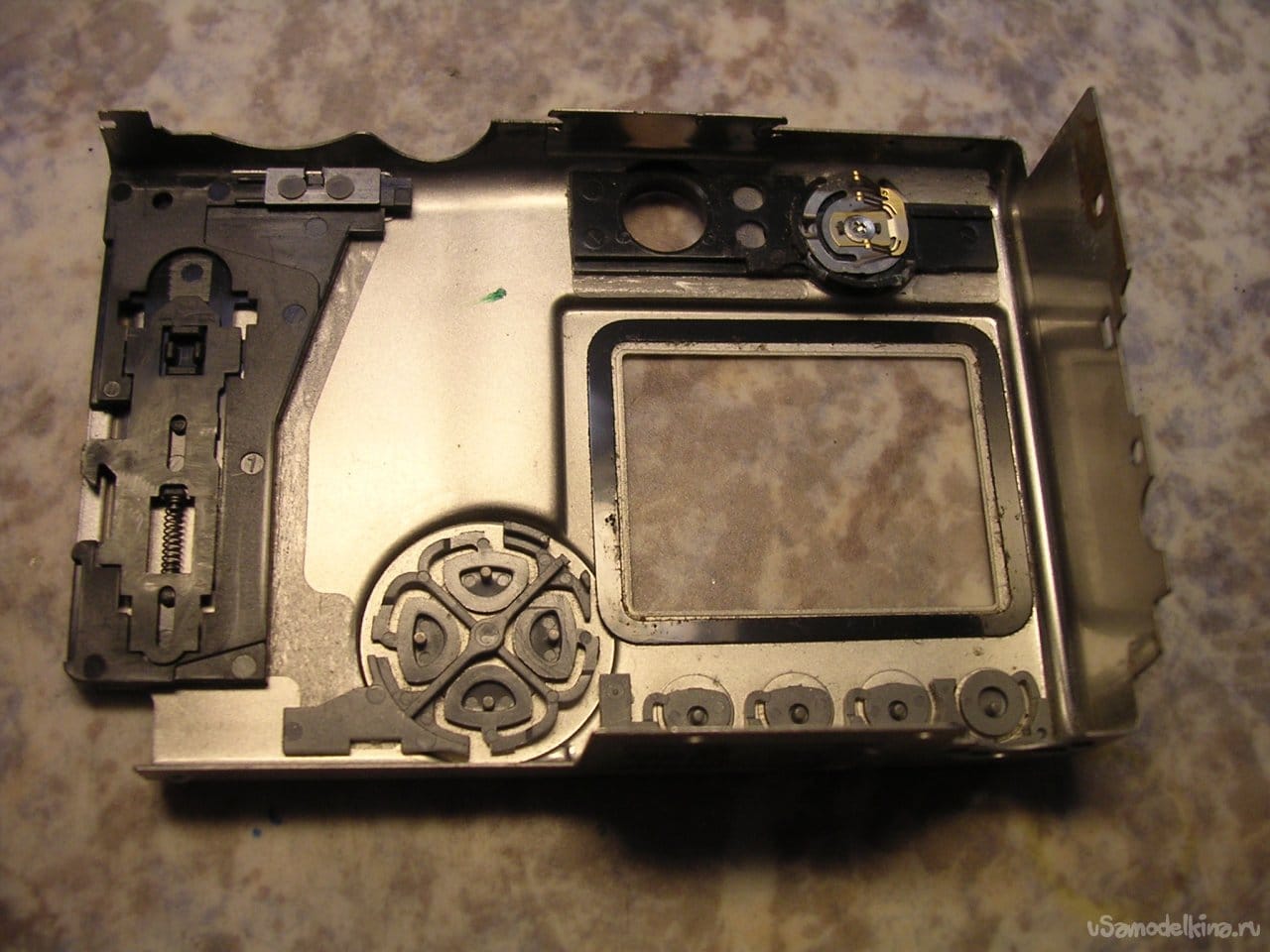 "Gear shifting" on the cover.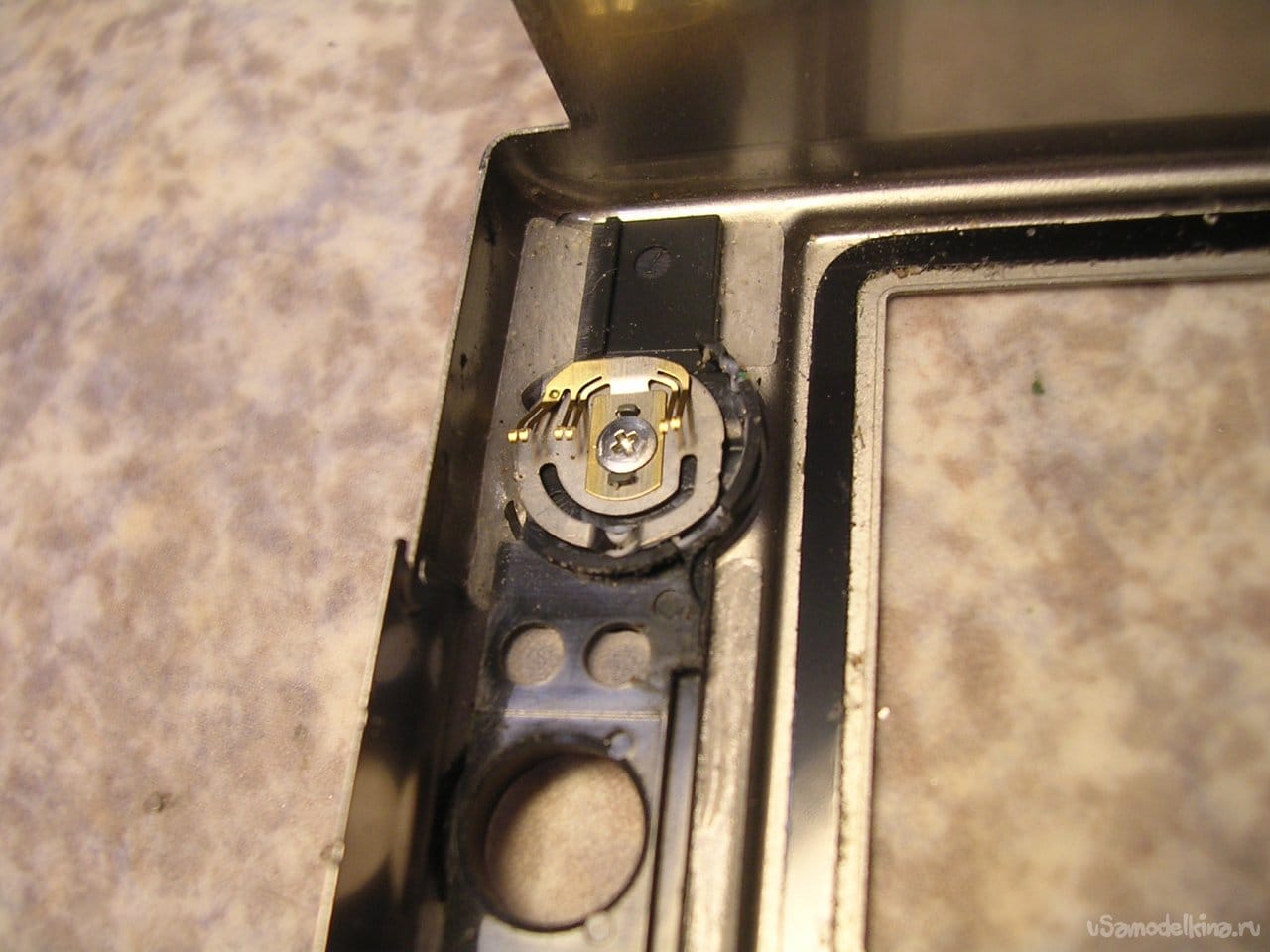 Powerful lid latch.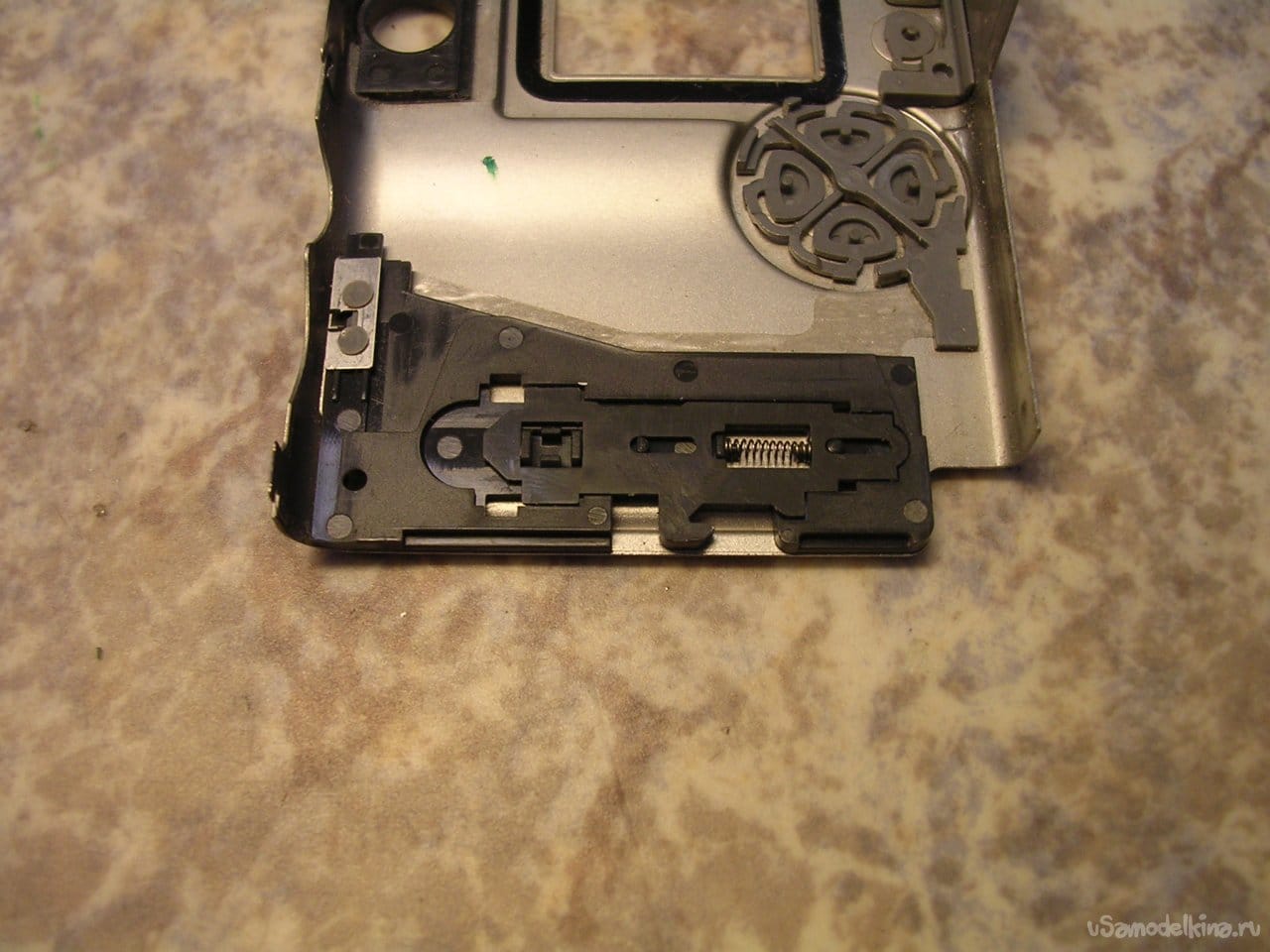 Front panel. And a dent, a little did not reach the main control board.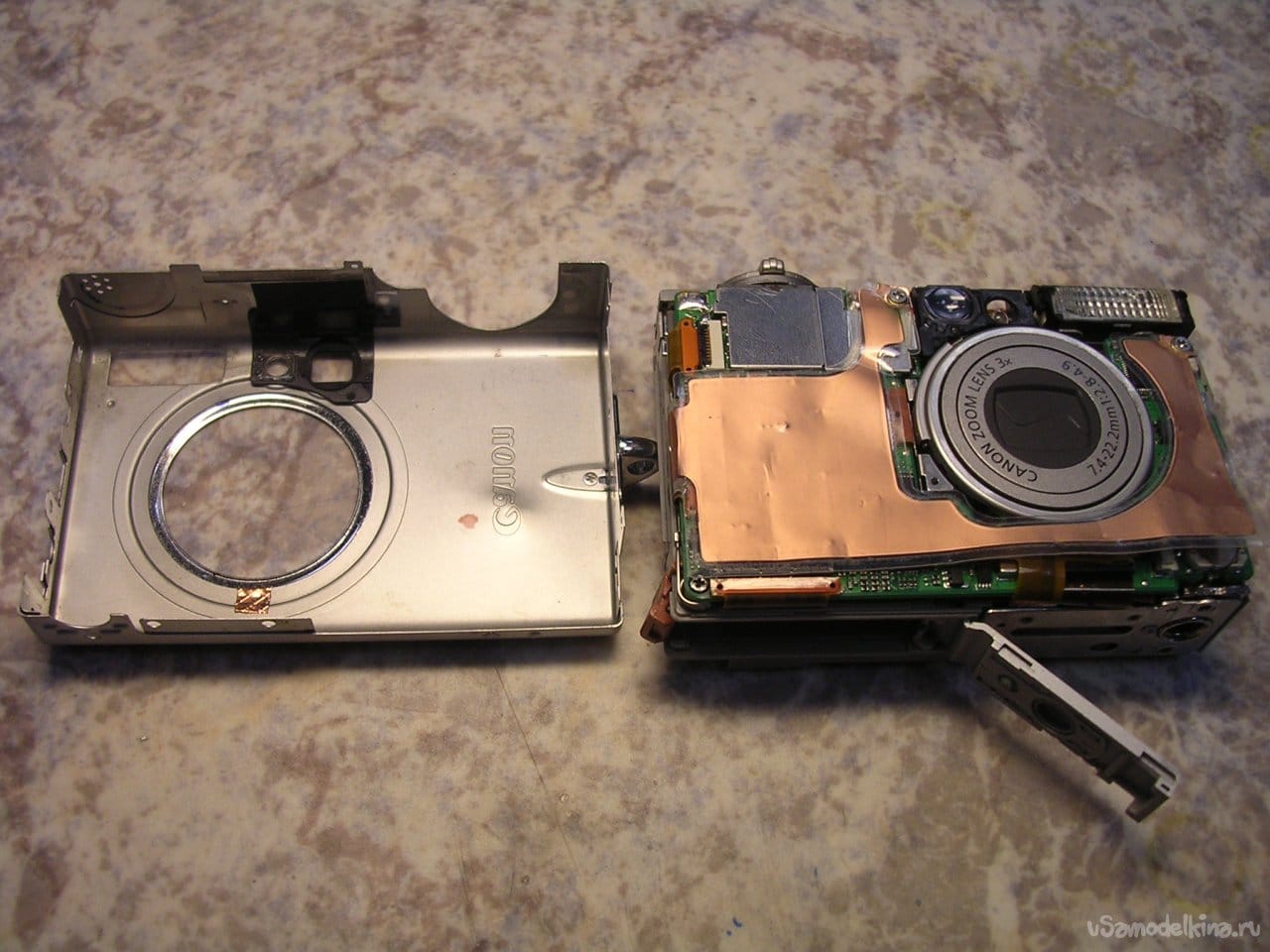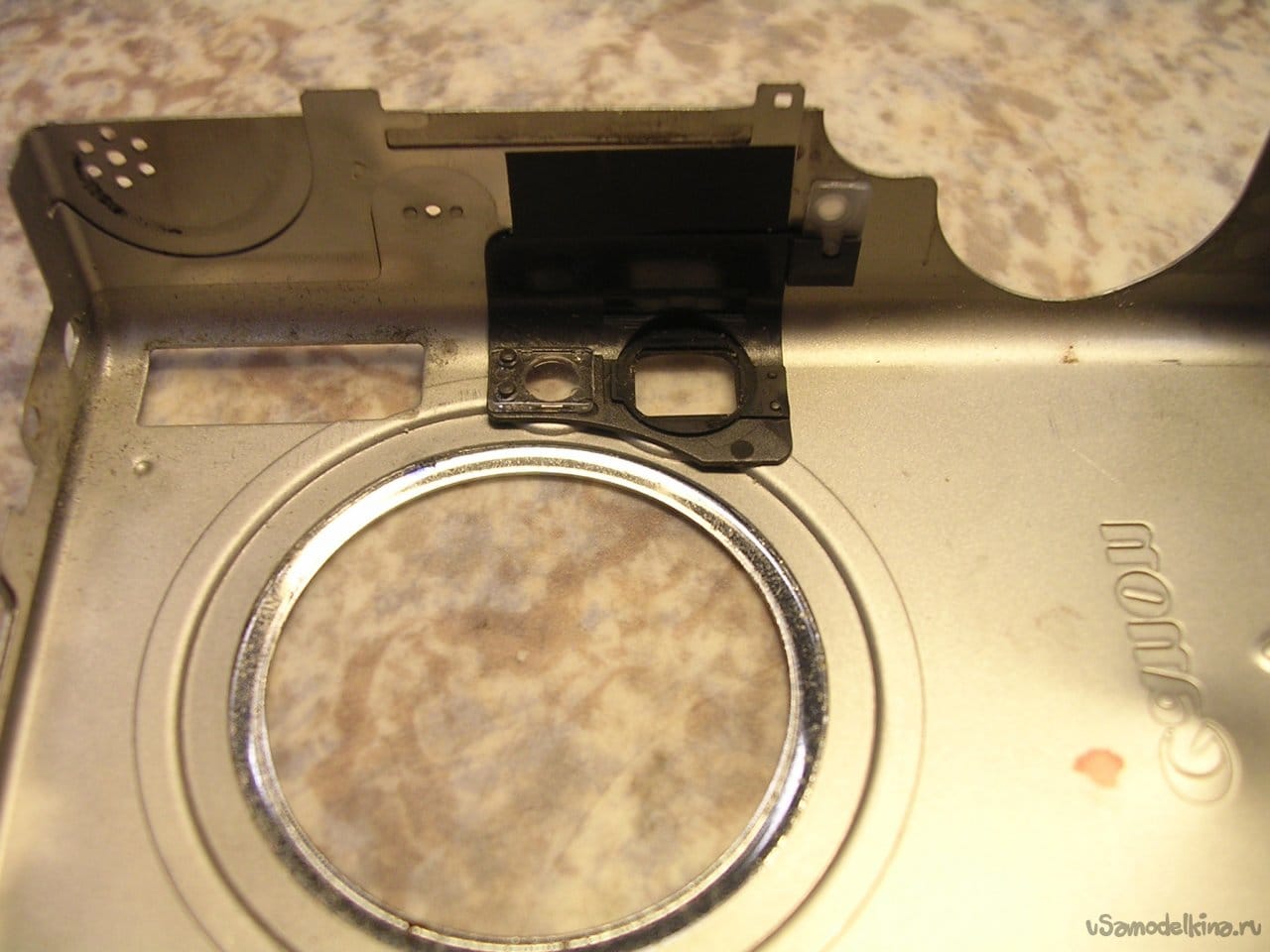 The board is covered with copper foil in a plastic sheath, the protection is soldered to ground.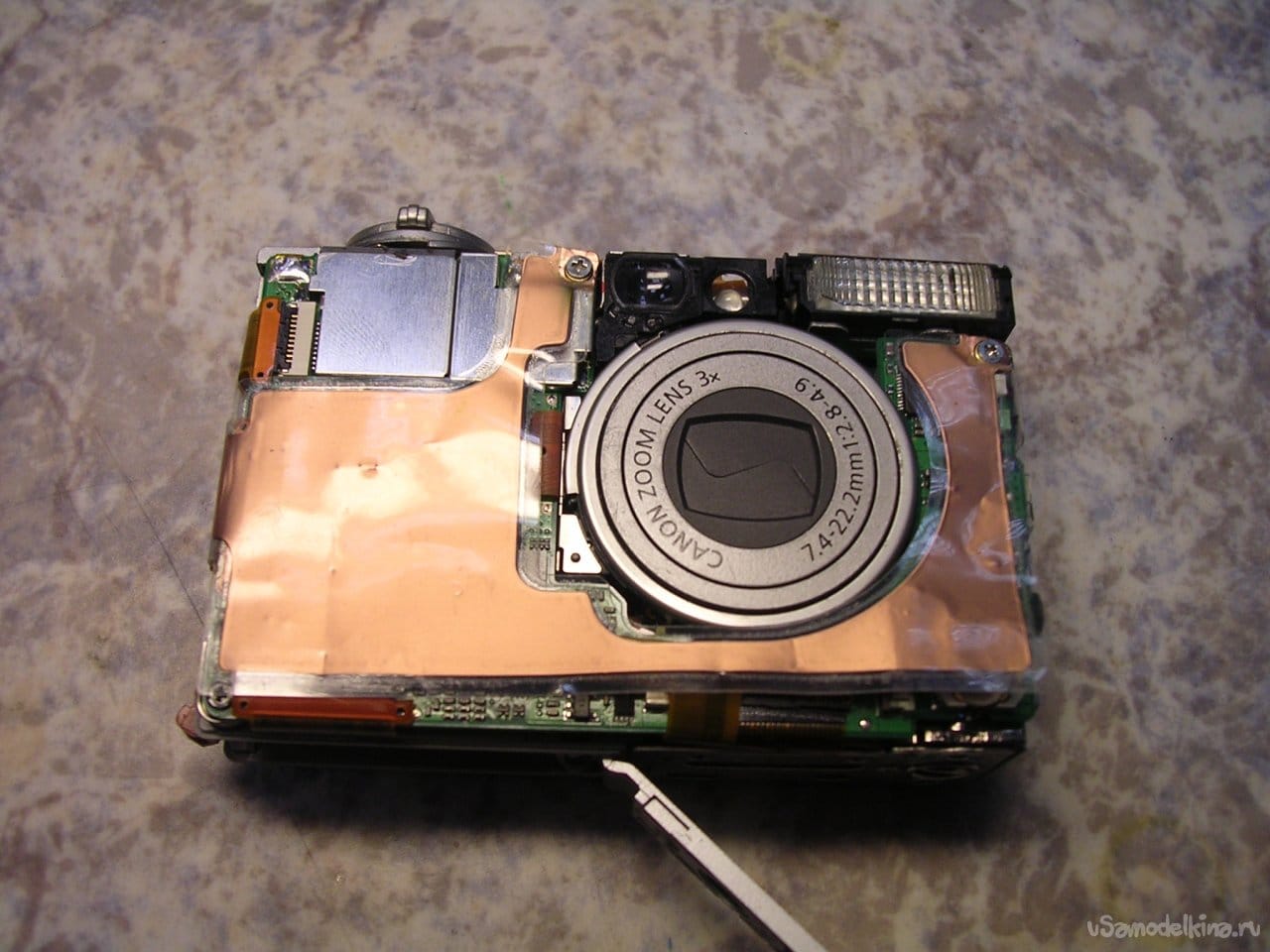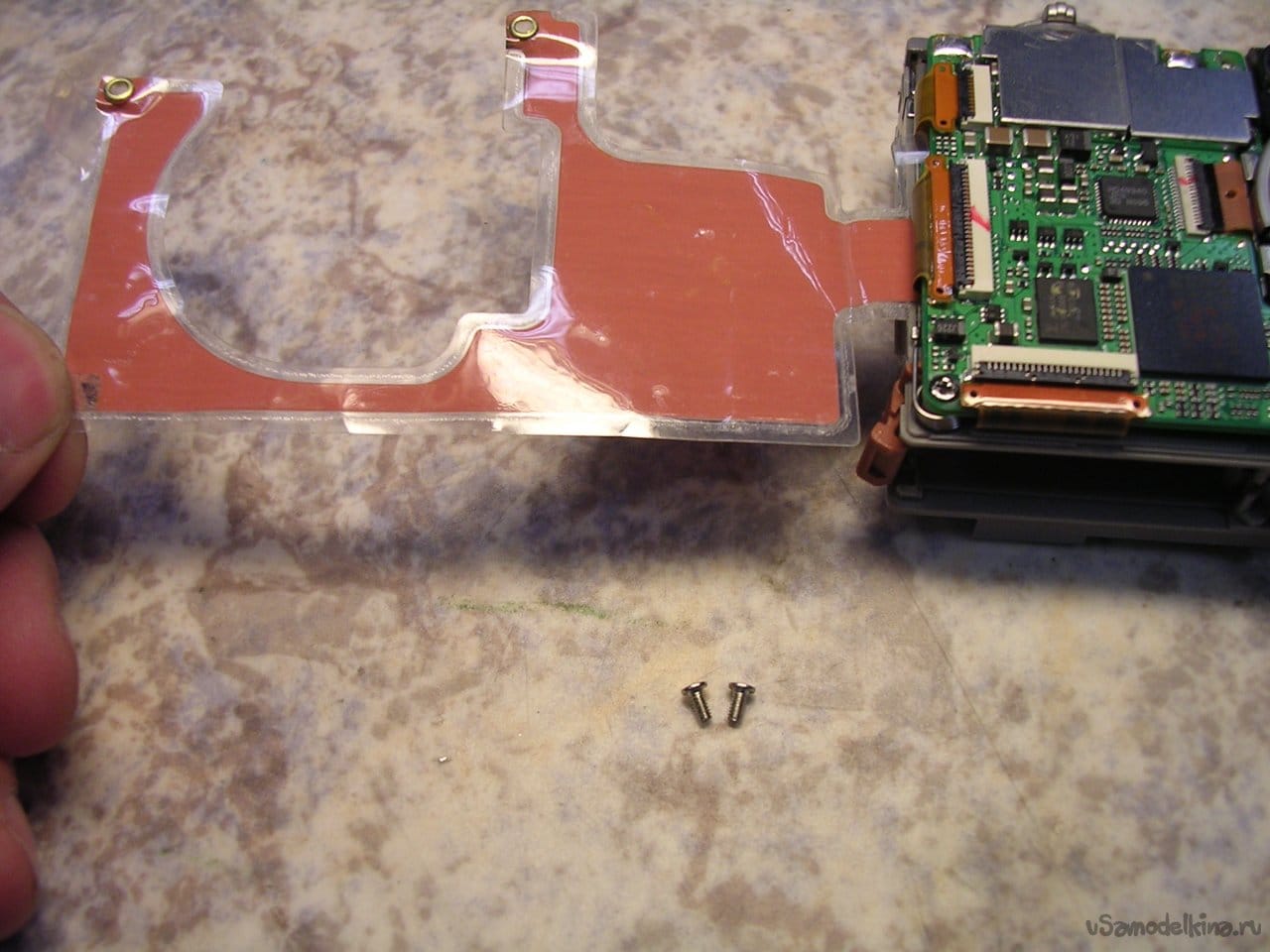 I remove the top cover with the release button and zoom rocker.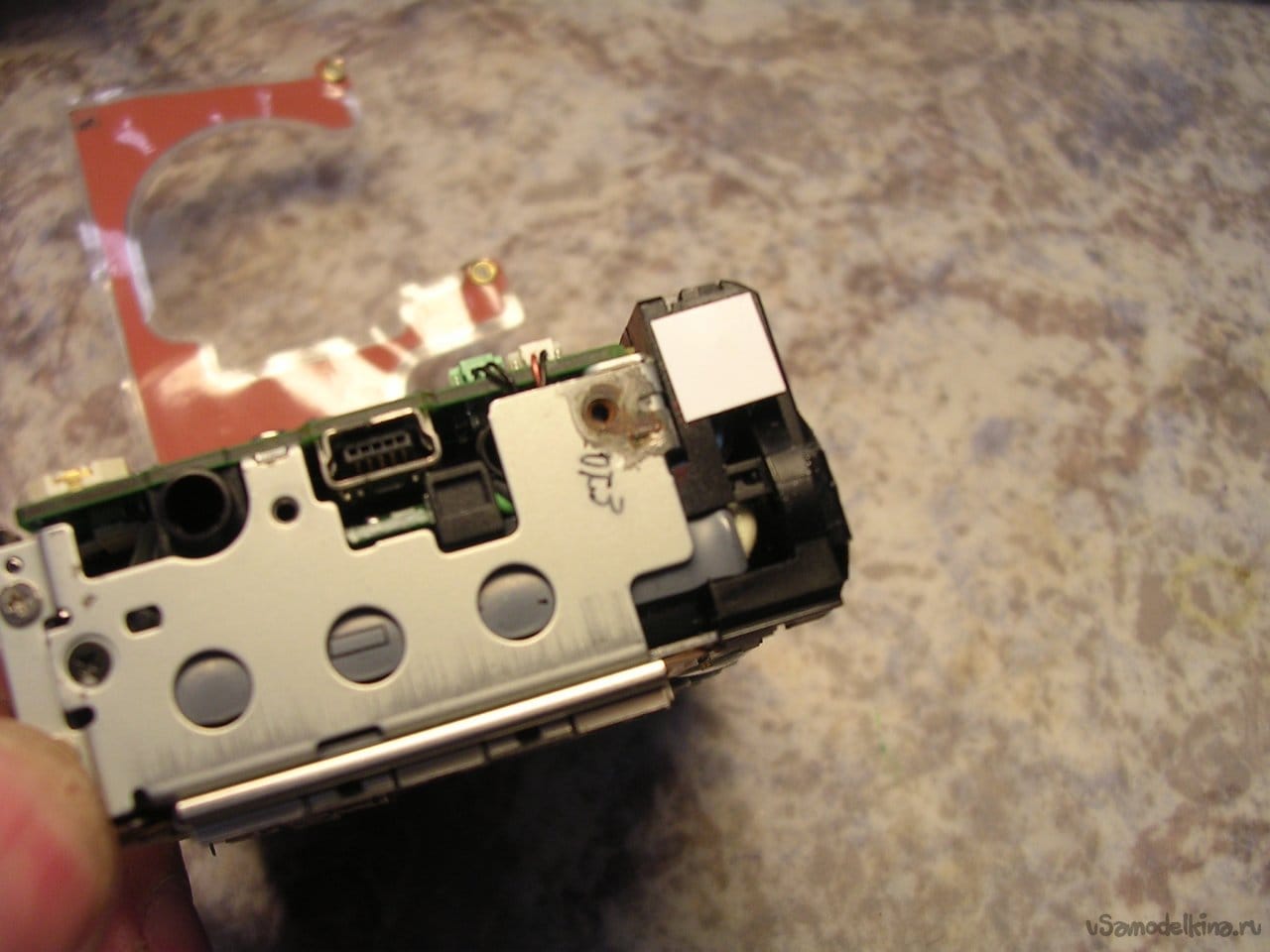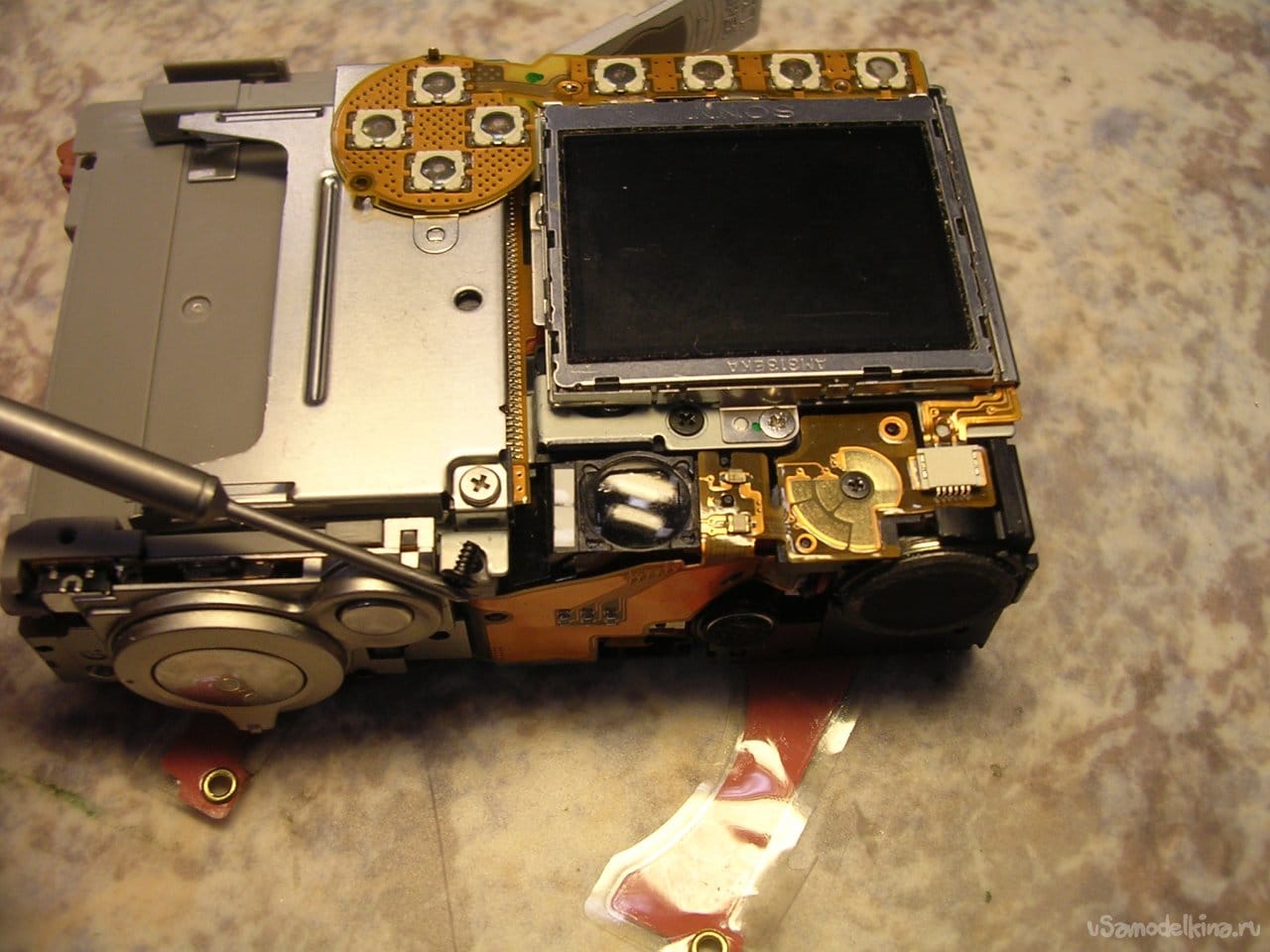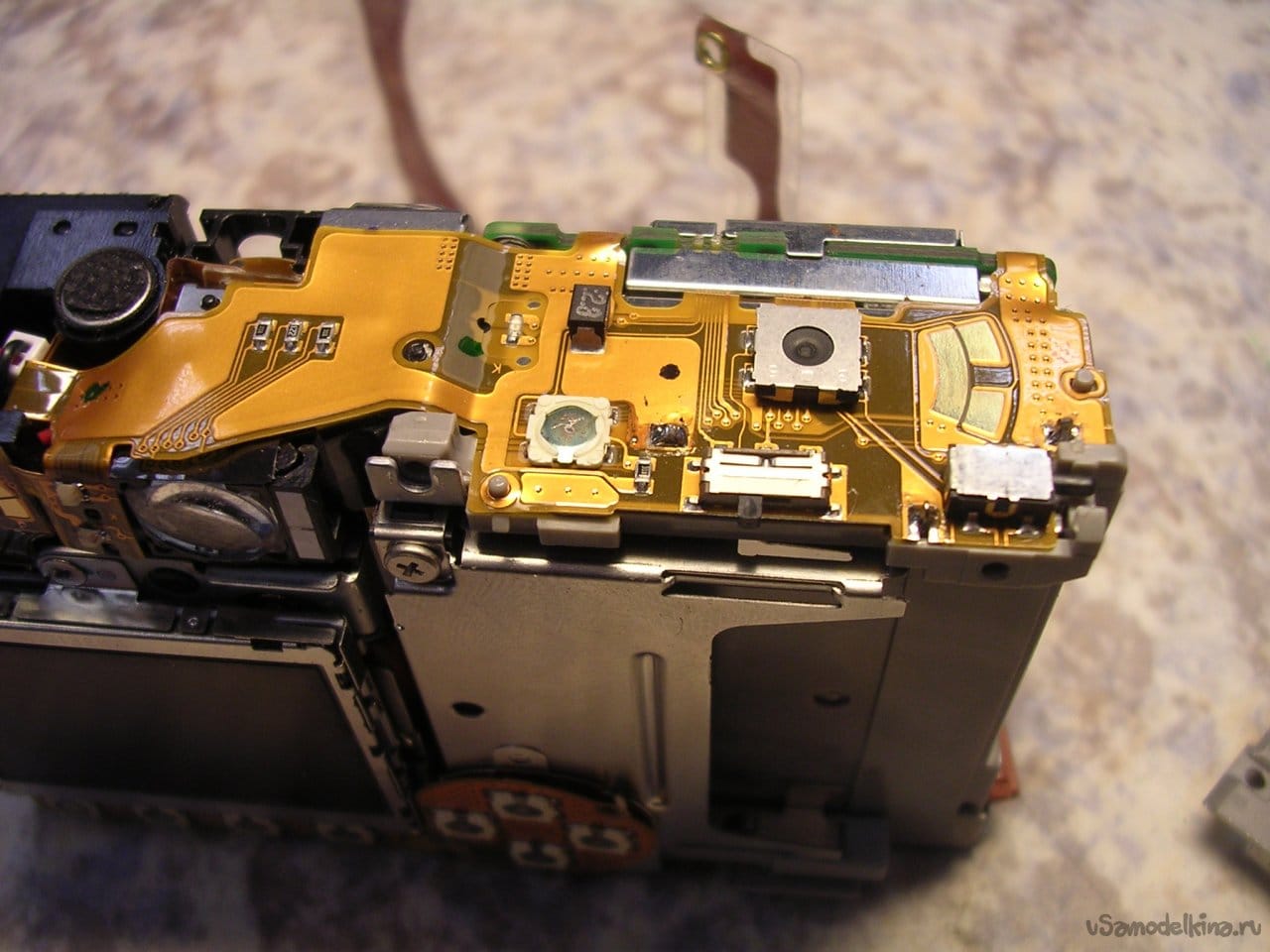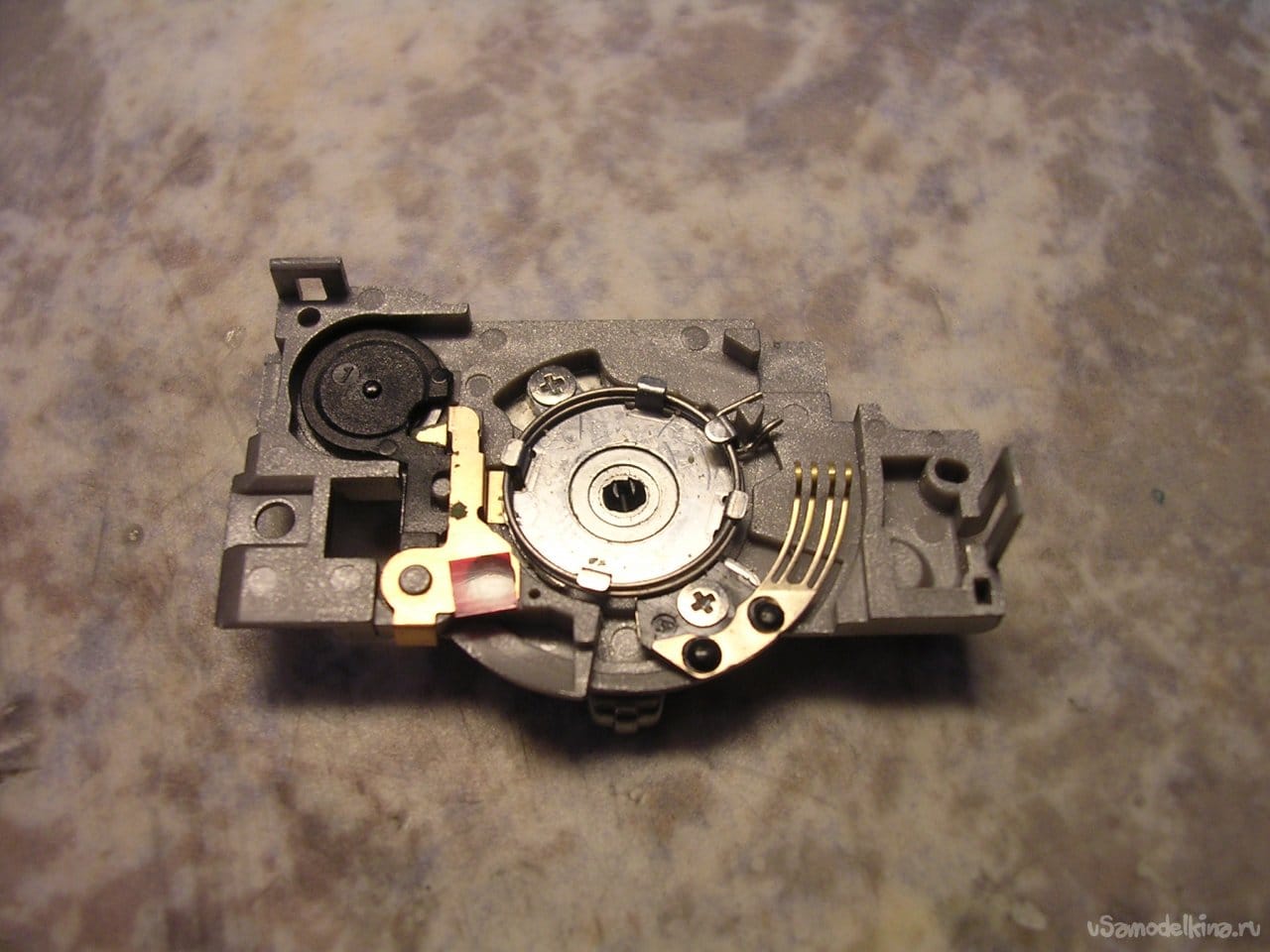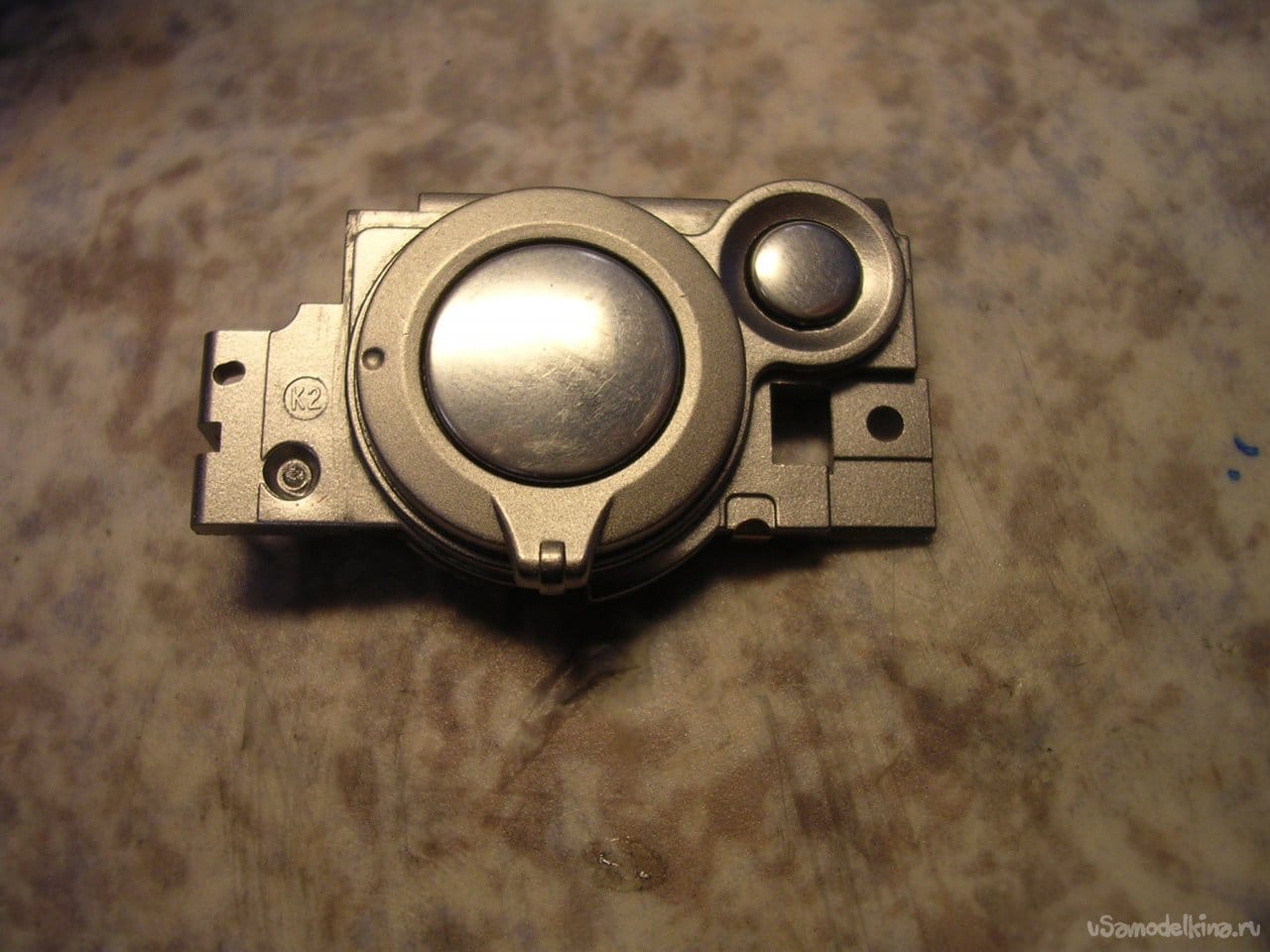 A contact for closing the cover of the memory card sticks out along the edge, be careful not to break it.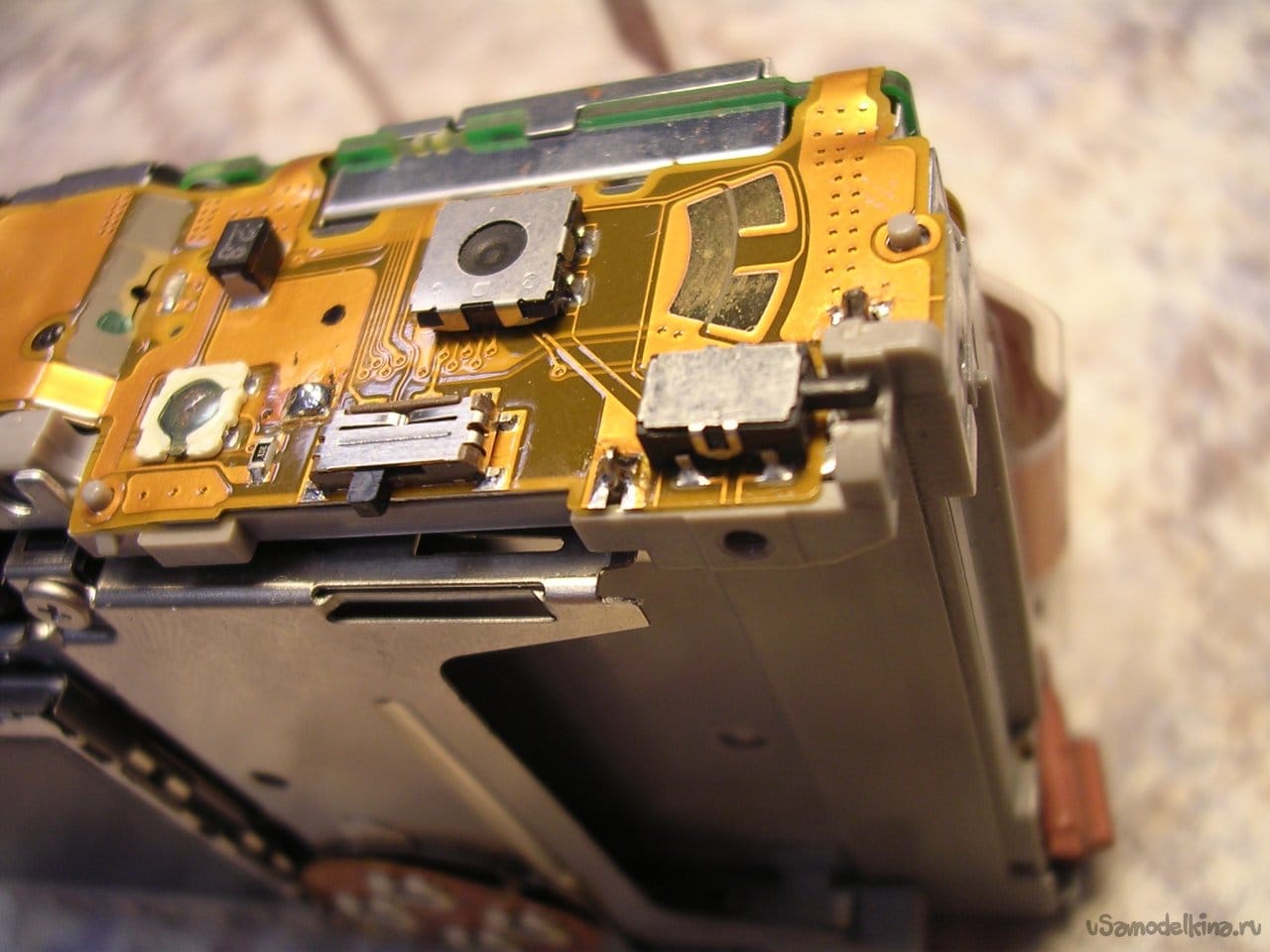 Then the lower part of the space frame of the device.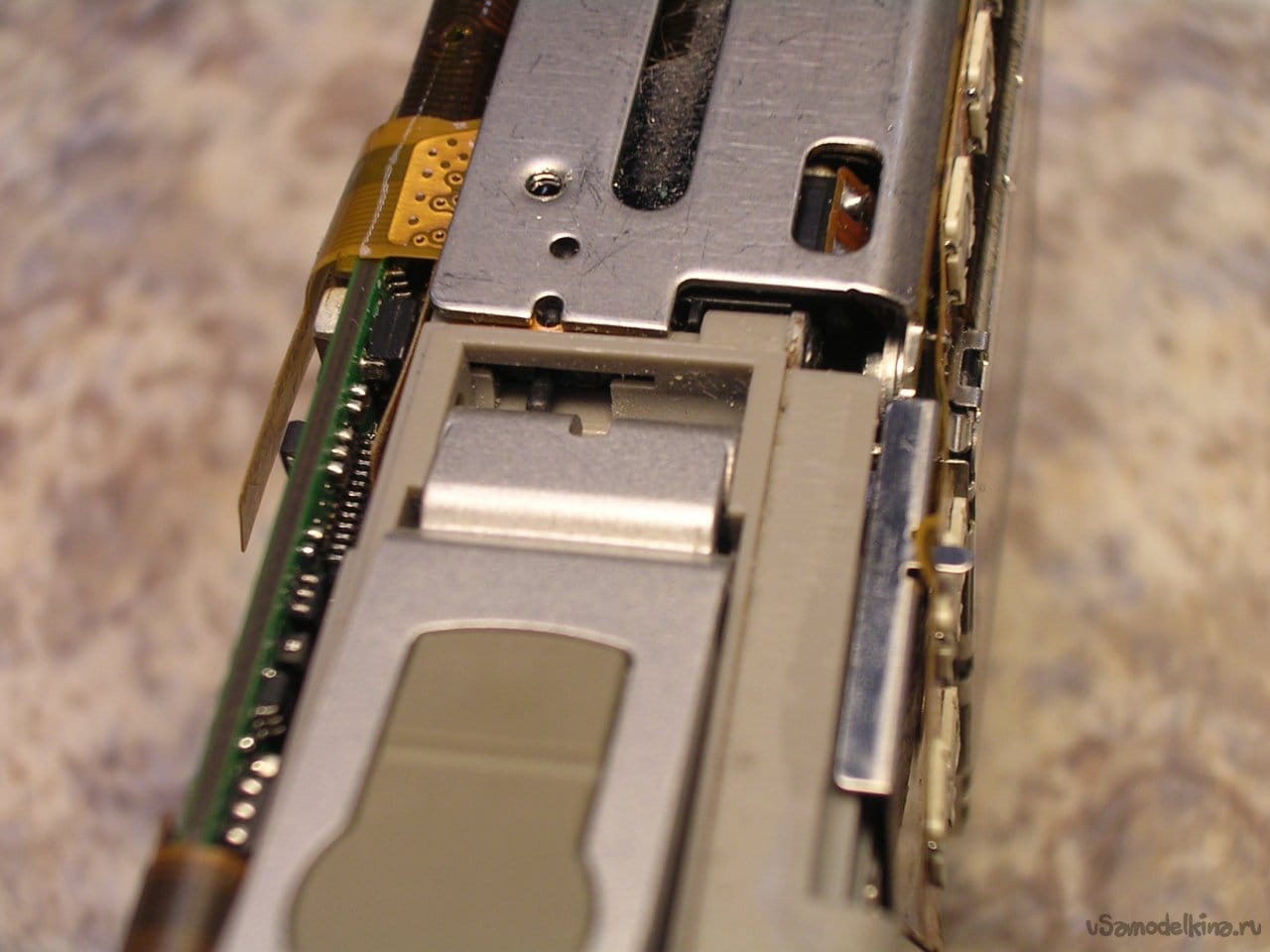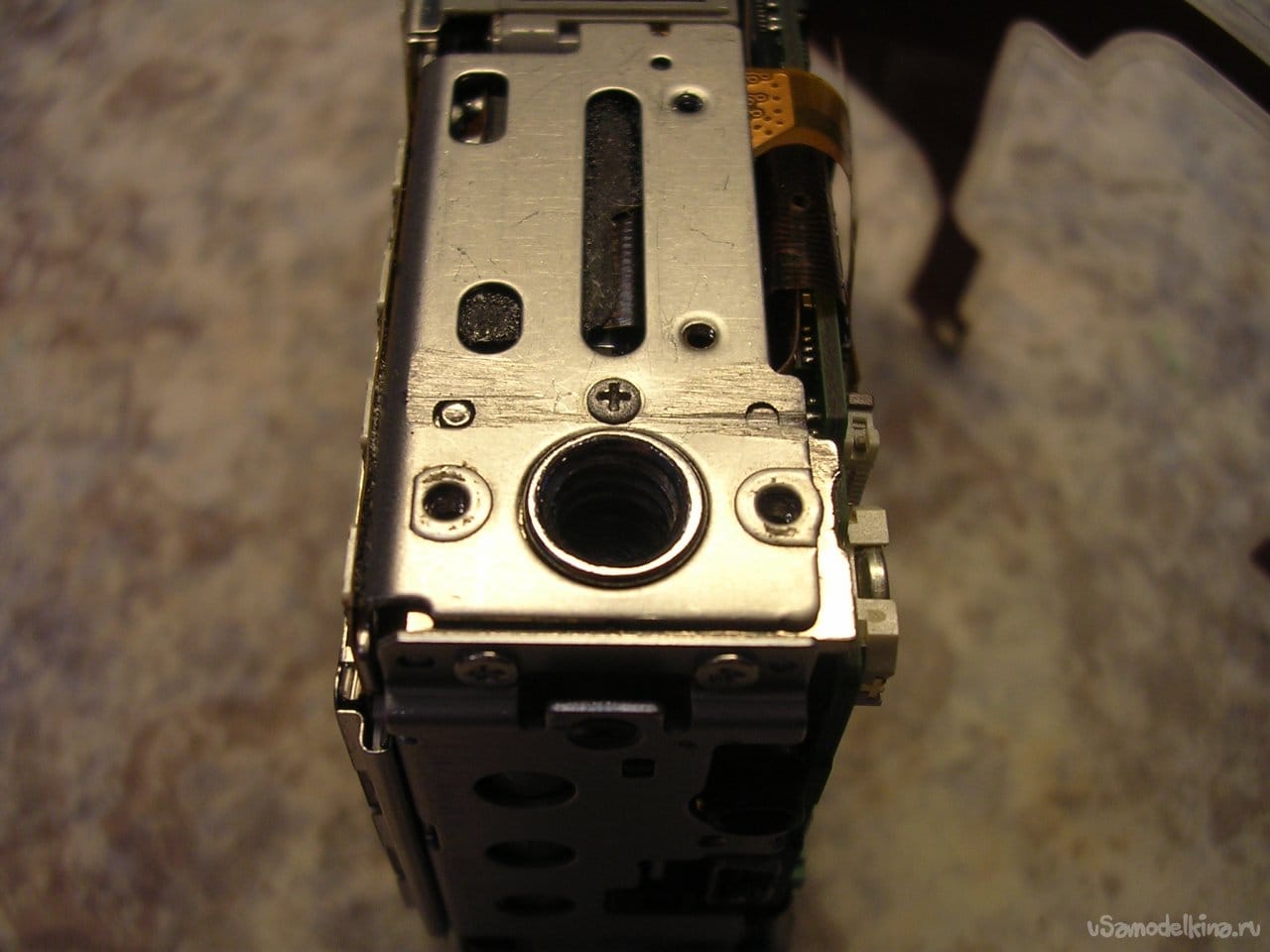 There are specks of corrosion !!! I continue.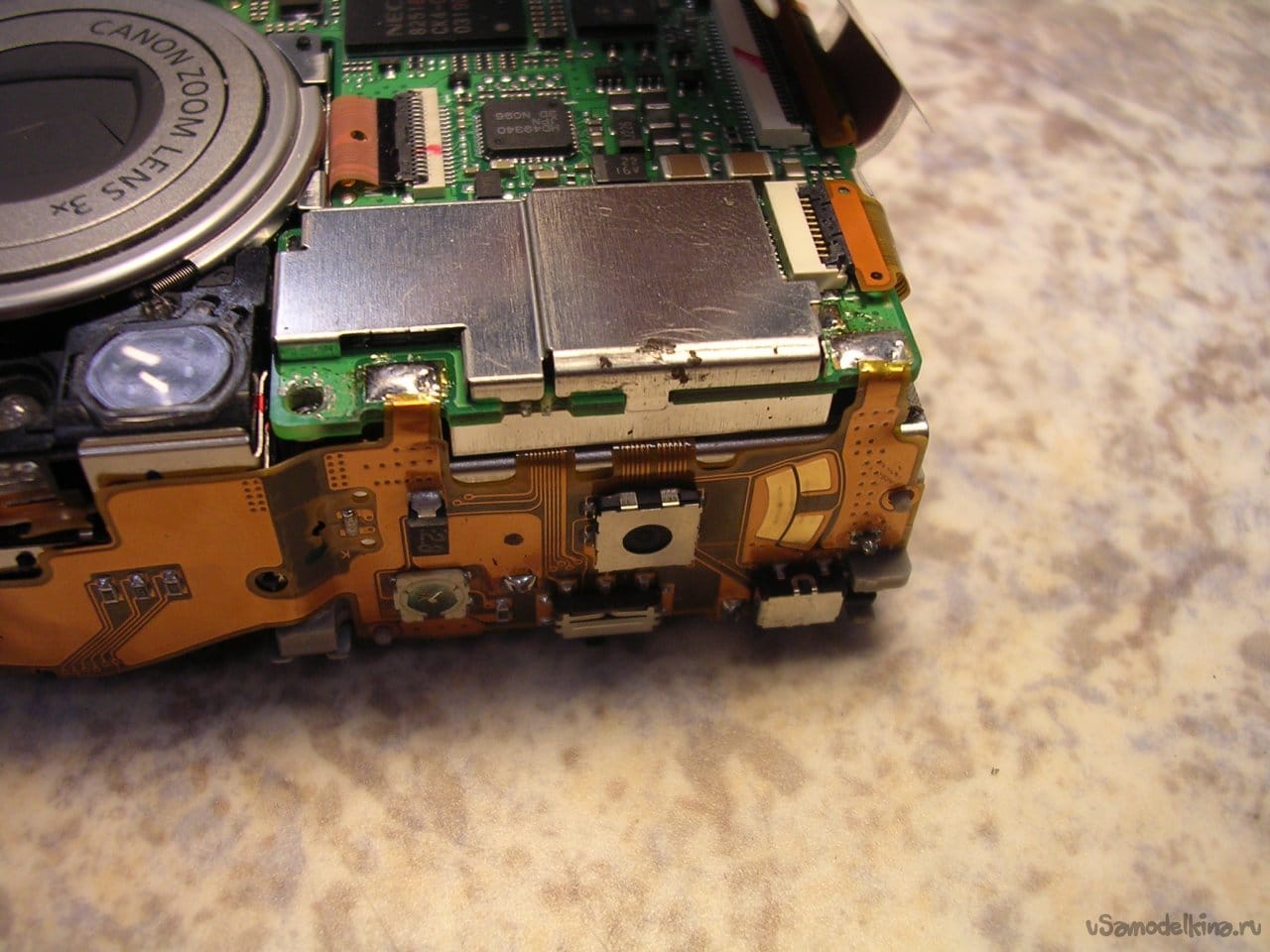 Main control board, remove protection, solder from minus, release latches of control loops connectors.
< a href = "https://usamodelkina.ru/uploads/posts/2021-07/1626333944_dscn1330.jpg" rel = "prettyPhoto">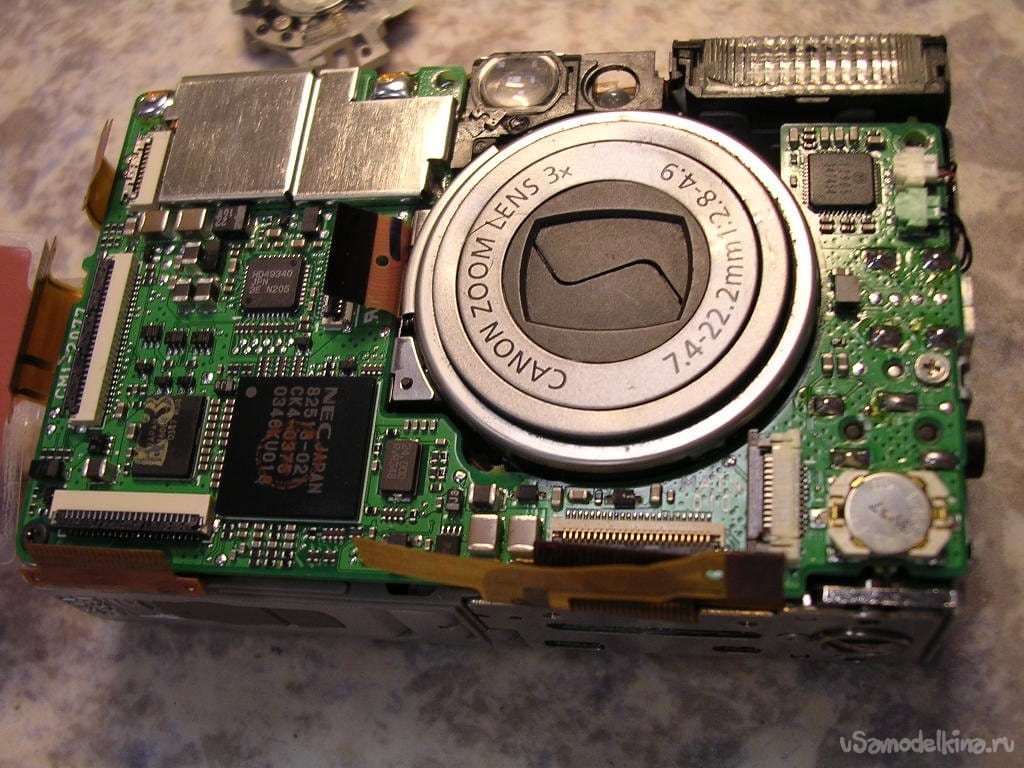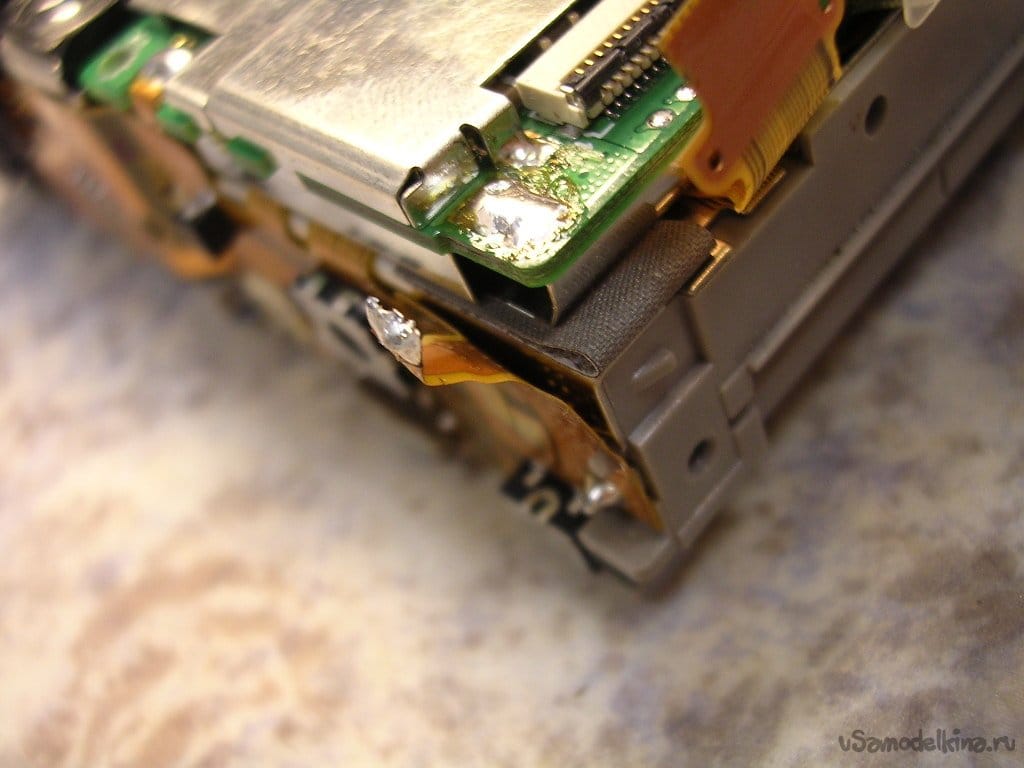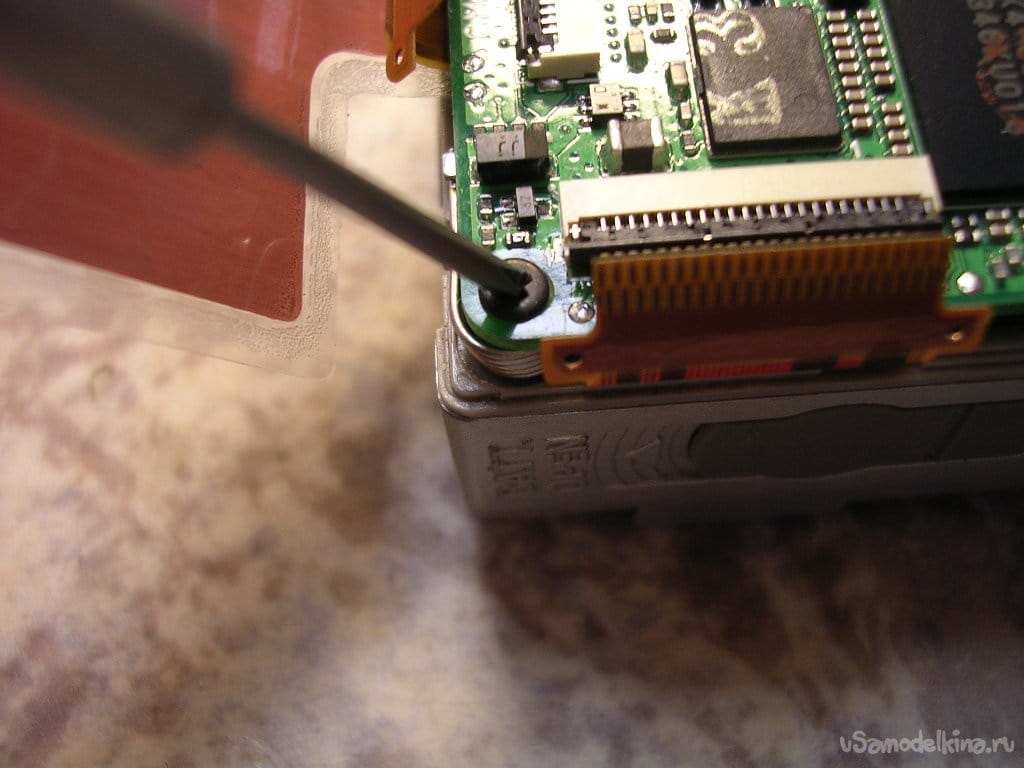 Wires and bolts, removing the board.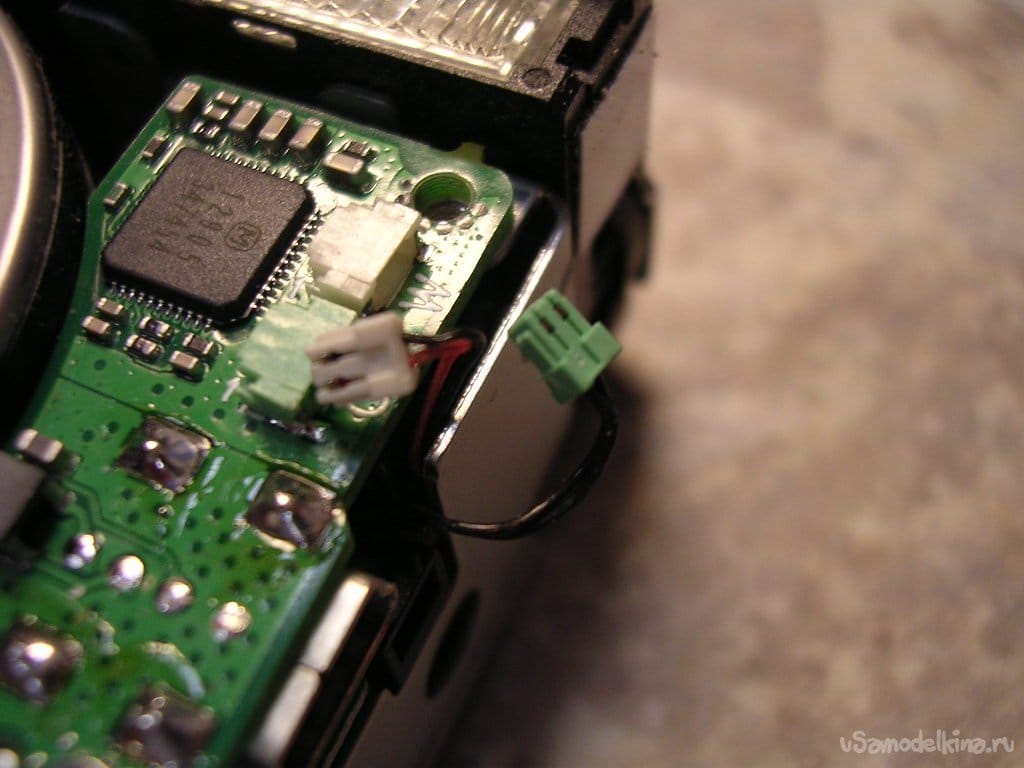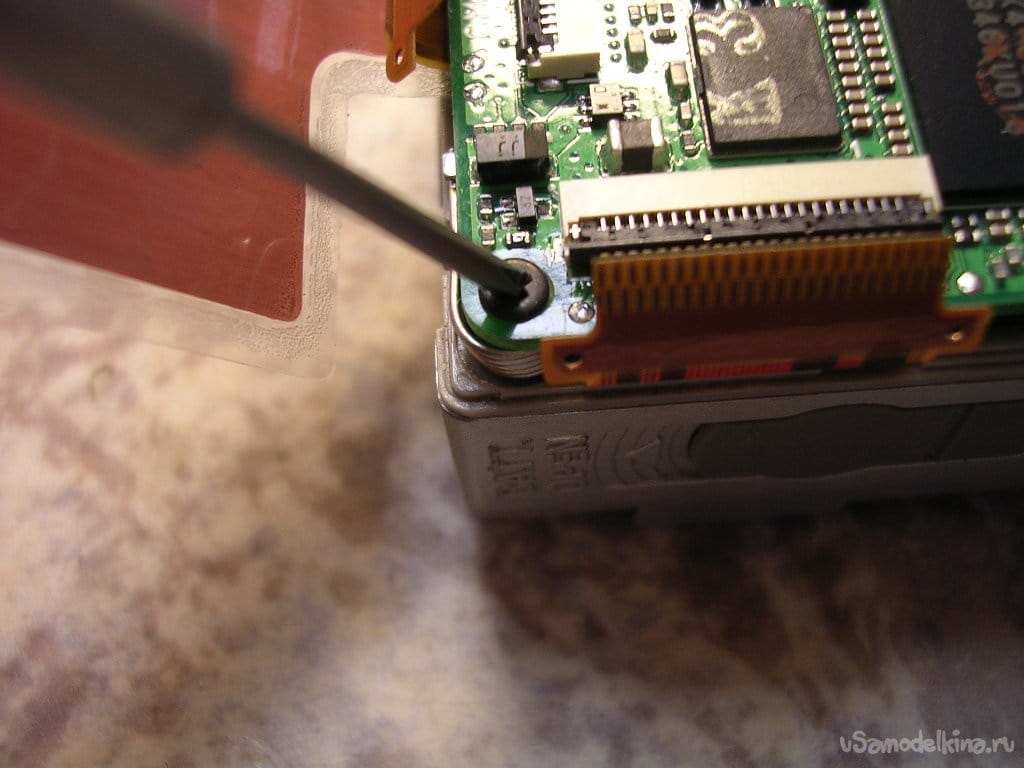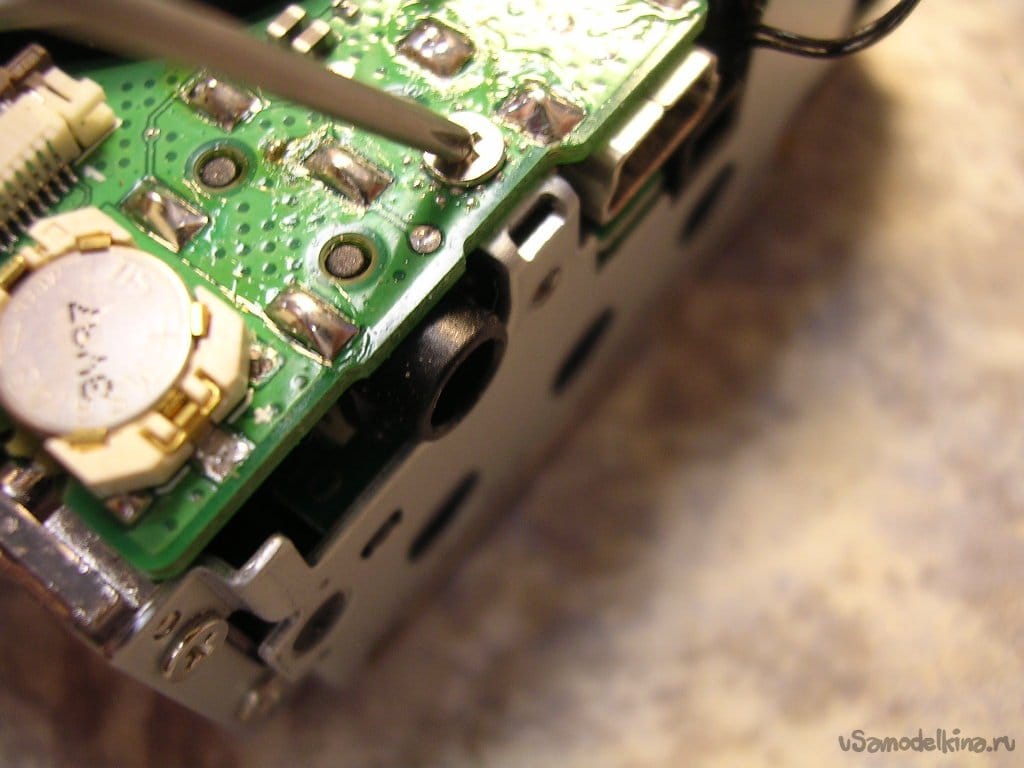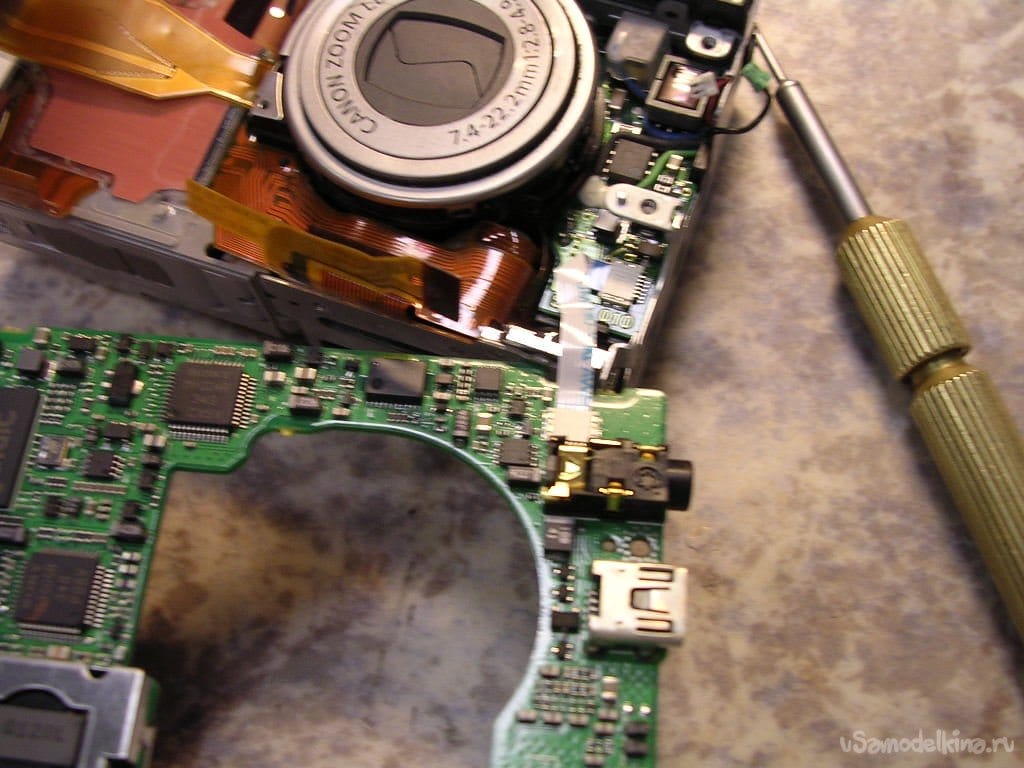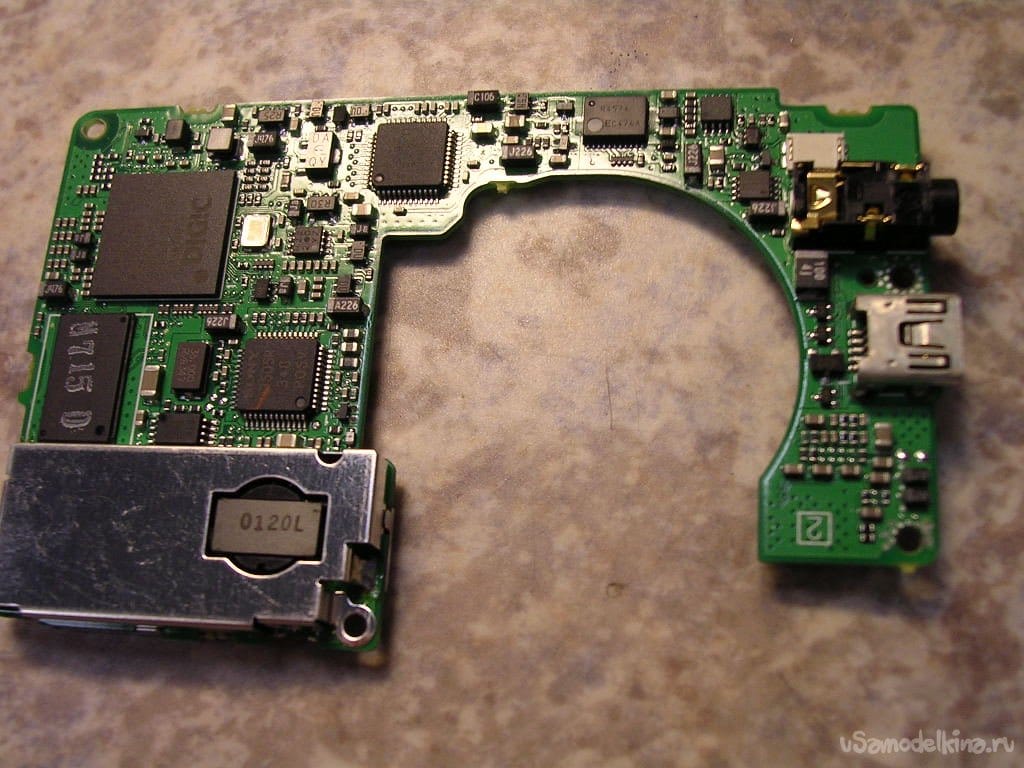 Since there are traces of corrosion, I wash the board with a special liquid and then wash it off with alcohol. The main tool is a toothbrush.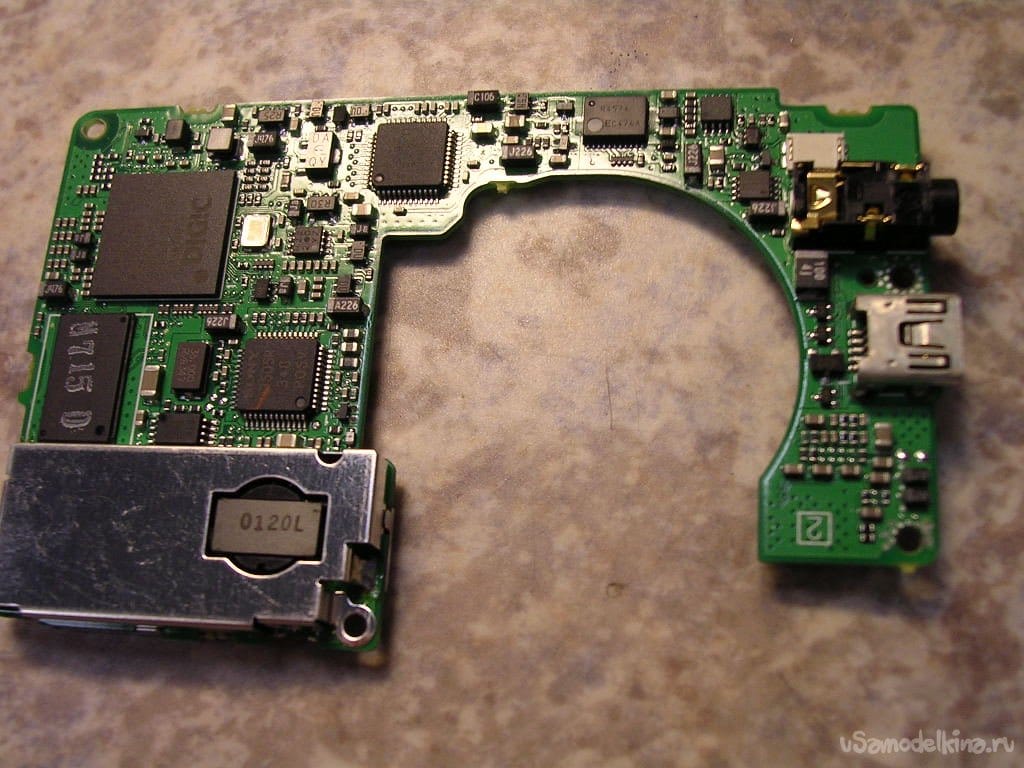 Connectors for the flash board and continue disassembling. The capacitor is hidden deep enough. Therefore, I work as carefully as possible.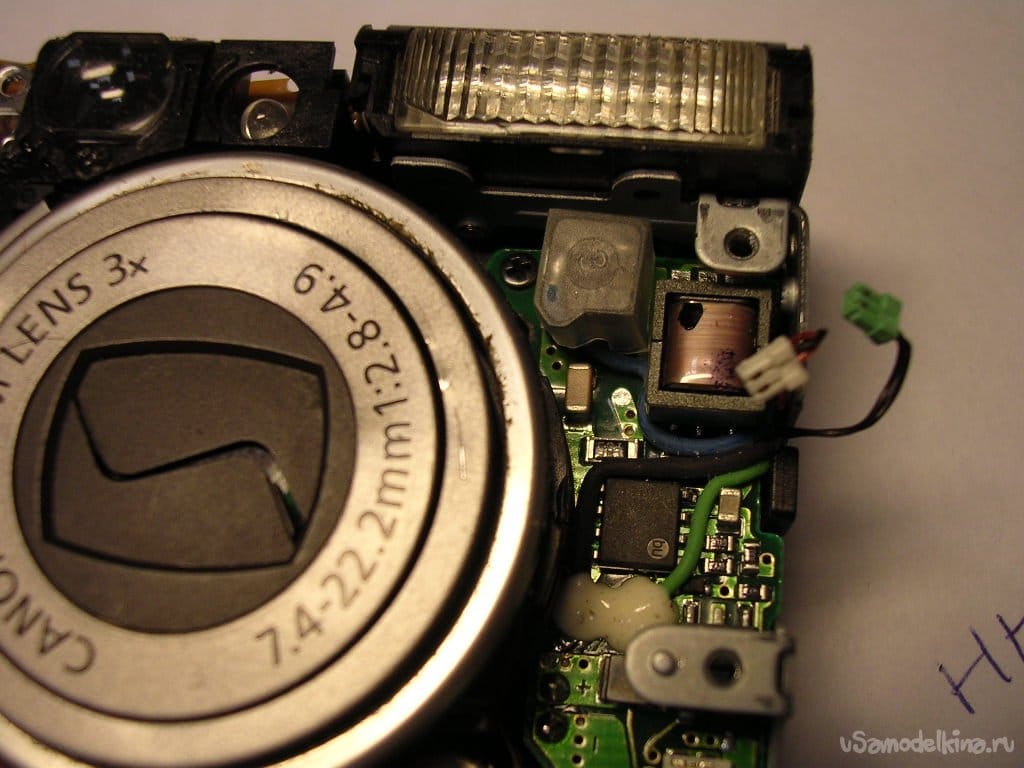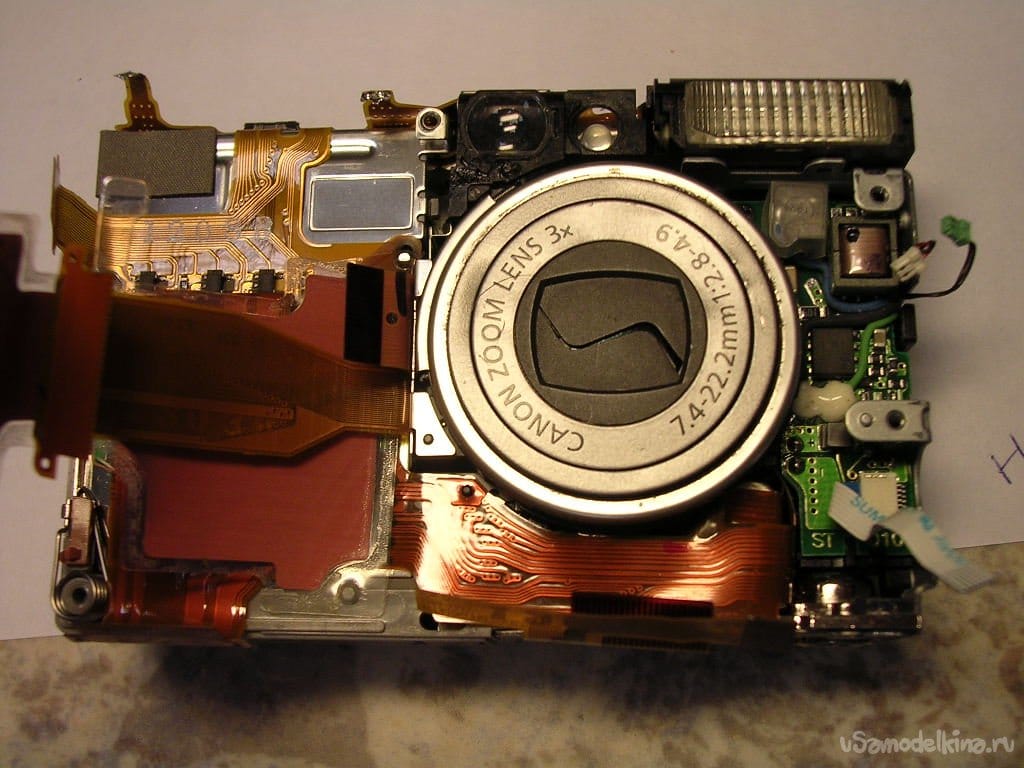 Then you need to remove the display, unscrew all the screws around, open the loops.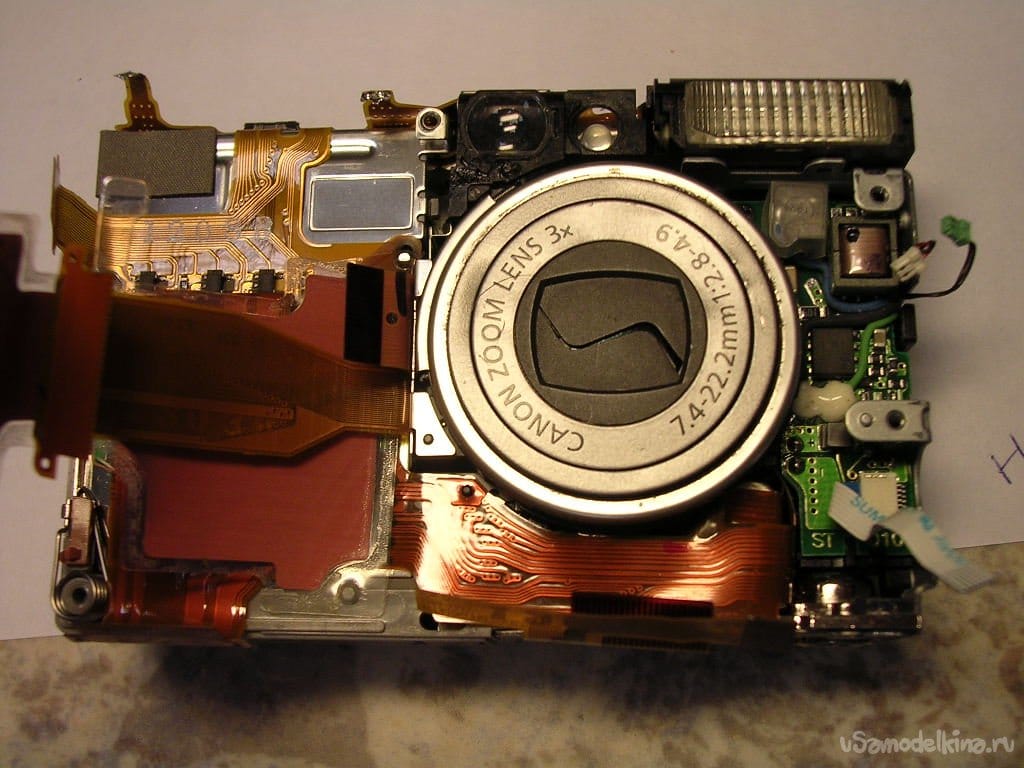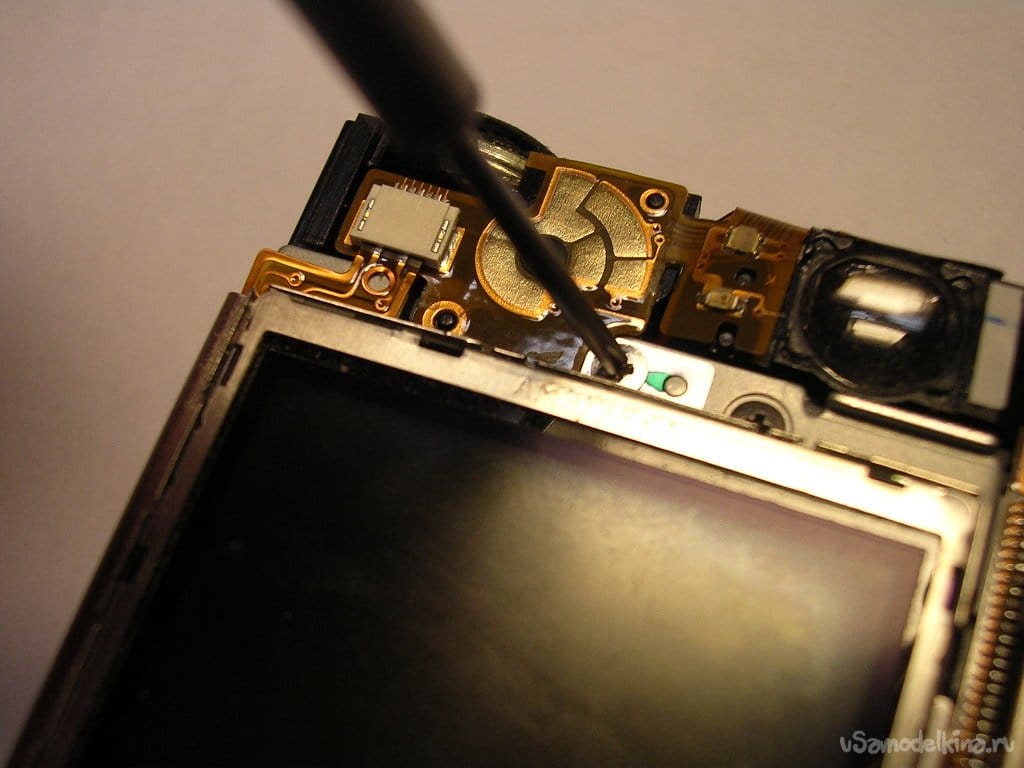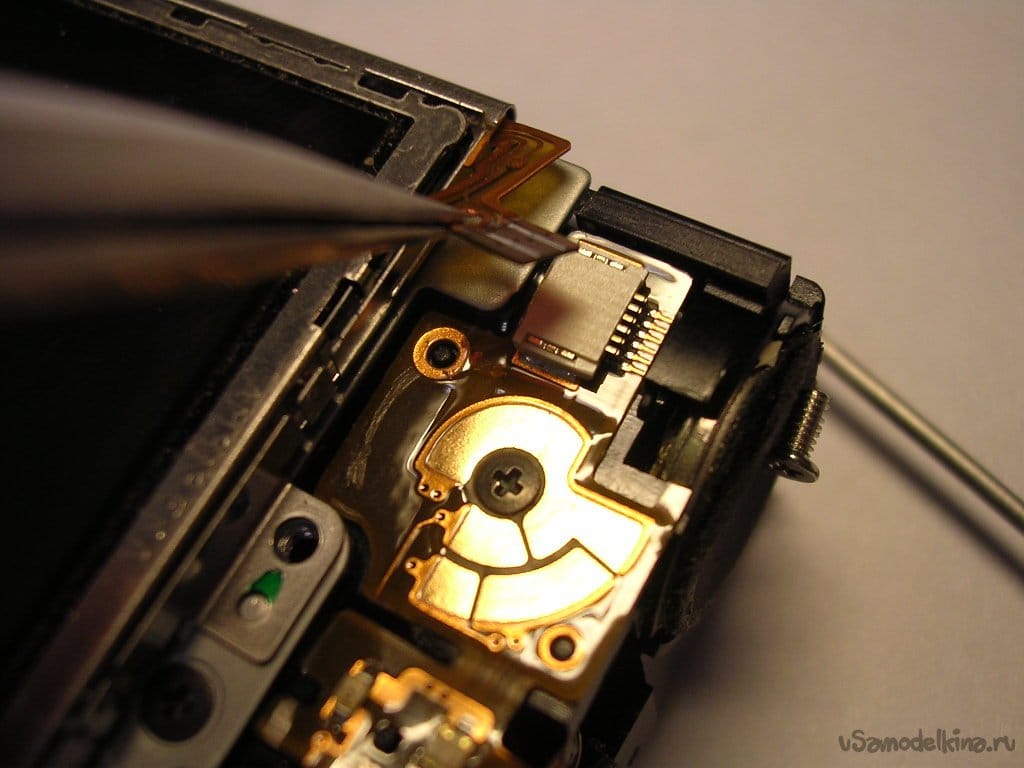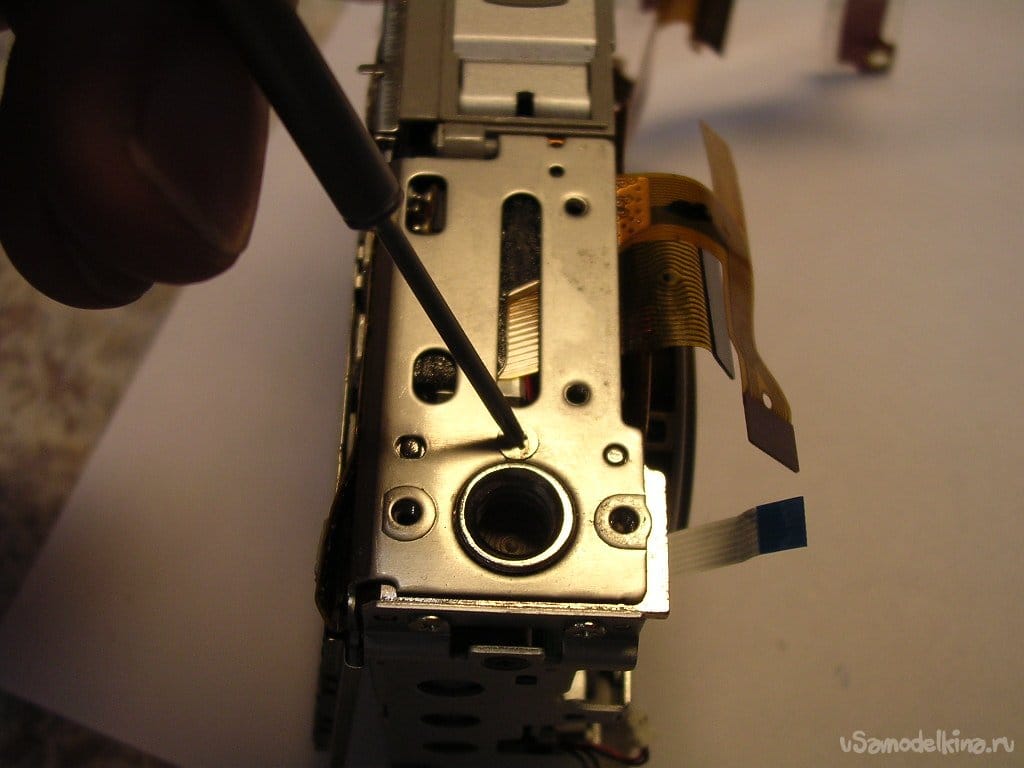 Another block of the memory card gets in the way, you need to dismantle it.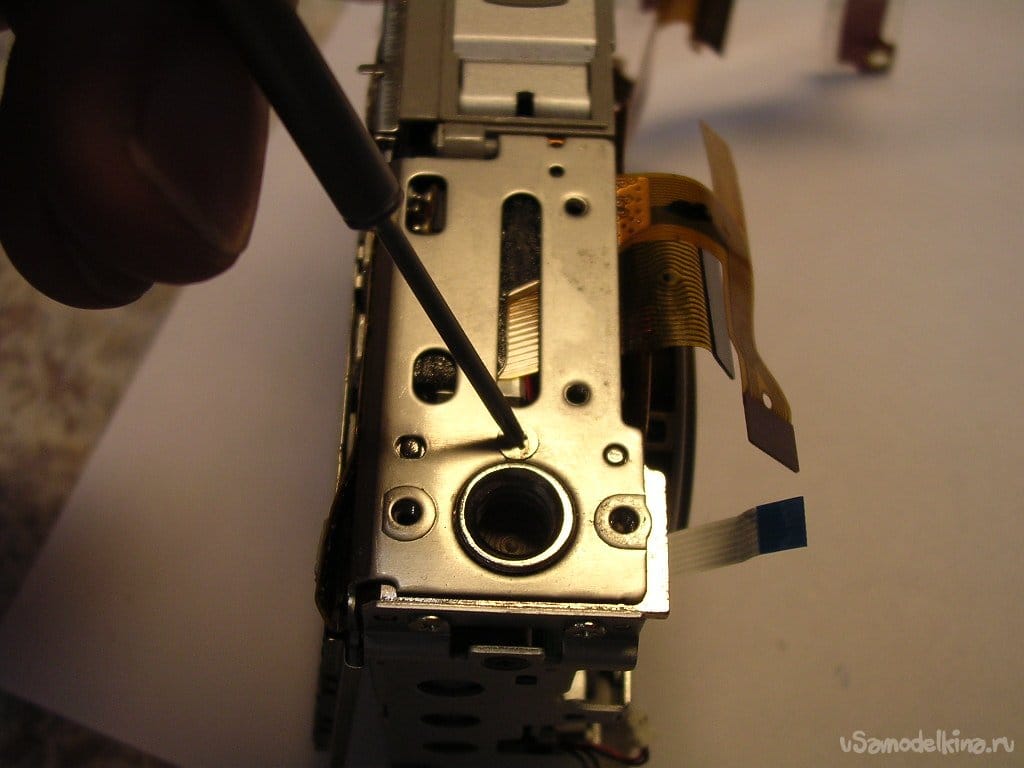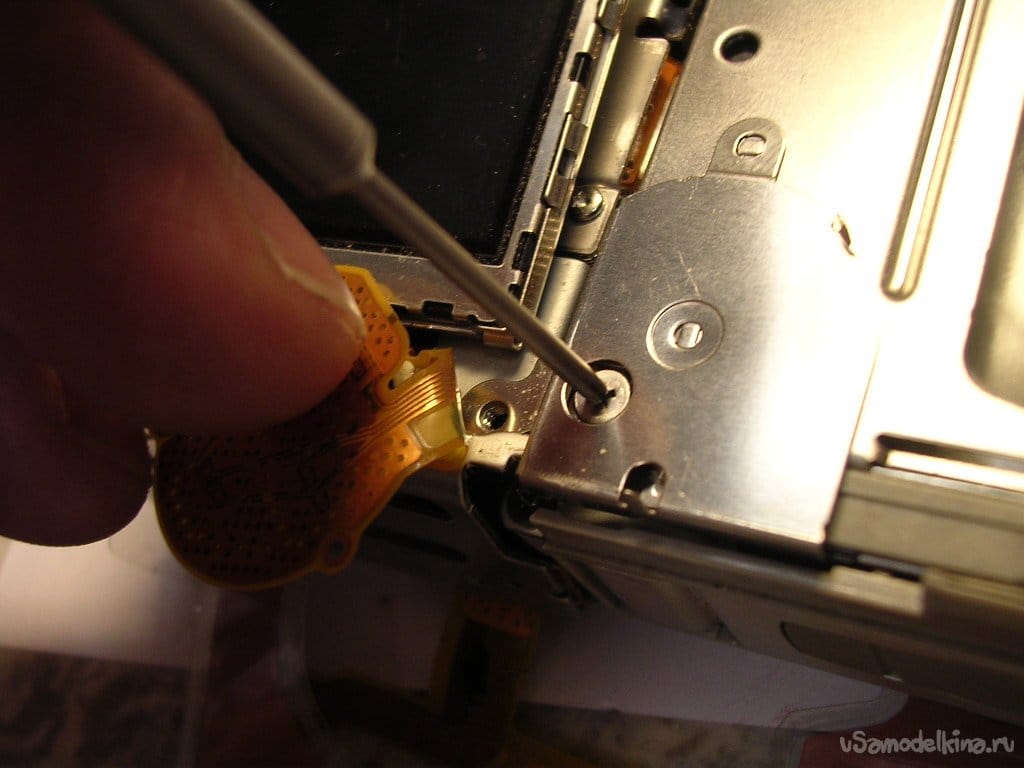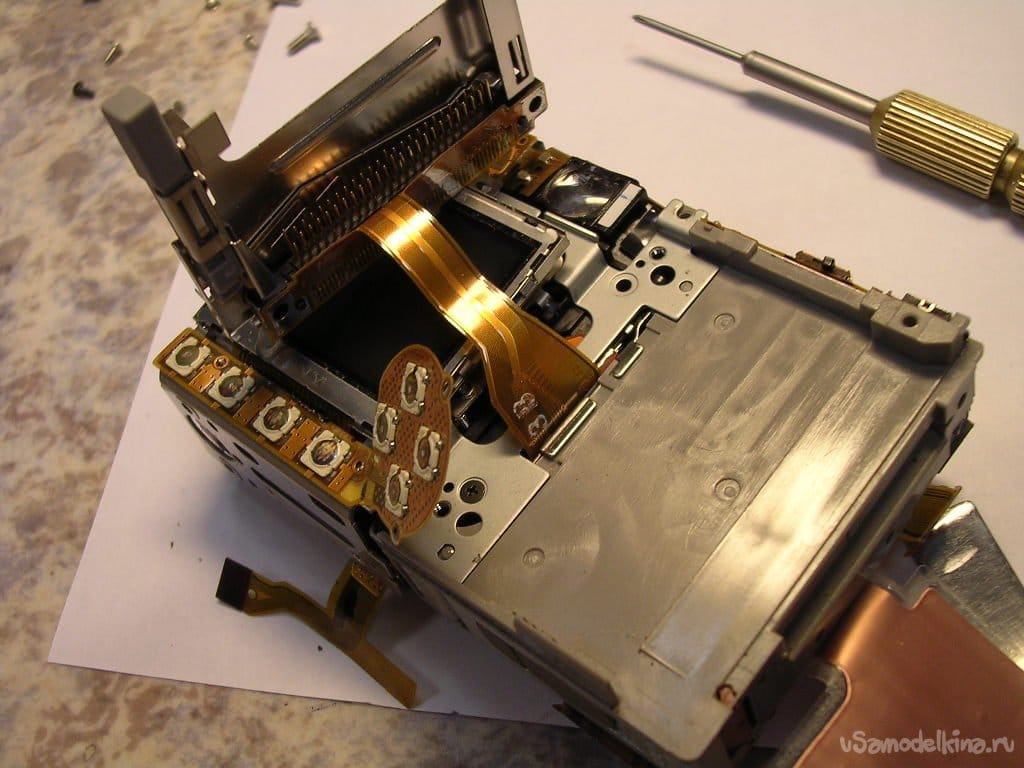 The lower piece of iron with a glued loop, on it is a contact for closing the battery compartment cover.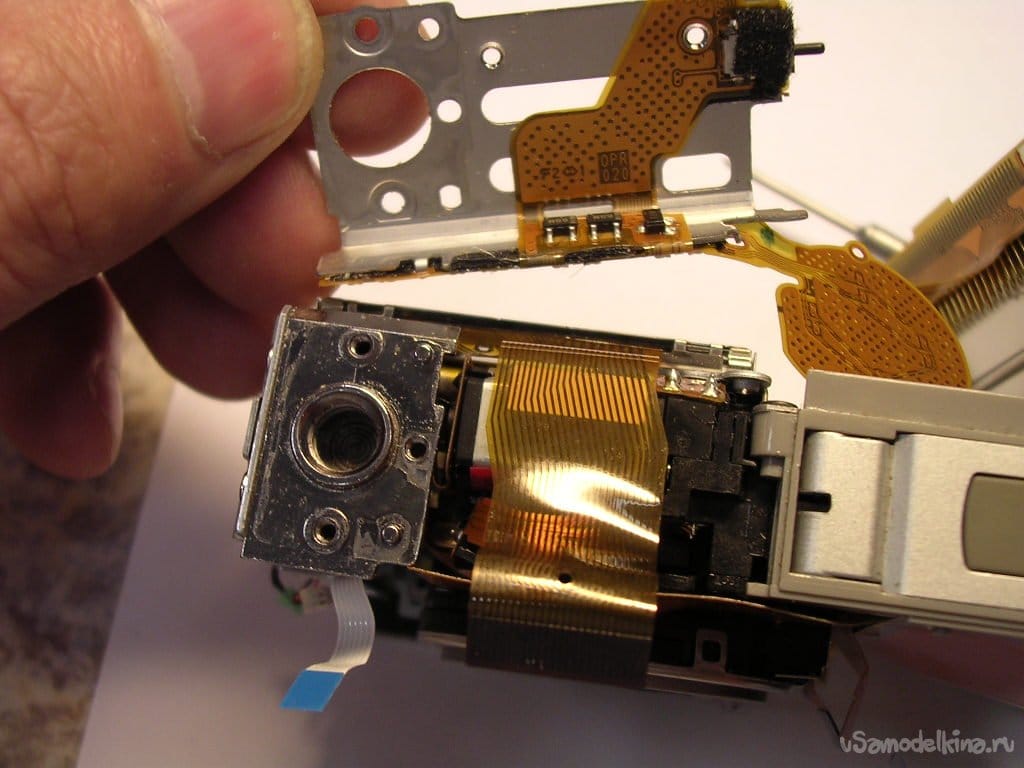 The last three screws for fastening the display.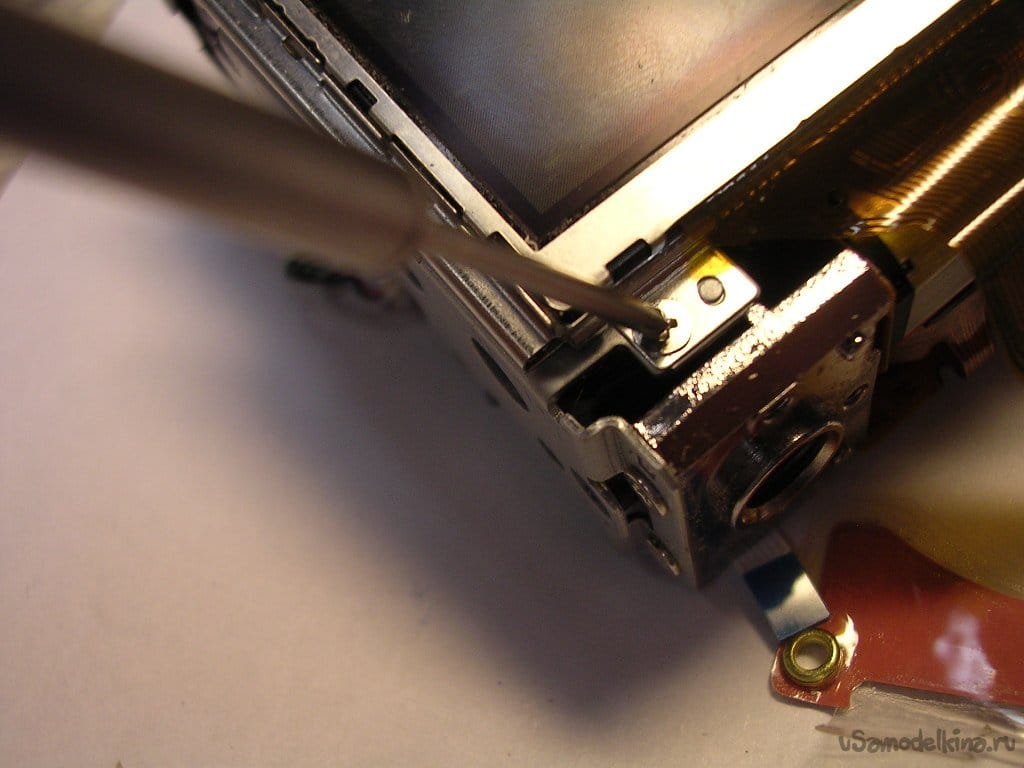 Taken.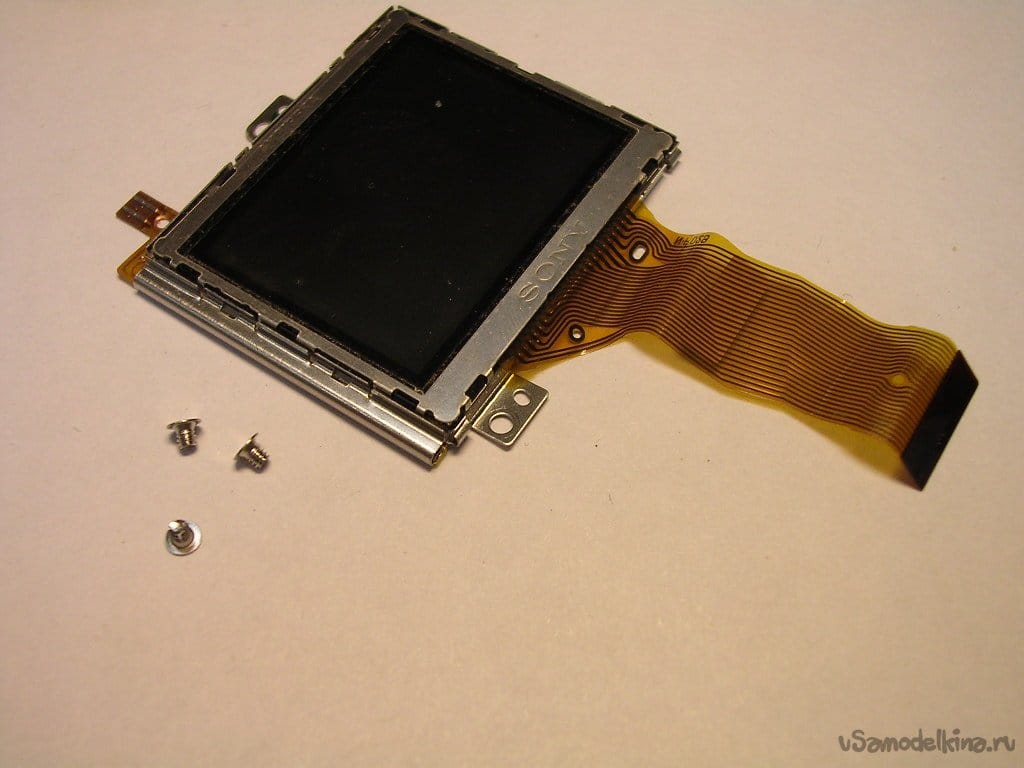 Moving forward, one more protection, under it is the second control board.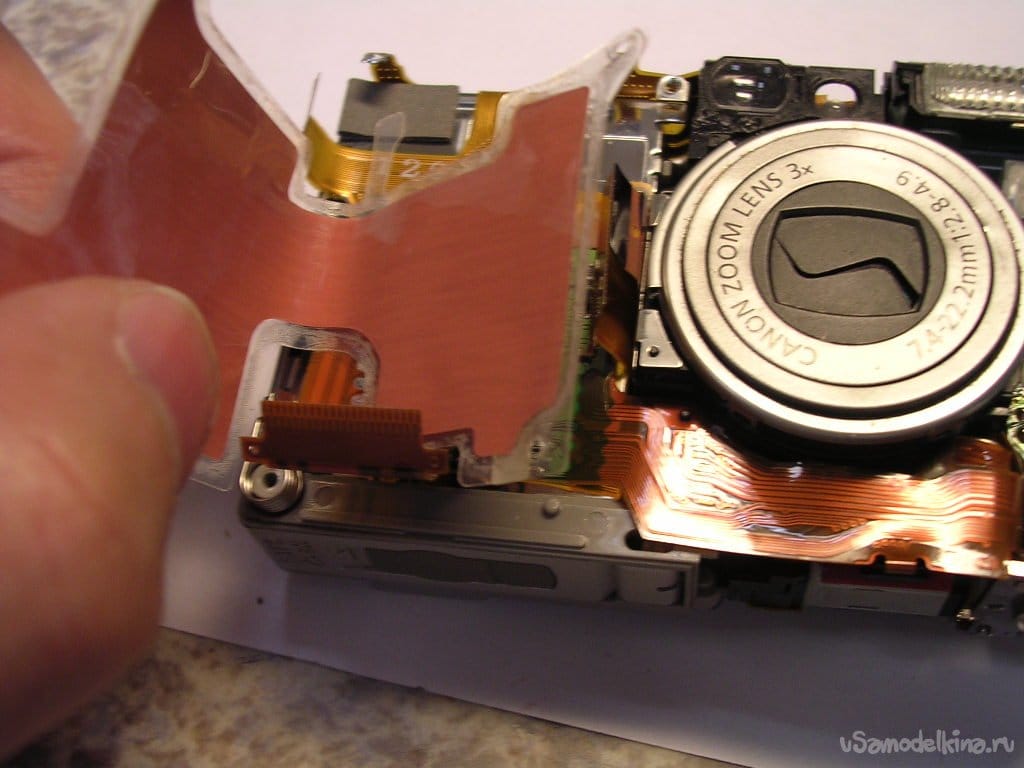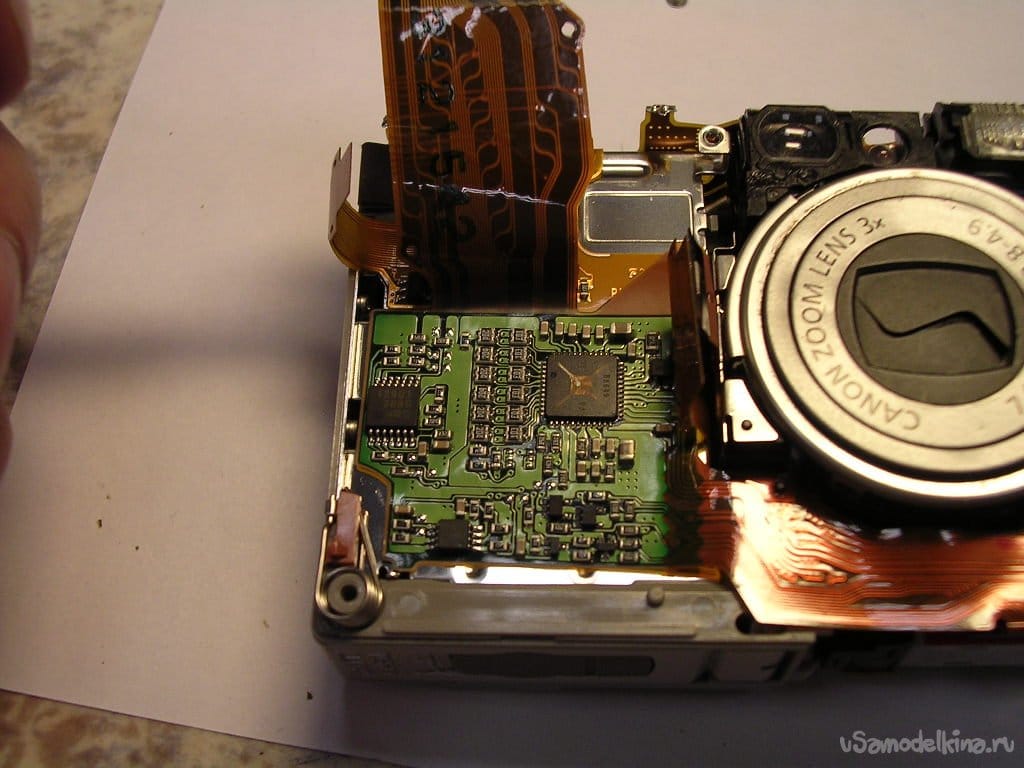 You need to remove a little iron and a tripod mount.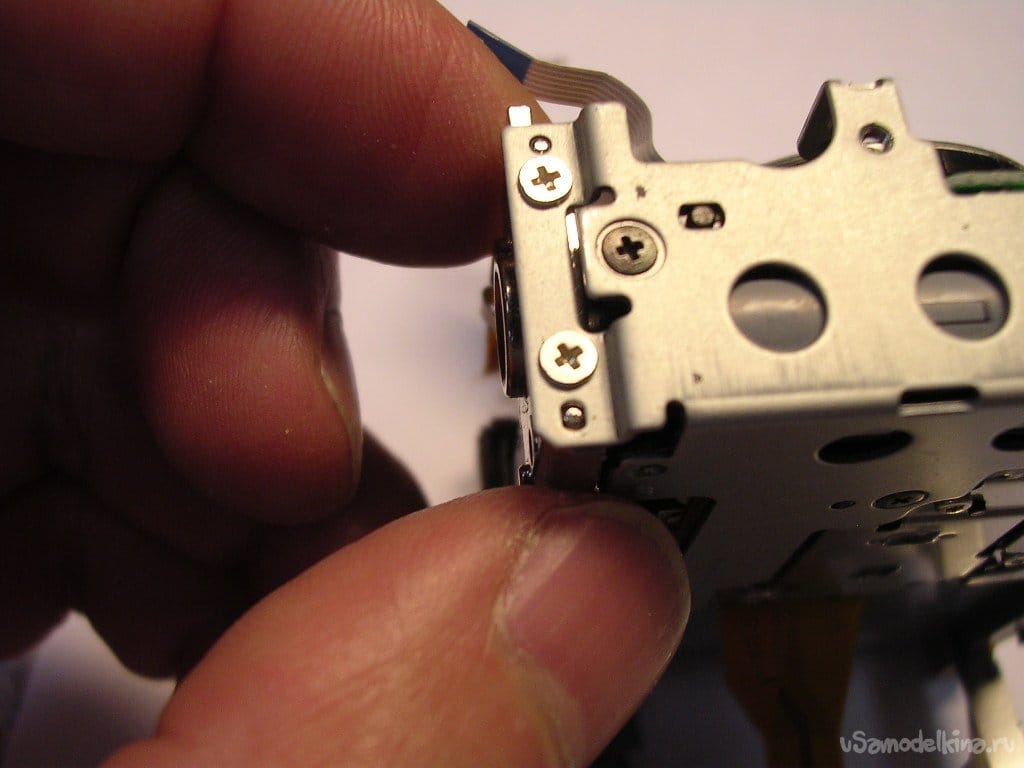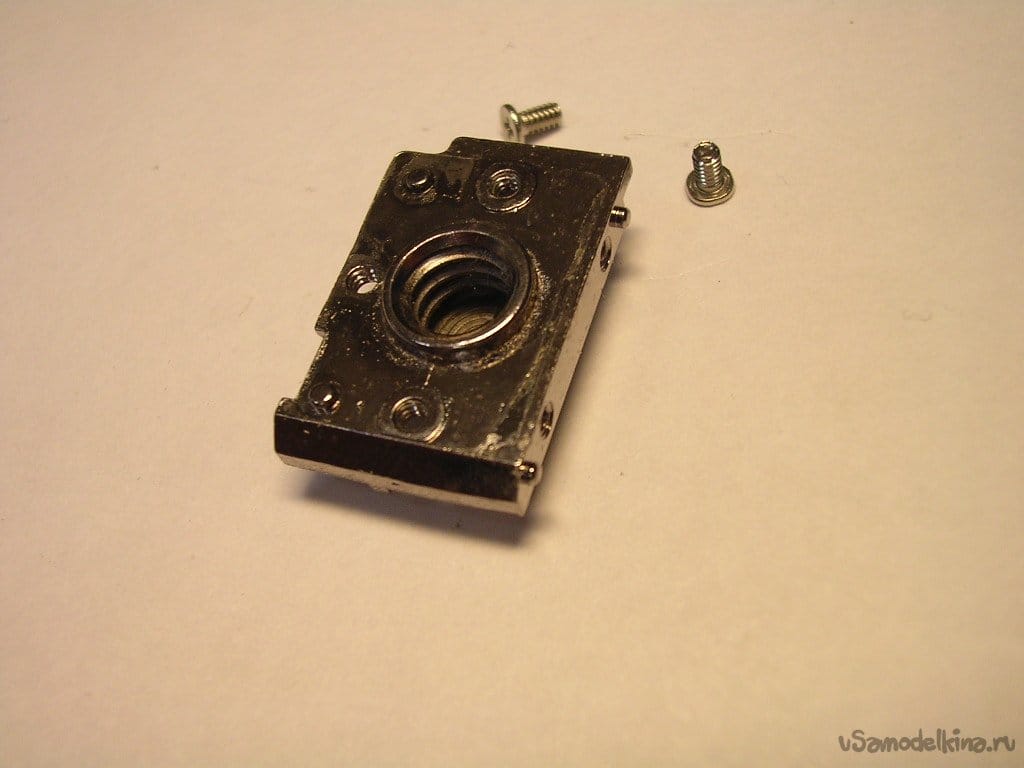 Press screw for control loop with "gear shift" contacts.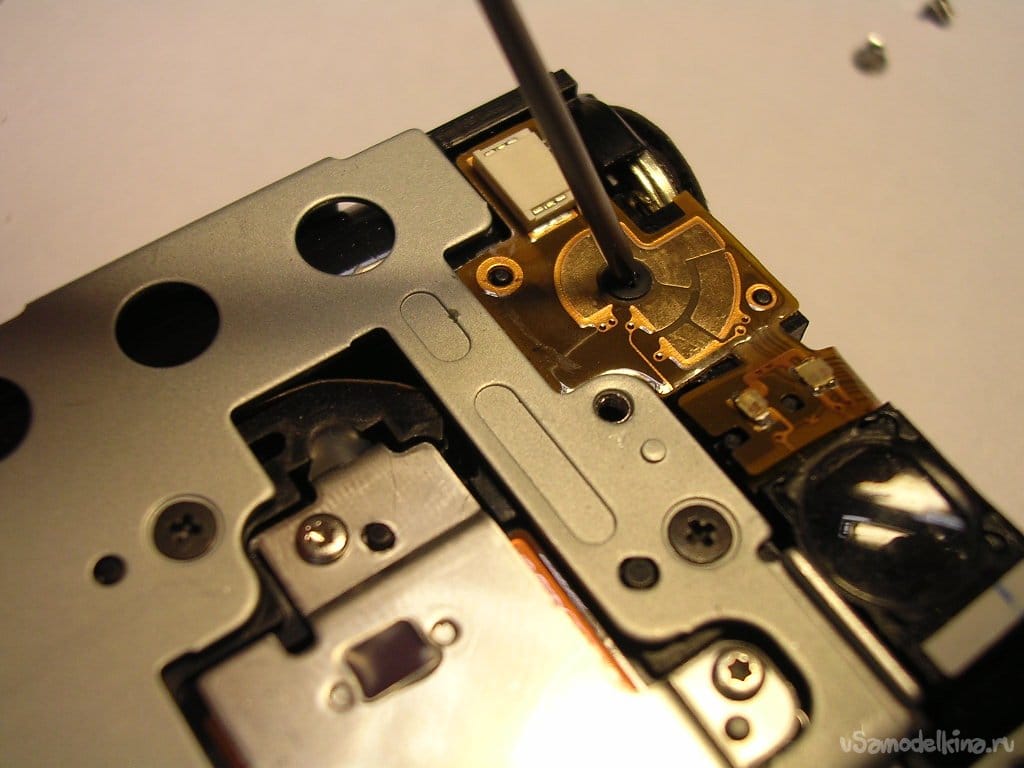 A flash nearby, a protective "patch" of a wire of three hundred volts very close to the metal of the apparatus chassis.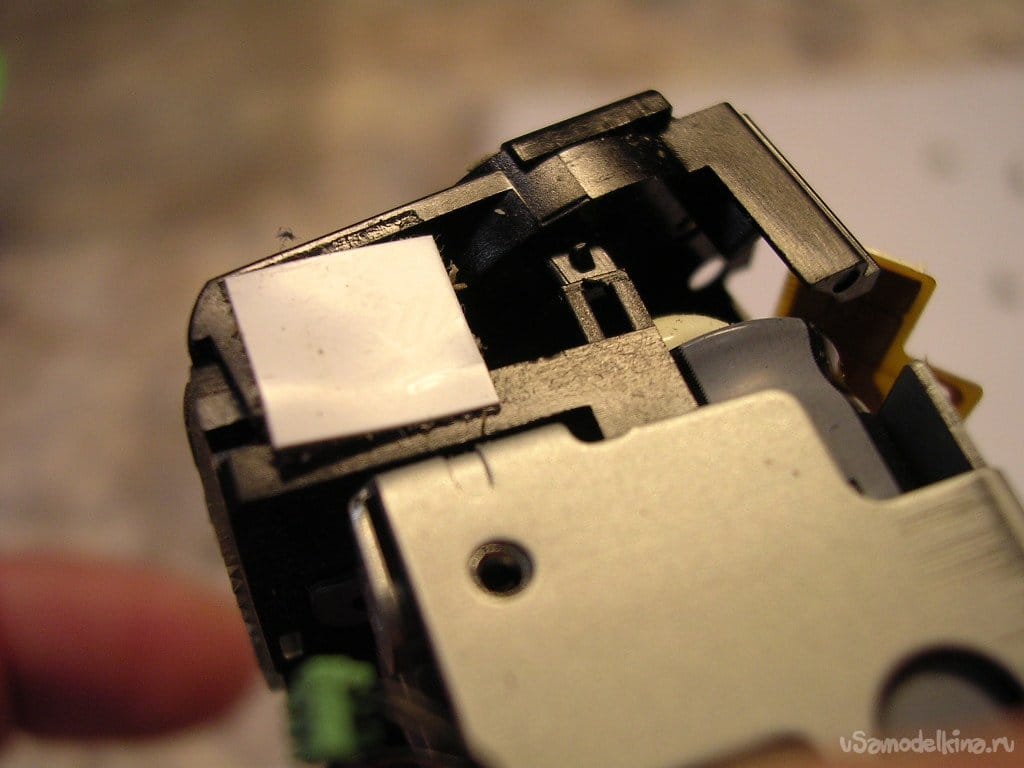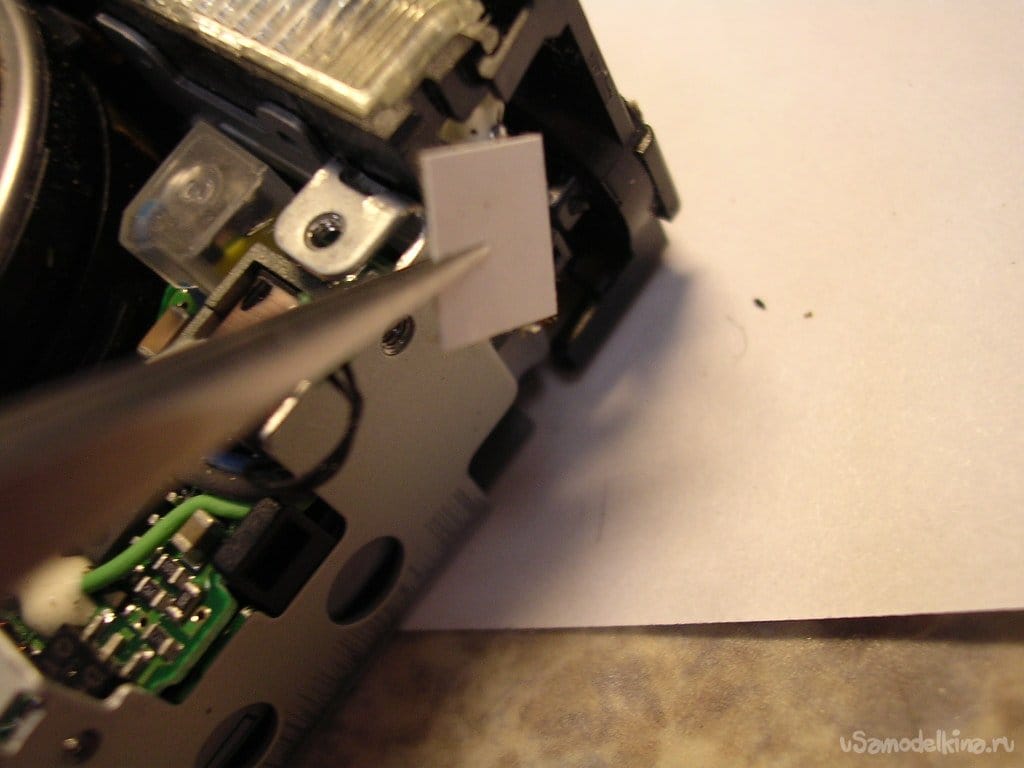 Now the flash lamp housing latch.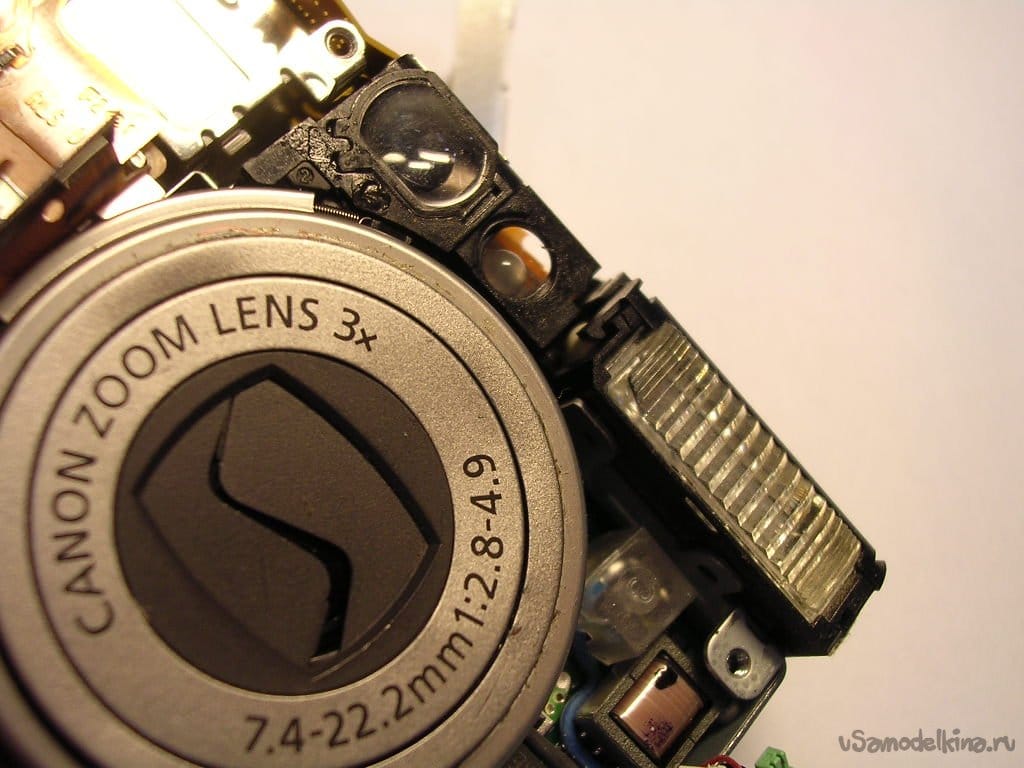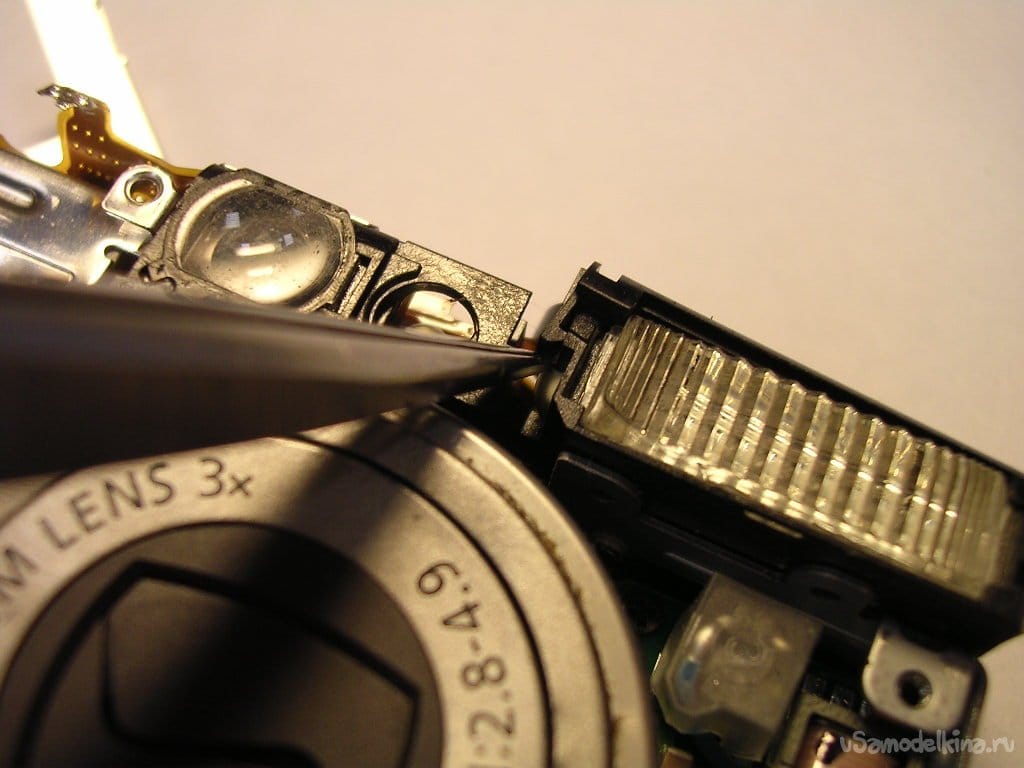 I poke the discharge needles into the droplets of sealant on the capacitor soldering.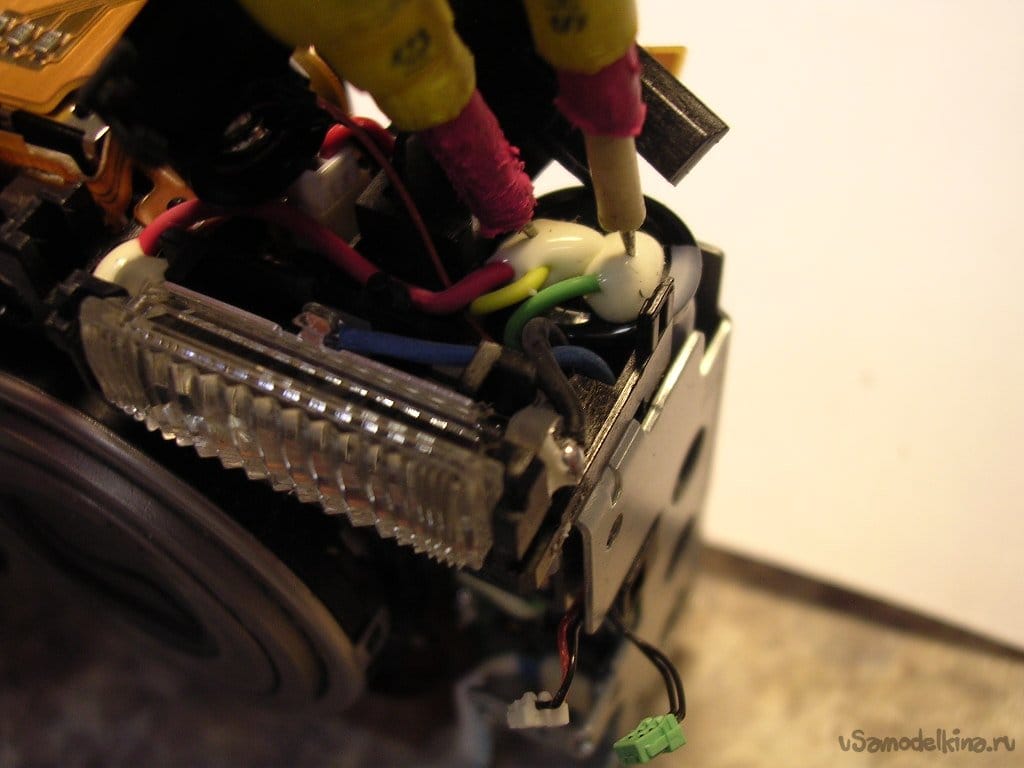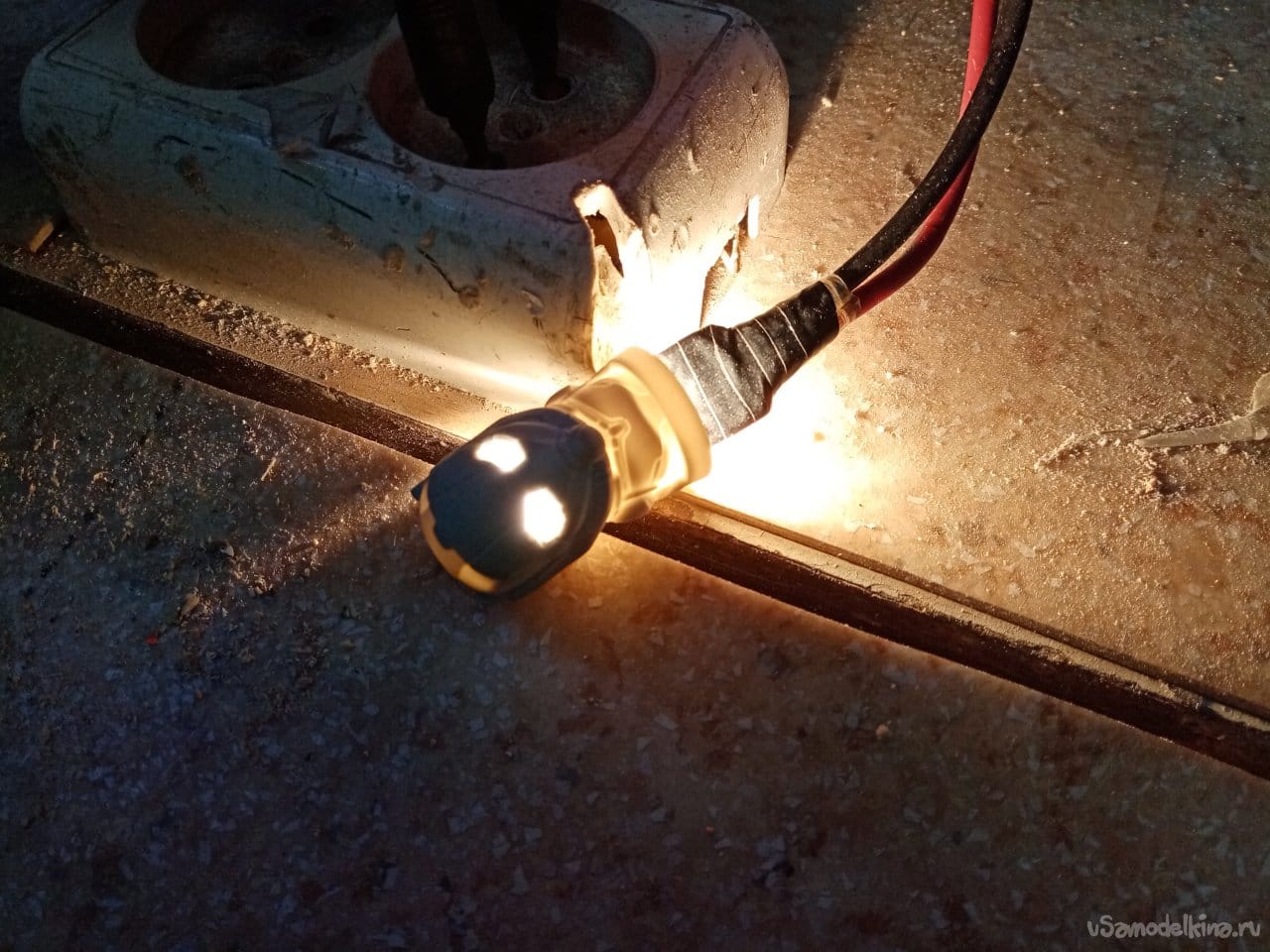 The top has been completely ripped apart, you need to disconnect the battery compartment.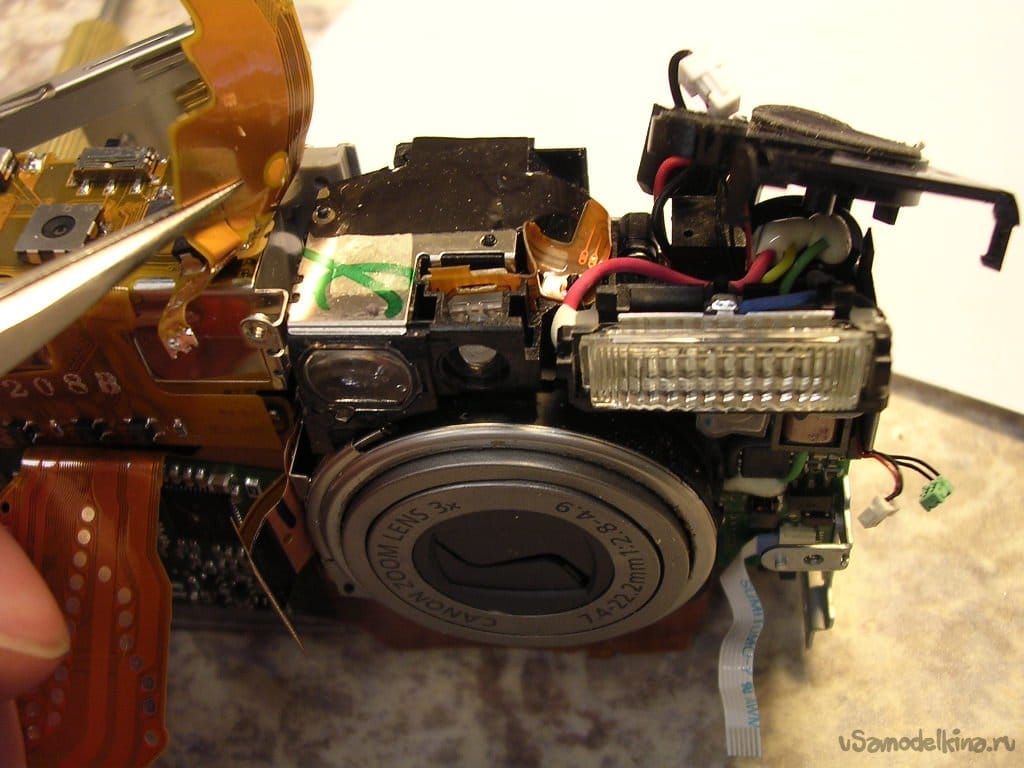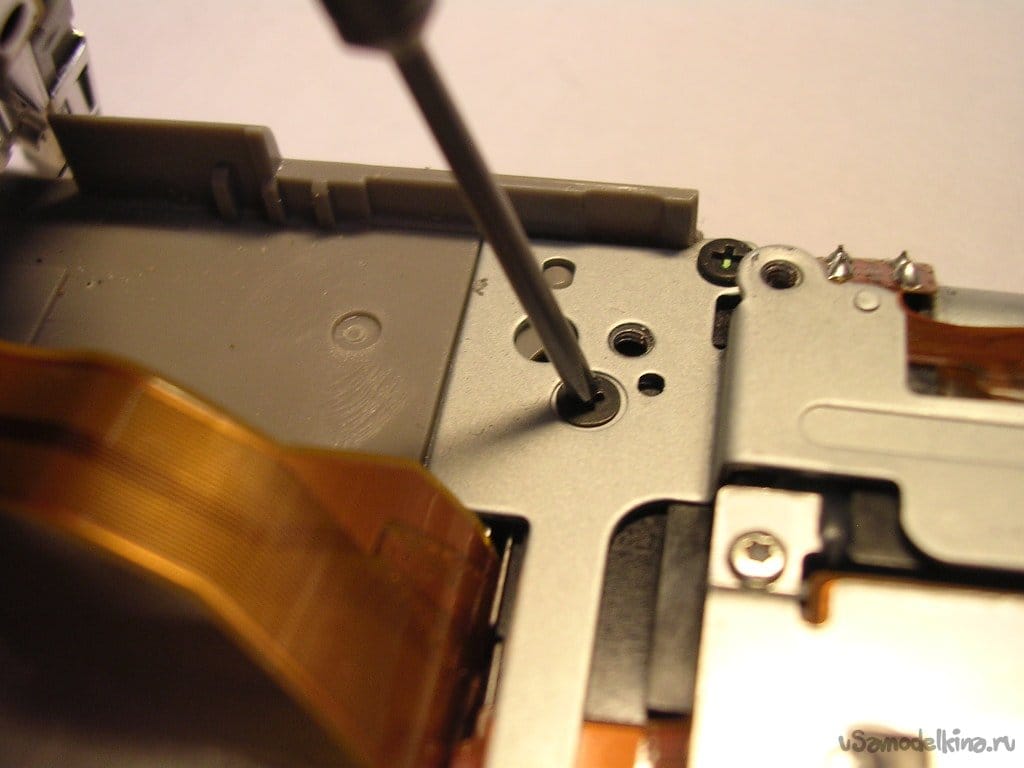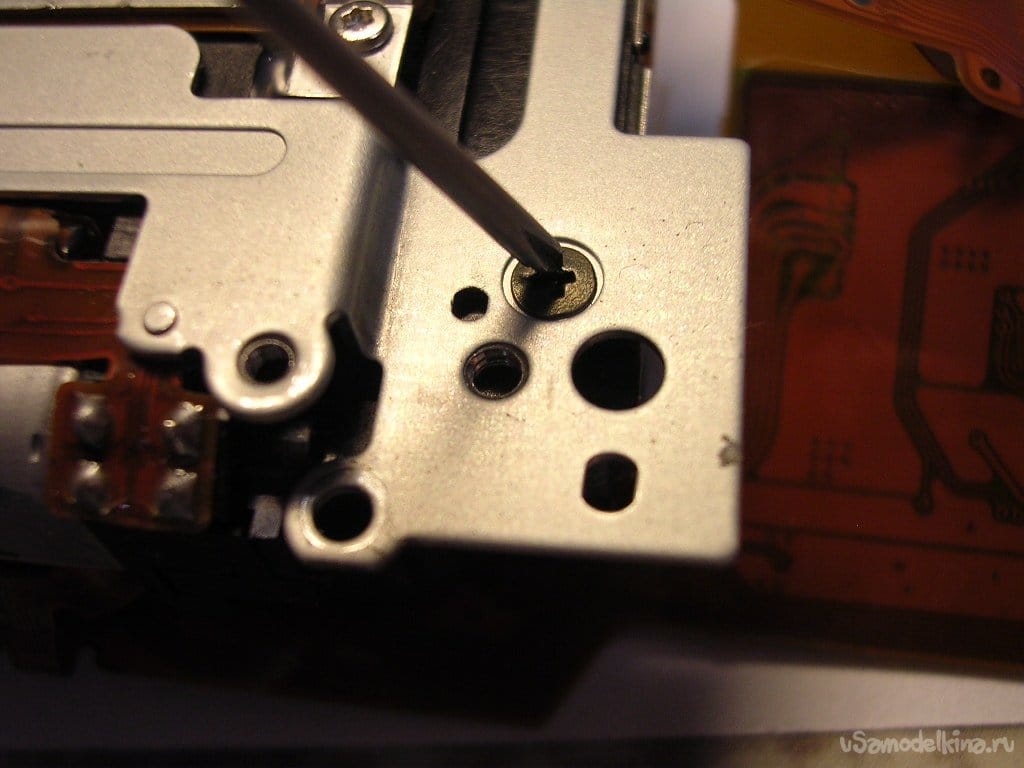 Taking off the flash unit.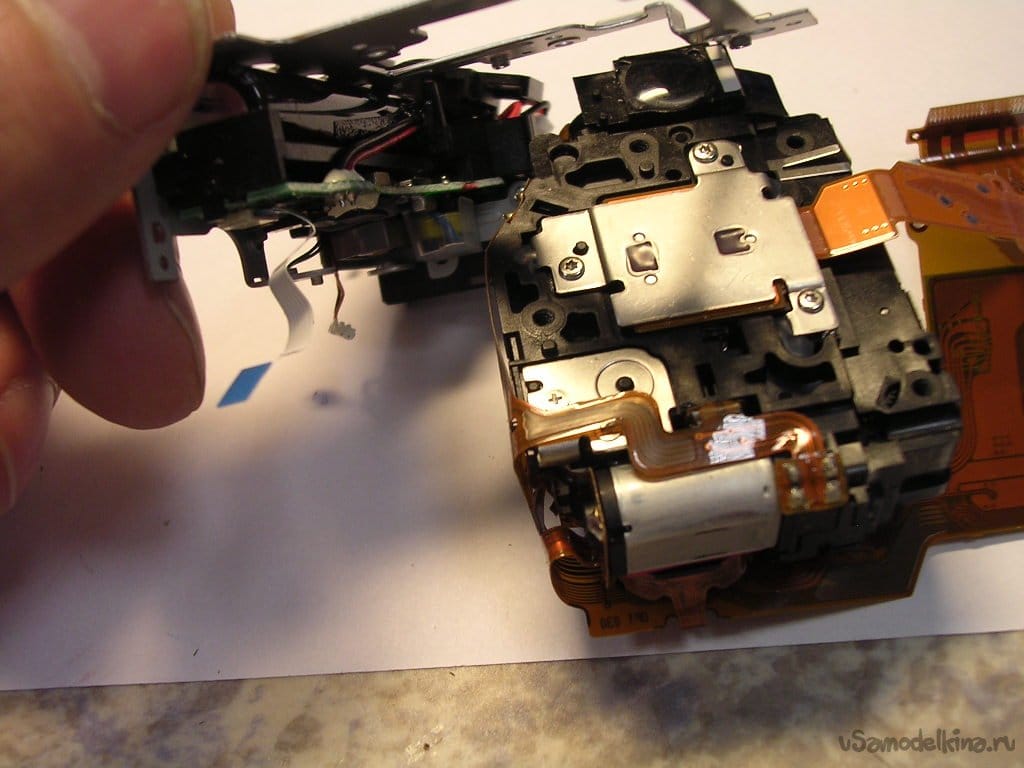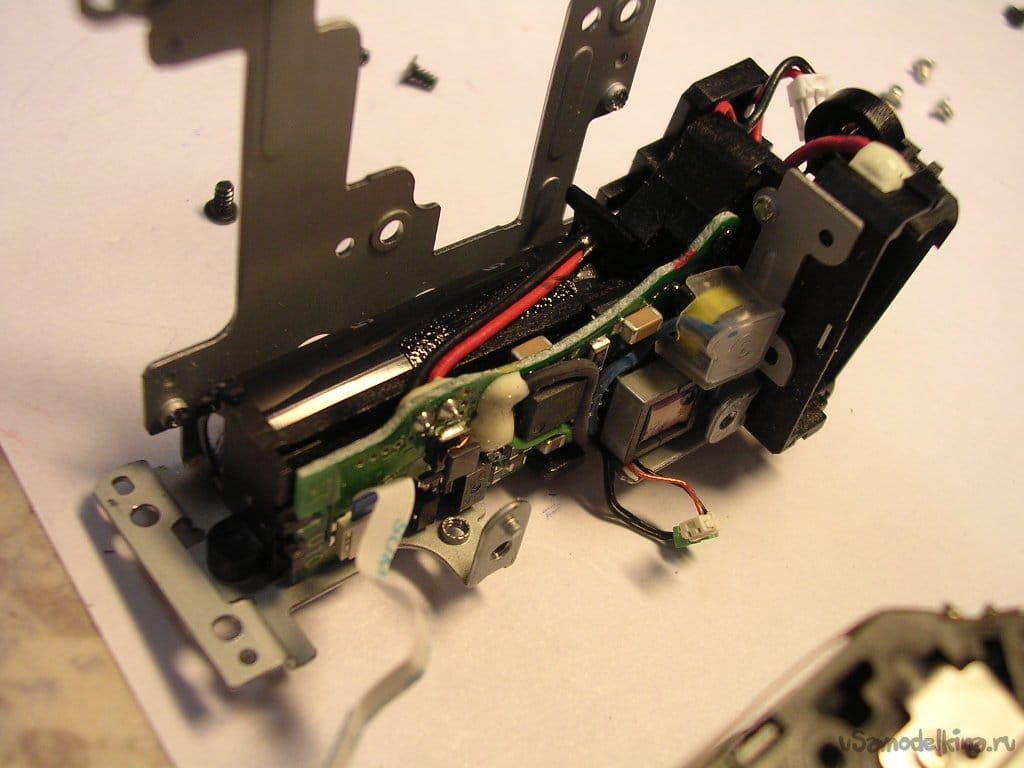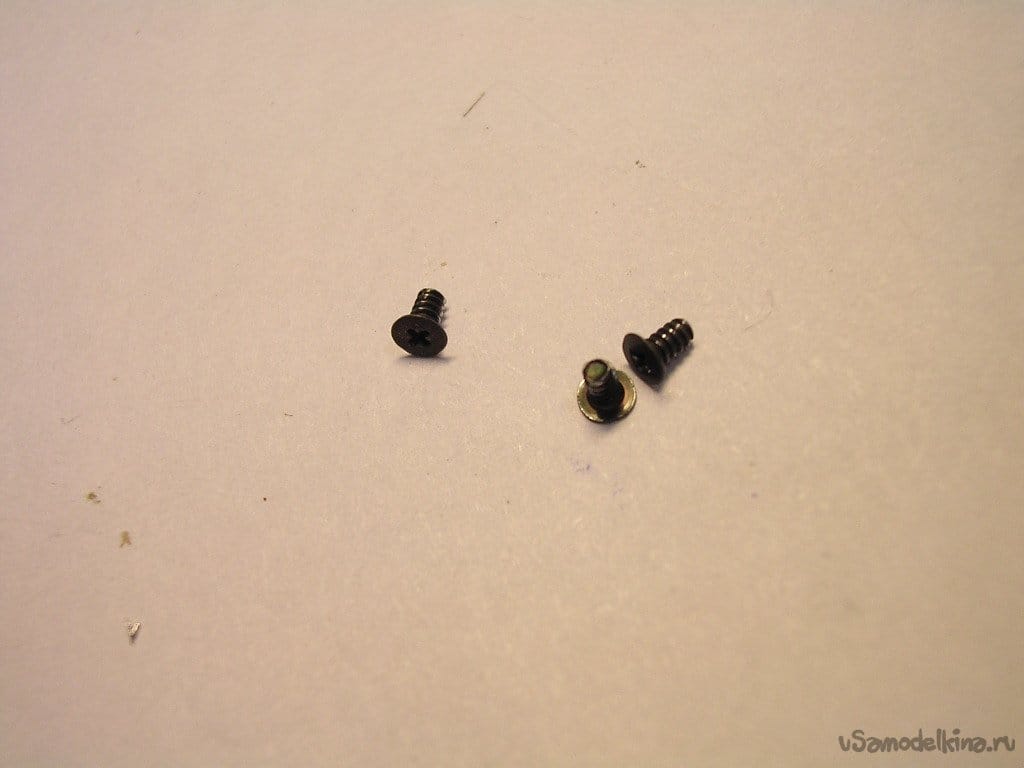 Wow, how it blew up! Legs and arms flew apart!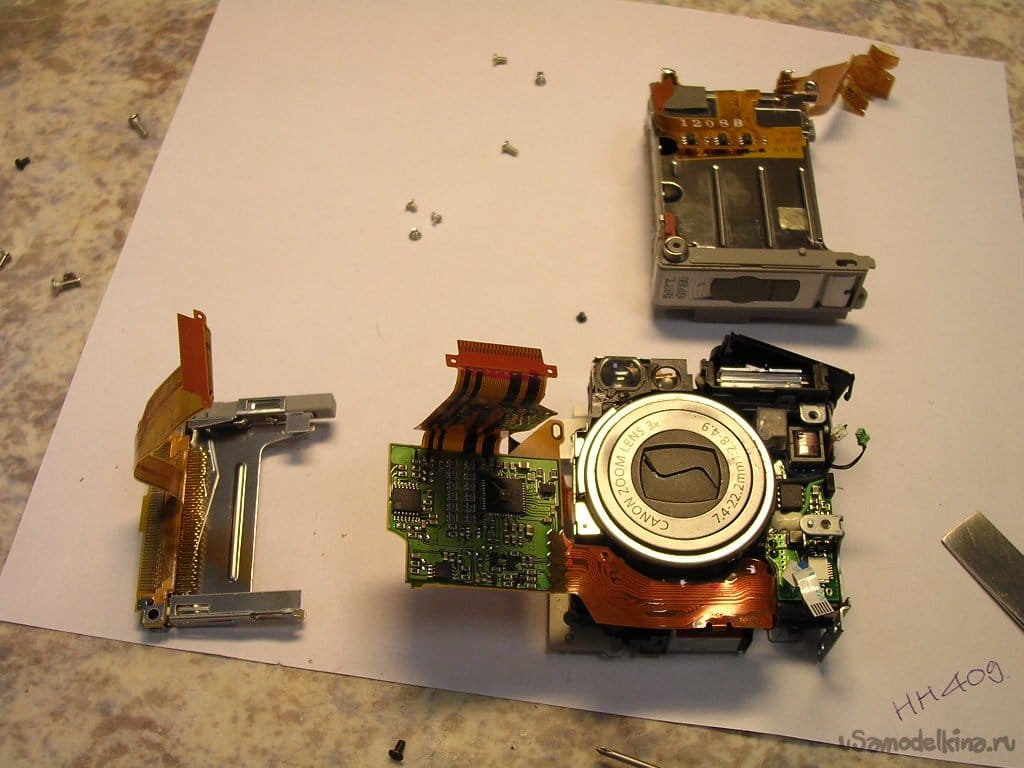 I take out the autofocus LED from the clamp.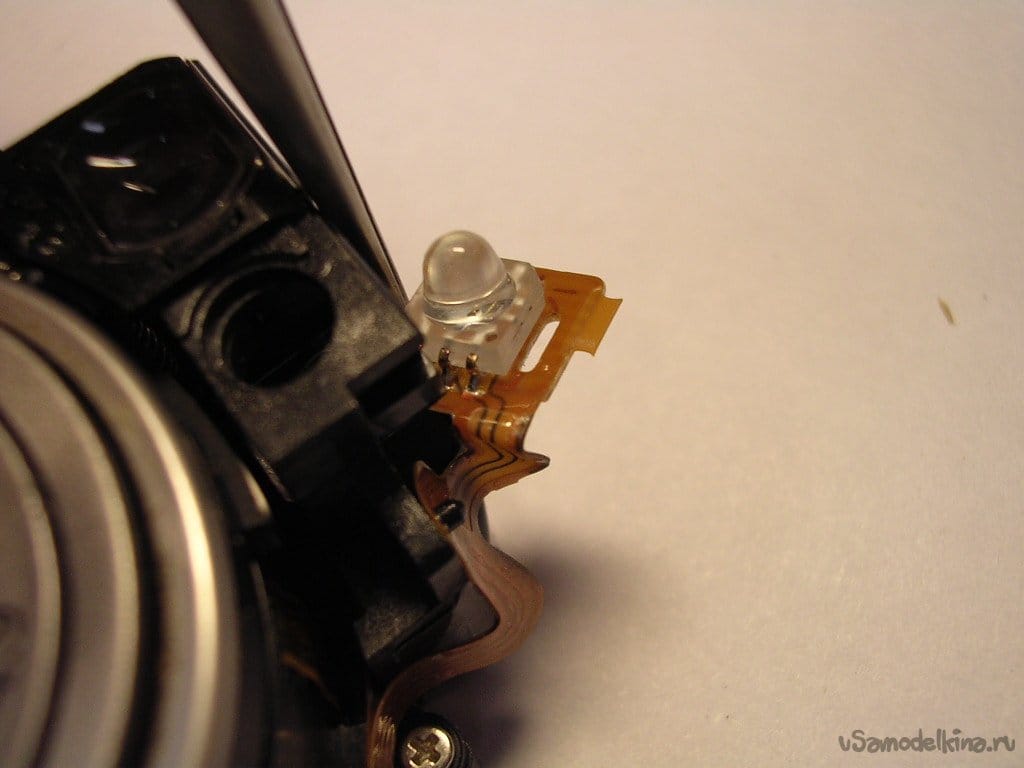 Gearbox cover to the side. Wow, what a bronze gear! And on the sides are plastic. she survived, but she demolished everything.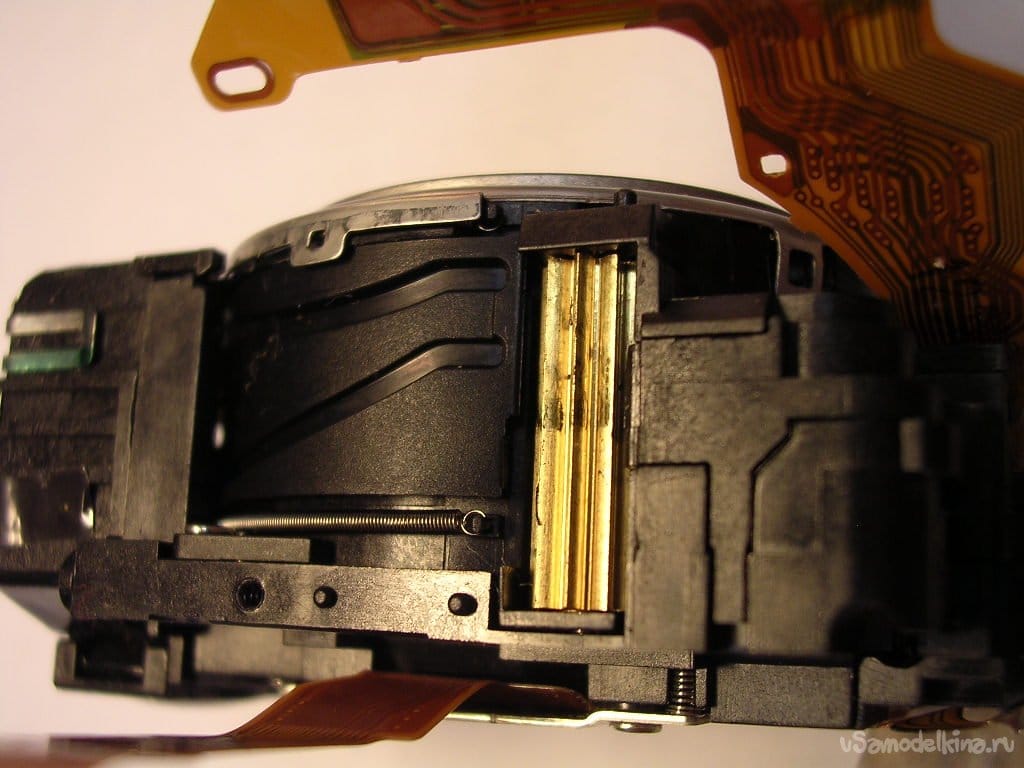 Viewfinder unit with lenses and springs.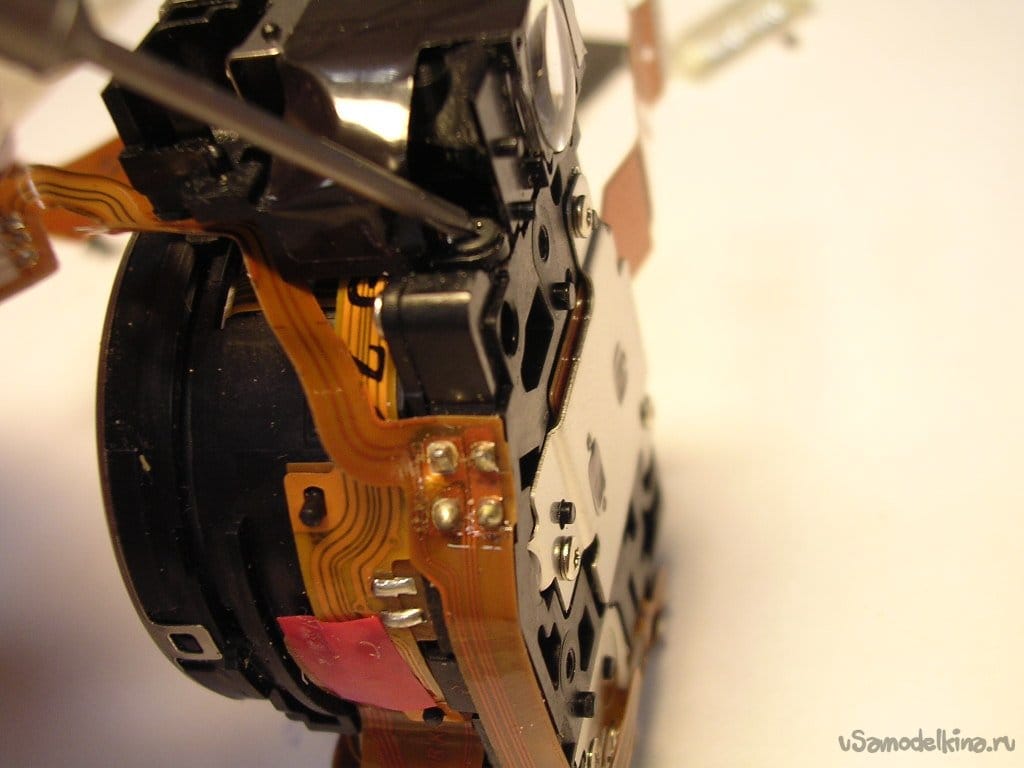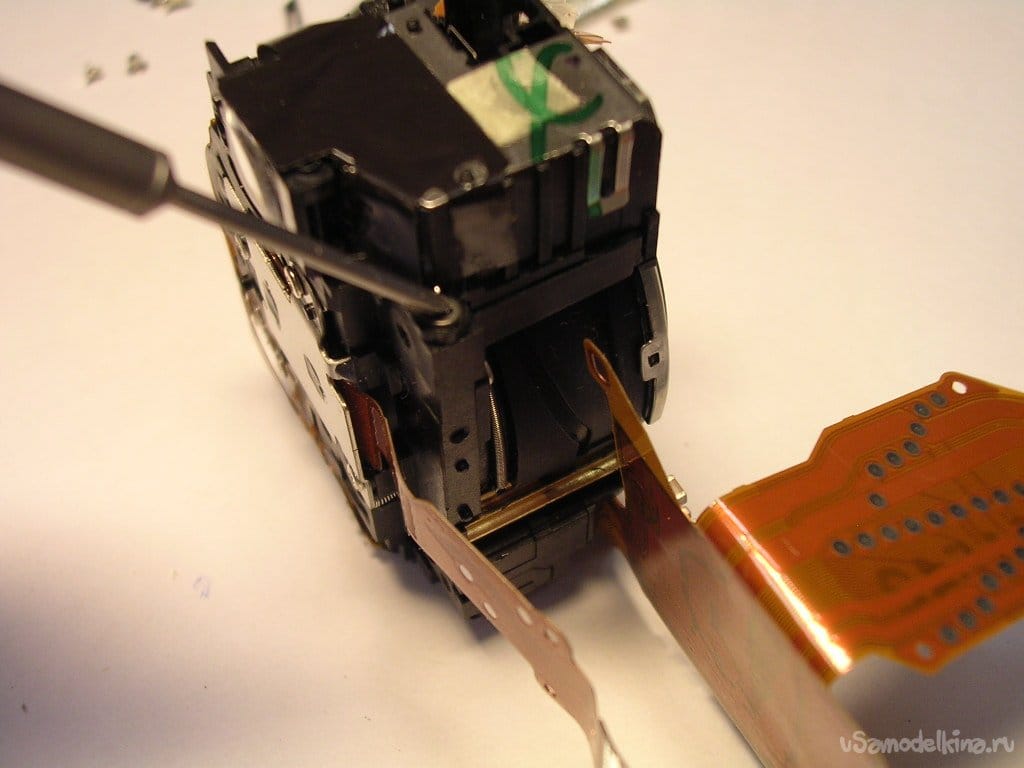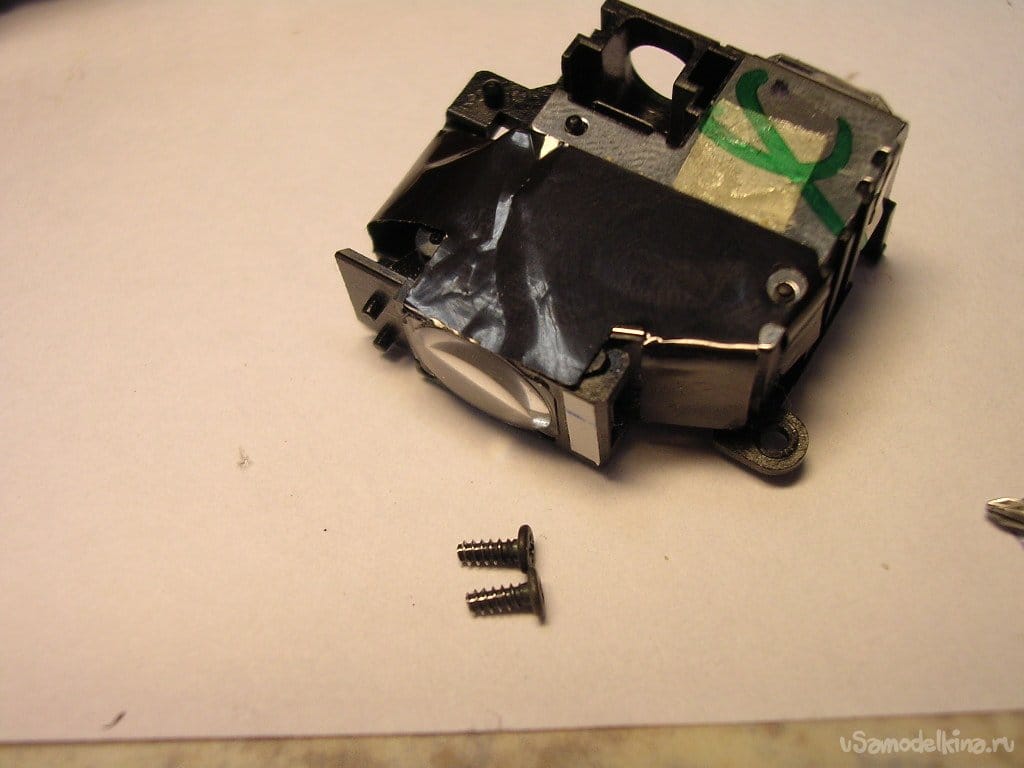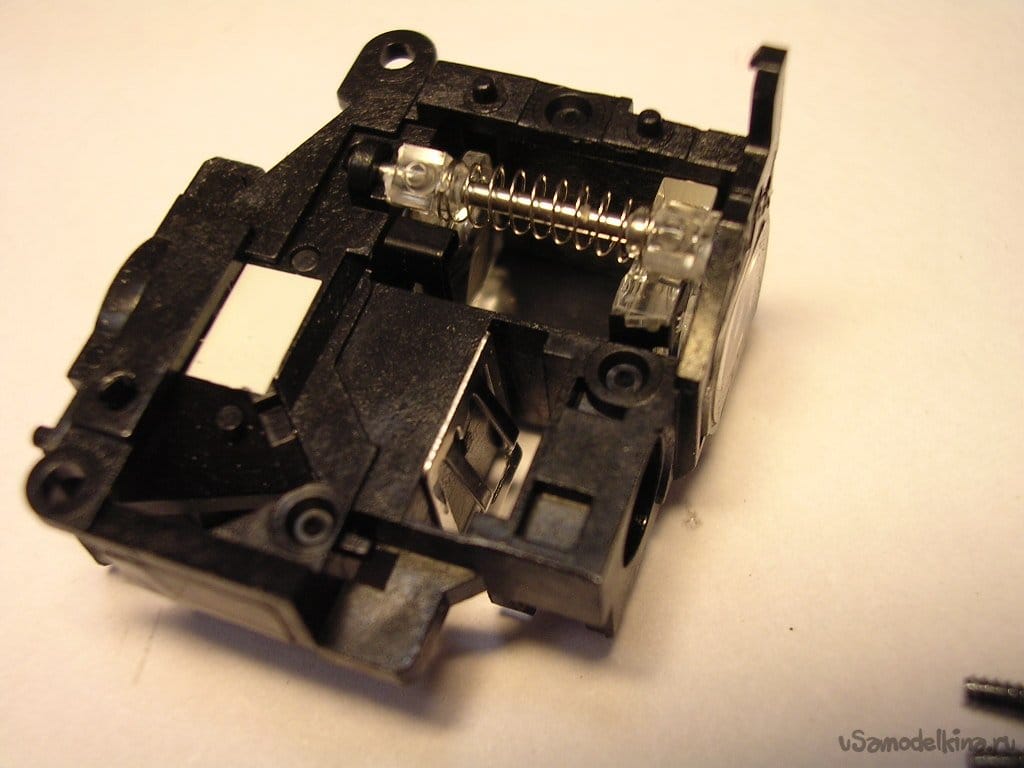 Control cables are stuck inside the lens, you need to unsolder otherwise the back cover will not come off. You won't have to disassemble further. I'm pretty sure the first barrel of the lens is damaged.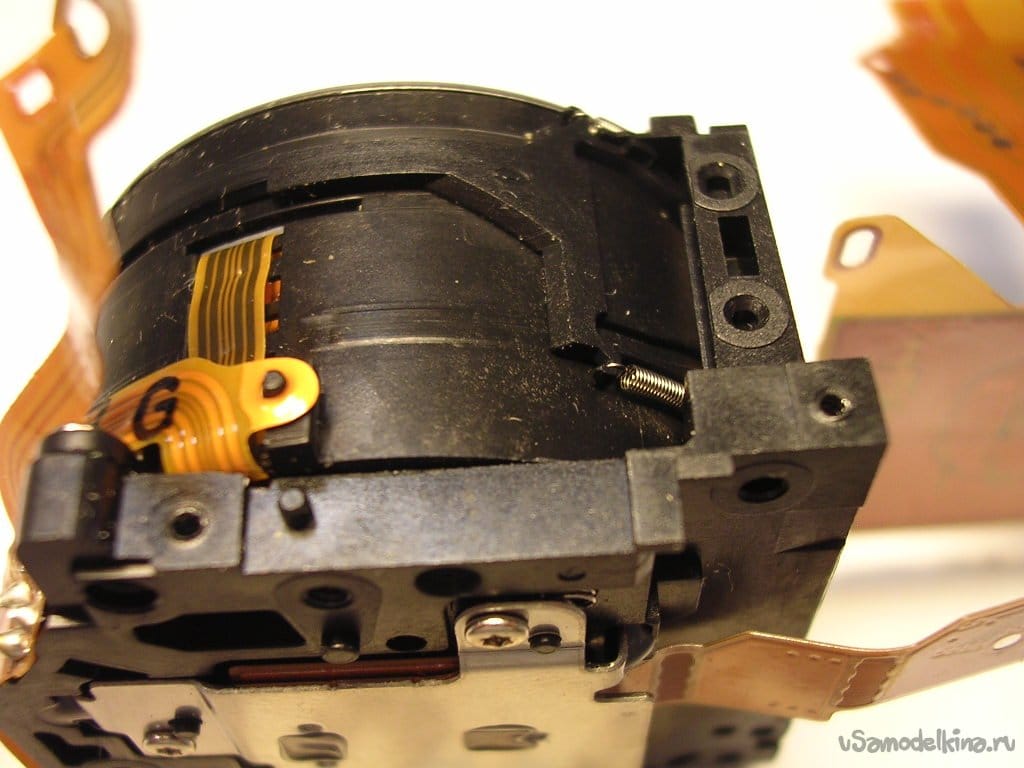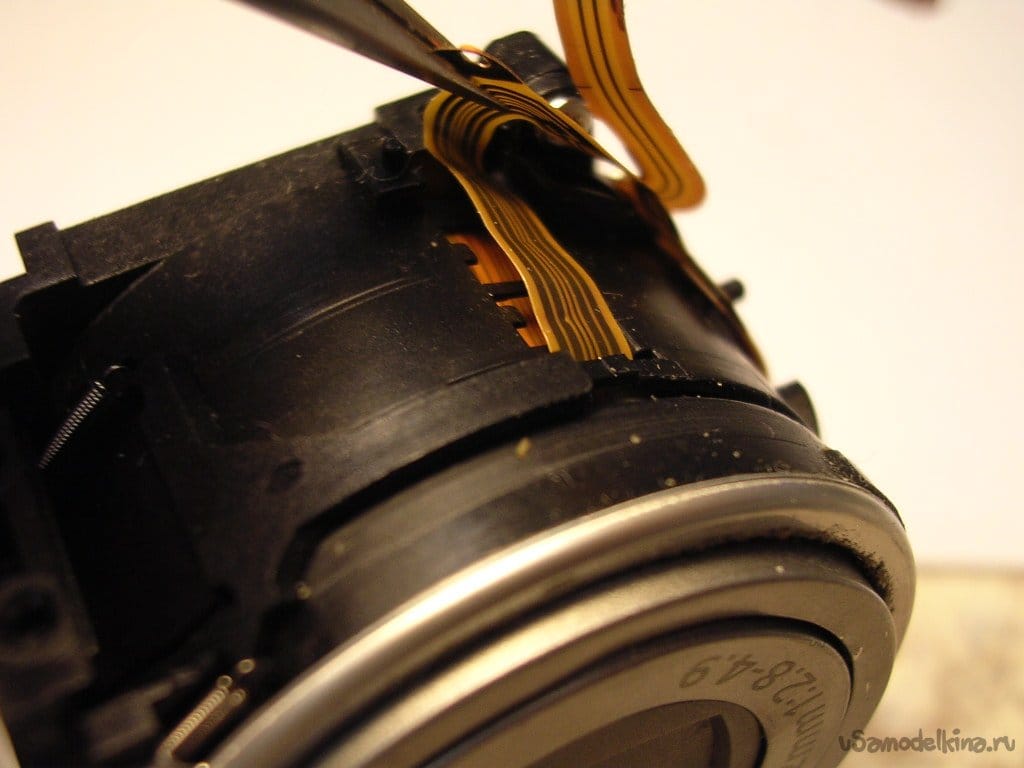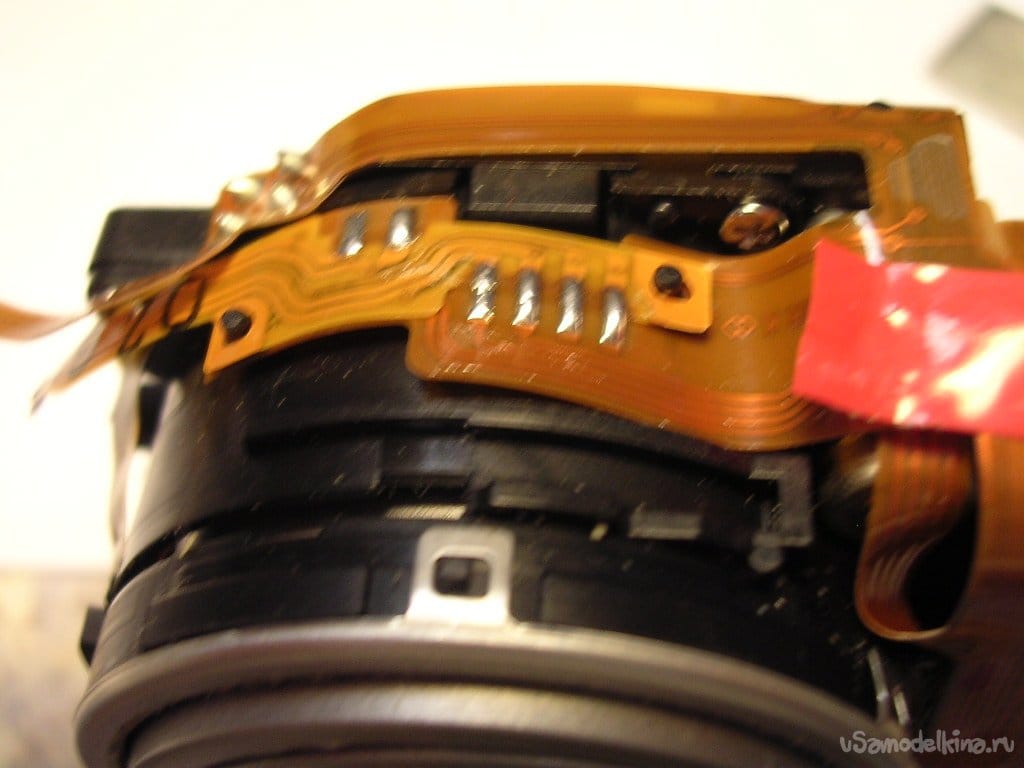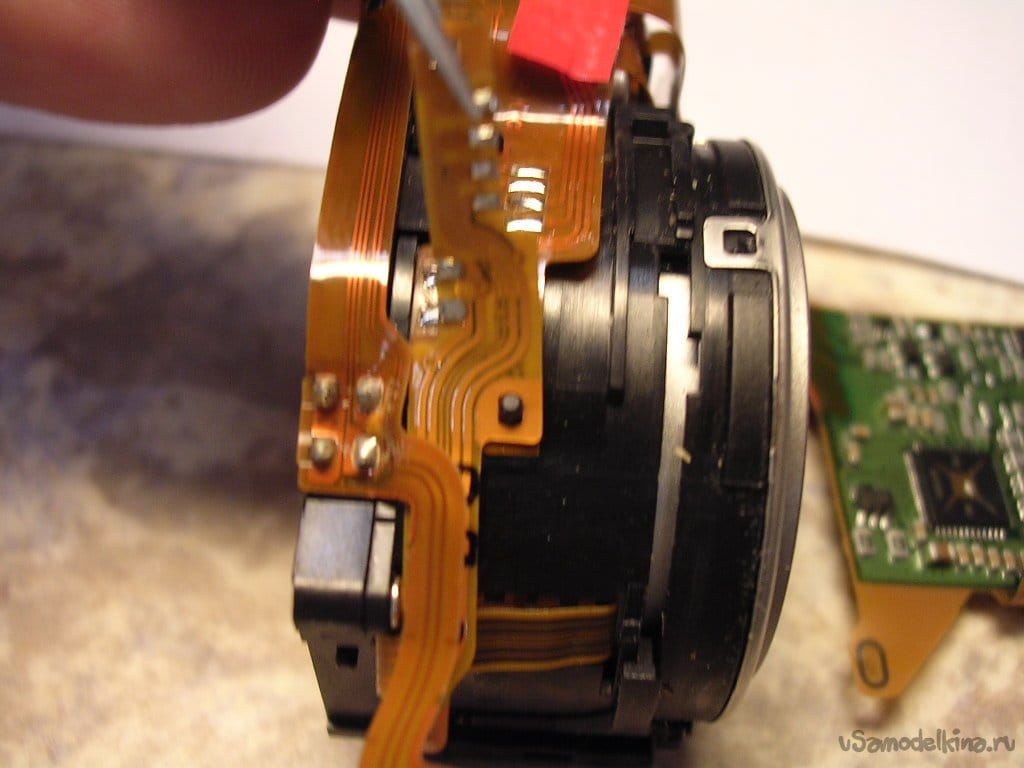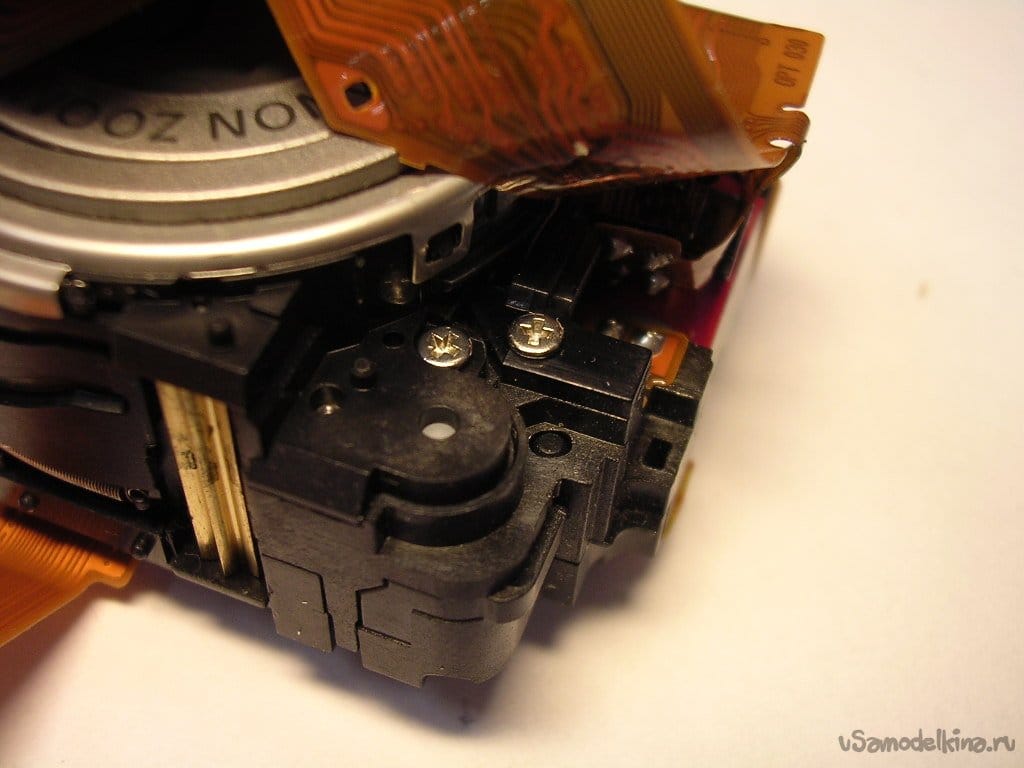 Five bolts and the rear wall of the lens removed.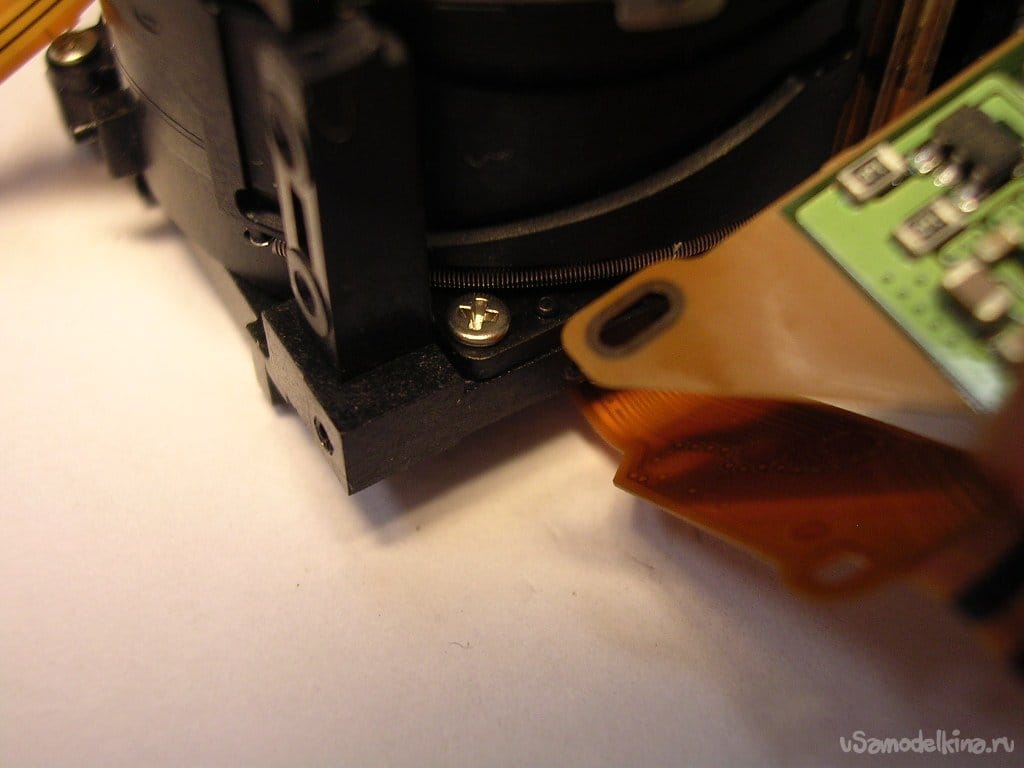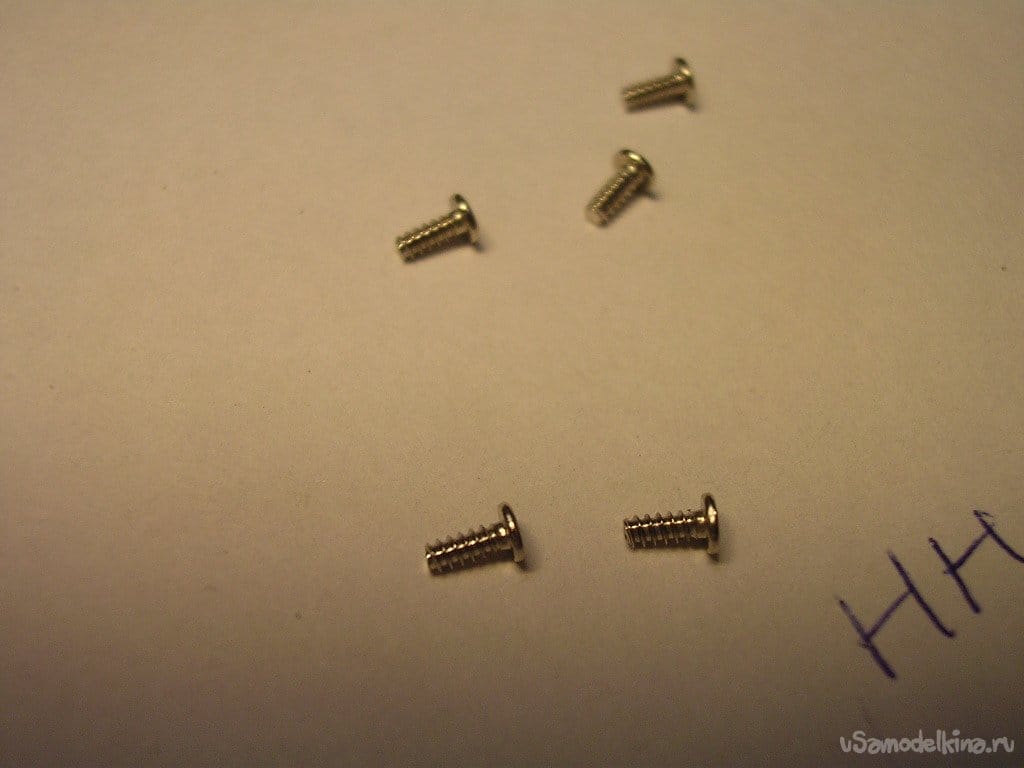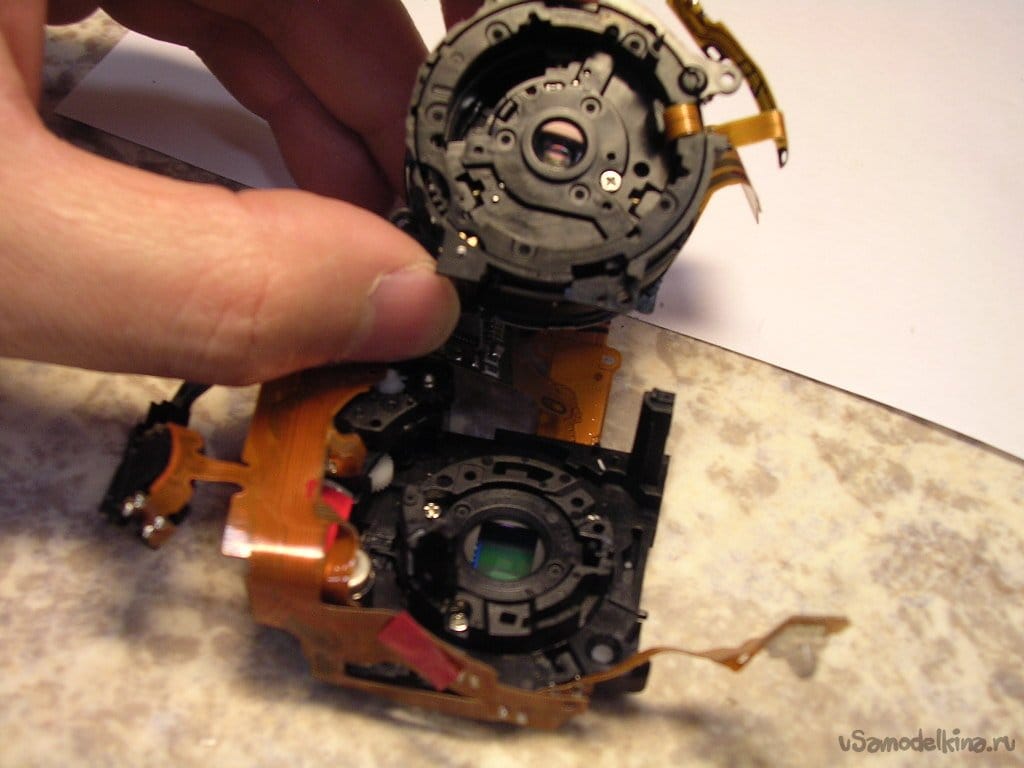 Dust particles on the matrix need to be blown off.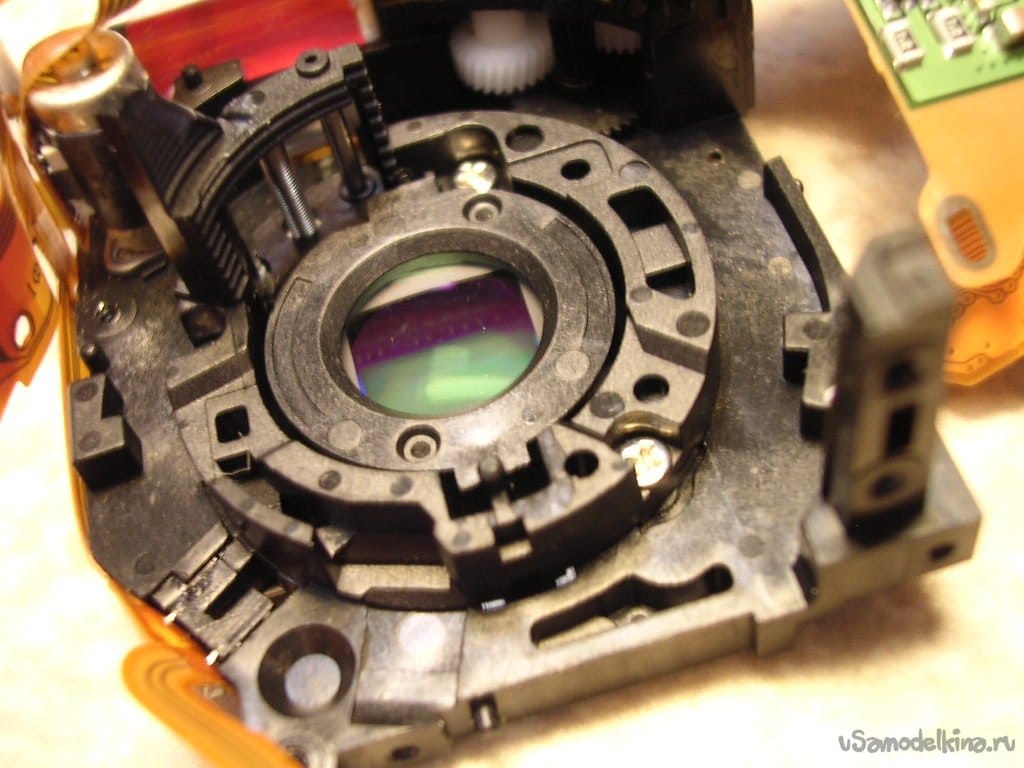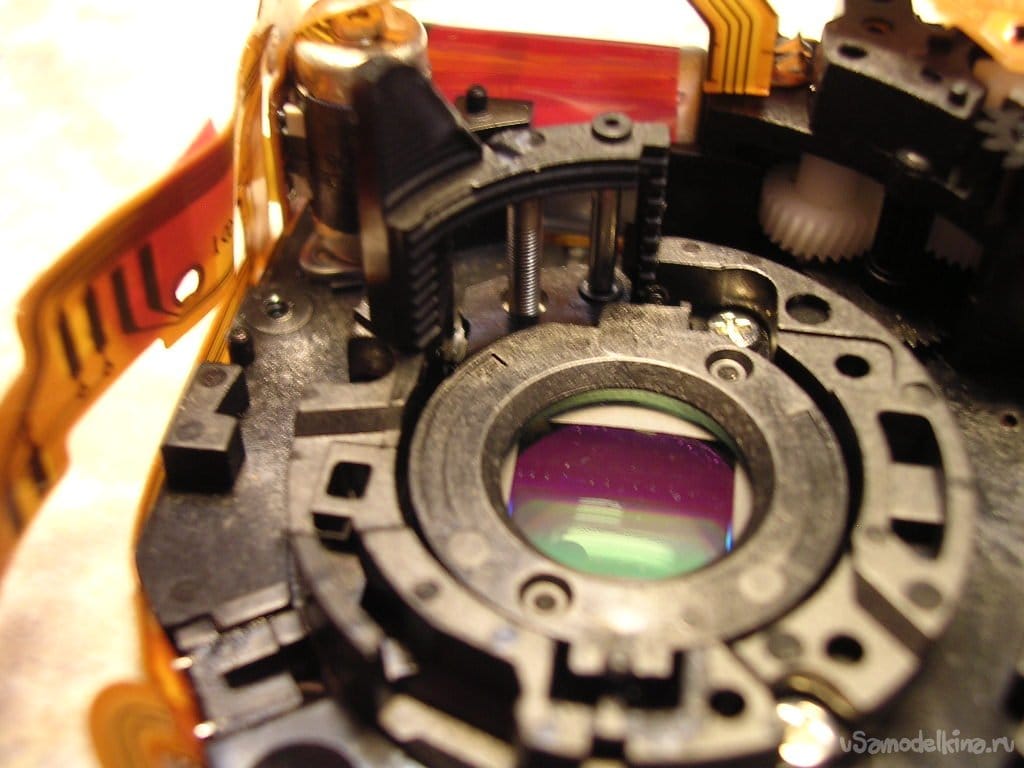 The penultimate gear with a secret, a spring is installed inside and with an effort exceeding some limit, it just slips and does not spinning.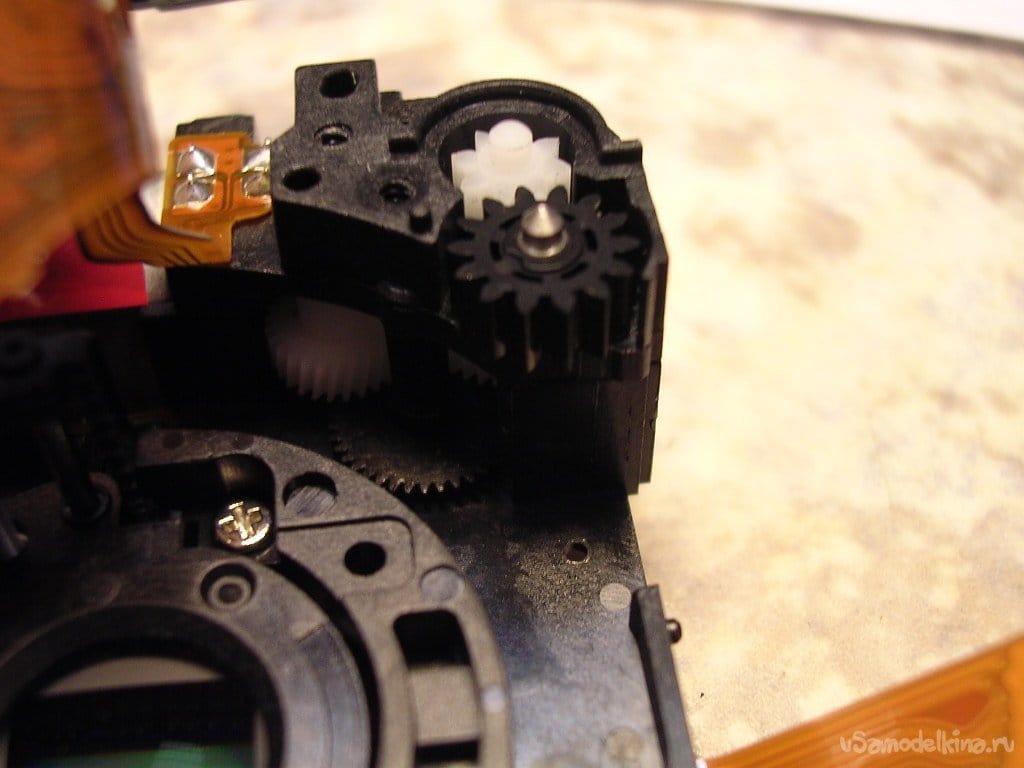 Viewfinder lens control sector. When the lens slides out, the lens pistils slide along the rails and magnify the image proportionally.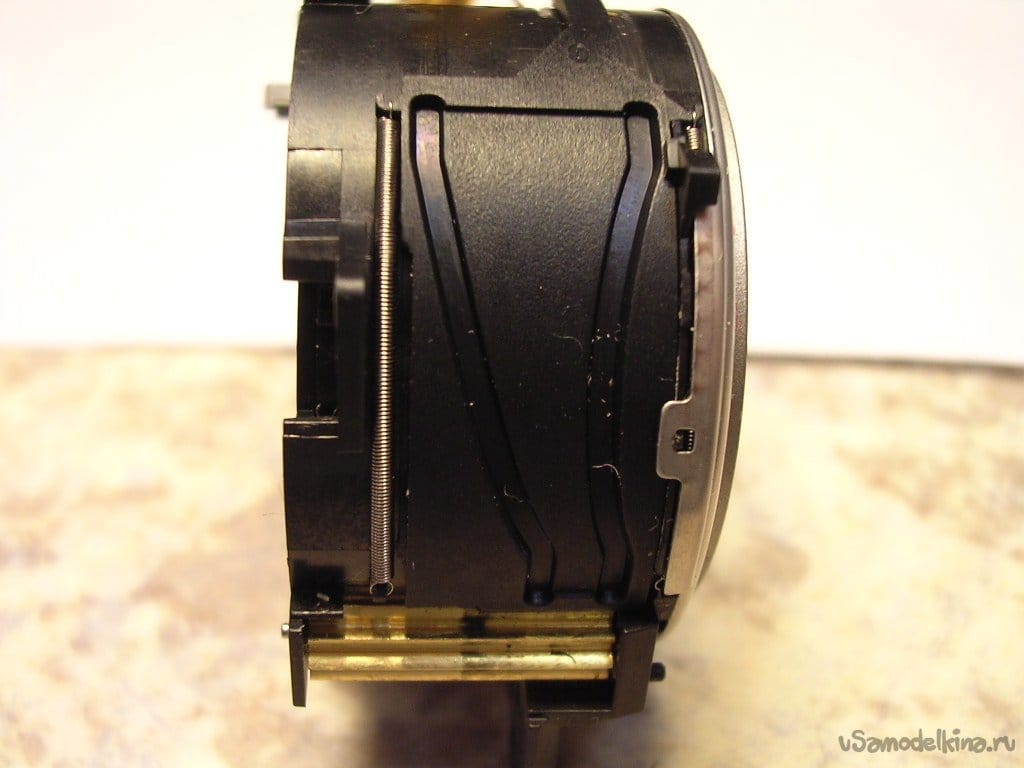 I extend the lens, I need to remove the control cables from the slots to remove the damaged barrel and replace it.
< a href = "https://usamodelkina.ru/uploads/posts/2021-07/1626333960_dscn1410.jpg" rel = "prettyPhoto">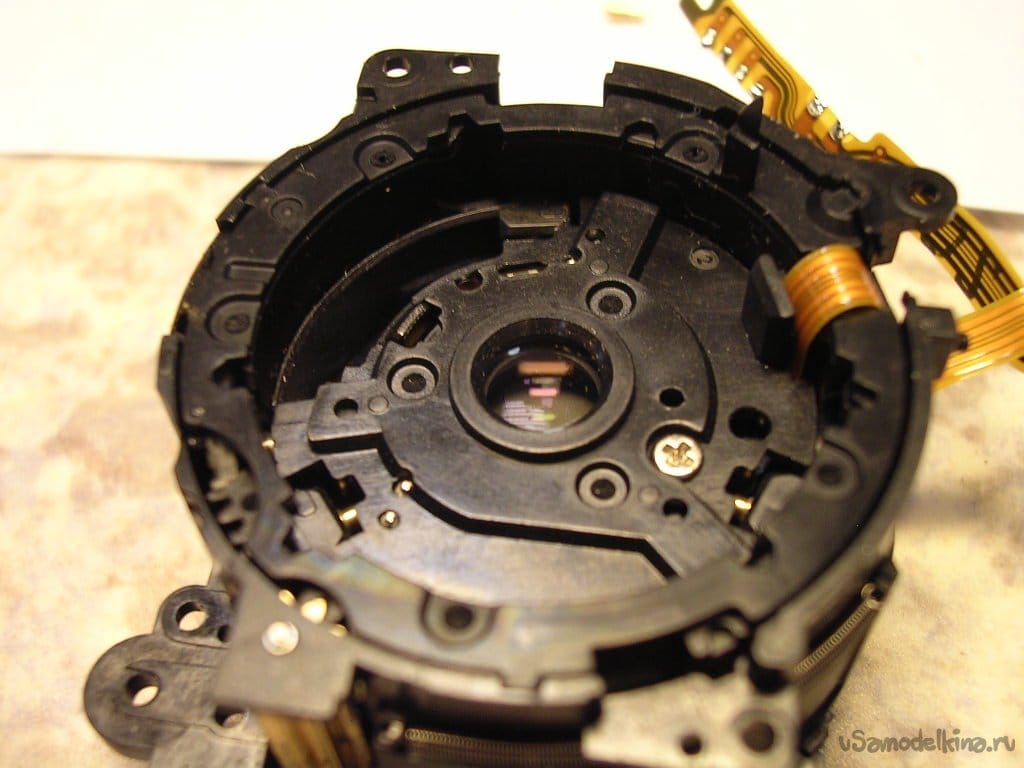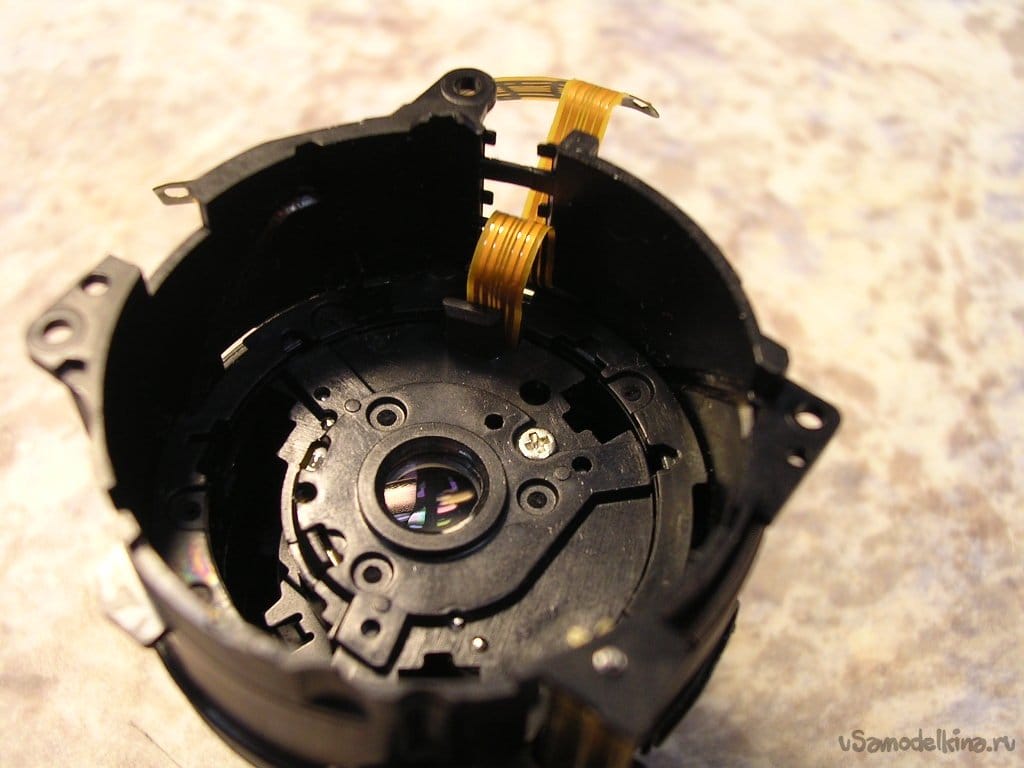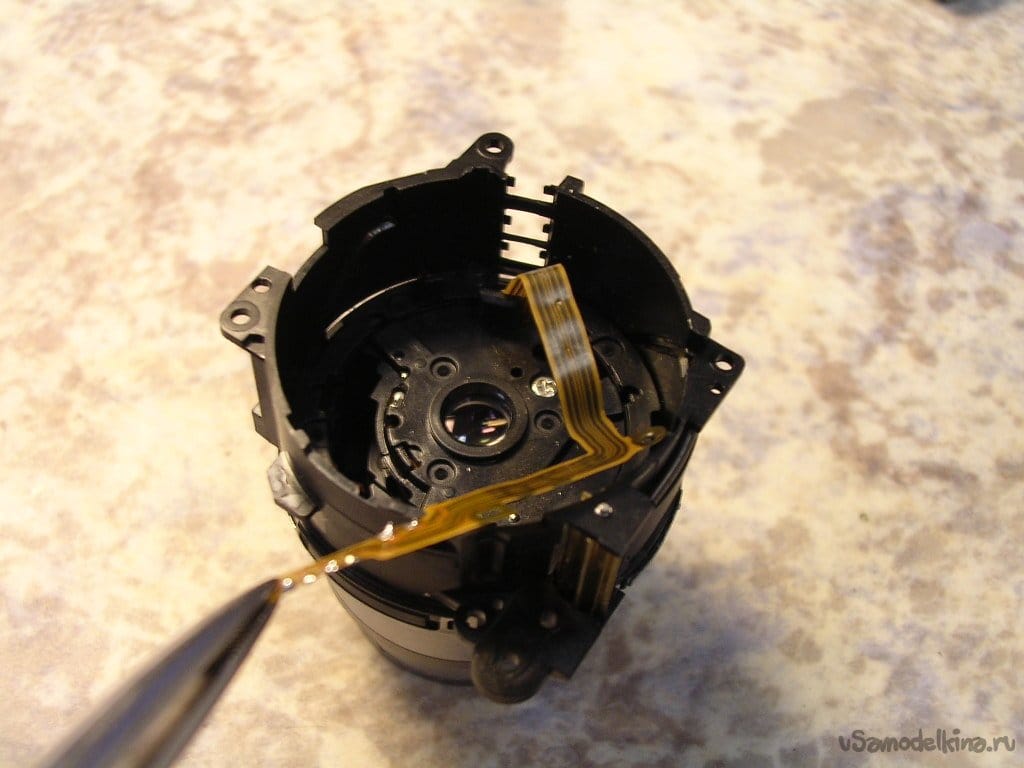 I take off the shaft of the mighty bronze gear and dismantle it.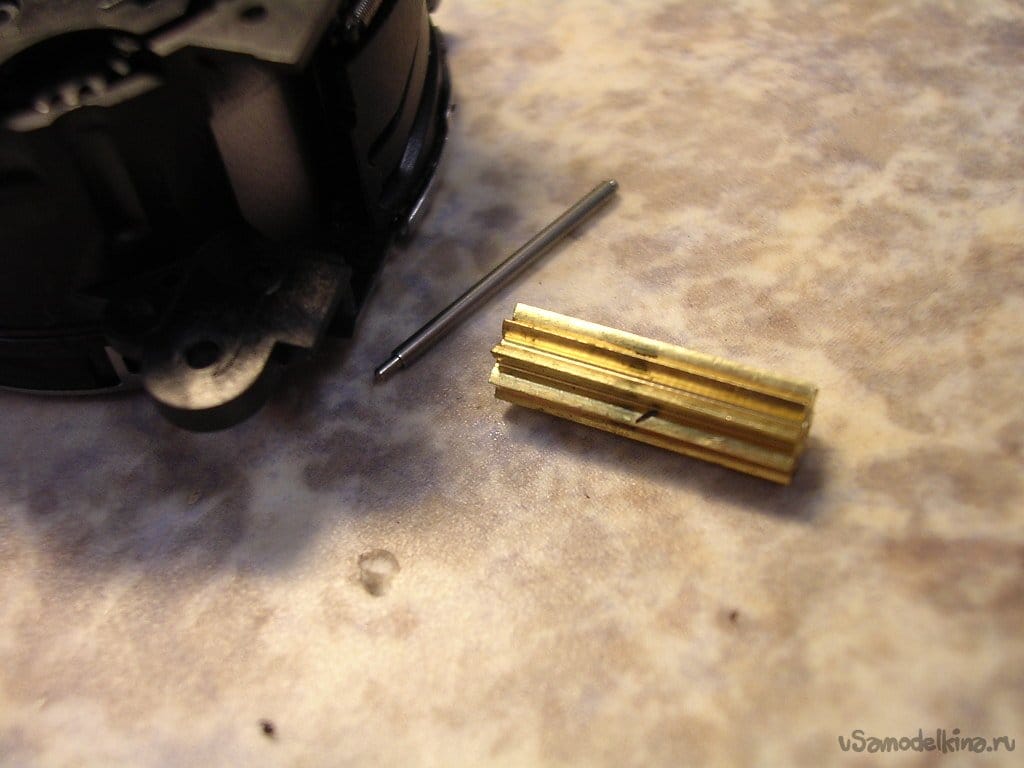 I remove the damaged barrel and replace it. The spare parts found the same color.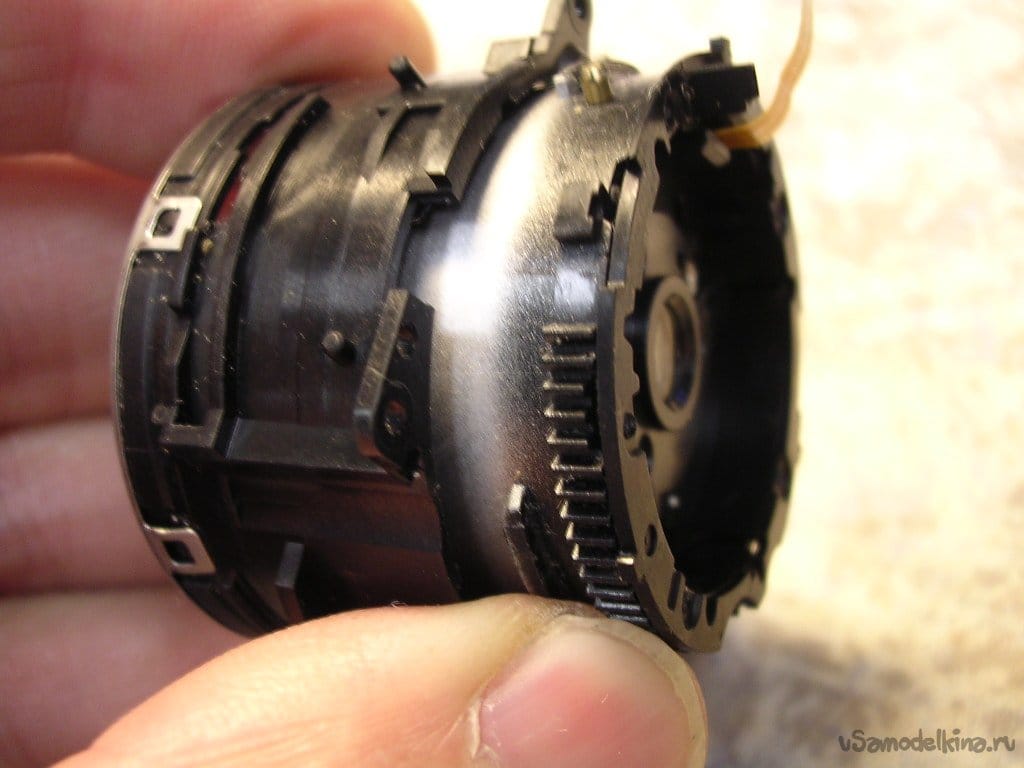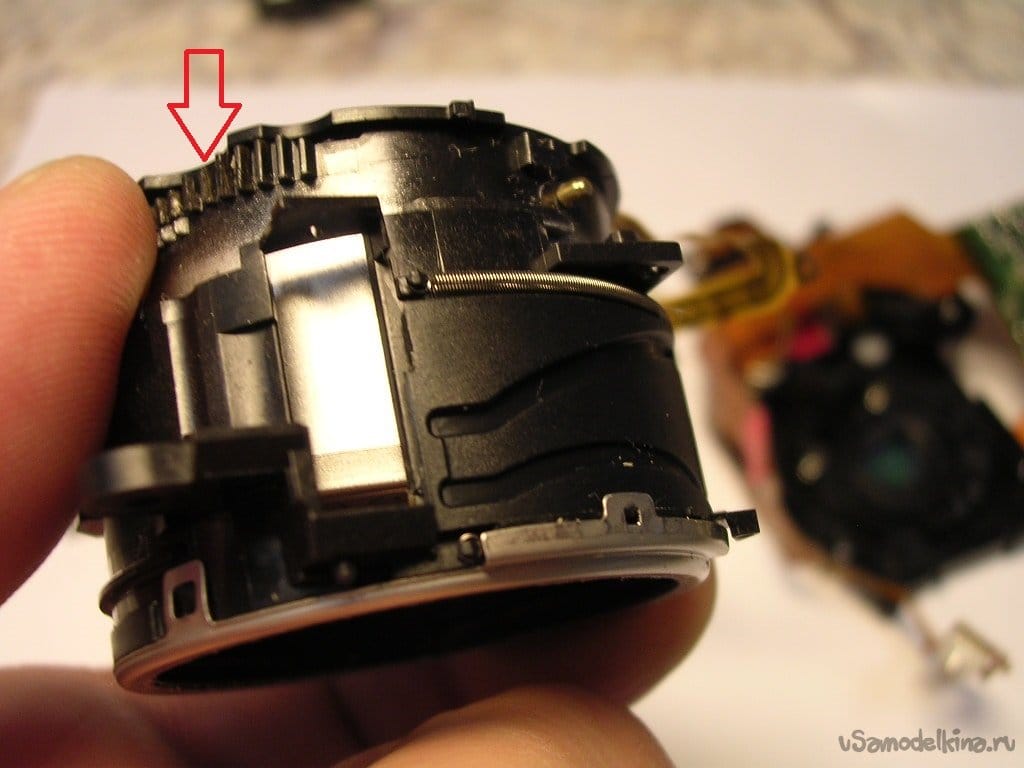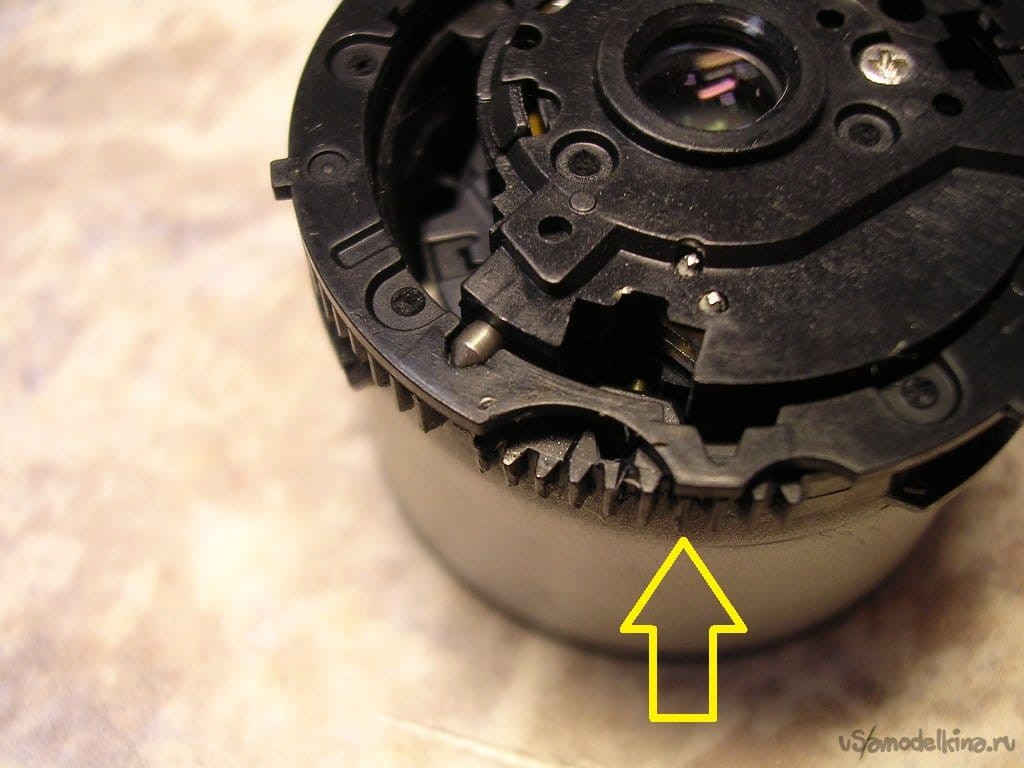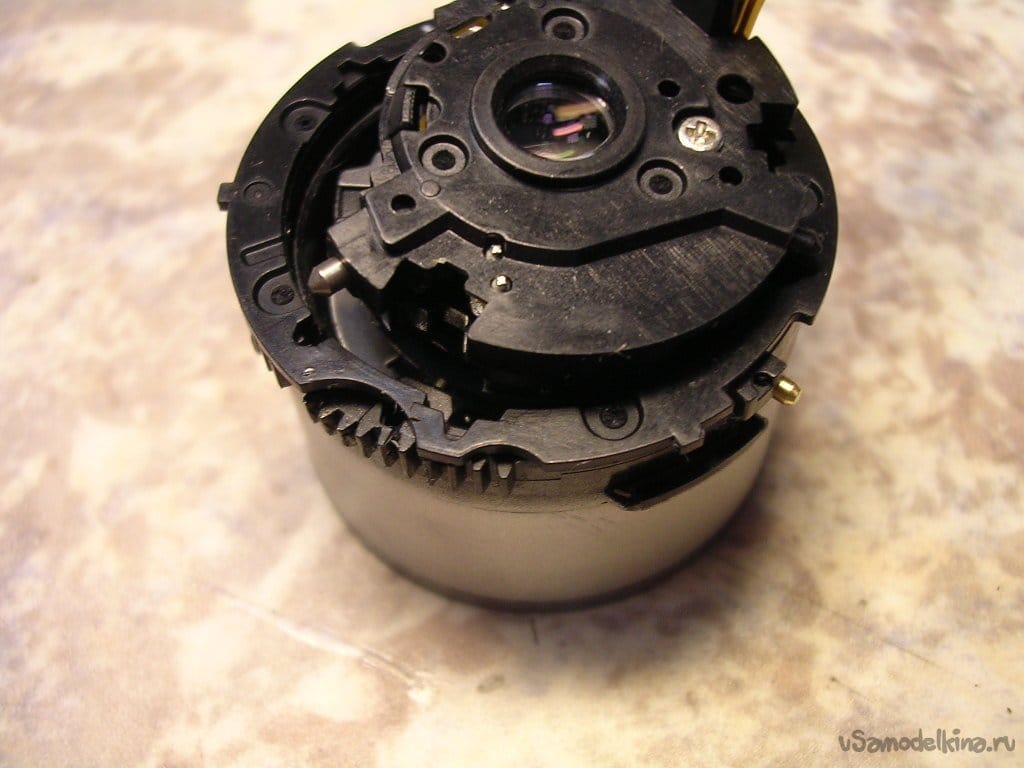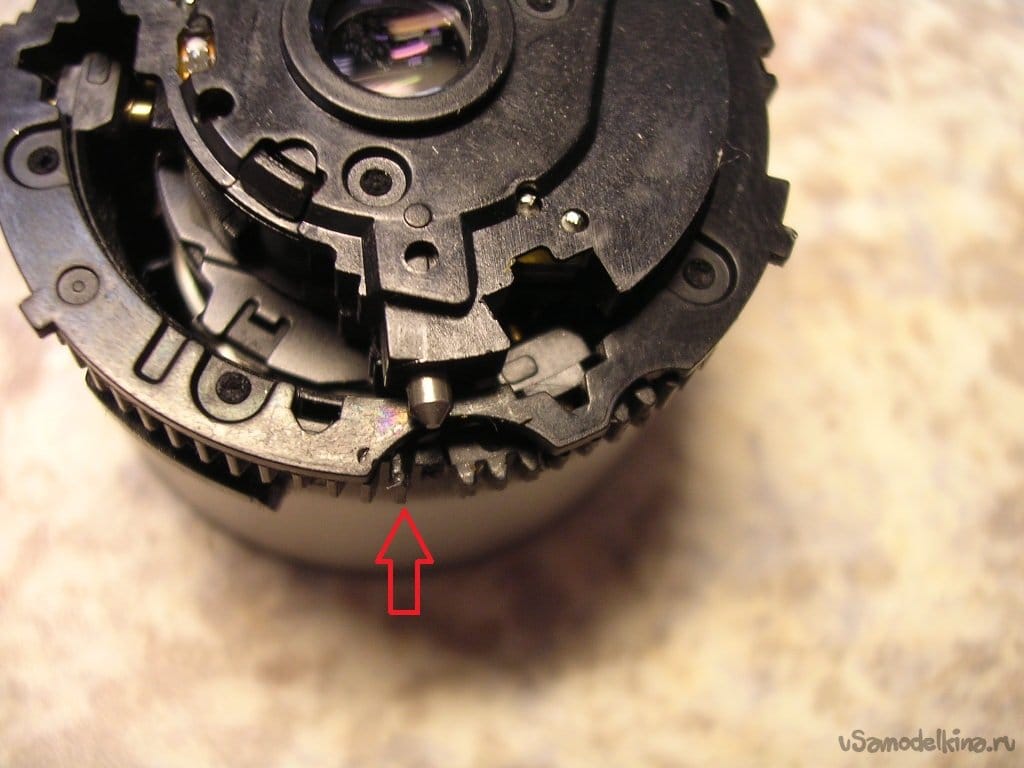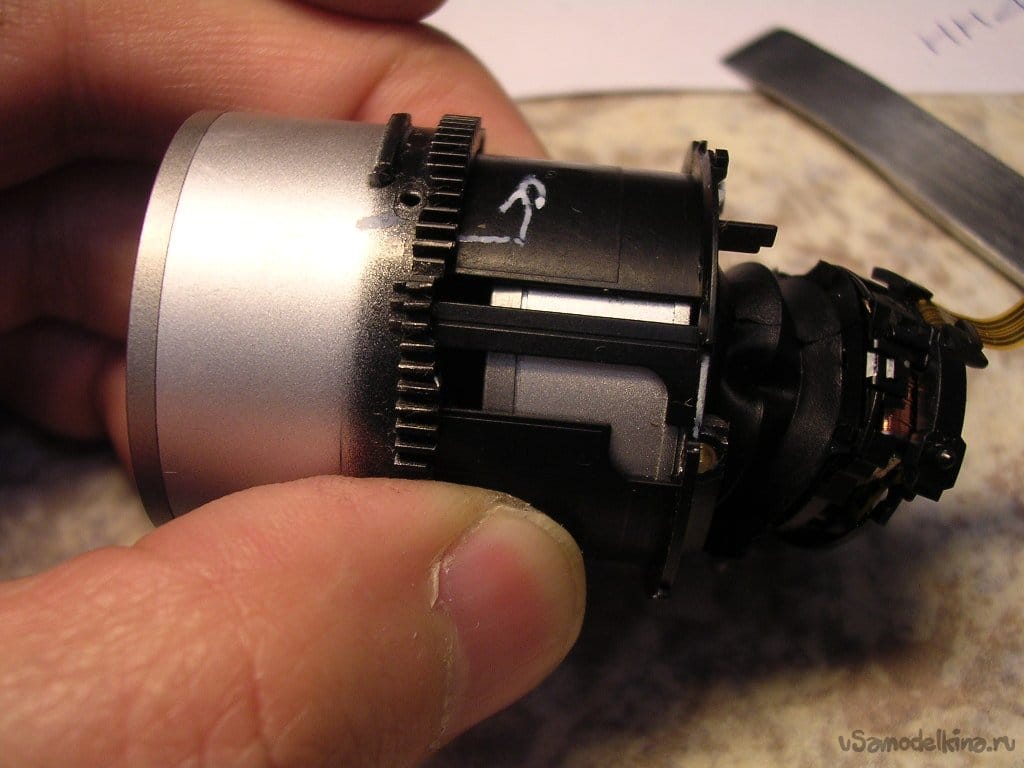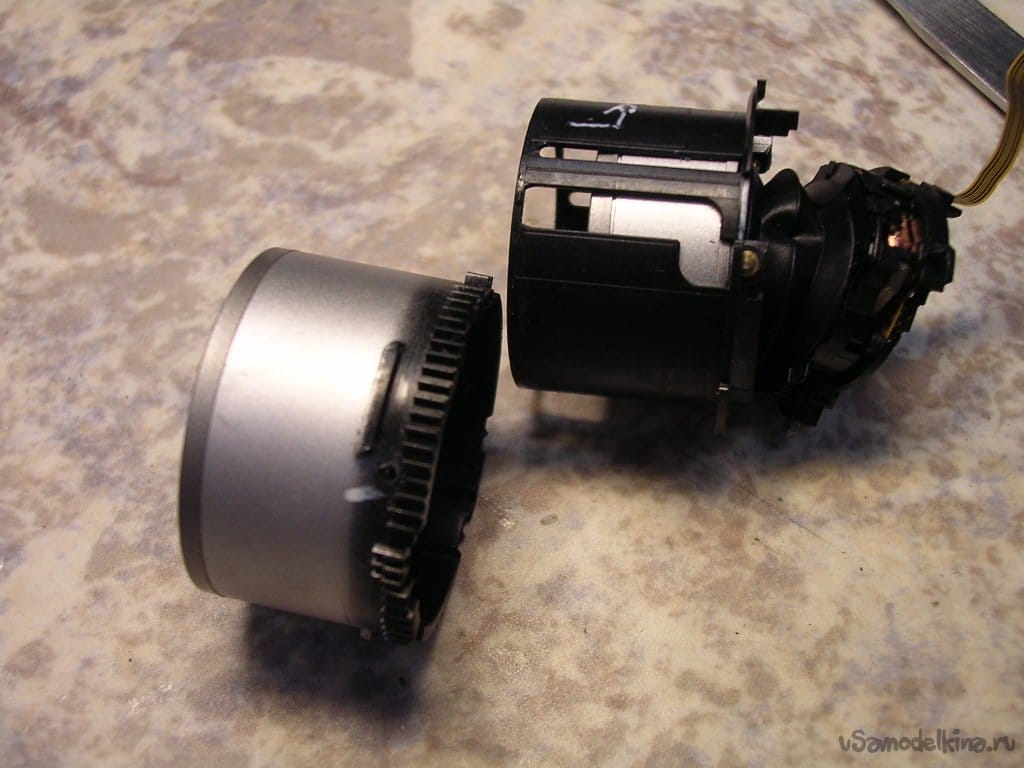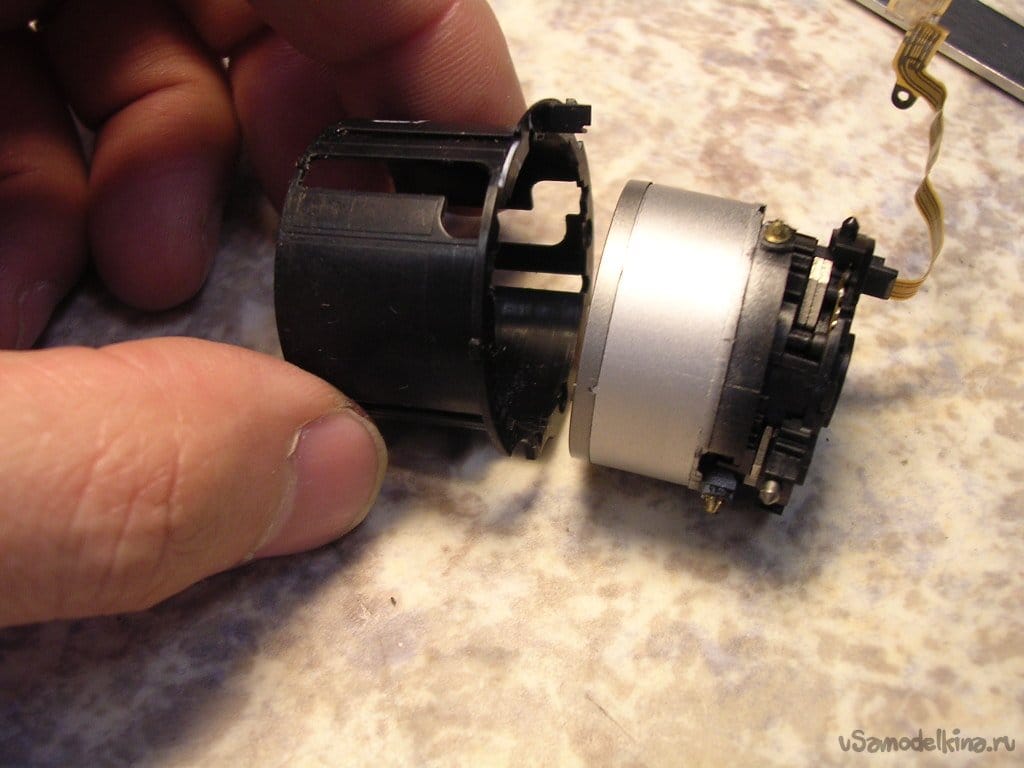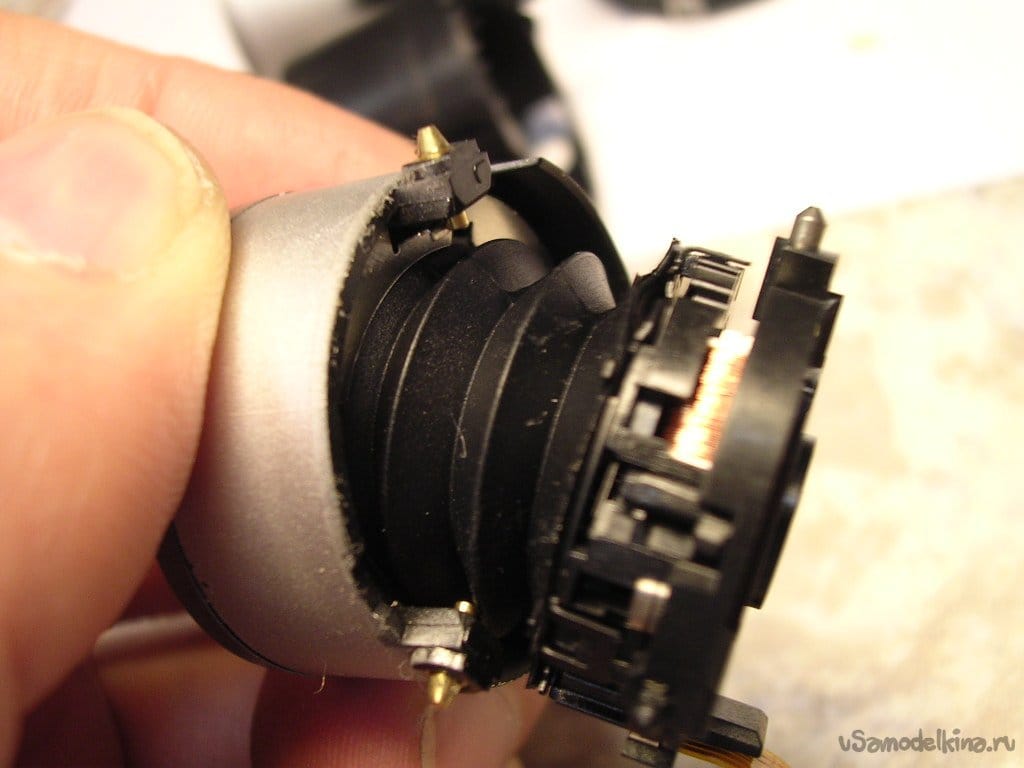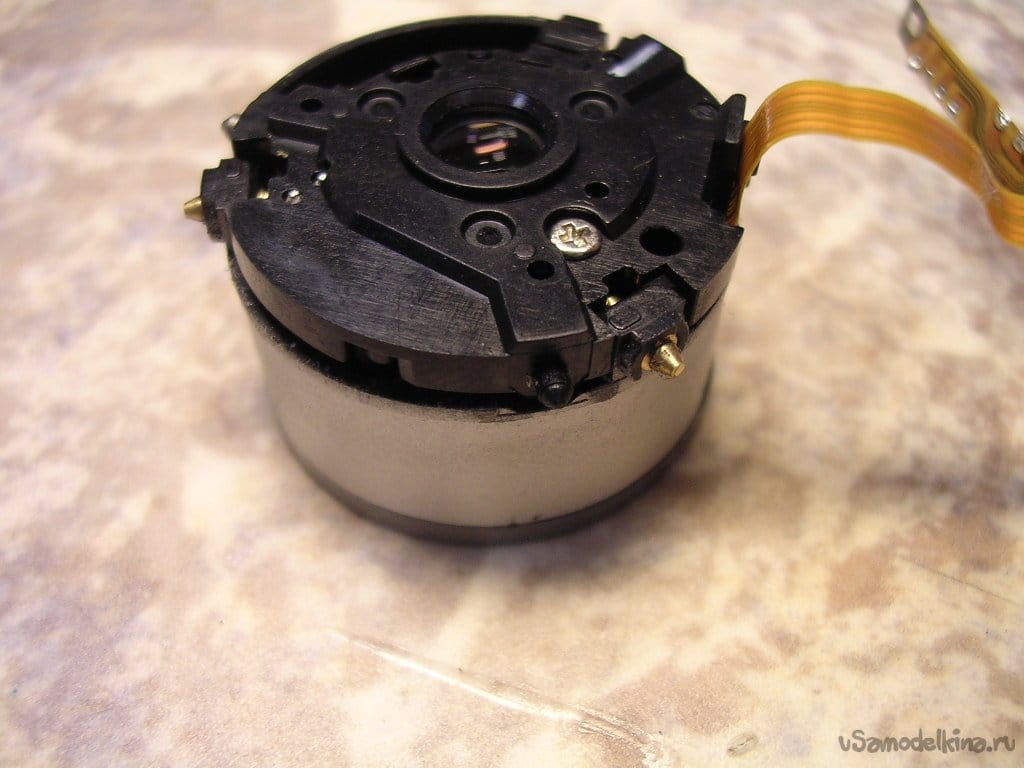 Assembling the lens, applying voltage to the motor. Everything is working. I drove a little, here and there, the norm.
I collect the sufferer by half, I drive through the tests. It works.
I am assembling the case so wonderful, stainless steel.
Repair completed.
Thank you all, everyone is free! The question/topic is automatically published in social media. site network – follow the answers there too: