DIY
Drawing on the laptop lid
I got a working laptop. Pretty shabby was used in our service center.
I decided to make it beautifully. I asked the repairers to remove the cover and dismantle the screen. I will draw a picture. After that, I realized that the guys were in vain to disassemble it, and in general it was possible to draw. Seal all unnecessary from overspray with masking tape and go. But everything has already been sorted out.
The surface is all scratched. To begin with, I flashed it with some water. I sprinkled a little with a primer for plastic. Then with Mobihel putty. I have been using the paints of this system for a long time. Good quality at a reasonable price.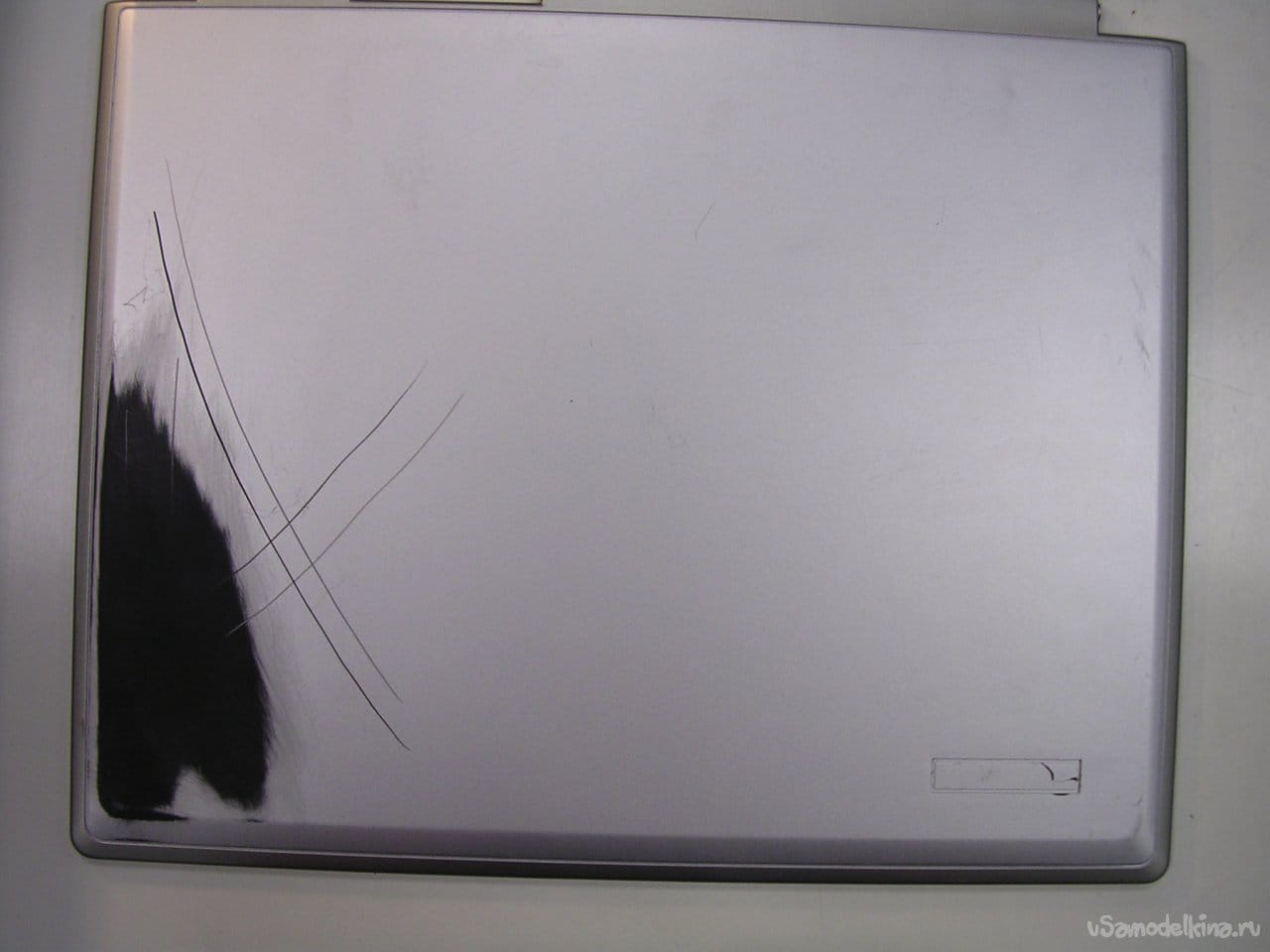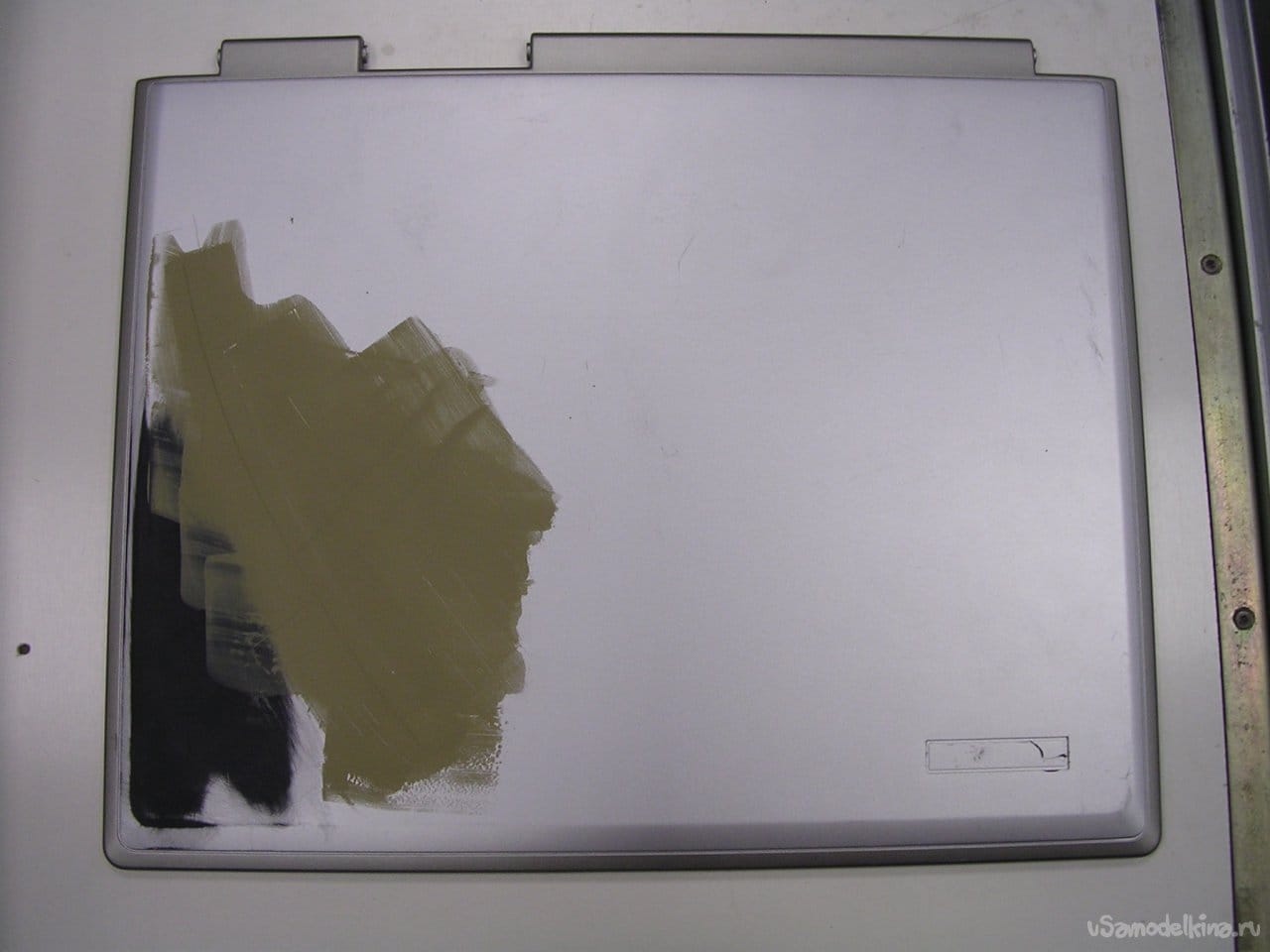 Then a white two-component base, a couple of times. To remove the gloss with waterproof sandpaper number 2000. The basis for the drawing is ready.
There was a small blockage, I used to paint with a Soviet direct-flow airbrush and I had an excellent compressor for it. Very good and simple apparatus.
Sold in such a plastic box. Several replaceable nozzles allow you to achieve different thickness of the image.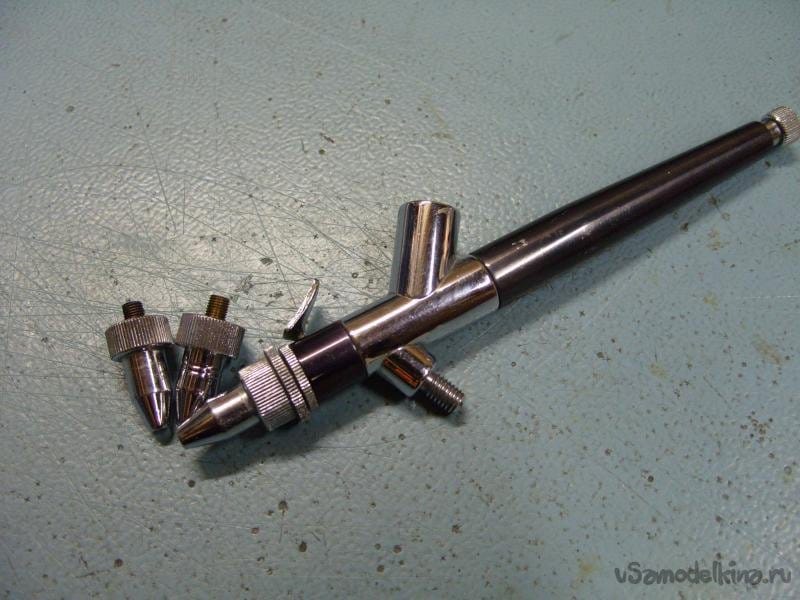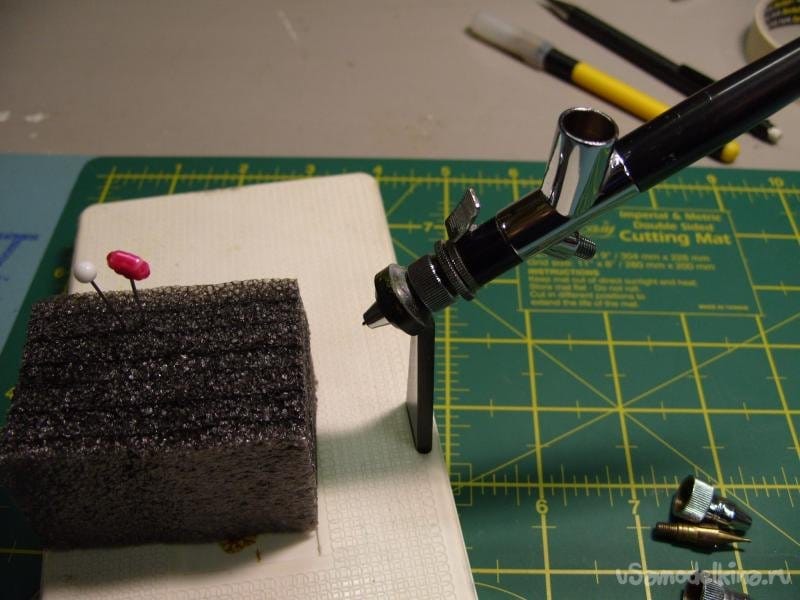 The only trouble is to tune the torch for straightness for a long time. But Razik has tinkered and can paint.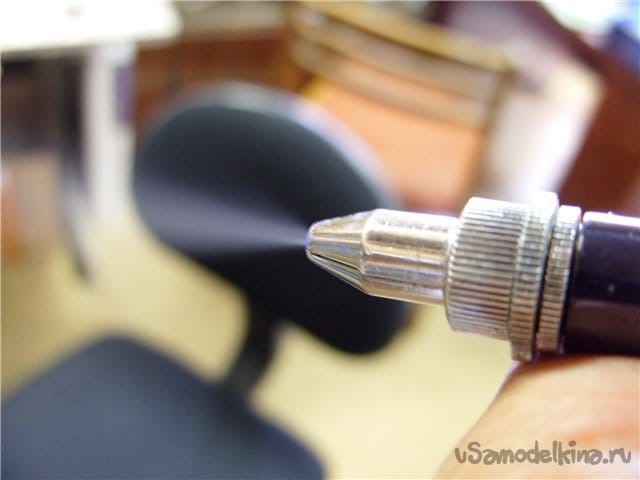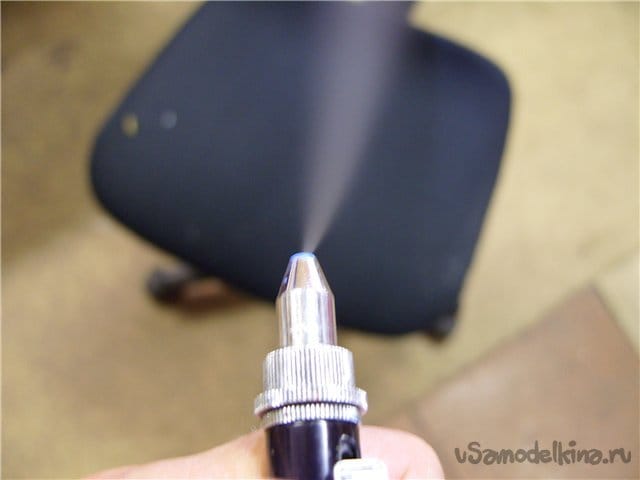 modernization of the most necessary nozzle.
I cut off the tip, the quality has become much better.

Then I changed the nozzle.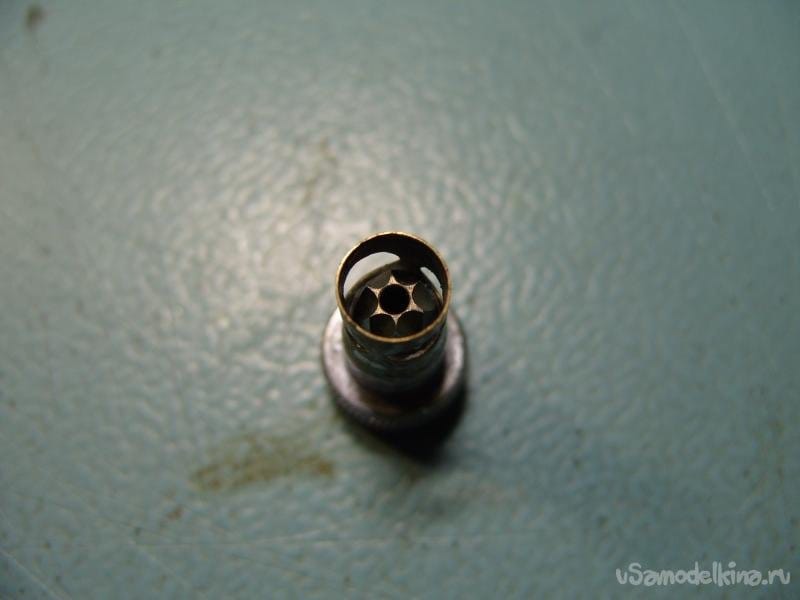 And so I return to the compressor about remarkably pressures up to 4 atmospheres. Even the wheels inflated without problems. An ordinary refrigerator unit is hidden inside this case. The air supply is sufficient for a small airbrush.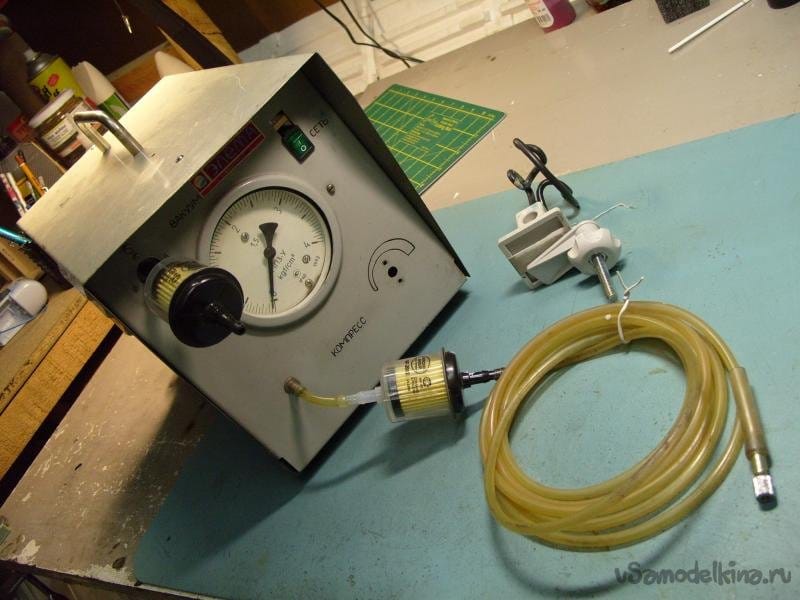 I put fuel filters at the inlet and outlet. The hose is made from a car washer.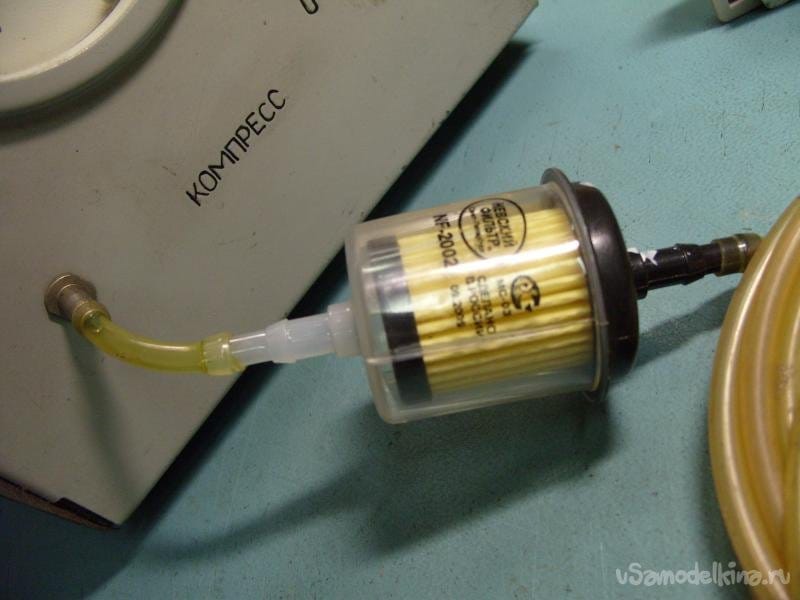 And so I drew quite a lot with this system-airbrush and compressor.
Once, during a business trip to Moscow, I bought myself a cool airbrush Harder & amp; Steenbeck Evolution solo .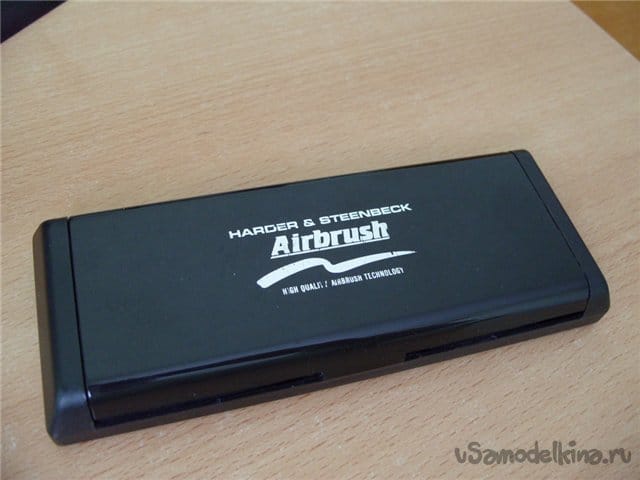 Very nice machine.
But … but .. the system is not direct-flow. His air supply is cut off.
There was a problem how to connect the apparatus to my compressor. The compressor does not have a receiver, nor does it have a pressure switch. Blowing and blowing.
You can of course alter and install the listed gizmos. I would have something simpler.
I figured out the principle of operation with a pencil on paper.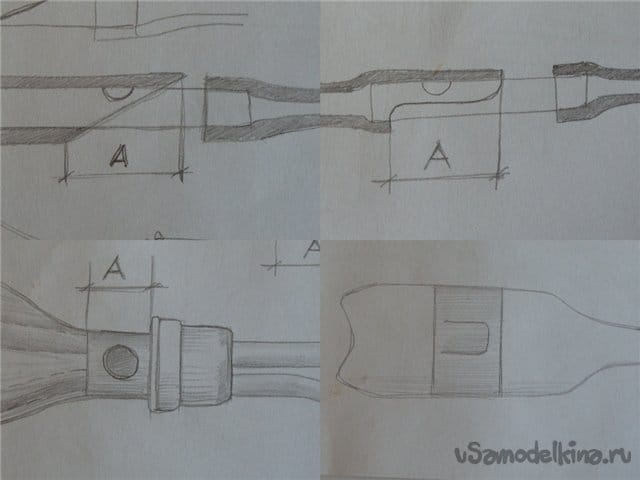 simple from a plastic bottle.
I begin to translate the idea into material.
A piece of tube from the antenna with a hole in the side. I am assembling the device.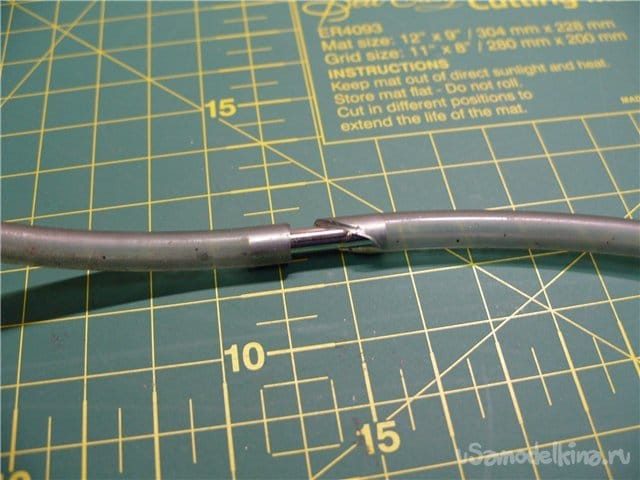 The required pressure value is selected by sliding one tube over another. When the air is blocked in the airbrush, excess pressure begins to bleed off through this connection. There is even a small video of the process itself.

True, I'm testing another airbrush made in China. But also not direct-flow.
And so the problem is solved, you can try the airbrush in business.
I transfer the sketch to the laptop cover quite simply. Grandfather's method. I rub the drawing from the back with a soft pencil, fix it on the lid with masking tape and circle it from the front with a ballpoint pen.
Then I spread nitro paint, and specifically I use the base of the Mobihel paint system.
This is my box with colors.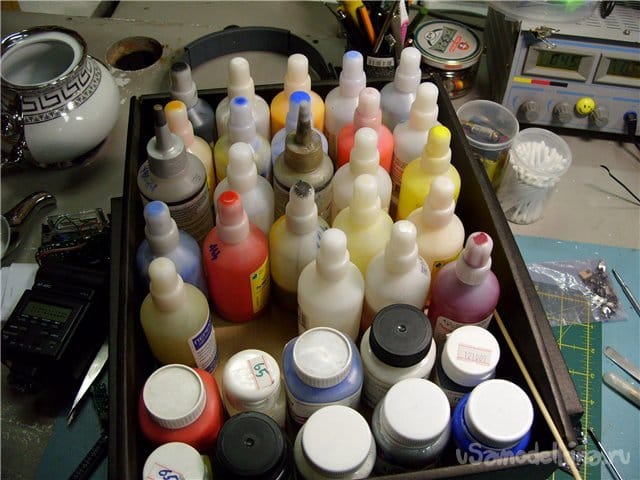 I spread and filter. then pour it into plastic jars of hydrogen peroxide. They have narrow noses, it is convenient to pour into an airbrush.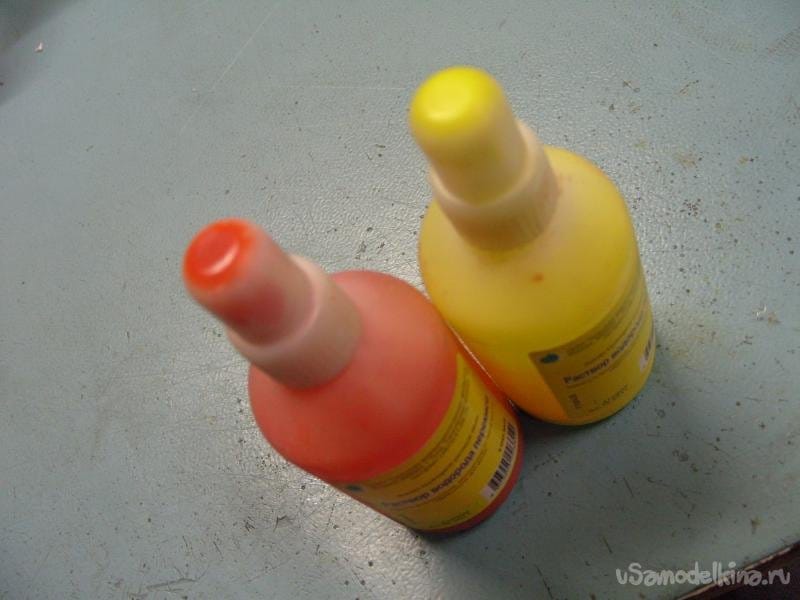 In general, you can use any cosmetic jar with a convenient neck.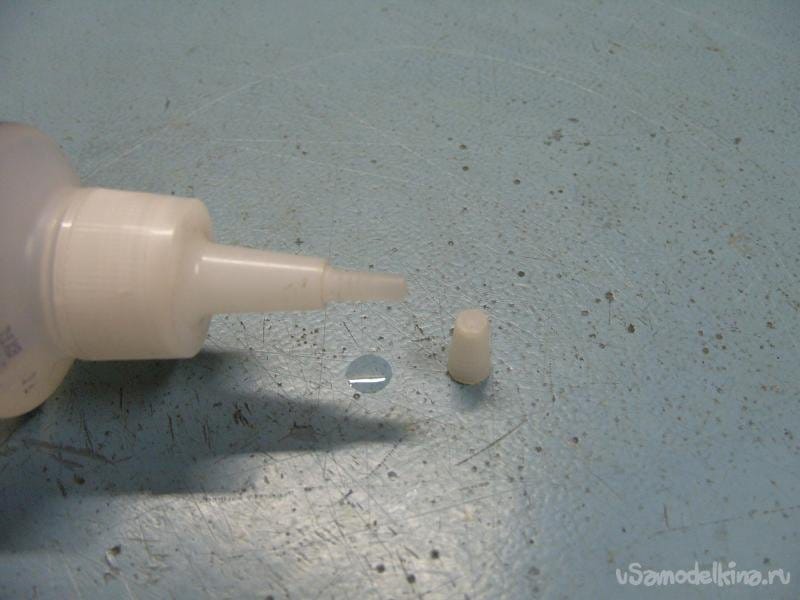 Sometimes you need to drop a little paint, I use such pipettes .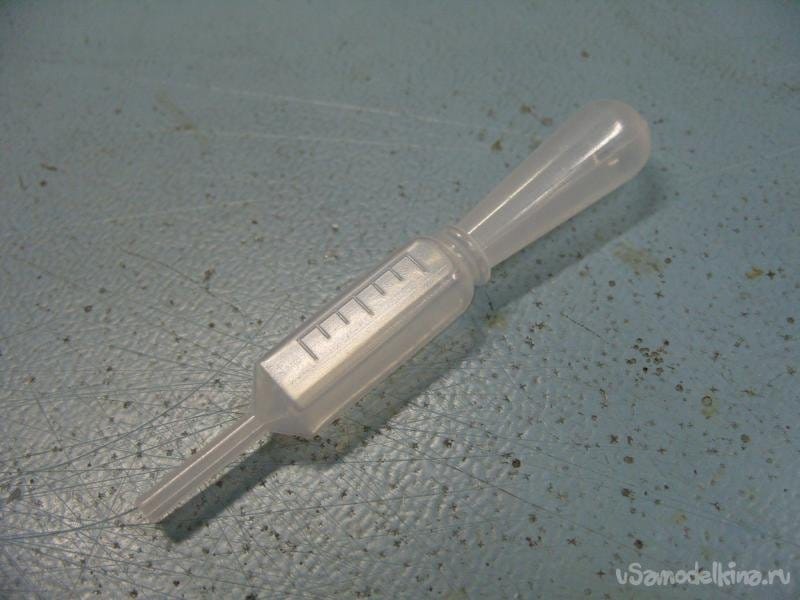 Everything turned out well, the airbrush worked like a clock, the compressor with a valve (fart) did not disappoint either.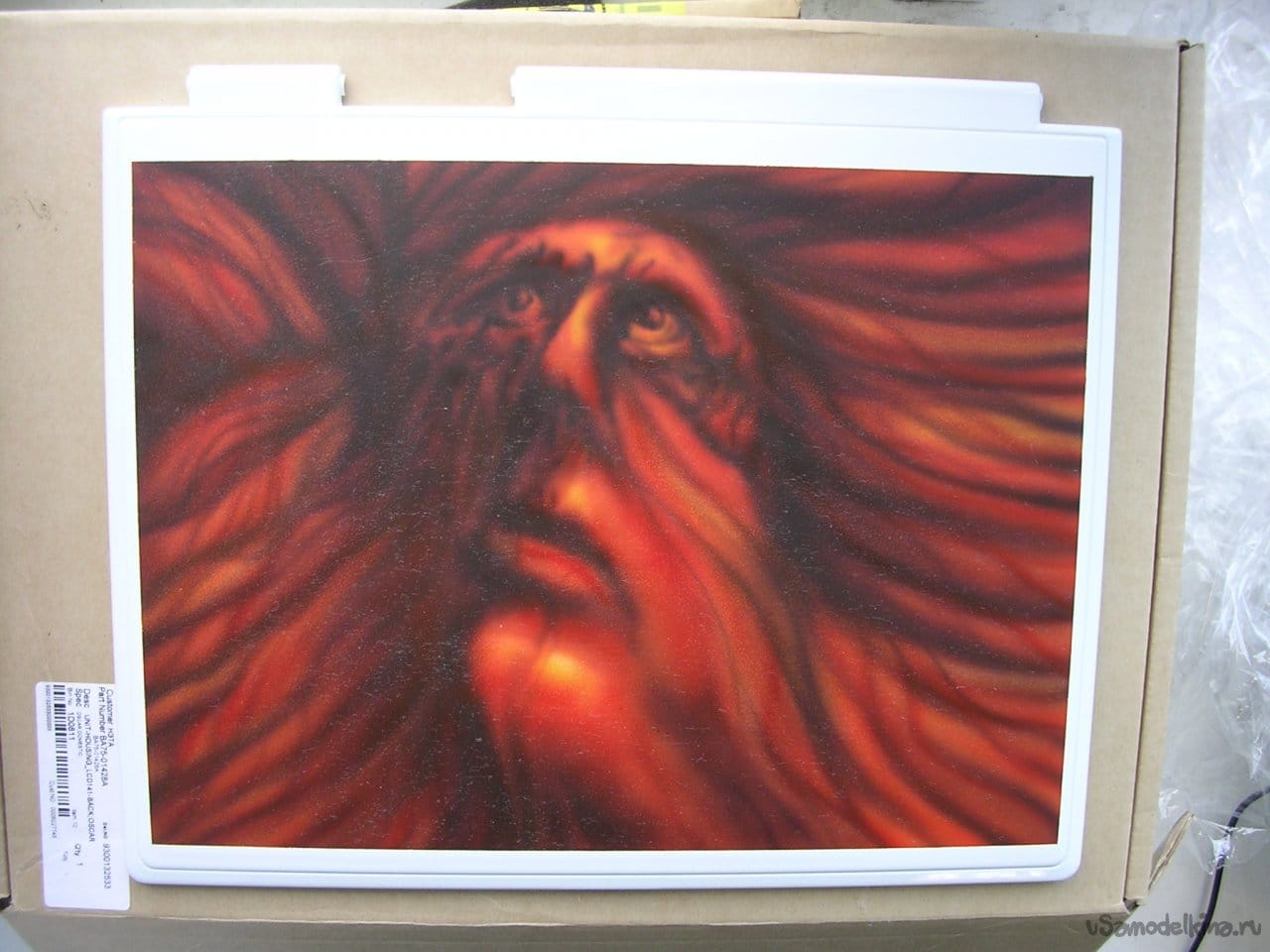 When everything was dry, I dared a little overspray with sticky napkins .
Then I dilute a two-component varnish.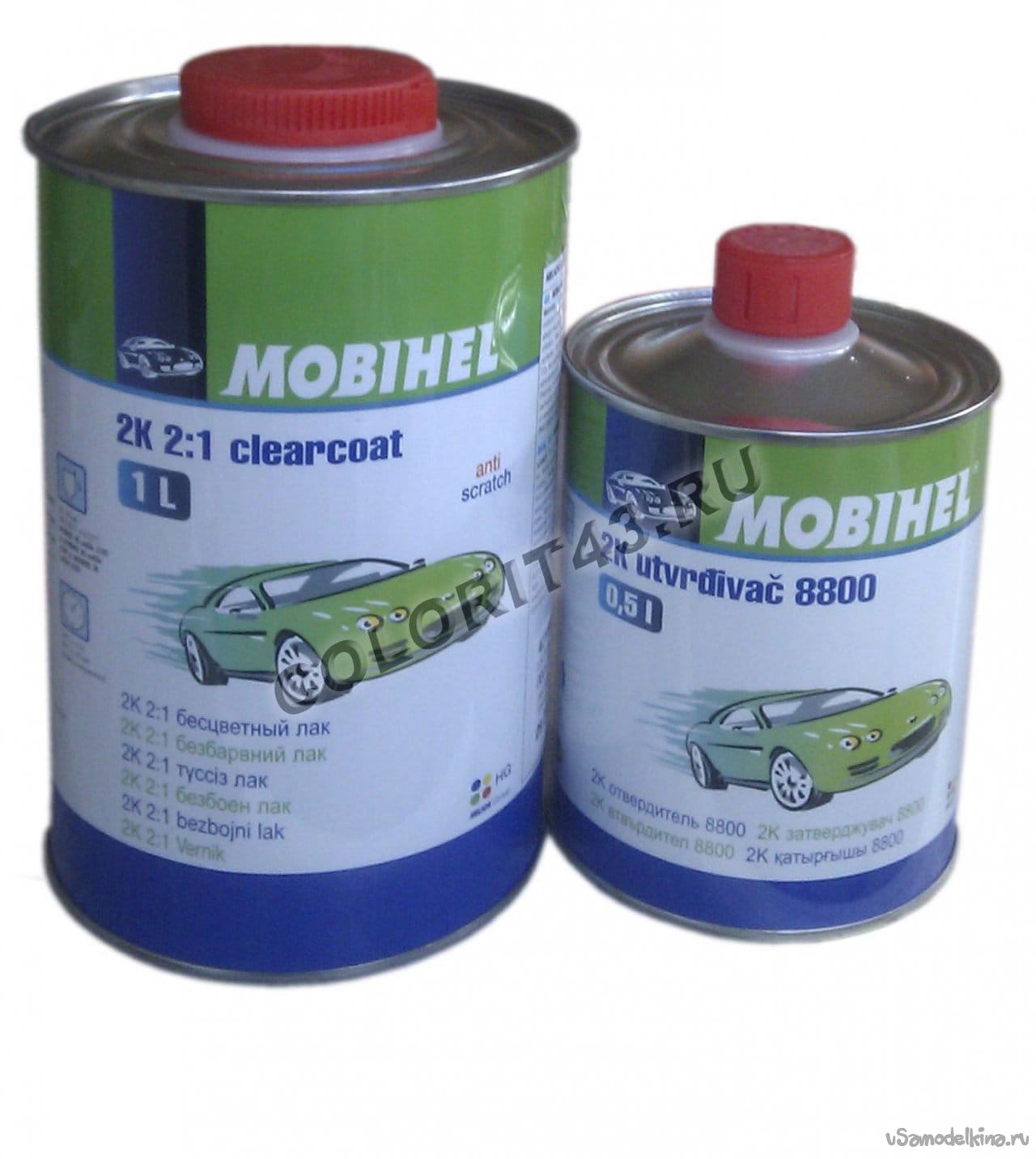 A Soviet airbrush enters the battle with the largest nozzle. An ordinary plastic funnel for paint is installed on it.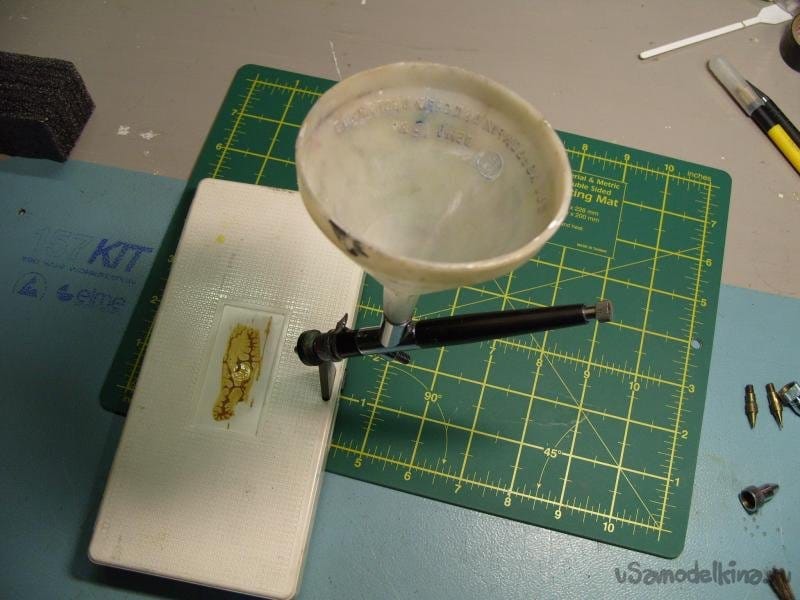 I cover with varnish in three layers with drying. After three days of aging, I sand with sandpaper number 1500 and 2000 with some water. I finish the process by polishing with paste number 1,2,3.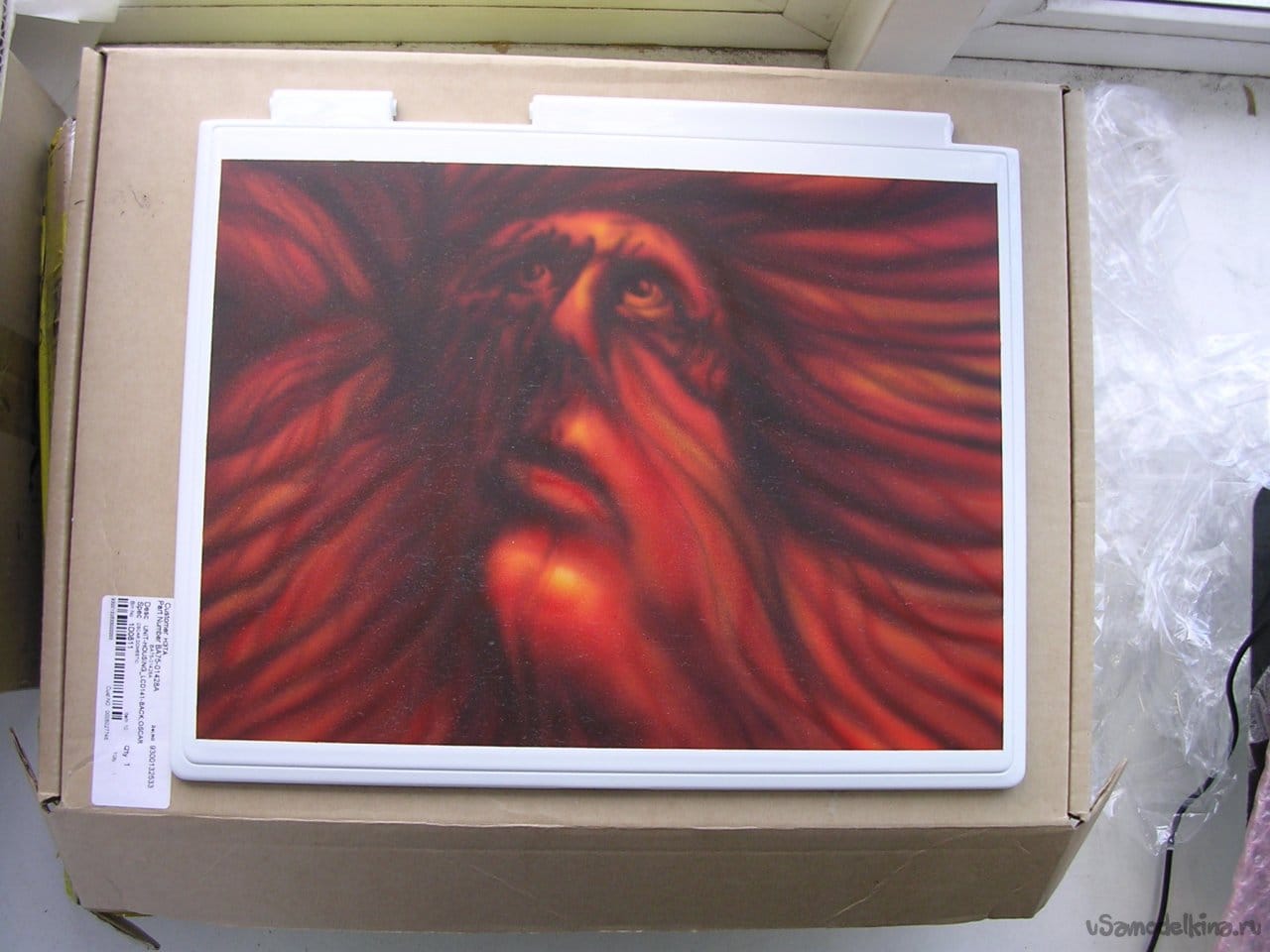 I wash the airbrushes with acetone using a homemade jar. In the lid, there are holes for air outlet and a tube that does not reach the bottom a little. I pour water into a jar, cover the tube and insert an airbrush into it and all the nasty stuff remains in the water.