DIY
Universal support for fruit tree branches
Hello, dear visitors of the site "Visiting Samodelkin". Today I want to tell you about how I made very simple, and, most importantly, universal supports for fruit tree branches, which are very easy to install, adjustable to almost any height, and, when not needed, takes up little storage space.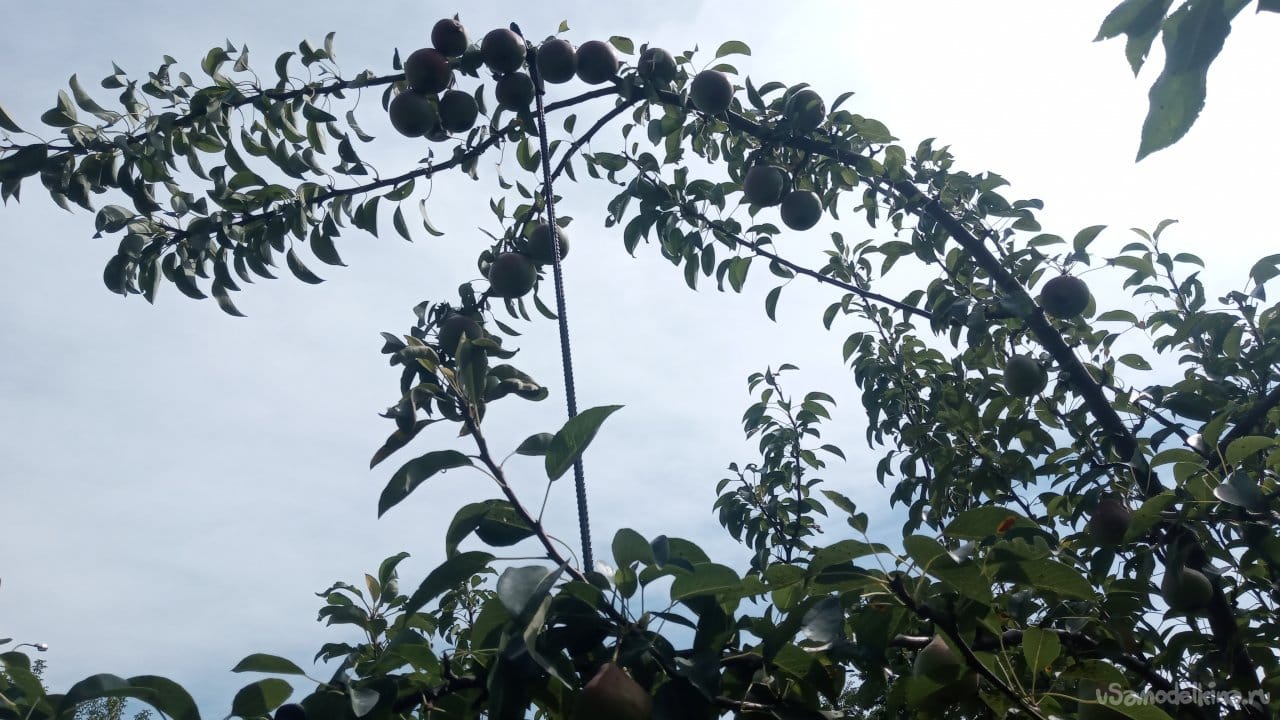 I'll start in order. As I mentioned in my previous publication, "thanks" to the coronavirus infection, I remained for some time "cut off from the world" at my construction site – in an unfinished old house, which I have been reconstructing lately. Due to illness, I did not have enough strength to engage in construction and finishing work, and I, with breaks for rest, started implementing simple homemade projects, for which, usually, there was not enough time. And this is one of them.
In addition to cherries, plums and apricots, I have six fruit trees on my site – apple and pear. All of them are medium-sized varieties. The height of the trees does not exceed three meters. Such trees are convenient – you do not have to collect fruits from a great height. In addition, a small fruit tree does not create a lot of shade and does not dehydrate a large area, allowing other plants to grow. (Mostly floral). But another problem arises. In small trees, the branches are not very thick. And when the fruits are poured, the branches can easily break under their weight. This year our apples were not very good, but the pear harvest promises to be abundant: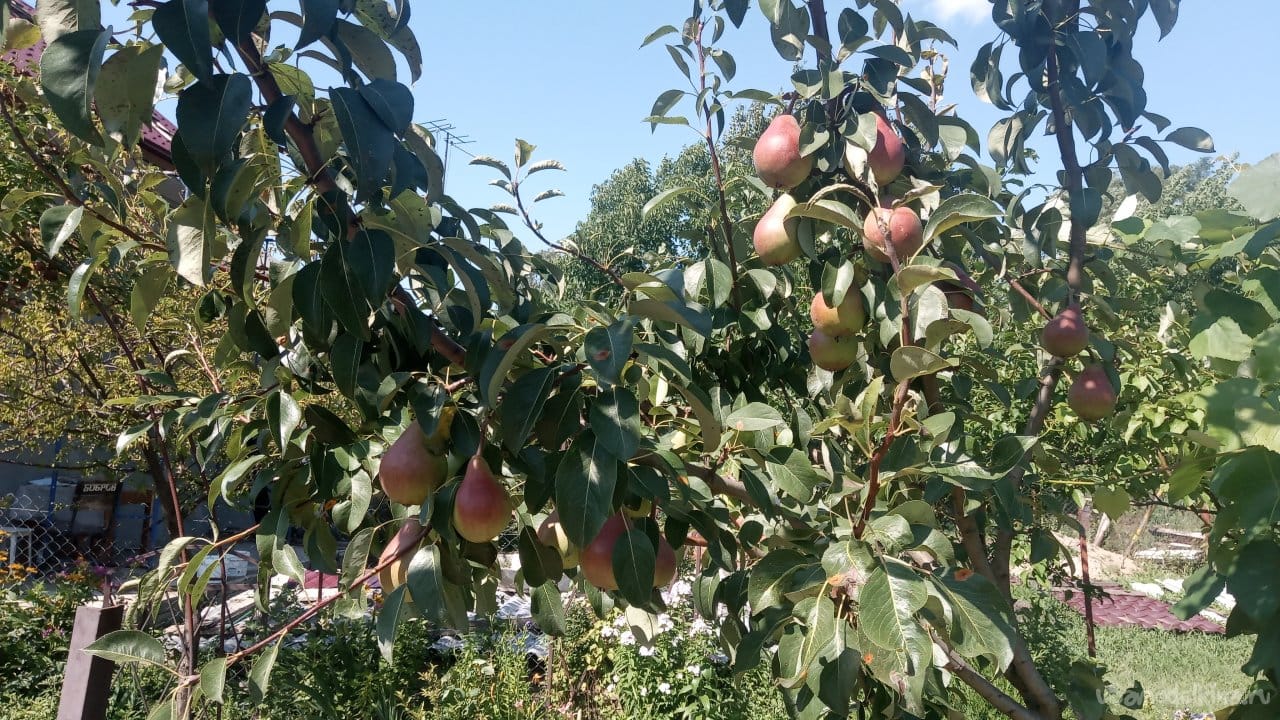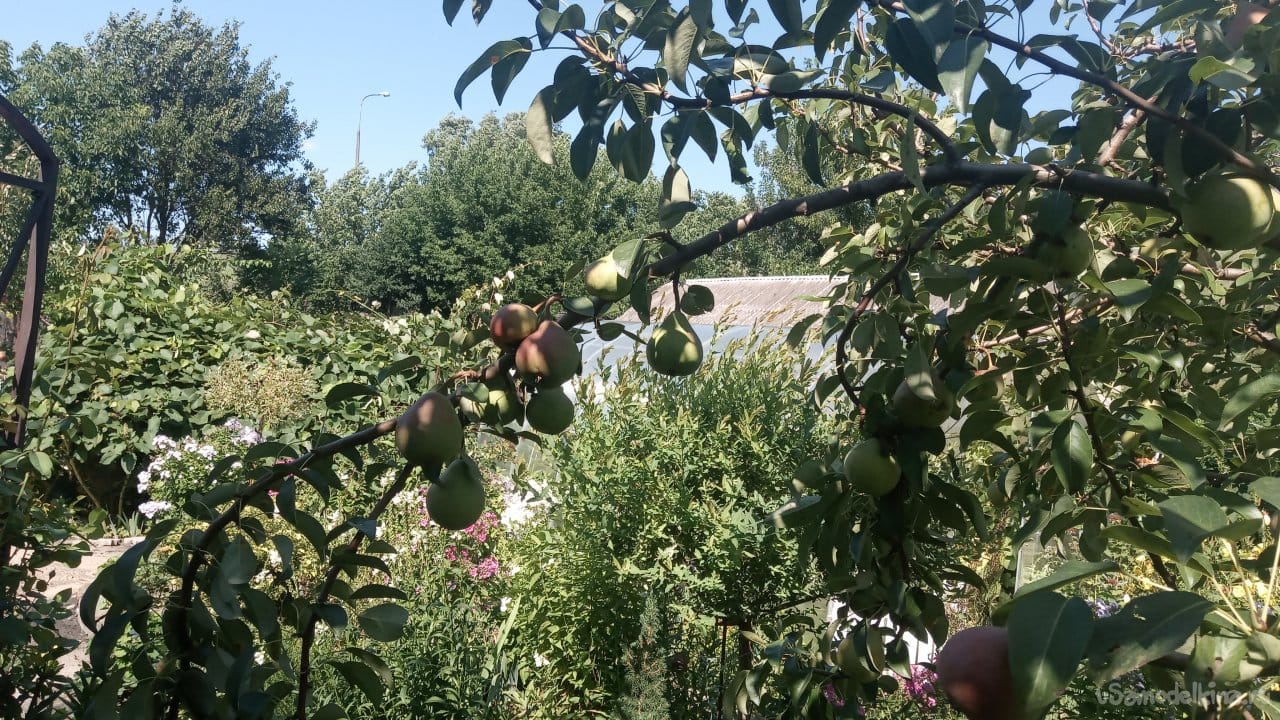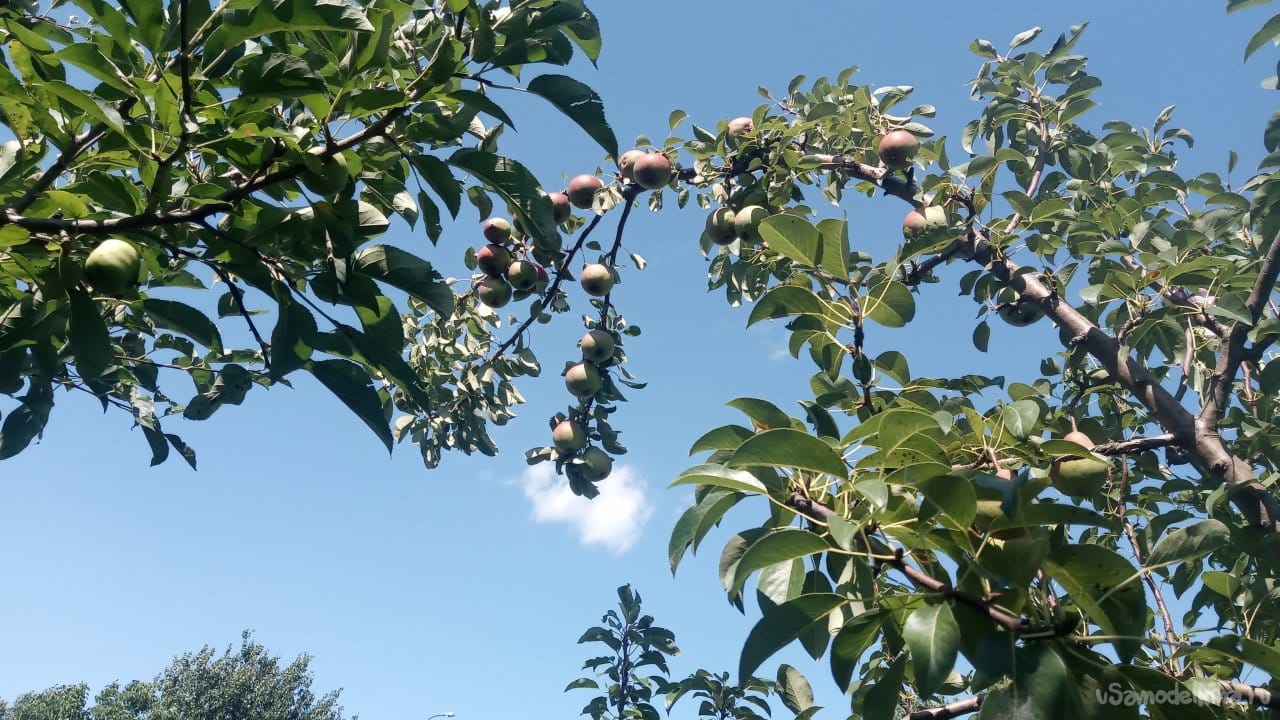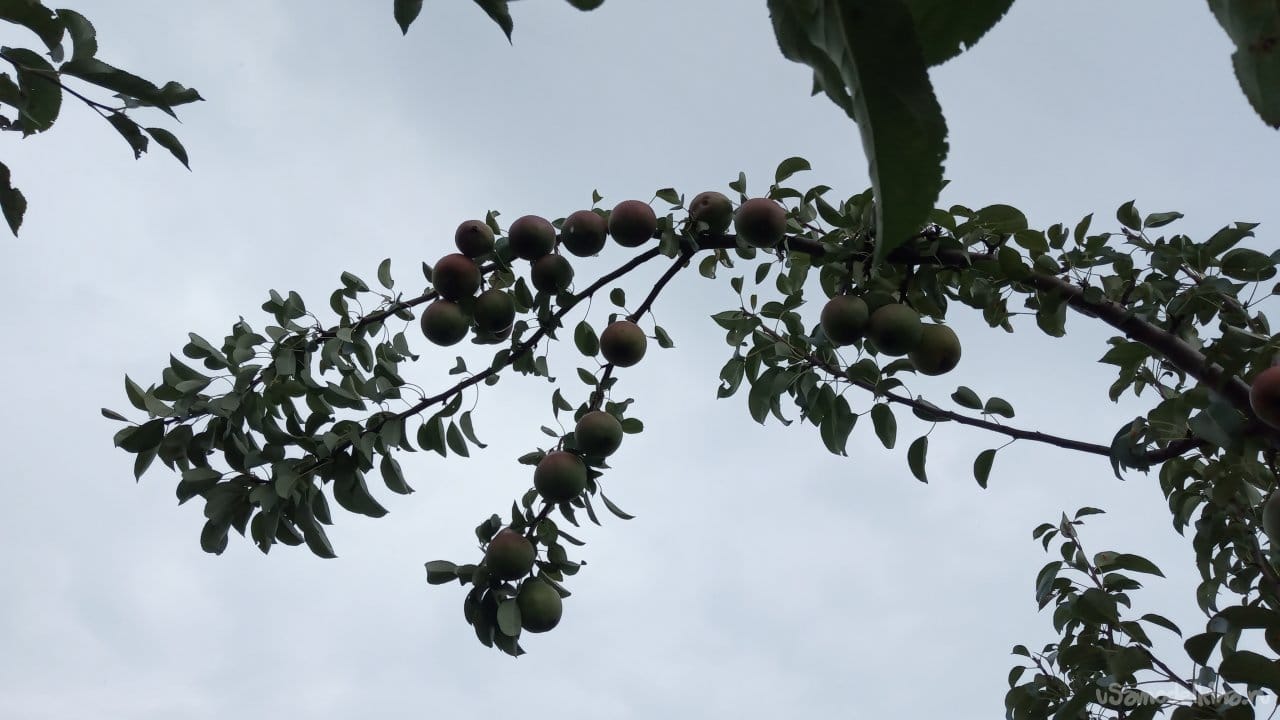 From year to year I have to make some kind of temporary supports for the branches from the wooden remains of building materials. This is time consuming and problematic – the props are needed in different heights. Wooden props are not durable and not aesthetically pleasing!
I have long wanted to solve this problem by making a dozen metal adjustable supports, but my hands did not reach everything. And now, the time appeared and I started to do it.
Unfortunately, I did not have a sufficient amount of the necessary materials. After all, I had to do it from what was available (damn self-isolation !!!). Therefore, so far I have made only two such supports (it is necessary for all trees, usually, about ten to twelve). But … a start has been made.)))))
Initially, I defined the following requirements for these products:
1. The support should be easy to install, for which it should be able to adjust in height. And it's better if it can be done "after the fact", and not "set – not fit – removed – changed the height – tried again".
2. Since they are needed one month a year, they should not take up much storage space. It is most convenient if all of them can be hung on the wall (and for this they must be flat, at least in two planes). After all, standing leaning against the wall, even in some corner, "long lengths" are very inconvenient! And so it will be possible to drive two hooks into the wall and hang them horizontally somewhere under the roof slope on the back wall of the shed.
3. Materials should be neither expensive nor "rare". That will allow you to make the right number of uniform products. (Still, some kind of aesthetics should be present in the garden area)).
It seems that I have found the right solution. And here's what I needed for this:
1. Profile pipe, section 15x15x1.5mm.
2. Armature 12 mm.
3. metal strip (cuttings).
4. Bolts and nuts M6.
In stocks of metal, there was only one three-meter section of a profile pipe 15x15x1.5 (When buying rolled metal, I always ask you to cut it exactly by three meters. After all, initially, the rods are usually six meters. half, easily transported in a minivan, or "station wagon"):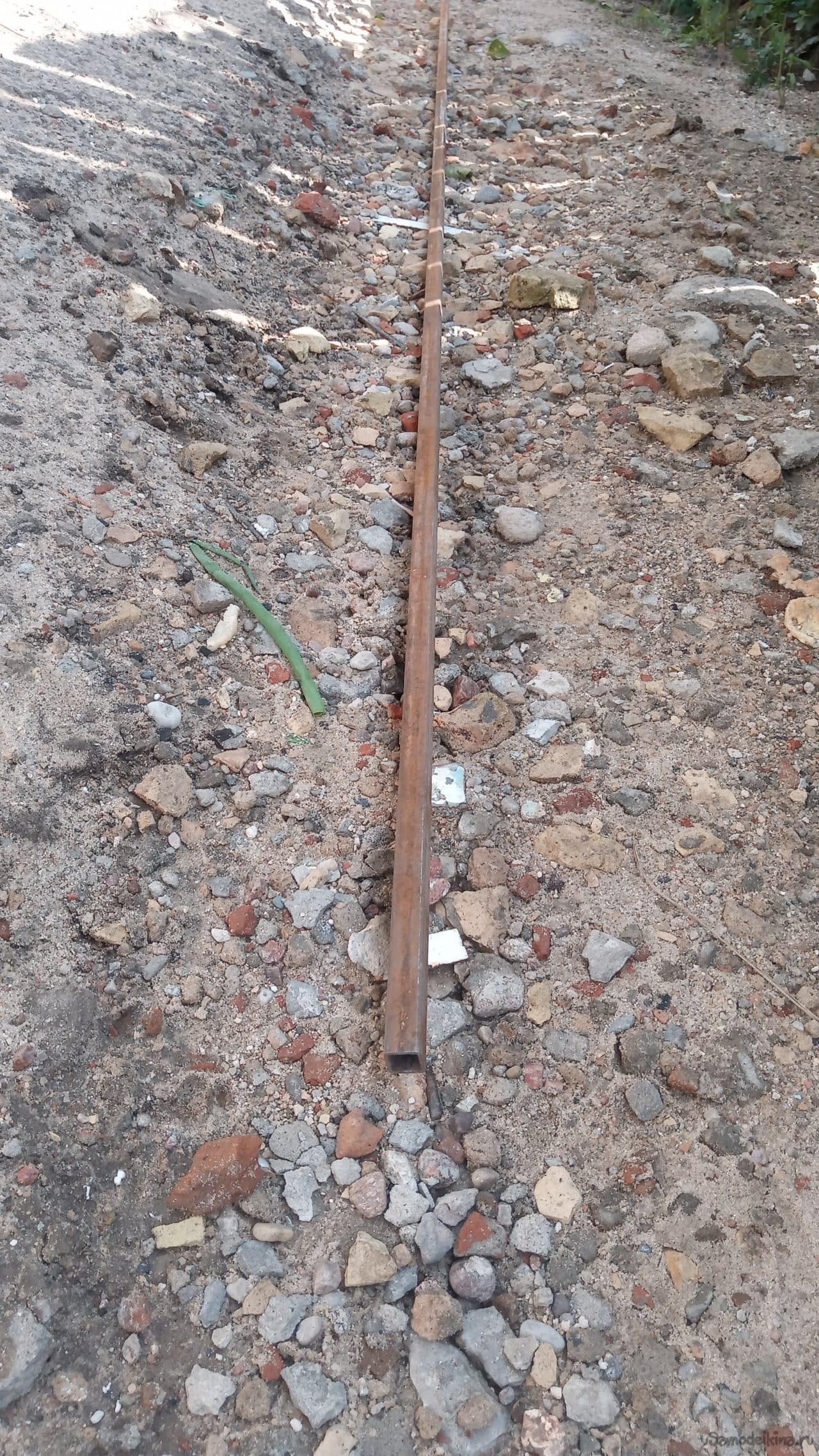 Also, a piece of reinforcement of the same length was taken. (After construction works there were several pieces left).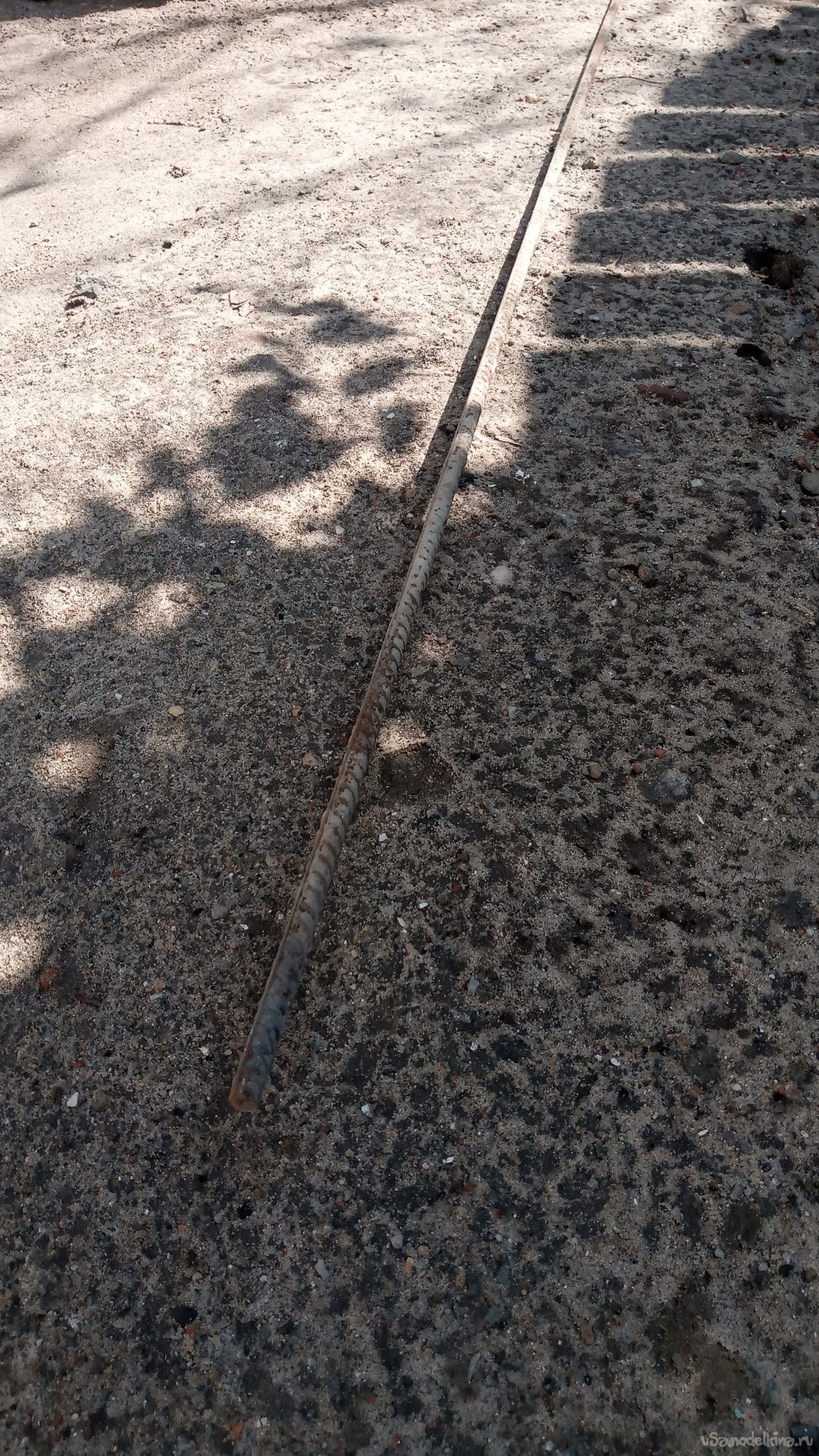 Smeared a little in cement mortar … But for my purposes it will do)))
Thinking over the structure, I decided in advance that in order to install the support it was convenient, all its moving parts should be at a height of about one and a half meters! (Approximately in front of the face). Therefore, I cut both blanks in half … It is a pity, of course, that I can make only two so far … If it were not for the "crown", I would have driven and bought more pipes.)))))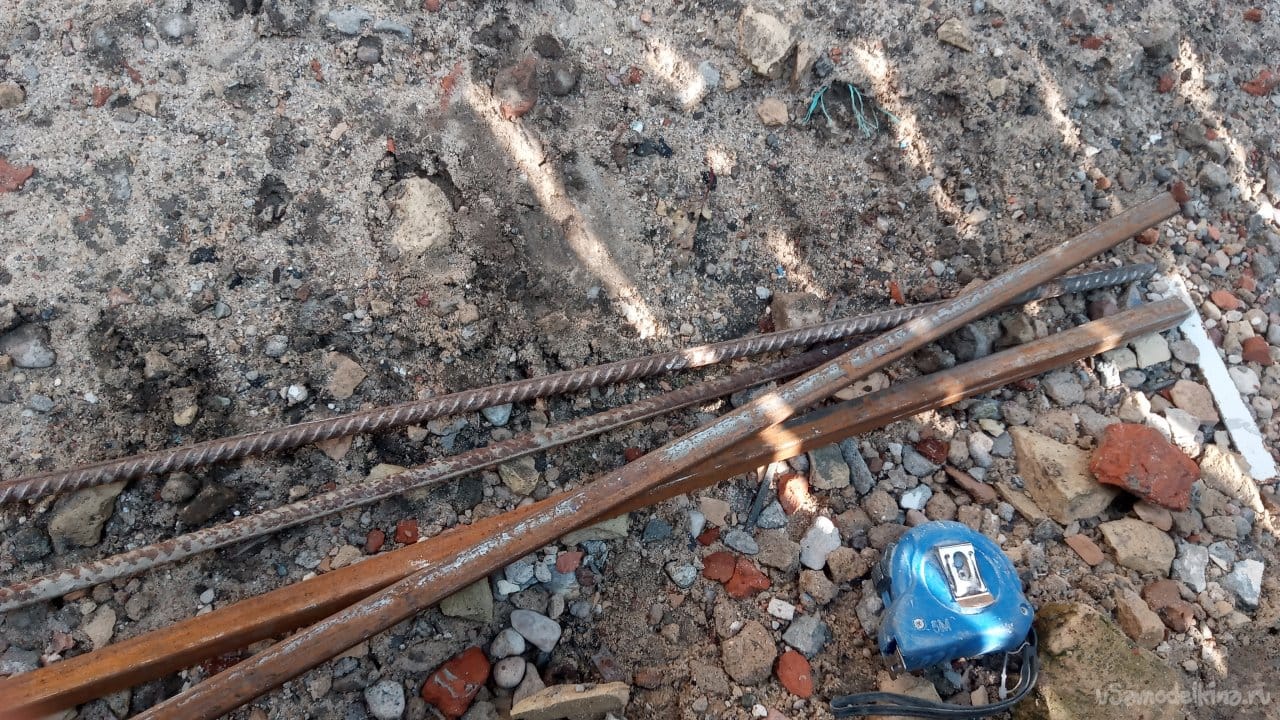 The armature will be inserted into the profile pipe, which will ensure the maximum height of the telescopic structure up to almost three meters. And I don't need any more. But it is necessary to somehow fix the armature in the extended state. Starting the assembly, I initially wanted to make simple eccentric clamps, similar to those that I used to adjust the height in assistant of his homemade lathe … It is done quite easily, the ribbed reinforcement will hold very tightly, and, most importantly, it is very comfortable. One turn is enough to fix or relax the structure. But, having rummaged in stocks of "scrap metal", I did not find pipes of the required diameter. More precisely, I could not find a pair of "pipe-pin" … I got upset … And I decided that I could do it differently. Just drilled a hole: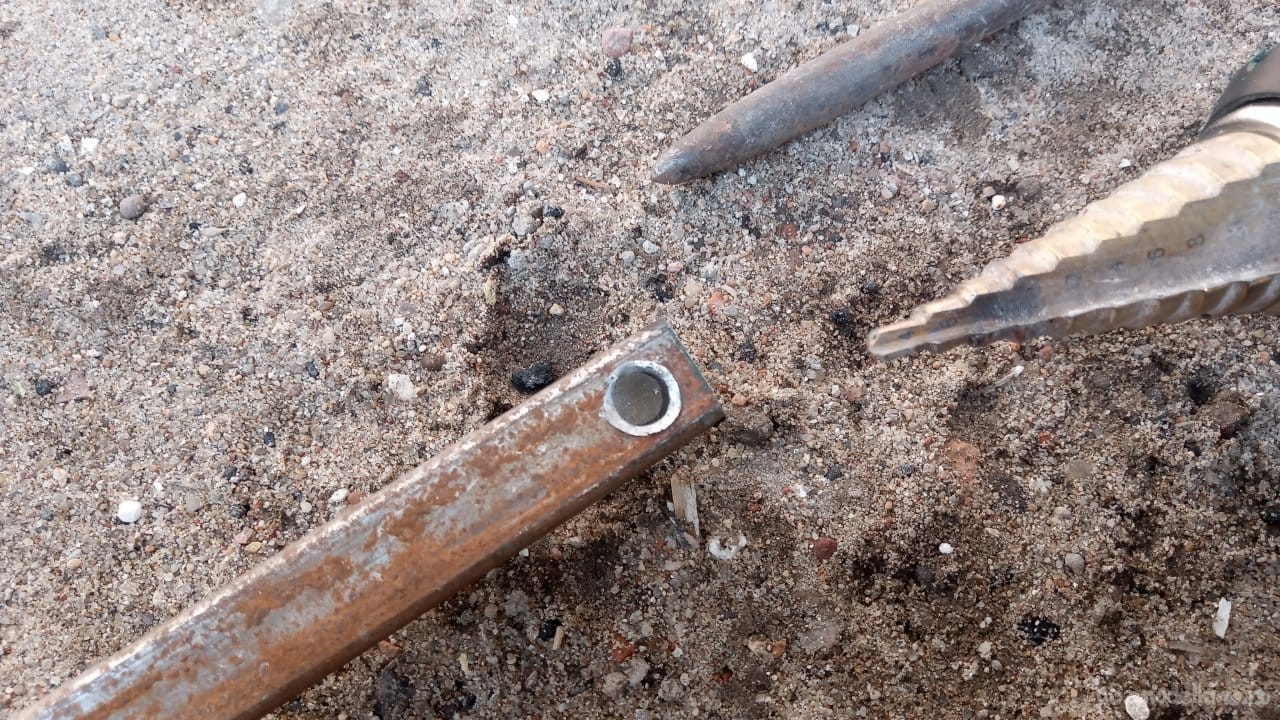 (As ill luck, there were problems with this too. On the day before the illness, I just took a box with small drills to my workshop in the basement under the apartment, and left it there … I had to make do with stepped holes!)
When the holes were drilled, welded M6 nuts to them: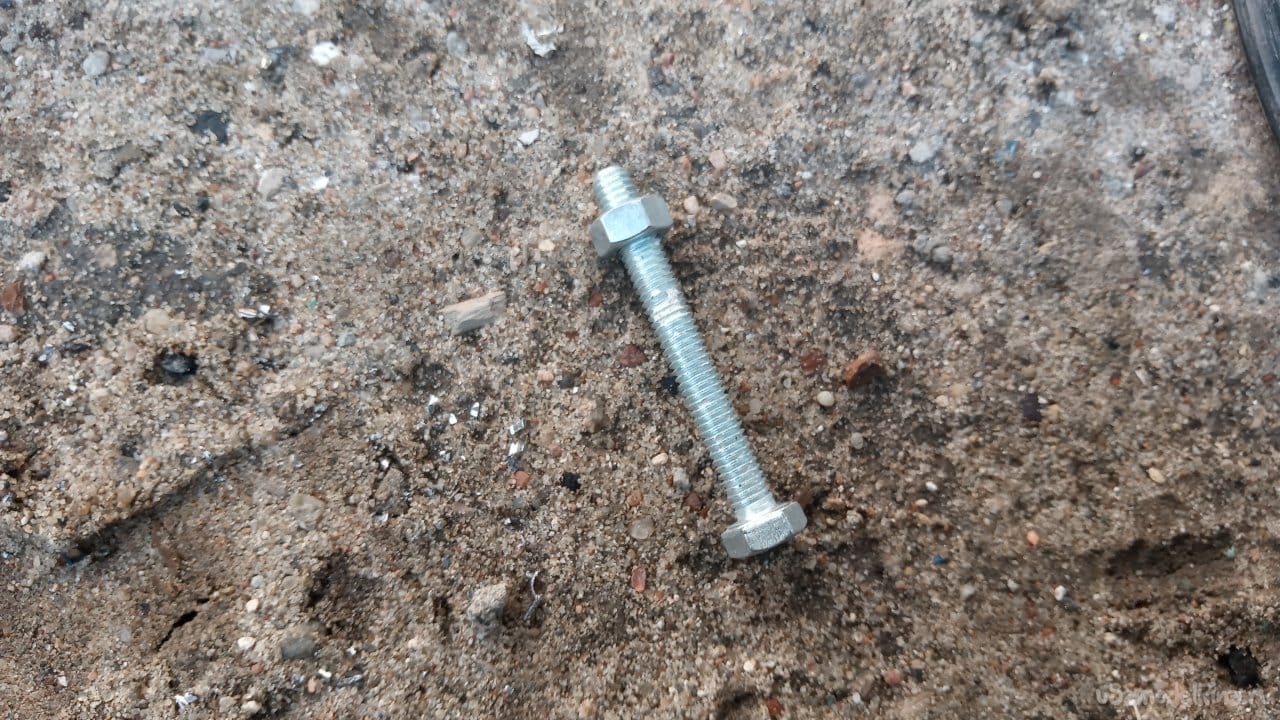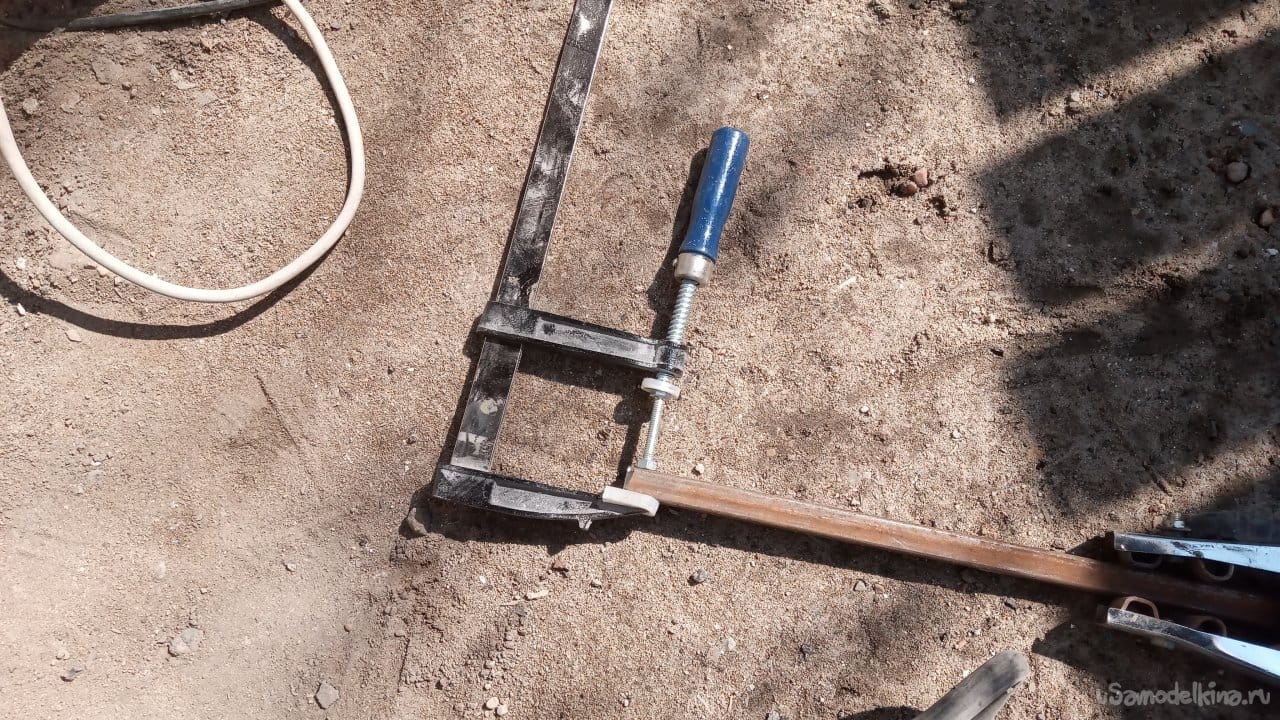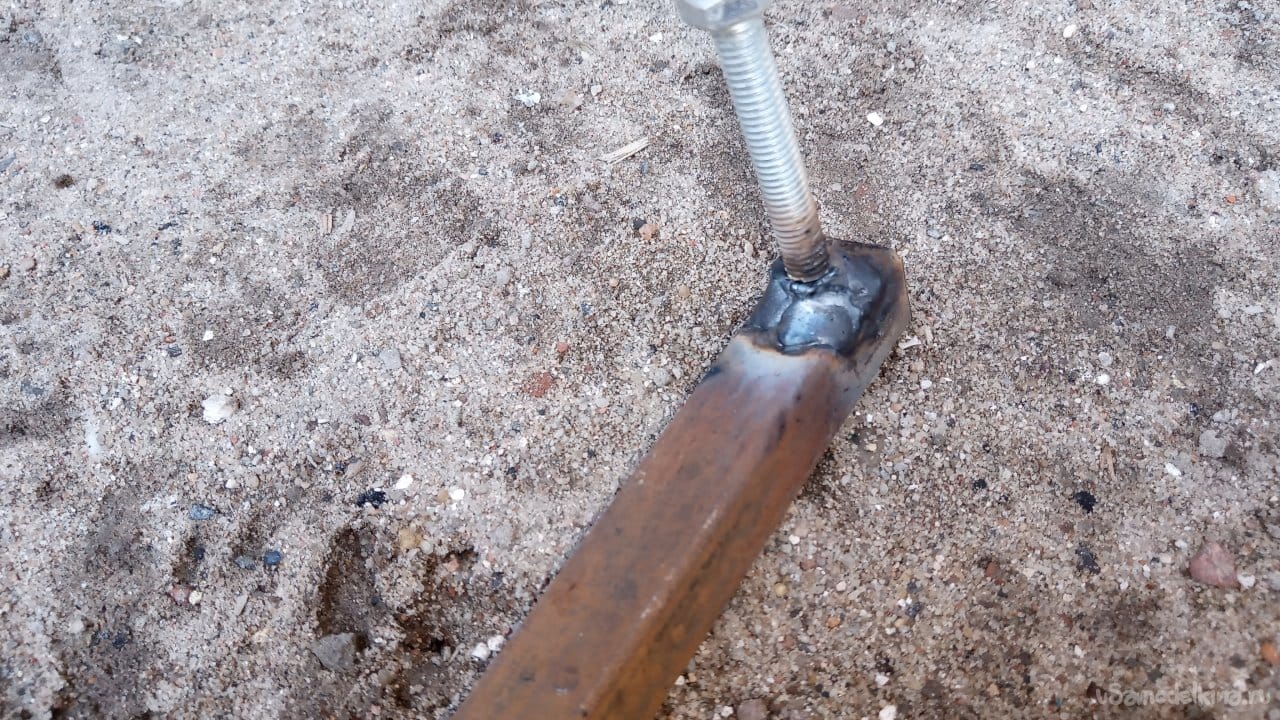 There are less than 3 electrodes x mm also did not find. Therefore, I almost completely melted the nuts.))) Well, nothing … It will be stronger …
(As it turned out later, the electrodes were lying in their place … I can't understand why I didn't find them … It's just, it is very difficult to work when the body is severely weakened by the disease .. It is not possible to concentrate …)
But I didn't give up!))) The alternative – to lie down and "enjoy" a terrible ache in the whole body and a headache with might and main, was still worse than doing what you love, which distracts at least a little …)
Now you can clamp fittings, tightening the wing screw.
And then I remembered that I could not go and take these same screws. (And they are also in another place. In the same basement, where the drills.) … And I can't get into the fastener store either …
Cursing the "crown" again, I got out of this situation – just bent a long bolt and slightly rounded his hat with a petal circle: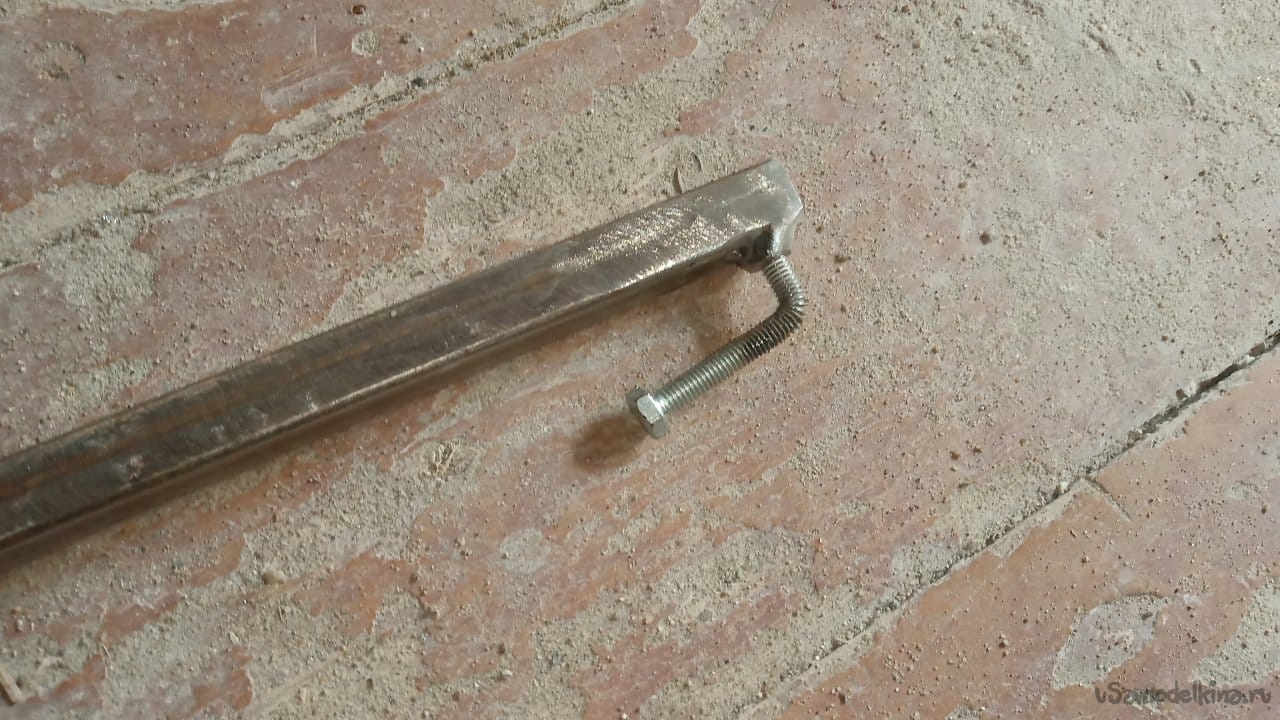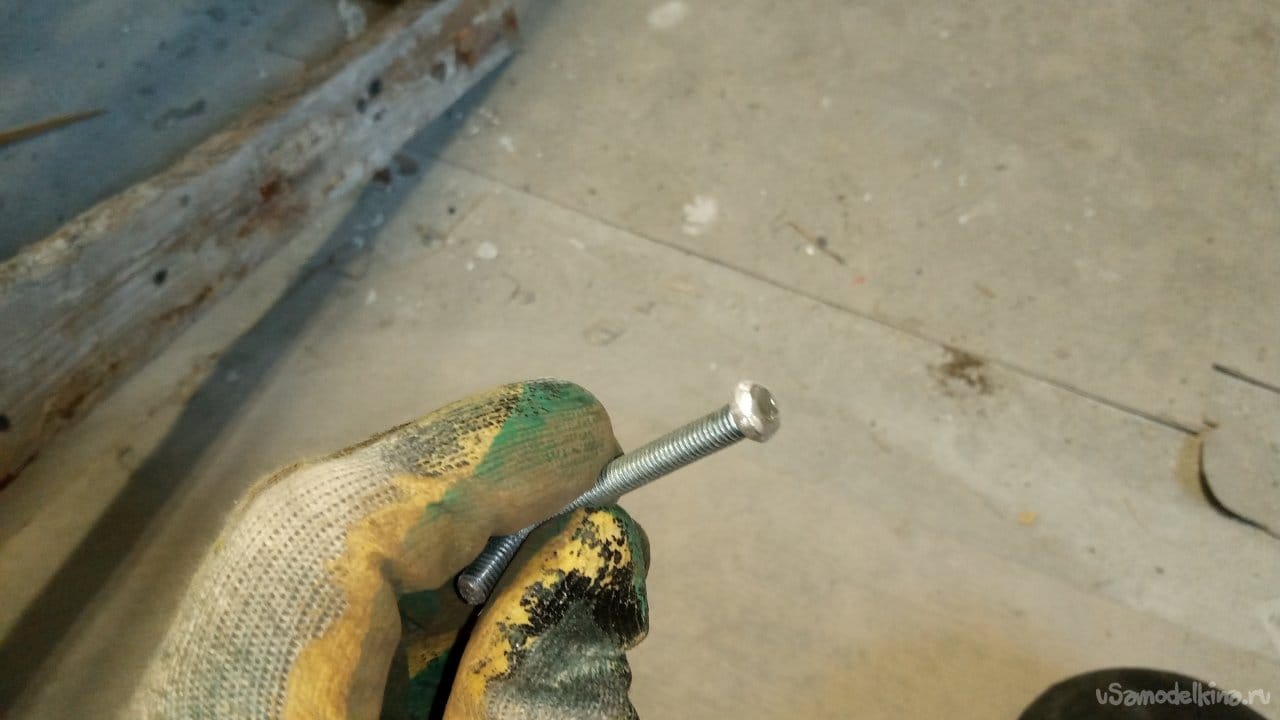 Now it will come off instead of a lamb .)))
Sorted out with the telescopic part. Let's go to the bottom.
The support should stand, not sinking into the soil under the weight of the branch pressing on it. After all, under all the trees I have – flower beds! And the soil is loosened and soft. You can simply weld on the cross member. It will be convenient, stepping on it with your foot, with one hand push up the reinforcement from the pipe until it stops in the branch, and with the other hand tighten the bolt. But I initially think about convenient storage. I already have a lot of different "garden devices" accumulated and the storage problem is quite acute. It will be most convenient, as already mentioned, to nail two hooks to the back wall of the shed under the very slope of the roof and put props there until they are needed. Considering that I want to make up to ten of them, they will not work all together to lay them on the hooks if they have welded crossbars! This means that you need to make the crossbar removable, or folding. I rejected the first option due to the complexity of the execution – after all, it must be securely fixed! (I am going to press it to the ground with my foot, and at the same time pull it up, unfolding the "telescope".) That is, the option with an insert will not work, or it will require the same clamping bolt as in the upper part. Sorry for time.
So, let's make a folding one. Just fix the cross member with a bolt and nut. Then it can be twisted and folded along the pipe.
As crossbars, I used thin-walled tubes, which I have benefited from selling greenhouses, "giving them as a gift" as a system for attaching the greenhouse to the ground. Of course, I did not use them, because they will not keep the greenhouse from the wind, but they themselves will rot in the ground in a year (Wall – 0.7 !!! This is declared! Actually, I suspect less!)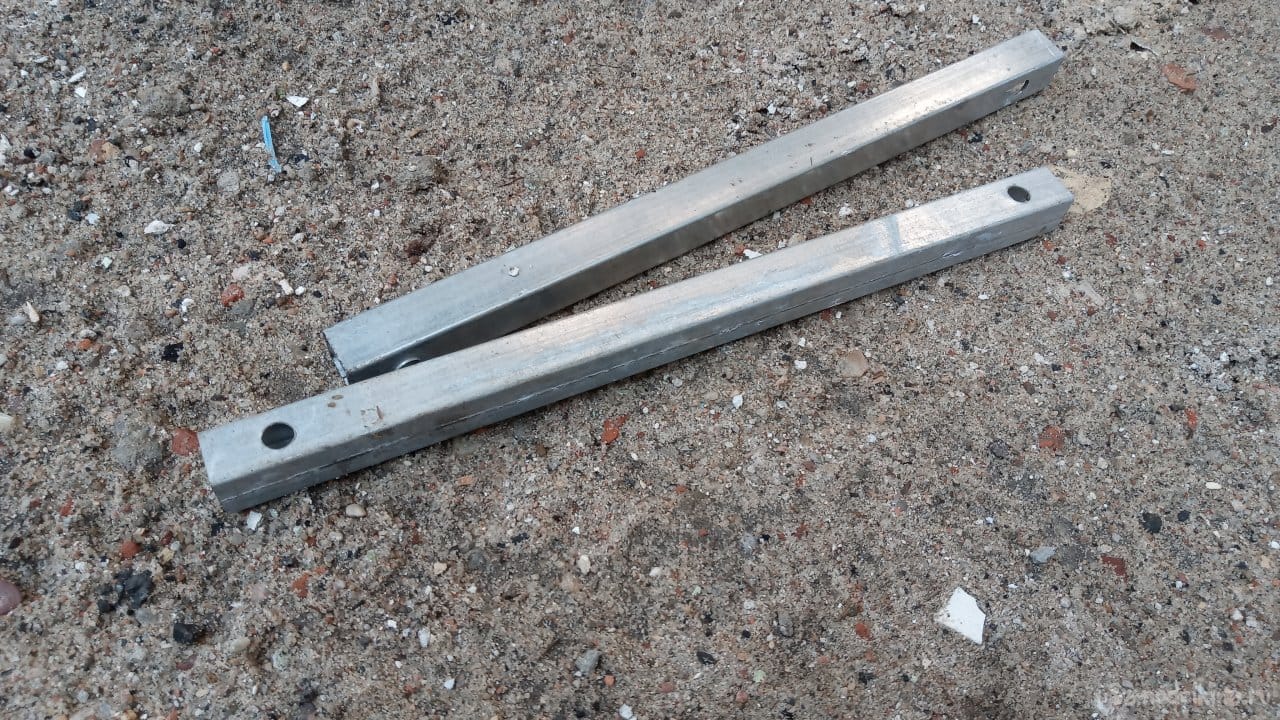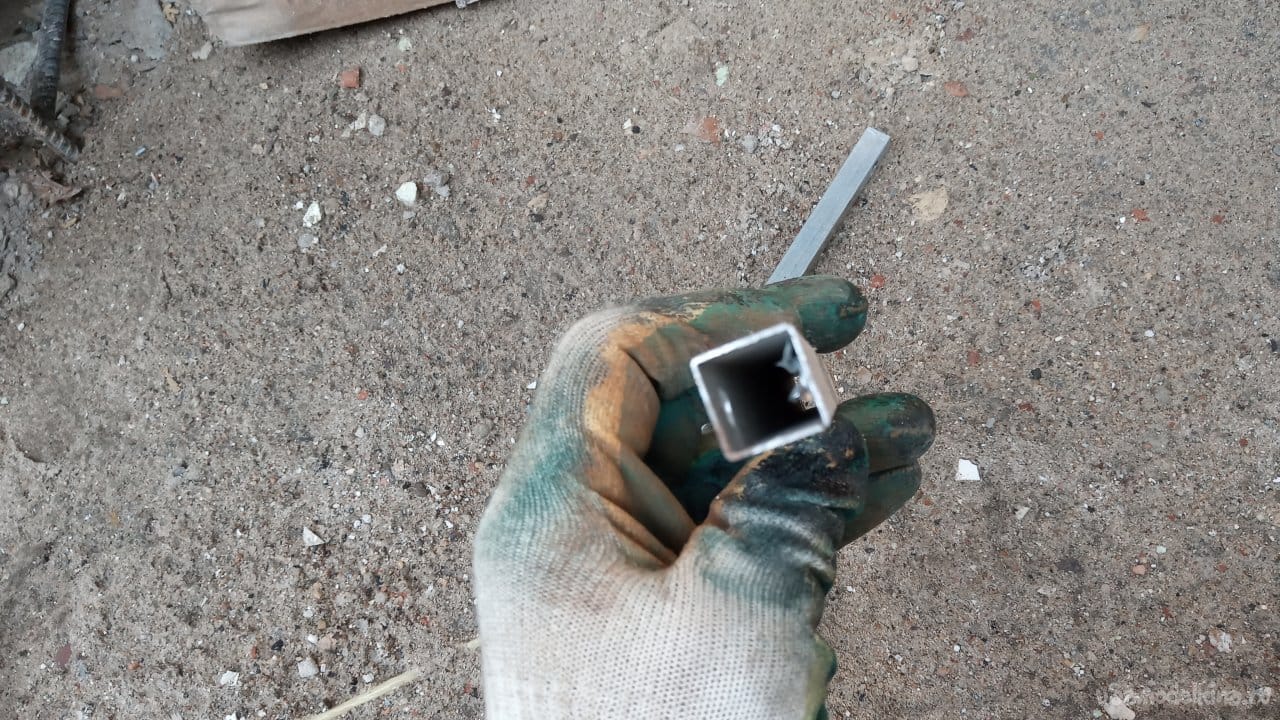 I even felt satisfaction – you can attach what I thought would definitely not work for anything! And I have 12 of them!)))))
I drilled holes in them and in the racks and fixed them with an M6 bolt with a nut, placing compression washers with a rubber gasket on both sides, remaining from the installation of polycarbonate in the same greenhouse: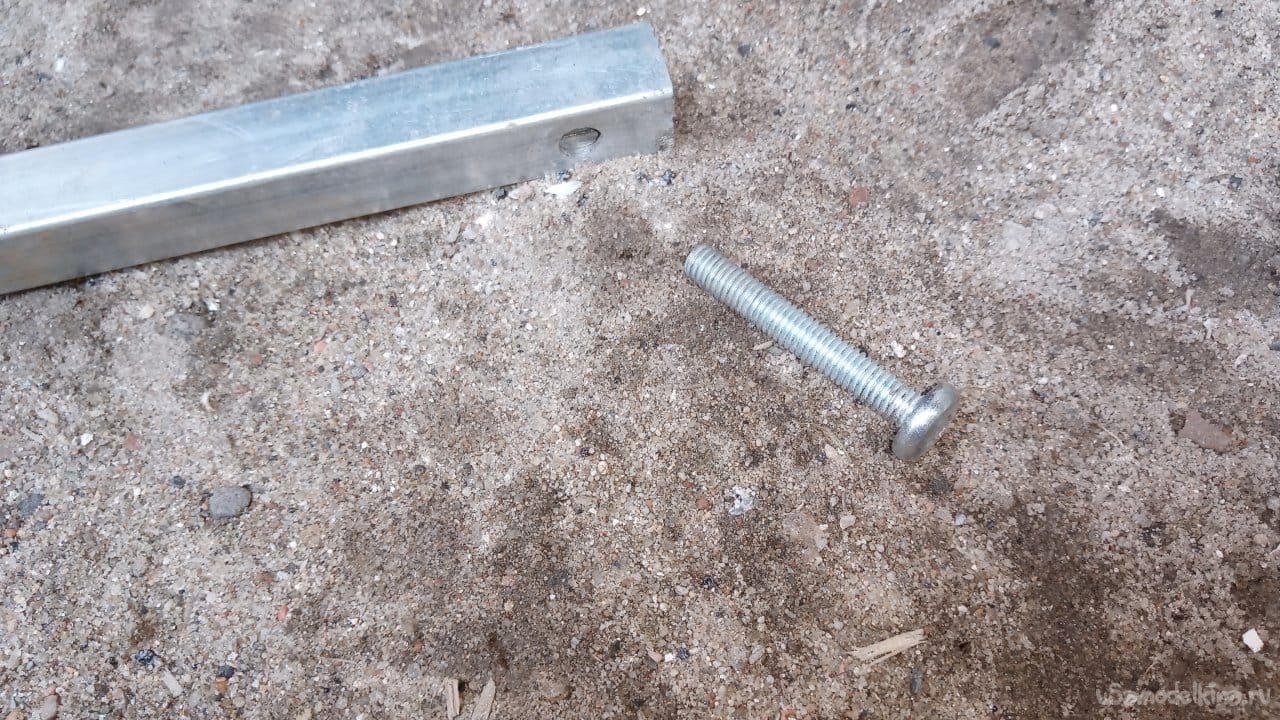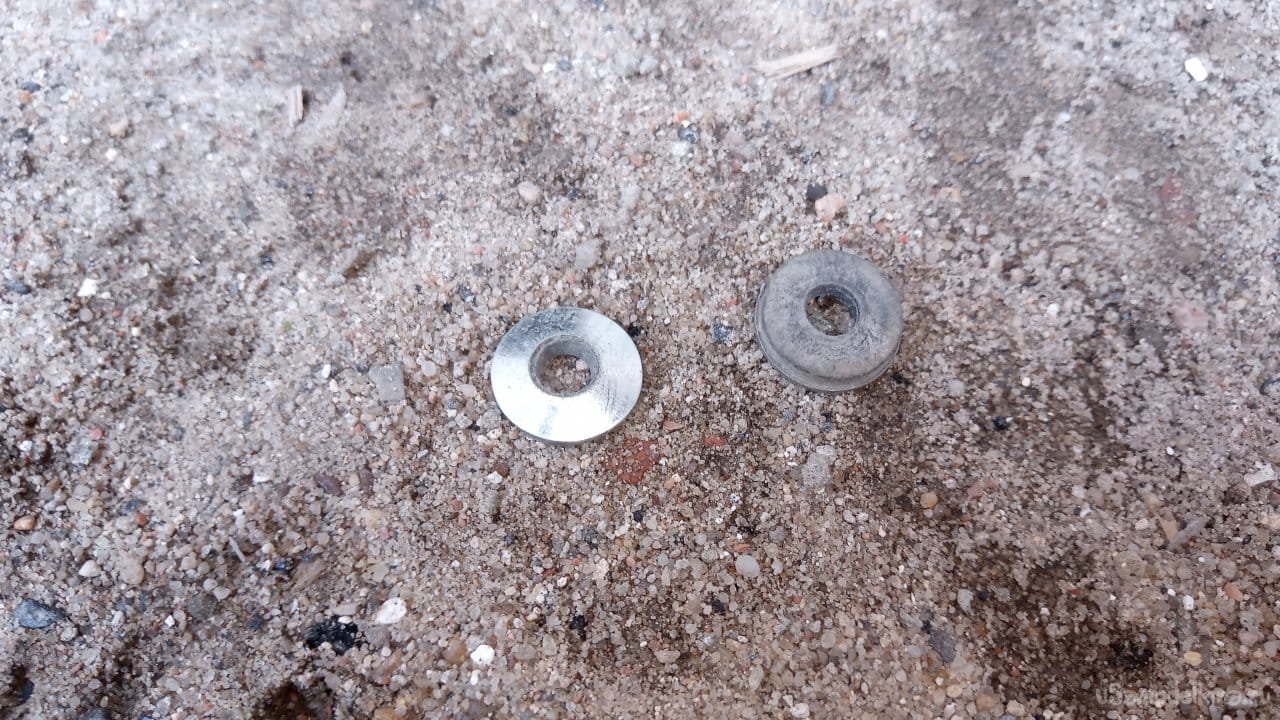 In the rack, the hole was drilled not at the very edge. So that the pipe sinks a little into the soil, excluding lateral displacement of the support. And when storage time comes, the cross member can be folded along the pipe. Washers with rubber bands made this movement tight (without them, given the small thickness of the walls, it is impossible to tighten the bolt – the walls are crushed):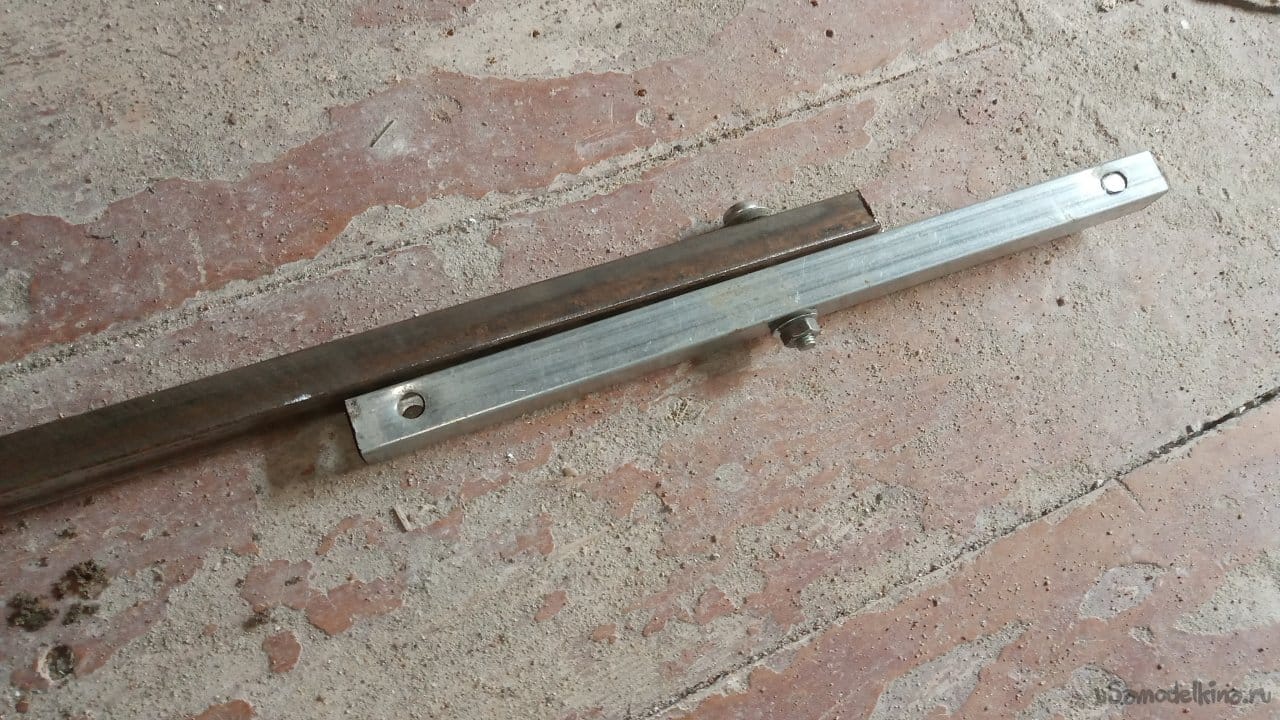 Now you need to make some "forks" on top. They must be removable. This will make it possible to use not only a certain, but also any piece of reinforcement that will fit inside the pipe in thickness. (You never know, what if I never have enough height, for example?). And the reinforcement itself can, when not needed, be used, for example, as a stake for tying some plants. In any case, it is more convenient if this part does not become "narrowly directed".)
I found suitable cuttings of 15×15 pipes and some metal strips. I welded the strips to the ends of the tubes: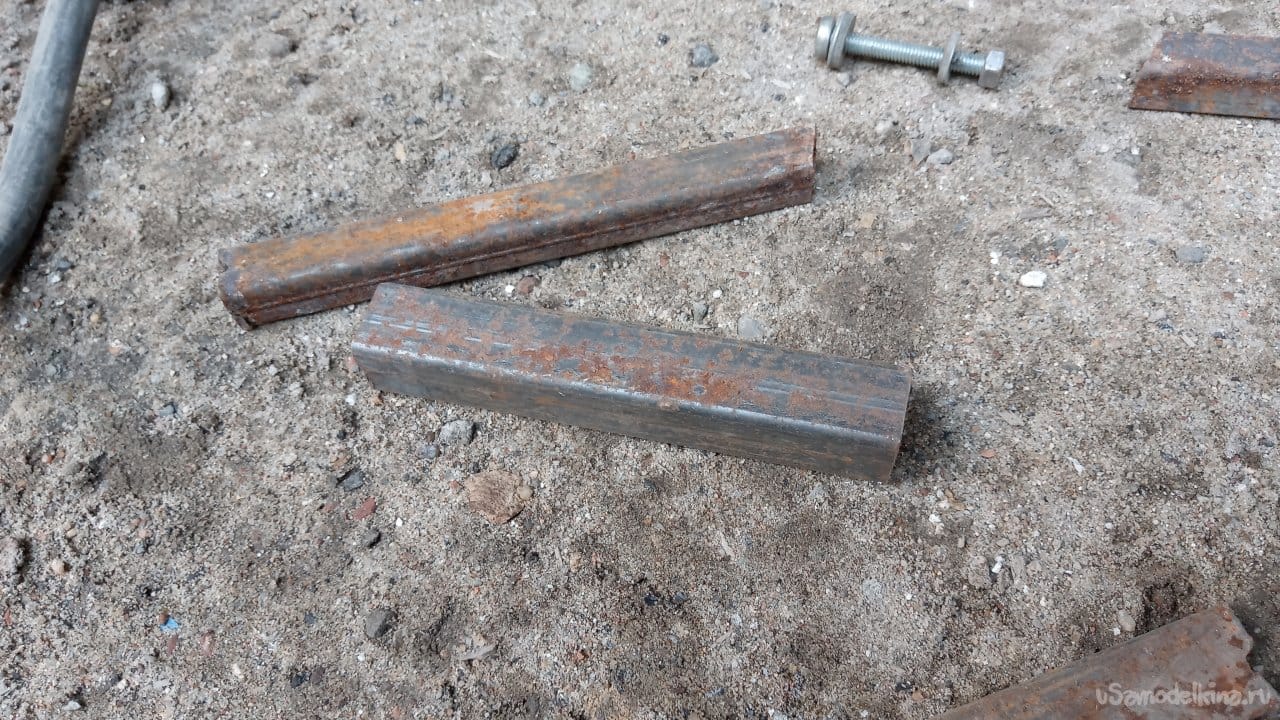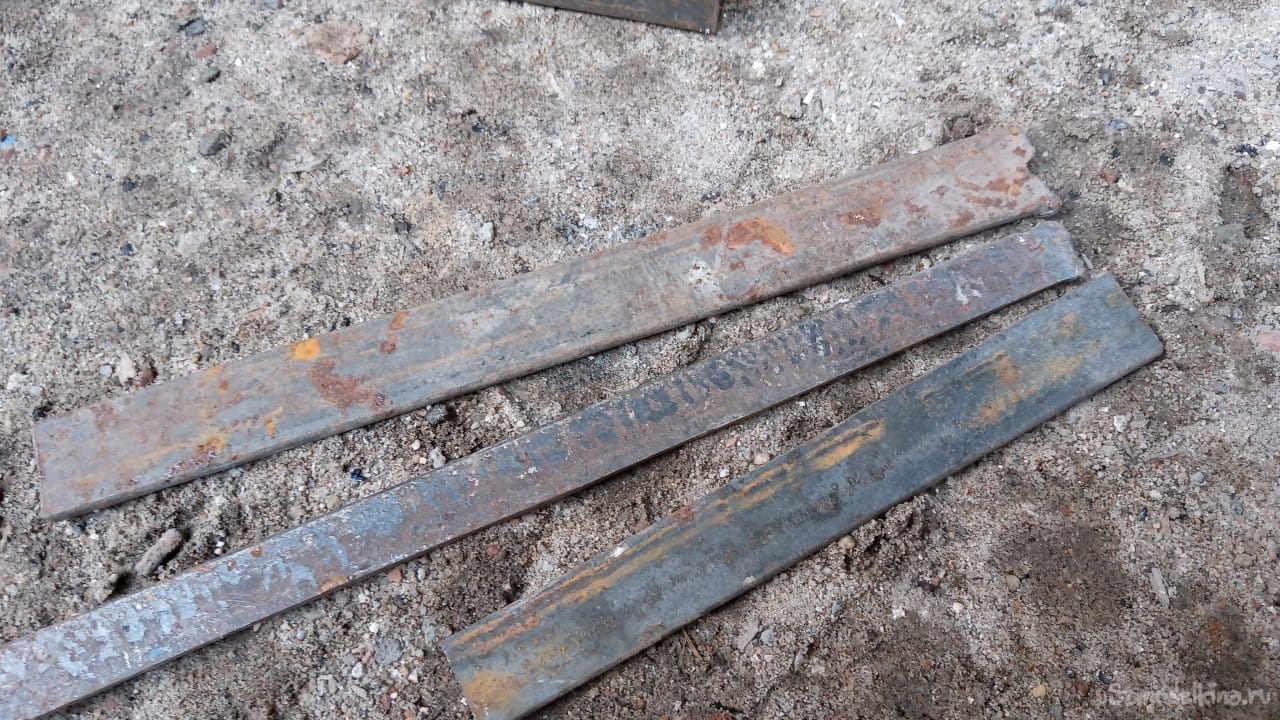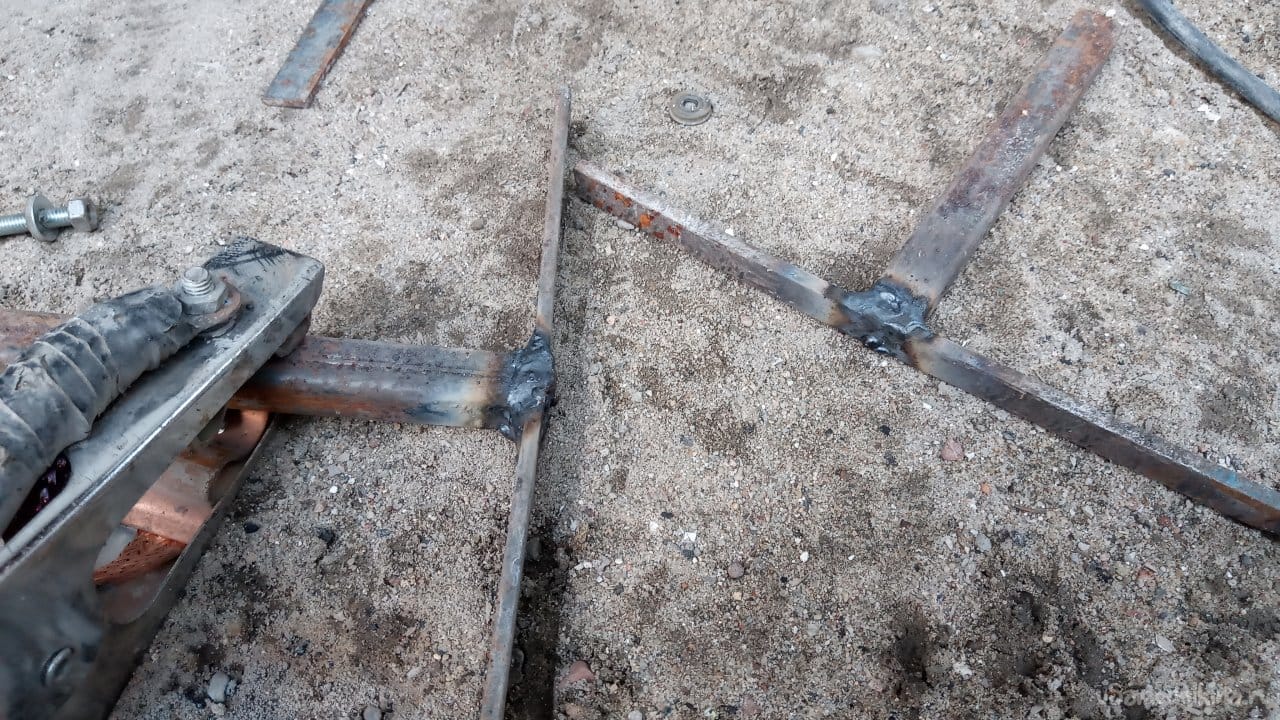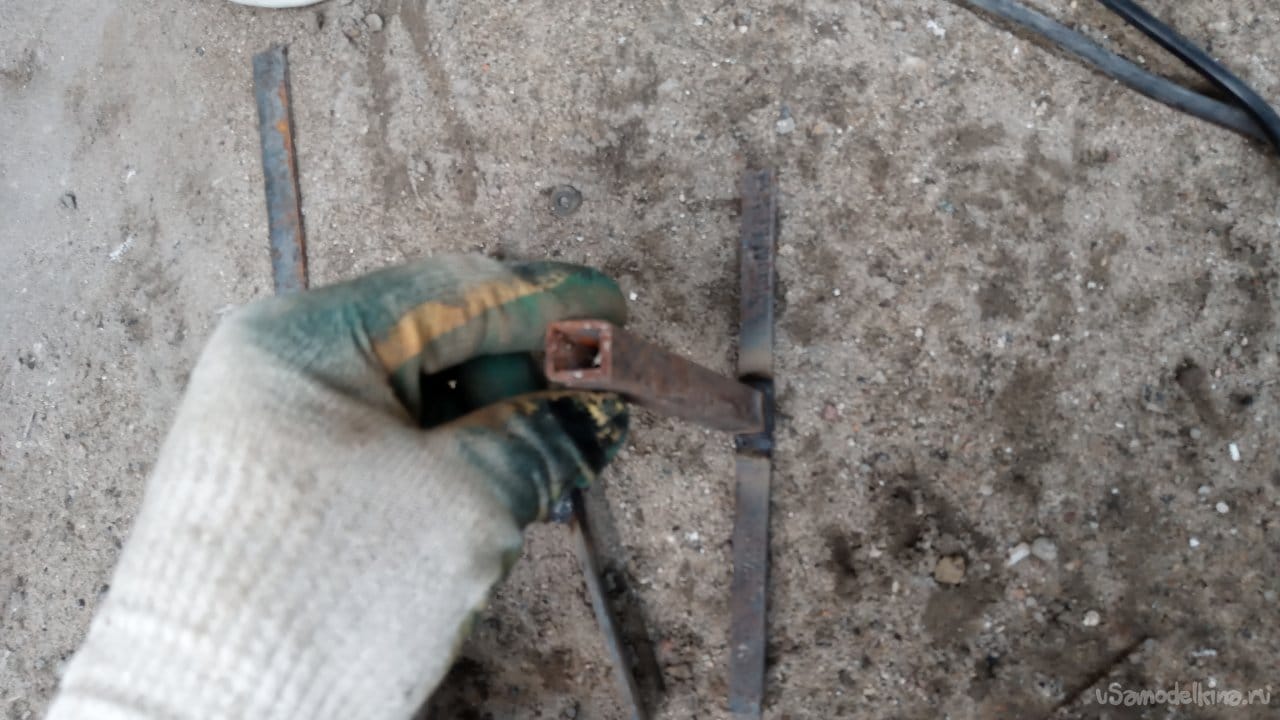 Cut off the excess, bent , cleaned out. I got two of these "forks":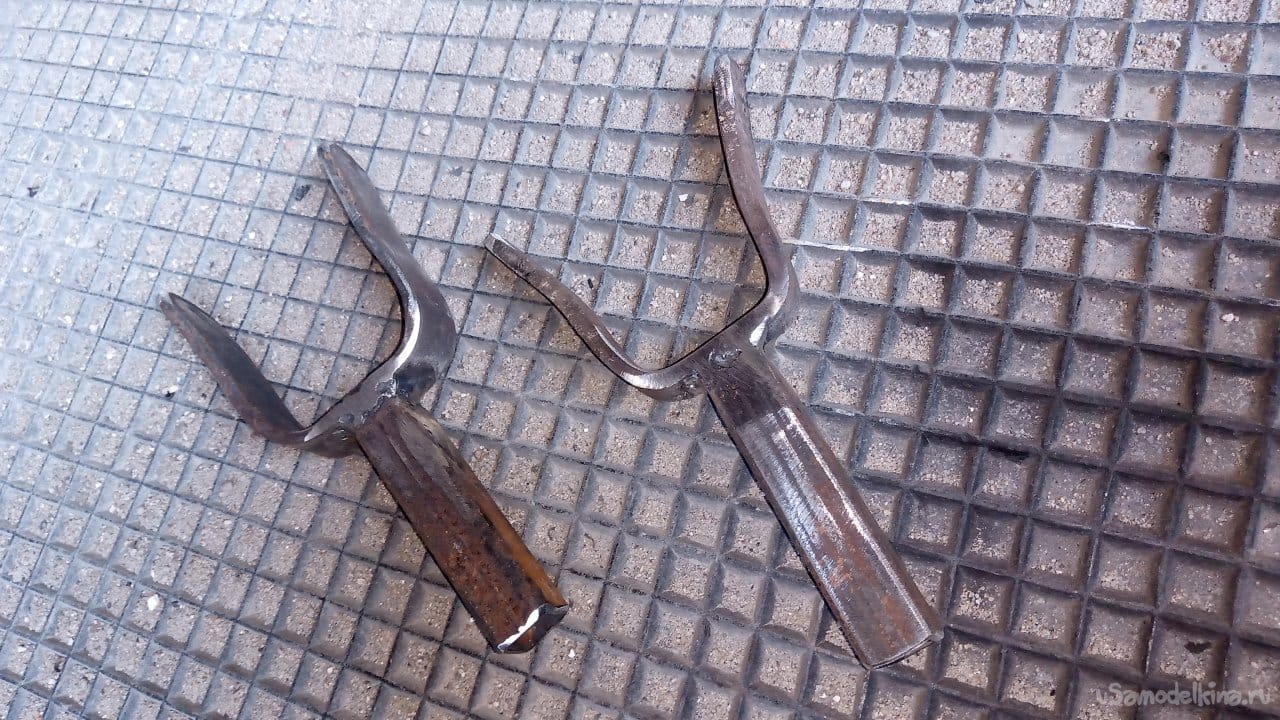 That's it. You can say it's done. Dismantled, cleaned, painted: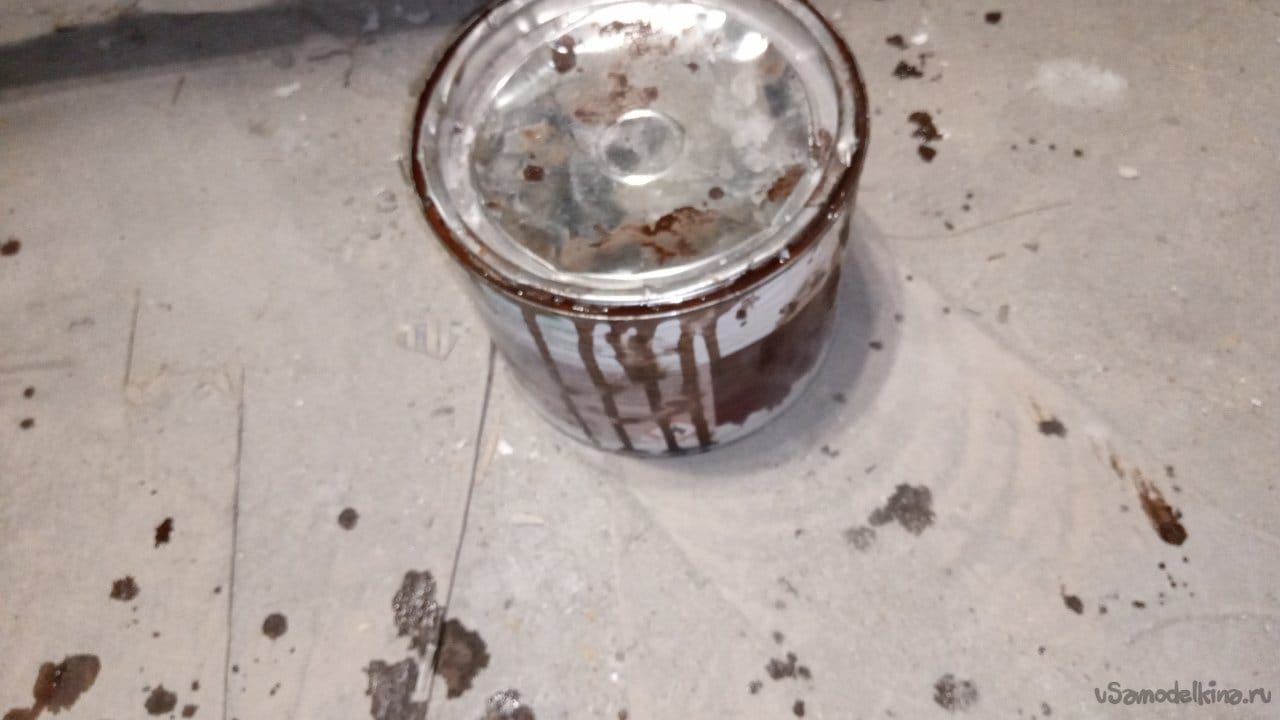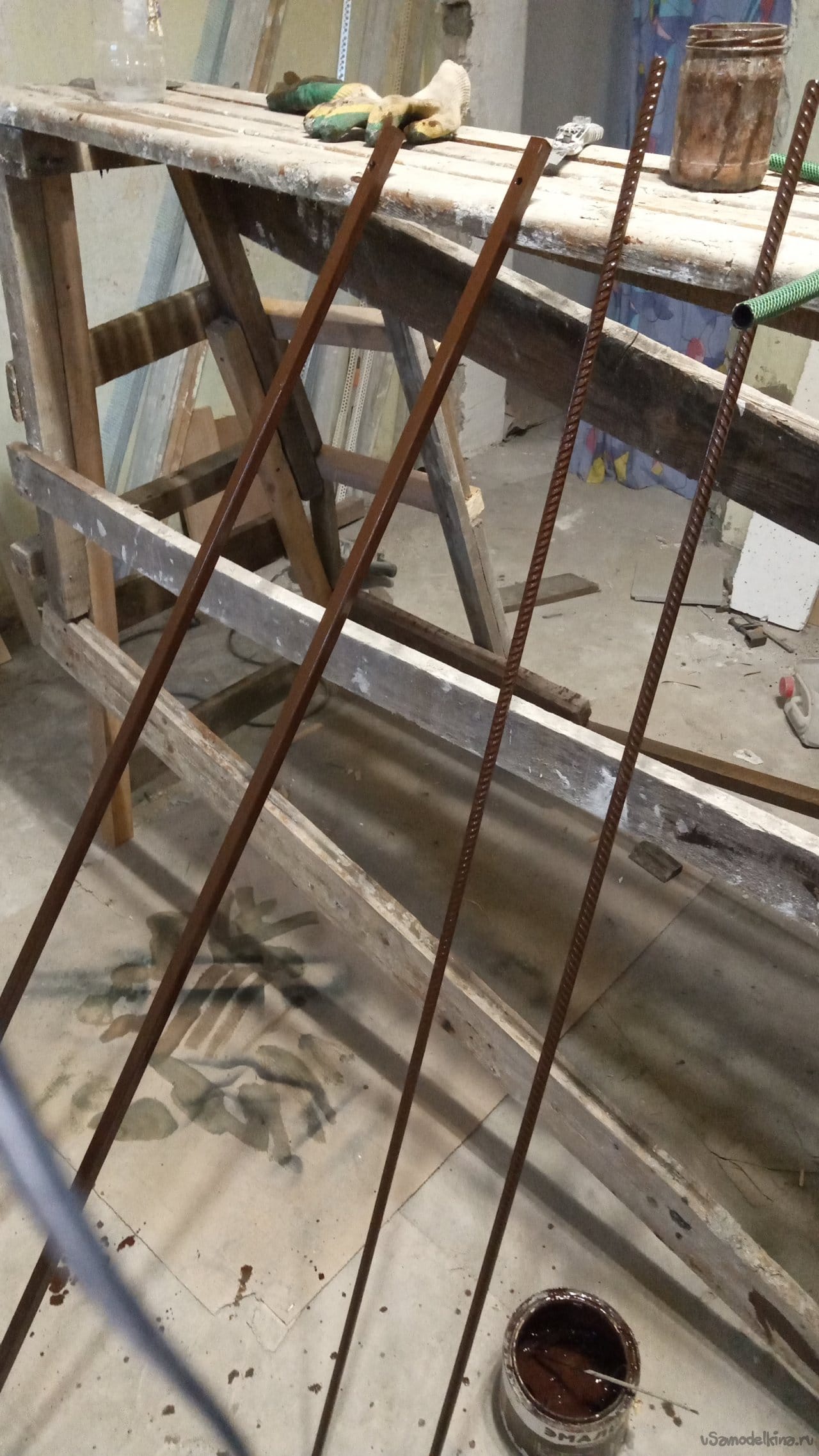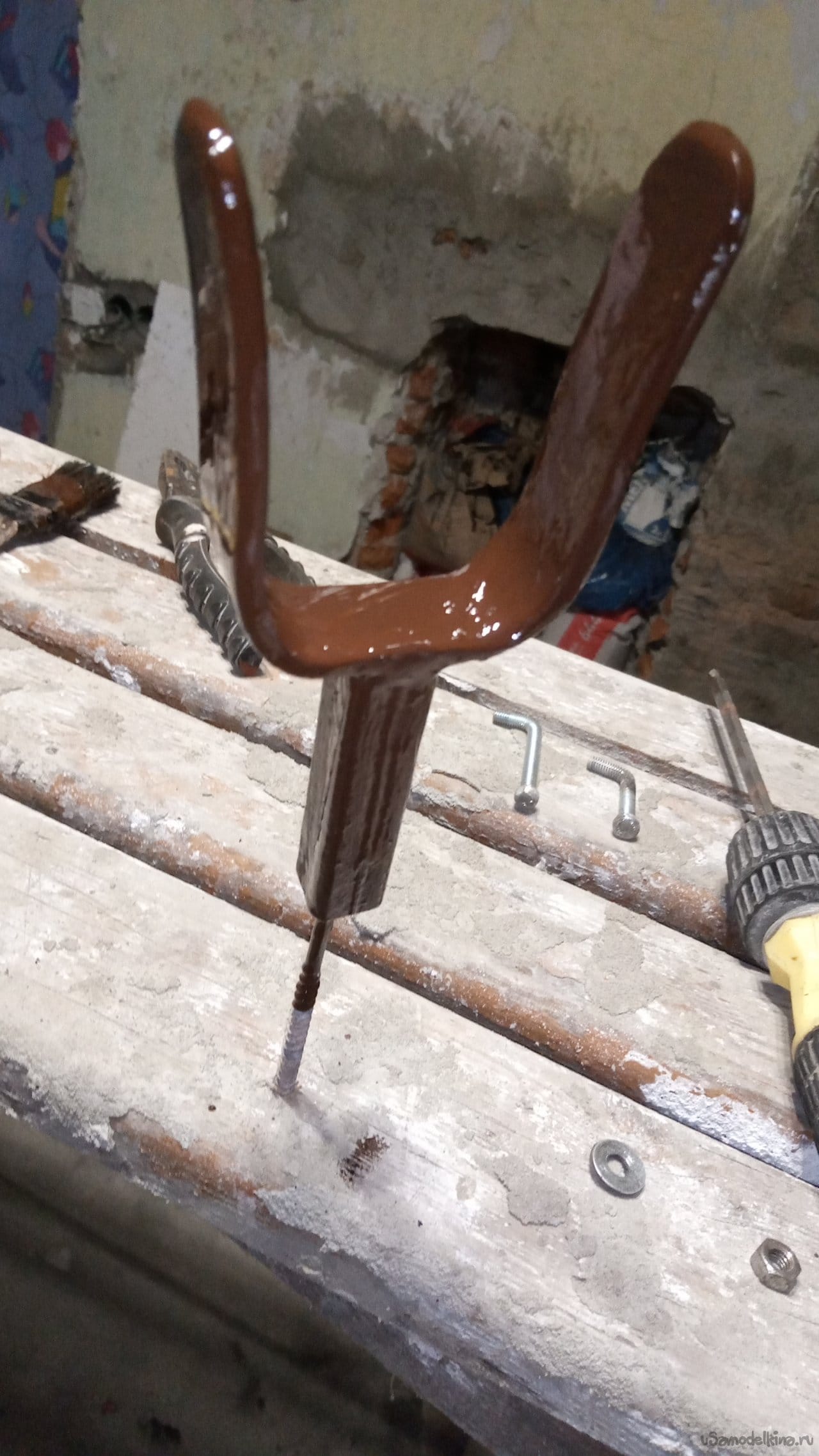 Still, there is at least something good in Covid-19 …. I painted in the room, but the "nuclear" smell of PF-115 enamel did not bother me at all! ))). I simply didn't hear him! Just as I did not hear the smell of the 646th solvent in which I washed the brush.))))) And usually, these smells do not give very pleasant sensations!))))
The next day, when the paint dried up, I started assembling …
But the design needs one more revision. I thought that it was necessary to somehow protect the tree branches in the place of contact with the metal fork.
I decided to make a shock-absorbing pad from a piece of garden watering hose: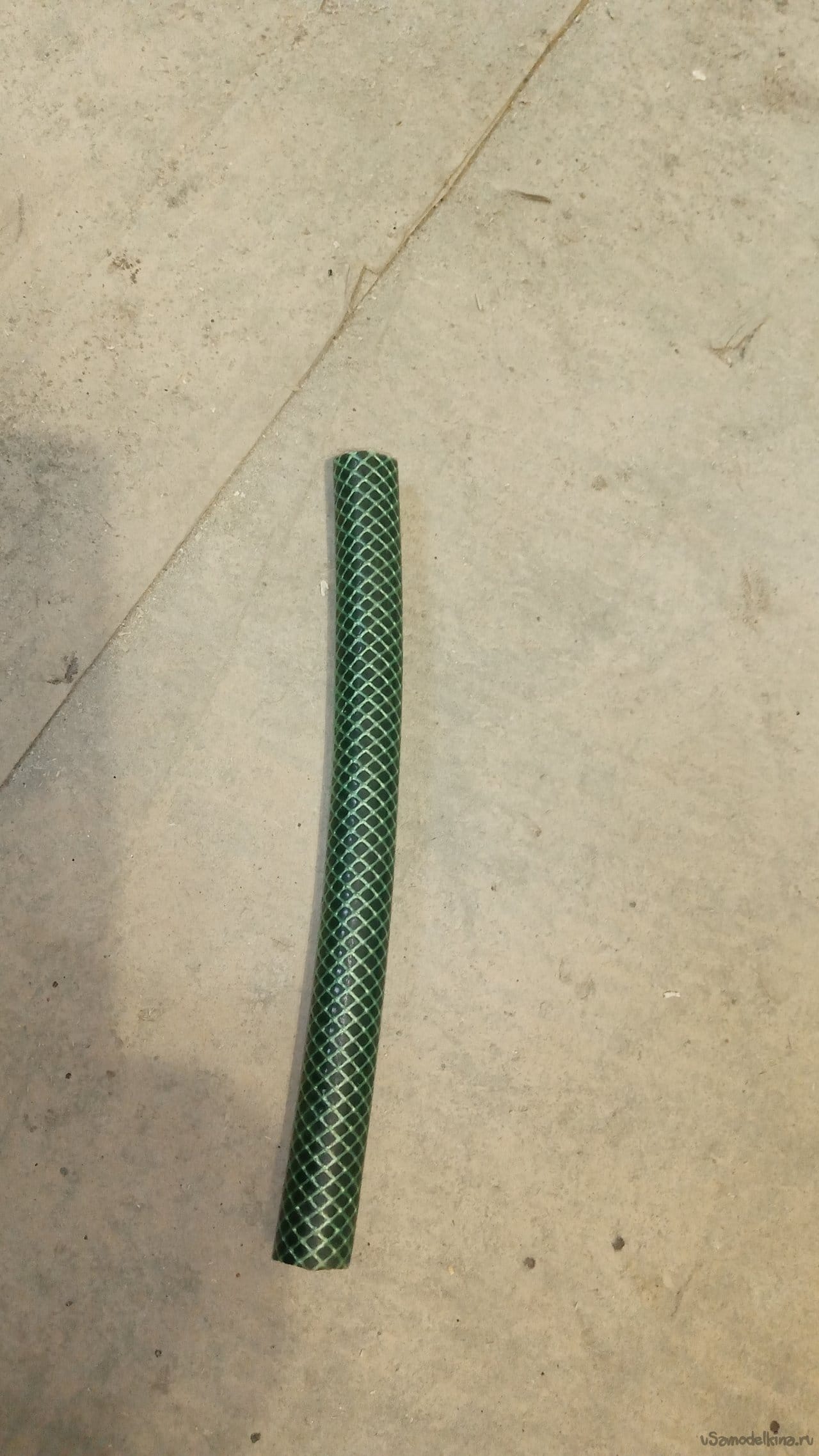 I cut it lengthwise, put it on a fork and attached it with electrical tape: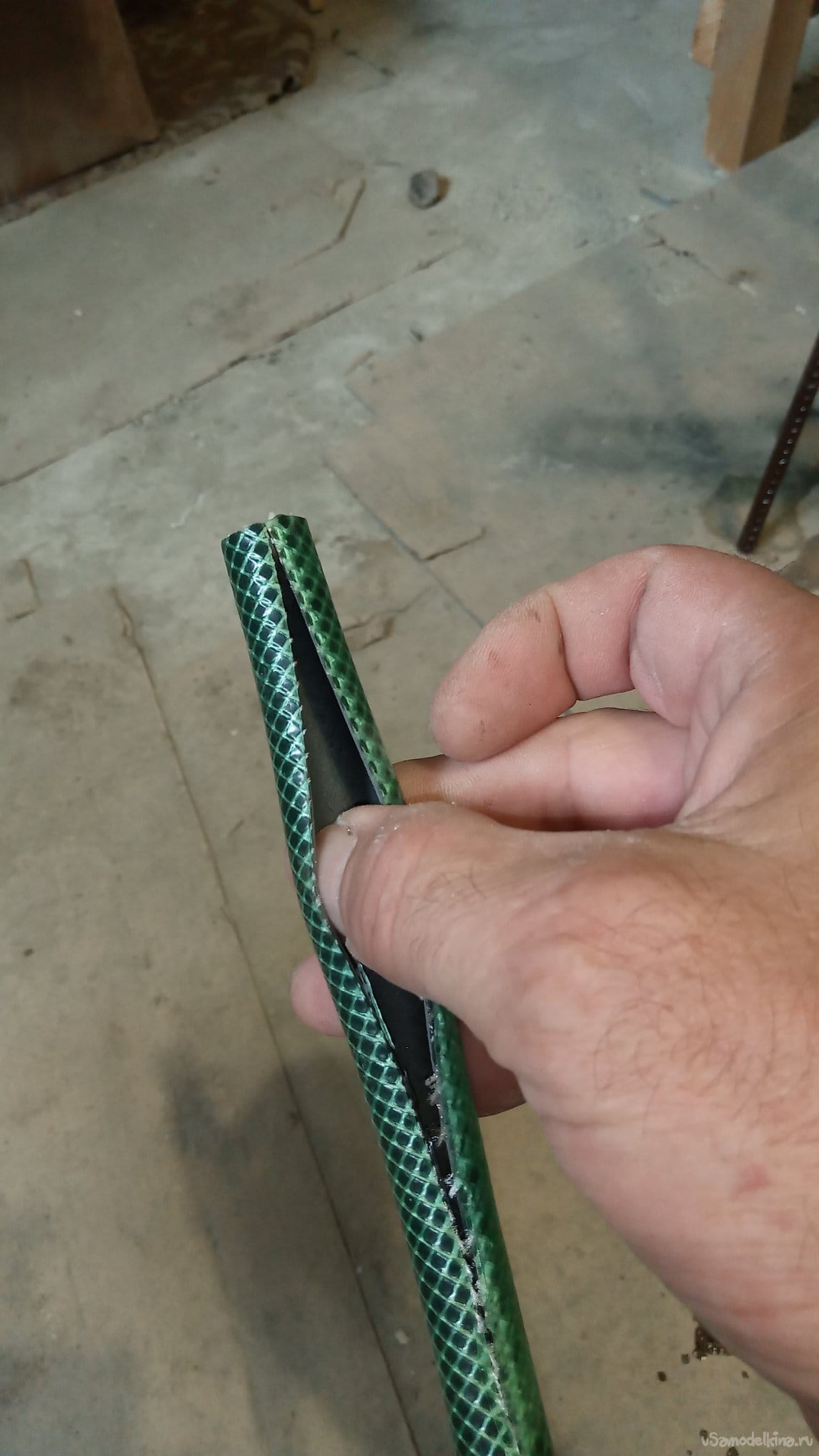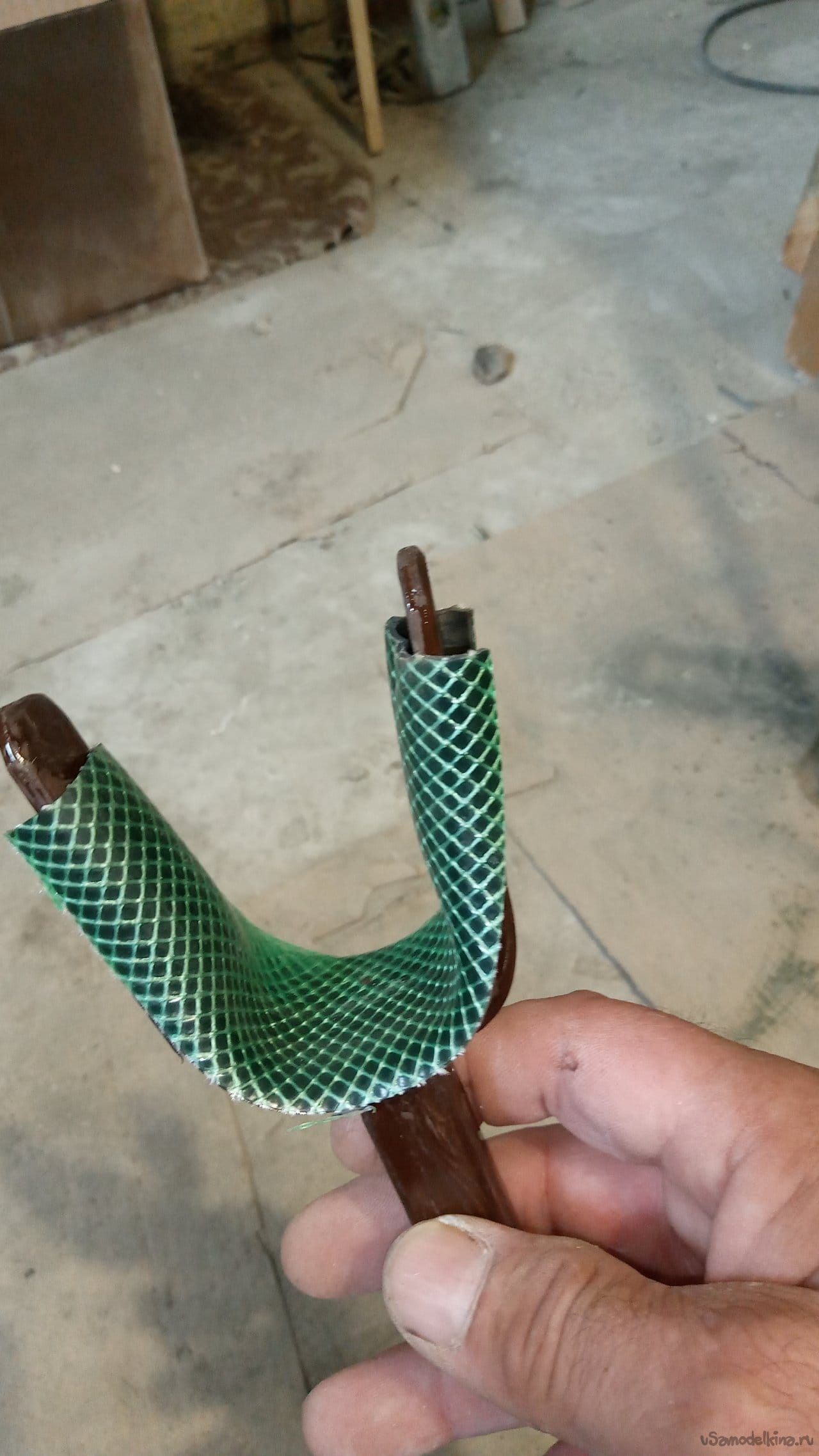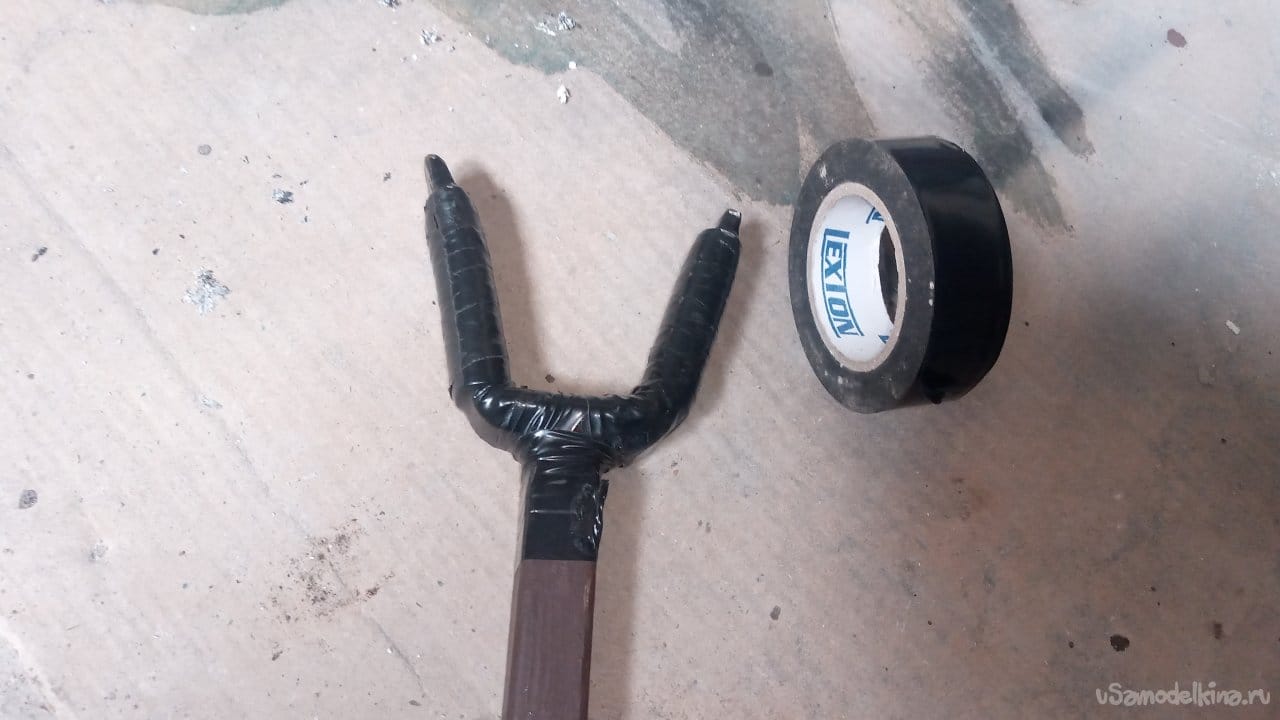 Now the bark of the branch is not will be so badly damaged when the branch sways under the gusts of wind.
Having collected one support, I went to the garden to try it: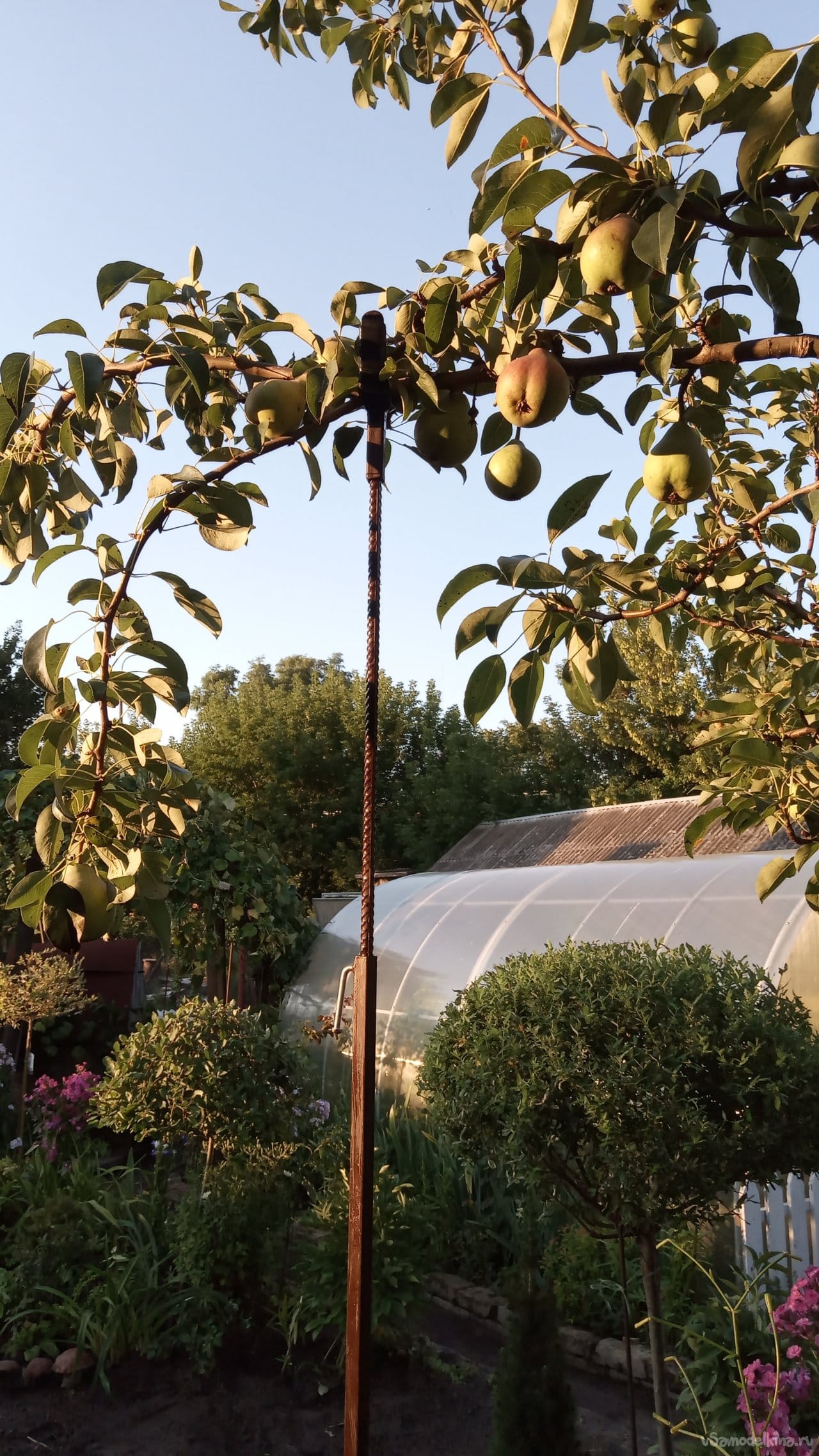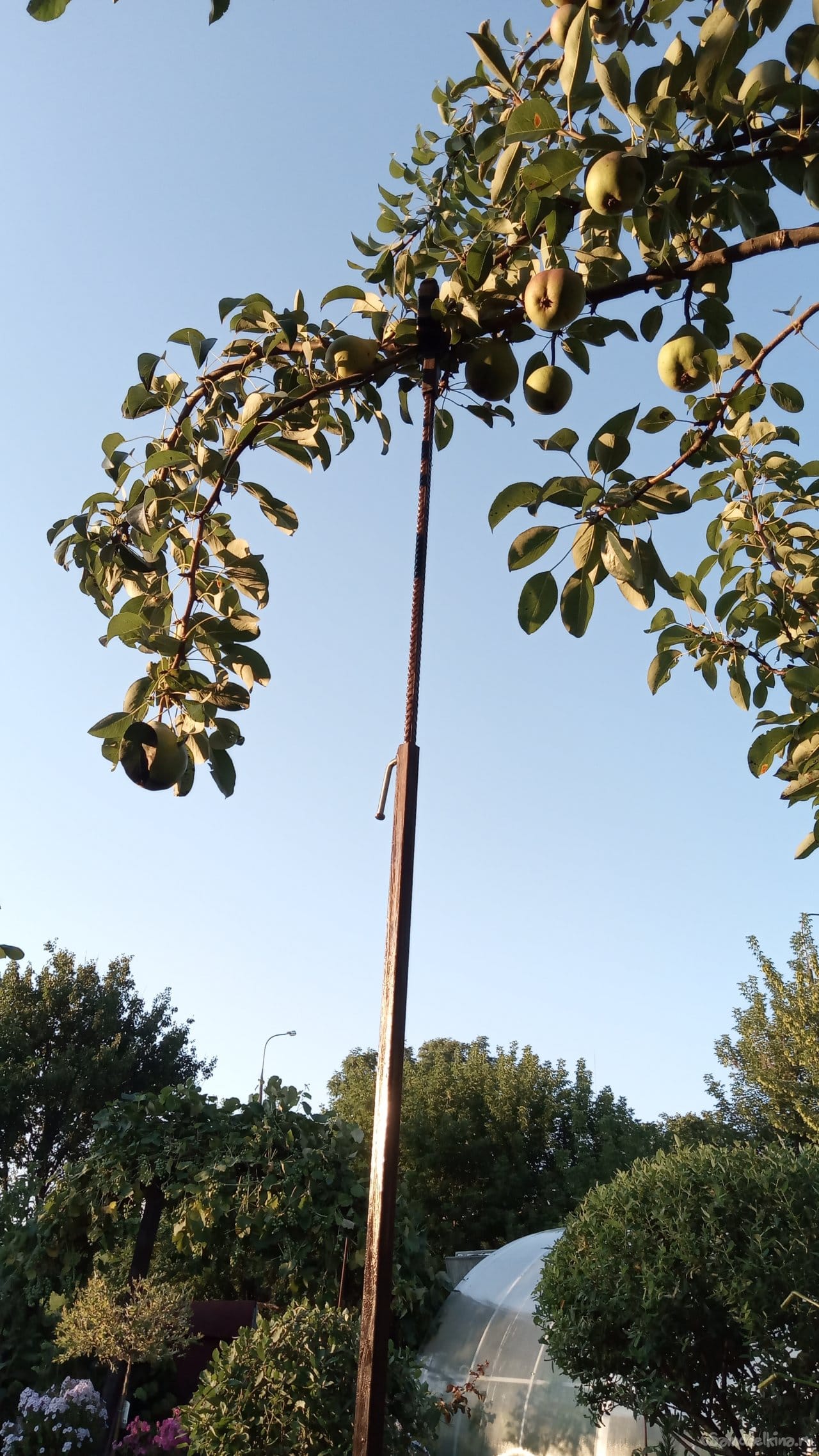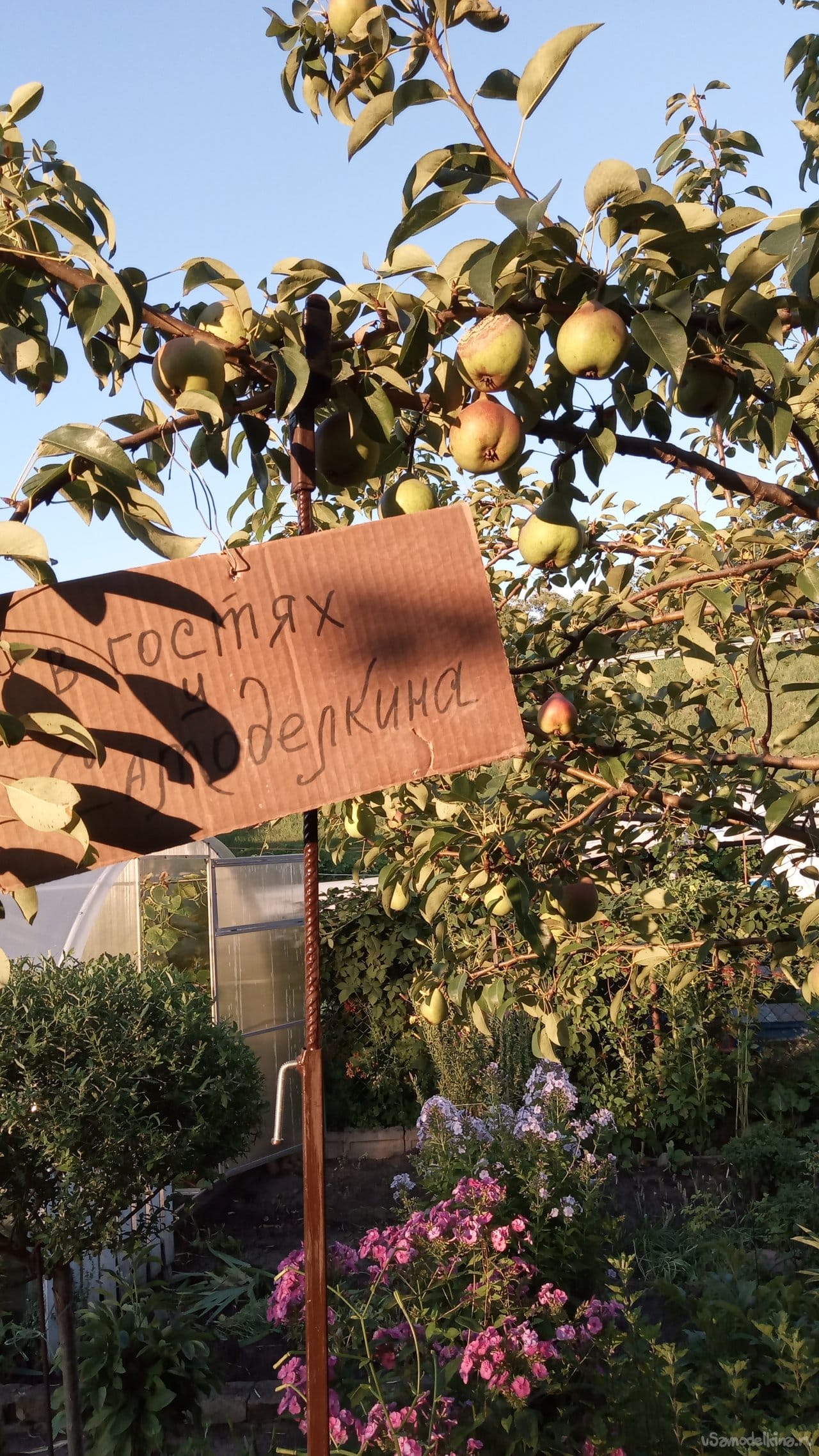 As expected, it is very easy to install. The lower crosspiece must be oriented across the branch. For greater stability (as it seemed to me, this would not hurt), I attached it to the ground with wire hooks. They always lie in a nook near the greenhouse, since they are usually used to fix spunbond, or film.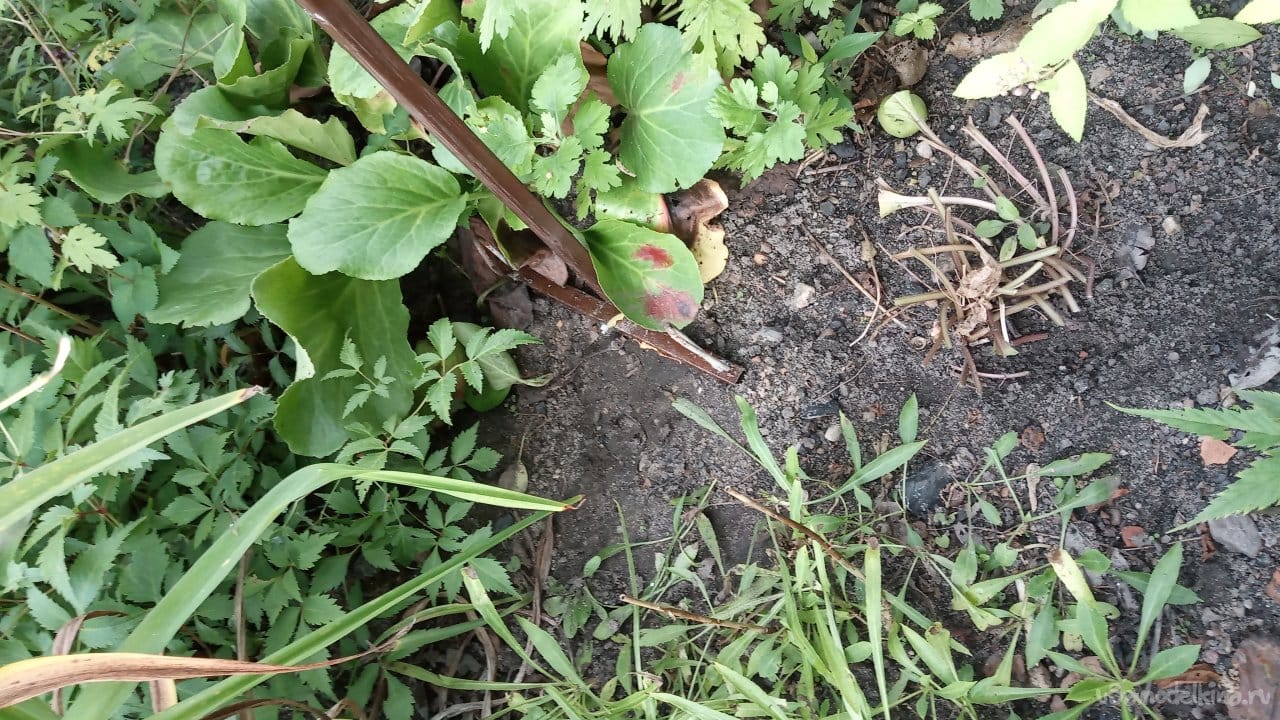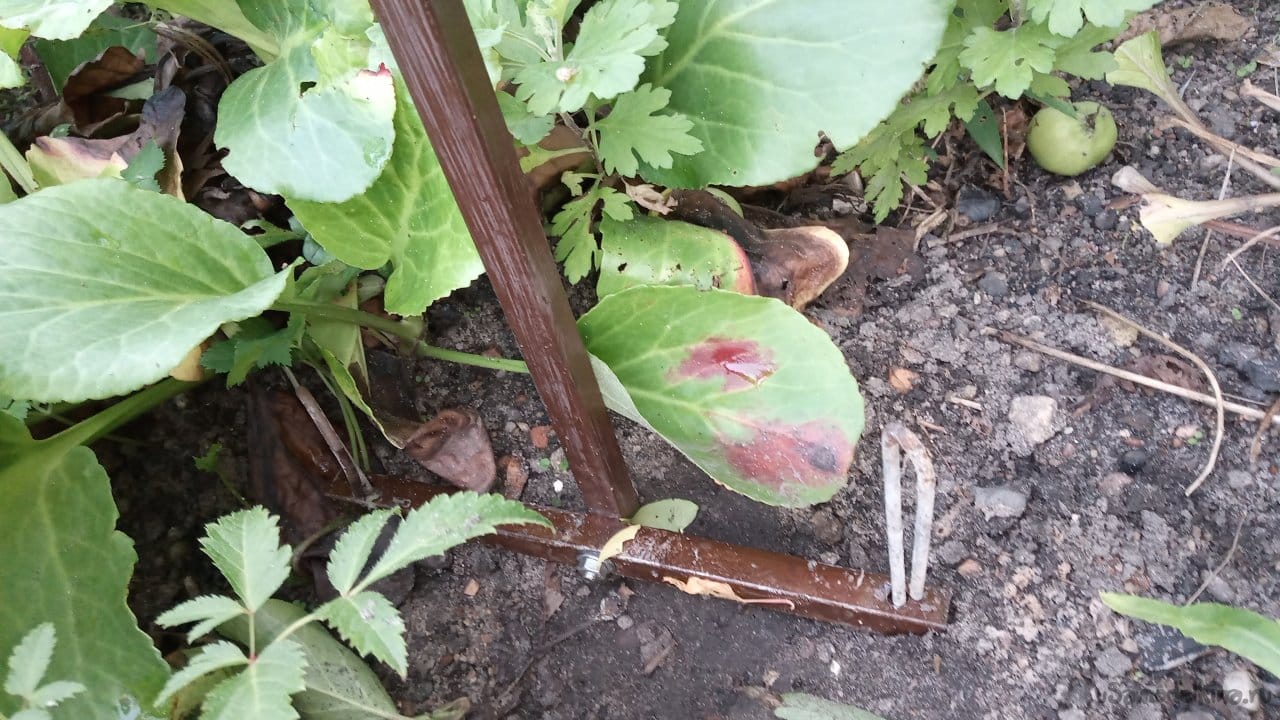 As a matter of fact, it turned out exactly what I wanted to do. It is installed very easily, does not take up much space during storage, the materials for manufacturing are not expensive and much time is not required for manufacturing … Later, if there are materials, in one evening I can finish the amount I need. After all, the work has already been "tested".