DIY
How to undo a plastic tie (cable tie) without cutting it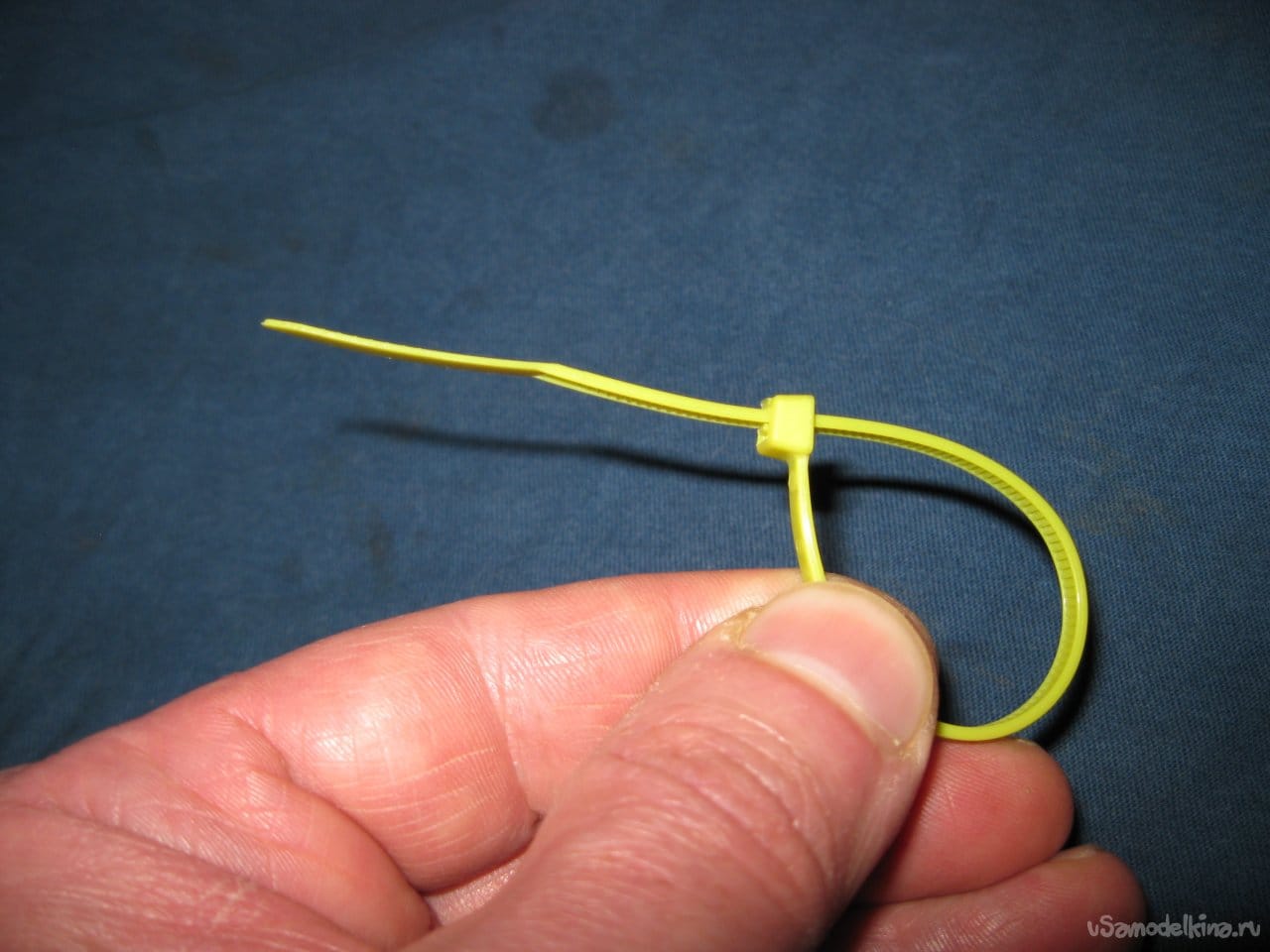 A very simple way to quickly open and remove the plastic clamp without cutting or snacking on it.
Greetings to all homemade colleagues, as well as everyone who is interested in homemade products and various interesting ideas!
As you know, in our time, plastic clamps, also called cable ties, are very widespread. Moreover, they have long been used not only for tightening and fixing cables and wires, but also in many other cases, including, often in completely unexpected areas. Suffice it to say that plastic clamps are widely used even in gardening, for example, for tying plants, connecting and fixing trellises, etc.
Moreover, on the Internet, on some sites, they even arrange competitions for who will come up with the most ways to use plastic clamps in everyday life and everyday life.
Therefore, today, I want to talk about how you can quickly and easily unfasten plastic clamp, while not breaking its integrity, that is, without biting or cutting it.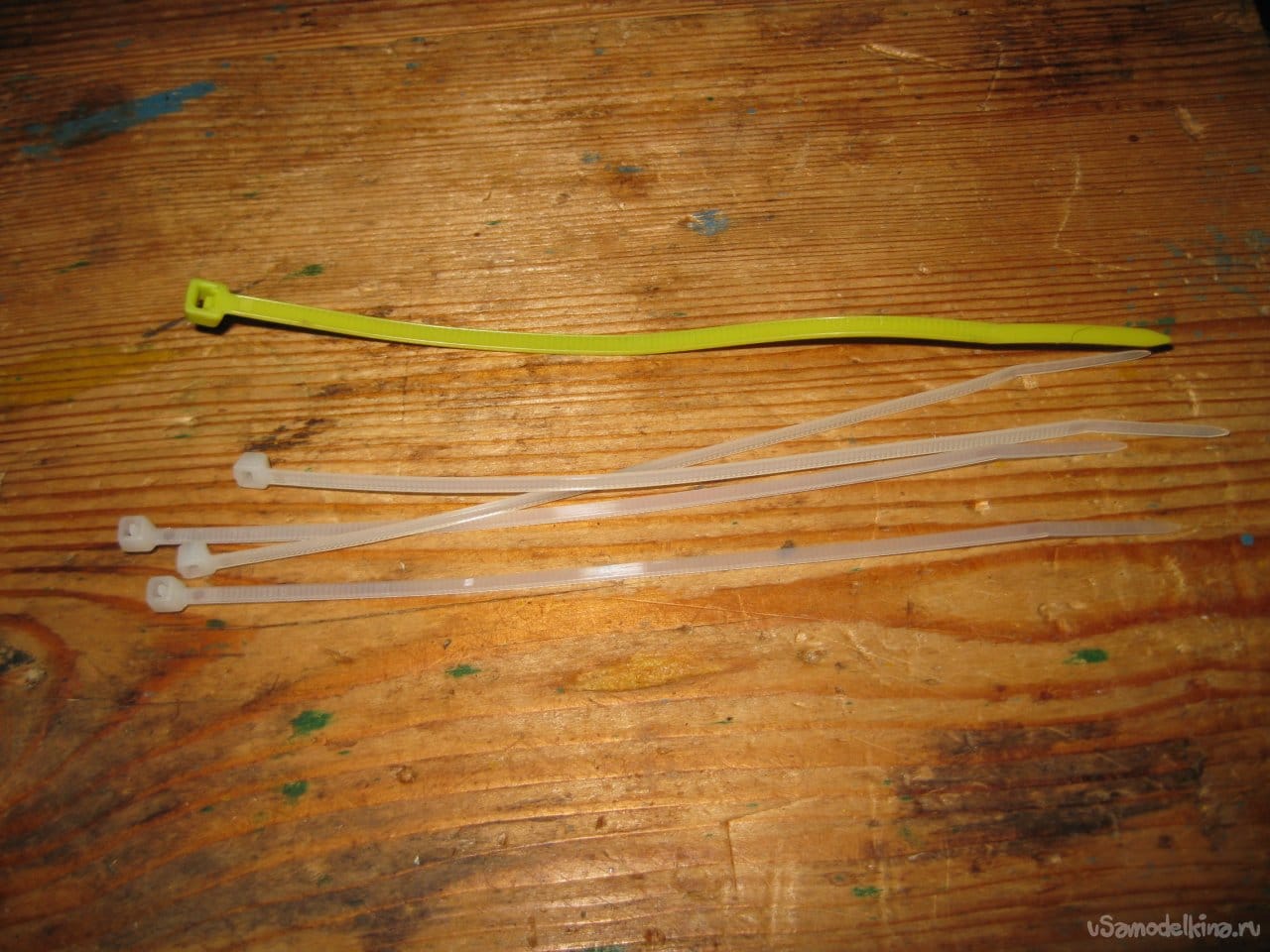 In general, it should be noted that this method is very simple, and the idea itself is quite obvious. Therefore, it is quite possible that many already know how to do this. Nevertheless, I often have to deal with the fact that many of my acquaintances do not know about this method. That is why, in fact, today I decided to remind about it.
True, you need to make a reservation that in ordinary everyday life, this method has to be used not so often. And this is understandable, because plastic clamps are nowadays sold everywhere, and they are inexpensive. Thus, if the clamp needs to be removed, then there is no particular need to fiddle and unbutton it, since it is much faster to just take and cut it with a knife or eat it with nippers.
However, there are times when this skill can come in handy. This, for example, may be necessary if you need to remove a plastic clamp, but there is nothing to cut or eat. However, anything thin and pointed, such as a hairpin, a needle, a piece of thin wire, or a nail, can almost always be found.
You may also need this method in the event that you literally desperately need a plastic clamp or even several clamps, but at hand, at the moment they are not there and it is not possible to get it. In such a situation, it is quite possible to unfasten and remove from somewhere the tightened clamps already used at the moment. Of course, this will work if the tightened clamps have sufficiently long ends, since they are often (but not always) bite off after tightening the clamps themselves.
Over the past years, I have had several such cases when not at hand there were clamps, and I got out of the situation simply by unfastening several already used, tightened clamps. By the way, if you unfasten the clamp carefully without damaging it, then it can be perfectly reused and not even once, but several times.
Well, now, in fact, I will show you how to do it.
To unfasten the clamps, I will use the following items:
• Awl.
• Large nail, diameter 3, 5 mm, and 80-100 mm long.
• A small nail, 2 mm in diameter, and 40 mm long.
• Construction knife.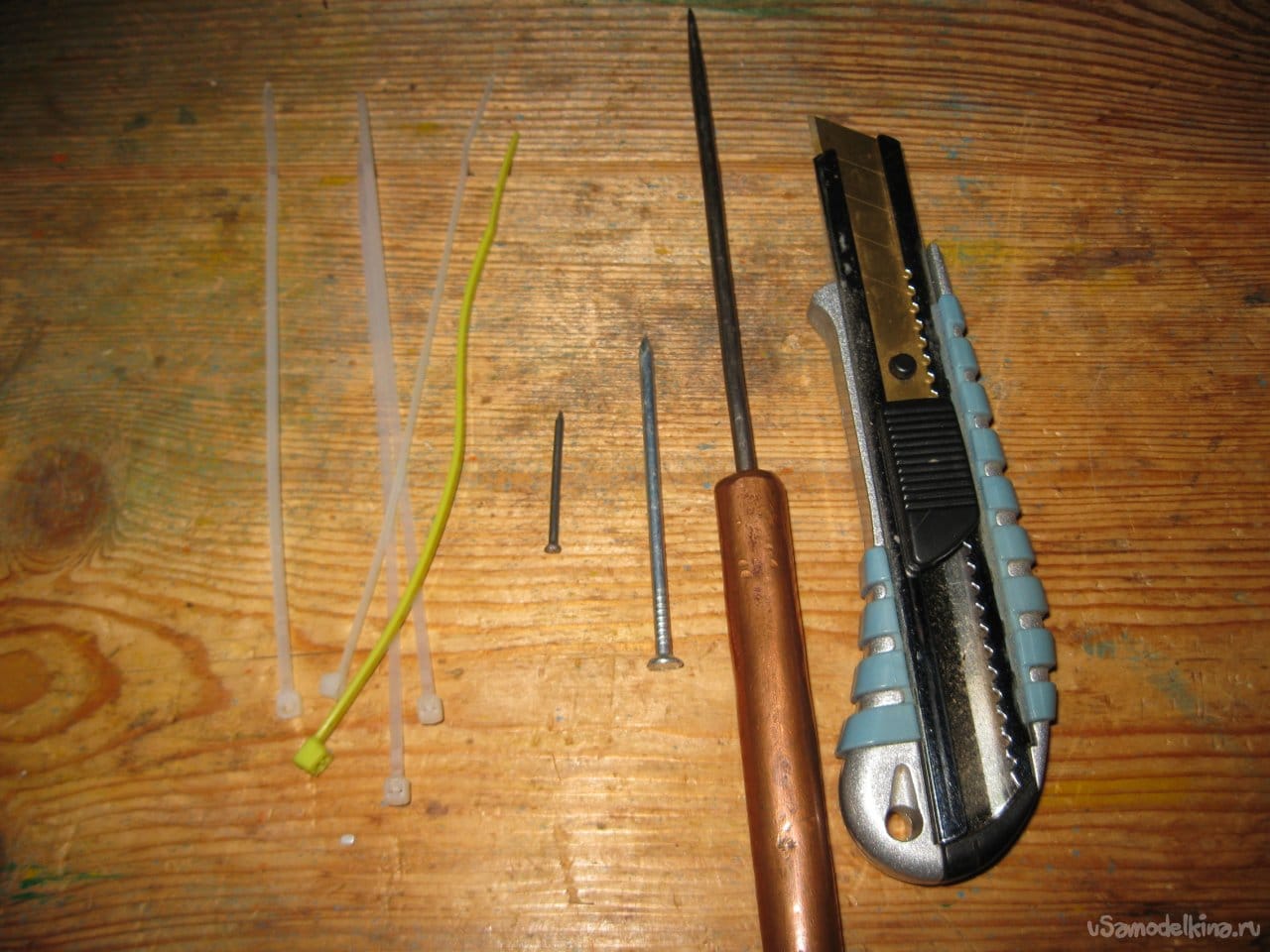 Examples and procedure for unfastening clamps.
So, first you need to say that you can unfasten the clamp with any thin pointed object. It can be a small (for example, watch) screwdriver, awl, needle, knife with a thin and narrow tip, nail, thin wire, etc. True, practice has shown that, perhaps, the most convenient and versatile tool is a sharp awl. Moreover, it is convenient to unfasten clamps of different sizes with an awl, both large and small.
In my examples, I will use an awl, as well as some other (above) items that are right at hand and that do not need to be specifically looked for. But first, let's take a look at how a plastic clamp works.
An ordinary plastic clamp or cable tie consists, in fact, of two parts:
From such a head.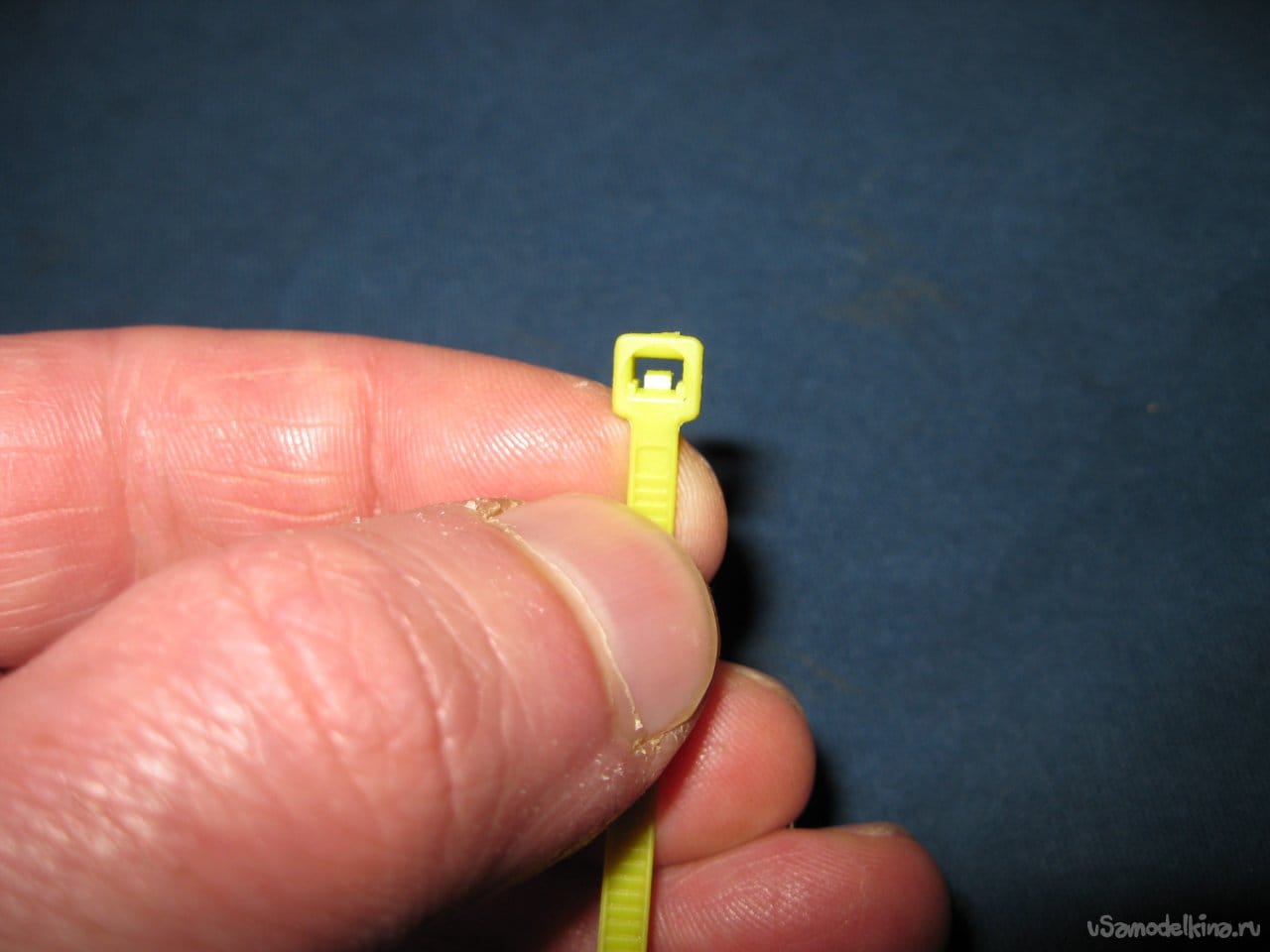 And also from a strip, which has small teeth, that is, in fact, is a flexible toothed rack.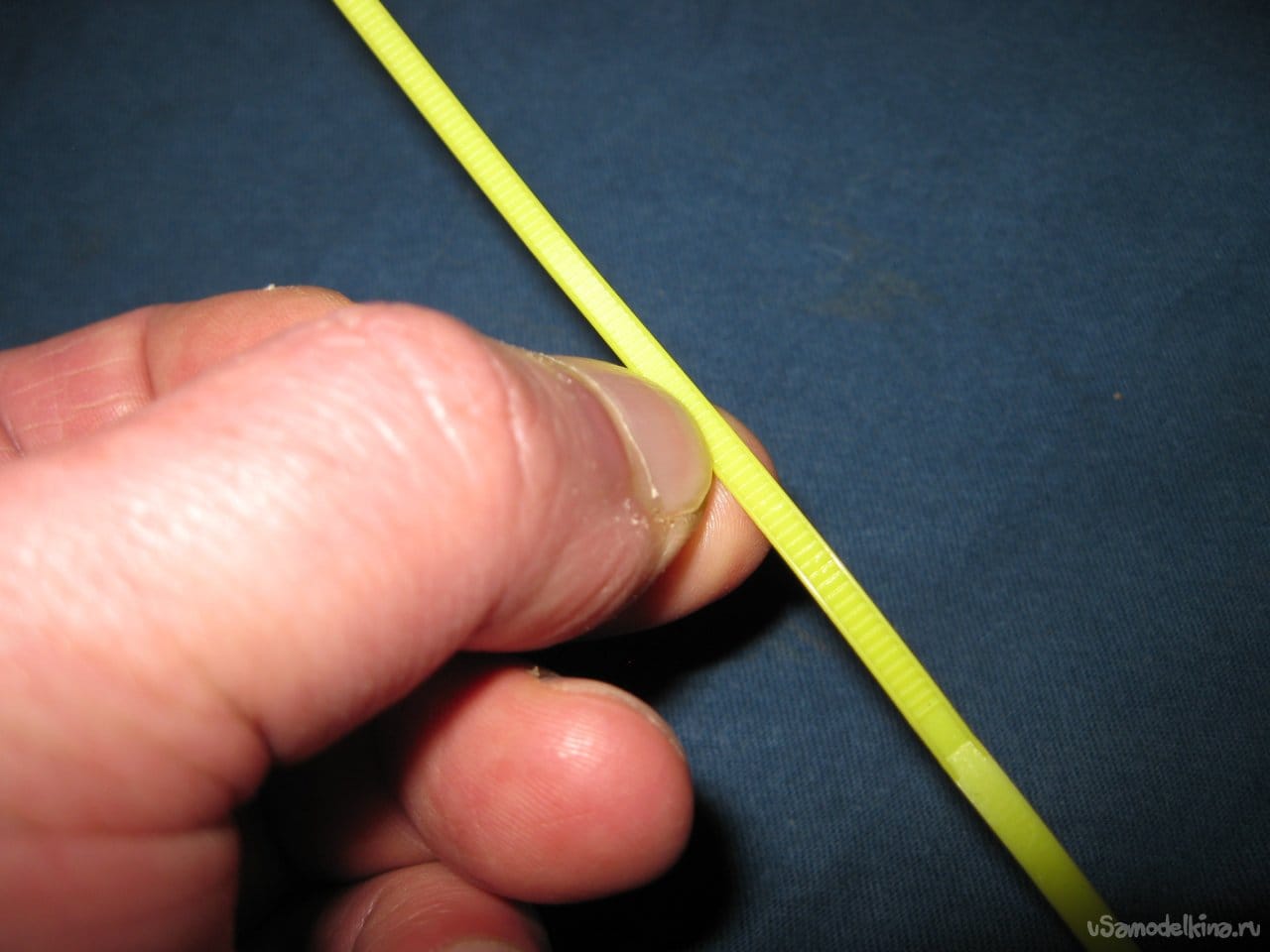 Inside the head itself, there is a special tongue made in the form of a tooth of a special shape.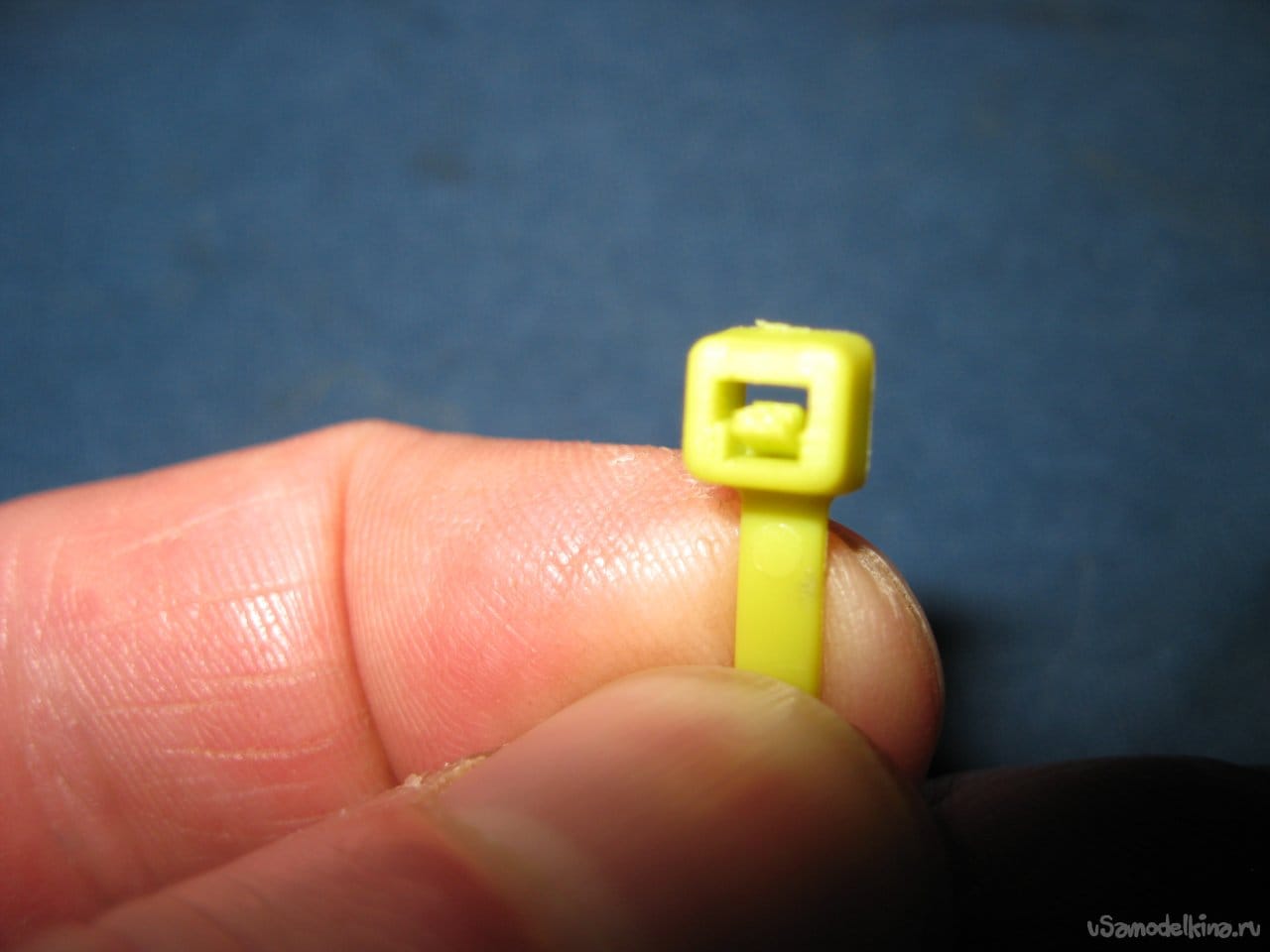 Due to the design features of this tongue, it easily passes the toothed strip in one direction (when tightening the clamp), but immediately stops when you try to pull it in the other direction in order to unfasten the clamp.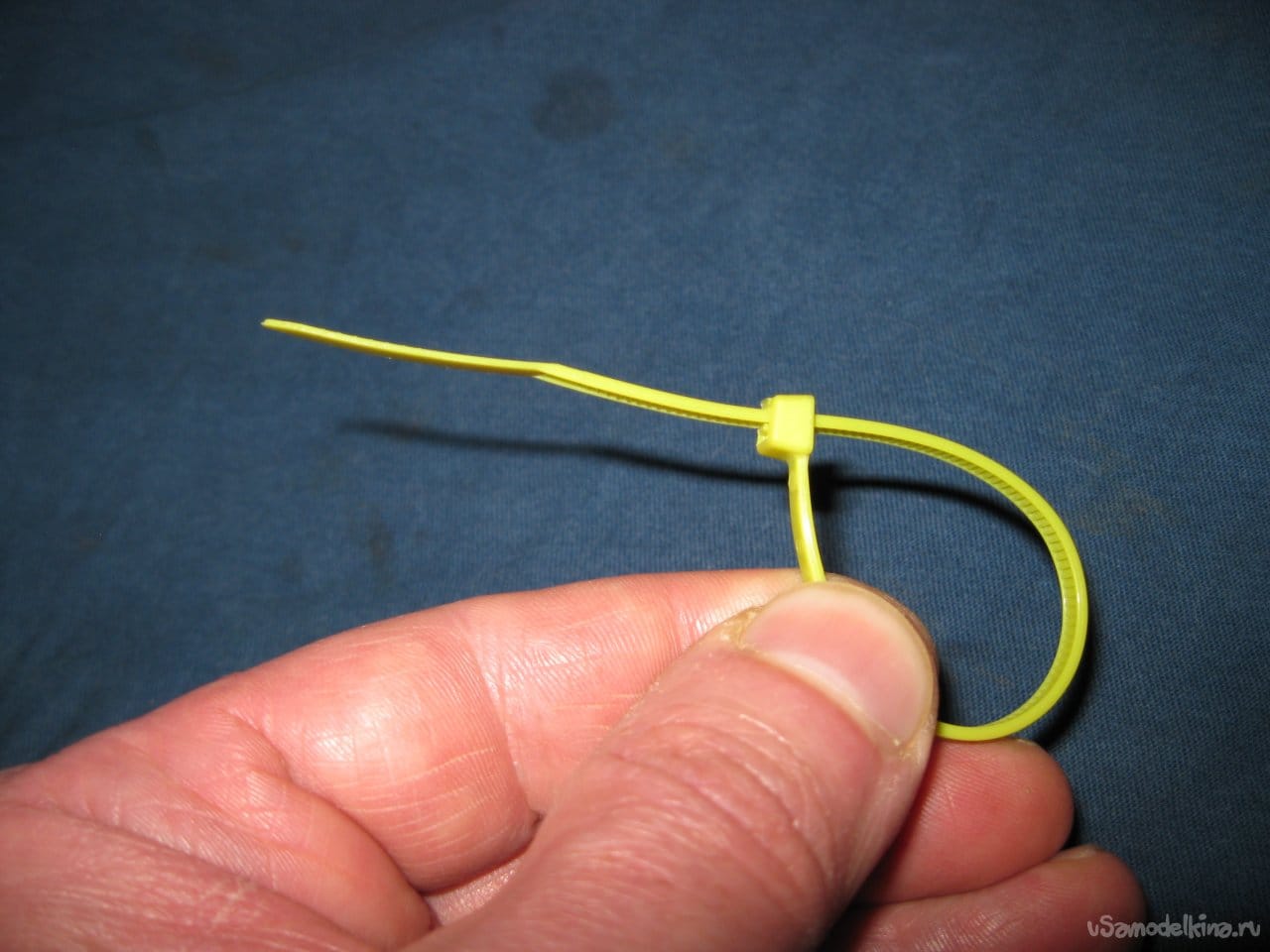 That is, according to the principle of operation, the clamp is somewhat reminiscent of a ratchet mechanism.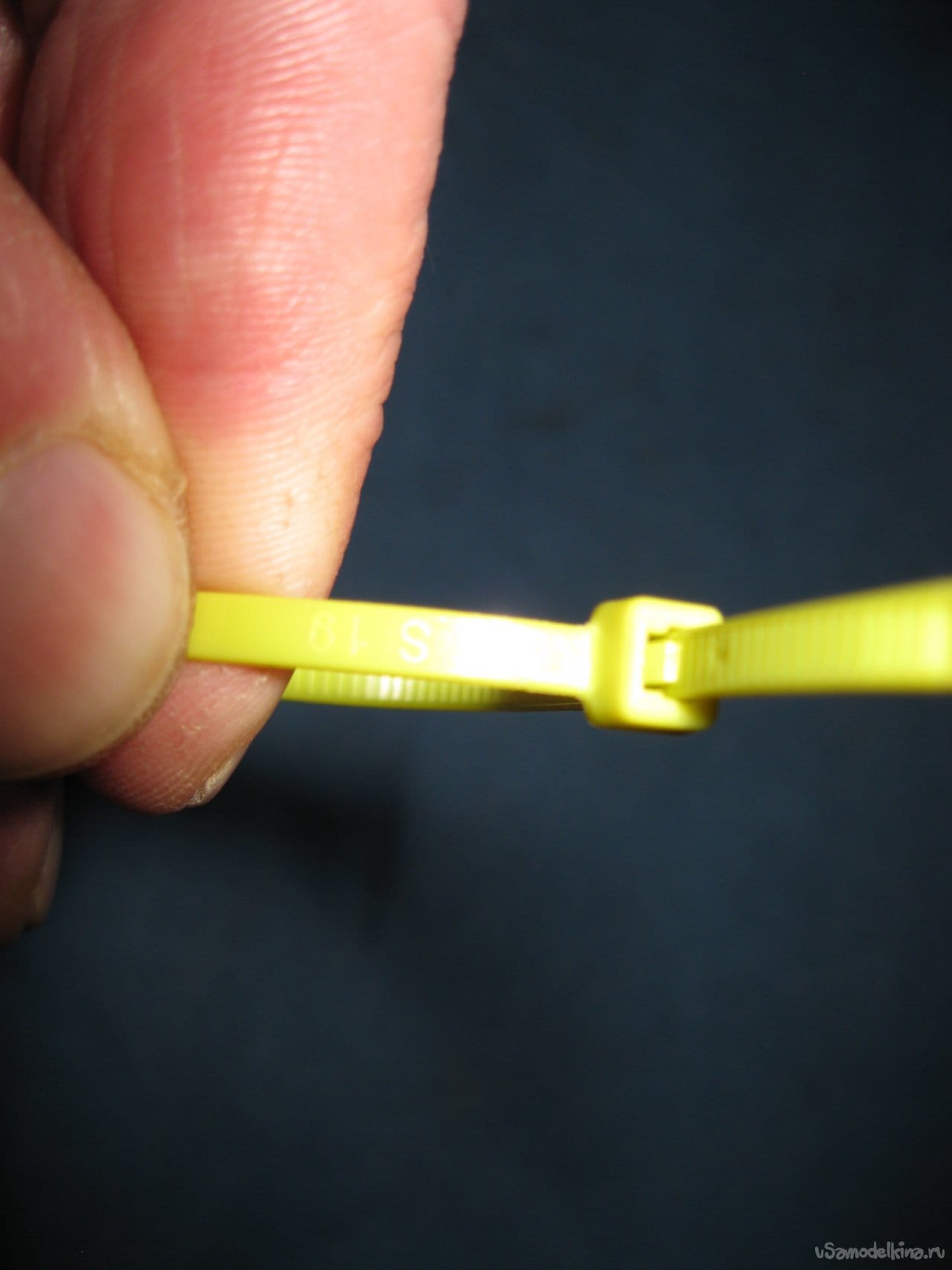 However, if at a tightened clamp, you try to slightly bend the tongue with something sharp, then the clamp can be completely unfastened.
First, I will show you how you can unfasten the clamp with an awl.
This can be done in four step.
Step 1. We take the fastened collar and bend the tip of it so that it does not interfere with us and at the same time the tongue inside the head is clearly visible.

Step 2. Between the tongue and the toothed strip, carefully insert the sharp tip of the awl.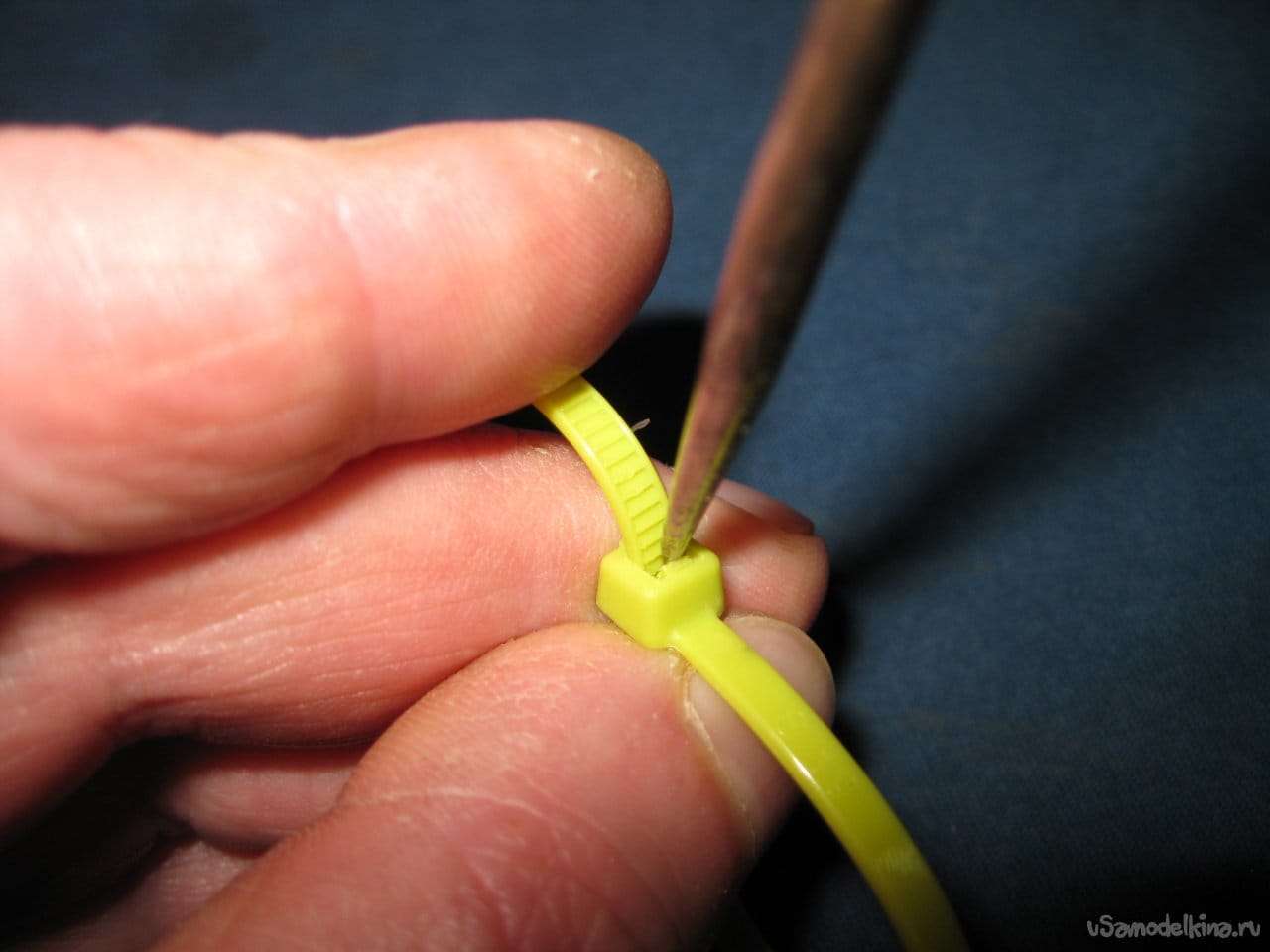 Step 3. Slightly shaking the awl , we insert its tip deeper, so as to slightly bend the tongue.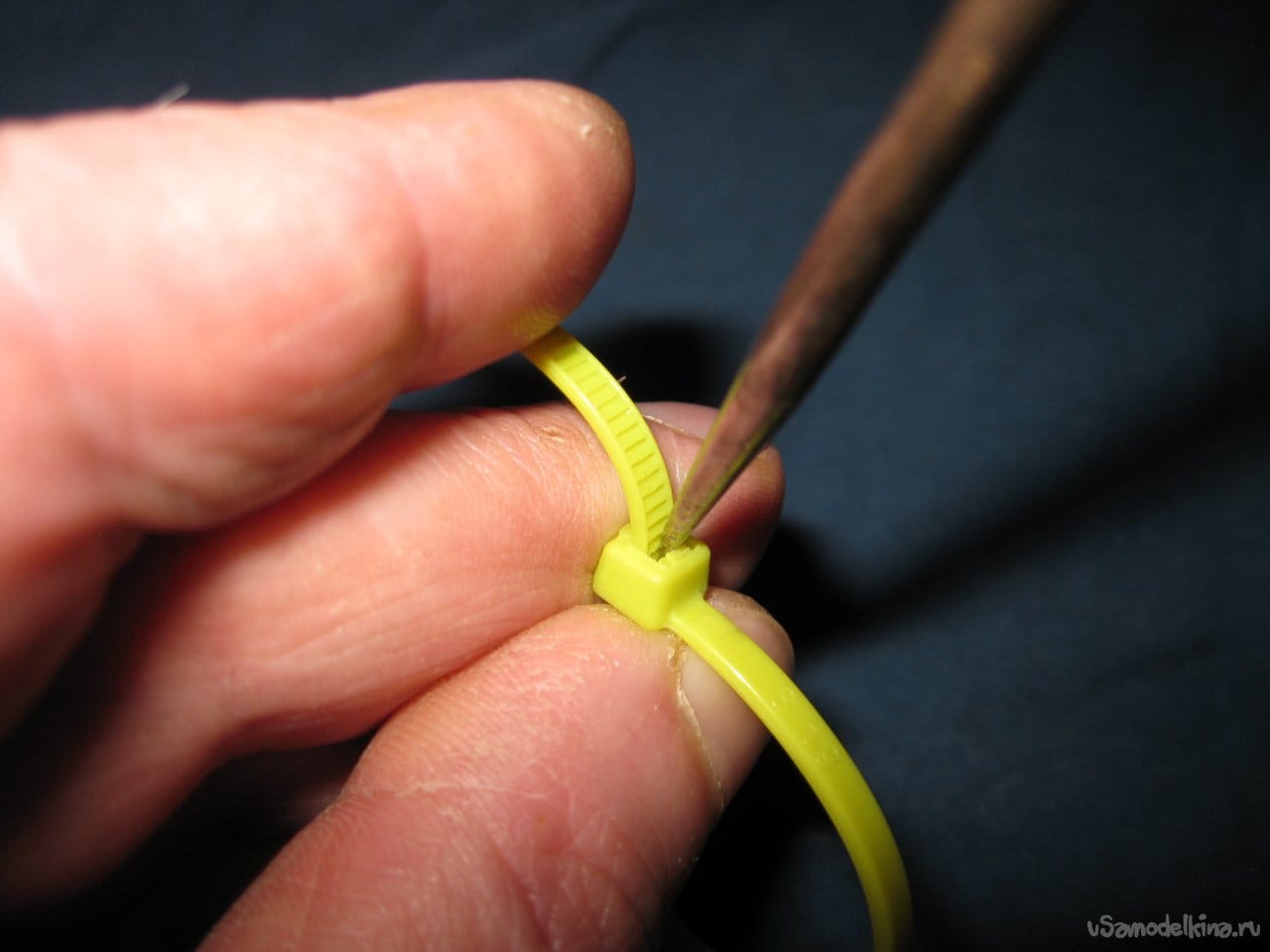 Step 4. Holding the awl in this position with one hand, at the same time with the fingers of the other hand, pull out the plastic strip of the clamp, thus unbuttoning it.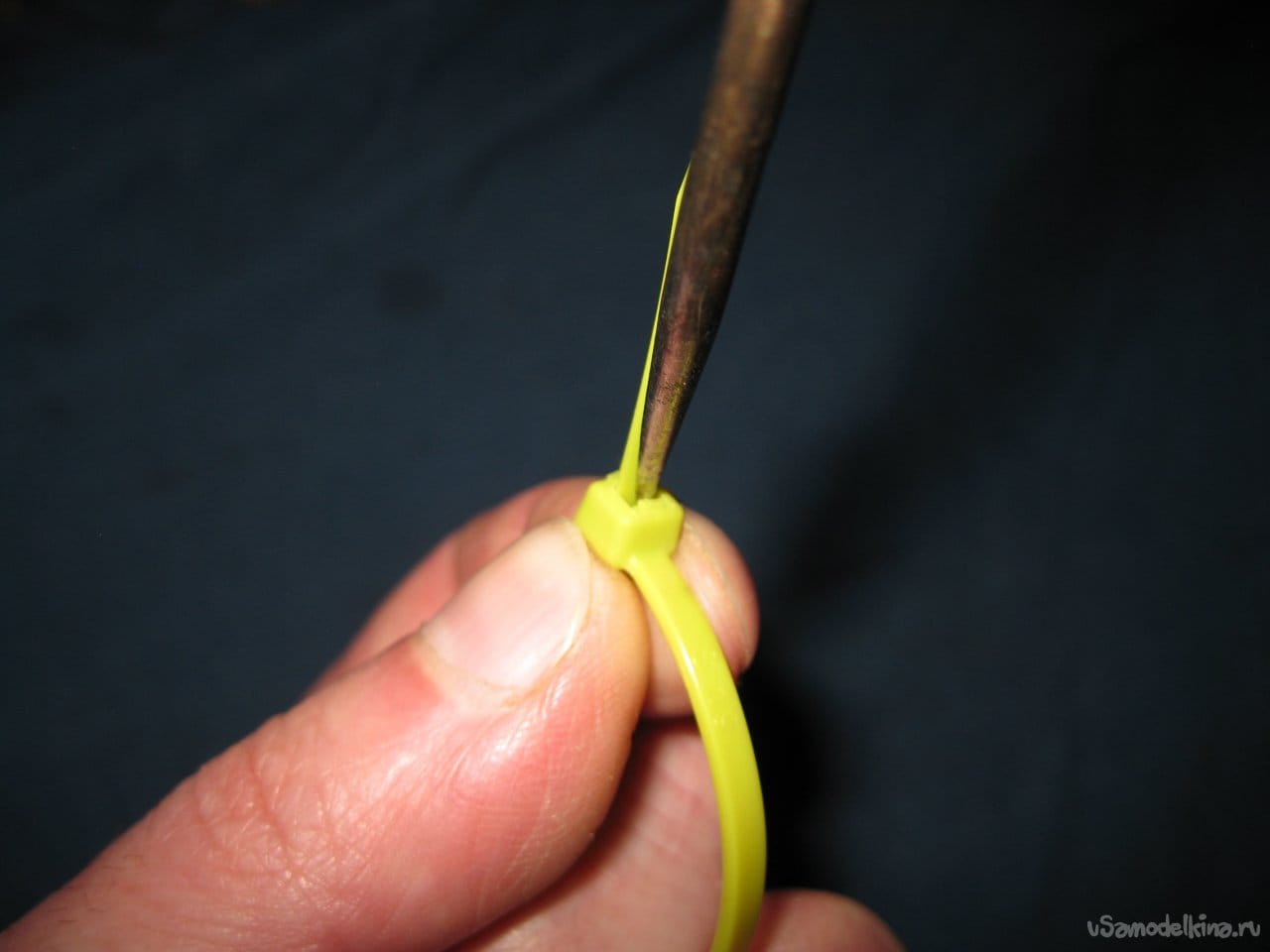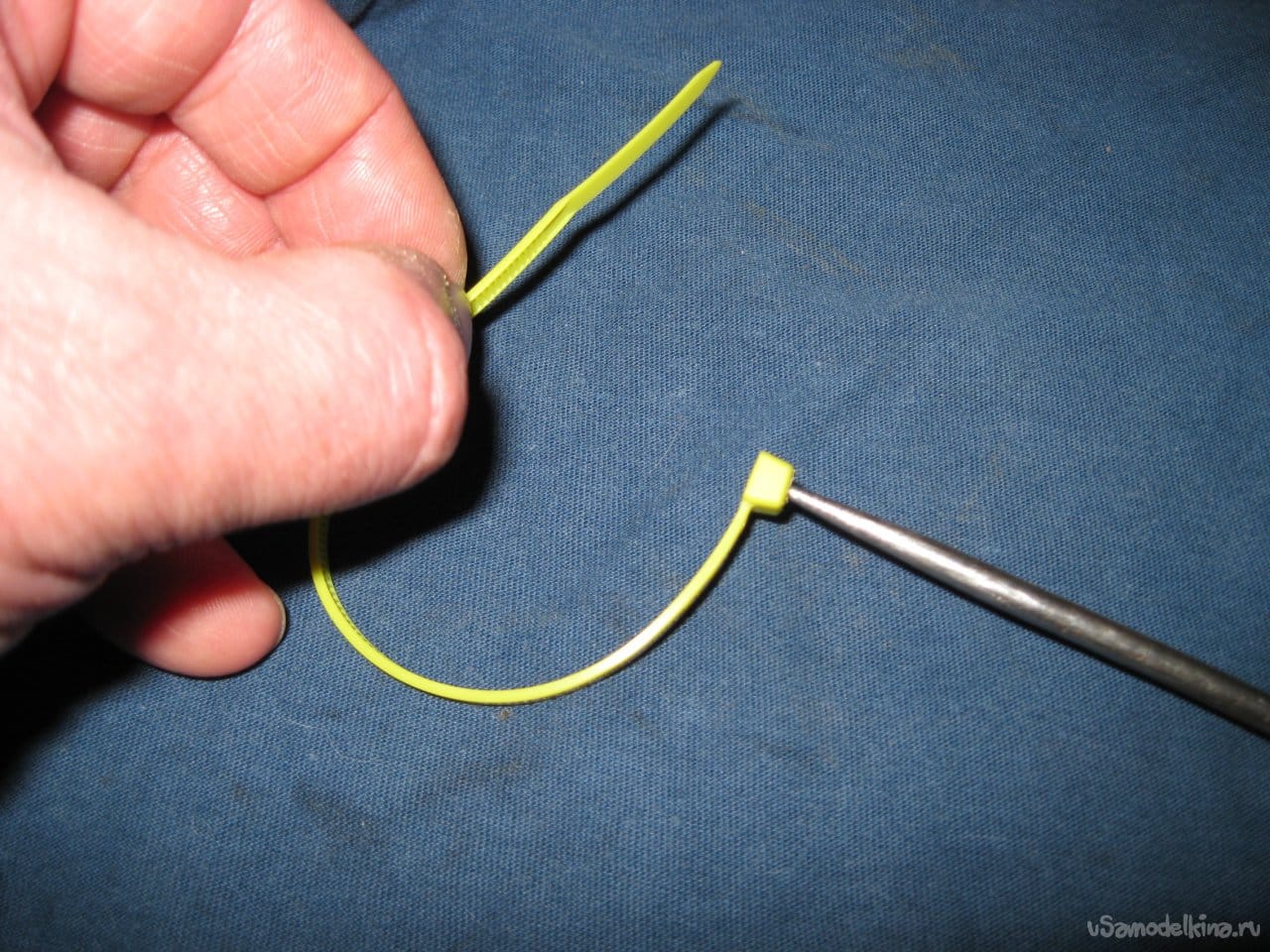 with other suitable items.
Here is an example of using an 80mm nail for this. Of course, it is more difficult for them to unfasten the collar than with an awl, but it is also not so difficult.

And this is a nail with a smaller diameter and a length of 40 mm.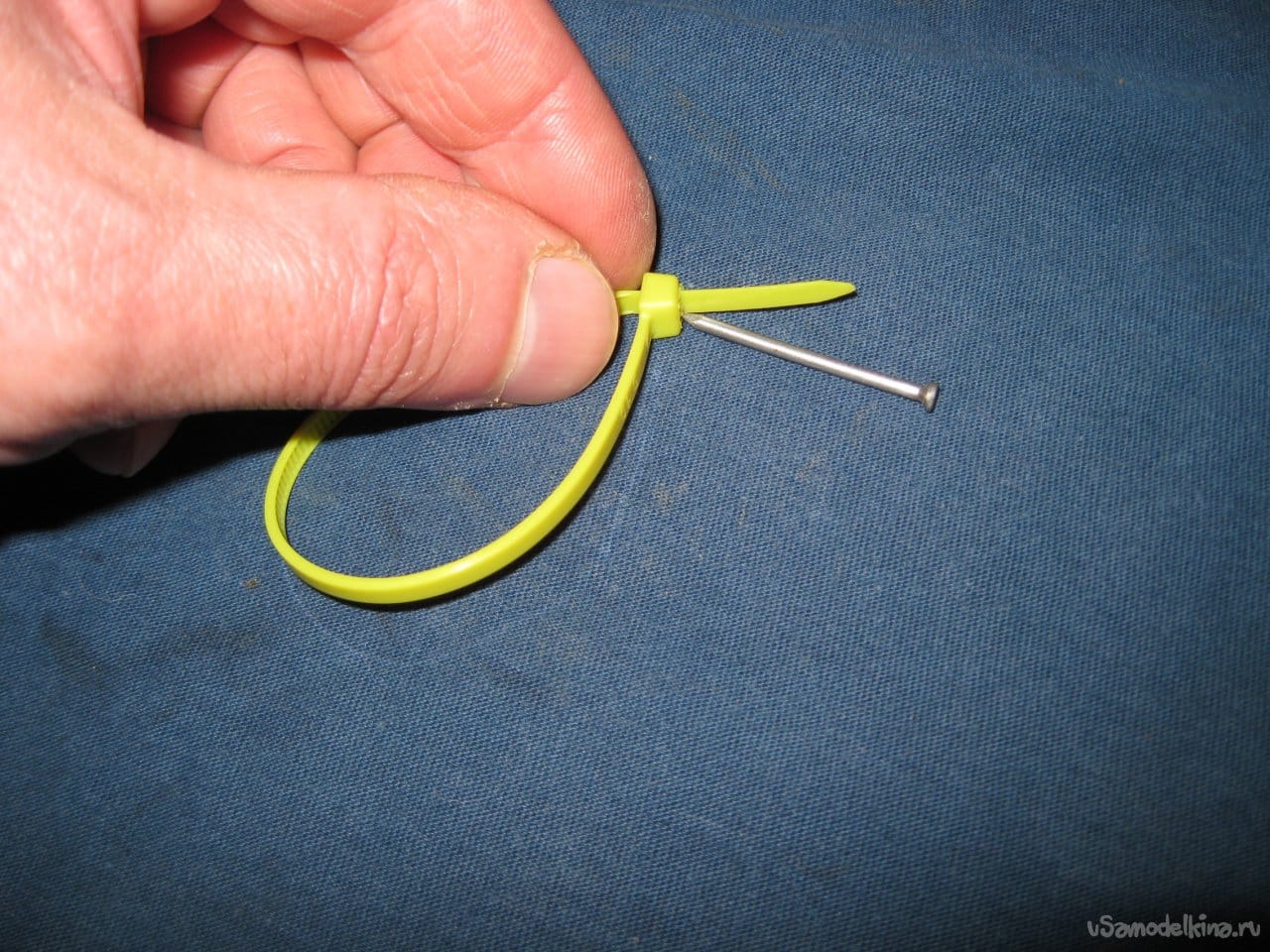 And in this example, I unbuttoned the same clamp construction knife.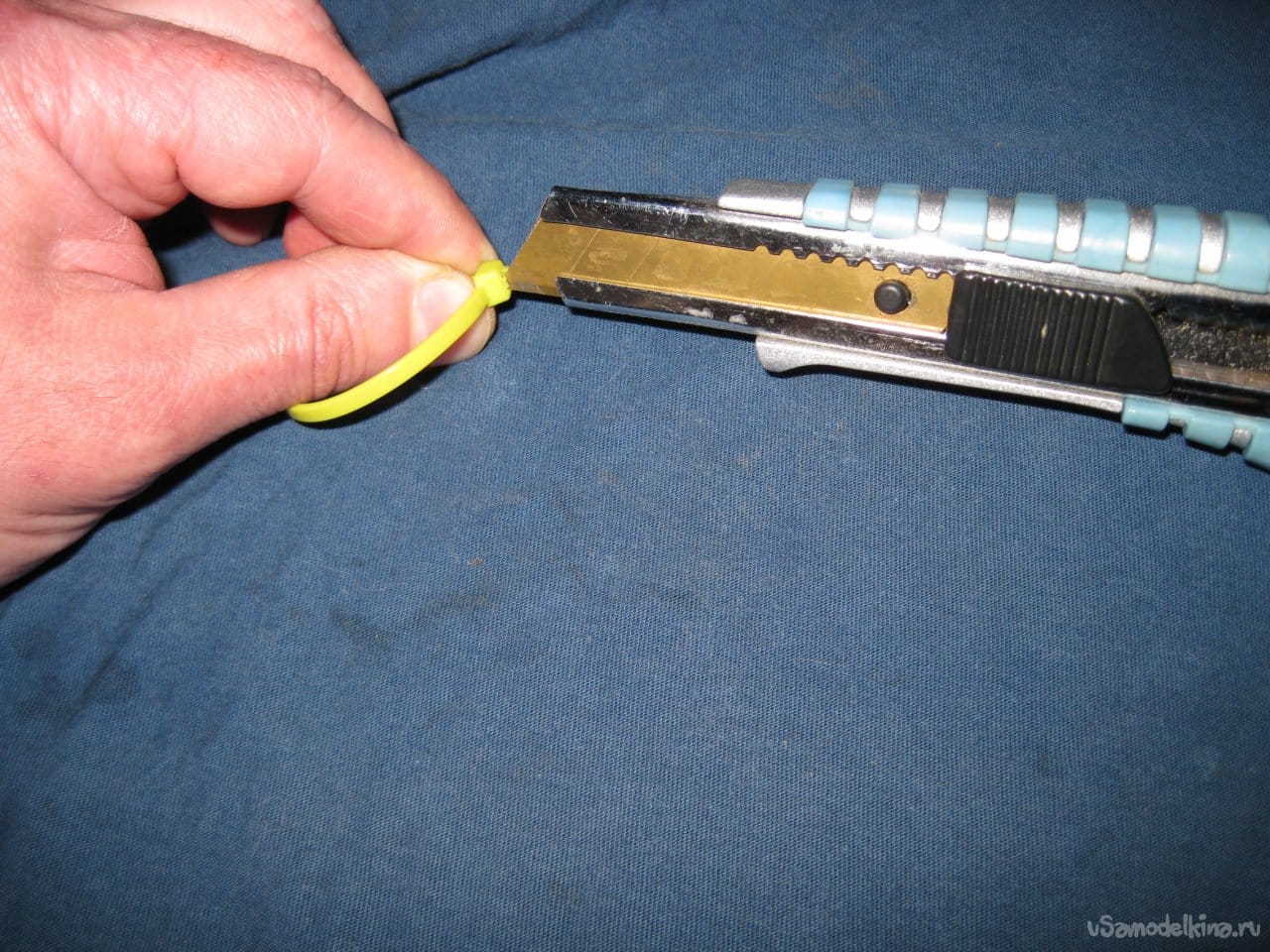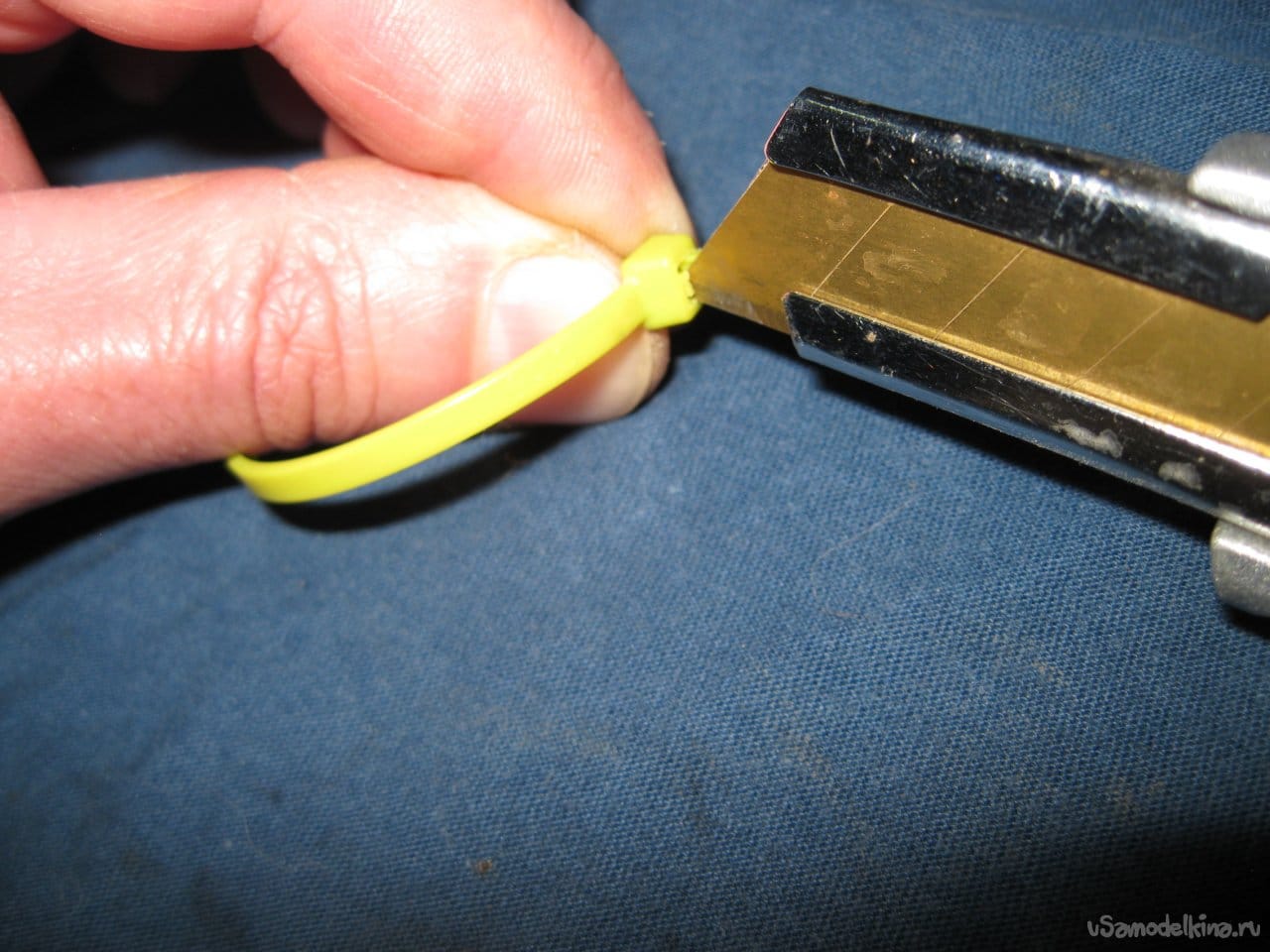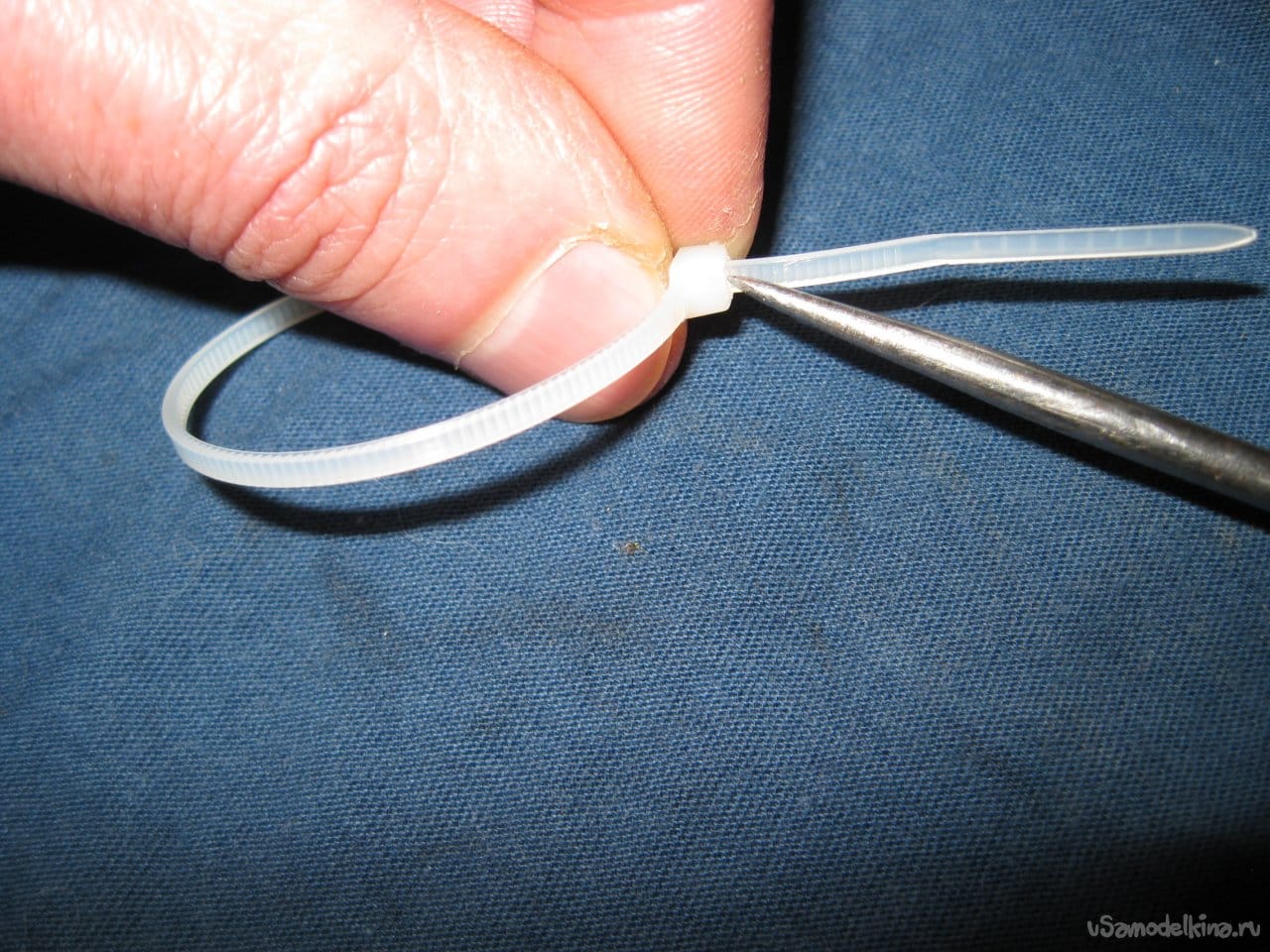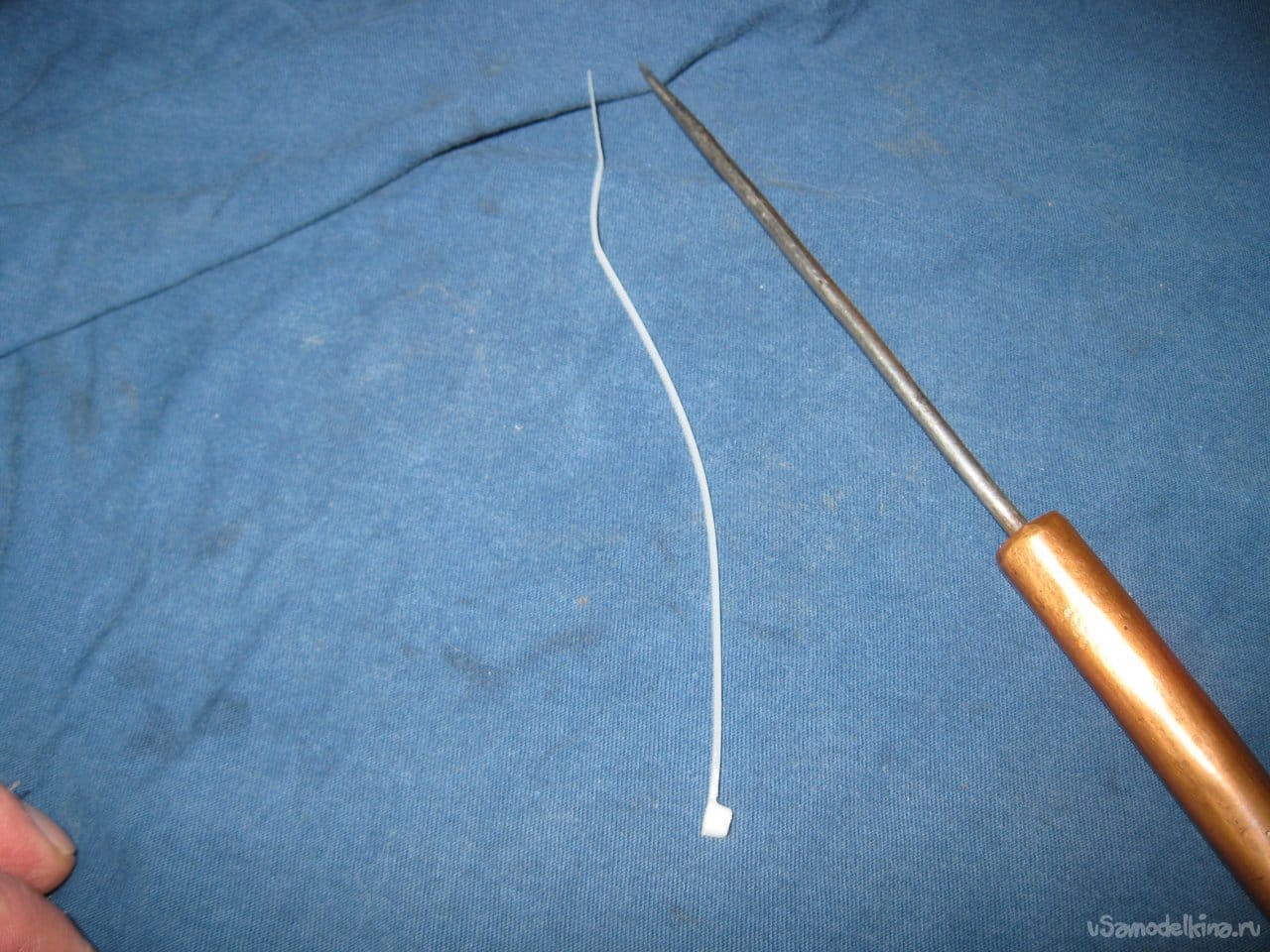 clamps.
Therefore, now let's try to unfasten several tightened clamps.
For this, I wound up a three-meter extension cord and on one side tightened the turns of its wire with four clamps. Two of them are larger and two are slightly smaller.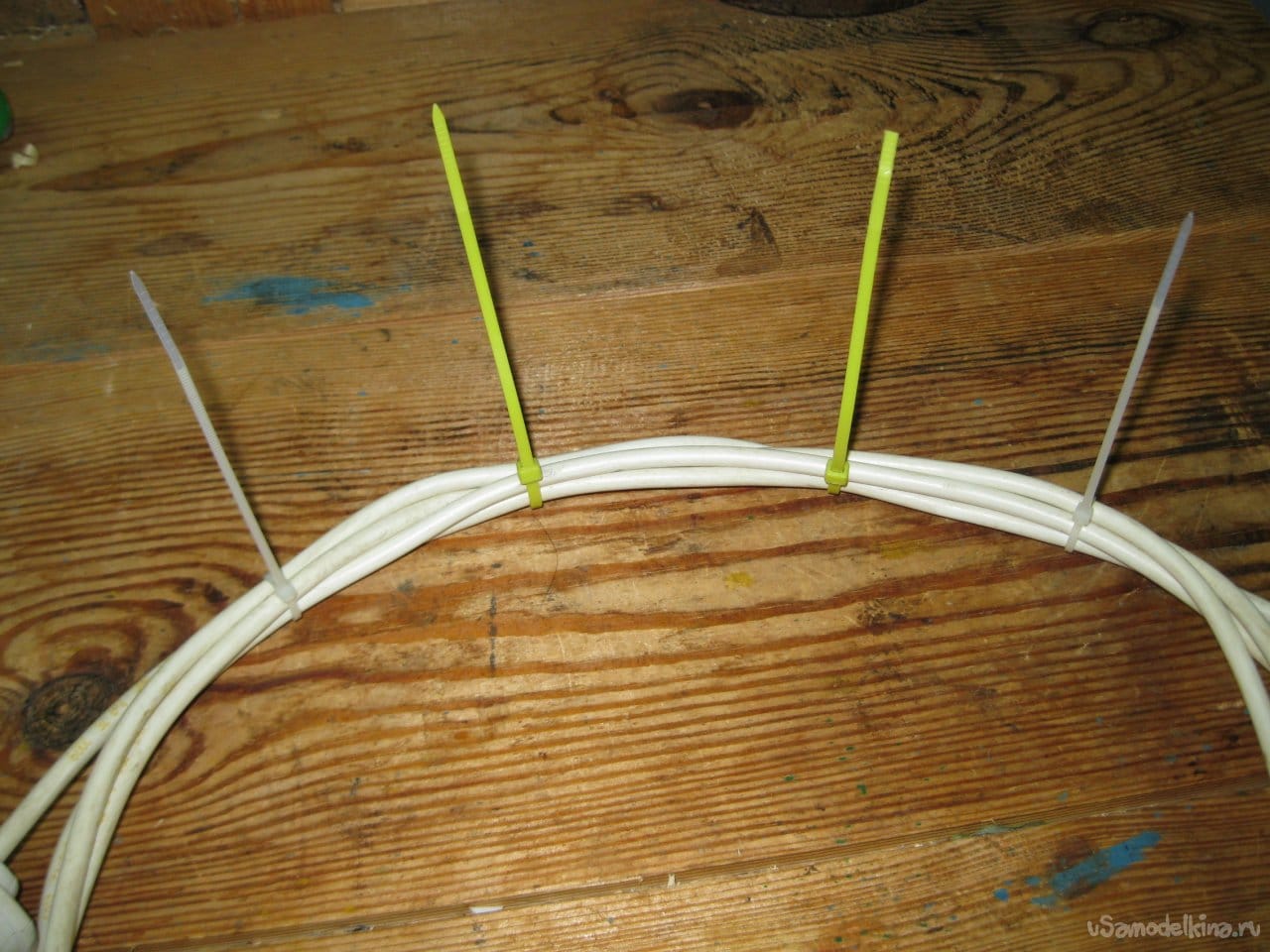 Proceeding in exactly the same way as I described above, I first unfastened one of the larger clamps. And for this I used a large nail.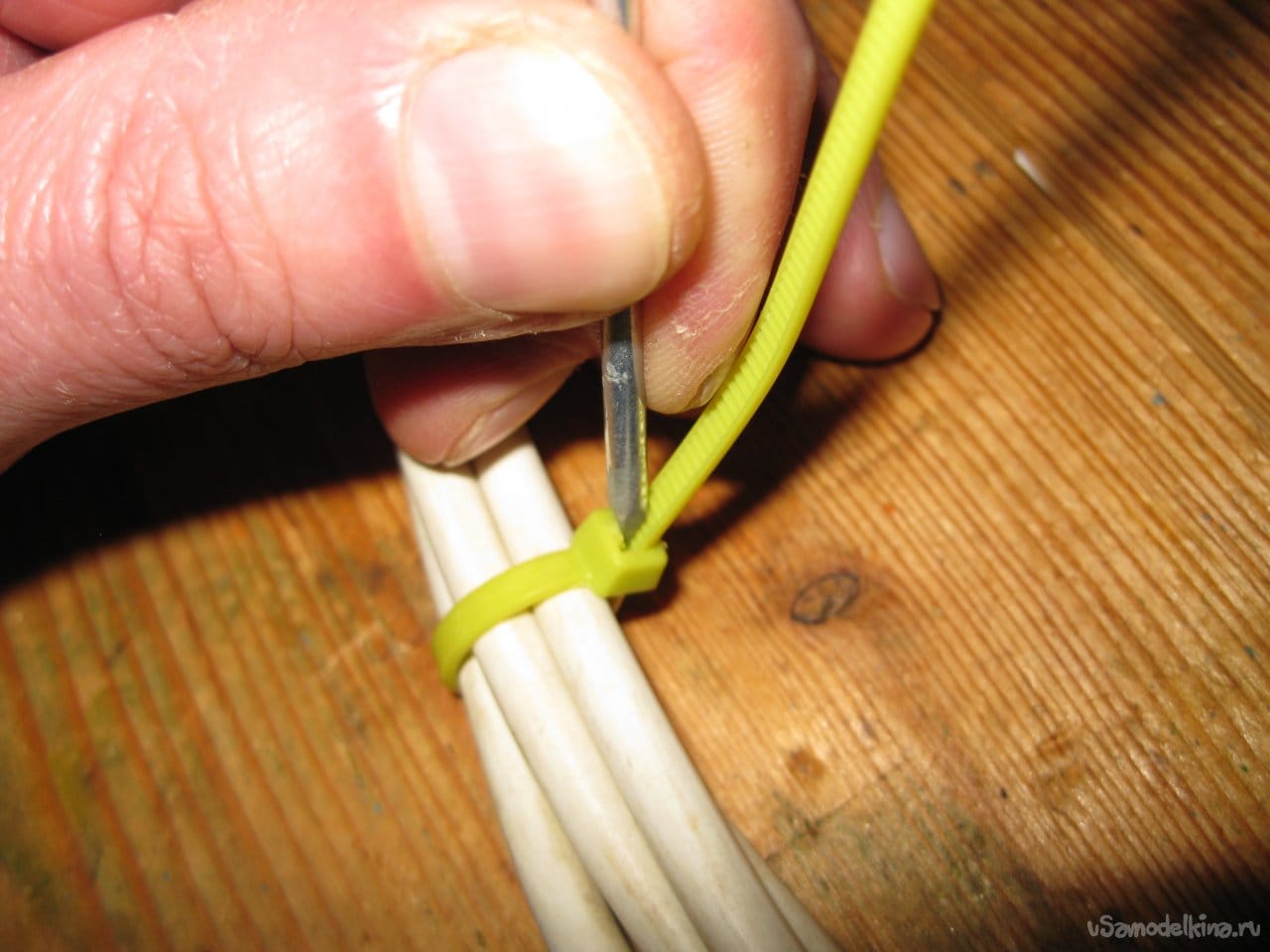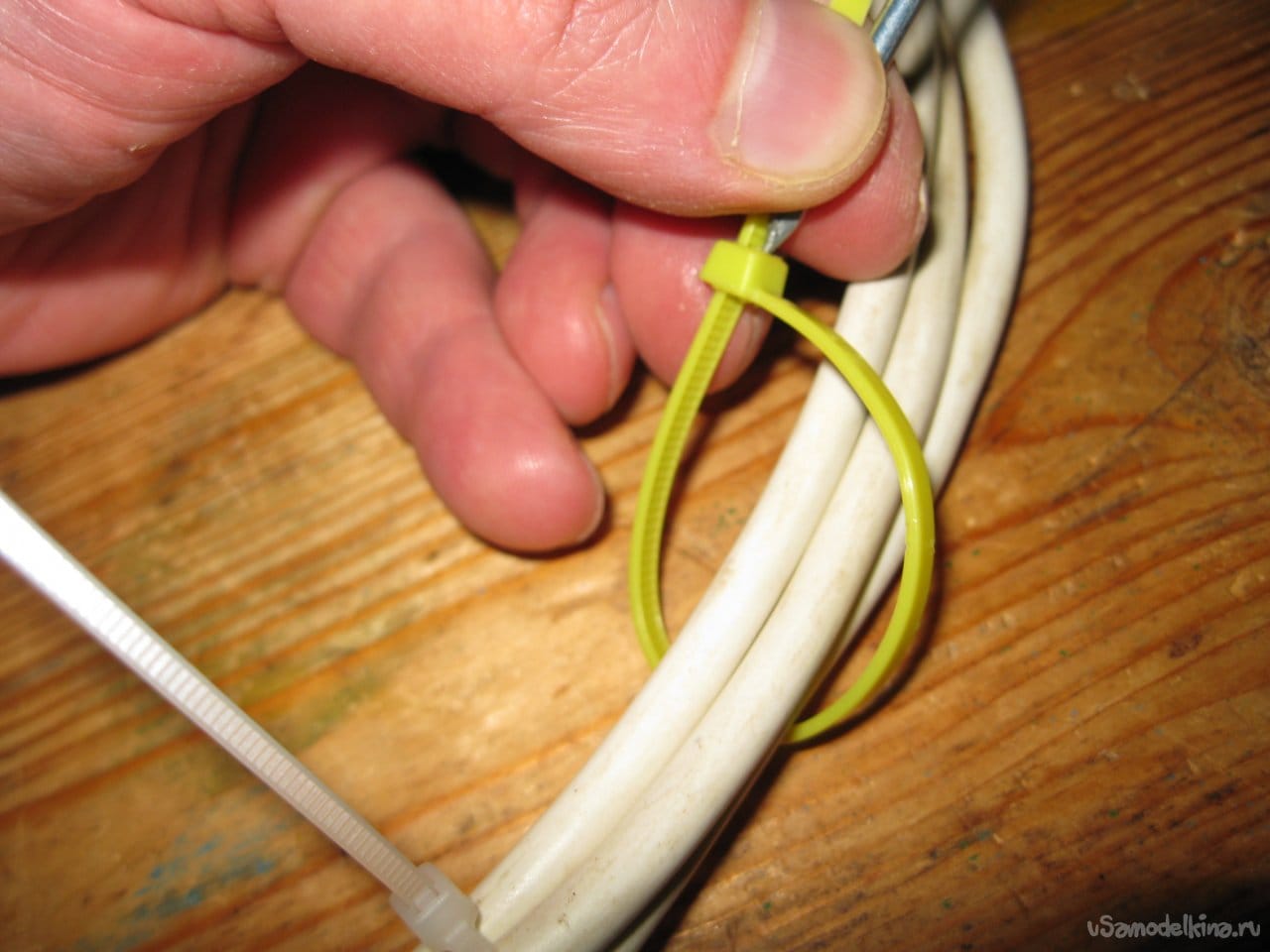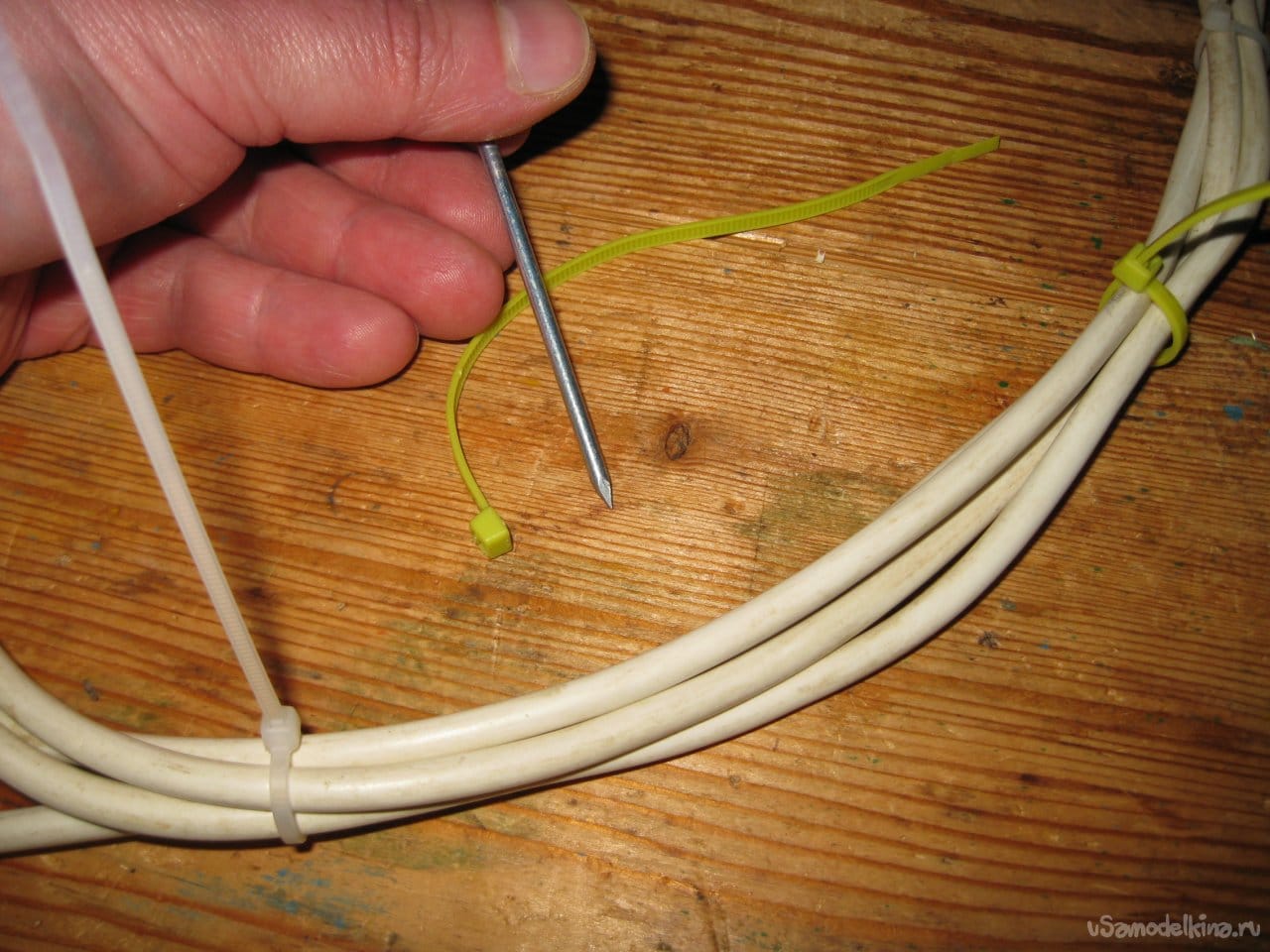 With the same nail, I unbuttoned another of the same clamp.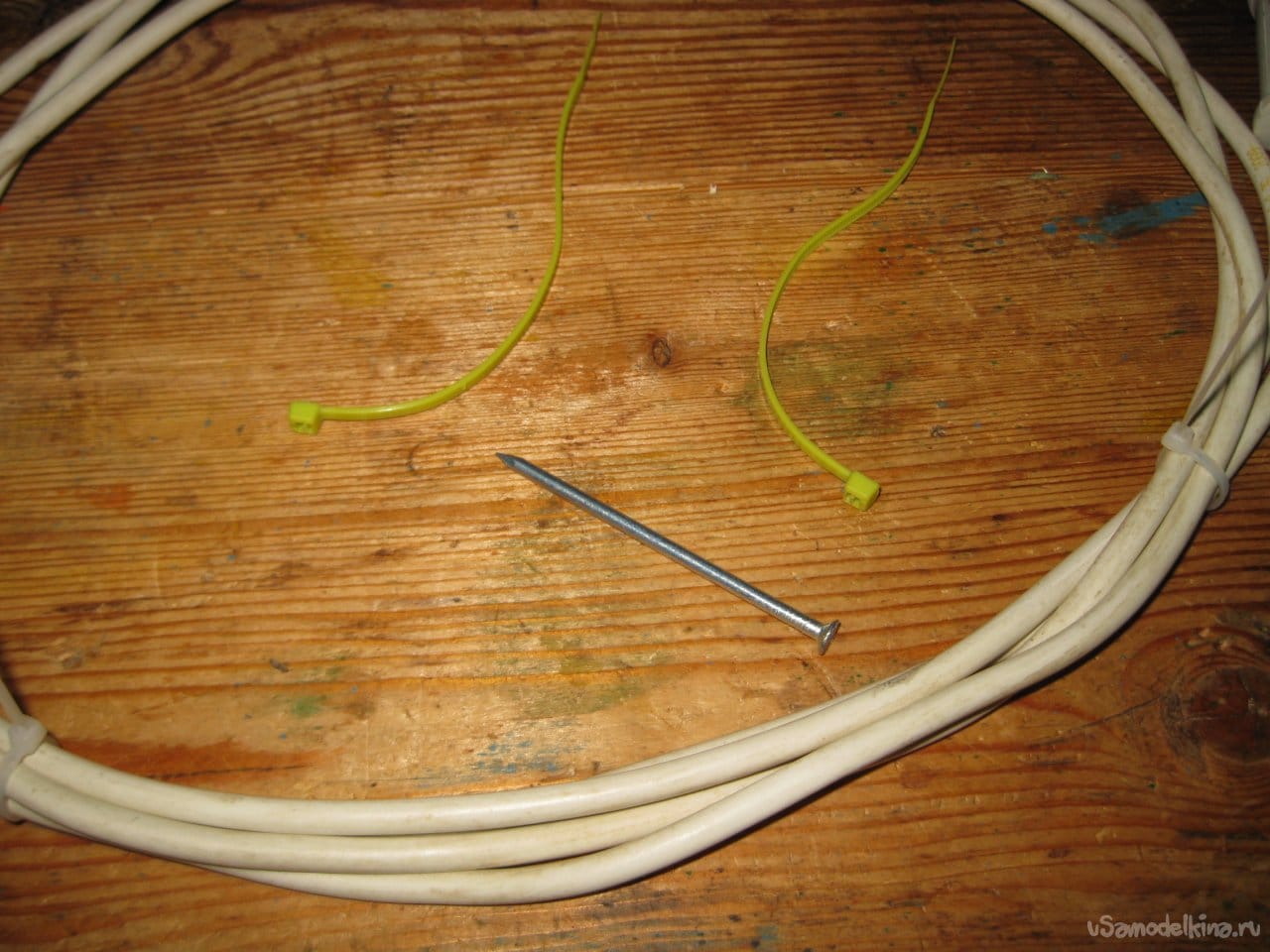 Then, using a small nail, I unbuttoned the third, smaller clamp.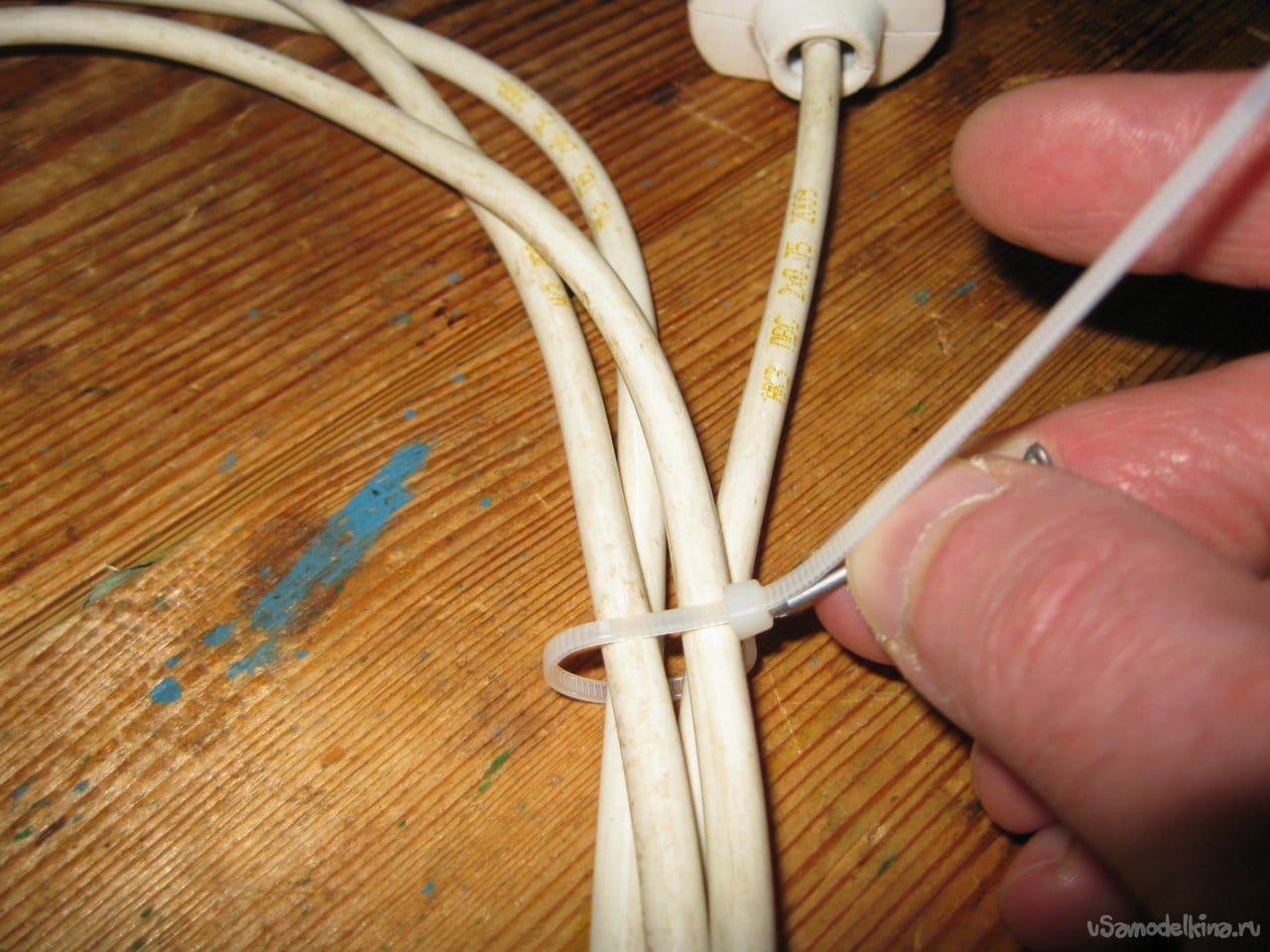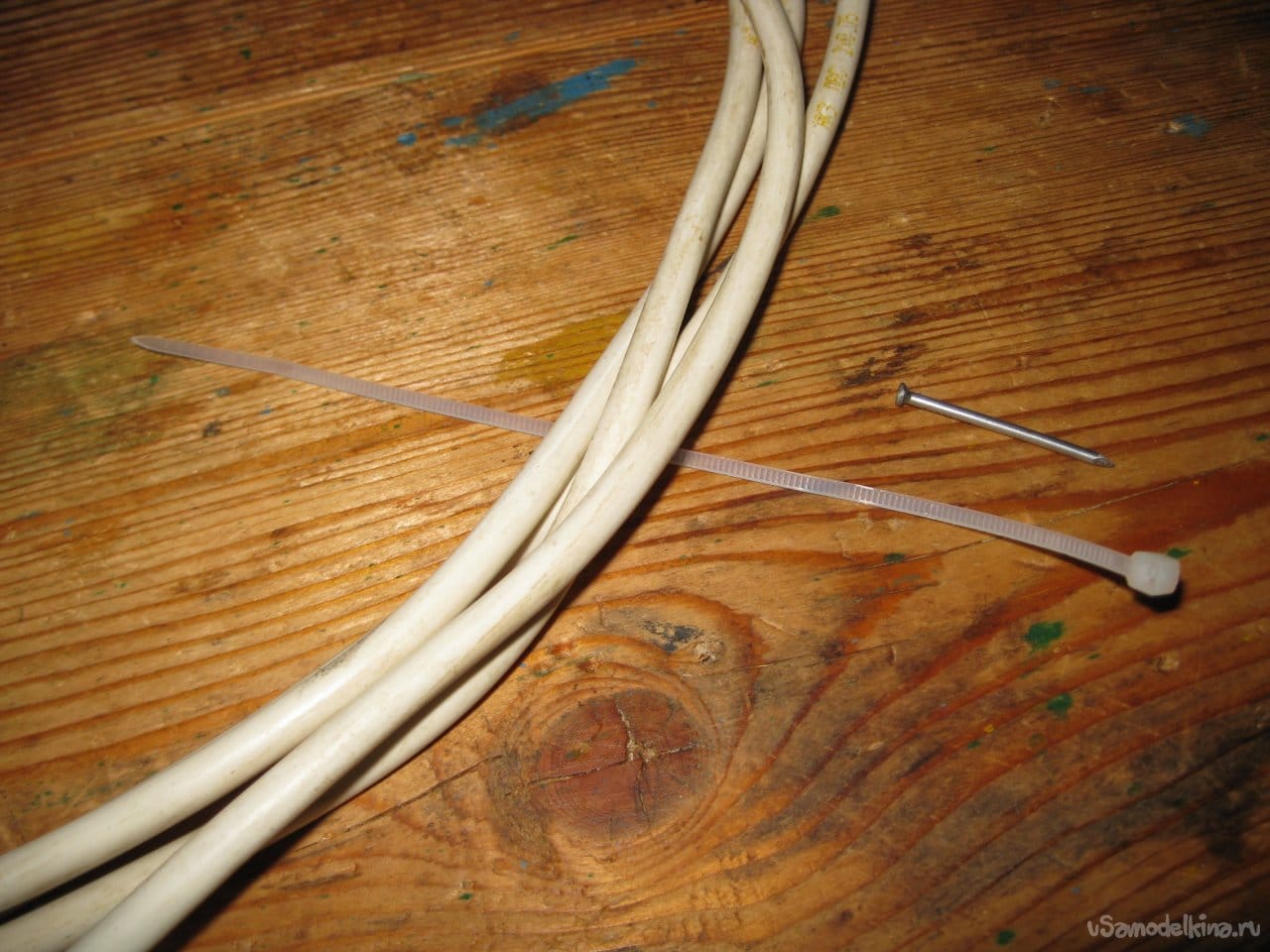 Well, and the last, the same clamp, I unbuttoned with an awl.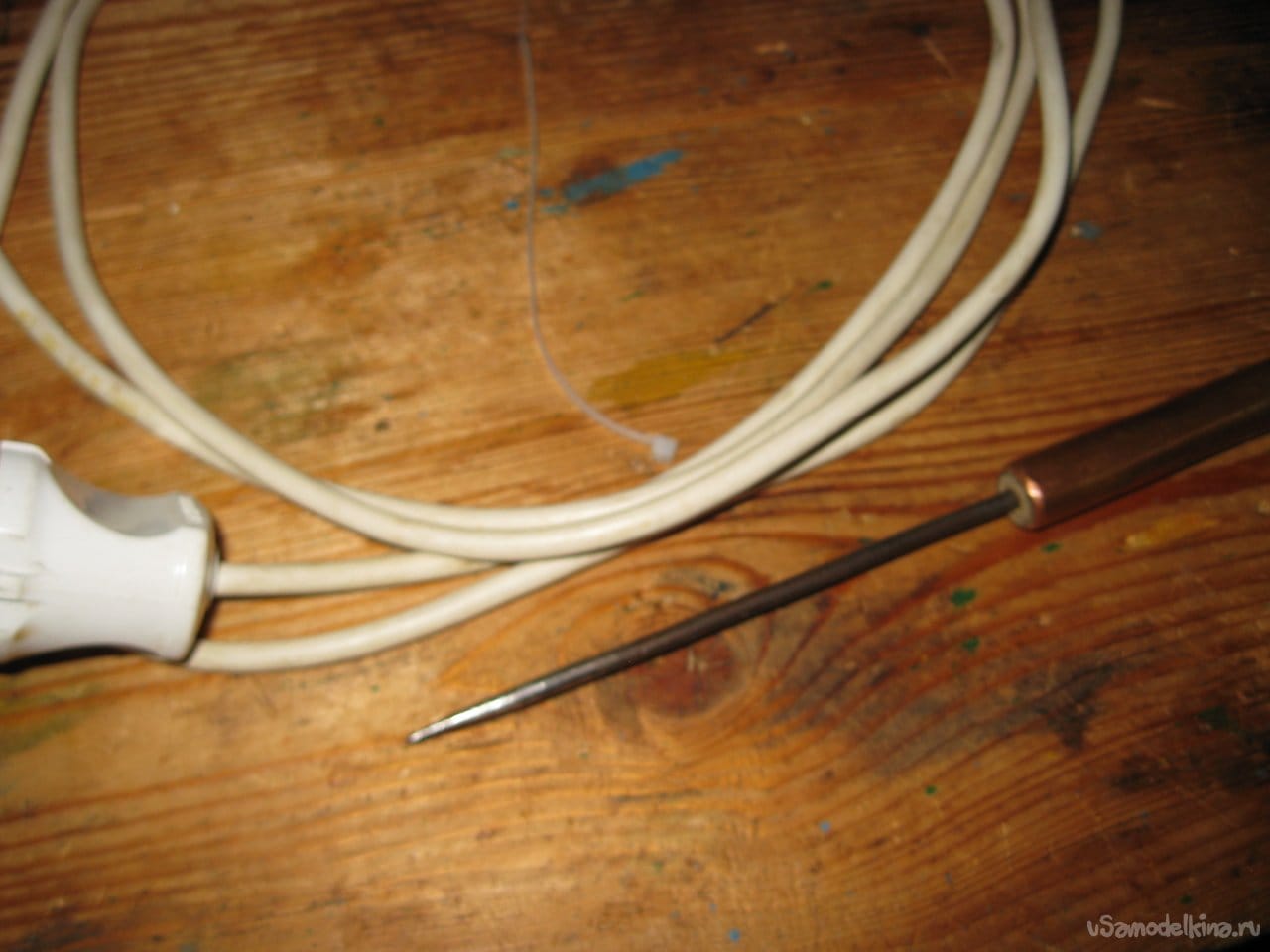 All this I did pretty quickly, it took me only a few seconds.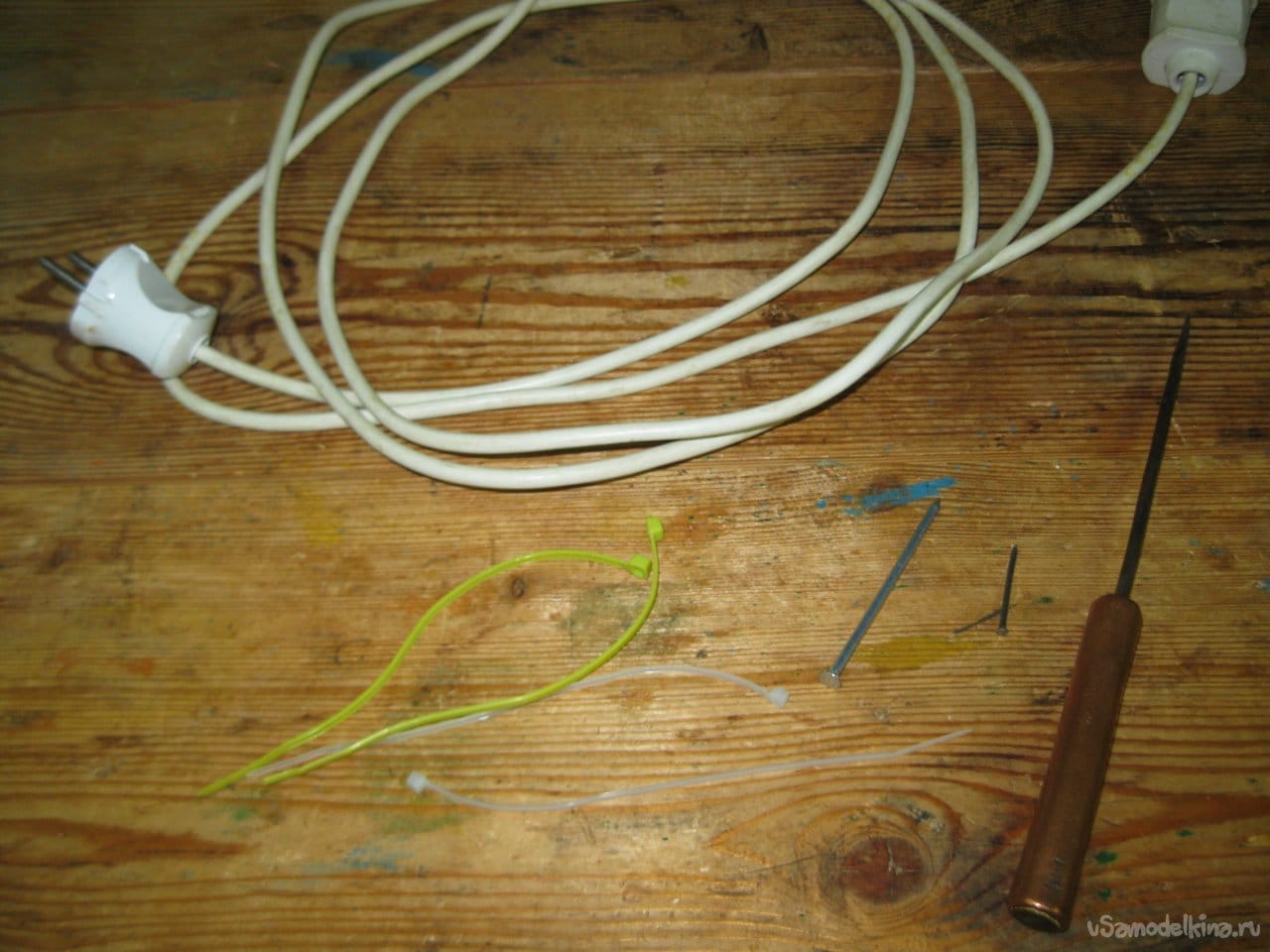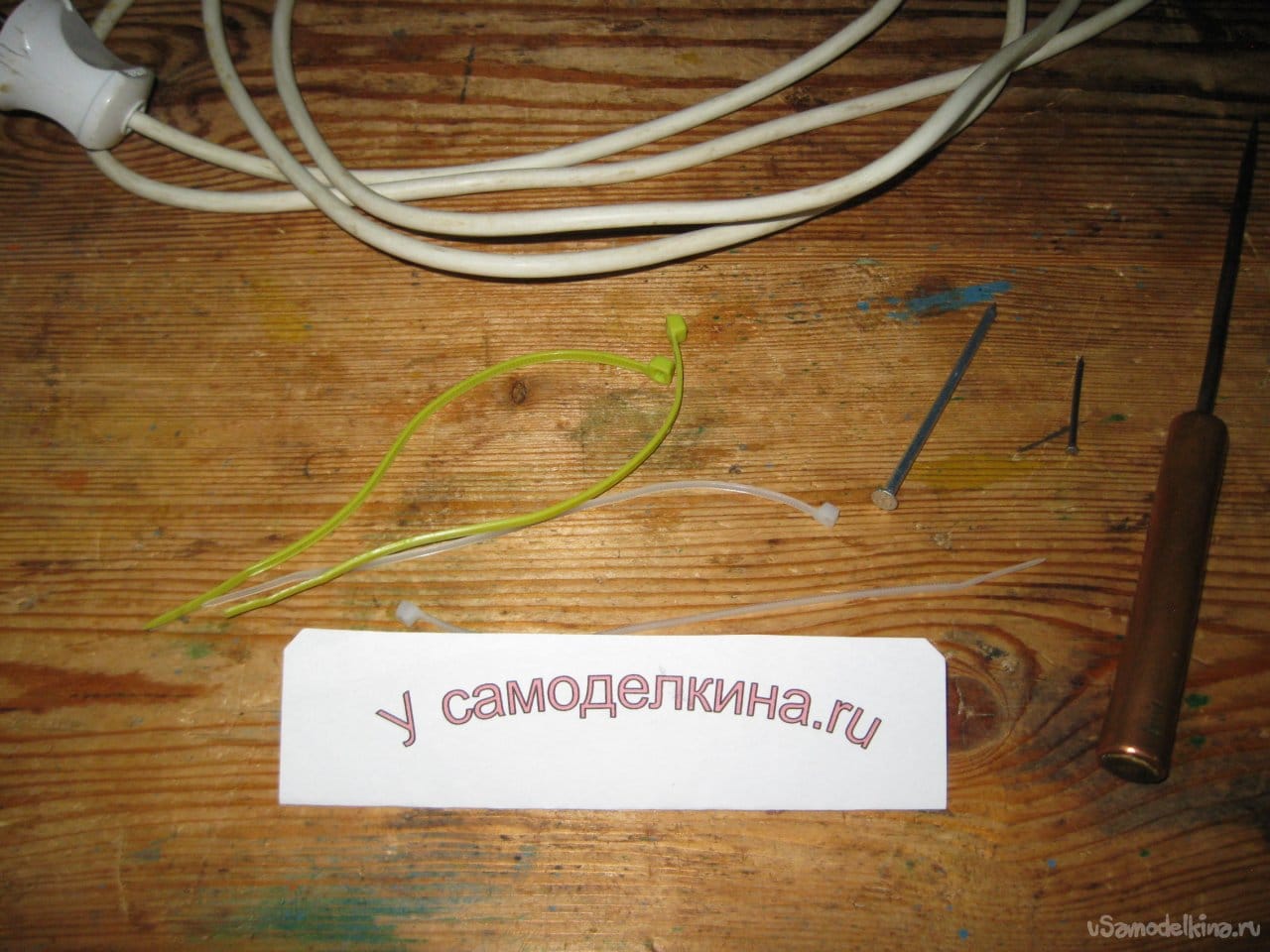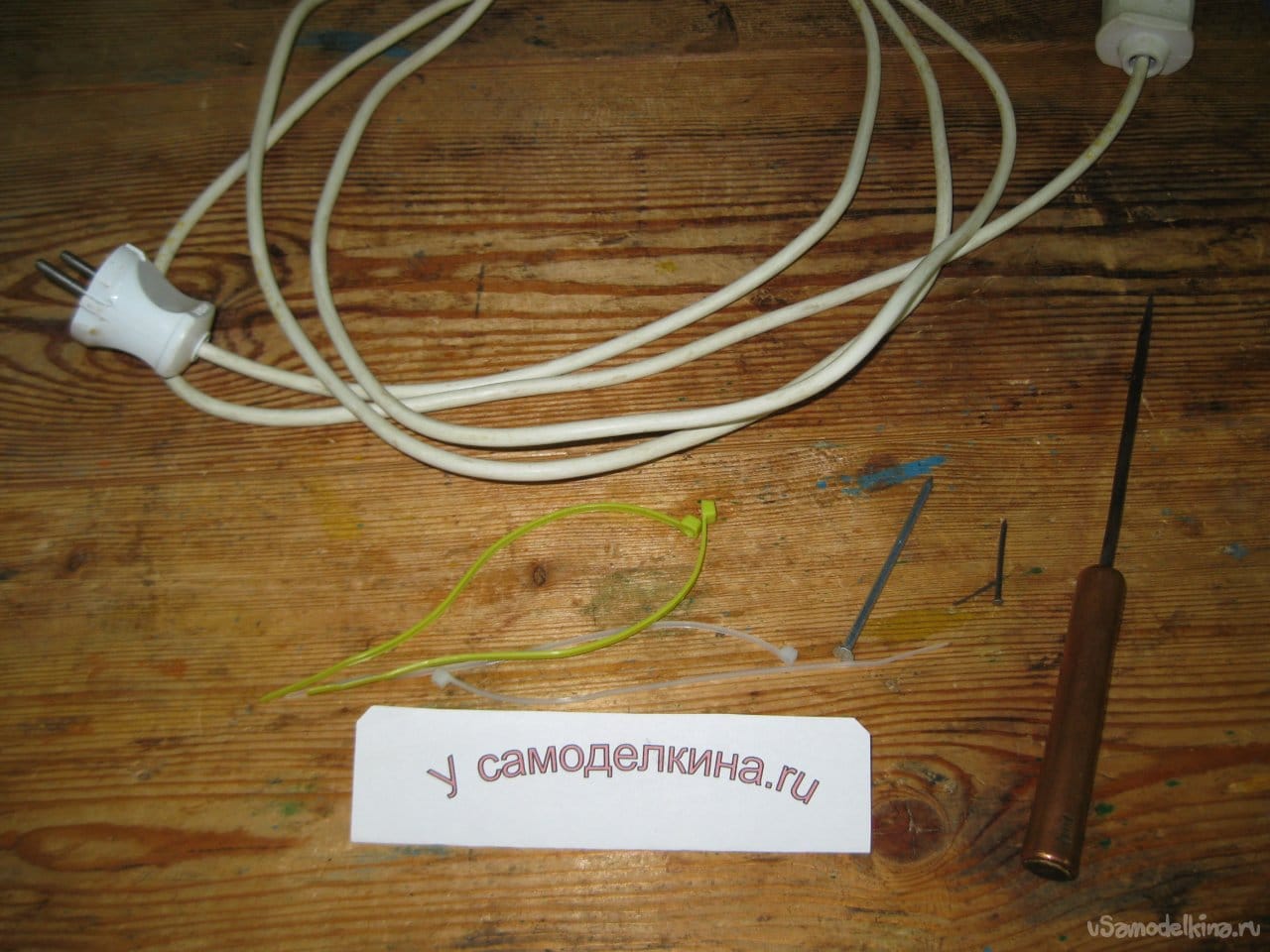 In general, in conclusion I can note once again that this unfastening the clamps is quite easy, quick and effective. True, in order to do this quickly and easily, it is advisable to practice additionally in order to fill your hand. In addition, it also depends on the object that is used to unfasten the clamp. The most convenient, in my opinion, is an object that has a sharp tip of the correct conical shape (that is, like an awl). To unfasten larger clamps, it is quite possible to use screwdrivers, say, a small flat screwdriver for a straight slot, or small Phillips screwdrivers in size.
Well, I finish here and wish all homemade people health, as well as productive ideas and success in their work!