DIY
How to prepare garlic for safe and long-term storage
Option for harvesting garlic, that is, preparing harvested garlic (drying and cutting), for a long and safe storage.
Greetings to all homemade colleagues and also those who are interested in the topic of gardening!
Today I want to share my experience of harvesting garlic, that is, harvesting, drying and cutting it for subsequent storage. This is a very important topic, because how well and how long the garlic will be stored depends very much on the quality of its processing after harvest.
At the same time, many people grow garlic now. For example, some of our neighbors, summer residents, who previously did not grow anything on their plots, except for flowers and a lawn, in the past two years, began to grow vegetables, herbs, including garlic, in their homes. True, this is not so much due to the popularity of truck farming as to the uncertainty of recent years in connection with the situation of the coronavirus pandemic.
And since I have been growing garlic for a long time, I am often asked about the nuances of growing and harvesting it. I, in turn, have some peculiarities in the post-harvest processing of garlic. Therefore, now I will talk about my experience of harvesting garlic. Perhaps some of the readers will find it useful.
Stage 1. Harvesting and primary drying of garlic.
So, harvesting garlic begins with harvesting it, that is, digging it out with a shovel or pitchfork … It is advisable to do this on a clear sunny day.
The criterion for the ripeness of garlic is the yellowing of its leaves by about two-thirds or more. In addition, arrows are a good indicator of the maturity of garlic. I deliberately do not cut off all the arrows, leaving three, four plants with arrows in the garden. While the garlic is not yet ripe, the ends of the arrows are bent down, but when it ripens, the arrows straighten and stand upside down.
After digging up the garlic, it must be cleaned as much as possible from the ground and spread right outside under the sun for several hours so that it dries up, and then transferred to the room. If this is not possible, you can immediately spread it in one layer on a film on the floor in some room, for example, in a barn.

In a barn, the garlic can be left to dry on the floor for some time. However, I do it a little differently. Since garlic does not dry so well on the floor, I collect it in bunches and hang it from the ceiling.
For this I use these pieces of polypropylene twine, about 70-80 cm long, with a pre-tied, non-tightening loop at one end. < br>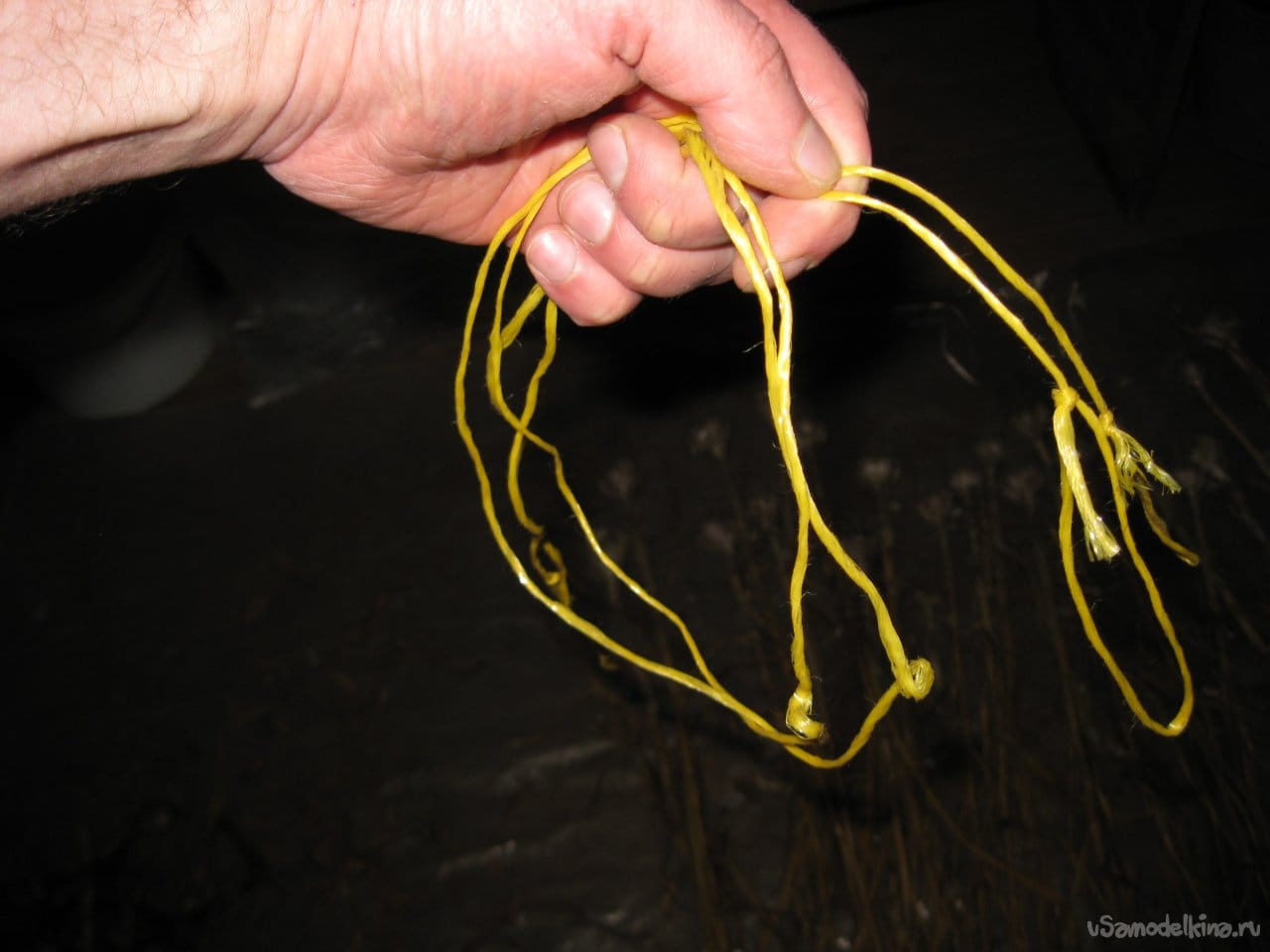 First, I collect a bunch of 15-20 plants, and then I tie this bunch with a piece of twine and hang it from the ceiling.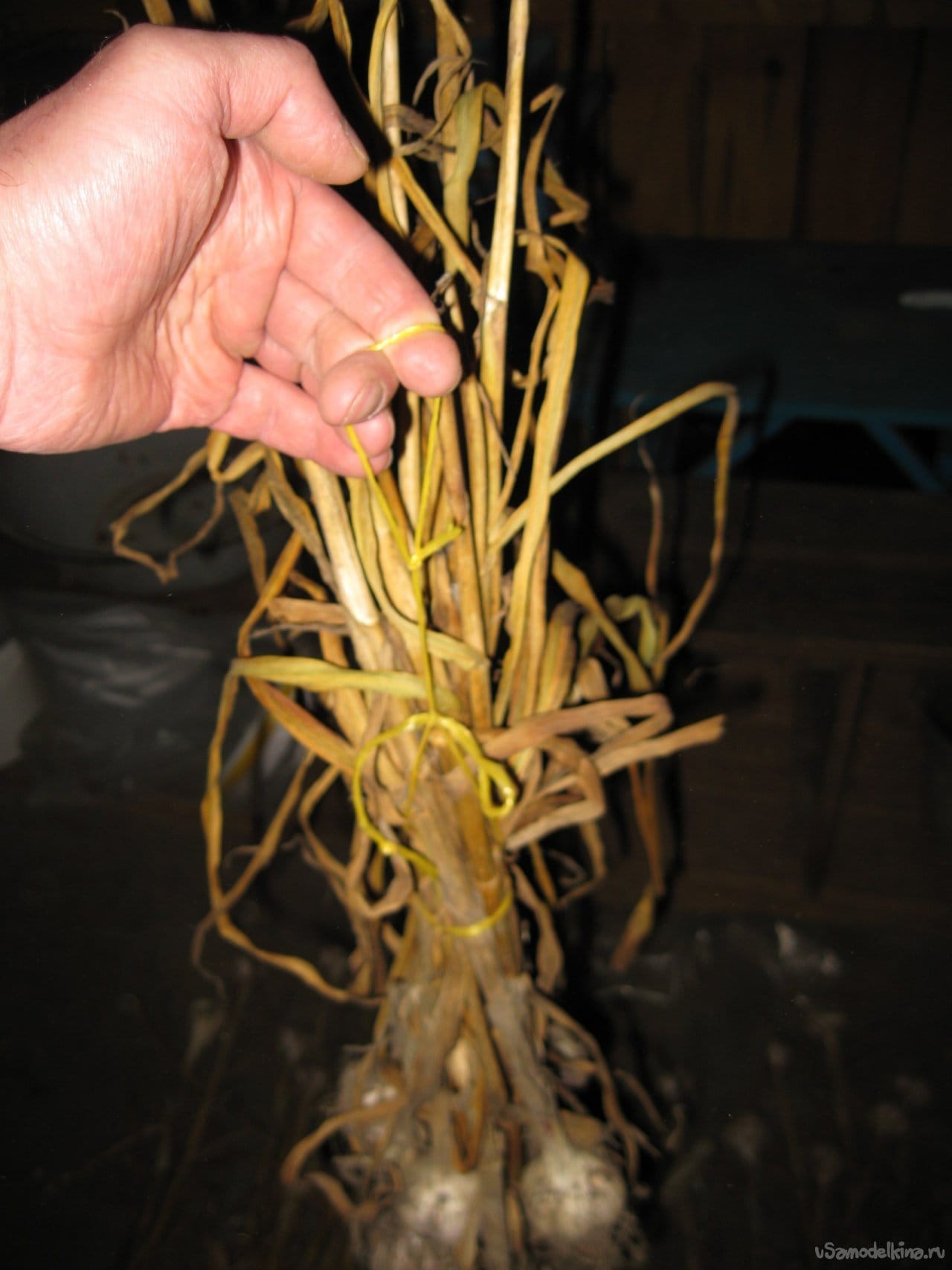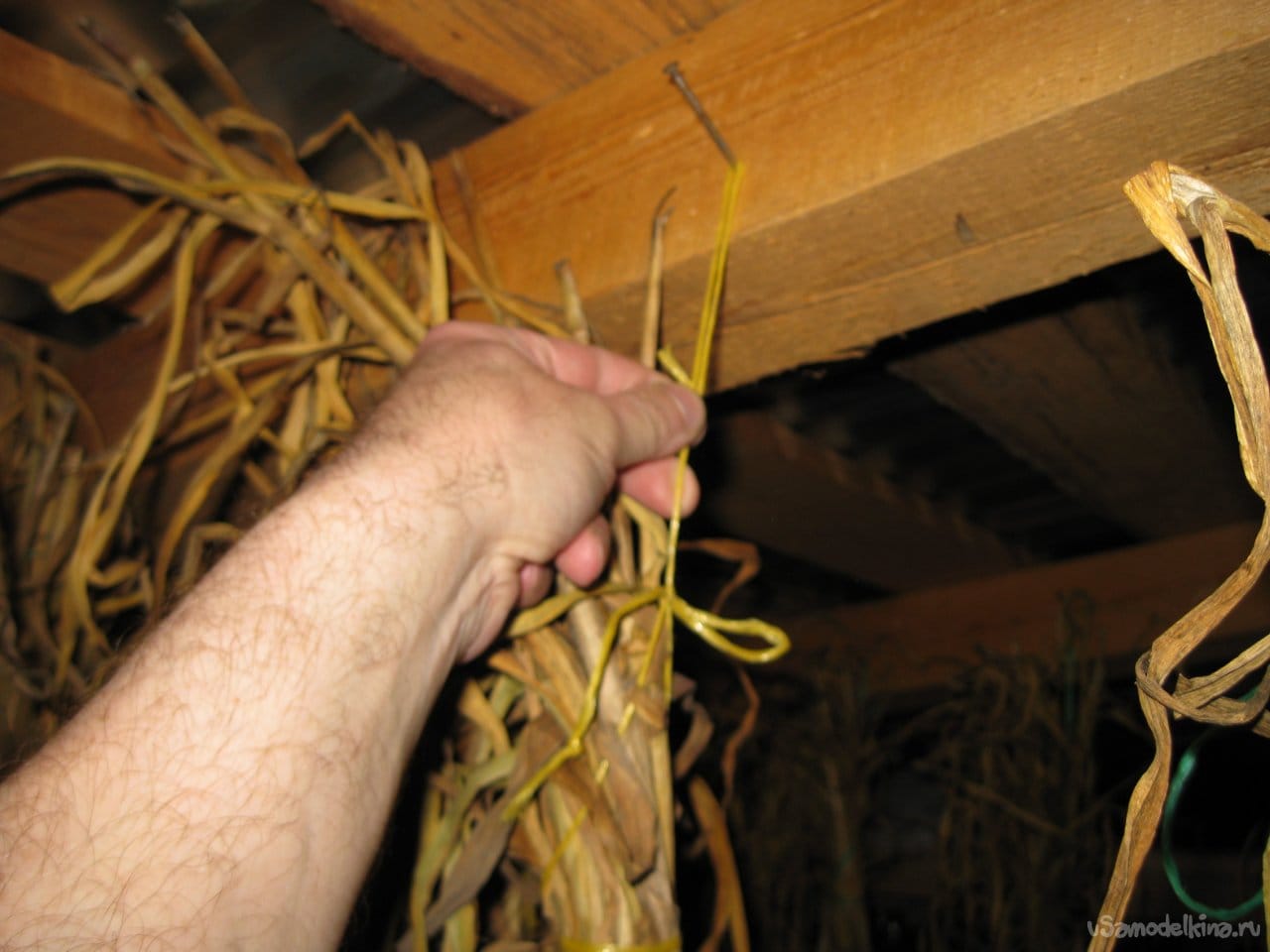 By the way, there is one small but important nuance.
Collecting a bunch, I try not to place the heads of garlic next to each other, that is, like in this photo, since they dry worse in this position.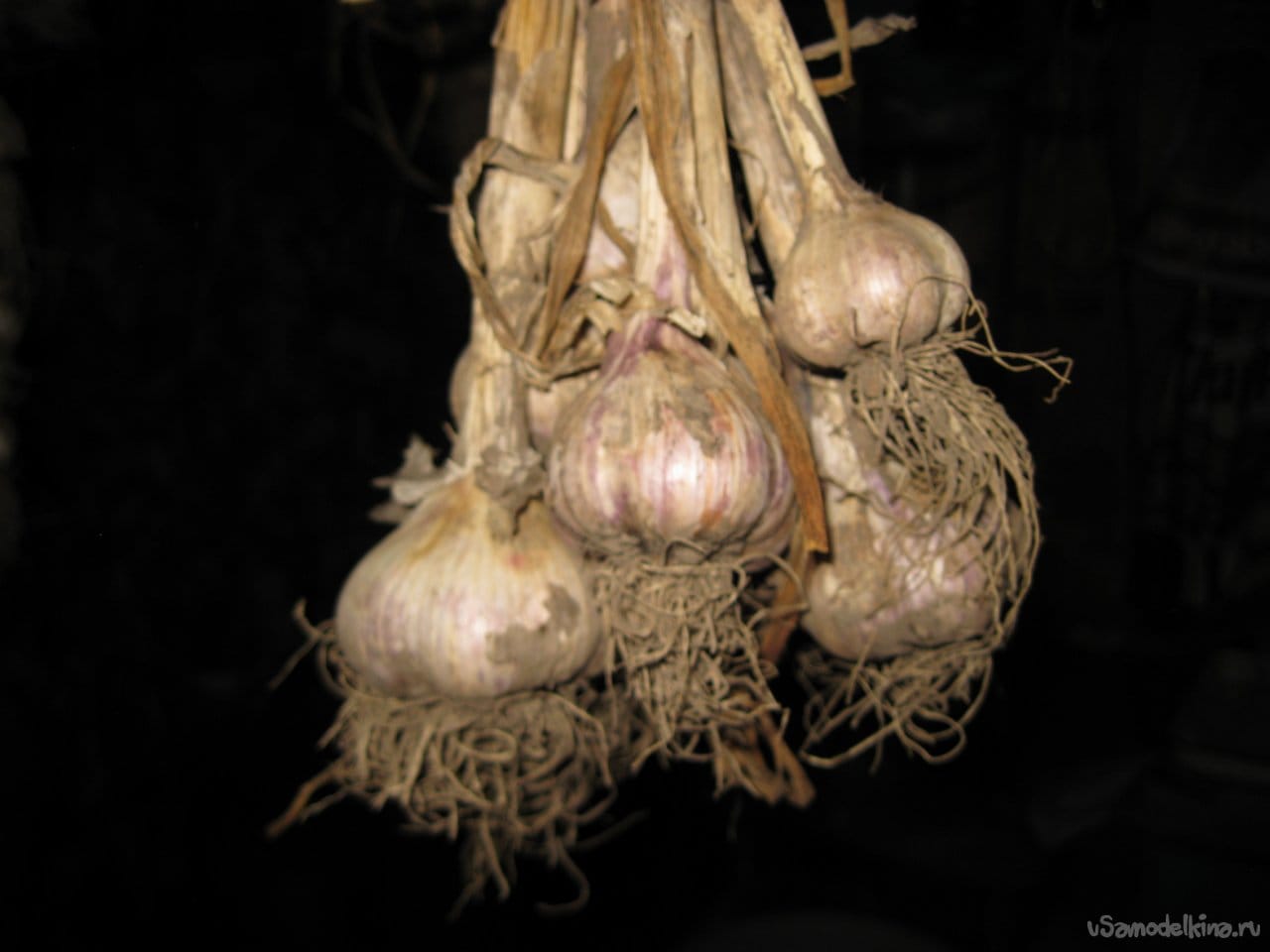 And instead, I place the heads vertically, at a distance of several centimeters from each other .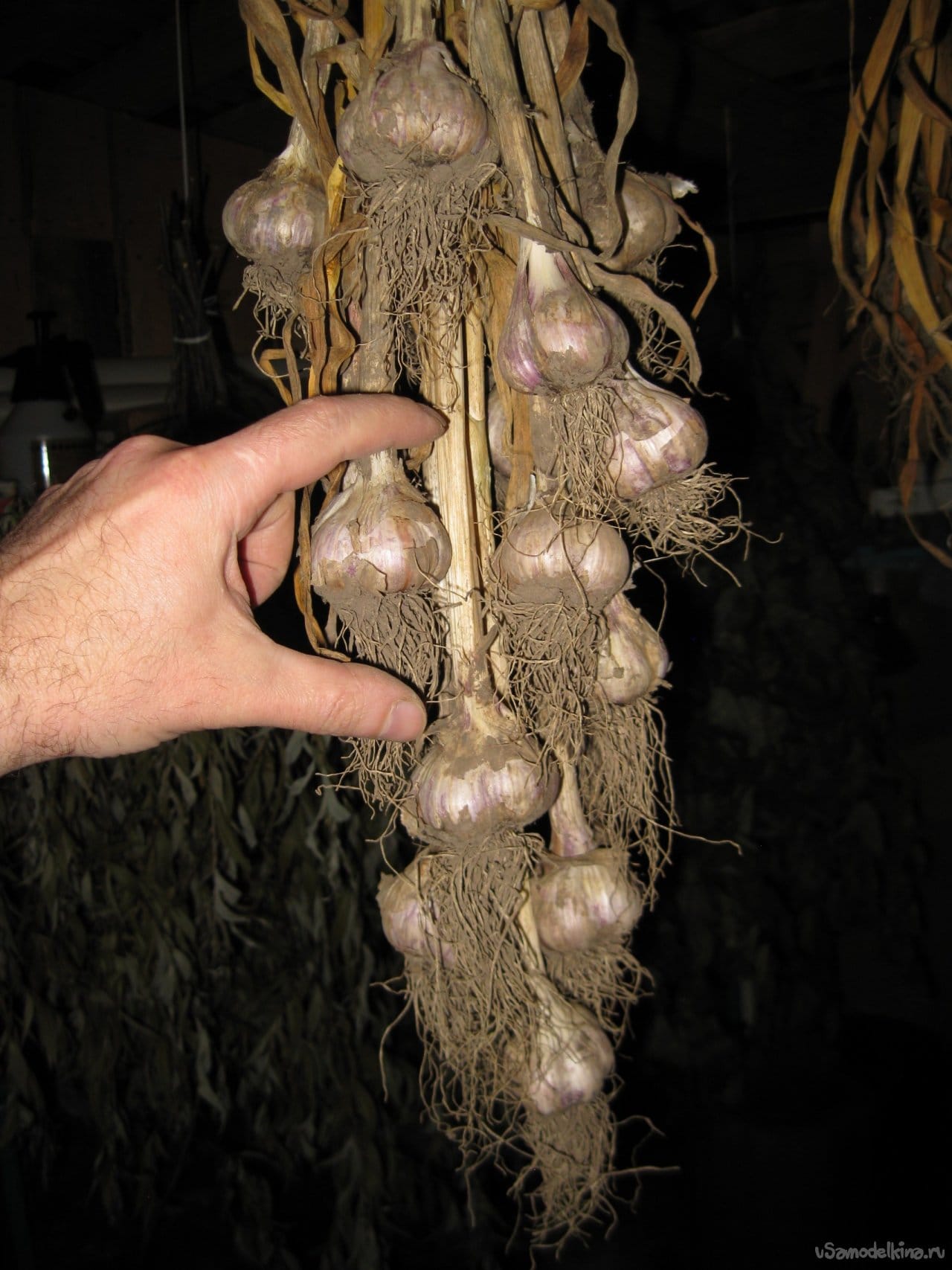 Thus, I get a vertically elongated and narrower bundle, in which the heads are better ventilated and dry faster.
I hang such bundles under the ceiling all over the barn.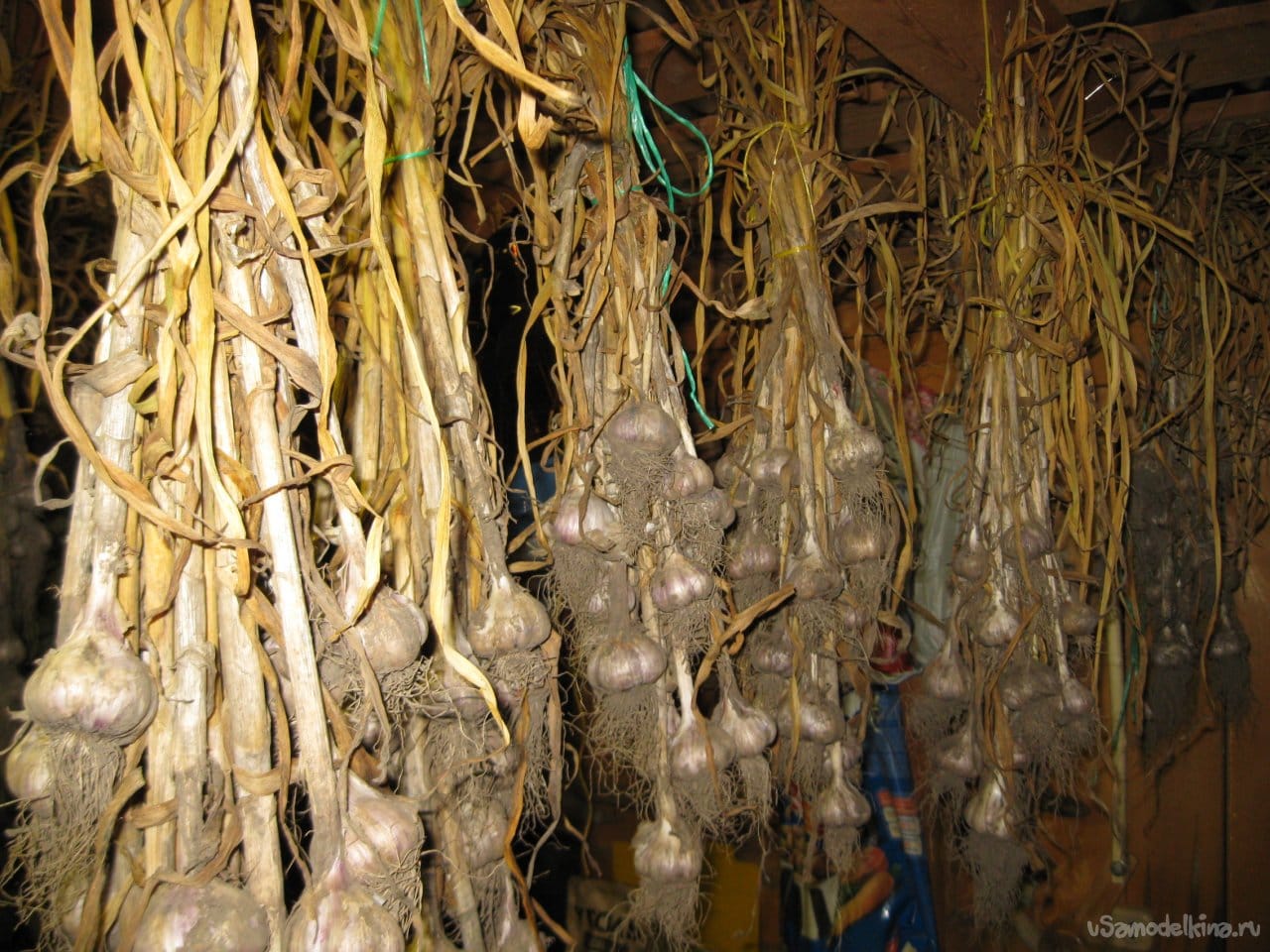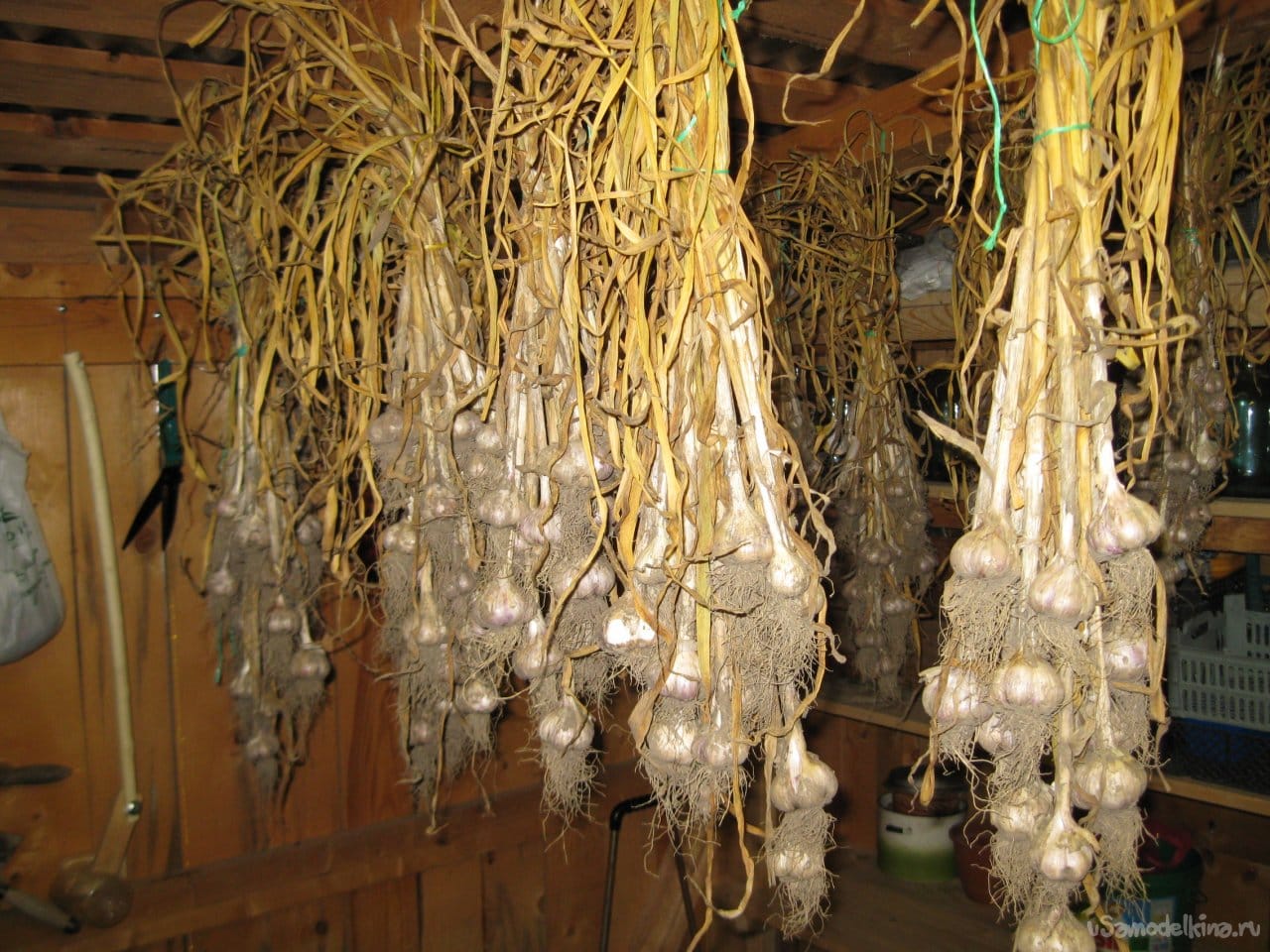 After that, the bunches dry for about two or three weeks. During this time, they completely dry out and their leaves acquire a yellow-straw color.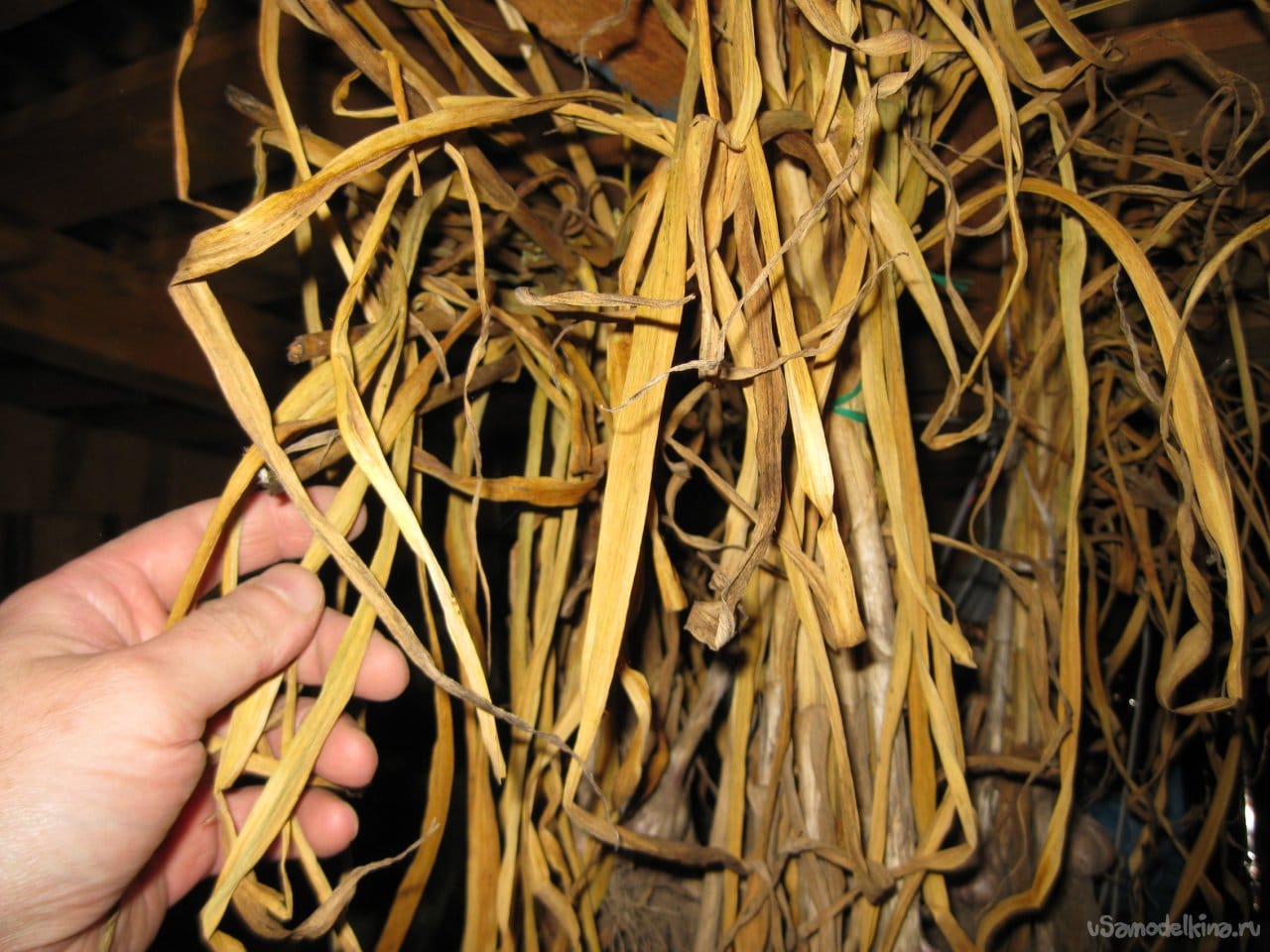 Then I carry out further processing of the garlic.
Step 2. Processing (cutting) and drying the garlic.

For this I already need some accessories:
• Large bucket or other container.
• Large scoop or pallet.
• Garden shears.
• Pliers (long-nose pliers)

How to process garlic.
First, I take off two or three bunches of garlic and put them directly in the bucket, which is very convenient.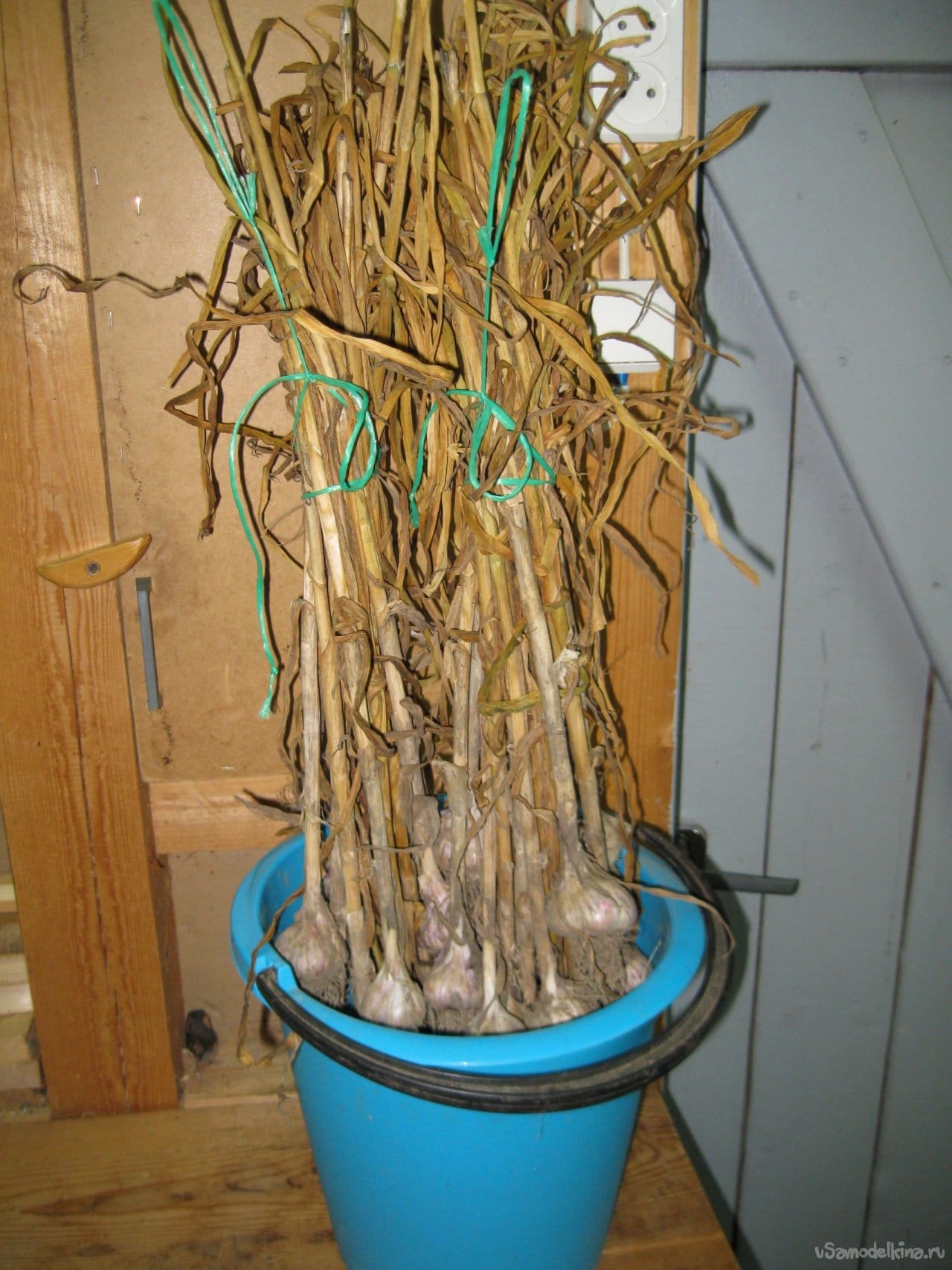 And right there, in a bucket, I start cutting off the heads from the stems using garden shears.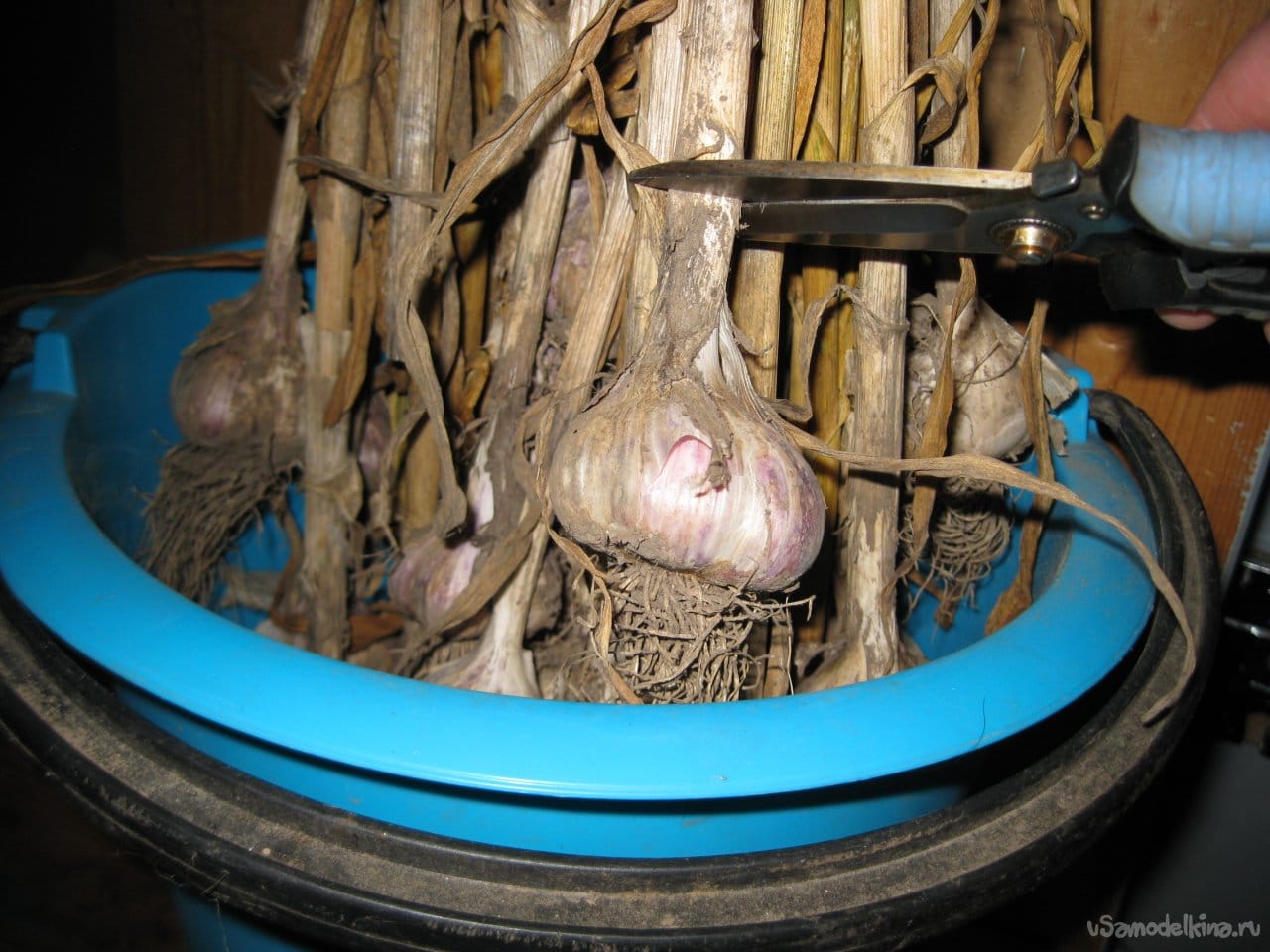 At the same time, on the heads, I leave such hemp 4-5 cm long. < br>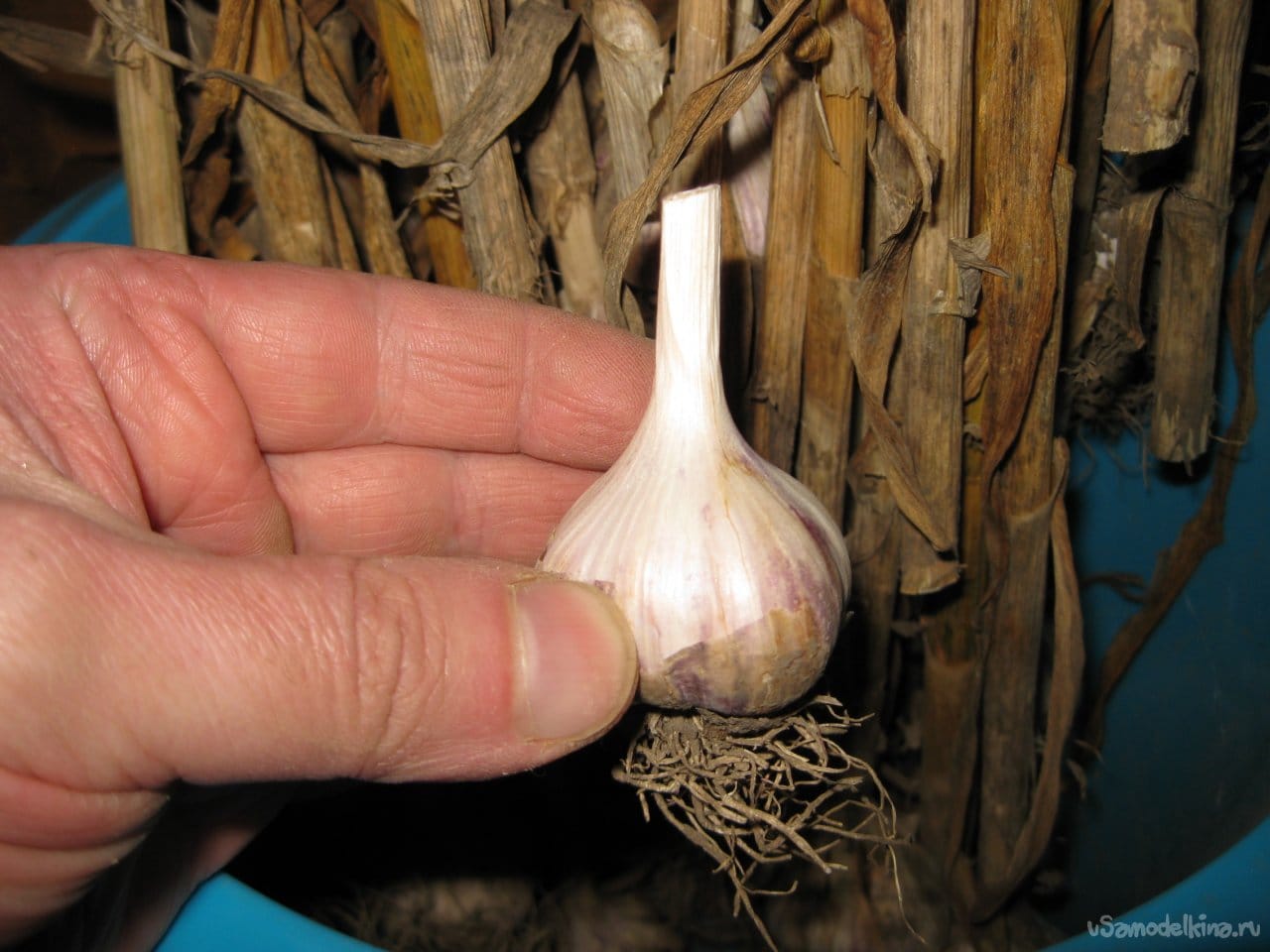 Thus, I cut off all the heads from the bundles of stems.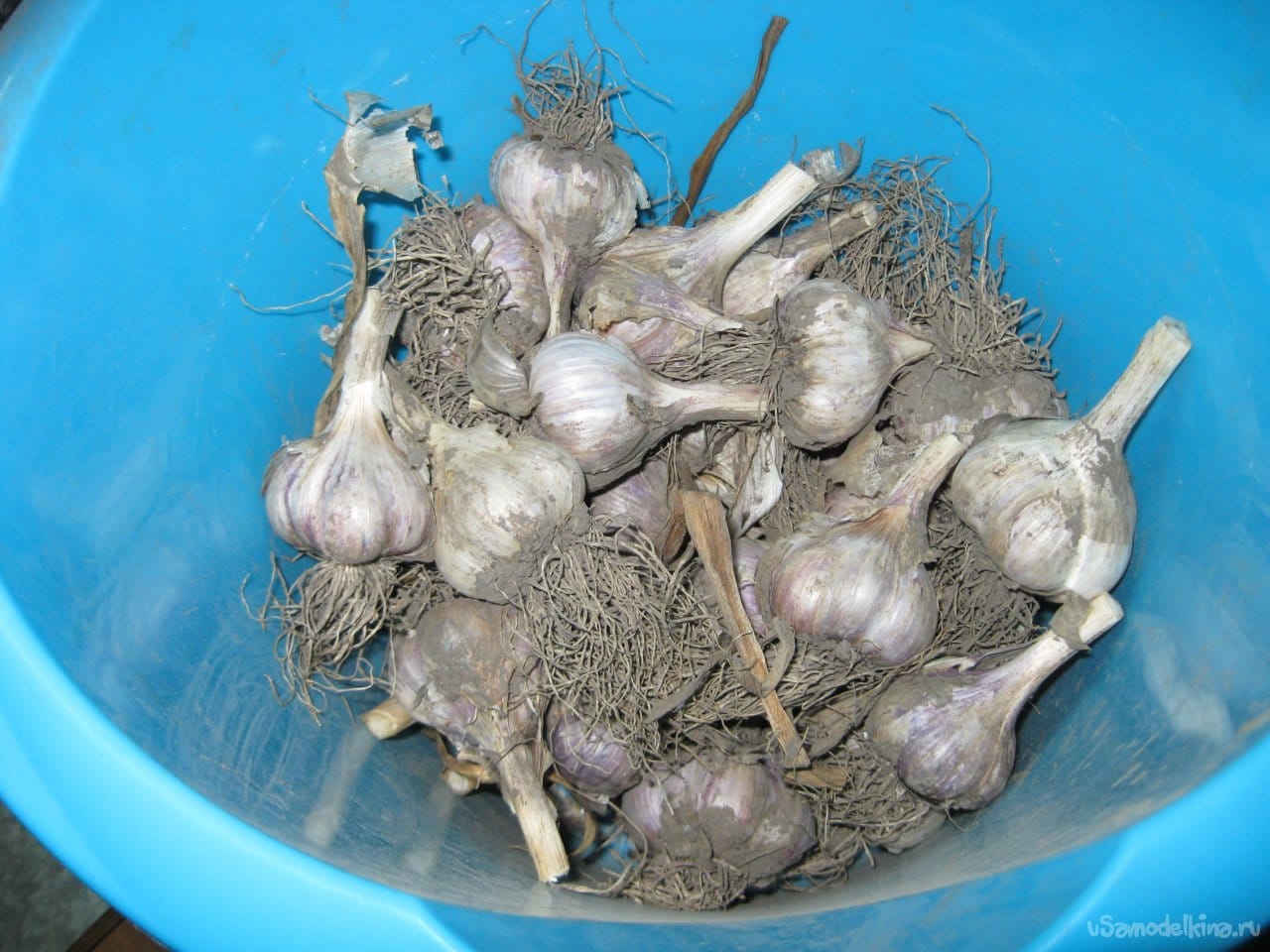 The stems themselves in bunches, I do not throw it away.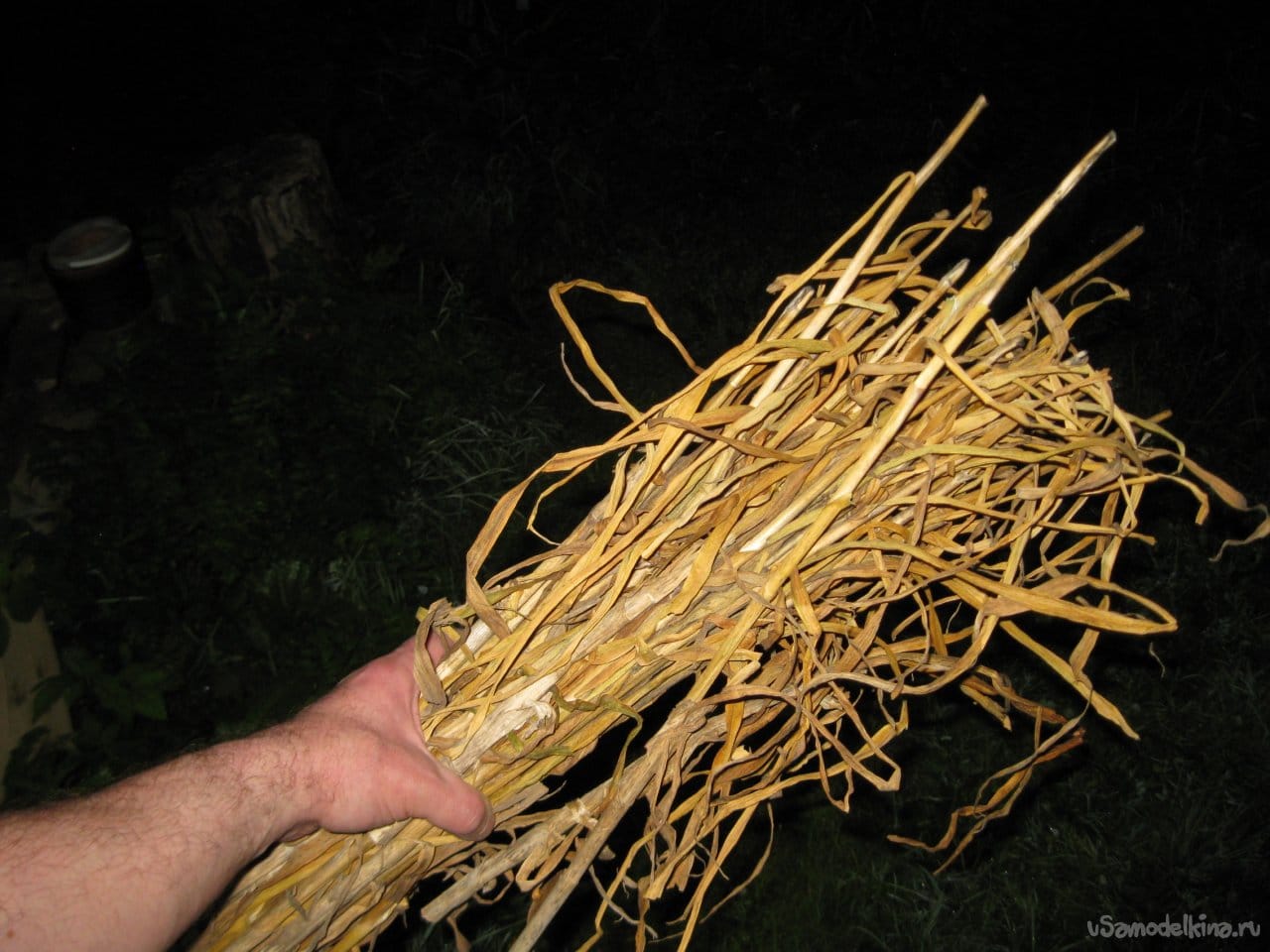 I put them under a canopy and store them until the fall. In the fall, I will need them to shelter various plants for the winter, for example, grapes. Below I will put these stems, and on top I will cover everything with spruce branches. These stems, on the one hand, will act as an additional insulating pad, and on the other hand, due to their strong garlic smell, they will scare away rodents from covered plants.
After I have cut off all the heads, I start cutting them.
First, I clean each head by removing one or two upper shells.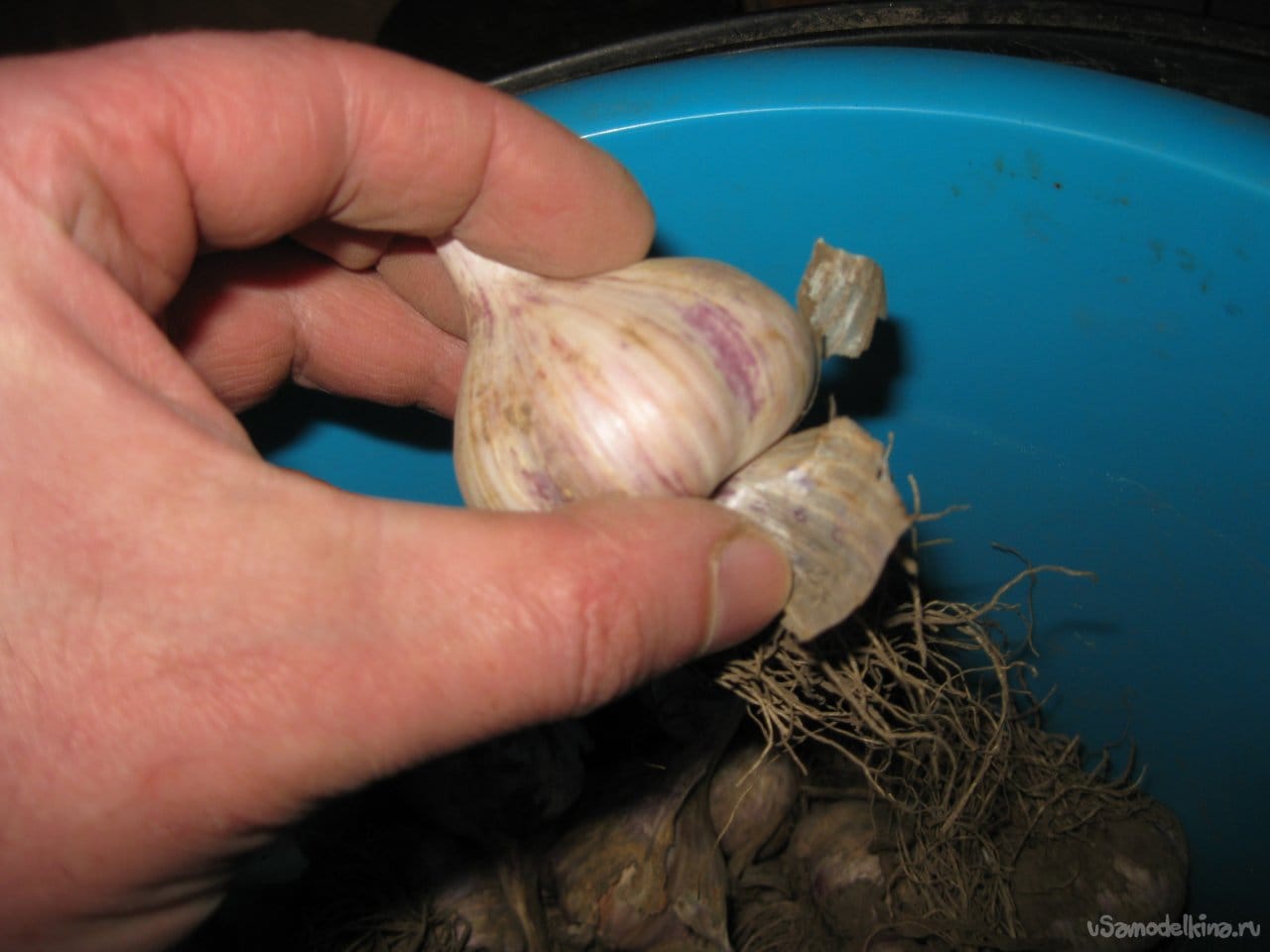 And then, using curved long-nose pliers, I completely tear off the root from the head.
< img class = "aligncenter" alt = "How to prepare garlic for safe and long storage" src = "https://usamodelkina.ru/uploads/posts/2021-08/1629869485_izobrazhenie-021.jpg"/> < a href = "https://usamodelkina.ru/uploads/posts/2021-08/1629869500_izobrazhenie-022.jpg" rel = "prettyPhoto">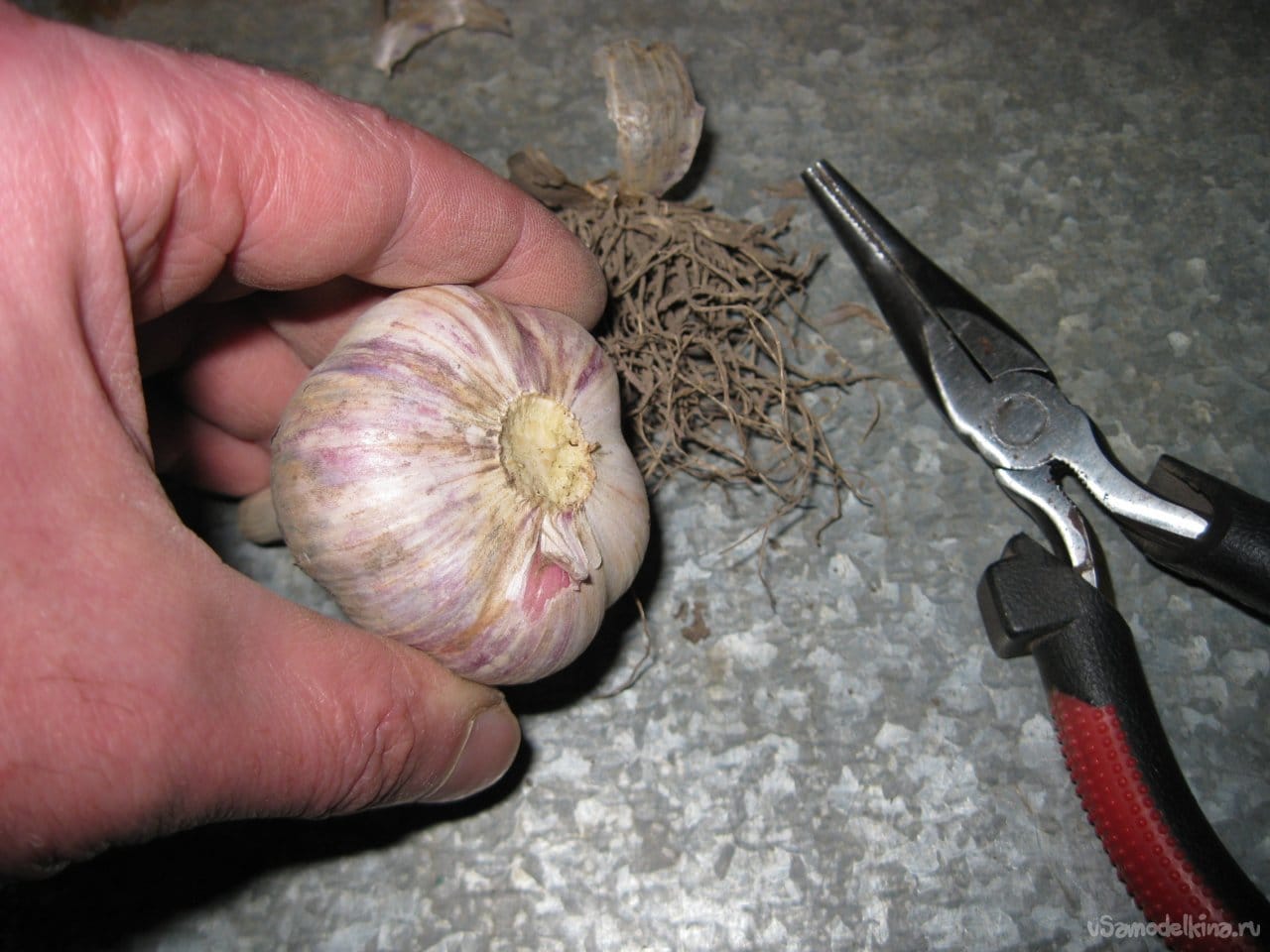 For this, by the way, you can use ordinary straight long-nose pliers or even ordinary pliers, as well as pliers.
I must say that in healthy, well-ripened heads of garlic, the roots easily come off together with the base at a time.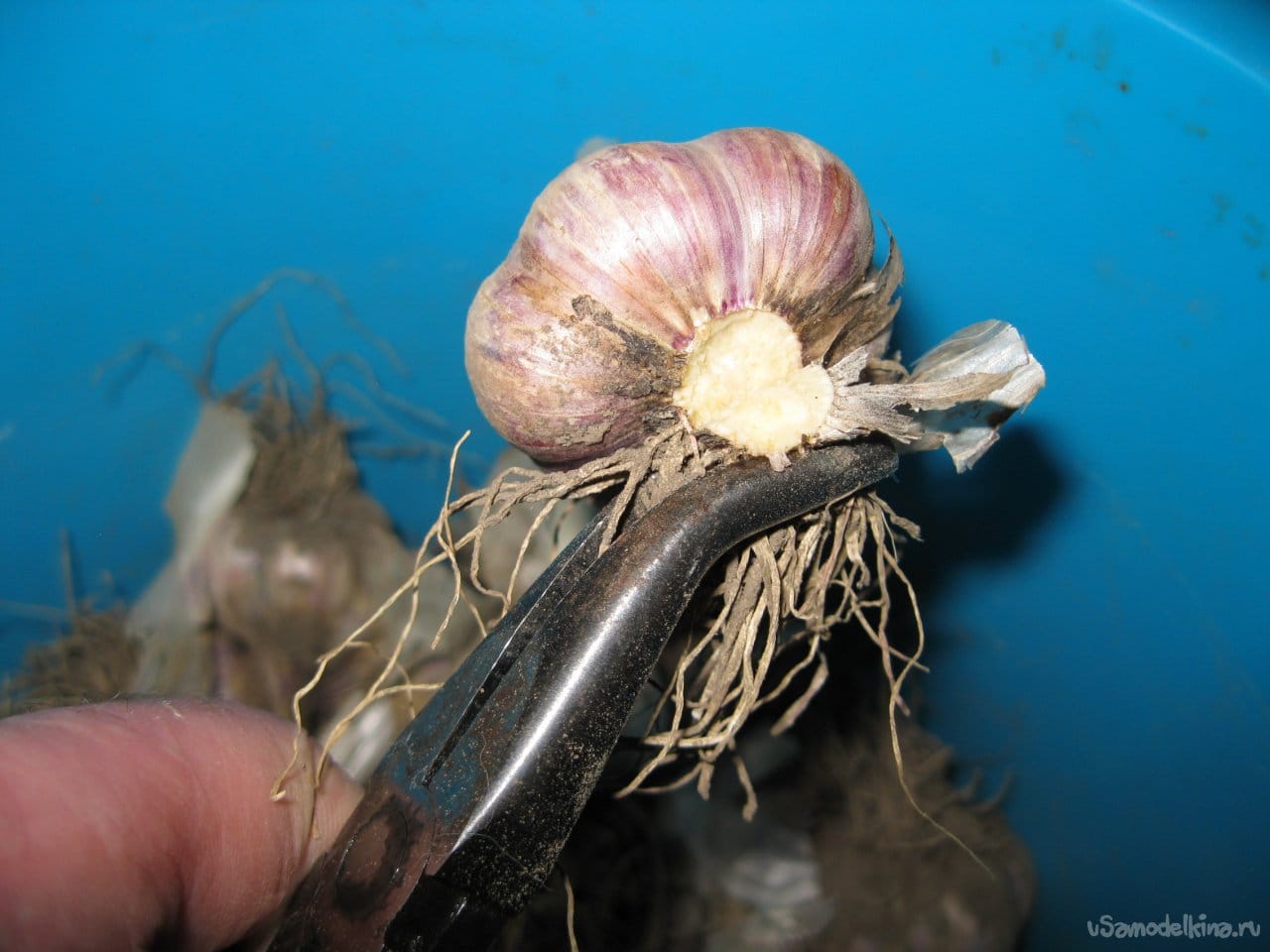 At the same time the place of separation remains absolutely clean.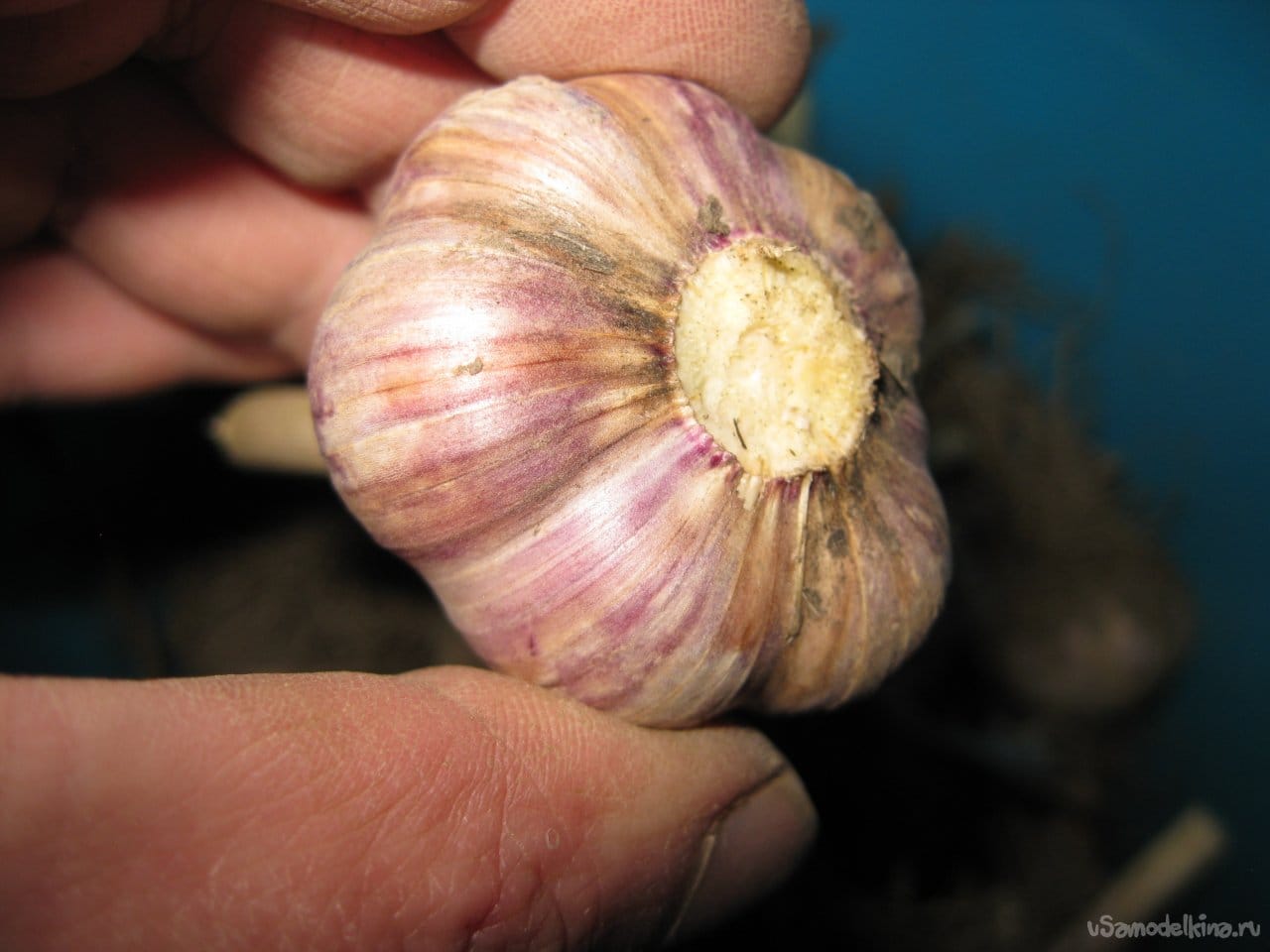 True, occasionally you come across heads whose roots do not come off so easily. Therefore, they have to be torn off in two or three steps.
And here it should be noted that such an operation is a feature of my version of harvesting garlic. The fact is that traditionally, when harvesting garlic, it is customary to simply cut off the roots at the heads. For example, my grandmother used to do it. In addition, some also dip the tips of the roots in paraffin or other solidifying substance for better storage. Moreover, some do not cut off, but set the roots on fire, say, with a lighter or candle. It is believed that in this case, the garlic will also be better stored.
However, this is all quite dreary and long, especially if there is a lot of garlic. In addition, practice has shown that heads whose roots are simply torn off along with the base are stored just as well, and perhaps even better. Only after that, they need to be additionally thoroughly dried.
That is why, after the above processing, I prepare the heads of garlic for drying. To do this, I place each head in a tray. As such a pallet, I use a large homemade scoop designed for cleaning wood shavings.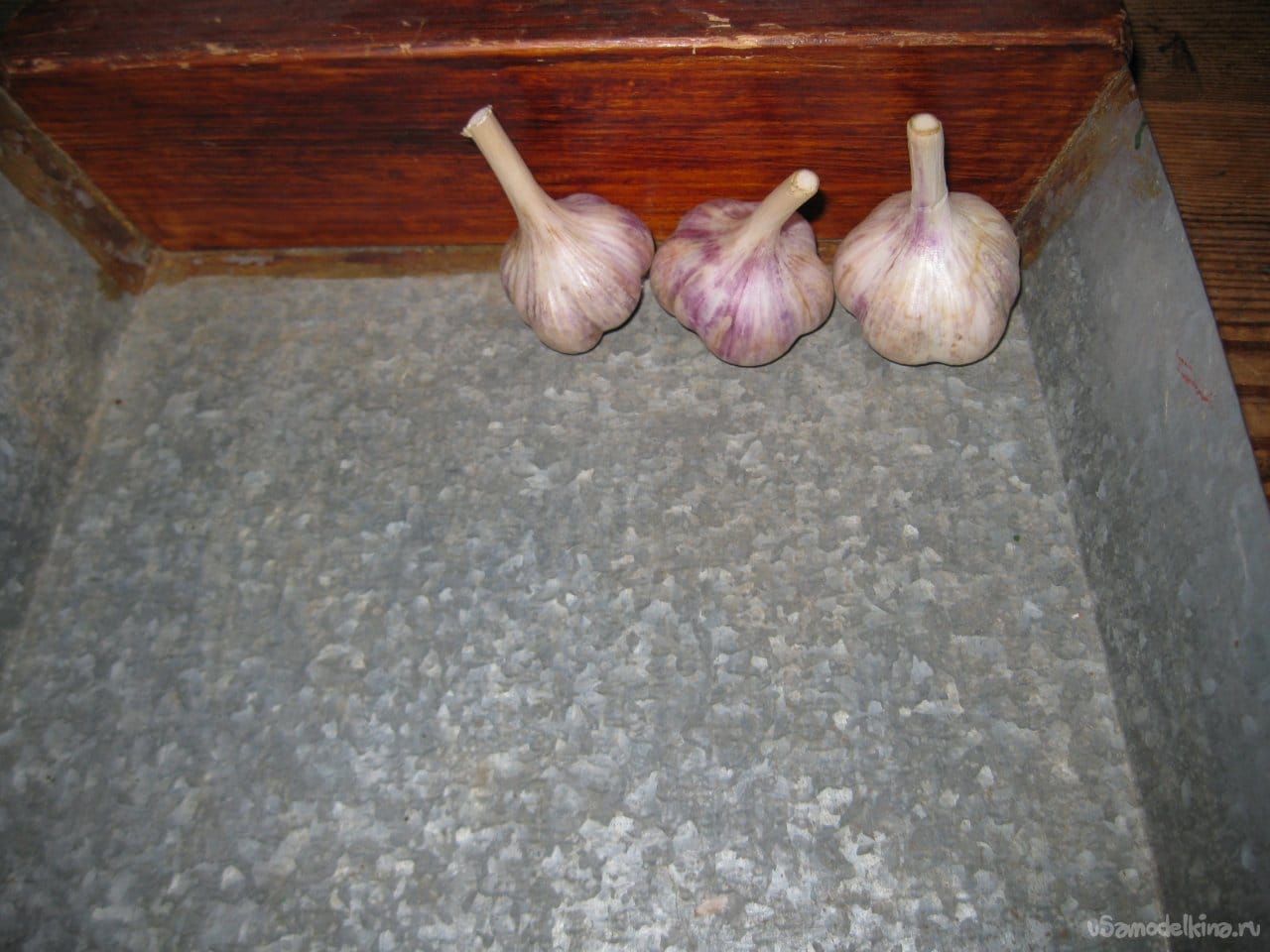 Gradually, the scoop fills up.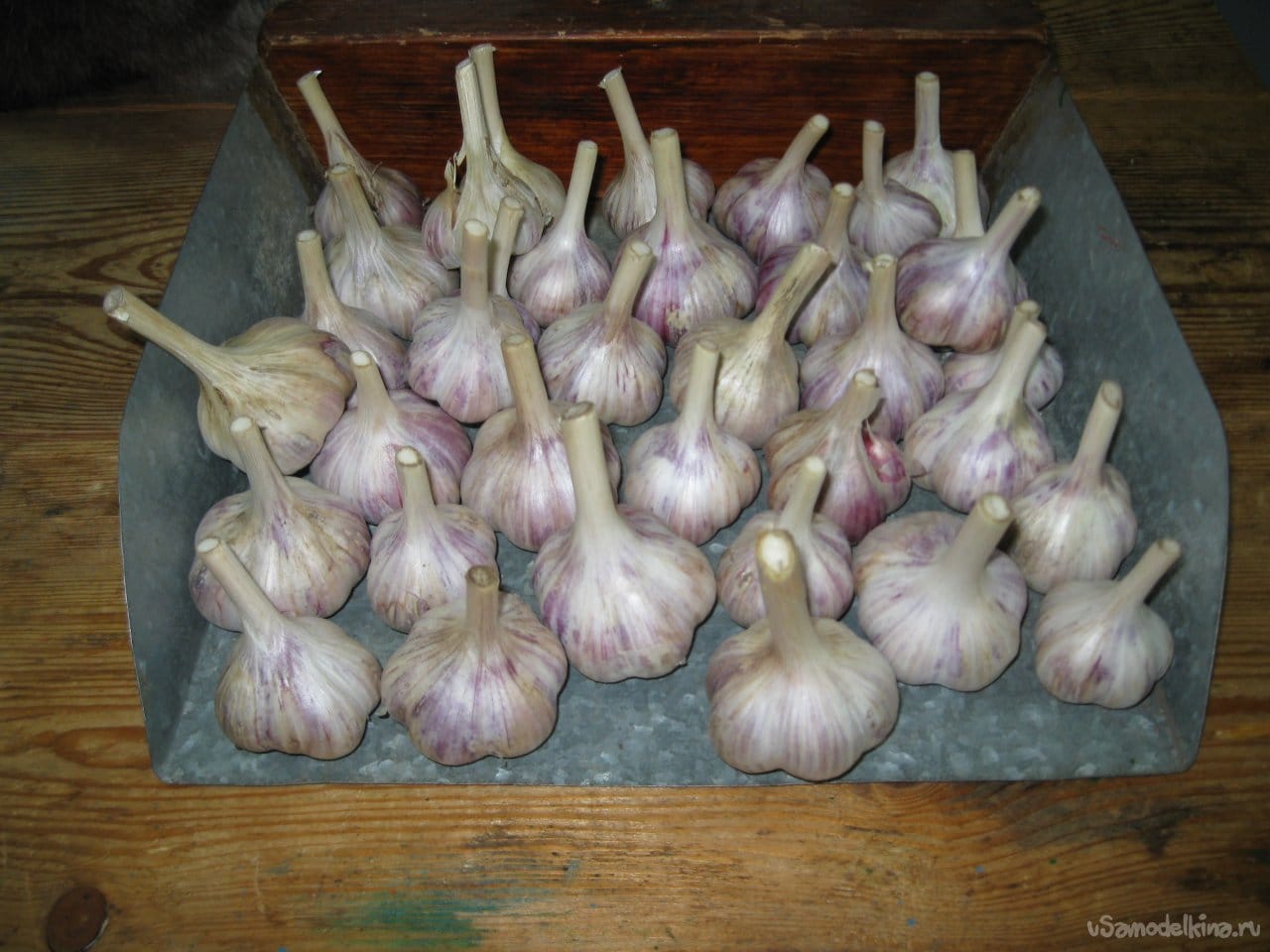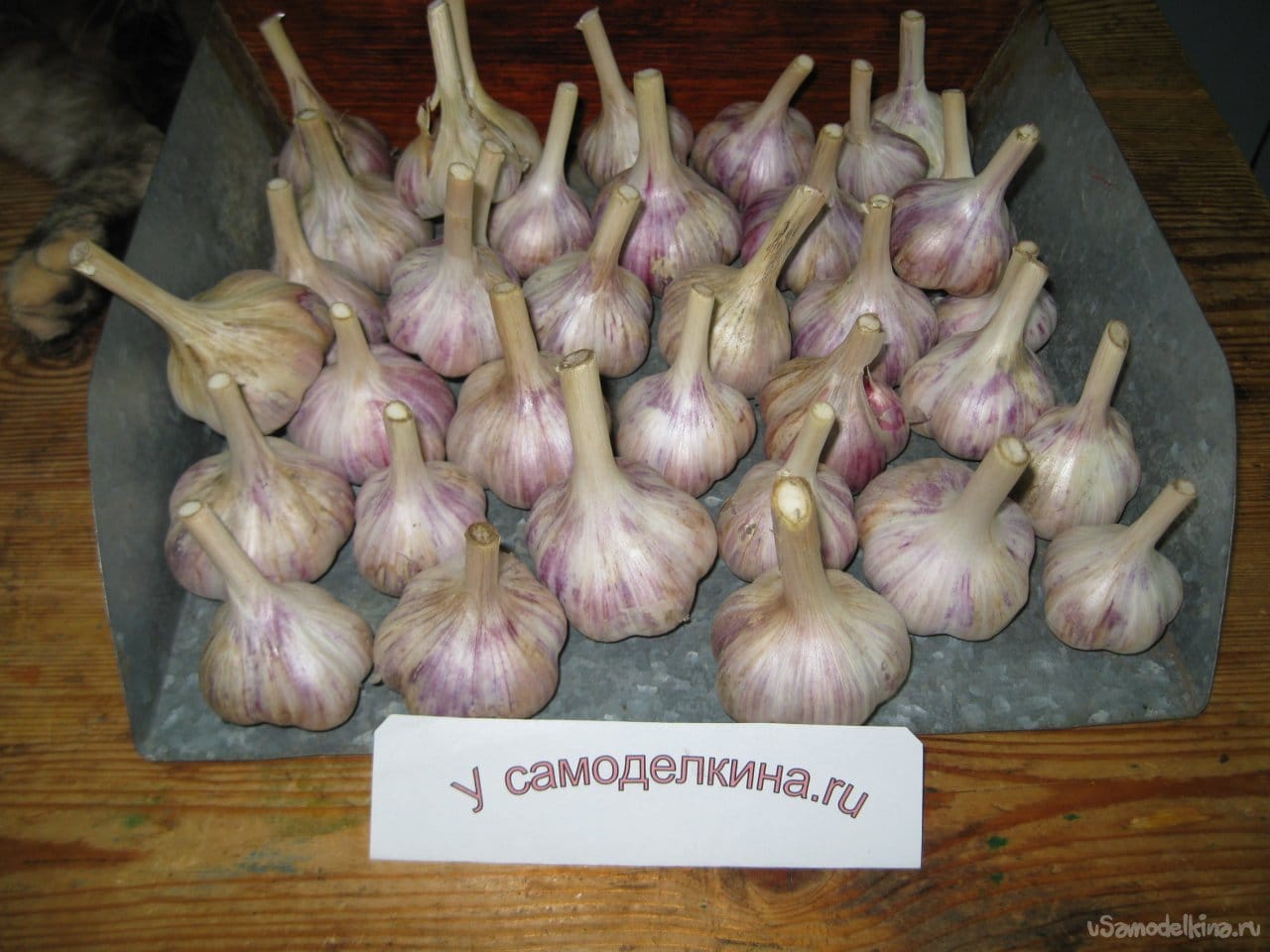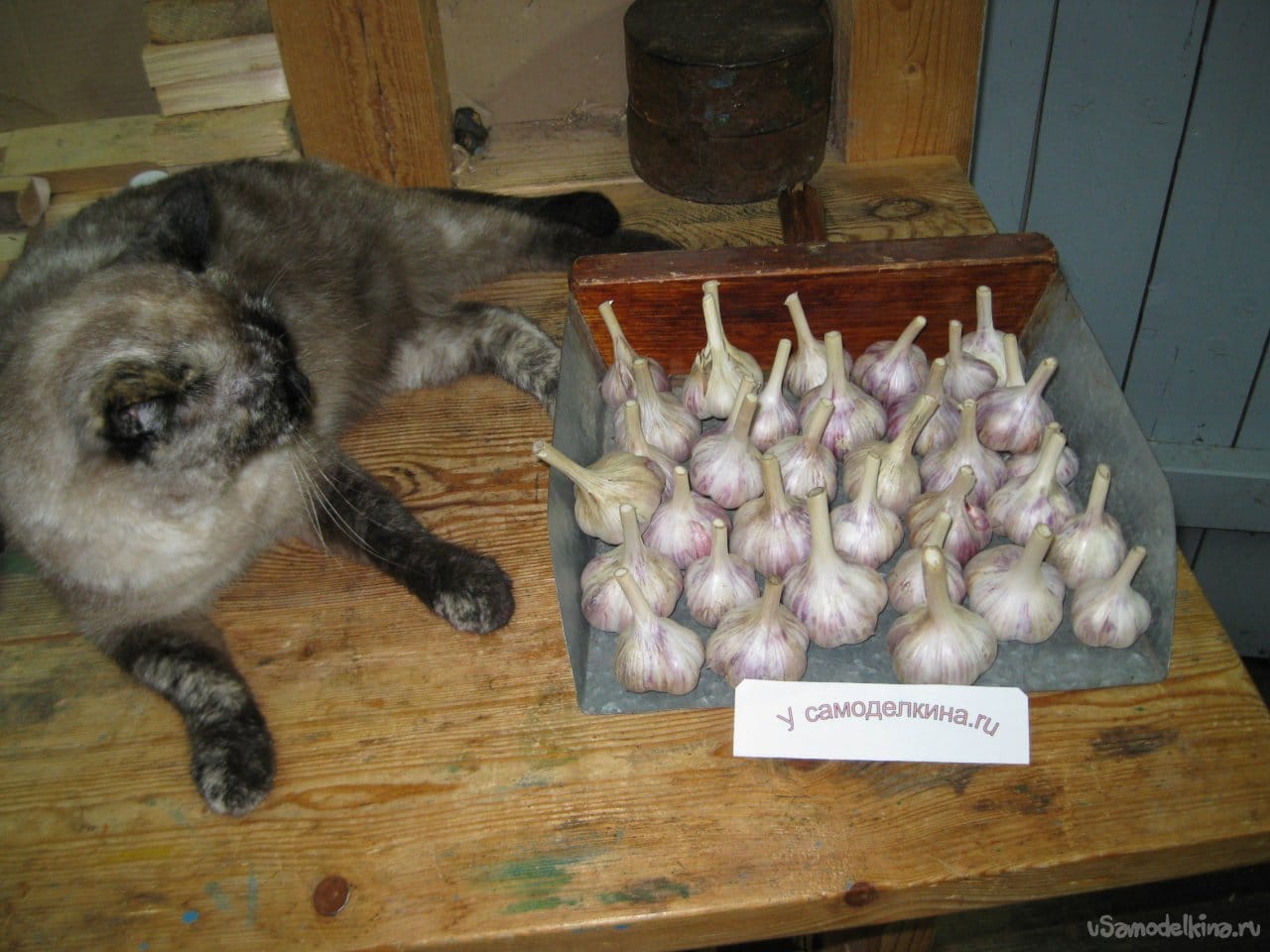 When this scoop is full, I take it to the veranda and pour the garlic heads onto homemade trays with mesh bottoms. More precisely, I do not pour, but simply tilt the scoop, and the heads slide onto the pallet by themselves.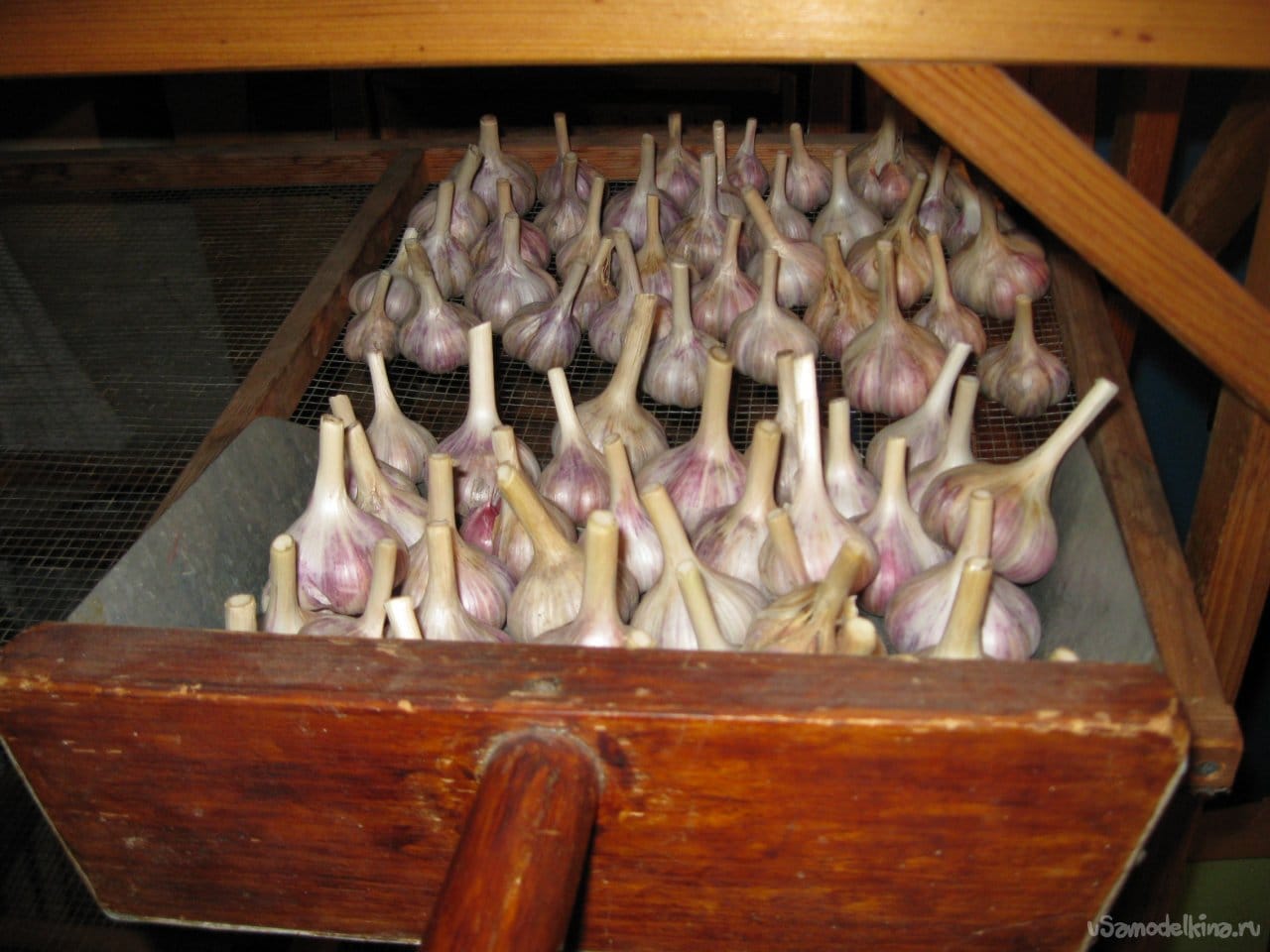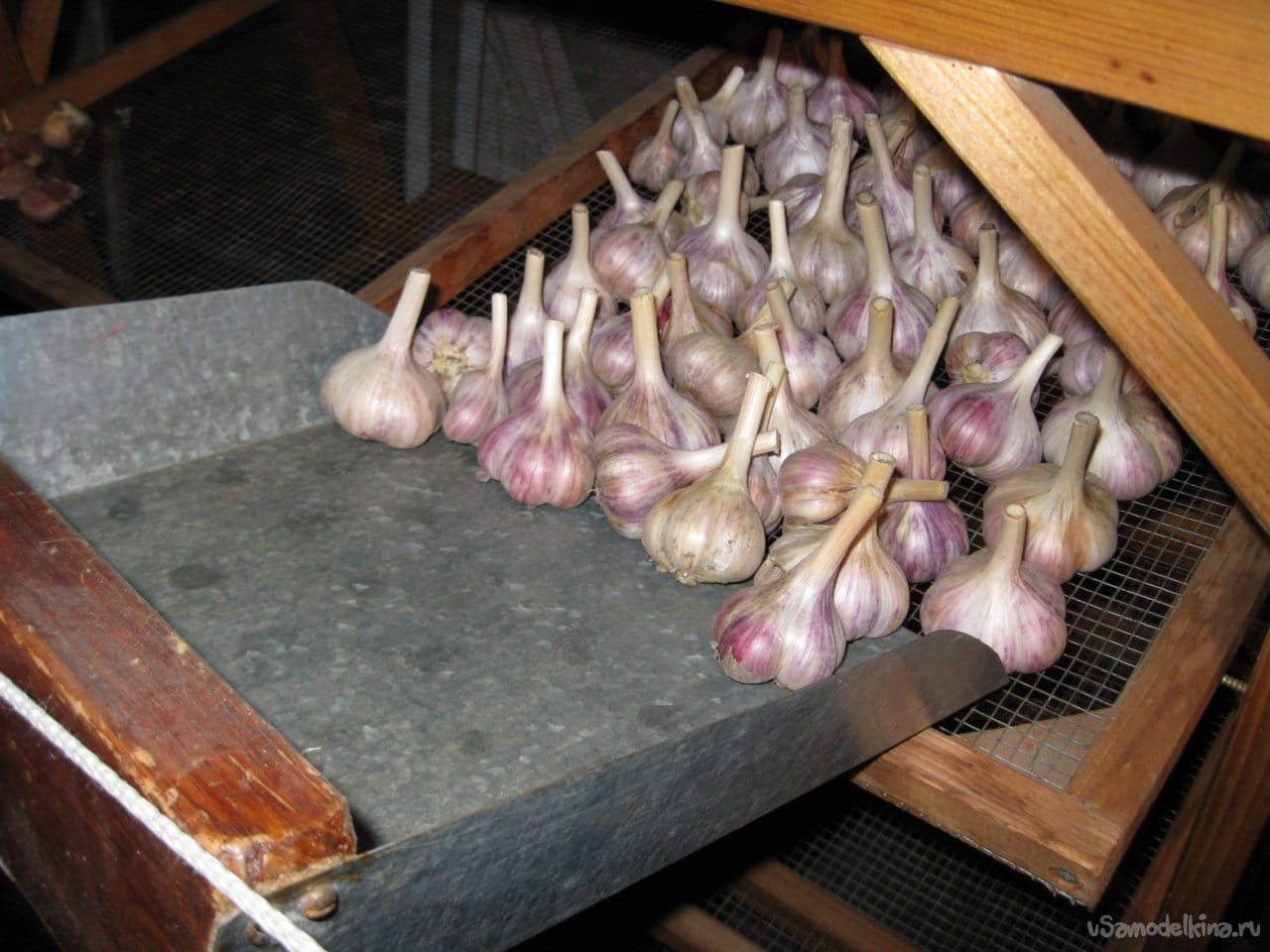 After that, all that remains is to slightly trim the heads of garlic.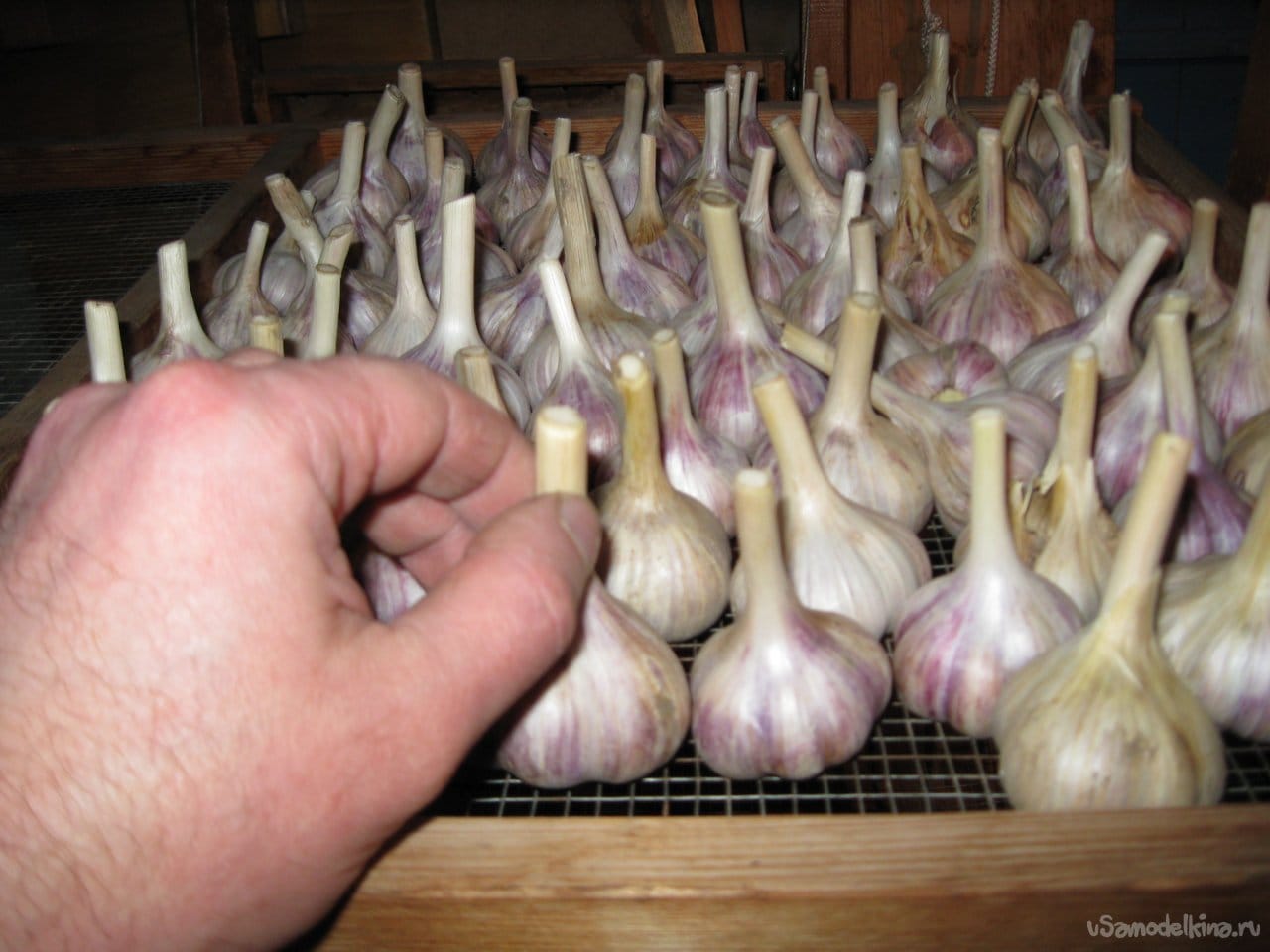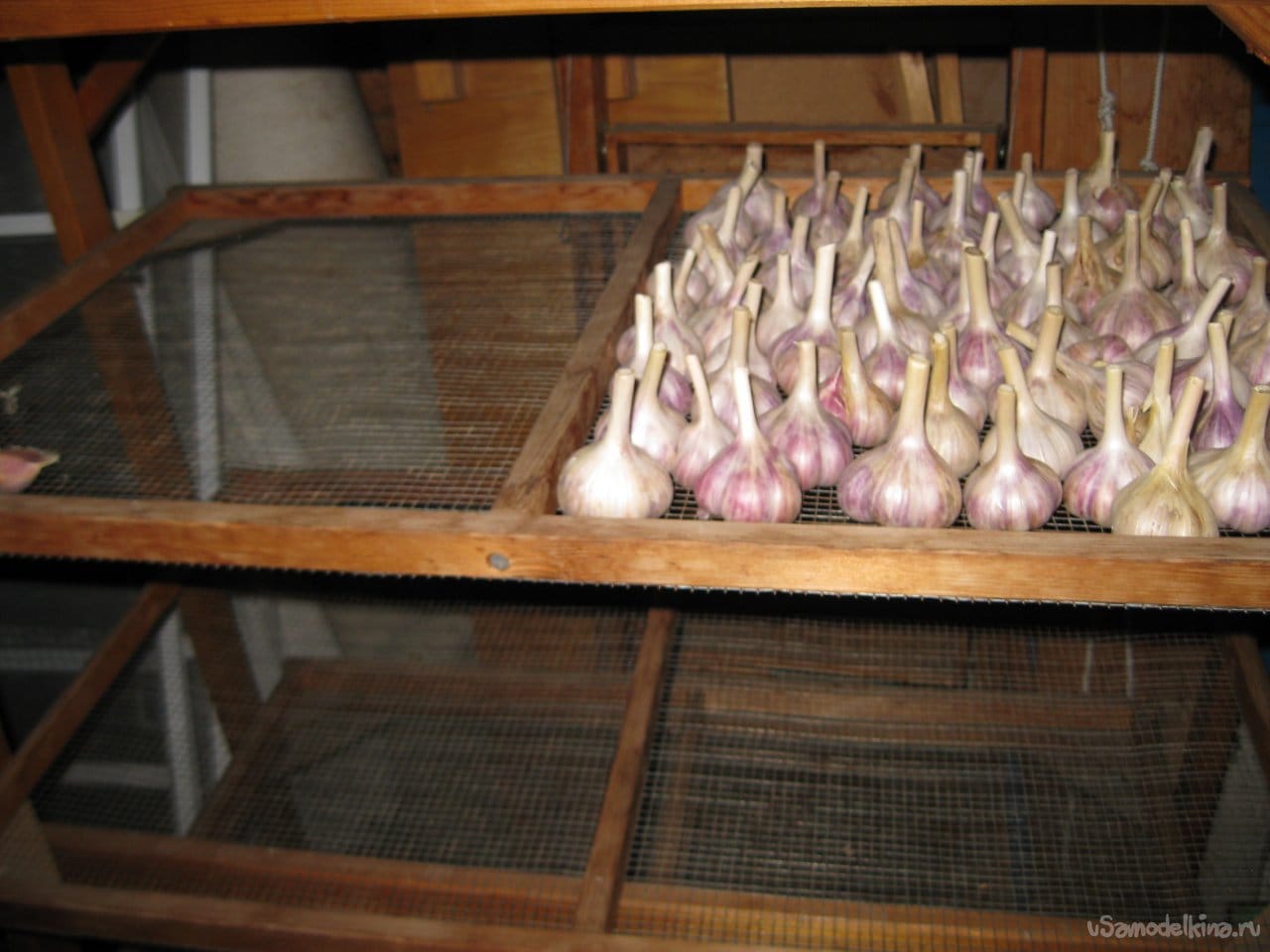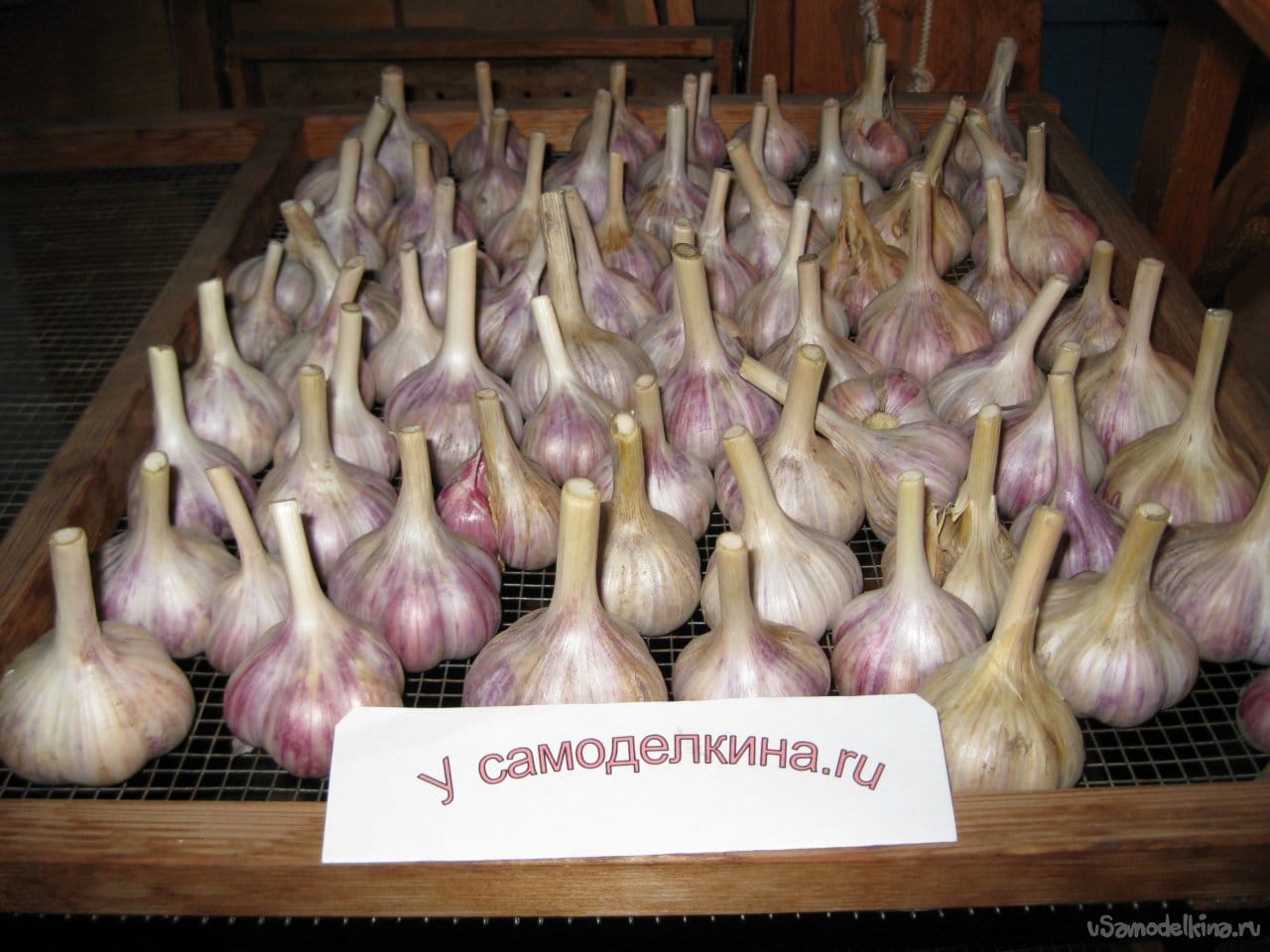 In this form, the heads of garlic dry, or, more precisely, I have another weeks to dry two. At the same time, thanks to the mesh bottom of the trays, they dry out very well.
Well, then, this garlic can be stored, for example, in a wooden box and used as needed. As practice shows, such garlic is stored very well and I have not yet had a case for it to deteriorate during storage. Although, of course, much still depends on the method and conditions of storage.
Well, I finish here and wish all homemade people health, and those who are engaged in gardening – a good harvest in their dachas and personal plots!