Technology
Bitcoin smashes 3-month high as experts predict 'second leg of bull market' – follow live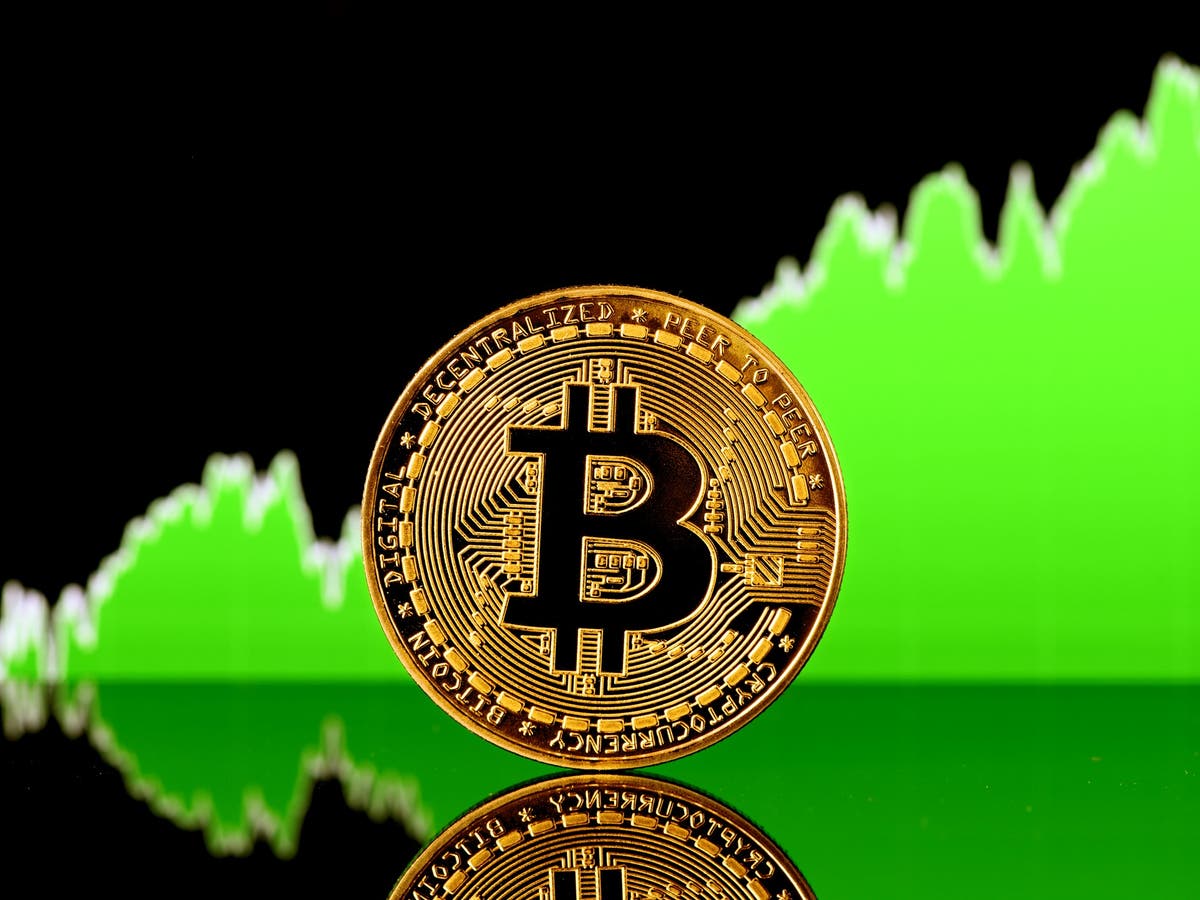 Bitcoin is continuing to rise after a remarkable recovery that followed a similarly dramatic crash.
The cryptocurrency was up over $47,000 on Monday – up by more than 50 per cent up since crashing below $30,000 in late July.
The remarkable gains look relatively modest when compared to Ethereum (ether), which has nearly doubled in price during the same time period.
The world's second most-valuable cryptocurrency was boosted by a major upgrade to its underlying network, which limits supply of the token, and has fuelled debate that Ethereum could eventually "flip" bitcoin.
The latest price surge means ether is up nearly 300 per cent since the start of 2021, compared to a 40 per cent hike for bitcoin. This has helped push Ethereum's market cap from one fifth of bitcoin's to nearly half its value.
You can follow all the latest news and analysis below.
Show latest update 1629121381
Cryptocurrency market continues rapid rise
The recovery continues – cryptocurrency's recent good fortunes are continuing, it seems.
Bitcoin is up 2 per cent, and the market as a whole is up almost 4 per cent, according to tracking market CoinMarketCap.
Bitcoin now stands at $47,000 – after dropping below $30,000 just a couple of weeks ago.
And other coins, such as Binance Coin and Dogecoin, are doing even better. The latter is up 13.2 per cent over the last 24 hours, and 30 per cent over the week.
Andrew Griffin16 August 2021 14:431628782042
Messi to receive part of PSG salary in cryptocurrency
Lionel Messi will receive part of his salary in cryptocurrency after signing for Paris Saint-Germain this week.
The Argentinian superstar's wage packet will include the club's Paris Saint-Germain Fan Token cryptocurrency, though no details about what proportion have yet been revealed.
Fan tokens have become popular, if controversial, revenue streams for football clubs this year. They can be traded on exchanges but also give fans a say in minor club decisions, like which songs play in the stadium when a goal is scored.
Paris Saint-Germain Fan Token is currently the 286th most valuable cryptocurrency, according to CoinMarketCap's rankings.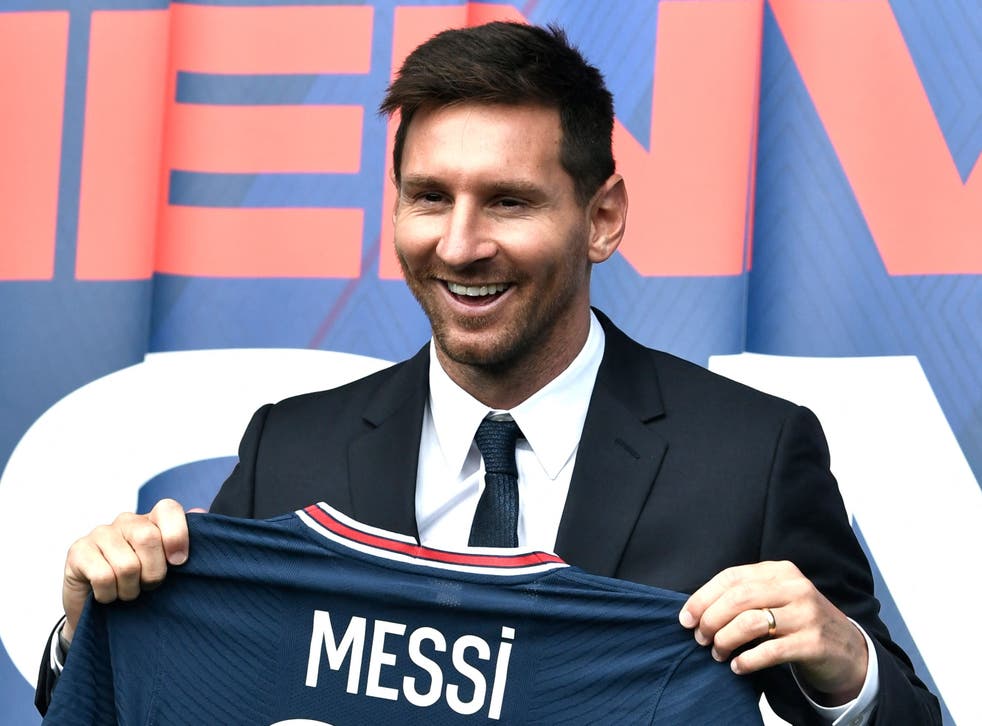 Anthony Cuthbertson12 August 2021 16:271628780036
Coinbase names SpaceX and Tesla as customers
Coinbase has published its first quarterly earnings report since going public earlier this year.
The crypto exchange's performance was even better than expected, with net revenue up from $178 million to $2.23 billion year-on-year. It now counts more than 68 million customers, among them Elon Musk's firms SpaceX and Tesla – who both made significant bitcoin investments through the platform earlier this year.
In the earnings call, CEO Brian Armstrong said he planned for Coinbase to become the "Amazon of assets".
You can read the full story here.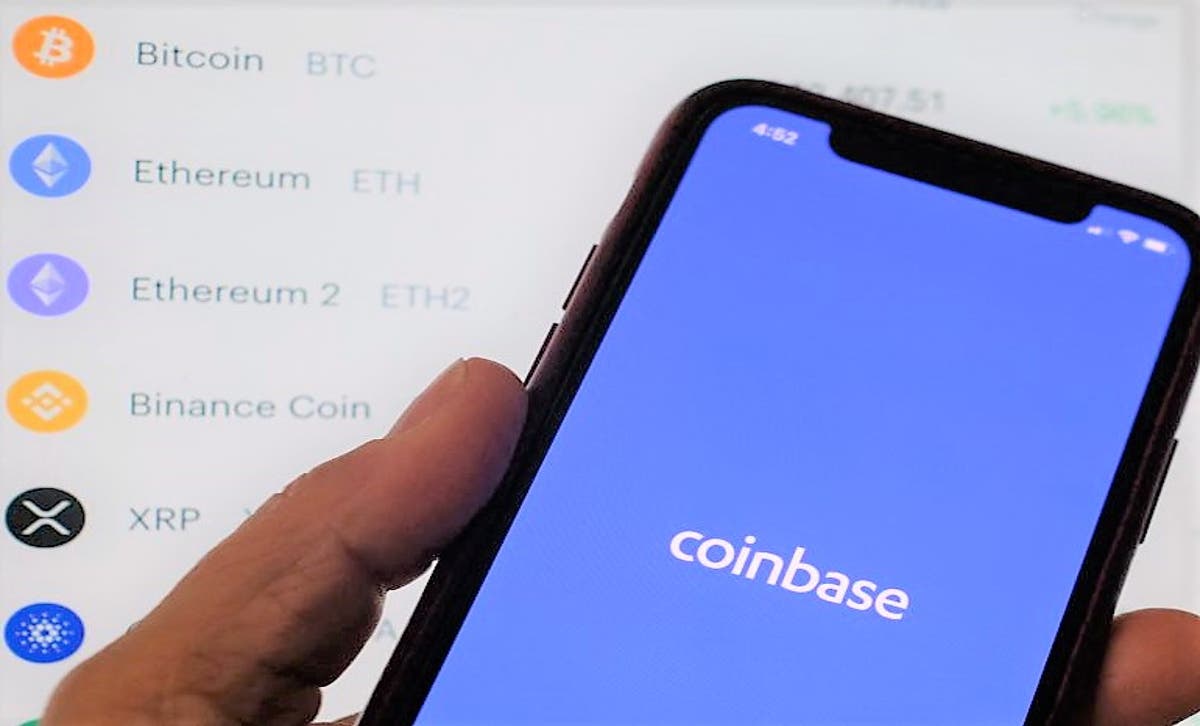 Coinbase names Tesla and SpaceX as customers, says it wants to be 'the Amazon of assets'
Crypto exchange boss Brian Armstrong says 'truly a crypto economy is forming'
Anthony Cuthbertson12 August 2021 15:531628754065
Crypto thief returns stolen funds
The person behind the massive $600m crypto heist this week has voluntarily returned nearly half the funds, claiming to be "not very interested in money".
The cryptocurrency thief also published a Q&A session explaining their motives for stealing Ethereum (ether), Binance Smart Chain (BSC) and Polygon tokens from the firm Poly Network.
"When spotting the bug, I had a mixed feeling," the perpetrator wrote within ether transactions sent from their account.
"Ask yourself what to do had you facing so much fortune. Asking the project team politely so that they can fix it? Anyone could be the traitor given one billion! I can trust nobody! The only solution I can come up with is saving it in a trusted account while keeping myself anonymous and safe.
"I prefer to stay in the dark and save the world."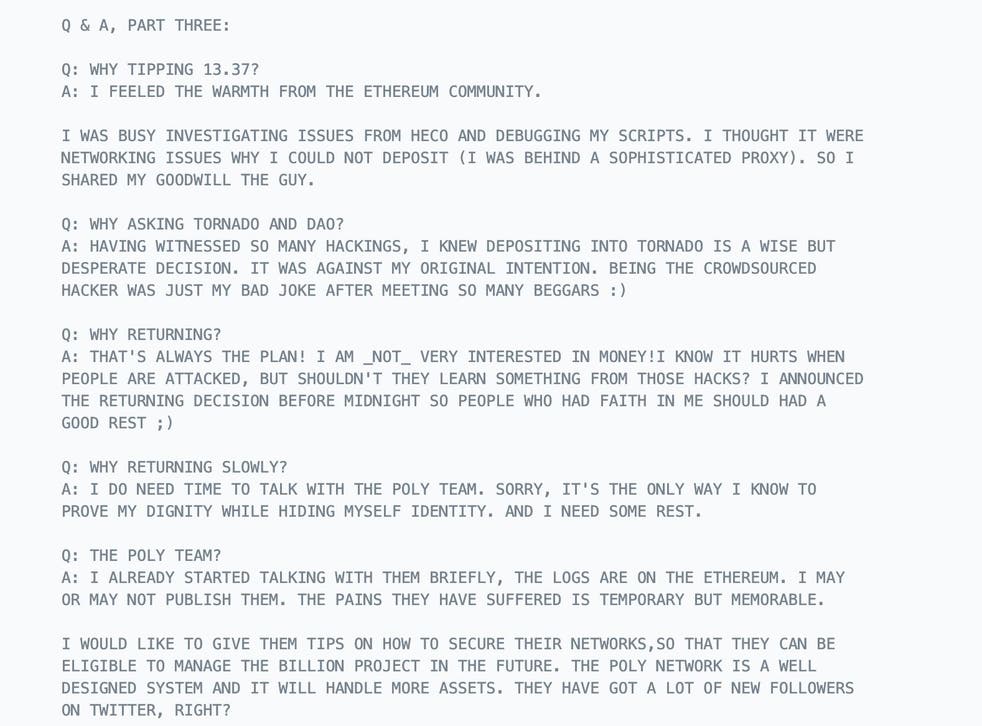 Anthony Cuthbertson12 August 2021 08:411628748358
Bitcoin price 'to the Moon' or a dead cat bounce?
The latest price gains for bitcoin have divided analysts and investors over which direction the crypto market will take from here.
The two most extreme camps put bitcoin on wildly different trajectories over the coming months: one 'to the Moon', the other into a 'crypto winter'. The coming days, weeks and months will be crucial in proving whether this remarkable recovery is the second-leg of a record-breaking bull run or a dead cat bounce.
You can read about these two competing theories in more detail here.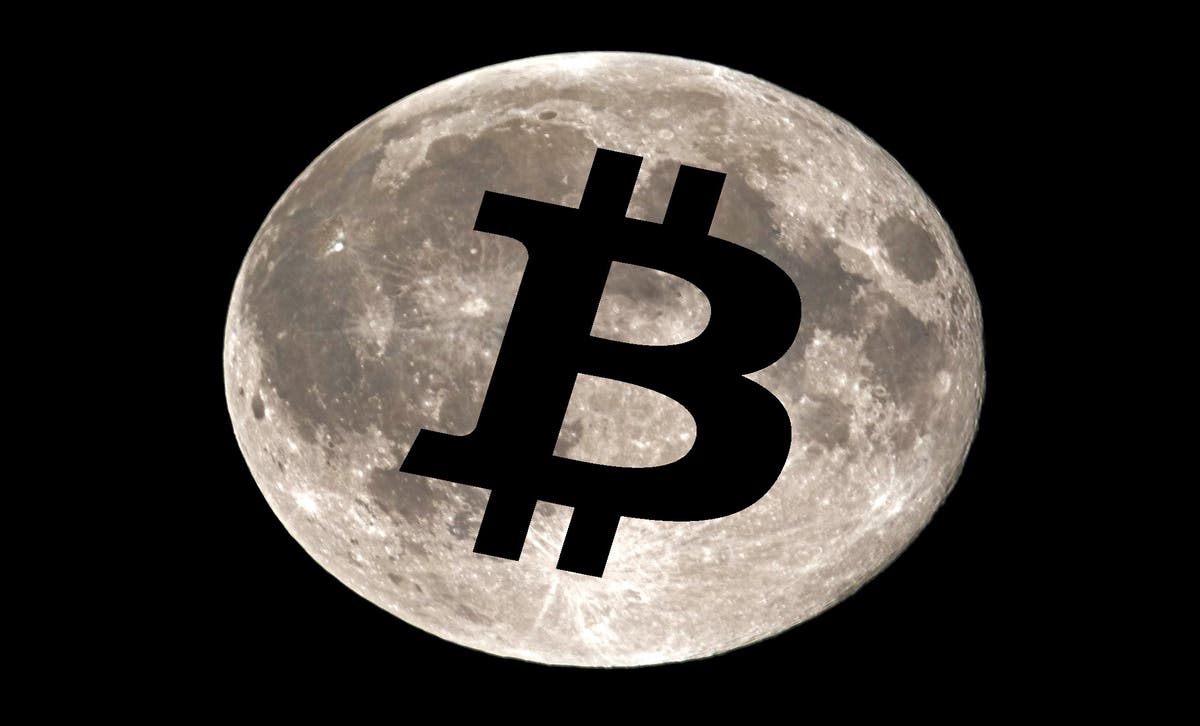 Is 2021 the year bitcoin's price heads 'to the Moon'?
Could crypto see new all-time highs this year or is the market teetering on the verge of another crash?
Anthony Cuthbertson12 August 2021 07:051628665460
More companies add bitcoin to their books
US car insurance firm Metromile has become the latest Nasdaq-listed firm to invest in bitcoin, according to an SEC filing.
"During the six months ended June 30, 2021, the Company purchased an aggregate of $1.0 million in digital assets, comprised solely of bitcoin," the filing states.
The exact amount of bitcoin is not revealed in the filing, however it later goes on to say that the holdings decreased in value by $0.1m since the time of purchase, adding, "the fair market value of bitcoin held as of June 30, 2021 was $0.9 million."
On that date, bitcoin was worth around $35,000, suggesting Metromile owns roughly 26 bitcoins. If the firm still holds, them, they'd be worth nearly $1.2m today.
Anthony Cuthbertson11 August 2021 08:041628662585
Crypto market in the green
Bitcoin continues to consolidate its gains on Wednesday morning, moving by less than 1 per cent since this time yesterday to remain above $45,000.
Other leading cryptocurrencies have bucked this stability and continued to see gains over the last 24 hours, with Ethereum (ether), Uniswap, Polkadot and dogecoin all rising by between 3-5 per cent.
The biggest price increase from a major token has come from Cardano (ada), which is up more than 20 per cent.
Here's a snapshot of the crypto market this morning, showing the top 10 cryptocurrencies by market cap (excluding stablecoins) all in the green.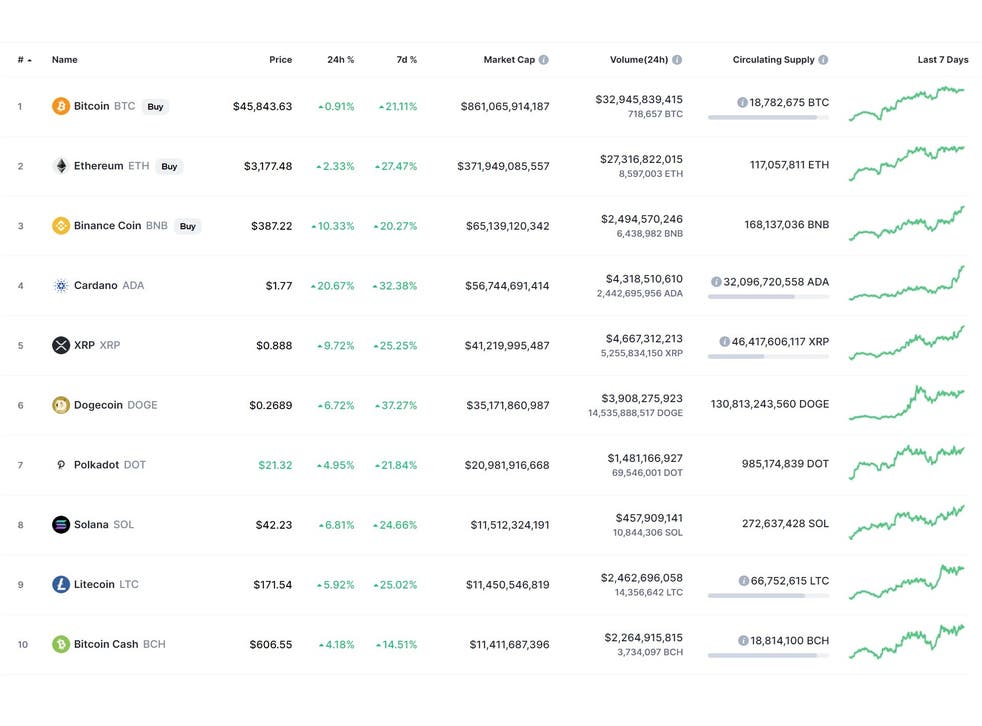 Anthony Cuthbertson11 August 2021 07:161628595310
AMC to accept bitcoin payments
Cinema franchise AMC will begin accepting bitcoin payments by the end of the year, the company's CEO has announced.
"I've had to learn more in the past six months about blockchain and cryptocurrency than I learned about it in the entire decade before that," Adam Aron said during an earnings call.
"This increased knowledge has given me the confidence to tell you all today that AMC is hereby formally announcing on this call that by year's end we will have the information technology systems in place to accept bitcoin."
Anthony Cuthbertson10 August 2021 12:351628588236
Jack Dorsey says bitcoin will unite the world
Twitter boss Jack Dorsey has claimed bitcoin will "unite a deeply divided country", and eventually the world.
The proclamation builds on previous hopes vocalised by Dorsey that bitcoin could help bring about world peace and become the "single currency" of the internet.
You can read more about Dorsey's lofty bitcoin ambitions here: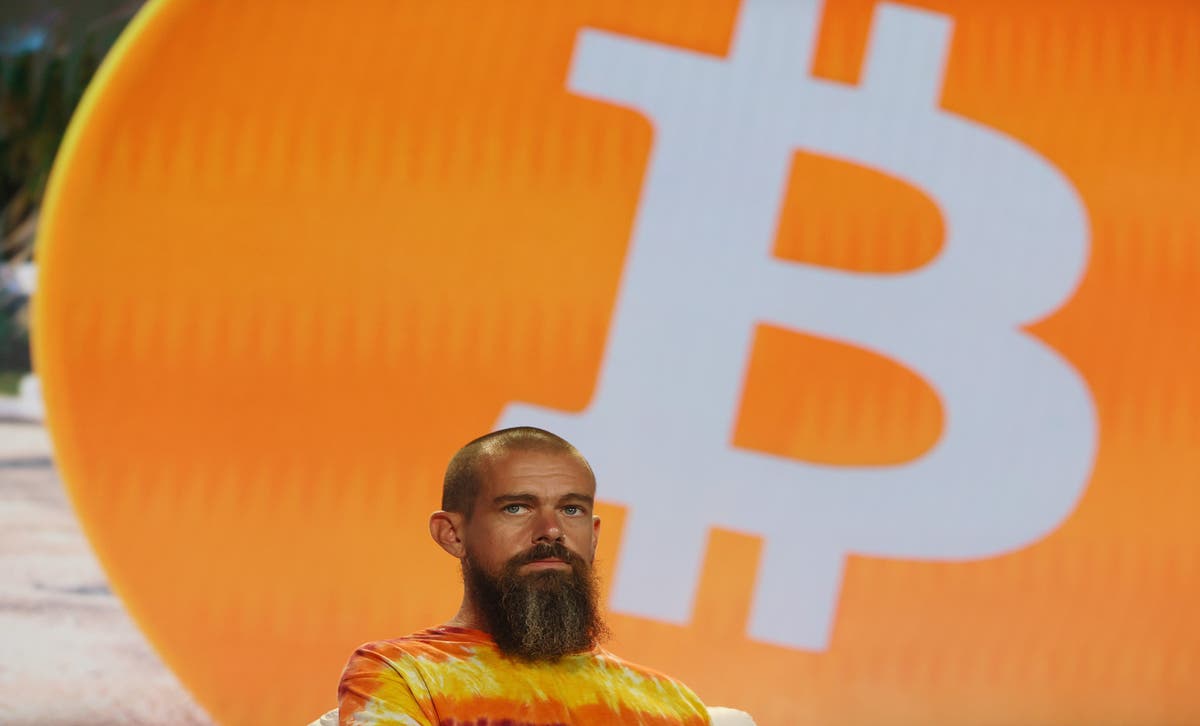 Twitter boss says bitcoin will 'unite the world' and bring world peace
Jack Dorsey claims the cryptocurrency will be the world's 'single currency' in less than a decade
Anthony Cuthbertson10 August 2021 10:371628576671
Bitcoin price steadies above $45k
Bitcoin has managed to consolidate the price gains made on Monday, continuing to trade above $45,500 on Tuesday morning.
Other leading cryptocurrencies have also managed to hold on to their gains, with every single one of the top 10 cryptos by market cap currently in the green. Uniswap (UNI) has seen the biggest daily price increase, rising 13 per cent since this time yesterday, as well as the biggest week-on-week increase.
Here's a snapshot of the market this morning: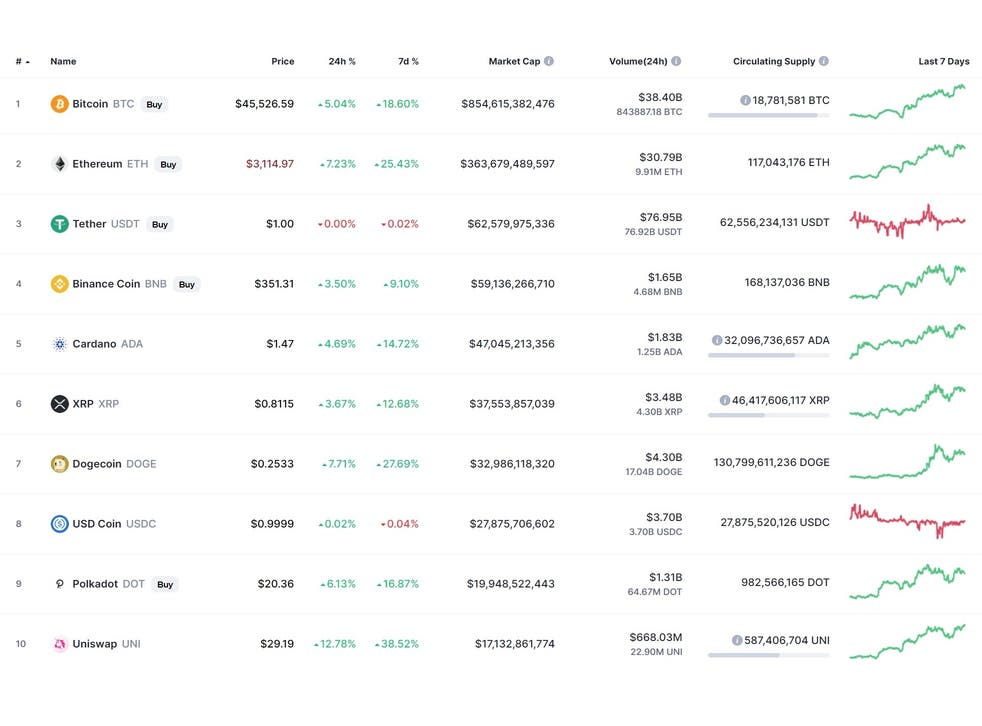 Anthony Cuthbertson10 August 2021 07:24NewerOlder